Guyanese Style Bakes /Floats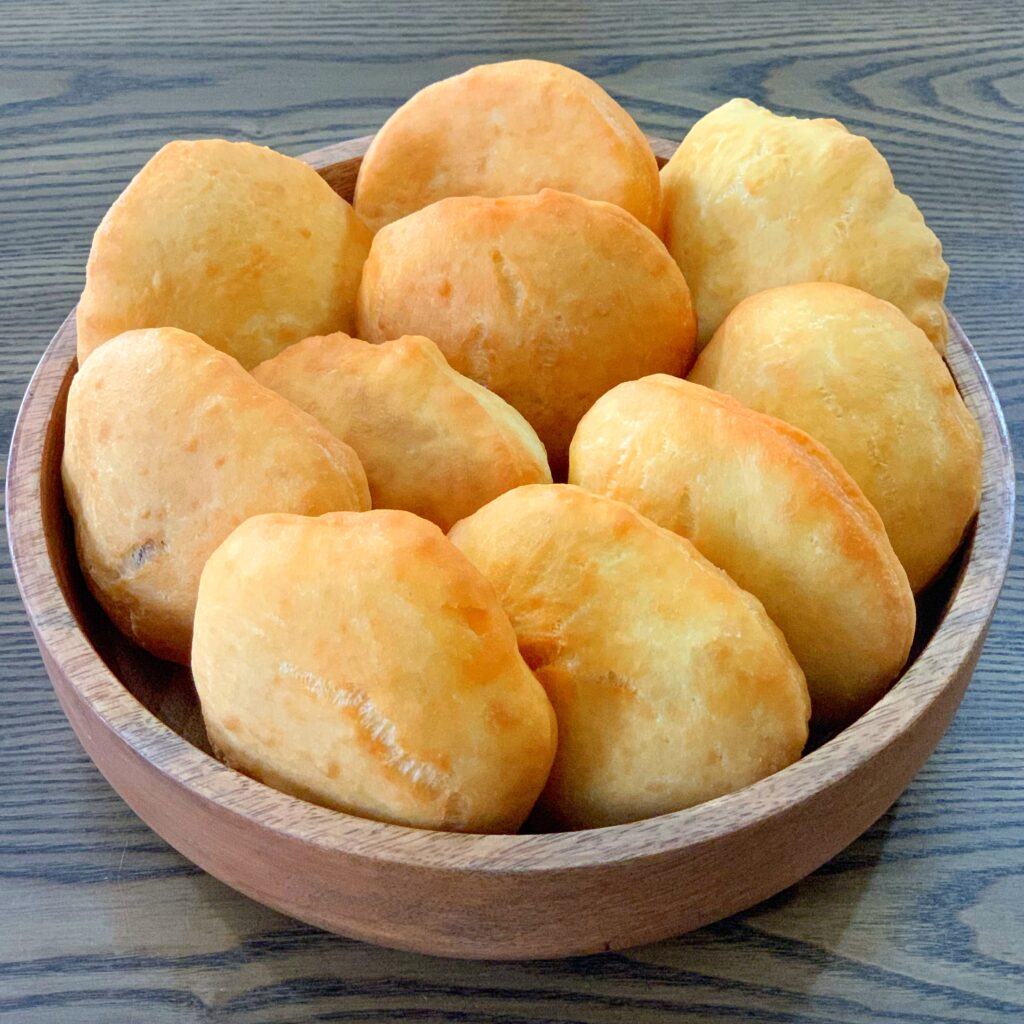 Cuisine:
Guyanese / Caribbean
3 cups of All Purpose Flour, plus more for dusting work surface
2 teaspoons of baking powder
½ teaspoon of salt
½ cup of brown sugar
1 cup of warm water
1 tablespoon of fat (coconut oil, butter, shortening, ghee or cooking oil)
4 cups of oil for frying (sunflower, grapeseed, avocado or canola oil)
Add brown sugar and warm water to a small mixing bowl and mix together until sugar crystals completely dissolve
Then add flour, baking powder and salt to a large mixing bowl
Mix together well then add the fat (coconut oil, butter, ghee, oil) to the dry ingredients and mix in using finger tips until a crumbly texture forms
Then make a well in the center of your ingredients and add the sugar water solution to the center
Next mix together the sugar water solution and the dry ingredients to form a soft dough, you may dust with a little bit of flour if the dough is too sticky
Then turn the dough onto a floured surface and knead well into a smooth ball
Place the dough ball into a greased bowl, cover with a kitchen towel and let the dough rest for 30 minutes
After the dough has rested for 30 minutes, turn the dough onto a floured surface and roll (with a rolling pin) until it is about ⅛ of an inch thick
Then using a cookie, biscuit or hand pie cutter large enough for palm size circles, cut the dough into 12 circular pieces (see video for method with zero dough wasted). For this step you can also use a round bowl or the cover/lid of a round container
Next add 4 cups of oil to a medium sized stock pot or frying pan, on medium to high heat. Please ensure pot is large and deep enough for deep frying. Here's a linkto the pan I used in the video.
Bring the oil up to temperature
Then add your cut out bake dough to the oil. You may cook 1-3 bakes per time if your pot can accommodate it
Cook bake for about 1 minute on each side or until golden brown, then flip to the other side and fry for another minute or so or until bake is golden brown
Remove from the oil and place in a bowl lined with a few sheets of paper towel or a kitchen towel
Continue steps 12-14 until all the bakes are cooked
Serve warm with some salt fish!
Recipe by
Metemgee
at https://metemgee.com/2020/04/11/guyanese-style-bakes-floats/