Boneless Brown Stew Chicken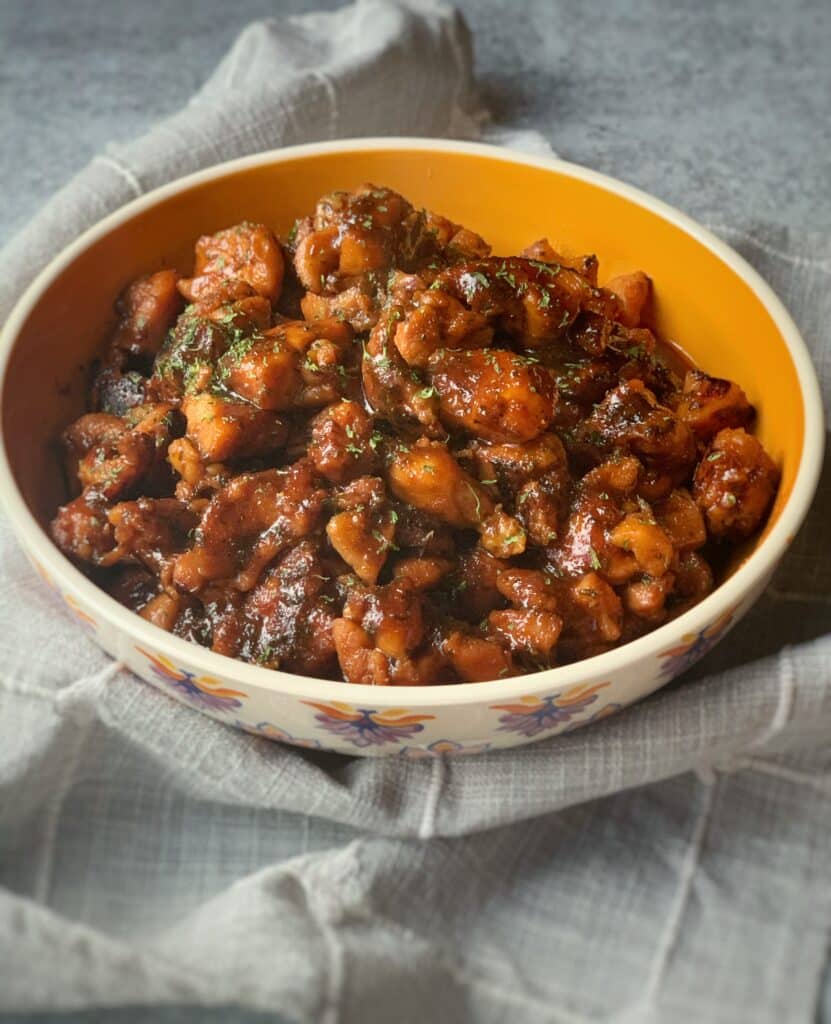 Recipe type:
Whole30, Paleo, Keto
2 lbs of boneless, skinless chicken thighs cut into 1 inch cubes
2 tablespoon of avocado oil or similar oil for cooking
¼ cup of coconut amino teriyaki sauce
About 2 cups of water
1 teaspoon of granulated garlic
¾ teaspoon of salt or salt to taste
1 tablespoon of onion powder or granulated onion
½ tablespoon of parsley flakes
1 teaspoon of tomato paste
½ cup of coconut aminos
Pinch of cayenne pepper (optional)
In a large bowl, combine chicken and all of the seasonings and mix together well, then set aside
Then add a large skillet, wok or large pot to medium heat and bring up to temperature
Next, add the oil and bring up to temperature
When the oil is hot add the seasoned chicken and sauté for about 10 minutes, constantly turning, ensuring that the chicken gets a good sear on all sides
Then add 1 cup of water and cover and let cook for 5 minutes or until the water cooks down
Once the water cooks down, add the teriyaki sauce and cook for 1 to 2 minutes
Then add another cup of water, cover and continue to cook until chicken is completely cooked and tender and liquids cook down to form a thick sauce. You may add more water, one cup at a time if needed
When the chicken cooks and the sauce is to your liking, remove from the heat and serve with your favorite sides
You may garnish with a dusting of parsley flakes and cayenne pepper for some additional heat!
If you don't have coconut aminos and are not on Whole30 you may use 1 teaspoon of browning and 1 tablespoon of sugar as a substitute.
You may also substitute the coconut aminos in this recipe for 1 tablespoon of cassareep.
You can substitute the dried herbs for fresh herbs. Use 1 diced onion, 4-5 cloves of garlic, 2 large tomatoes and about ¼ cup of freshly chopped flat leaf parsley instead of the dried seasoning, if you like.
Recipe by
Metemgee
at https://metemgee.com/2020/07/12/boneless-brown-stew-chicken/