The thing I love the most about my extended family is how culturally diverse we are. With that diversity comes an array of amazing food. Like this Festive Basmati Rice dish that my cousin in law Manjulika (Manju) makes.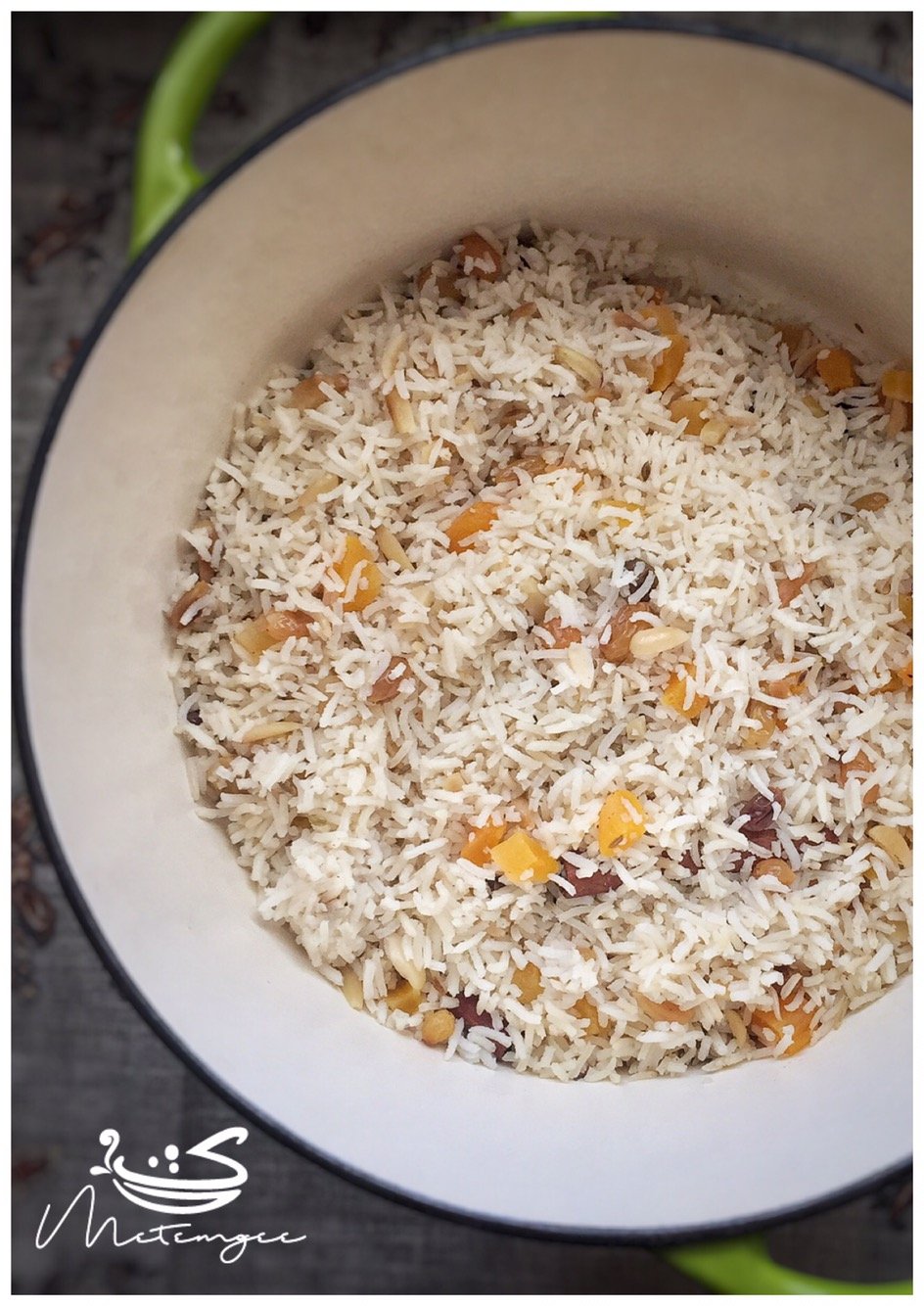 When I lived in NY I was spoiled by all of the food Manju made for me. Her lamb curry is still my all time favorite lamb dish and she always served it with this fragrant and nutty basmati rice. When I moved to Denver I tried making lamb curry the way Manju makes it (didn't even come close) and of course I asked her for her rice recipe. I couldn't believe how simple it was. Surely all that flavor had to come from a much more complicated dish. But it really was simple to make and I've been making it for my family ever since.
Years later I've made different varities of this rice but Manju's original version still remains my favorite especially at Thanksgiving. She graciously gave me the ok to share her recipe with you fine folks and I hope you that you add this Festive Basmati Rice to your Thanksgiving menu this year.
This recipe is very simple, but loaded with flavor. The crunchiness of the nuts and sweetness of the raisins and apricots combined with the flavors and fragrance of the spices really warms me up and puts me in the holiday spirit, plus my house smells amazing while I'm cooking, which is a win for me.
Preparing the Fruit and Nuts
To make Manjulika's Festive Basmati Rice I start by melting half a stick of butter in a heavy pot, like a cast iron dutch oven, but really any pot you use to cook rice will work. After melting the butter, I add the spices, nuts and raisin. In this version I am using slivered almonds, because my 5 year old has a mild cashew allergy, but the original recipe calls for cashews. I let the nuts, raisins and spices cook in the butter for about 5 minutes. The butter will start to get brown which is exactly what you want to happen as this intensifies the flavor of the rice.
Adding the Rice
Then I add 2 cups of basmati rice (I don't wash the rice). I mix the rice really well with the spices and let it toast for a few minutes before adding the water.
Next I add 4 cups of water and leave the pot uncovered. When the liquid comes to a rapid boil, I reduce the heat to low and cover the pot.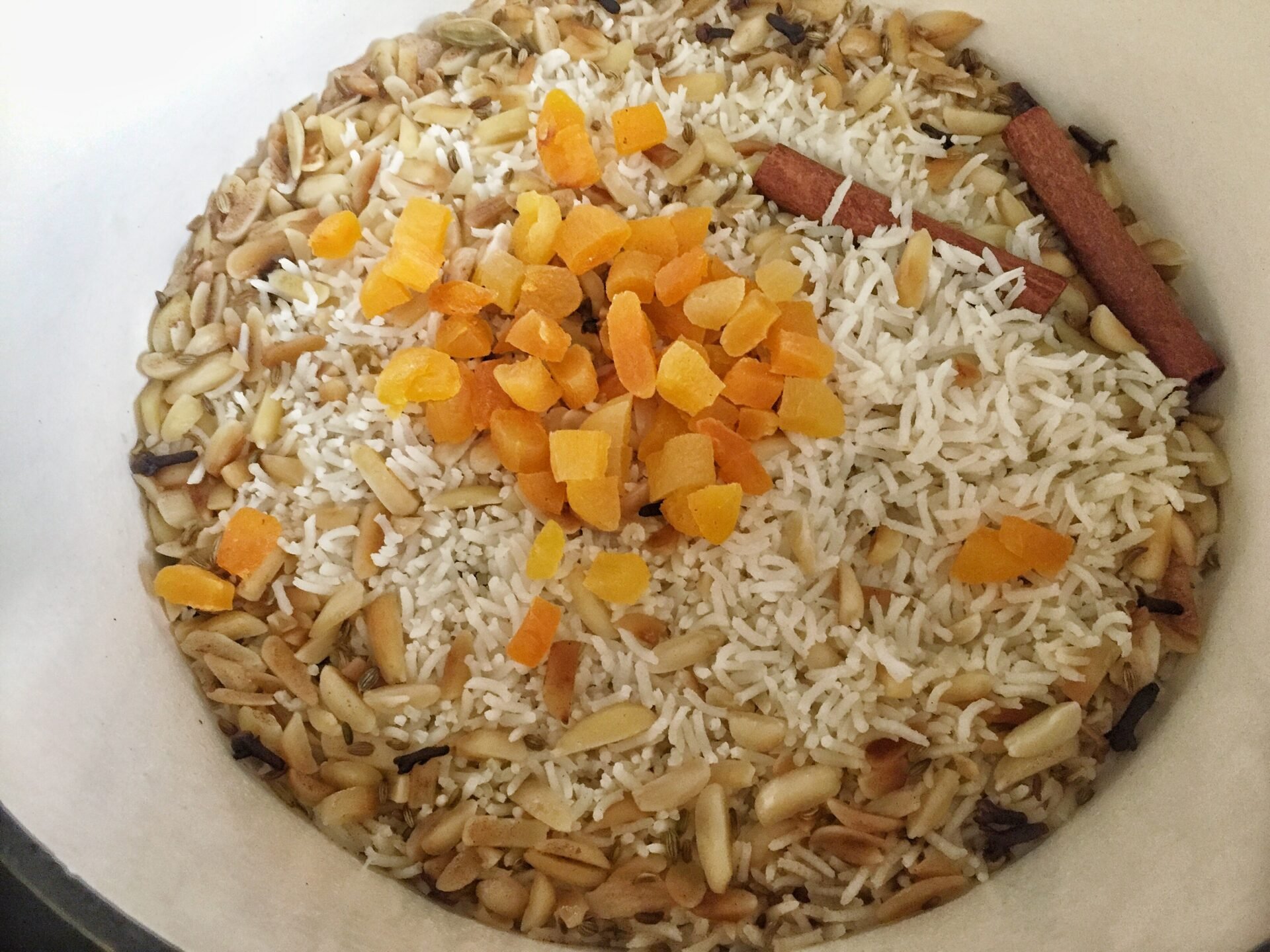 It takes 20 to 30 minutes for the rice to cook. Do not open the pot during this time. Do not stir the rice or even look at it side ways. Just let it do it what it do (ha). After 30 minutes I add some chopped dried apricots to the rice and fluff the rice with a fork, taking care to mix the spices, nuts and raisins into the rice.
This rice goes really well with Caribbean jerk turkey and cranberry chutney and of course lamb curryhttps://metemgee.com/2020/04/18/lamb-curry-curry-lamb-whole30-paleo/ or lamb stew!
The Printable Manjulika's Festive Basmati Rice Recipe Card:

Manjulika's Festive Basmati Rice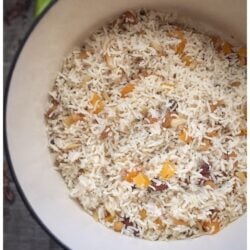 ---
A fragrant and nutty rice that brings all the flavors of the Holdiays together in one dish
---
Ingredients
1/2

stick butter

1

teaspoon

fennel seeds

1

tsp

cloves

2

sticks cinnamon

1/2

teaspoon

salt

3

cardamom pods

1/2

cup

slivered almonds

1

cup

golden raisins

1/2

cup

10-12 dried apricots (chopped)

2

cups

basmati rice

4

cups

water
Instructions
Melt butter on medium-high heat, in a large stock pot or cast iron dutch oven

Then add fennel seeds, cloves, cinnamon sticks and cardamom to the melted butter and cook for 3 minutes

Next add raisins and almonds and cook for 5 minutes stirring often

Then add rice and mix together well letting the rice toast for about 3 minutes

Then add water and leave uncovered until liquid comes to a roaring boil

When boiling reduce heat to low, cover and let simmer until rice is fully cooked about 20 to 30 minutes

Once rice is cooked, add chopped dried apricots and fluff with a fork

Serve hot
Notes
1. You can substitute water in this dish for vegetable stock or chicken broth to add even more flavor to the rice.
2. You can add any combination of nuts and dried fruits. For example, cashews and cranberries work really well too.
3. Don't add the apricots or cranberries in the beginning like I do the raisins. If you let the cranberries boil with the rice the dish will become a bit bitter and cranberry colored. The apricots will also become a bit mushy if it boils with the rice.
---
---
The information listed in the recipe card is an estimate provided by an online nutrition tool. The tool evaluates ingredient names and amounts then makes calculations based on the number of servings listed for the recipe. It is provided as a general guideline and not as a precise calculation. For precise nutrition information please feel free to add the ingredients to your preferred nutrition calculator or consult a doctor or licensed nutritionist.