Custard block is an old-fashioned Guyanese vanilla custard made into a delicious frozen treat. Satisfy your sweet tooth with this cold, creamy dessert on a hot summer day.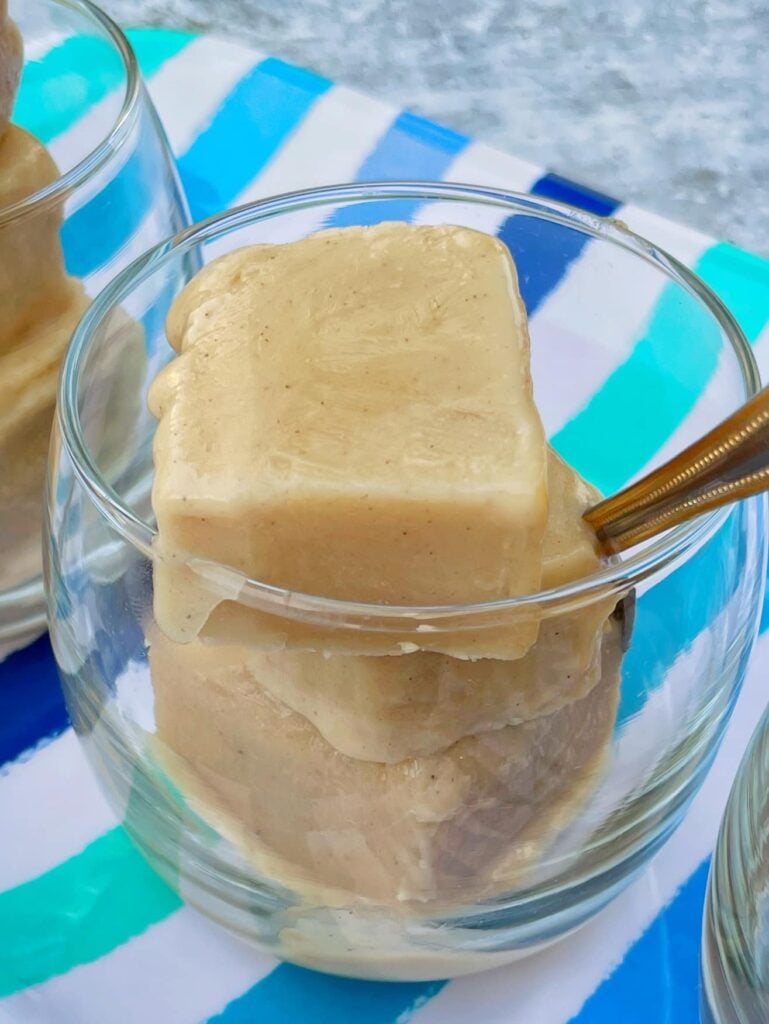 Guyanese Custard Block
Traditionally, custard block is made with milk, sugar, spices, and Bird's Custard Powder. For a very long time, I didn't have access to Bird's Custard Powder where I lived, and made my custard block following an old fashion vanilla custard recipe (which is closer to how homemade ice cream is made). I'm sharing both versions of my recipe below as well as sugar-free and dairy-free alternatives.
For a fruity frozen treat, check out my Flutie recipe.
Why You'll Love This Custard Block Recipe
Perfect Summer Treat: This is a sweet, refreshing snack the whole family can enjoy on a hot day. The kids will love it!
Easy Prep: Simply combine and simmer the ingredients, allow them to cool, and then place them in your desired molds or containers. It really is that simple!
Versatile: There are so many ways to customize custard blocks so everyone can enjoy them!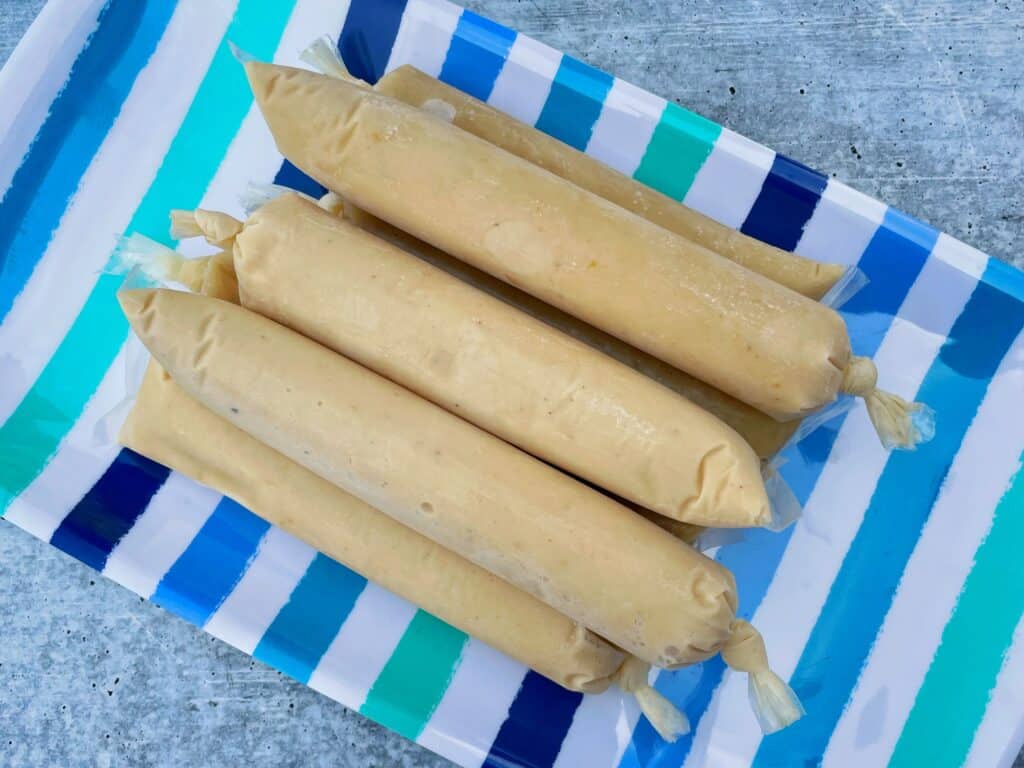 What is Custard Block?
Custard block is frozen Guyanese vanilla custard cut into chunks. Although many non-Guyanese people call ice cream, frozen custard, this is different than homemade Guyanese ice cream.
Ingredients for Custard Block
Below are the ingredients most commonly used to make this popular Guyanese snack. Keep scrolling for variations and substitutes.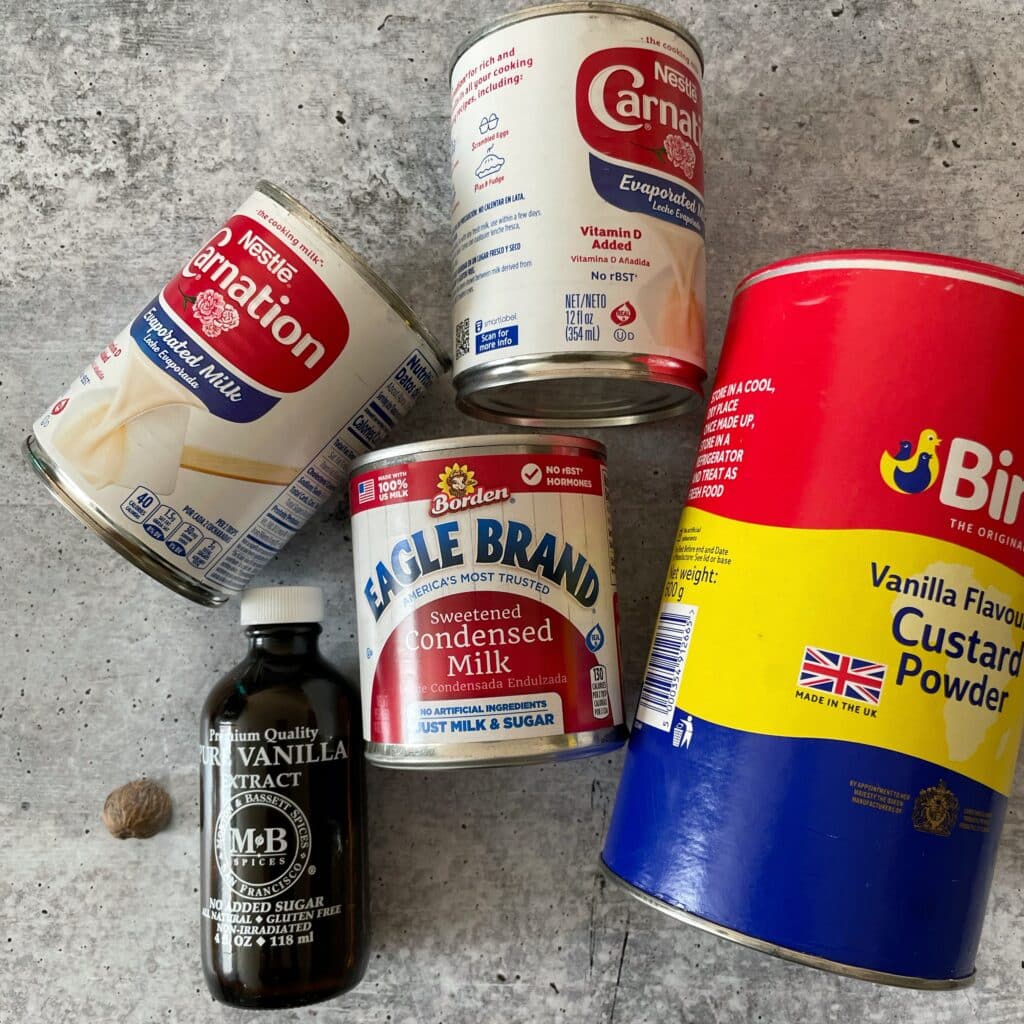 Milk: I use evaporated milk and condensed milk for a creamy texture. You don't need sugar because the condensed milk is already sweetened.
Eggs: You can use 2 tablespoons of Bird's custard powder instead of eggs, if you can find it.
Vanilla extract: Use this for vanilla flavor.
Freshly grated nutmeg: This gives the custard block a pungent, spiced flavor and aromatic quality that can't be replicated with ground nutmeg.
See recipe card for quantities.
What is Custard Powder?
Custard powder is simply cornstarch, annatto powder (for color), and artificial flavoring (to give it the vanilla taste). For a simple custard, use 1 tablespoon of cornstarch to 8 ounces of liquids ratio.
Make a slurry by dissolving the cornstarch in some of your liquid, then add the slurry to your liquid to make a thickened egg-free custard. You don't need to add anything for color and you can add vanilla or French vanilla extract (essence) for flavor. It's that simple!
Where can I buy Custard Powder?
I buy Bird's Custard powder online at amazon.com. You can find it linked here. I also get it in the international foods section at World Market. If neither of these options are available to you and you would like to make the egg free version of this custard you can make your own custard powder.
How to Make Custard Block
Making custard block with Custard Powder
If you can find Bird's Custard Powder where you live then the ingredients for this custard is simply, evaporated milk (loosely called carnation milk), condensed milk, Bird's custard powder, vanilla essence and nutmeg. Some people also add cinnamon and almond or mixed essence. I like to keep it simple.
Making custard block without Custard Powder
To make custard block without using custard powder, I use eggs in order to create an old-fashioned custard. This custard is rich and creamy and has a smooth texture even when frozen. For this recipe I used evaporated milk and condensed milk, but if you prefer it less rich or sugary, you may use just 4 cups of evaporated milk or regular milk (whole, 2%, or skim works here). Then sweeten to taste. About 1/4 cup of granulated sugar works here.

Setting the custard block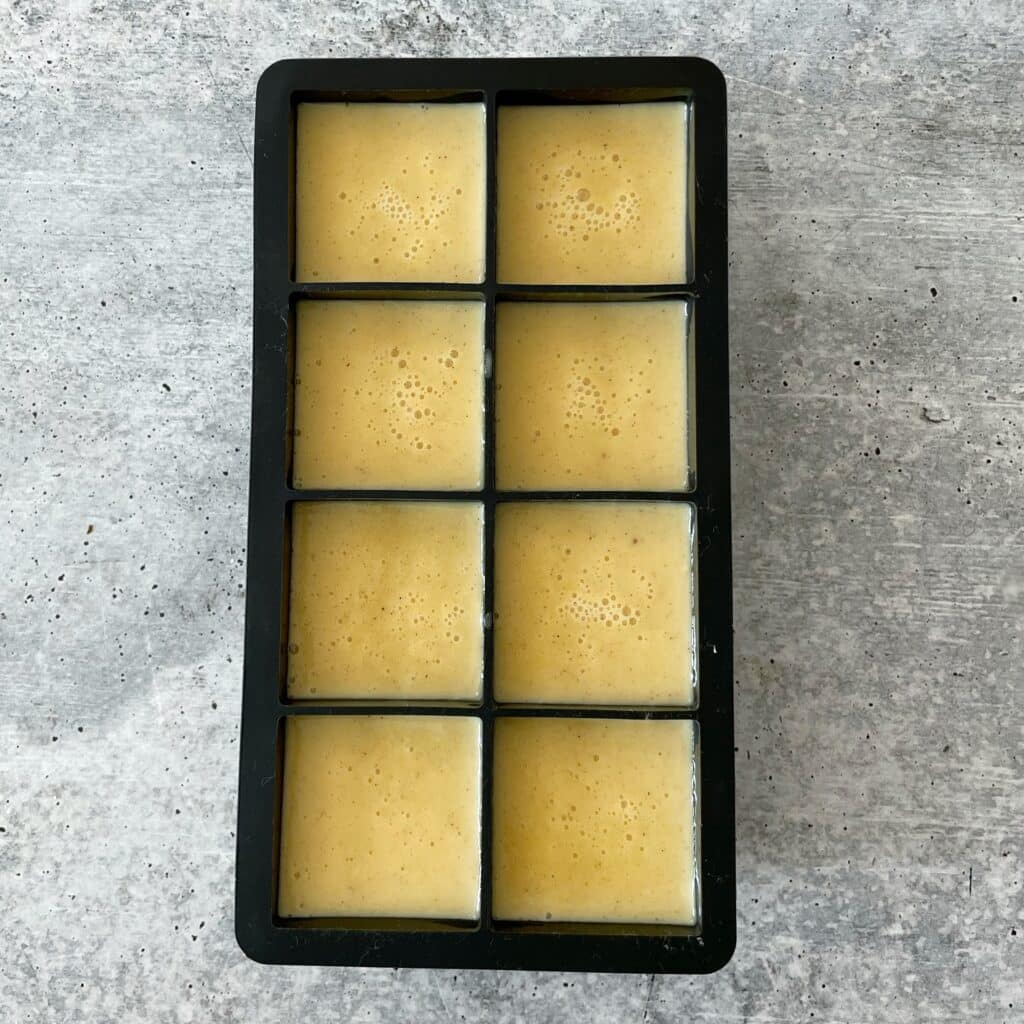 When I was growing up we used pyrex dishes or large plastic containers (often a square Demico ice cream container) to set the custard block. Then we cut the custard block into squares and served them up. Street vendors poured their custard into plastic icicle bags, froze them and sold them as delicious milk icicles. I used an ice cube tray (linked here) for my custard block and I also poured some into icicle bags for the kids.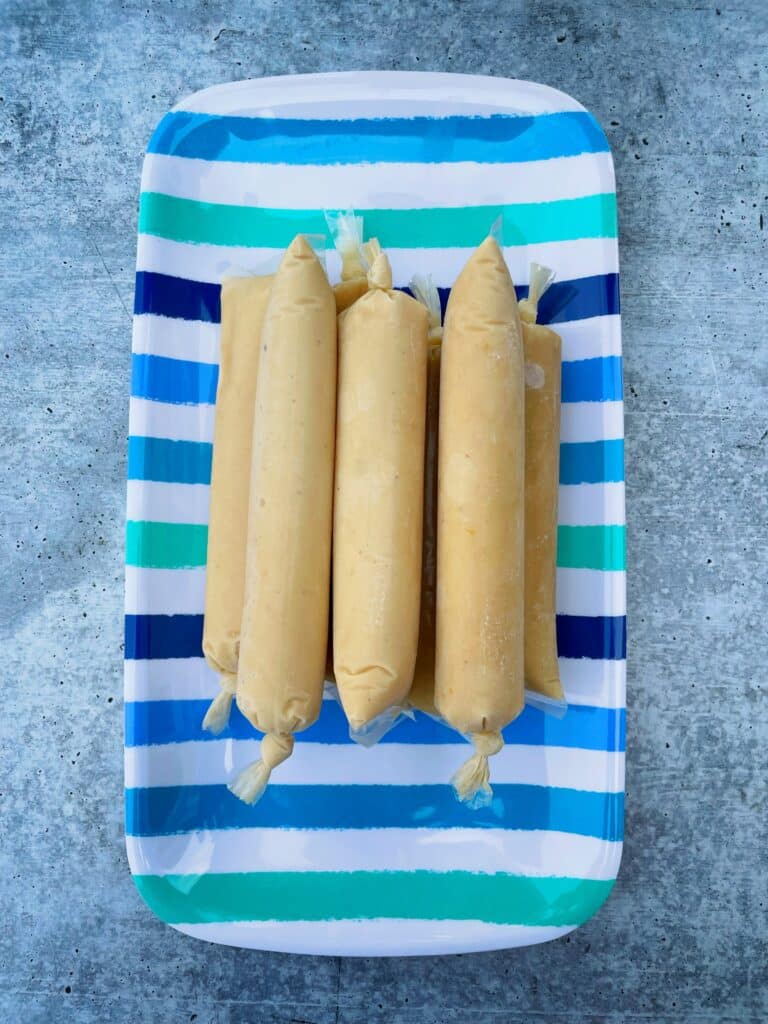 Step-by-step guide to adding Custard Block to Icicle Bags
Custard block in icicle bags reminds me so much of Primary School. During our morning break (recess) all of the children lined up in front of the icicle lady to buy icicles and custard block. So naturally I couldn't make it without pouring some into these bags. I bought the bags from amazon.com (linked here).

Here is a quick and easy way to fill the icicle bags:
Pour your custard block into a mug or jug with a pourable spout. I used a four cup measuring cup.
Then place an icicle bag in a tall glass or cup. Using a glass or cup gives the bag some stability, makes it easy for pouring and allows you to have a marker for when to stop pouring so that all your icicles can have the same size.
Fill the bag up to your desired amount leaving enough room to tie the bag
Tie the icicle bag:

Push all of the liquid custard down, pushing out any air bubbles
Twist the icicles bags around a few times to ensure none of the liquids can spill while tying
Loop extra plastic around your finger
Then feed through the opening of the loop
Form a knot
Pull tight to secure the knot and snip off any extra plastic

Once you've tied all of the icicles freeze the icicles for 2-4 hours or overnight.
Storage
Keep this dessert frozen and it will last up to 3 months in the freezer.
Tips for the Best Custard Block
Whether you are using eggs or custard powder, stir them before adding them to the milk mixture. This prevents the eggs from scrambling or the custard powder from clumping together when added to the hot mixture.
Monitor the mixture closely while it is on the stove because it can easily burn. And then, you'd have to start the process all over.
Once custard powder is added to the milk, keep it on low heat.
Allow the custard mixture to cool down before placing it in the fridge. If you don't wait, bacteria can grow, and the custard is at risk of spoiling.
Feel free to use whatever mold you would like whether it's a popsicle mold, Tupperware, an ice cube tray or icicle bags.
Allow it to set in the freezer for at least two hours.
Recipe Variations
Non-Dairy Custard Block. For a dairy-free dessert, try a milk alternative. Each of the below options is a 1:1 swap in the recipe for:

Almond milk: Try sweetened vanilla almond milk for the best results.
Cashew milk: Cashew milk tasted the closest to the block made with dairy milk.
Oat milk: The custard block oat milk was thick and creamy and really delicious.

Sugar-Free Custard Block. In my quest to make Guyanese food and treats work for my dietary needs, I'm always trying to create recipes that are refined sugar-free. Skip the condensed milk and replace it with another tin of evaporated milk. Then try these alternative sugar options that worked for me:

Coconut sugar: I used a 1/4 cup of coconut sugar in my dairy-free recipes and it was the right amount of sweetness. It did, however, change the color of the custard block and made it quite dark, but that didn't bother me.
Maple syrup: This was a great sugar swap. I thought I would taste the maple flavor but I couldn't.
Honey: If you don't mind the subtle taste of honey, use that to sweeten the custard block. It is a great refined sugar-free option.
Frequently Asked Questions
Why is my custard watery?
Custard becomes watery if it is undercooked. Ensure the mixture is thick enough to coat the back of a spoon before taking it off the heat.
What is Guyanese custard block called in other parts of the world?
Variations are made throughout the Carribean and beyond. In the Philippines, they are known as ice candy; in India, it is kulfi; bolis in Mexico; helado de fundita in the Dominican Republic; and abele in Ghana.
What is the difference between milk icicles and custard block?
The recipe is the same but the two names come from how the frozen Guyanese dessert is packaged. Milk icicles are contained in icicle bags whereas custard block is poured into ice cube trays. Either way, it is absolutely delicious!

Custard Block (Frozen Vanilla Custard)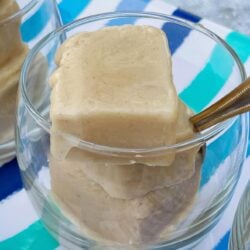 ---
Custard block is an old-fashioned Guyanese vanilla custard made into a delicious frozen treat. Satisfy your sweet tooth with this cold, creamy dessert on a hot summer day.
---
Equipment
Medium Saucepan

Small Mixing Bowl

Whisk
Ingredients
2

cans evaporated milk

1

can condensed milk

6

eggs

may use 2 tablespoons of Bird's custard powder instead of eggs

1

teaspoon

vanilla extract

1

teaspoon

of freshly grated nutmeg
Instructions
Combine evaporated and condensed milk in a medium saucepan and stir until fully combined.

Bring to a boil on medium heat, then reduce the heat to low.
Using Eggs:
Whisk together eggs in a small mixing bowl then temper milk into eggs by adding warm milk 1/2 cup at a time to the whisked eggs, until all of the milk is combined with the eggs. This prevents the eggs from scrambling when added directly to the pot of boiling milk.

Next add vanilla essence and nutmeg and whisk together.

Continue to cook on low, constantly whisking until mixture thickens.
Using custard powder:
In a small bowl add 2 tablespoons of custard powder and about 1/2 cup of warm milk.

Mix together until all of the custard powder dissolves into the milk and has no lumps.

Next add vanilla essence and nutmeg and whisk together.

Then pour the mixture into the saucepan of warm milk, whisking [vigorously] as you pour to prevent lumps.

Continue to cook on low heat until the custard thickens. The mixture should be thick enough to coat the back of a spoon but not too thick.
Setting the custard:
Pour custard into ice cube trays, ice pop molds, icicle bags or a large square dish.

Freeze until the custard sets, this should take about 2-4 hours, or possibly overnight. If using a large dish to set, cut into 9-12 cubes and serve.
Notes
Make it dairy free:
Substitute the evaporated and condensed milk with 4 cups of non-dairy milk. I've used almond, cashew and oat milk with vanilla cashew milk being my favorite option.Then sweeten to taste.
Need a version that has less sugar?:
Substitute the condensed milk with another can of evaporated milk and sweeten with 3-4 tablespoons of sugar or sugar to taste. You may also use honey, maple syrup or coconut sugar to sweeten.
Nutrition
Calories:
159
kcal
Carbohydrates:
20
g
Protein:
6
g
Fat:
6
g
Saturated Fat:
3
g
Polyunsaturated Fat:
1
g
Monounsaturated Fat:
2
g
Trans Fat:
0.01
g
Cholesterol:
97
mg
Sodium:
88
mg
Potassium:
197
mg
Fiber:
0.03
g
Sugar:
20
g
Vitamin A:
241
IU
Vitamin C:
1
mg
Calcium:
144
mg
Iron:
0.5
mg
---
---
The information listed in the recipe card is an estimate provided by an online nutrition tool. The tool evaluates ingredient names and amounts then makes calculations based on the number of servings listed for the recipe. It is provided as a general guideline and not as a precise calculation. For precise nutrition information please feel free to add the ingredients to your preferred nutrition calculator or consult a doctor or licensed nutritionist.