Guyanese cheese straws are cheesy, savory crispy sticks with a hint of spice. They are meant to be shared with many so serve them at your next party or social gathering for a delectable treat!
Guyanese Cheese Straws
The best Guyanese birthday parties or family gatherings I've ever attended always had cheese straws. I learned how to make cheese straws in high school as part of my Home Management (HomeEc) class. My Home Ec teacher, Mrs. Reid taught us how to make light, buttery, melt-in-your-mouth cheese straws that somehow still had a bit of a crunch. Thank you, Mrs. Reid! I've made this same recipe over the years and today I am sharing it with you.
Why You'll Love This Cheese Straws Recipe
Easy to Prepare: Wondering how to make cheese straws without a cookie press? This recipe is it! With 30 minutes of prep time and just 10 minutes of cooking time, you will have a delicious dessert ready to serve in less than 1 hour.
Great for Parties: It's not a Guyanese party without cheese straws! Everyone loves them and they'll be the first thing to disappear off the snack table.
Absolutely Delicious: Cheese lovers to the front! Shaped like a churro but packed with cheese flavor, these straws are so tasty!
What are cheese straws?
Cheese straws are a popular snack in Guyana but originated in England. They are a cheese mixture combined with flour, that is divided into thin strips and then baked. It is also popular in American Southern cuisine.
While this snack may not be unique to Guyana, it is definitely a Guyanese staple, especially at parties. What makes them Guyanese Cheese Straws, is the use of New Zealand Sharp Cheddar (a popular type of cheddar in Guyana) and the addition of wiri wiri pepper for a little heat.
Ingredients for Guyanese Cheese Straws
This simple cheese straw recipe requires just a few kitchen staples.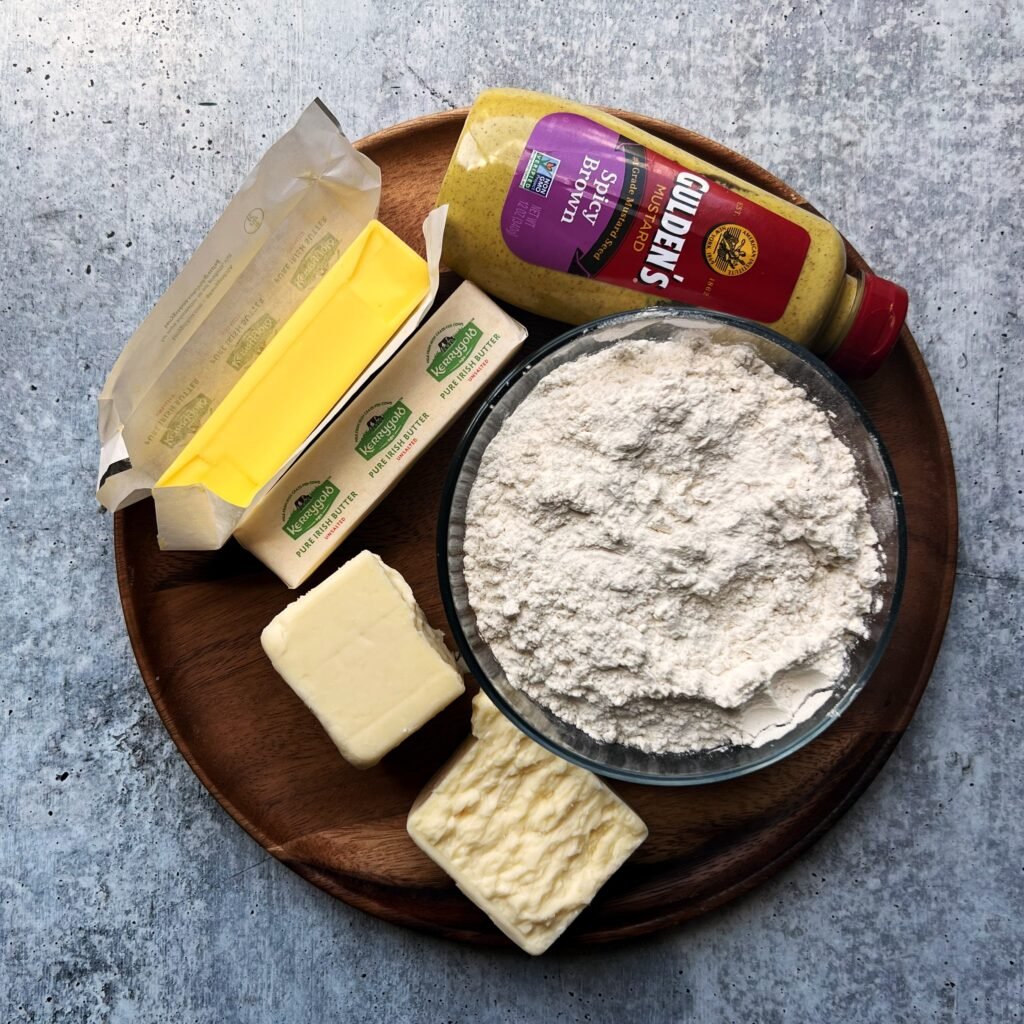 Sharp Cheddar Cheese: I prefer a white aged cheddar, like a New Zealand, Australian or Irish cheddar, but an aged Vermont cheddar also works. Grate the cheese yourself for the best results.
Softened butter: Use room temperature butter for easier mixing.
Flour: Use all purpose flour.
Mustard: I prefer spicy brown mustard
Pepper: Wiri wiri, scotch bonnet, or even some cayenne will do (not pictured).
Pinch of salt: This is an optional ingredient that enhances the other flavors (not pictured).
See recipe card for quantities.
How to Make Guyanese Cheese Straws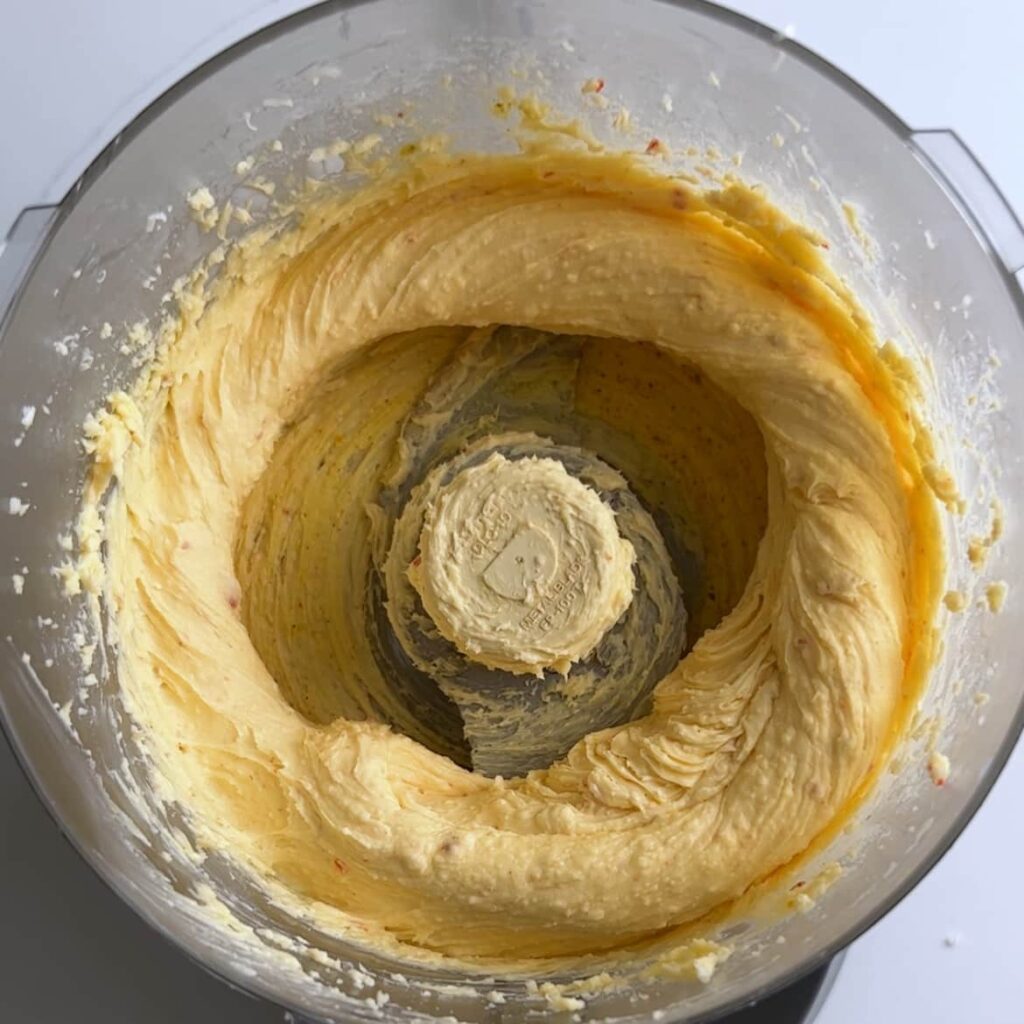 Combine Ingredients in Food Processor
Add the butter, cheese, mustard, and pepper to a food processor and blend until a smooth paste forms. You can also do this step without a food processor.
Simply grate the cheese on the smallest side of a cheese grater. Then add the finely shredded cheese, butter, mustard, and pepper to a mixing bowl and mix using a fork or a hand mixer, until it is a smooth paste with no lumps.
Add Flour
Add the flour and a pinch of salt (if using) to the cheese paste in the food processor and blend together until it forms a smooth dough. The dough should not be stiff but spreadable.
If you are not using a food processor to make your Guyanese cheese straws, simply add the flour to the cheese paste mixture, folding in a little at a time until you have a smooth, spreadable dough.
Add Cheese Dough to Piping Bag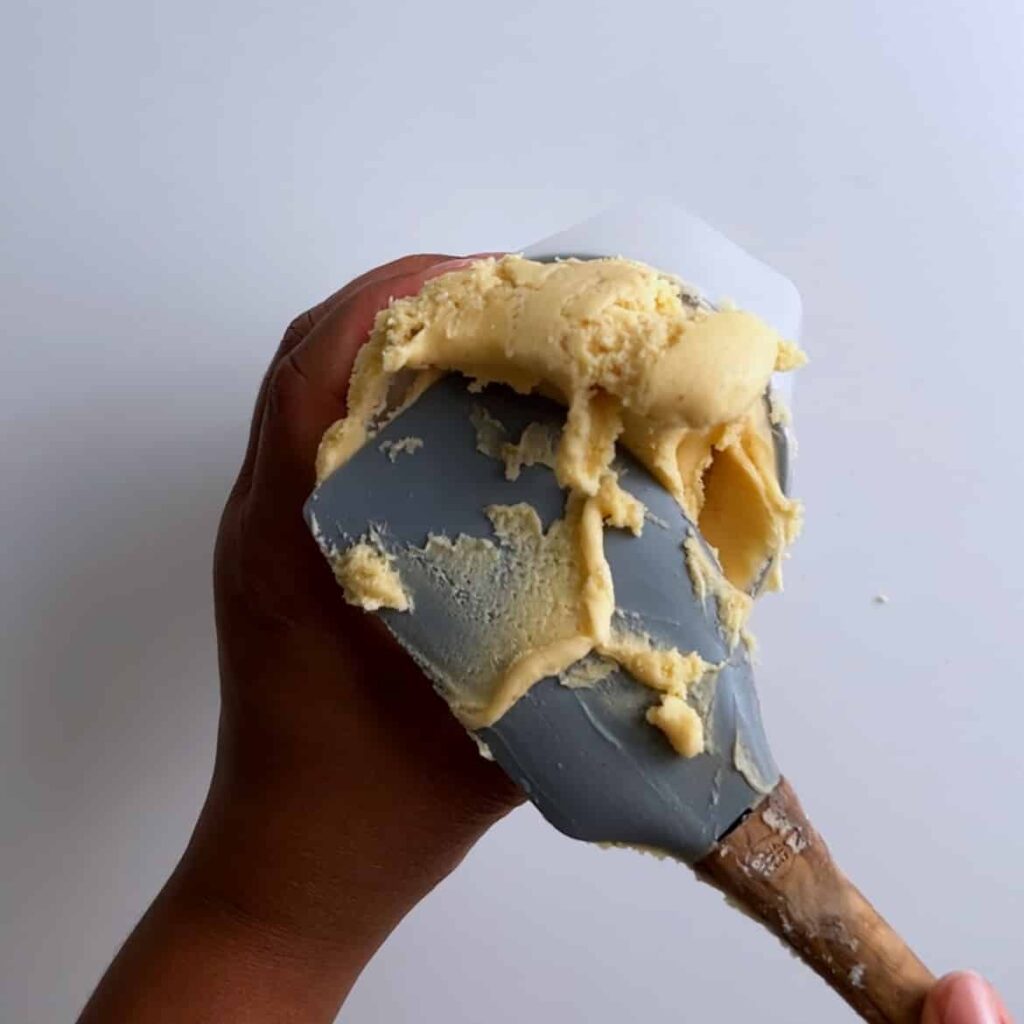 Once you have your dough, the next step is to prepare it for piping. I use a pastry bag with a star tip, to give the cheese straws their signature texture. A great way to fill a pastry bag is to put it into a tall glass, then open the top of the bag over the glass. Add your dough into the bag by pushing it into the opening with a spatula.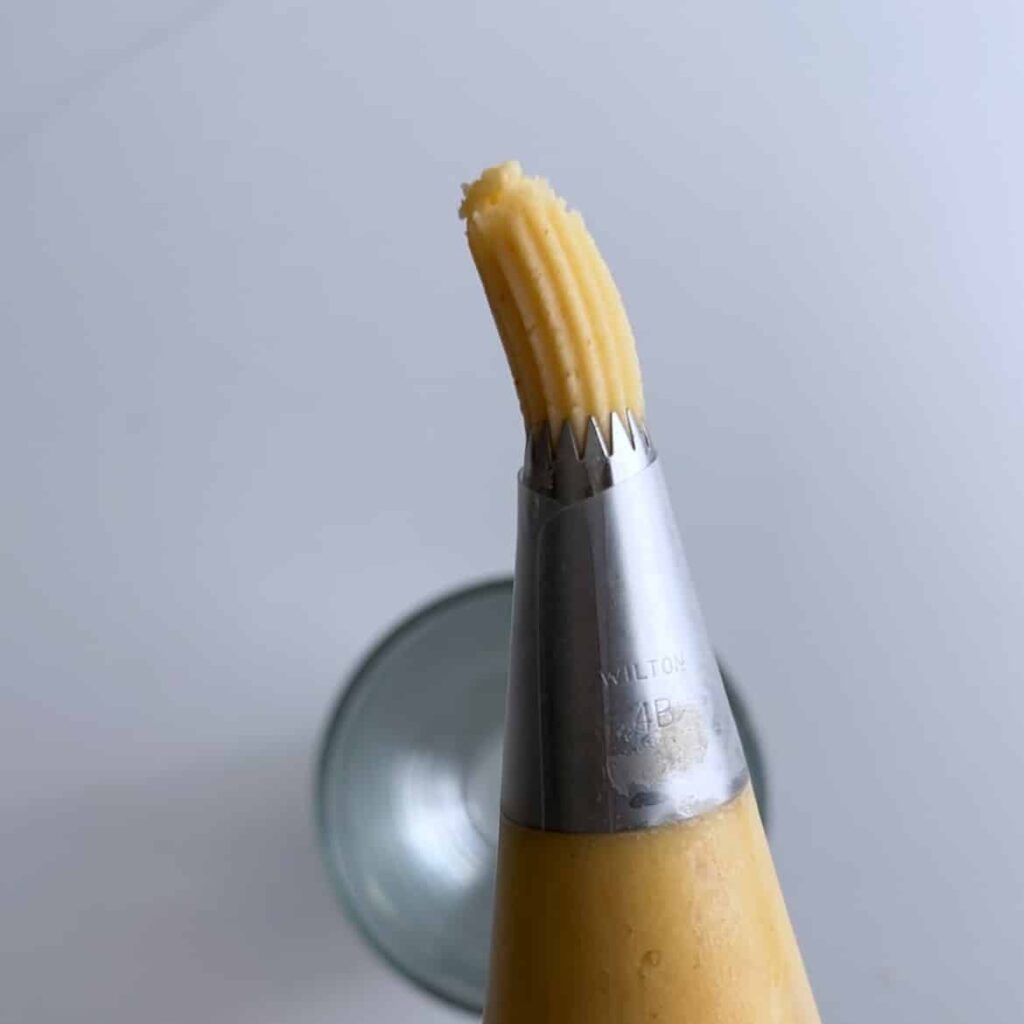 For this batch of pastry dough I used an open star tip (also called a French star tip) in size 4B. You can also use a closed star tip for a more defined pattern on your finished cheese straws. You can size up or down when choosing your pastry tip, totally up to you.
Form Guyanese Cheese Straws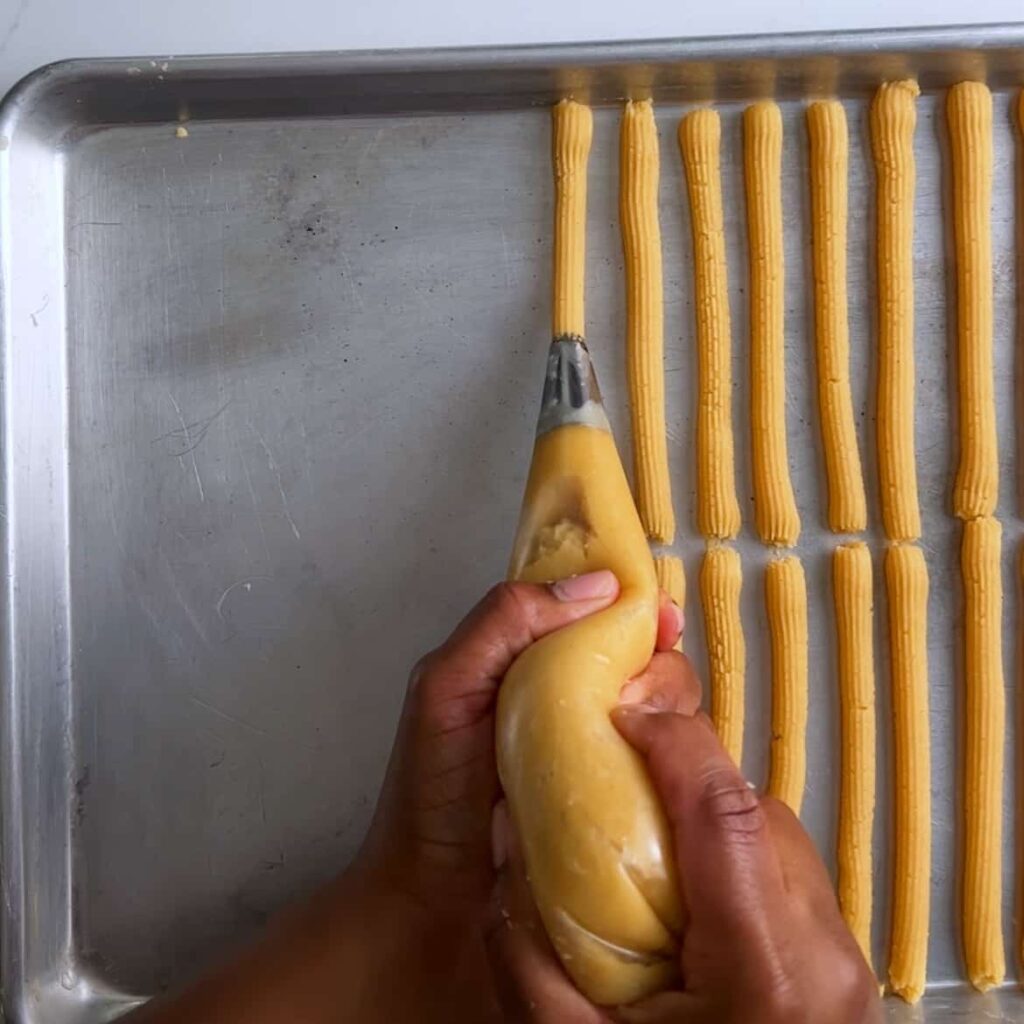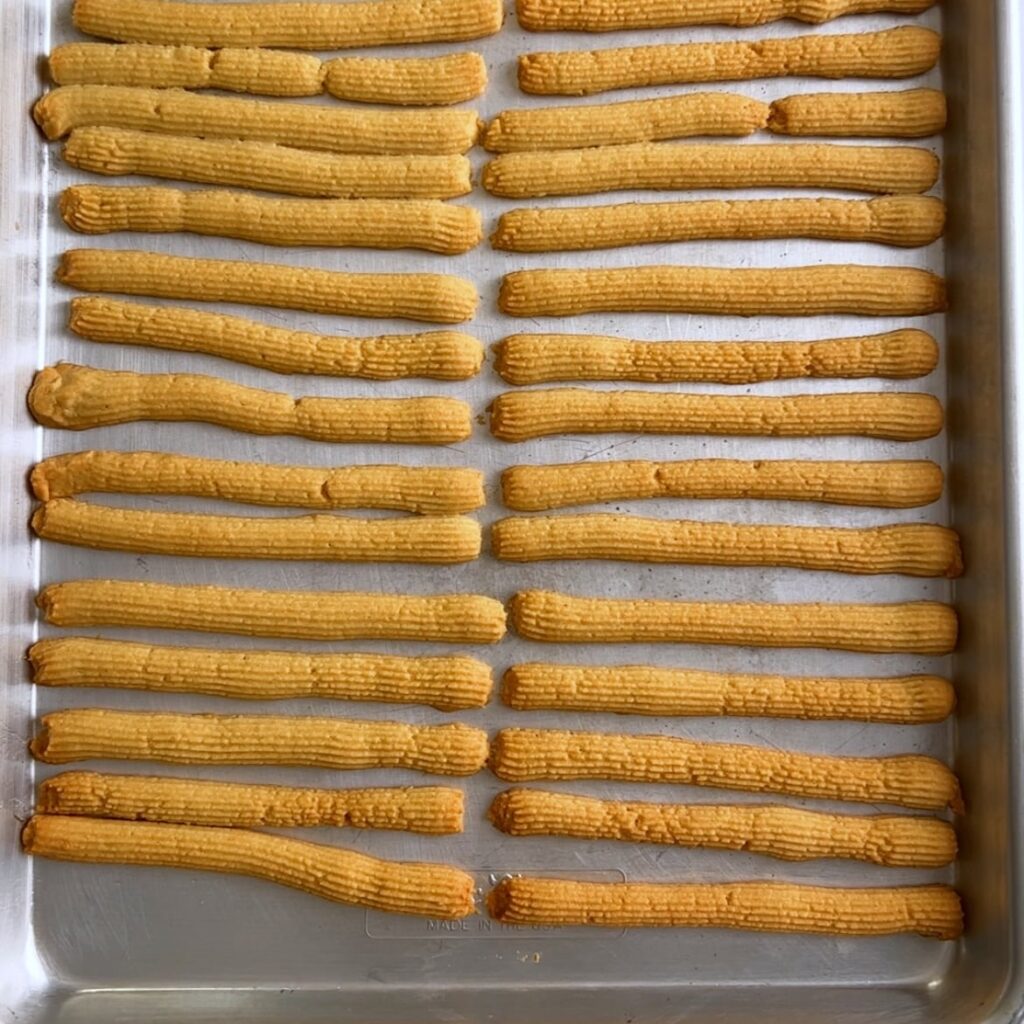 On a greased baking sheet, pipe your cheese straws into pieces that are between 3-6 inches long. I prefer longer straws, so I made them half the width of my sheet pan. You can also pipe them into long strips and then cut them into your desired length before baking.
Bake Cheese Straws
Bake your cheese straws at 400°F for 10 to 15 minutes. Or until they start to get brown. I typically check them at 10 minutes, then if they are not yet brown, I let them go for 3 to 5 more minutes. Do not overbake them or they will be dry.
Substitutions
Butter – You can use margarine or other dairy free butter if you like. You may also replace 1/4 cup of butter in this recipe with 1/4 cup of vegetable shortening if you want a really light tasting cheese straw.
Cheese – Aged white cheddar makes the best cheese straws, but if you can't find that you can use extra sharp white cheddar and as a last resort, regular extra sharp cheddar. I haven't tried this with dairy free cheese substitutes.
Pepper – Replace wiri wiri pepper with scotch bonnet pepper, habanero, cayenne pepper or even some hot sauce.
Mustard – You can replace the spicy brown mustard in this recipe with yellow mustard or even ground mustard (mustard powder).
Variations
The hardest part about making Guyanese cheese straws is piping out those neat little straws. Some people pipe them into whatever shapes they like. I love piping them into stars or rosettes or flowers. I learned this tip in high school from Mrs. Reid. This is also the way we make those butter cookies that were always at every kid's birthday party growing up.
To achieve these little rosettes, I used a large swirl top pastry tip and just pressed down as I piped the dough, until I achieved the size of the flower that I wanted.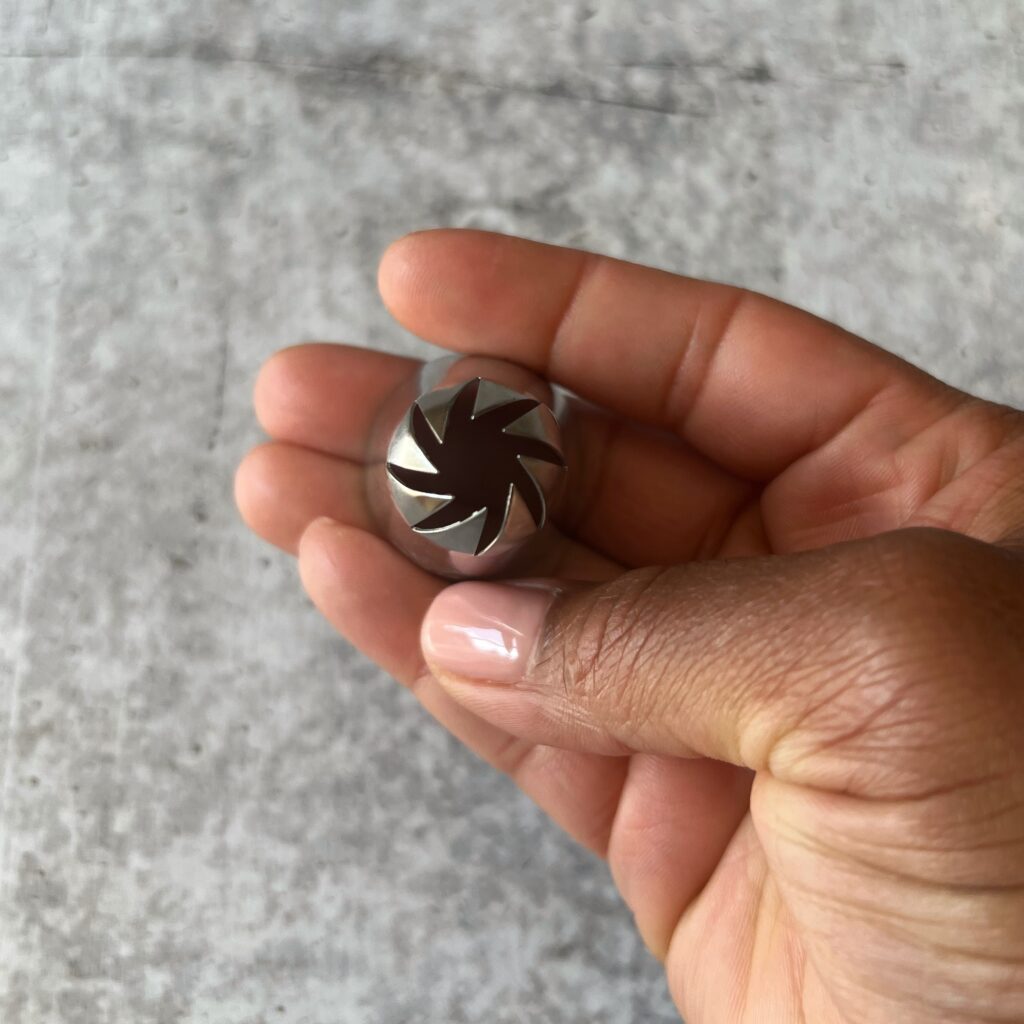 These are the most perfect little party bites!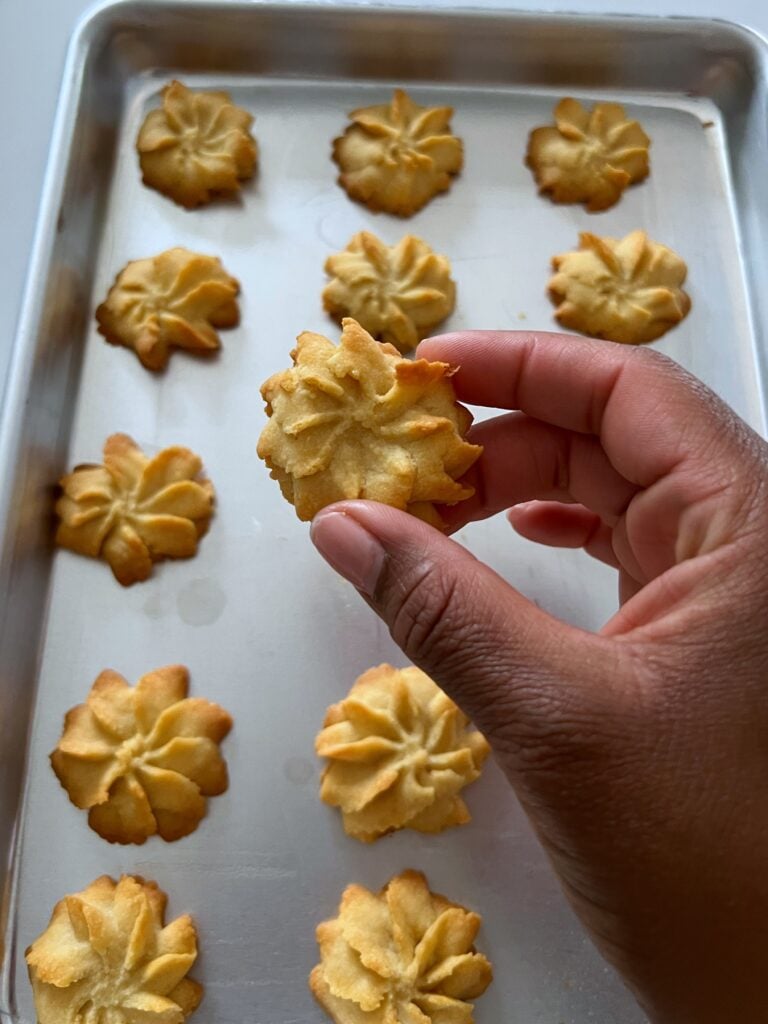 You may also use a large closed or open star tip to make cheese rosettes.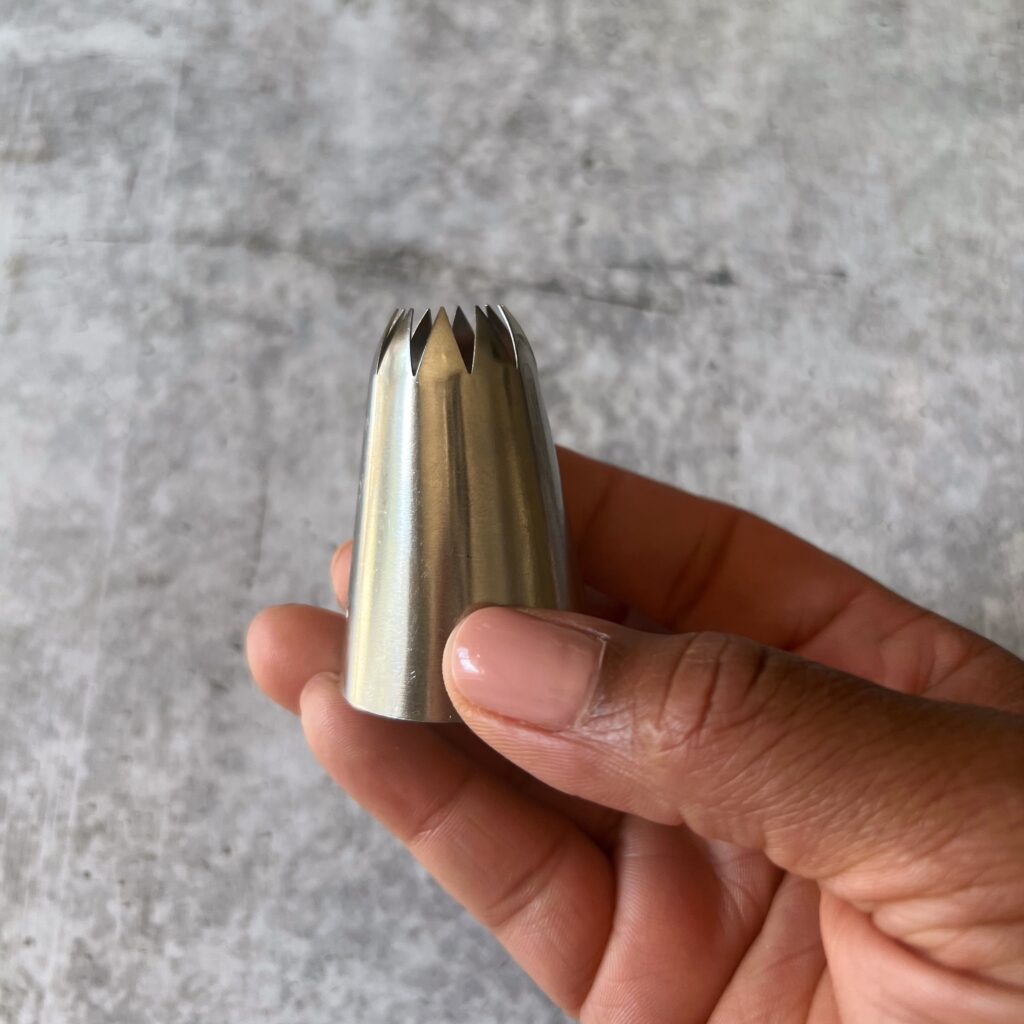 Equipment
Grater: Used to shred the cheese.
Food Processor: To combine ingredients.
Pastry Bag with a Star Tip: To pipe the cheese straws.
Baking Sheet: To cook the cheese straws.
Storage
Store your cheese straws (if you manage to have any leftovers) in an airtight container or ziplock bag at room temperature for no more than 5 days. Toss after 5 days. You may also store them in the refrigerator, although this tends to dry them out.
Tips for the Best Guyanese Cheese Straws
Having a perfectly smooth cheese paste. If there are lumps in your cheese paste, it may be hard to pipe. Some pieces may even become stuck in the piping tip. To achieve this I grate my cheese first, on the fine side of the cheese grater. Then I add the cheese to the food processor. Of course, you could dice your cheese up and then add it to the food processor, but I don't want to take any chances with having chunks in my batter. If you are mixing it without a food processor, continue to mix until smooth.
Getting the dough right is essential. Too soft and the straws will spread and will not bake right. Too stiff and your cheese straws will be dry. Please follow this recipe as written for the cheese, butter and flour proportions. However if for some reason (maybe improper measuring) your dough does not come out right try the following:

Dough is dry and stiff: Add a tablespoon of butter and mix it into the dough until it is smooth and spreadable.
Dough too soft: Add flour one tablespoon at a time until the dough is smooth and spreadable.

Guyanese Cheese straws have a signature pattern/texture. To achieve this texture we use a star pastry tip when piping the cheese straws out. Pictured below is an open star tip (also called a French star tip) in size 4B. You may also use the closed star tip in this same size or you may size one up or down, but I wouldn't go any bigger or smaller than that.
I've tried baking these on a silicone baking mat but they do not brown as well, so I highly recommend directly on a greased baking sheet to get that nice brown color on the bottom.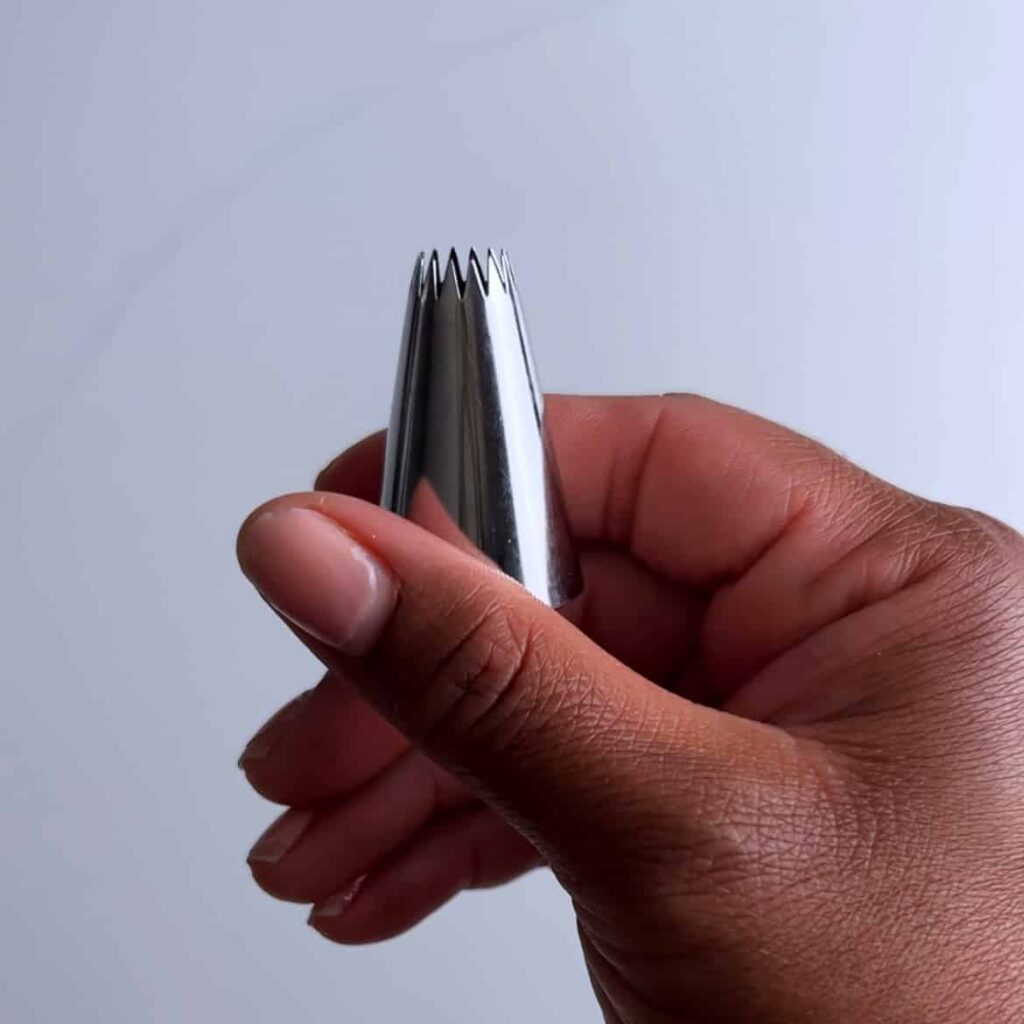 Frequently Asked Questions
Can you freeze cheese straws?
I do not recommend freezing them after baking. However, you can freeze uncooked cheese straws. Place them in an airtight container or ziplock bag and freeze for up to one month. Allow them to defrost in the fridge overnight before baking them.
How long do fresh cheese straws last?
Consume Guyanese cheese straws within 5 days of baking them
How do you keep cheese straws crisp?
Ensure the cheese straws are not underbaked or piped too thick. Eat them as soon as they are out of the oven for a nice crunch. If you don't plan to eat them right away, allow them to cool down in the oven. They will stay crispy for longer that way.

Guyanese Cheese Straws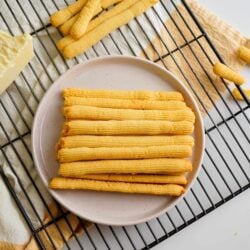 ---
Guyanese cheese straws are cheesy, savory crispy sticks with a hint of spice. They are meant to be shared with many so serve them at your next party or social gathering for a delectable treat!
---
Equipment
Grater

Food Processor

Pastry Bag with a Star Tip

Baking Sheet
Ingredients
1/2

lb

Sharp (Extra Sharp) Cheddar Cheese

(Use aged cheddar if you can)

3/4

cups

Butter, softened

(6 ounces)

1

teaspoon

spicy brown mustard

2

wiri wiri peppers

(remove seed and veins if you do not want the heat)

2 1/4

cups

plus 1 tablespoon of flour

(11 ounces or 312 grams)

Pinch of salt

Optional
Instructions
Making the dough in a Food Processor
Finely grate cheese, then add to a food processor, followed by the butter, spicy brown mustard, wiri wiri pepper

Blend together until you are left with a smooth, lump free cheese paste

Then add the flour and salt and continue to mix until fully combined into a smooth spreadable dough
Making the dough without a food processor
Grate the cheese using a the fine shred side on a box grater, combine cheese, butter, mustard, pepper and salt (if using) and mash together with a fork until completely smooth. You may also use a hand mixer to mix it into a smooth paste

Then add the flour about 1/2 cup at a time and fold into the cheese paste until a smooth and spreadable dough forms
Piping and Baking
Add the dough to a pastry bag with a star tip (I used an open start tip in size 4B), then pipe onto a greased baking sheet into 3 to 6 inch strips

Bake at 400 °F for 10 to 15 minutes, or as soon as it starts to brown. Remove from the oven and allow to cool before serving
Notes
See section above for substitutions and different ways to shape your cheese straws
You can replace a 1/4 cup of butter with 1/4 of vegetable shortening for a really light cheese straw. I prefer it with all butter because the cheese straw isn't as crumbly but if you like that really melty cheese straw try this substitution.
The consistency of the cheese straw dough, is soft and smooth and easy to work with. If it is hard to get through the pastry tip, then it is too stiff. If it comes and looks oily, your cheese straws will spread and be mushy.
Nutrition
Calories:
530
kcal
Carbohydrates:
37
g
Protein:
14
g
Fat:
36
g
Saturated Fat:
22
g
Polyunsaturated Fat:
2
g
Monounsaturated Fat:
9
g
Trans Fat:
1
g
Cholesterol:
99
mg
Sodium:
440
mg
Potassium:
98
mg
Fiber:
1
g
Sugar:
0.5
g
Vitamin A:
1120
IU
Vitamin C:
5
mg
Calcium:
282
mg
Iron:
2
mg
---
---
The information listed in the recipe card is an estimate provided by an online nutrition tool. The tool evaluates ingredient names and amounts then makes calculations based on the number of servings listed for the recipe. It is provided as a general guideline and not as a precise calculation. For precise nutrition information please feel free to add the ingredients to your preferred nutrition calculator or consult a doctor or licensed nutritionist.