Hi friend, I'm so glad you stopped by my little corner of the internet to check out my Guyanese recipes. My name is Althea Brown — owner, recipe developer, and content creator here at Metemgee (pronounced meh-tem-g). (Don't worry if you've called me Metemgee or the Metemgee Lady in the past, we both knew who you were talking to. ????) I am the woman behind the Guyanese and Caribbean recipes you know and love. New around here, don't worry I'll catch you up. Keep reading.
About Althea Brown
My husband and I grew up in Guyana (it is on the northern tip of South America) eating traditional Guyanese dishes, made at home by our moms, aunts and grandmothers. We even went to the same high school.
When I was 18, my family move to New York. I did the whole American dream — college, working, and living at home with my mom's cooking to get me through finals.
Then I moved to Denver shortly after I got married. Suddenly, my mom wasn't there to make all my favorite comfort foods from home. And there weren't any Caribbean restaurants or cook-shops around either. I felt so empty and craved the delicious home-cooked dishes I grew up eating.
So I had no choice but to start cooking them myself.
How I started cooking Guyanese Recipes
I've been cooking since I was nine years old, but I didn't always like it — to be honest, I've made plenty of mistakes along the way. Once, while learning to cook, I added too much sugar to an eggplant dish (Fried Baigan). My mom always added a pinch of sugar to hers and well, I overdid it. It ended up being a sweet eggplant surprise, that everyone had to eat because, as my mom drilled into us, "Guyanese people do not waste food!"
I've grown a lot as a cook since then and I'm excited to share my Guyanese and Caribbean recipes with you. I aim to make each recipe as easy and quick as possible with ingredients you can find at your local grocery store, latin or asian markets. Some ingredients are even available online!
I promise you can make your favorite comfort foods too.
My Guyanese Recipes
Growing up, my mom was always at home taking care of me and my siblings, our house, and making traditional dishes. You know that feeling when you smell a specific scent or hear a sound, bringing you to a special moment with someone you love? That's what Guyanese food does for me. It takes me back to when I was cooking with my mom, aunts, and grandmas, who taught me everything I know in the kitchen.
If I had to pick one dish to describe my idea of comfort food, it would be metemgee. For those who don't know, metemgee is a hearty soup made with root vegetables in a coconut milk broth. It's like happiness in a bowl. Guyanese people love it and eat it often.
All of my recipes are inspired by the strong, fierce women in my family who know how to whip up a good 'ol bowl of metemgee. But as true Guyanese home cooks, they didn't measure anything.
So when I started cooking, I had to experiment a little bit to get the texture, consistency, and flavors just right. I started posting recipes on this blog for easy reference so other Guyanese home cooks could easily make their favorite dishes, too — minus the mess-ups.
Some of my recipes are paleo, and some are better left as they are. If you need paleo versions, type "paleo" into the search bar on the homepage for recipes that make you feel good.
Like most Guyanese people my husband and I also grew up with all of the cultural influences of a country that has 6 different ethnic groups. However, Indo-Guyanese influences were strongest in both of our households so that finds its way into some of my recipes as well.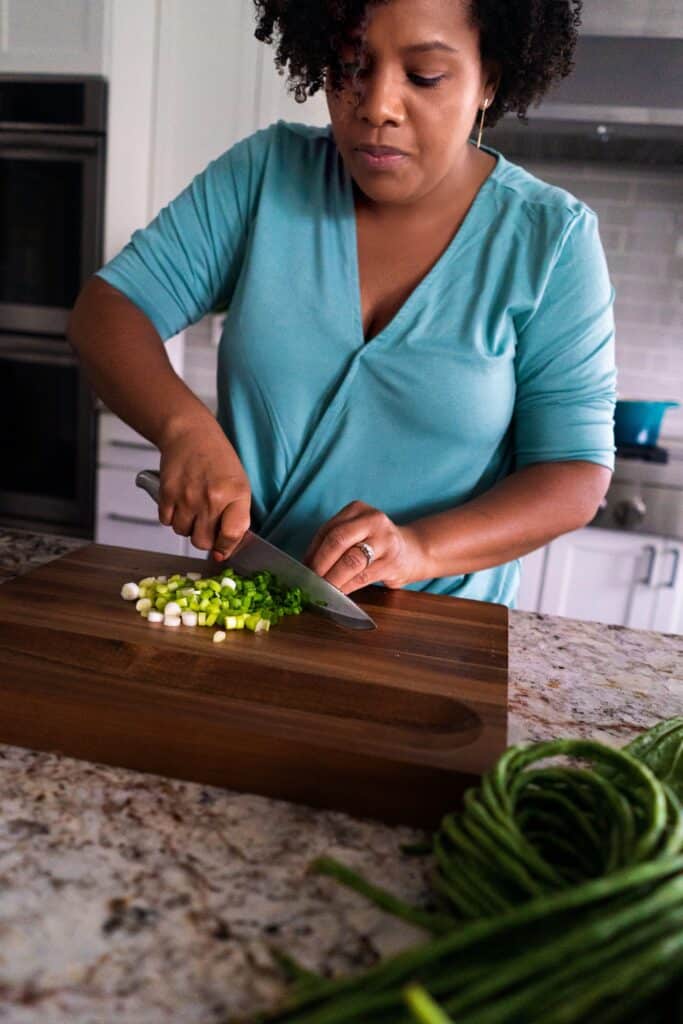 Guyanese or Caribbean Food?
Well… it's both. Guyana has a lot in common with the Caribbean, including a history of British colonization. The Guyanese community considers themselves culturally part of the Caribbean, and our foods share many similarities and diversity.
Our diversity is directly linked to plantation agriculture and British colonization. After slavery was abolished, the constant need for labor workers shaped and molded the people who later found a home in Guyana. And that's how we've grown into a beautiful blend of people, food, and culture.
I hope you love the blend of Caribbean, gluten free, and paleo food as much as I do.
My Journey to a Paleo-ish Lifestyle
I did my first round of Whole30 in 2015 without really understanding how the program works. I made it through but didn't do the reintroduction, fell back into old eating habits, and started not feeling well again. After that, I decided to dive back in and follow through. So I bought the books and did the reintroduction the second time around.
Whole30 is a food elimination program that cuts out dairy, grains, legumes, and sugar for a minimum of 30 days. After 30 days, you introduce a portion of food from one of those groups to see how your body reacts. Whole30 programs usually last between 30-90 days. The purpose of the program and reintroduction is to figure out what foods, if any, negatively affect your body.
After your reintroduction, you can decide which foods you want to cut out or how often you're willing to put up with the negative effects of foods that bother you. That's what we call food freedom.
My Whole30 experience taught me that I have a sensitivity to gluten. At the very least, I eat gluten-free with the occasional exception of my mom's roti. Because, ya know, there's nothing quite like mom's cooking.
At the most, I eat paleo without dairy, refined sugars, or gluten. Everyone is different, but this is what food freedom looks like for me, so I always feel my best. I can eat more paleo when I feel like my body needs it or stick to gluten-free when I'm on vacation.
Food Freedom
You may be one of the lucky ones who can eat whatever you want. Enjoy it, seriously. I wish that I could do that.
I'm the only one in my house that's gluten-free and paleo. My husband eats anything and everything. My kids are dairy free. Axel the youngest is dairy free and refined sugar free. He has severe eczema and I find that this way of eating keeps his flare ups down. Designing a diet that works specifically for you, is one of my greatest takeaways from doing the Whole30.
I don't push any specific way of eating onto anyone else because each person is totally different. For example, split peas are ok to eat on Whole30, but I personally don't feel great when I eat them. So I limit how often I have things like dhal.
I'm here to show you how to make Guyanese and Caribbean dishes that you grew up on with some easy ingredient tweaks you can find at your local grocery store.
My Caribbean Whole30 and Paleo Recipes
I spent a lot of time adapting some of my favorite recipes for Paleo and Whole30. My most popular Paleo recipe is Boneless Brown Stew Chicken. It is a crowd favorite that takes just 30 minutes to make. You can find more recipes like this by exploring my Whole30 or Paleo categories. Or you can pre-order my cookbook, Caribbean Paleo.
What You'll Find on Metemgee
You're busy. I totally get it. But there's good news — you don't need to spend hours in the kitchen to put a comforting, feel-good meal on the table for your family. You'll always find recipes on my website that have been tested until the measurements are correct. I've taken the time to perfect my mom's literal "handful of flour" directions so each recipe comes out right every time.
All of the recipes here are broken up into five categories — Traditional, Whole30, Paleo, Gluten-free, and Dairy free. New recipes are posted weekly, so be sure to subscribe to the email list for the latest and greatest right at your fingertips.
If you're just browsing and not sure what you're looking for, check out the recipes tab for an easy guide to get started.
I hope Metemgee becomes your favorite place to find Guyanese and Caribbean recipes to share with your family.
FAQs
What is metemgee?
Metemgee also called metem and mettagee is a hearty soup made with root vegetables (ground provision, if you're Guyanese) in a coconut milk broth.
Why is your blog called metemgee?
Metemgee is the perfect combination of all the things I love about Guyanese food—good hearty provisions drenched in broth that is lick-your-bowl good.  I want the recipes I share here to be just that—lick-your-bowl good, hearty and satisfying like a hot bowl of metemgee on a Sunday afternoon. Click here for my metemgee recipe.
Follow me on Social Media
Be sure to check out my Instagram, Facebook, Youtube and Pinterest pages for more content and to stay connected.