Fried Baigan is in my top two all time favorite eggplant dishes. Baigan choka is the other one. If you like eggplant as much as I do, check out my traditional baigan choka recipe here as well as my quick and easy instant pot baigan choka recipe here. Eggplant is one of my favorite vegetables. I cook it often because it seems to always be readily available in my supermarket and always in season. It pairs really well with roti. Roti and anything eggplant just takes me right back to my childhood. Do you make roti? Get my easy roti tutorial and recipe by clicking here.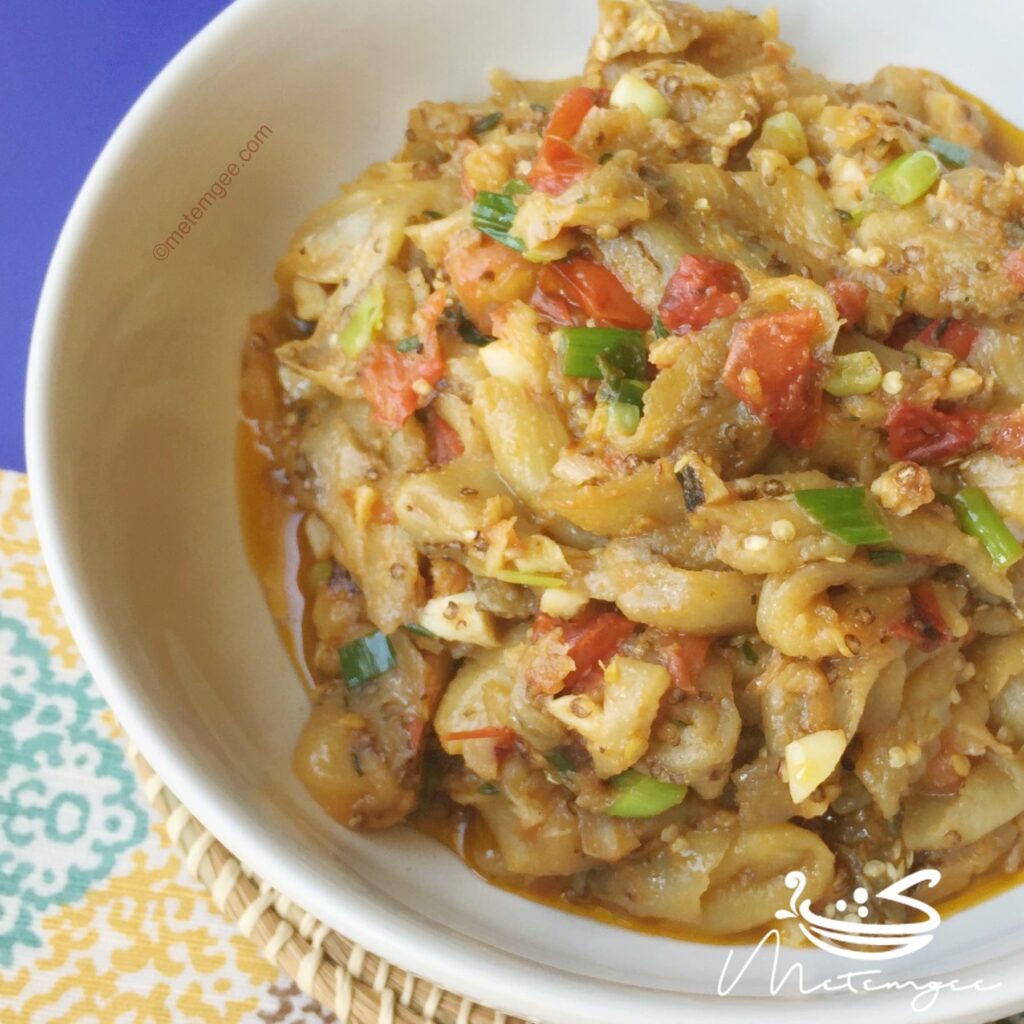 The Fried Baigan Video on Youtube:
I posted a tutorial for fried baigan on my youtube channel. Are you subscribed to my youtube channel (metemgeeblog)? I've recently gotten back into a steady posting rhythm. My goal is to get everyone cooking delicious Guyanese food one video at a time. Don't miss out on some really amazing fail proof recipes. Check out the video tutorial for the fried baigan below and then watch another video or two while you are there.
The Fried Baigan Recipe:

Fried Baigan
---
Fried baigan is a simple dish of eggplant sautéed with green onions, garlic and tomatoes. It is the perfect side for rotis.
---
Ingredients
2

large eggplants

peeled and slice into thin 2 inch slices

3

tablespoons

of oil

olive, avocado or sunflower oil

6

cloves

of garlic

finely chopped

5

heads of green onions

finely chopped (separate the white from the green parts)

3

sprigs of fresh thyme

3

large tomatoes

diced

3/4 to 1

teaspoon

of salt

pinch

of black pepper

1

tablespoon

of garlic powder
Instructions
Add 2 tablespoons of oil to a large skillet over medium heat

When the oil is hot, add the garlic and white parts of the green onions

Cook for about 2 minutes or until soft, then add the tomatoes

Sauté until the tomatoes are soft and look almost like a sauce, then add a pinch of salt and pepper to the sautéed veggies

Then add 1/3 of the sliced eggplant and sauté for 2 to 3 minutes followed by 1 teaspoon of garlic powder, a pinch of salt and a pinch of pepper

Once the eggplant cooks for a minute or 2 add another 1/3 of the eggplant, repeating the seasoning: 1 teaspoon of garlic powder, a pinch of salt and a pinch of pepper

Continue to sauté on medium-high heat, until the eggplant cools down a little, then add the remaining eggplant and seasoning, including the thyme

Mix together well, then cover and let cook for 3 to 5 minutes

Remove cover, then add an additional tablespoon of oil and continue to sauté

Keep sautéing until the eggplant is soft and fully cooked, then add the remaining green onions

Remove from the heat and serve warm with a side of rotis
---
---
The information listed in the recipe card is an estimate provided by an online nutrition tool. The tool evaluates ingredient names and amounts then makes calculations based on the number of servings listed for the recipe. It is provided as a general guideline and not as a precise calculation. For precise nutrition information please feel free to add the ingredients to your preferred nutrition calculator or consult a doctor or licensed nutritionist.
Table of Contents
[Show All]