Tostones are crispy, salty, savory, smashed, and double-fried green plantains. This easy recipe yields delicious tostones in just 30 minutes. Enjoy tostones with dipping sauce as a quick snack, appetizer, or side dish.
Tostones Recipe
I spent my twenties living in New York City, enjoying all the flavors and cuisine it has to offer. I first had tostones from a Dominican hair salon in Harlem. Yes, you read that right!
While patiently waiting for my turn with my favorite stylist, many vendors came to the salon. If you've been to a Black salon or even a salon/barber shop in the hood, then you know this is a thing! One vendor happened to be selling Dominican food.
All the stylists were buying tostones with a spicy green sauce. So I decided it must be good and bought some too. The sauce was like a chimichurri with notes of cilantro, garlic and spice. And I've been making tostones since then, with some kind of sauce trying to recreate that culinary experience from 20 years ago!
Why You'll Love This Tostones Recipe
Easy to Make: With just 3 ingredients and 30 minutes, you can make a big batch.
Versatile Dish: Tostones are vegan, gluten-free and Whole30 compatible so everyone can indulge, regardless of their diet.
Fun Family Activity: The kids love to smash the plantains so we get some bonding time in the kitchen!
What are tostones?
Tostones are double fried, smashed green plantains. "Tostones" derives from the Spanish term "tostar", which means to toast. This Latin American and Caribbean side dish is popular in Puerto Rico, the Dominican Republic, and Mexico.
Tostones Ingredients
Make this tostones recipe with just three simple ingredients.
Green Plantains: The plantains should be as green as possible. Green plantains are unripe plantains, which have a savory taste. If they are ripe, they'll be too sweet.
Frying Oil: Use avocado oil, sunflower oil, or grapeseed oil.
Coarse salt: Kosher salt is ideal.
For the Zesty Avocado Sauce:
See recipe card for quantities.
Best type of plantains to use
Traditionally really green plantains are used when making tostones. The greener, the better. I've made many tostones recipes, since that first bite 20 years ago and I've found that the best tostones for me, the ones my family really enjoy, are when the plantains were a little past the really green stage.
So still green but starting to get little specks of yellow (see photo below). Using this type of plantain made the dish a bit sweet. This type of plantain also produced a smoother smash, fried more evenly and was more golden brown after frying.
How to Make Tostones
How to Peel Plantains
The best tips for peeling green plantains are to first add a bit of oil to the palm of your hands. This prevents that sticky, ick feeling that plantain leaves behind, stuck to your hands. Add some to your knife as well. Using a paring knife, make slits along the diagonal of the plantain. Then from the top of the plantain slide the blade into one of the slits and under the skin and peel the skin (similar to peeling a banana) using the knife to help guide the skin away from the flesh.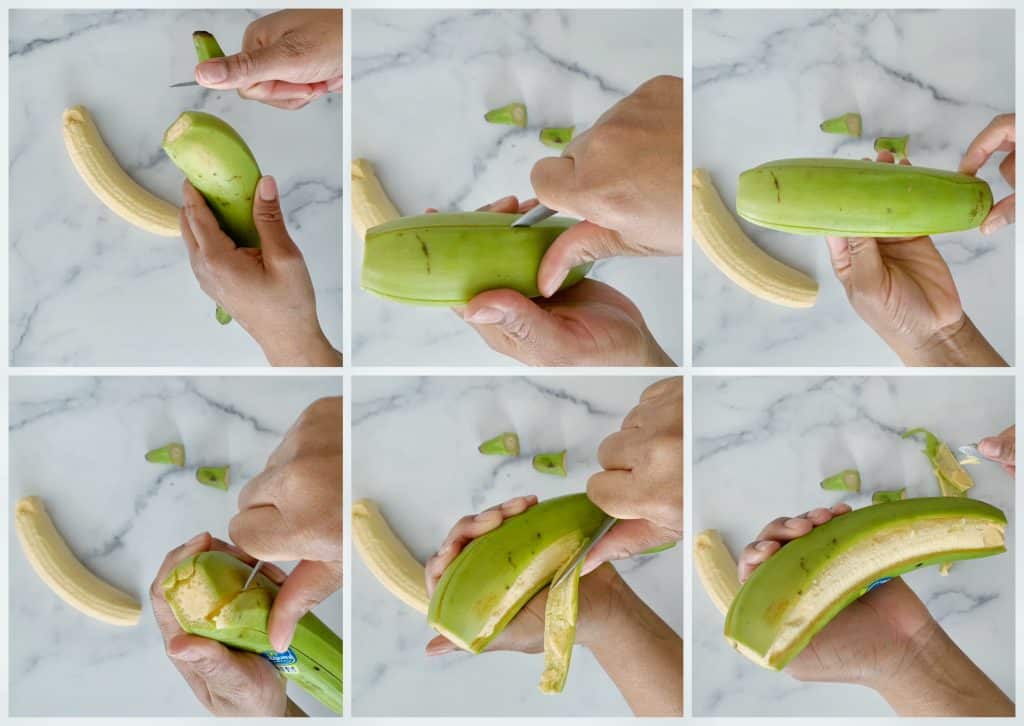 Cut Plantains
If you cut it thicker than 1 inch it may not cook all the way through in the first fry and will be hard to smash.
Shallow Fry
Fry until slightly brown on one side, then flip and continue to fry on the other side until slightly brown. If you are on a round of Whole30 and avoiding using too much oil, about 1/2 cup of oil instead of a full cup.
Smash Plantains
You can do this with many different items. The bottom of a cup, a mason jar, or a wooden spoon, but my favorite thing is a wooden spatula because I can then use the spatula to scoop up the plantain and add it directly back into the hot oil.
This is the step where little helpers can get involved. I let my children help with the smashing and they love it. They are such experts that they smashed all the plantains for this post!
Smash Plantains
Add the smashed plantain slices back into the oil and fry until golden brown, then flip and continue to fry until the other side is also golden brown. Remove from the oil and drain on a paper towel.
Sauce for Tostones
I love pairing my tostones recipe with a spicy avocado cilantro sauce. It's like guacamole but so much better. There are several ways to make this sauce.
My favorite way is to add Saucy Lips' Zesty Cilantro and Jalapeño Green Apple sauces avocado, garlic and some salt to a food processor and blending until smooth. It is that easy!
Other sauces that go well with tostones
Fresh Cilantro Avocado Sauce: Add avocado, fresh cilantro, fresh lime juice, garlic, salt and chilis or jalapeños to a food processor then drizzle in 1 tablespoon of avocado oil while it blends
Quick and Easy Spicy Guacamole: Add two tablespoons of your favorite hot salsa to a whole avocado and crush until creamy and fully blended together
Tostones Toppings
Some great tostones toppings are:
Fresh slices of avocado topped with some fresh squeezed lemon juice, chiffanode basil and a pinch of anything bagel seasoning
Egg Salad
Chicken Salad
Tuna Salad
Tostones pair really well as a side for many meals. They are also perfect little scoopers for meaty dishes like chili. And they pair exceptionally well with ceviche.
Storage
Tostones are best served immediately when they are hot and crisp. But you can partially make them in advance.
Fry them once and mash them. Then store them in an airtight container lined with parchment paper for up to 3 days. When you're ready to eat them, fry them for a second time.
Tips for the Best Tostones
Evenly cut slices. Slice the plantains into evenly sized rounds or chunks, about 1 to 1.5 inches thick. This ensures even cooking.
Don't crowd the pan. When frying tostones, avoid overcrowding the pan. Fry them in batches to ensure even cooking and proper browning.
Get the tostones as flat as possible. That way they get super crunchy on the second fry.
Wondering what to eat with tostones? They pair well with Tuna Cakes!
Frequently Asked Questions
What is a Tostone made of?
Tostones are made with green plantains, oil for frying, and a sprinkle of salt.
What is the difference between a tostone and a plantain?
Tostones are twice-fried green plantains. A plantain is a starchy, banana-like fruit that can be cooked in various ways, including frying, boiling, or baking, with tostones being one of the popular preparations.
Are tostones healthy?
While plantains themselves are a good source of complex carbohydrates, dietary fiber, vitamins, and minerals, the frying process adds calories. Tostones, like many fried foods, are delicious but should be consumed in moderation.

Tostones
---
Tostones are crispy, salty, savory, smashed, and double-fried green plantains. This easy recipe yields delicious tostones in just 30 minutes. Enjoy tostones with dipping sauce as a quick snack, appetizer, or side dish.
---
Ingredients
2

Green Plantains

1/2 to 1

cup

frying oil

Avocado, Sunflower, Grapeseed

1/2

teaspoon

coarse salt

like Kosher salt
For the Zesty Avocado Sauce:
Instructions
Peel plantains, then cut into 1 inch pieces

Add oil to a frying pan on medium heat

When oil comes up to temperature add plantain to the hot oil

Fry until plantain is lightly brown, then flip and continue to fry until other side is also lightly brown

Remove from the oil and place in a plate lined with a few sheets of paper towel

Place pieces of plantain (one piece at a time) on a clean and dry, flat surface (cutting board or clean and dry counter tops work well here)

Using the back of a wooden spoon, underside of a mason jar or cup press on each plantain piece until it flattens to about 3/16 of an inch thick

Return the flattened plantain pieces to the hot oil and to fry until golden brown on one side, flip over and continue to fry until also golden brown on the other side

Remove from the heat and place on a plate lined with a few sheets of fresh paper towel to allow any excess oil to drain

Sprinkle with coarse salt and serve with your favorite, sauce, dip or topping
Making the sauce:
Add all of the ingredients to a food processor and process until a smooth sauce forms
Notes
I recommend smashing all of the plantain pieces first before the second fry, to allow all the pieces to cook at the same time and temperature for a more consistent end result.
While you are smashing the plantain pieces reduce the heat to low or turn off the heat all together or you may risk the oil overheating and burning your tostones. When you are ready for the second fry you can increase the heat back to medium and allow the oil to come back up to temperature.
Nutrition
Calories:
418
kcal
Carbohydrates:
35
g
Protein:
2
g
Fat:
31
g
Saturated Fat:
5
g
Polyunsaturated Fat:
16
g
Monounsaturated Fat:
9
g
Trans Fat:
0.2
g
Sodium:
294
mg
Potassium:
511
mg
Fiber:
4
g
Sugar:
2
g
Vitamin A:
37
IU
Vitamin C:
21
mg
Calcium:
6
mg
Iron:
1
mg
---
---
The information listed in the recipe card is an estimate provided by an online nutrition tool. The tool evaluates ingredient names and amounts then makes calculations based on the number of servings listed for the recipe. It is provided as a general guideline and not as a precise calculation. For precise nutrition information please feel free to add the ingredients to your preferred nutrition calculator or consult a doctor or licensed nutritionist.