Baigan choka is roasted eggplant mashed into a fragrant, creamy spread with tomatoes, peppers, and aromatics for a delicious side dish. Serve baigan choka with roti for a tasty and nutritious vegan breakfast or lunch.
Baigan Choka Guyanese Style
Baigan choka is my favorite type of choka. I love preparing it on the grill during the summer. Growing up in Guyana, my mother would make this in the morning before we woke up.
The smoky aroma of roasted balanjay would get me out of bed every time. Scooping up baigan choka with sada roti is a beloved pastime and I am so excited to share this recipe with you!
Why You'll Love This Baigan Choka Recipe
Super Simple: Roast the eggplant and tomato, sauté some garlic and onions, mash it all up, and then serve!
Flavorful: You don't need a bunch of ingredients to make this tasty Indian-inspired dish. Roasted tomatoes, garlic, and a sprinkle of salt make this eggplant spread taste amazing!
Versatile: Make it spicy, or mild, and add whichever seasonings you prefer because this recipe is easy to customize. It also works as an appetizer, breakfast, or lunch.
What is Choka?
Choka is a cooking method that involves roasting vegetables to yield a smoky flavor. It is derived from Indian chokha (a veggie mash). To make a choka means to roast the main ingredient/s over an open flame.
What is Baigan Choka?
Baigan choka is a roasted and mashed eggplant dish influenced by India, that is popular across the Caribbean.
Ingredients for Baigan Choka
For this easy baigan choka recipe, you need just a few simple ingredients.
Eggplants: I use two fairly large, ripe eggplants.
Tomato: One large tomato will do. I love the mild sweetness and acidity it adds to the flavor.
Garlic cloves: Fresh garlic makes all the difference here.
Green onion: Scallions add a peppery flavor. You can choose not to cook the green onions and add them raw. It gives it a nice crunchy texture.
Wiri wiri pepper: Add this if you want a kick of spice.
Extra virgin olive oil: Use this for the saute.
Salt: To enhance the overall taste.
See recipe card for quantities.
How to Make Baigan Choka
Prep the Eggplant for Roasting
Wash the eggplant and tomatoes. Then, make 2 inch slits (with a knife), lengthwise along the entire eggplant. Peel the garlic cloves and cut them in half. Insert garlic halves into a few of the slits in the eggplant.
Roast Eggplant
Place the eggplant, tomatoes, and the rest of the garlic on the grill to roast. You can also roast your garlic this way for the choka, but I was making a dish for dinner that required roasted garlic, so I was killing two birds with one stone.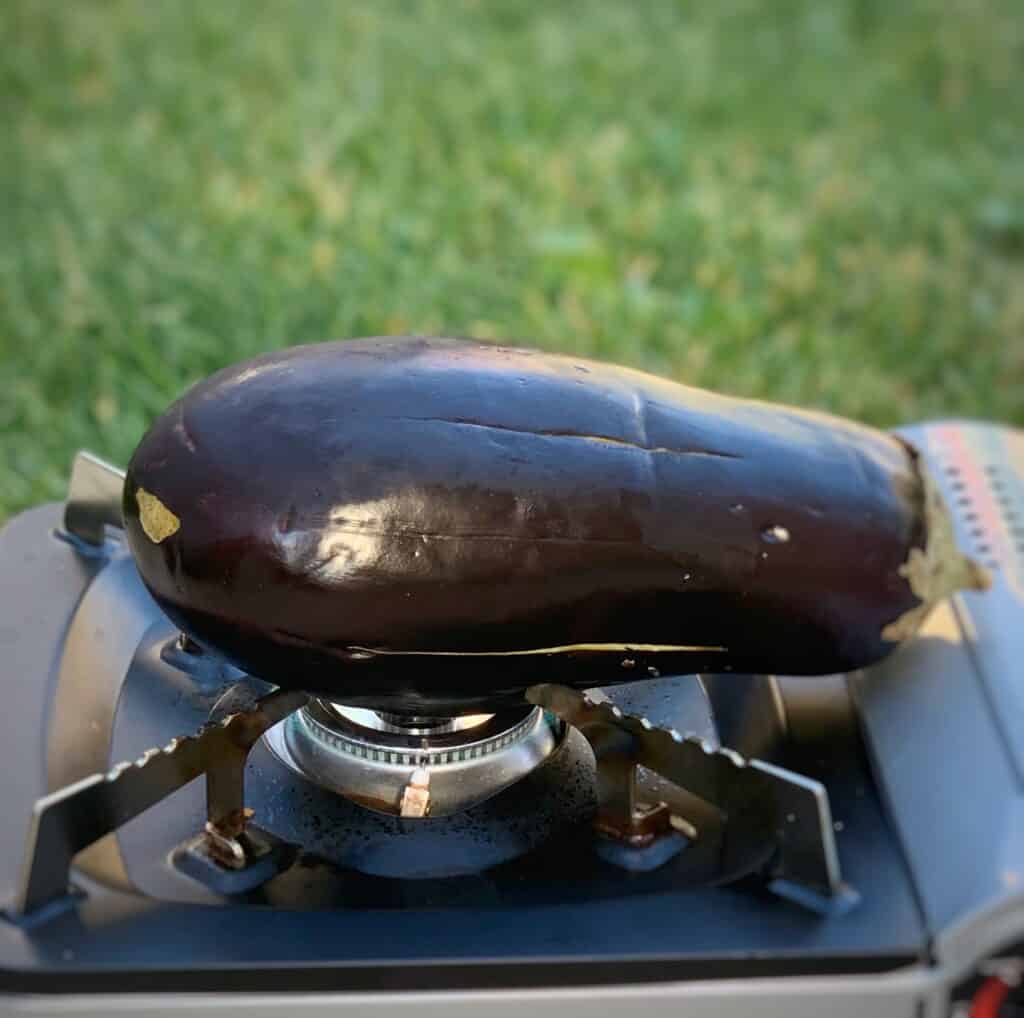 After a while the eggplant wasn't getting the char I needed so I moved it to the burner of the grill.
If you are making this at home, you can put it directly on the flame on your stove.
Juices will leak from the eggplant and that can be very messy so be careful. Once one side of the eggplant becomes charred (roasted), turn on the other side and continue to roast. At home, you can place the tomato on a fork and roast it over an open flame as well.
Making Baigan Choka
This is what the ingredients looked like after 30 minutes of roasting on an open flame.
Let the eggplant cool for about 5 to 10 minutes. You don't want it too cold, but cool enough so you can work with it. Insert a knife under the skin and pull the skin towards you to create an opening or access to the flesh.
Use a fork to scoop out the fleshy parts of the eggplant from the charred skin. Finely dice green onions and 1/2 of a wiri wiri pepper (you can use scotch bonnet peppers if you don't have wiri wiri peppers). Saute in a small sauce pan with 2 tbsp extra virgin olive oil, on medium heat. The olive oil gives it a great flavor.
Place the fleshy parts of the eggplant that you removed from the charred skin, and the roasted garlic, in a plate or serving dish. Then, remove the skin from the tomato. Add the tomato to the eggplant and garlic. Using a fork, crush tomato and garlic and mix together with the eggplant.
Finally, add the green onions, pepper, and salt to taste (about 1 tsp). Mix together and serve hot with your favorite type of roti. I had mine with sada roti.
Storage
Store leftovers in an airtight container in the fridge for up to 3 days. Reheat it in the microwave.
Tips for the Best Baigan Choka
Try to select an eggplant with fewer seeds. Look for eggplants that have a round dimpled bottom rather than an oval shape because they tend to have less seeds. They also tend to taste less bitter.
Choose your tomato wisely. The tomato I used had a lot of water so it made my baigan choka a bit watery. It also had a sour/tangy taste which also affected the taste of the choka. Roma tomatoes or vine-ripened tomatoes might have been a better choice.
Rotate the eggplant every 5 minutes so that it cooks evenly and does not burn.
Cooking time may vary. The larger the eggplant, the longer the cooking time.
Variations
Fried Baigan: Check out this recipe to prepare eggplant on the stovetop.
Instant Pot Baigan Choka: If you have an electric stove and can't cook eggplant on an open fire, this is a tasty compromise.
Spicy: Don't have wiri wiri peppers? Use habanero peppers instead. If you prefer your a nonspicy choka, simply omit the peppers. (I always leave them out when I'm making a batch for my kids.)
Frequently Asked Questions
What is eggplant called in Guyana?
In Guyana, eggplant is referred to as baigan or balanjay.
How many calories are in Baigan Choka?
One serving of baigan choka is about 134 calories.

Baigan Choka or Roasted Eggplant
---
Baigan choka is roasted eggplant mashed into a fragrant, creamy spread with tomatoes, peppers, and aromatics for a delicious side dish. Serve baigan choka with roti for a tasty and nutritious vegan breakfast or lunch.
---
Ingredients
2

large eggplants

1

large tomato

4

cloves

garlic

5

heads green onion

1/2

wiri wiri pepper

2

tbsp

extra virgin olive oil

1

tsp

salt
Instructions
Wash eggplants and tomato.

Using a knife, make 2 inch slits lengthwise along each eggplant.

Peel garlic cloves and cut into halves. Stuff halves into a few of the slits along the eggplants.

Add to an open flame and roast for about 30 minutes or until the eggplants are completely charred and soft. Rotate eggplant so that all sides are roasted evenly.

Roast tomato on an open flame until the skin is charred and easily removes from the flesh.

Finely chop the green onions and pepper. Add oil to a small sauté pan on medium heat. Add green onions and peppers and sauté for about 3 minutes.

When eggplants are completely roasted, remove charred skin and scoop fleshy part and roasted garlic out with a fork.

Add eggplant to a serving dish. Then, remove skin from roasted tomato. Add tomato to the eggplant and roasted garlic and crush with a fork.

Add green onions, pepper and salt. Mix together and serve warm.
Nutrition
Calories:
134
kcal
Carbohydrates:
17
g
Protein:
3
g
Fat:
8
g
Saturated Fat:
1
g
Polyunsaturated Fat:
1
g
Monounsaturated Fat:
5
g
Sodium:
591
mg
Potassium:
655
mg
Fiber:
8
g
Sugar:
9
g
Vitamin A:
471
IU
Vitamin C:
15
mg
Calcium:
41
mg
Iron:
1
mg
---
---
The information listed in the recipe card is an estimate provided by an online nutrition tool. The tool evaluates ingredient names and amounts then makes calculations based on the number of servings listed for the recipe. It is provided as a general guideline and not as a precise calculation. For precise nutrition information please feel free to add the ingredients to your preferred nutrition calculator or consult a doctor or licensed nutritionist.