This steak stir fry recipe is a veggie-heavy dish, made with juicy strips of steak, fresh veggies, and a mouthwatering teriyaki sauce. Make this on a busy weeknight for a quick, easy, and nutritious meal.
Steak and Veggies Stir Fry
This steak stir fry is similar to Caribbean Pepper Steak, but the addition of more fresh vegetables (besides bell peppers) amps up the flavor and the nutritional content. Feel free to use any combination of vegetables you have on hand. This is also a great clean your fridge out dish, because you can add all of the random bits of veggies you need to cook before garbage day.
But this dish is a far cry from an afterthought. Tender steak strips are tossed with vibrant veggies and a delectable sauce for a wholesome, well-balanced meal that will become a weeknight go-to. Check out my Sautéed Cabbage and Chicken for another delicious stir fry recipe.
Why You'll Love This Steak Stir Fry Recipe
Better Than Takeout: This tastes like something you'd order out for but it is made right at home so it's fresher, better tasting, and saves you money!
Customizable: This recipe is adaptable so you can use whatever veggies you currently have in your fridge. It's a free-for-all!
Quick & Easy: When you don't feel like thinking too hard about what's for dinner, whip this up in less than 30 minutes.
Ingredients for Steak Stir Fry
The main ingredients in this recipe are: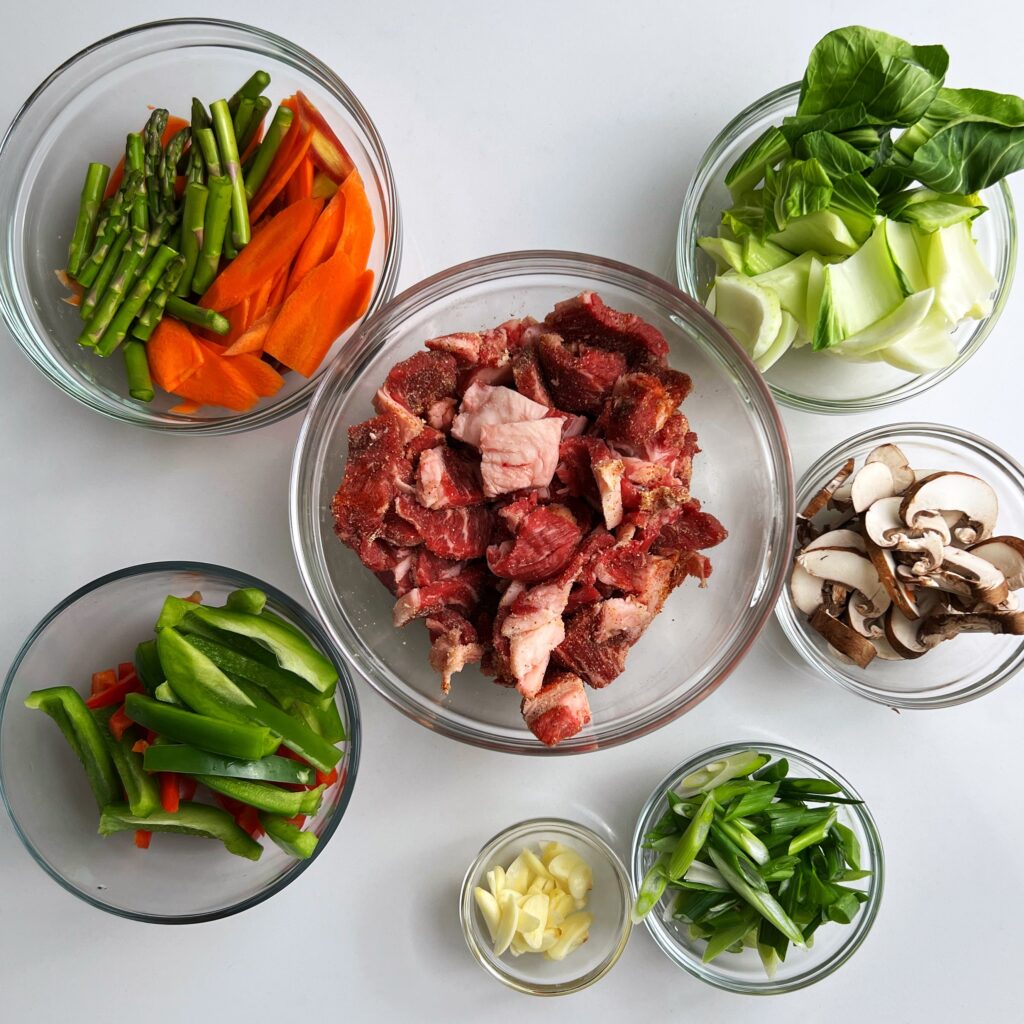 Steak: I use ribeye steak but flank steak, sirloin, and round work too.
Avocado oil: Use this or another high smoke point oil like coconut oil or grapeseed oil.
Garlic cloves: Slice.
Green onions: Slice diagonally for large pieces.
Seasoning: I season with garlic powder, onion powder, smoked paprika, coarse black pepper, and iodized sea salt or salt to taste.
Teriyaki sauce: I use The New Primal Soy Free Teriyaki. It's Whole30 compatible.
Vegetables: You can use whichever veggies you prefer but I like variety so I include baby portobello mushrooms, red bell pepper, green bell pepper, carrots, baby bok choy, and asparagus.
See recipe card for quantities.
How to Make Steak Stir Fry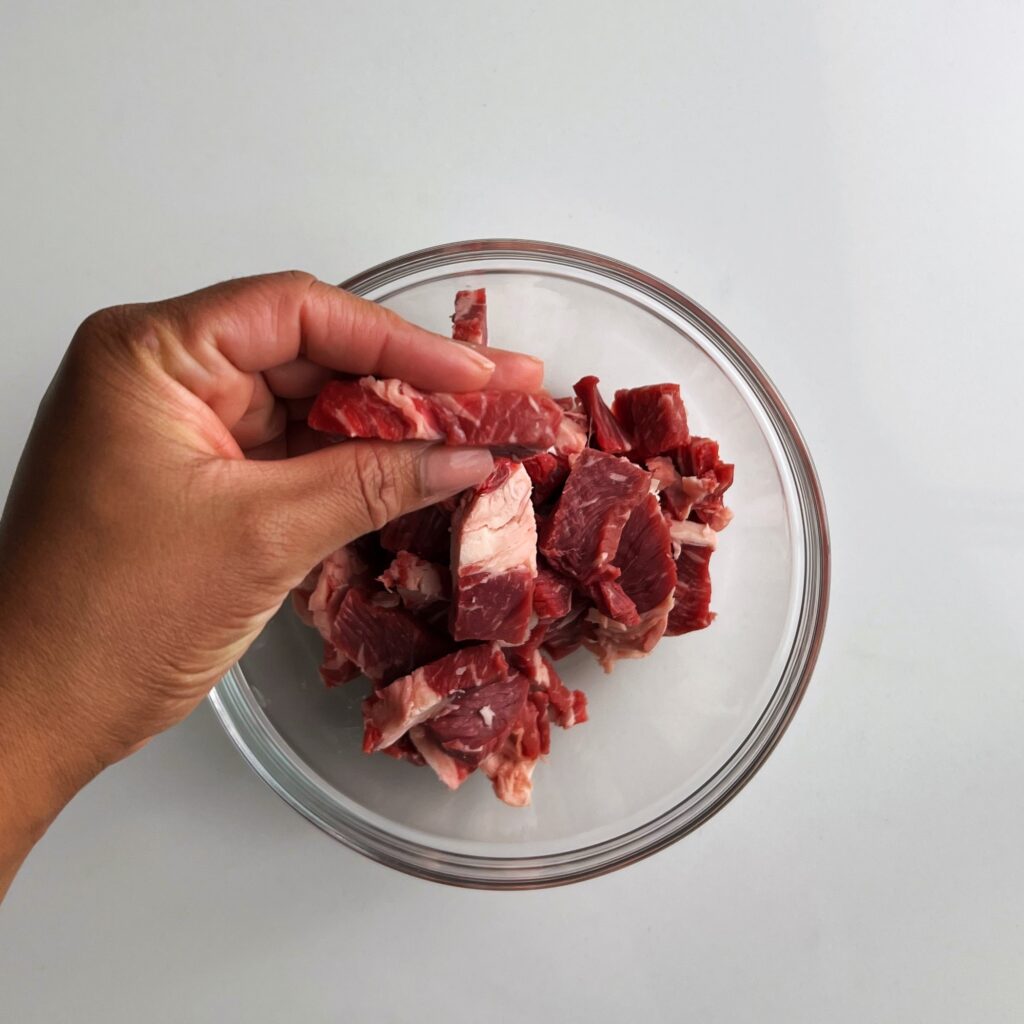 Slice steak into 2 inch strips that are between 1/8 inch to 1/4 inch thick.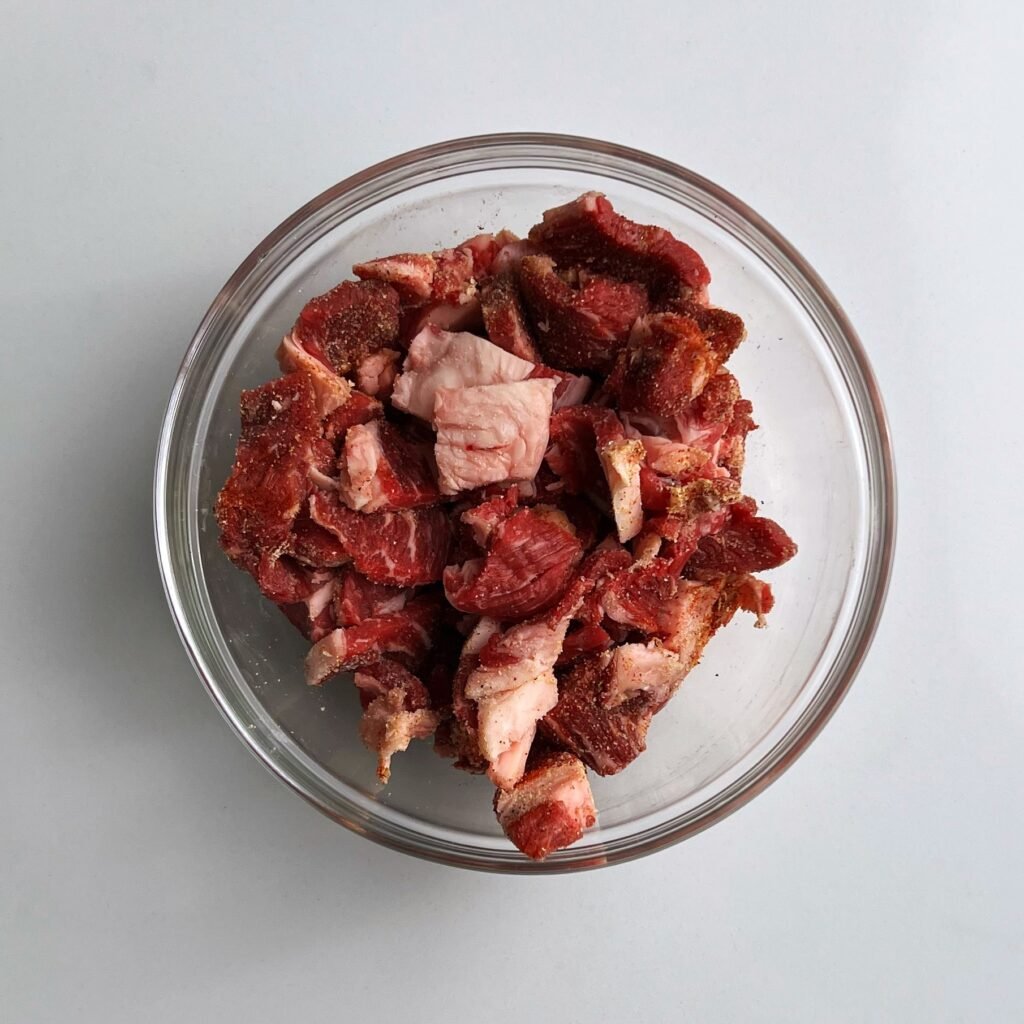 Lightly season beef and set aside while you prep your veggies.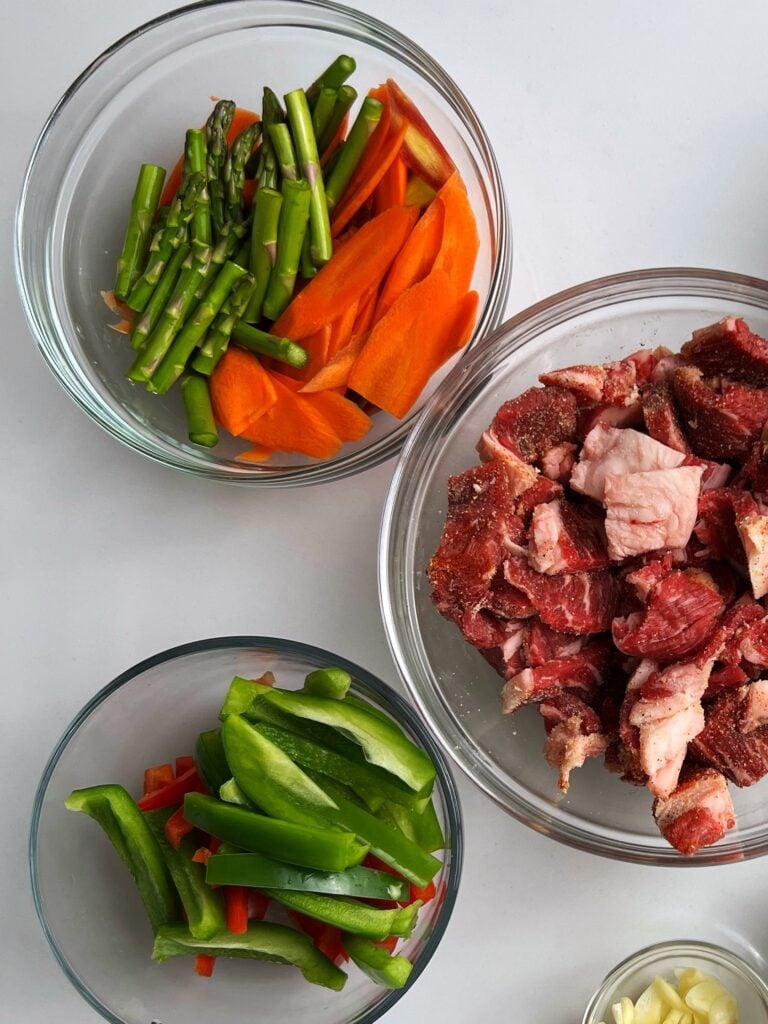 Cut all of your veggies into similar sizes for even cooking.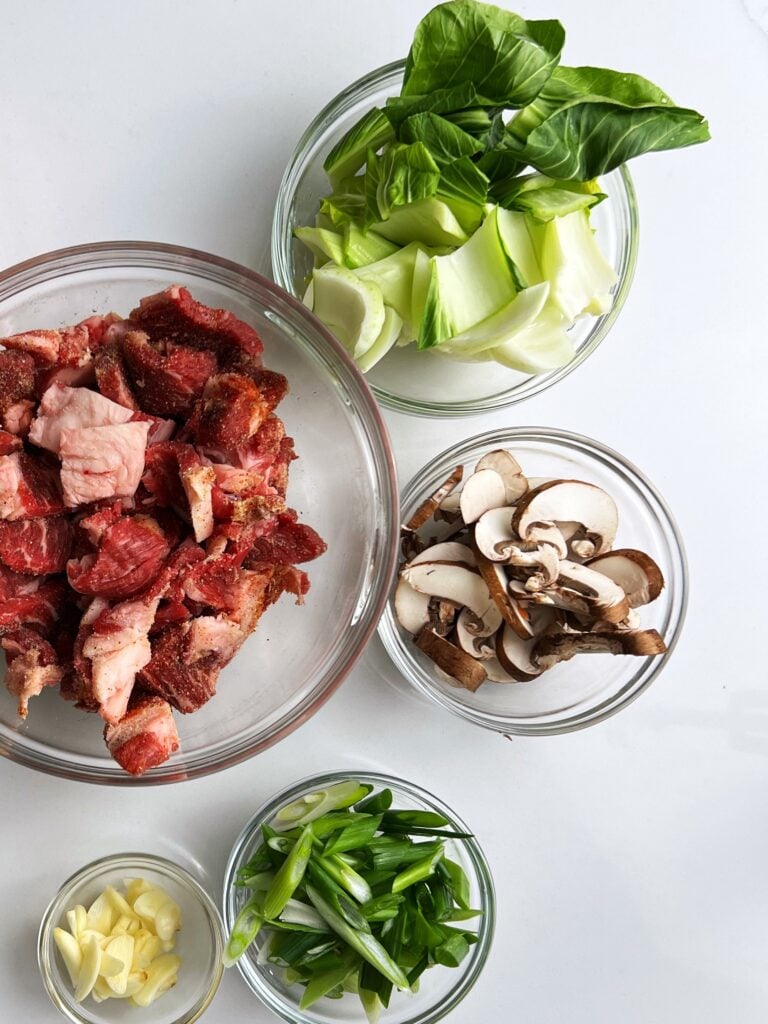 If using baby bok choy, give those a rough chop as they will melt away if chopped into small pieces.
Once you've cooked all the veggies to your desired doneness, remove from the pan. I like my veggies cooked but with a little bit of a crunch.
Then add steak to the pan in a single layer
Cook until all sides are brown, but be careful not to overcook. I like my steak to be medium before adding the veggies back in, as it will cook some more after the veggies are returned to the pan.
Then add the teriyaki sauce, followed by the green onions and then the sautéed veggies and stir fry for a minute.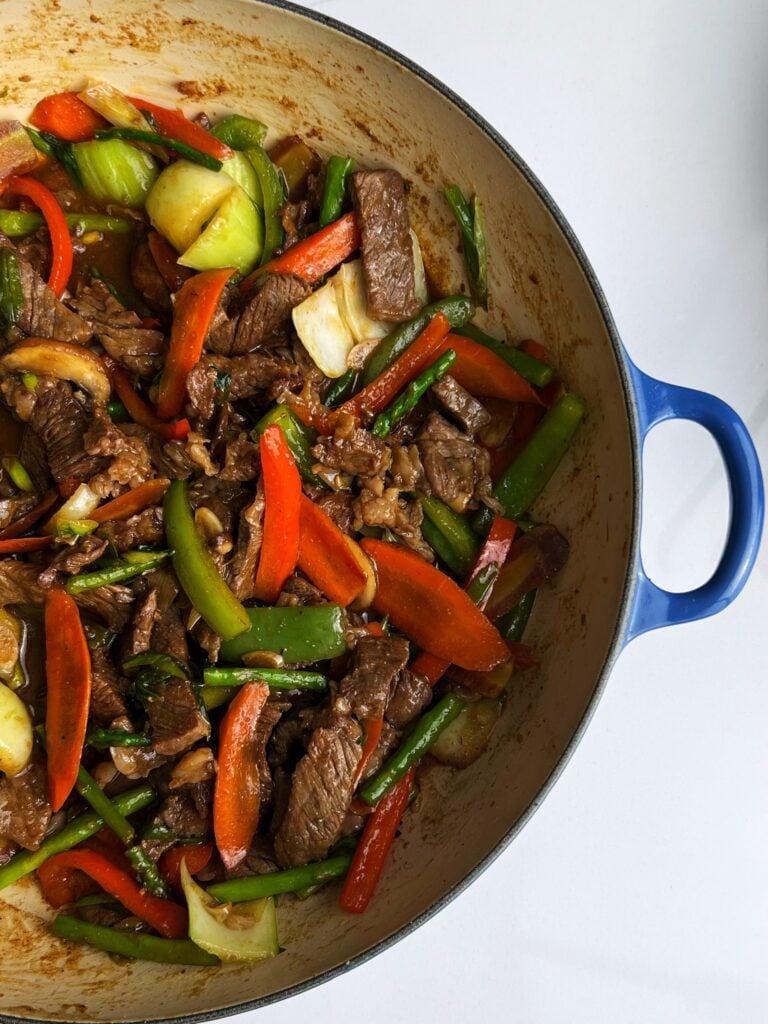 That's it. You are done. Serve it up with some toasted cauliflower rice or mashed potatoes, or simply eat as is!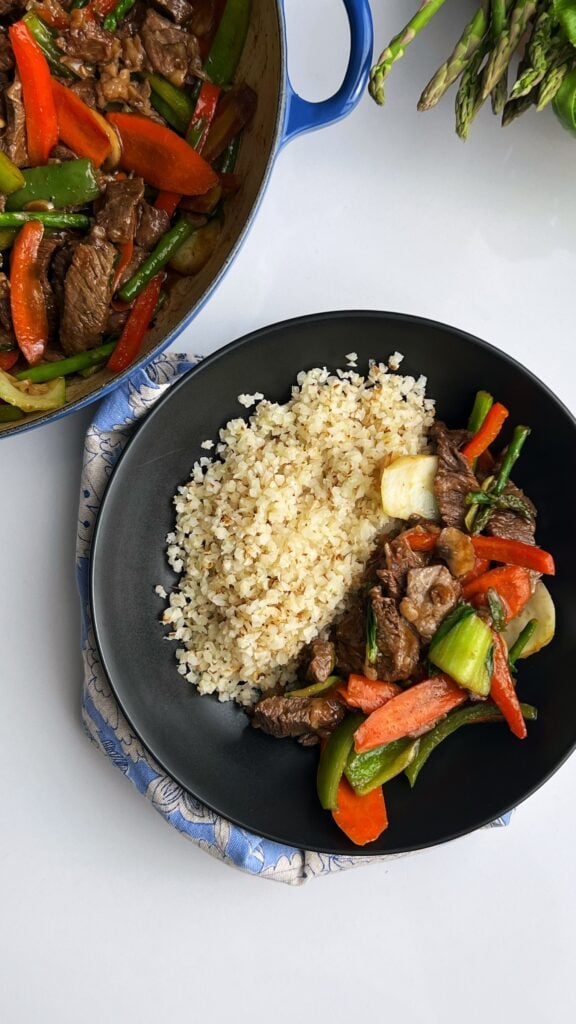 Storage
Store leftover beef stir fry in an airtight container in the fridge for up to 4 days. Reheat it in the microwave.
Tips for the Best Steak Stir Fry
If you decide to make your strips 1/8 inch or 1/4 inch thick, be sure to make all of the slices consistently thick so they evenly.
Remember to slice steak against the grain. This results in tender steak strips.
Be sure to stir fry the veggies first before cooking the steak.
Substitutions
This recipe is very versatile and substitutions are welcome.
Steak: You may substitute the ribeye for flank, sirloin, or round steak. Be careful not to overcook these cuts of meat as they will toughen.
Teriyaki Sauce: For this recipe, I used (this is an affiliate link, use code METEMGEE15 to get 15% off of your purchase) The New Primal's Soy Free Teriyaki Sauce which you can purchase at this link.
However, any whole30 compatible teriyaki sauce will work. Or if you have coconut aminos, rice wine vinegar, and some ginger powder you can combine these with some arrowroot starch to make a quick teriyaki sauce.
For that, you will need 1/4 cup of coconut aminos, 1 tablespoon of rice wine vinegar, 1/2 teaspoon of ground ginger, and 1 teaspoon of arrowroot flour/starch/powder. Mix together and you have your homemade Whole30 teriyaki sauce.
Veggies: Any combination of vegetables that you typically add to a stir fry works here. Try adding broccoli, zucchini, snow peas, Chinese eggplant.
Frequently Asked Questions
How do you keep steak tender in stir-fry?
Slice steak against the grain in order to cut through the muscle fibers of the beef.
What steak is best for stir-fry?
I prefer rib eye, because it's naturally tender and the extra marbling provides a ton of flavor. However, flank steak is a popular option. It's affordable and naturally flavorful. Skirt steak, sirloin steak, and round steak are great for stir-fries too.
What are the 3 rules of stir-frying?
Three standard rules for making stir fry are: heat up the pan or wok before adding oil, cook the veggies and meat separately, and don't add the sauce until everything is cooked.

Steak and Veggies Stir Fry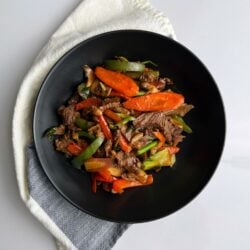 ---
This steak stir fry recipe is a veggie-heavy dish, made with juicy strips of steak, fresh vegetables, and a mouthwatering teriyaki sauce. Make this on a busy weeknight for a quick, easy, and nutritious meal.
---
Ingredients
1 1/2

lbs

Steak

I used ribeye but flank, sirloin and round works

2

tablespoons

avocado oil

or similar

4

Cloves

Garlic

sliced

4

Green onions

sliced diagonally

1

teaspoon

garlic powder

1

teaspoon

onion powder

1/2

teaspoon

iodized sea salt

or salt to taste

1/2

teaspoon

smoked paprika

Pinch of coarse black pepper

1/4

cup

teriyaki sauce

Whole30 Compatible

1

cup

baby portobello mushrooms

sliced

1

red bell pepper

julienned

1

green bell pepper

julienned

2

Small carrots

sliced

2

Baby Bok Choy

chopped

1

Cup

Asparagus

Chopped, About 6 asparaguses
Instructions
Cut steak into 2 inch strips about 1/8 inch thick, then season with salt, garlic powder, onion powder, smoked paprika and black pepper. Mix together well and set aside

Bring a wok or skillet up to temperature on high heat, then add oil, followed by the garlic. Sauté garlic for about a minute then add veggies in the order of toughest to cook first, and sauté until veggies are tender but still has a crunch

I cook the mushrooms, carrots and asparagus first, then the peppers and the baby bok choy

Remove all of vegetables from the pan, add another tablespoon of oil if needed, then add the seasoned steak in a single layer (you can do this in batches if necessary)

Cook steak on for two to three minutes then toss and continue to cook for another minute or two or until all sides of the steak is brown, then add the teriyaki sauce and cook for another minute

Next add the green onions, followed by all of the sauté veggies, toss together and until fully combined, then remove from the heat
Nutrition
Calories:
348
kcal
Carbohydrates:
12
g
Protein:
36
g
Fat:
17
g
Saturated Fat:
4
g
Polyunsaturated Fat:
2
g
Monounsaturated Fat:
9
g
Trans Fat:
0.1
g
Cholesterol:
102
mg
Sodium:
1135
mg
Potassium:
943
mg
Fiber:
3
g
Sugar:
7
g
Vitamin A:
4052
IU
Vitamin C:
93
mg
Calcium:
122
mg
Iron:
4
mg
---
---
The information listed in the recipe card is an estimate provided by an online nutrition tool. The tool evaluates ingredient names and amounts then makes calculations based on the number of servings listed for the recipe. It is provided as a general guideline and not as a precise calculation. For precise nutrition information please feel free to add the ingredients to your preferred nutrition calculator or consult a doctor or licensed nutritionist.