Cow Heel Soup is comfort in a bowl! Cow heel, ground provision and split peas boiled together in a deliciously satisfying broth. Growing up in Guyana, my dad always made soup on Sundays. Sunday soup was a delicious thing that happened with frequency. The soup ingredients varied but that bowl of soup always brought comfort after a day of laundry and weekend chores. The sight of that "big pot of soup" on the stove was always a welcoming one.
Simple Ingredients
The two main ingredients in this soup are cow heel and split peas. Cow heel or cow feet is loaded with nutrients especially collagen. If you've ever eaten cow heel/trotters/foot/feet then you know it has a sticky feel. That stickiness is collagen. There are so many health benefits to having collagen in your diet. Collagen is the glue that holds your bones together and it helps to promote good skin health. It also promotes good gut health and is why bone broth is so good for you. Learn more about collagen here and then make a bowl of this collagen filled soup and dive in!
Split peas adds a delicious texture to the soup broth. It also increases the amount of plant based protein in the soup. Split peas and cow heel combined form a beautiful base to this hearty soup.
The next key ingredients are root vegetables and tubers, also called ground provision in the Guyana and the Caribbean. Any combination of starchy tubers will work. I love adding sweet potatoes, cassava (yuca), eddoes (malanga) and plantains (although not a tuber it's always included as ground provision). You are free to use any combination of ground provision you like. This is what makes Caribbean soups so tasty. There is no real recipe and you can add a handful of this or a handful of that for a different version of this soup, every time you make it.
Save it for Later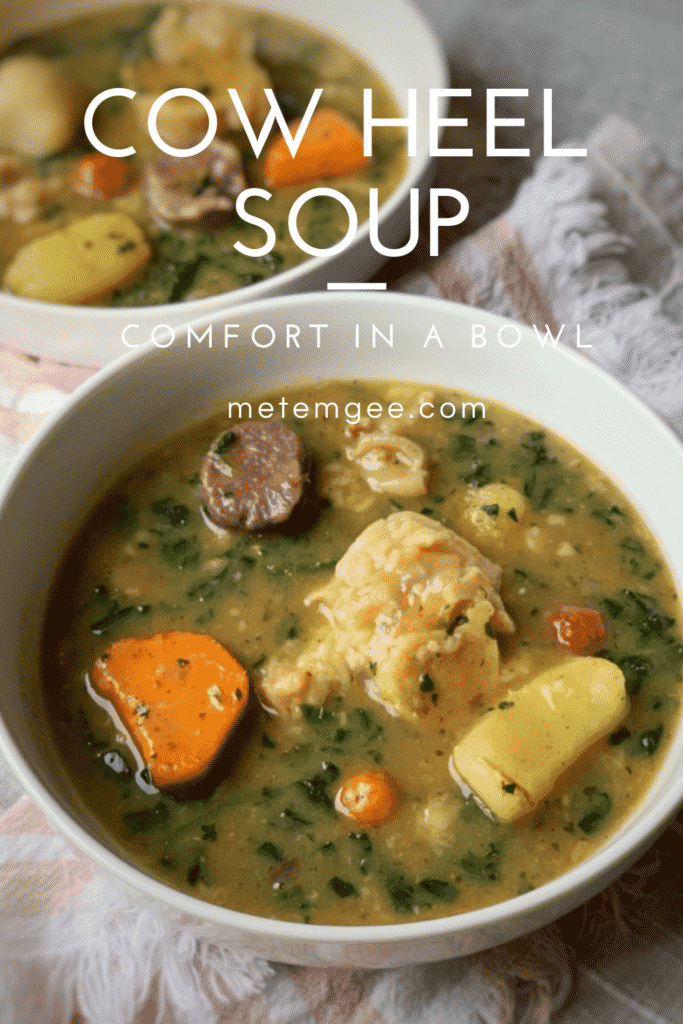 The Printable Cow Heel Soup Recipe Card:

Cow Heel Soup
---
Cow heel, ground provision and split peas boiled together in a deliciously satisfying broth
---
Ingredients
1

cup

of split peas

rinsed

2

lbs

of cow heel or cow feet

1/4

cup

of white vinegar plus about 4 cups of for washing the cow heel

3

lbs

of ground provision in any combination

peeled and cut into 2 inch pieces (for this recipe I used, 2 sweet potatoes, 2 yellow plantains, 3 eddoes, 1 purple sweet potato)

1

cup

of chopped spinach

frozen or fresh

1

yellow onion

diced

4

cloves

of garlic

sliced

1

teaspoon

of salt or salt to taste

A pinch of black pepper

3

wiri wiri peppers to garnish

optional (may substitute with habanero pepper)

About 8-10 cups of water
Special Equipment
Instant Pot or Traditional Pressure cooker
Instructions
Submerge cow heel in vinegar and water mixture and let sit for about 15 minutes, then rinse thoroughly and set aside

Next add cow heel, split peas, onion, garlic, thyme, water and salt to the instant pot or traditional pressure cooker,

Then seal up and pressure cook on high until the cow heel/feet is tender. This takes an hour in the instant pot

Then release the pressure in your pressure cooker (if using the instant pot, use the rapid release method)

Next add the ground provision, whole wiri peppers or habanero pepper and spinach if using frozen. If using fresh you will add the spinach at the very end

Then mix together well and continue to cook on medium heat if using a traditional pressure cooker or in the sauté mode if using an instant pot

Cook until all the root vegetables are fork tender and the broth becomes a bit thick

If using fresh spinach add your spinach here and mix into the broth then let the soup cook for 5 additional minutes then remove from the heat and serve warm
Notes
Rinsing the cow heel with vinegar helps to remove any impurities or smell.
In the US the cow heel is already shaved and prepped however, you may need to examine it for any tiny hairs that they may have missed when cleaning it. I use a new disposable razor to shave any bits of hair on the cow heel before cooking.
In Guyana prepping cow heel would require shaving all of the tiny hairs off and my dad did this with a disposal razor blade. I don't know if they come cleaned now. Comment below if you know.
---
---
The information listed in the recipe card is an estimate provided by an online nutrition tool. The tool evaluates ingredient names and amounts then makes calculations based on the number of servings listed for the recipe. It is provided as a general guideline and not as a precise calculation. For precise nutrition information please feel free to add the ingredients to your preferred nutrition calculator or consult a doctor or licensed nutritionist.