This callaloo cauliflower cook-up rice recipe is a remake of Guyanese Callaloo (Spinach) Cook-up. Cook-up rice is what we call dishes of rice, cooked in coconut milk. Typically cook-up rice includes rice, coconut milk, peas or beans and a protein. in some versions vegetables we add vegetables instead of the peas or beans.This dish is a delicious blend of cauliflower, spinach, squash and creamy coconut milk.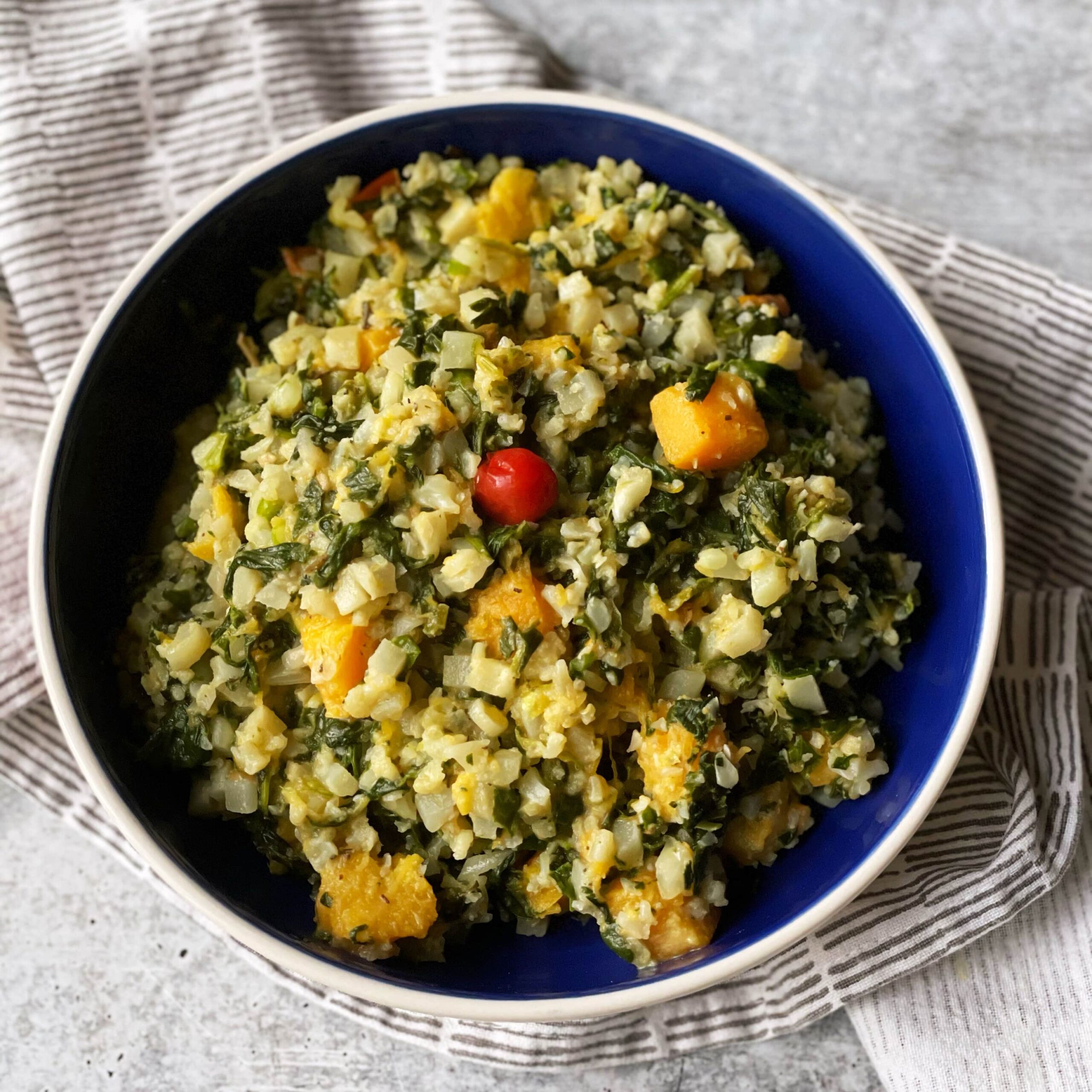 Traditional Callaloo Cook-up Rice is one of my family's favorite quick rice dishes. Therefore, it made sense that it was one of the first cook-up rice dishes I attempted to make Whole30 compatible. This grain free version of a Guyanese classic has all the notes of the original recipe—callaloo or spinach, pumpkin (calabaza squash) and coconut milk. In this dish, rice is replaced with riced cauliflower but the flavor and texture is very similar to the original version of the dish which is always my aim when I remix a recipe!
Choosing the right riced cauliflower
For this recipe I used fresh store-bought riced cauliflower. The cauliflower bits are a bit larger and more forgiving. This gives a bit more wiggle room in the cooking process and allows the cauliflower to absorb a lot of the coconut milk for a greater flavor return in the finished dish.
However, you can also make this dish with frozen cauliflower rice. Check out my post on Coconut Cauliflower Rice to see my other favorite types of riced cauliflower and why I use different types for different dishes.
Ingredients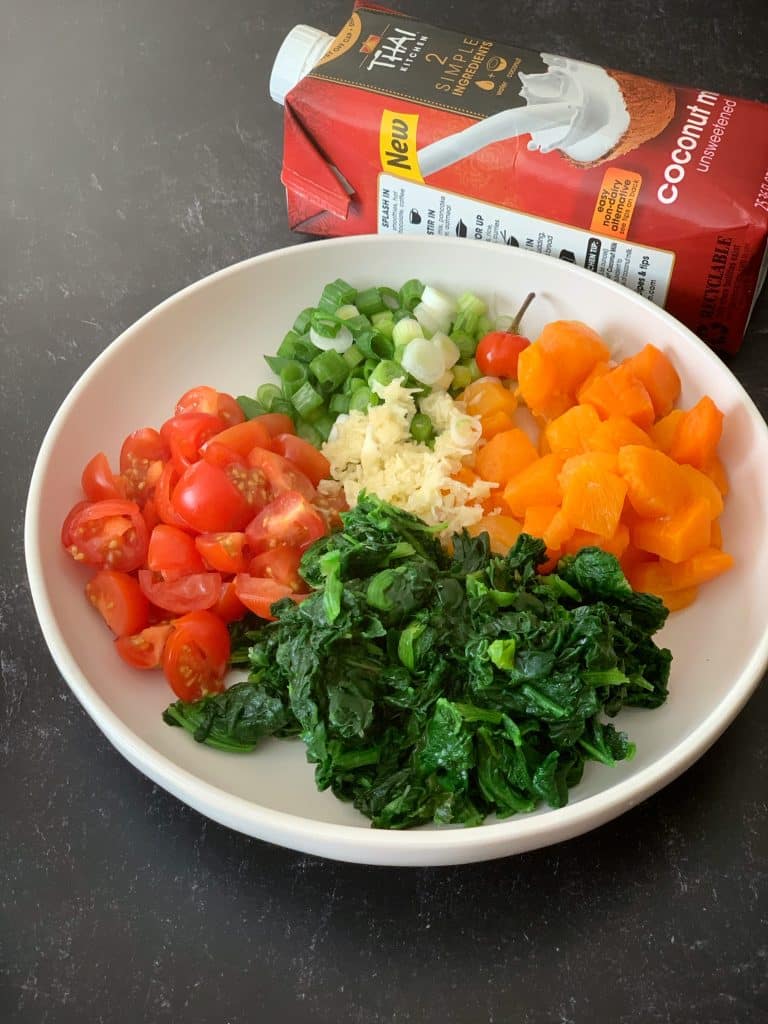 Riced Cauliflower
Callaloo or Spinach
Pumpkin / Calabaza squash
Green onions
Garlic
Wiri wiri pepper (or similar chili)
See recipe card below for amounts.
Substitutions
Fresh ingredients are best. However, if you are like me and don't always have access to fresh Caribbean or Guyanese ingredients frozen substitutions work just as well.
Callaloo: Spinach (fresh or frozen) is a great substitution here
Pumpkin (calabaza squash): The type of pumpkin we use in Guyana is called calabaza squash. Can't find it where you are? No worries, butternut squash, American pumpkin and even kabocha squash works
Riced Cauliflower: Fresh or frozen works for this recipe.
How to serve your Callaloo Cauliflower Cook-up Rice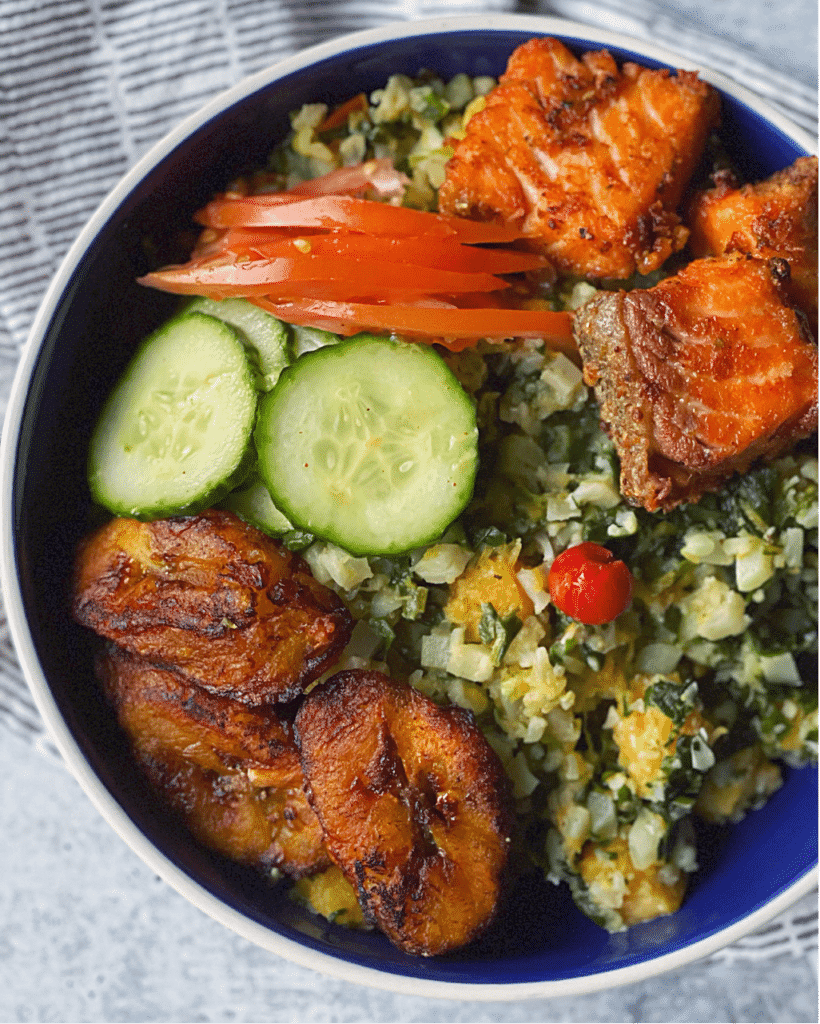 I love serving my callaloo cauliflower cook-up rice with all of the usually trimmings for traditional Guyanese cook-up rice. Pictured above I paired it with Crispy Salmon Nuggets, some fried sweet plantains, pickled cucumbers and sliced tomatoes. This is a complete, wholesome, nutrient dense meal and one that makes me feel a bit closer to home!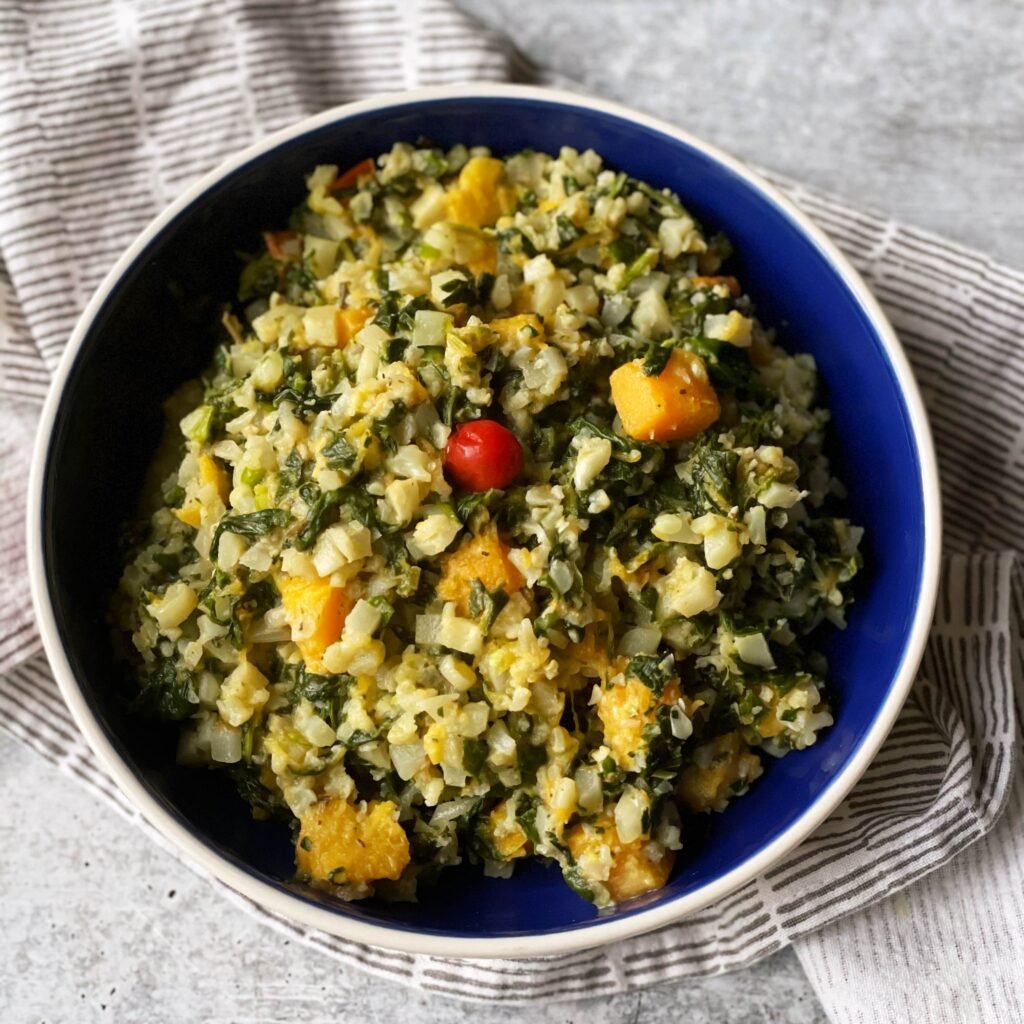 Callaloo Cauliflower Cook-Up Rice
---
Callaloo, Pumpkin (Calabaza Squash) and riced cauliflower simmered in rich coconut milk
---
Ingredients
2

tablespoons

of coconut oil

2

Tomatoes

diced

4

green onions

finely chopped

3

cloves

garlic

grated

1

teaspoon

iodized sea salt

1

bundle of spinach washed and chopped or 1 cup of frozen spinach completely thawed

2

cups

of diced pumpkin / calabaza squash / butternut squash

frozen pumpkin works well

1

whole cauliflower

riced or (16 ounces of premade riced cauliflower)

1

tablespoon

of dried thyme

preferably Guyanese thyme

¼

teaspoon

of black pepper

1

wiri wiri or similar chili pepper

e.g. scotch bonnet. Used whole for flavor and not for heat (completely optional)

2

cups

of canned coconut milk
Instructions
Bring a skillet up to temperature on medium heat, then add coconut oil

When coconut oil is hot and melted add tomatoes, green onions, and garlic

Sauté for a few minutes then add the spinach and pumpkin / calabaza squash / butternut squash followed by the salt, dried thyme, and black pepper

Continue to sauté for about two minutes mixing together all of the seasoning and other ingredients

Then add one cup of coconut milk, cover reduce the heat to simmer and cook until squash is fork tender

Next add the riced cauliflower, the remaining coconut milk and wiri wiri pepper (if using)

Mix together well, then cover and let simmer until the riced cauliflower is tender but not mushy. This should take between 5-8 minutes

Then remove from the heat. Dish should have a wet appearance but not soupy. As it cools it may become a bit dryer

Serve as is or with your favorite protein
Notes
Before serving I like to cut open the wiri wiri pepper for some mild heat
For additional heat you can eat this rice with some pepper sauce
---
---
The information listed in the recipe card is an estimate provided by an online nutrition tool. The tool evaluates ingredient names and amounts then makes calculations based on the number of servings listed for the recipe. It is provided as a general guideline and not as a precise calculation. For precise nutrition information please feel free to add the ingredients to your preferred nutrition calculator or consult a doctor or licensed nutritionist.