Gluten free pinwheels are now on my eat at every meal list. I couldn't remember the last time I ate one of these. That is, before I converted this to a gluten free recipe. Now I am so happy that I can make these anytime!
Make the best gluten free dough
Caputo Flour: For this recipe I used Caputo Gluten Pizza Flour (This is an amazon affiliate link). This flour has a gluten free wheat starch. If you are also allergic to or avoiding wheat this won't work for you.
All Purpose Gluten Free Flour: I also tested this recipe with King Arthur's Gluten Free All Purpose flour. With the addition of psyllium husk, they tasted amazing! More like a whole wheat version of the dough, but still the texture and taste was so good. I will include those instructions below.
Grain Free: I haven't tried making these grain free yet. But I think if you used a grain free cinnamon roll recipe you could pull it off. Try the dough in this recipe from Nom Nom Paleo.
Egg Free and Vegan: You can make this recipe vegan by swapping out the eggs and using psyllium husk gel. See below for instructions on how to make this.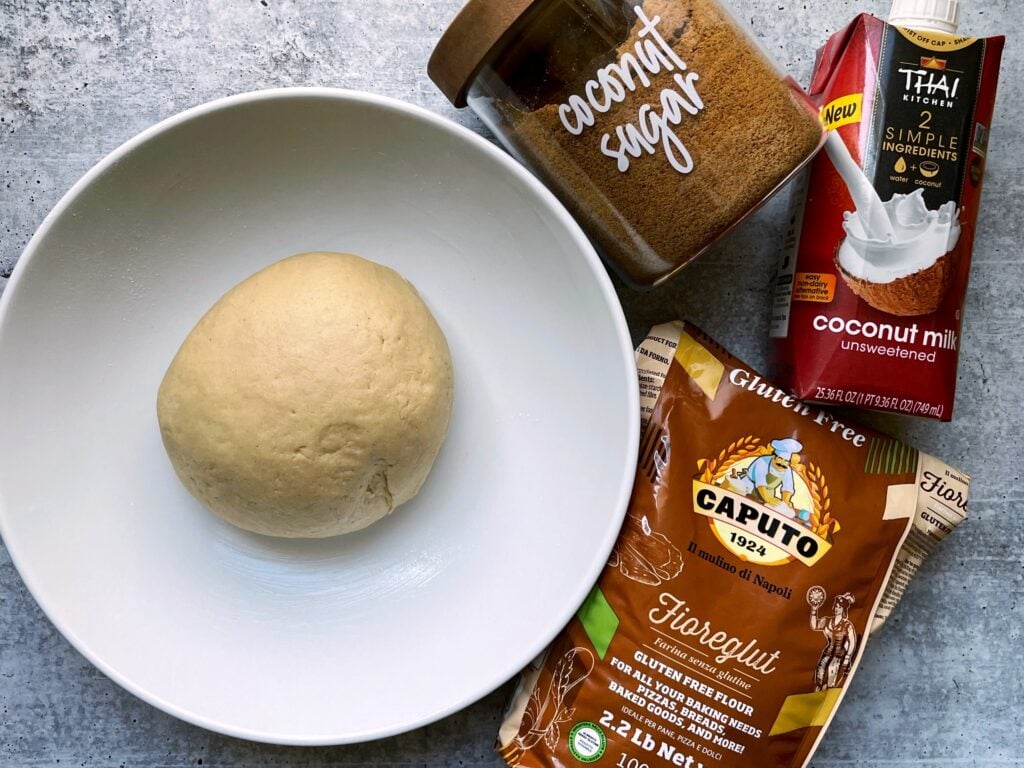 Fillings for the Gluten Free Pinwheels
In Guyana, pinwheels are typically made with ground beef or shredded chicken breasts. Honestly you can stuff them with anything.
Beef: Ground Beef or even shredded steak works
Chicken: I'v done ground chicken and shredded chicken breasts. I prefer the ground chicken. It's less work.
Vegetables: Green peas, carrots, broccoli and mushrooms sautéed together with onions, garlic and all the other ingredients works really well.
Breakfast Sausage: I used breakfast sausage instead of the ground beef for an easy grab and go breakfast. They were a hit!
Using Psyllium Husk as a binder
While testing a version of this recipe I used psyllium husk and water to make a gel. I learned this from The Loopy Whisk's Cookbook and I am forever grateful! The difference it made with the dough for the all purpose gluten free flour was unbelievable.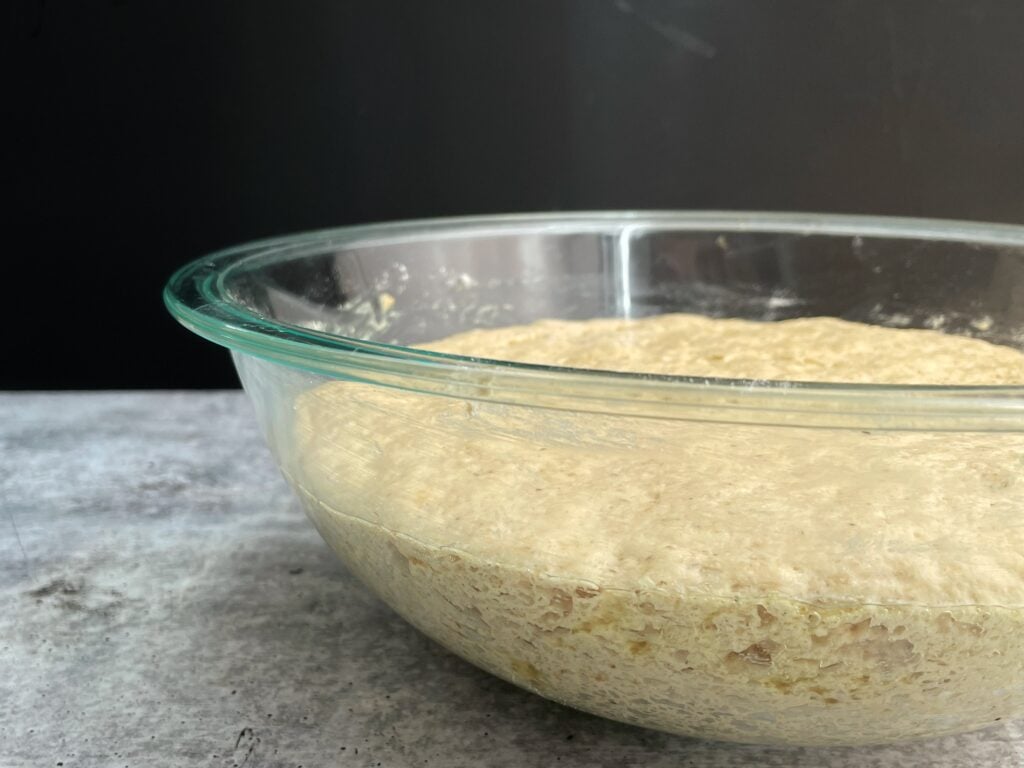 Use this to make your egg free dough as well. It is a fantastic binder. The psyllium husk does make it taste very much like whole wheat bread but I don't mind that. One adverse effect of using the psyllium however, if the amount of fiber it contains. It is the stuff they use in Metamucil. This is TMI, but a good clean out after eating so many of these gluten free pinwheels.

Gluten Free Pinwheel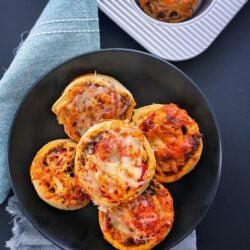 ---
Ground beef and cheese wrapped up in a delicious gluten free bread
---
Ingredients
Dough
1/2

cup

coconut milk

warmed to 110 °F

1/2

cup

warm water

about 110 °F

¼

cup

coconut sugar

¼

cup

coconut oil, melted

1

egg

optional

1

tablespoon yeast

3

cups

Caputo Gluten Free Flour or All Purpose Gluten Free Flour

approximately 13.6 ounces

1/4

teaspoon

salt
Psyllium Gel
3

tablespoons

Psyllium Husk

1 1/4

cups

Water
Filling
1

lb

lean ground

also called mince beef

1

tbsp

Avocado oil

1

small onion

finely diced

4

cloves

garlic

grated

1/4

Coconut aminos

1

teaspoon

dried thyme

1

teaspoon

spicy brown mustard

1

teaspoon of Iodized sea salt

3/4

Cup

Ketchup

½

lb

Extra Sharp Cheddar Cheese

Shredded
Instructions
Make the Dough
Combine the warm coconut milk and water in a small bowl, then add the coconut sugar and mix together until it dissolve

Next, add the yeast then mix together well. Set aside in a warm place and allow the yeast to bloom. This should take about 5-8 minutes

If using psyllium gel, combine the psyllium husk and water and set aside for about 5 minutes until a gel forms

Then in a separate bowl combine the flour and salt and mix together well. Then make a well in the center of the dry ingredients and add the bloomed yeast, egg (If using), psyllium husk (If using) and melted coconut

Mix together well, using a rubber spatula or your finger tips until a soft dough ball forms. Then place in a greased bowl, cover and let rest until the dough doubles in size, this should take approximately 1 hour.

Filling:

Bring oil up to temperature in a skillet on high heat. Then add the diced onions and cook until soft and a little translucent.

Next, add the ground beef, grated garlic, salt, about 4 tablespoons of ketchup, mustard, thyme and coconut aminos and sauté until the ground beef is fully cooked

Then remove from the heat, set aside and allow to cool completely
Shaping the pinwheels
Once dough has doubled in size, turn onto a floured surface and roll dough out to about ½ inch thickness

Then spread the cooked, cooled ground beef evenly onto dough then add ¾ of shredded cheese evenly over the ground beef

Brush the edges of the dough with some warm water, then roll dough into a log

Next, seal the ends then seal ends by pinching them together. Then cut the log into cut into 1 inch pieces. Place each pinwheel on a greased baking sheet, then top each piece with swirls of ketchup, then the remaining shredded cheese

Cover the baking sheet with plastic wrap and rest the pinwheels for 45 minutes before baking.
Baking the pinwheels
Bake on the middle rack for 25 to 30 minutes

Then remove from the oven and allow to cool for 5 to 10 minutes before serving
Notes
Leave a 1/2 inch space at the edge around the dough so that it be properly sealed.
Ketchup is the secret ingredient in these pinwheels. Similar to how it is the secret 
To make this recipe egg free, just skip the egg and use the psyllium husk gel instead! 
---
---
The information listed in the recipe card is an estimate provided by an online nutrition tool. The tool evaluates ingredient names and amounts then makes calculations based on the number of servings listed for the recipe. It is provided as a general guideline and not as a precise calculation. For precise nutrition information please feel free to add the ingredients to your preferred nutrition calculator or consult a doctor or licensed nutritionist.