Beef pinwheels are very similar to pizza rolls, just imagine if you were having a hamburger helper pizza roll, without the pasta of course. Who can say no to delicious ground beef with cheese, rolled up into a brioche log, then topped with more cheese?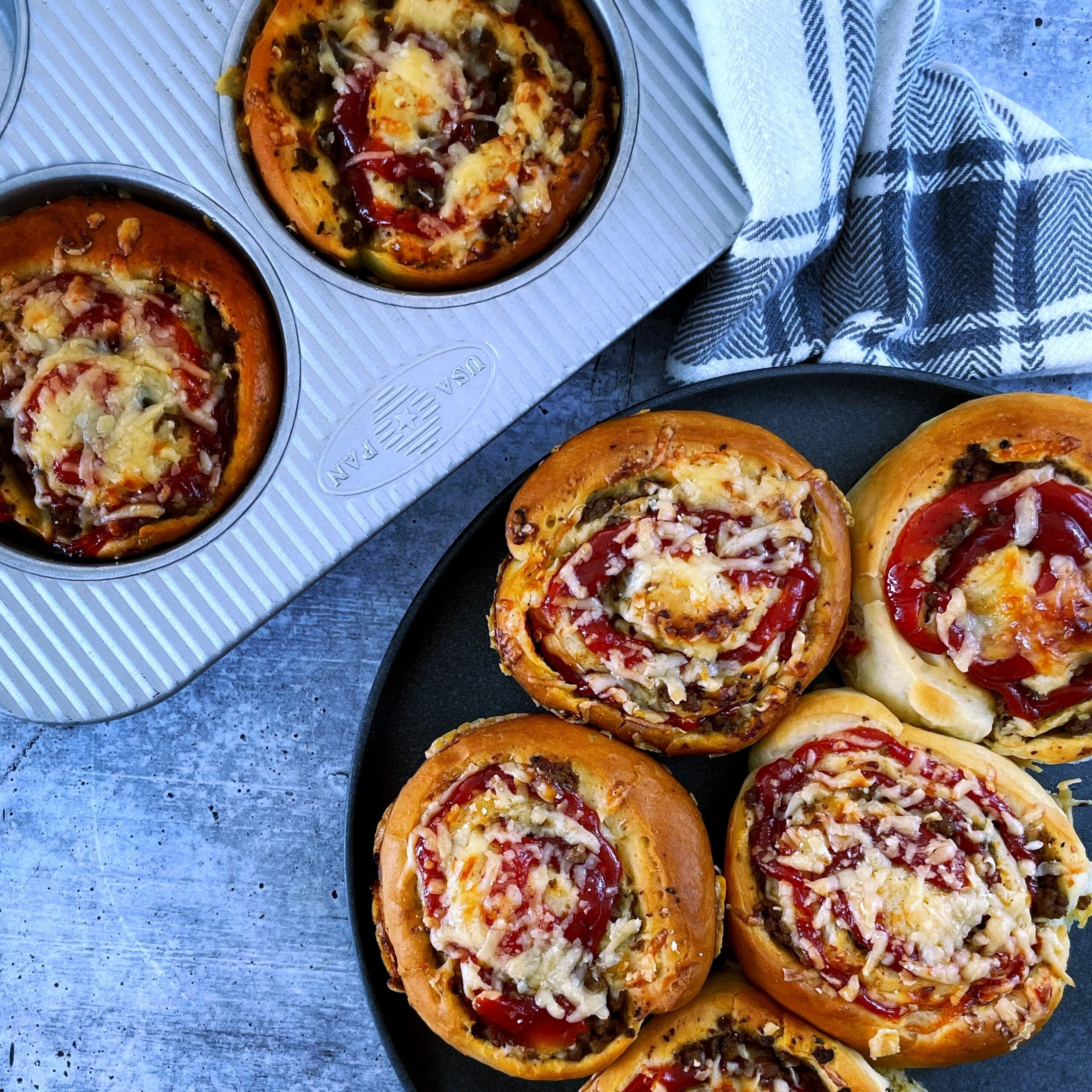 Beef pinwheels were one of my favorite lunches during high school. My friends and I often snuck out of school at lunch time to buy these from Arapaima. At that time they cost about $60 Guyana dollars (less than US $.50). The lines at the restaurant were long but it was totally worth it.
Tips for making the dough for the beef pinwheels:
Making the dough by hand: do not be intimidated by making this bread dough by hand. I love to use a whisk to start off the dough. I whisk in the wet ingredients in the center of the dry ingredients to form a thick batter. Then I continue to mix the rest of the dry ingredients in with my hands until it forms a dough.
Using a stand mixer for the dough: You can also make this dough in a stand mixer using a dough attachment. Simply add the bloomed yeast and milk to the bowl of the stand mixer. Then add the melted shortening and egg followed by the dry ingredients. The mixer will do all the kneading for you!
Make the dough vegan: You can skin the egg in this recipe and use coconut milk instead of milk and the results are amazing.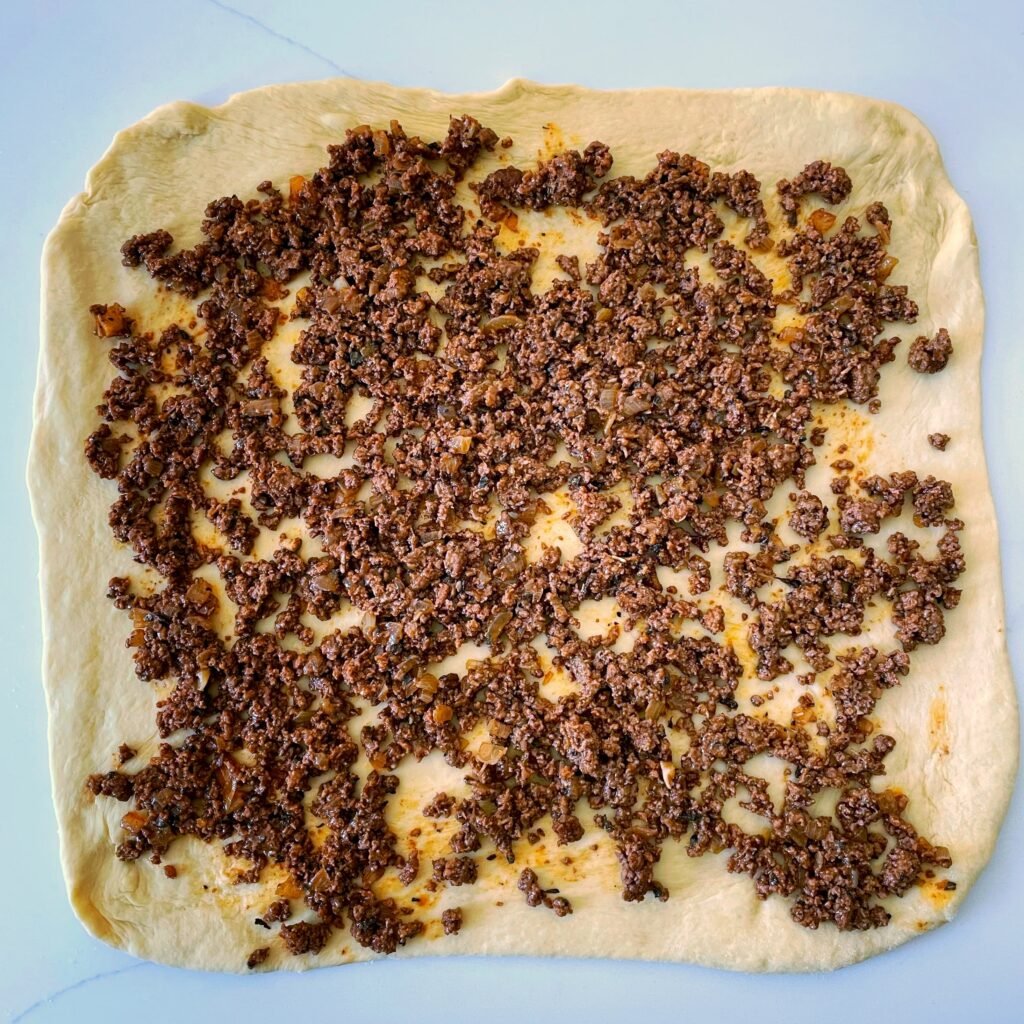 Filling Options:
In Guyana, pinwheels are typically made with ground beef or shredded chicken breasts. Honestly you can stuff them with anything.
Beef: Ground Beef or even shredded steak works
Chicken: I'v done ground chicken and shredded chicken breasts. I prefer the ground chicken. It's less work.
Vegetables: Green peas, carrots, broccoli and mushrooms sautéed together with onions, garlic and all the other ingredients works really well.
Breakfast Sausage: I used breakfast sausage instead of the ground beef for an easy grab and go breakfast. They were a hit!
The best cheese for the beef pinwheels:
My favorite cheese for these pinwheels are aged white cheddar. If you can find Australian cheddar even better. You may also use, extra sharp or even vermont cheddar.
Want to make a vegan version of these? The use the vegetable filling suggested above and vegan cheese style shreds. Daiya makes a cheddar cheese style shreds that I quite like. I've used them in Mac and "cheese" for my daughter who has a mild dairy allergy and she didn't notice the difference in taste. Click here for my amazon affiliate link to check it out.
Step by Step Video Instructions
Want to try the gluten free pinwheels?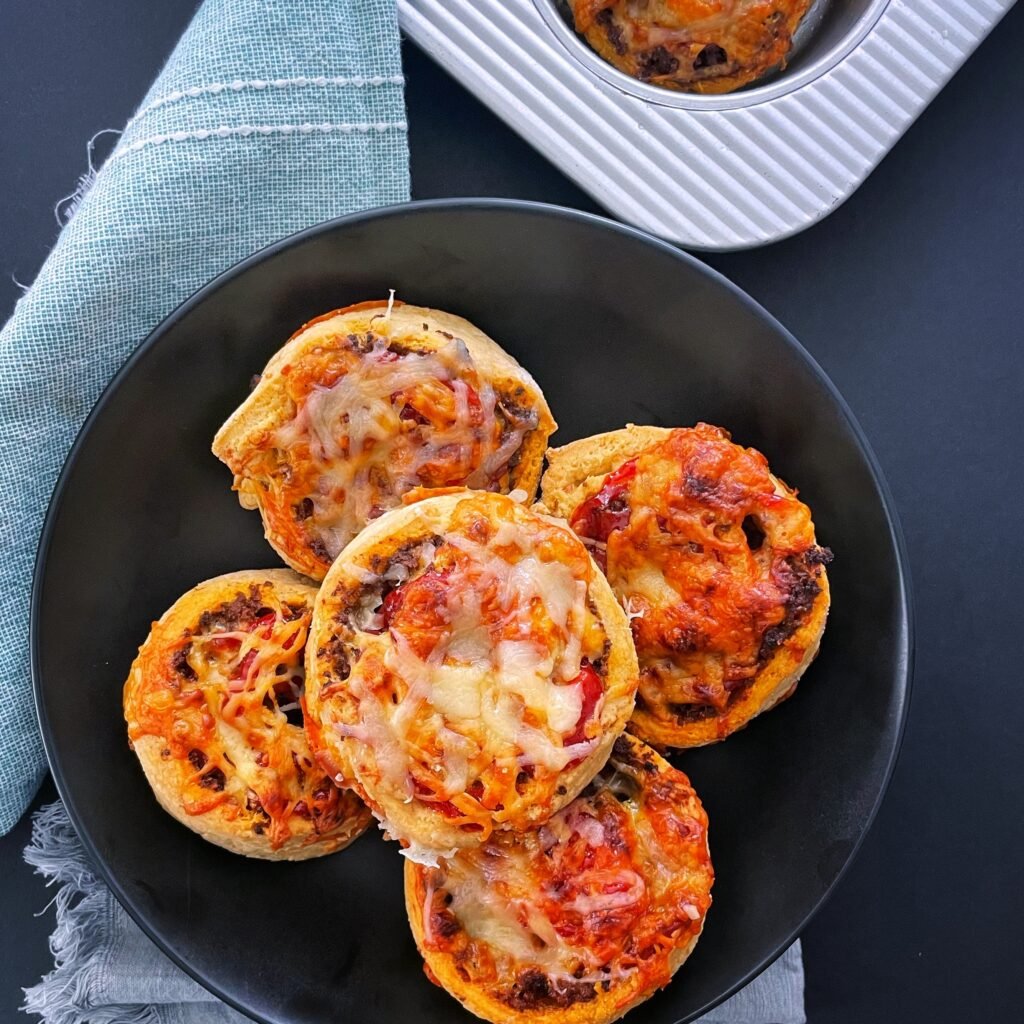 The Printable Beef Pinwheels recipe:

Beef Pinwheels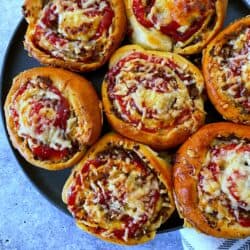 ---
Delicious ground beef filling wrapped in a fluffy brioche dough and topped with sharp cheddar cheese.
---
Ingredients
Dough
1

cup

milk

¼

cup

brown sugar

¼

cup

shortening, melted

may also use melted butter

1

egg

whisked

1

tablespoon

dry active yeast

may also use rapid rising yeast

3

cups

flour

plus extra for dusting

1/4

teaspoon

salt
Filling
1

lb

lean ground

mince beef

1

small onion

finely, diced

4

cloves

garlic

grated

1

teaspoon

brown sugar

1

tablespoon

cassareep

may sub with soy sauce or skip

1

teaspoon

dried thyme

1

teaspoon

spicy brown mustard

1

teaspoon

iodized sea salt

or salt to taste

1

tablespoon

avocado oil

3/4

cups

ketchup

½

lb

extra sharp white cheddar cheese

shredded
Instructions
For the Dough
Warm milk until it is about 110 °F, then add sugar and mix together until sugar dissolves

Next add yeast to the sugar and milk mixture, mix together well, then set aside to allow yeast to bloom. This should take about 5 minutes

Then add flour and salt to a mixing bowl and mix together. Next make a well in the center of the dry ingredients, then add the yeast mixture, followed by the melted shortening and the egg

Mix together to form a soft dough, then turn onto a floured surface and knead (for about 5 minutes) into a smooth ball

Then place dough in a greased container, cover and let rest in a warm place until it doubles in size
Make the filling
Heat oil in a skillet on medium heat, then add the diced onions and cook until soft and translucent (about 3-5 minutes)

Then add the ground beef, followed by the grated garlic, thyme, salt, 1/4 cup of ketchup and the spicy brown mustard, brown sugar and cassareep

Continue to sauté until the ground beef fully cooked then remove from the heat and allow to cool completely
Making the pin wheels
Once dough has doubled in size, punch down, then turn onto a floured surface and knead back into a smooth ball

Next roll dough out to about ½ inch thickness then spread the cooled cooked, beef filling evenly onto dough, leaving a 1/4 inch from the edge of the dough

Then add ¾ of shredded cheese evenly across the beef filling

Next brush along the edges of the dough with water, then roll dough into a log and seal ends by pinching them together.

Then cut into 1 inch pieces and place cut side up on a greased baking sheet

Now top each piece of stuffed dough with a swirl of ketchup followed by a sprinkle of the remaining cheese, then cover with plastic wrap

Next let the pinwheels rest for another 45 minutes before baking
Baking the pinwheel
When ready to bake, preheat the oven to 350 °F

Remove the plastic wrap and place baking sheet on the middle rack in the oven

Bake for 25 to 30 minutes, then remove from the oven and allow to rest for 5 minutes before serving warm
Notes
Ketchup is the secret ingredient in these pinwheels. Similar to how it is the secret ingredient for meatloaf.
You can use any fat in place of the shortening. I love using melted extra virgin coconut oil.
---
---
The information listed in the recipe card is an estimate provided by an online nutrition tool. The tool evaluates ingredient names and amounts then makes calculations based on the number of servings listed for the recipe. It is provided as a general guideline and not as a precise calculation. For precise nutrition information please feel free to add the ingredients to your preferred nutrition calculator or consult a doctor or licensed nutritionist.