These creamy farine grits are grain free and made from a cassava meal that is popular among the Indigenous people of Guyana. It is also well known throughout the Caribbean, Brazil, and the African continent. It is perfect if you are looking for a grain-free alternative to grits.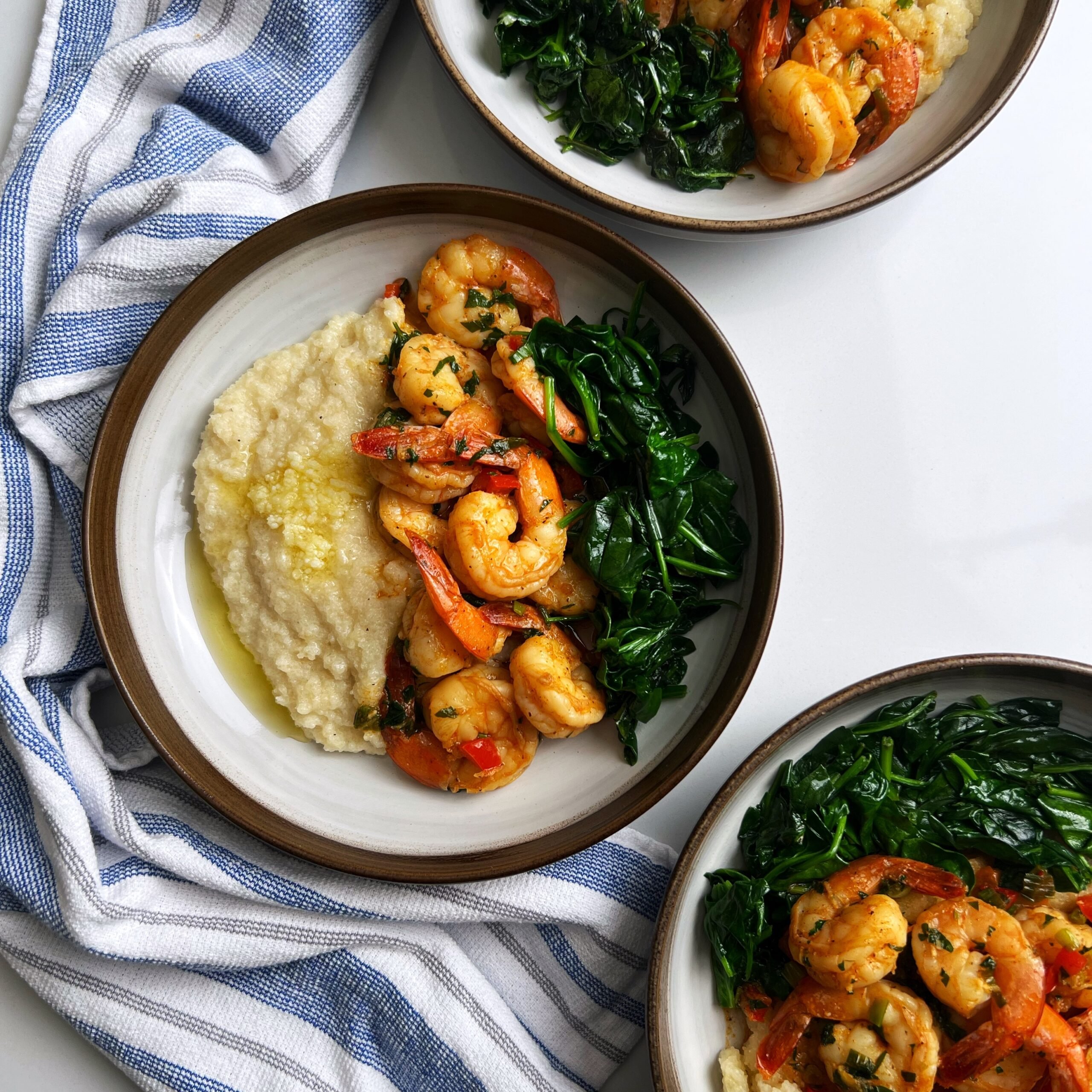 Creamy Farine Grits
When I was growing up in Guyana, farine was not a part of my normal diet, although I knew what it was. As my diet has changed and I lean more towards grain-free paleo recipes I am finding comfort in a familiar ingredient that does not get a lot of shine.
What is Farine?
Farine is made by grating cassava, removing all of the juices, drying it, and then toasting it. So it is simply a cassava meal. It is also called Garri/Gari and is popular on the African continent, particularly in West African countries like Nigeria and Ghana.
This farine is not related to farina which is made of wheat, but is called farine in Guyana and some parts of the Caribbean as a short form for the Portuguese name farinha de mandioca.
Farine can be white or yellow. In Guyana it is naturally yellow because of the type of cassava used. However, it is naturally white in other placed and becomes yellow when toasted with palm oil (which is also Whole30 compatible). Cassava is an incredibly versatile vegetable that I use to make everything from Cassava Egg Balls to Boil and Fry Cassava.
Why Use Farine as a Grits Substitute?
Guyanese people tend to use farine as a type of pilaf but I love using it as a substitute for grits. It has the same texture but is grain-free so those with dietary restrictions can still enjoy it.
Why You'll Love This Farine Grits Recipe
Easy Prep: This recipe comes together with just a few simple ingredients and easy-to-follow instructions.
Quick: This takes just 10 minutes to make, from start to finish.
Versatile: Use this just as you would classic grits. You can add cheese, and butter, and even serve it with shrimp. This recipe is savory but it can easily be made sweet, if you prefer.
Healthier Alternative to Grits: If you crave the taste of rich, buttery grits but have digestive issues, this cassava grits recipe allows you to indulge without the tummy ache. It's grain-free, gluten-free, Whole30 and paleo-friendly.
Where to buy Farine (Garri)
You can find farine at local African or international markets or online at amazon.com. Check out my affiliate link here for some white garri that is Whole30 compatible. If you don't like the addition of palm oil in your farine, buy the white version, linked here.
Ingredients for Farine Grits
Use a clear shot of the ingredients for this recipe, prepped, and labeled if necessary. Insert the ingredients into the list below, omitting quantities.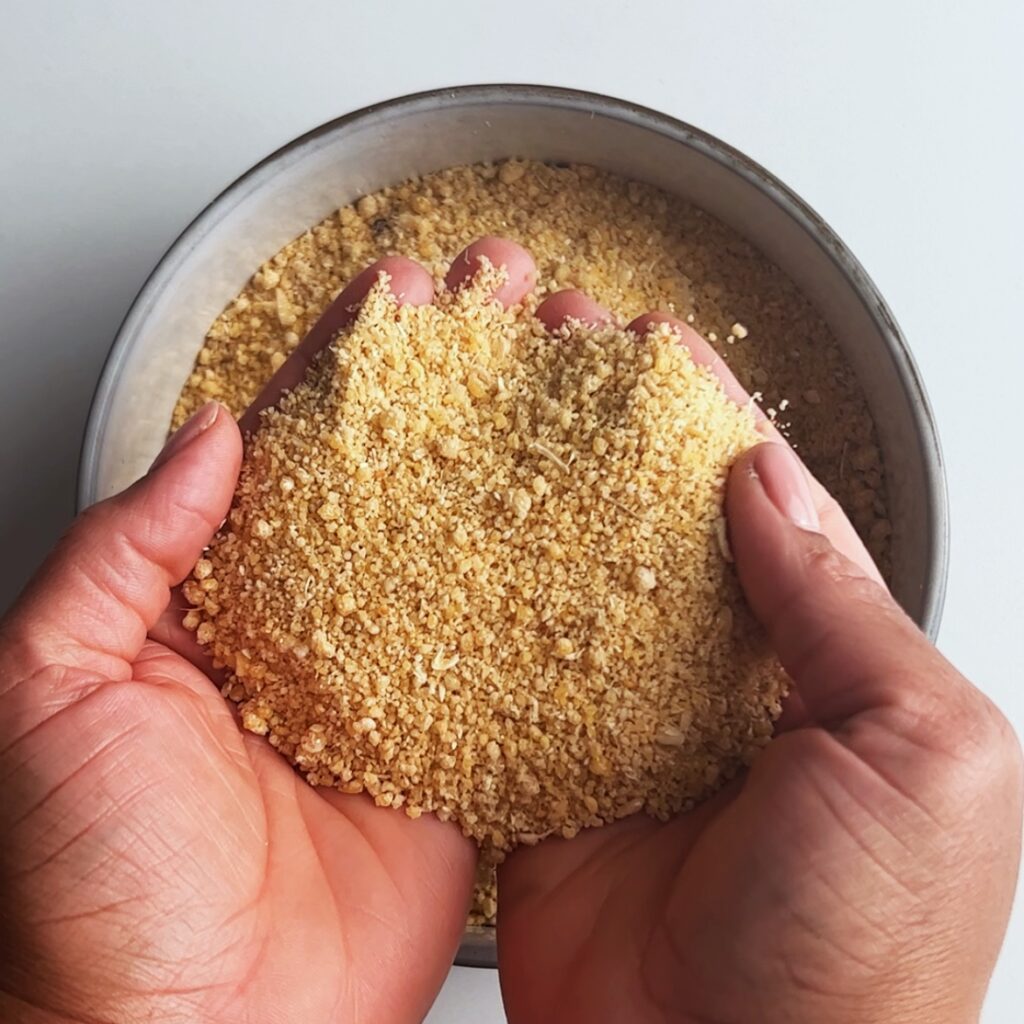 Farine/Gari: A grain-free alternative to traditional grits (made with dried corn).
Water: Alternatively, use bone broth.
Coconut Milk: Use full fat for a creamy consistency.
Coconut Cream: This thickens the porridge.
Ghee: I add this at the very end for a buttery taste. Although it contains dairy, it tends to be easier on the stomach than traditional butter. So those with a lactose-intolerance may want to give this a try.
Nutritional Yeast: This gives the cassava grits a cheesy taste without adding dairy.
Seasoning: Add salt to taste and a pinch of coarse black pepper.
See recipe card for quantities.
How to Make Cassava Grits
Boil Farine
Making the grits with the cassava farine is very simple and takes no time at all. Start by bring water to a boil, then adding the farine.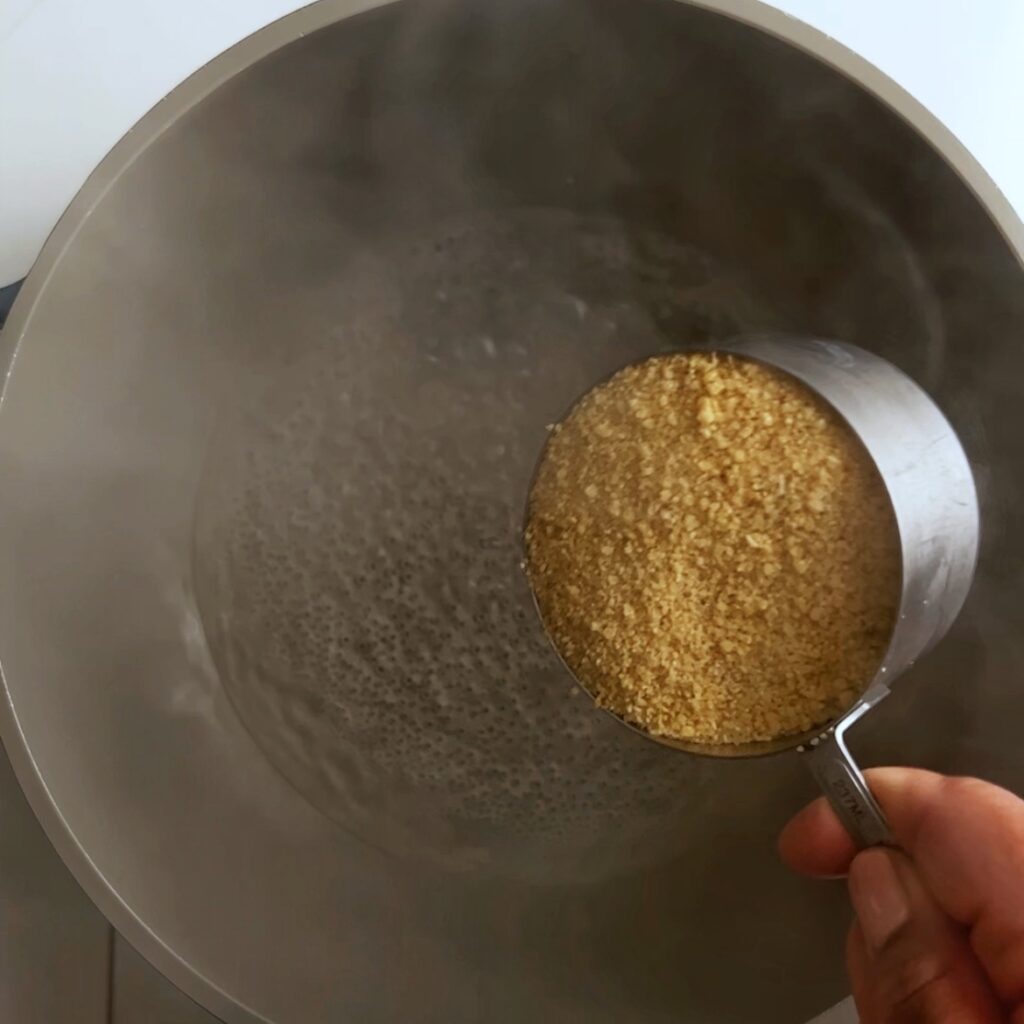 Then add salt and pepper to taste.
Followed by the coconut milk to give the farine some creaminess.
Next add some nutritional yeast which imitates the taste of cheese. You can also add some nut cheese of you like.
Finish it off with the addition of coconut cream, for extra creaminess.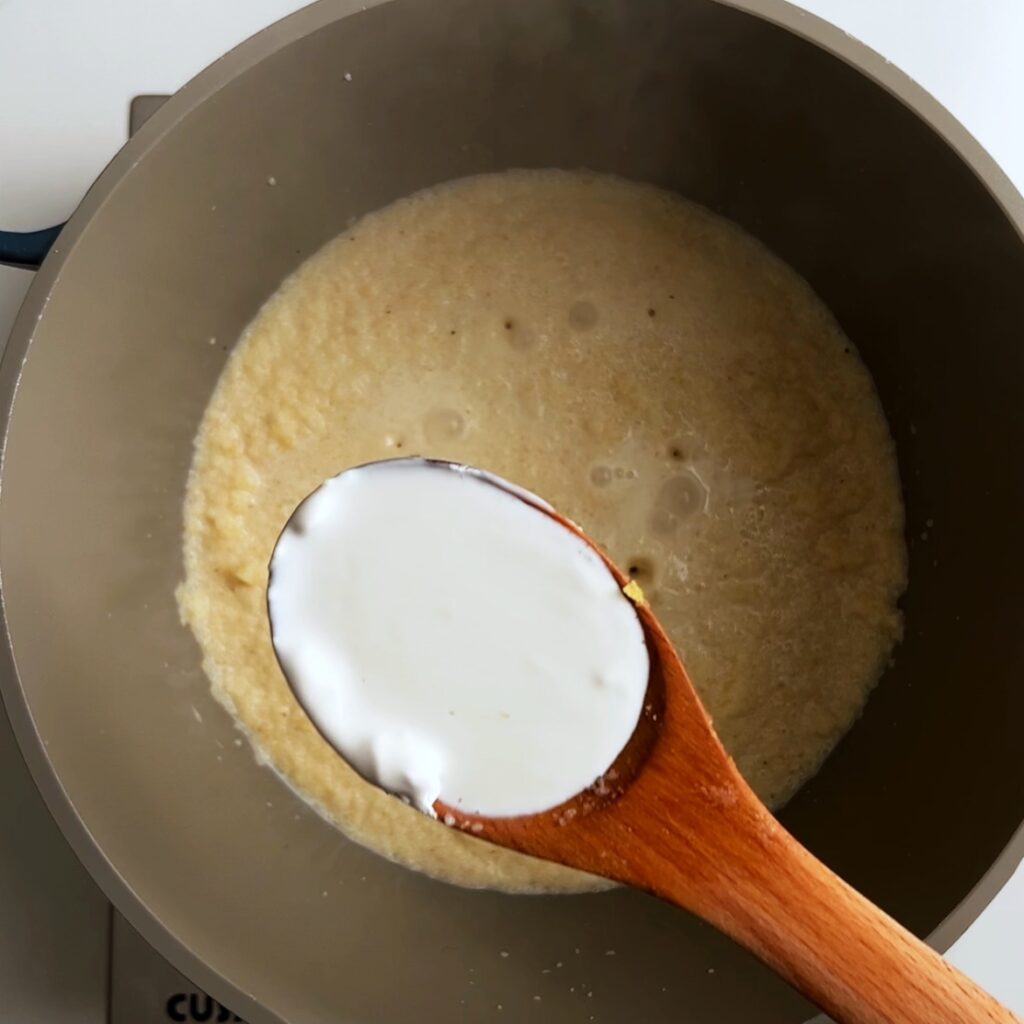 I also add a little dollop of ghee at the end.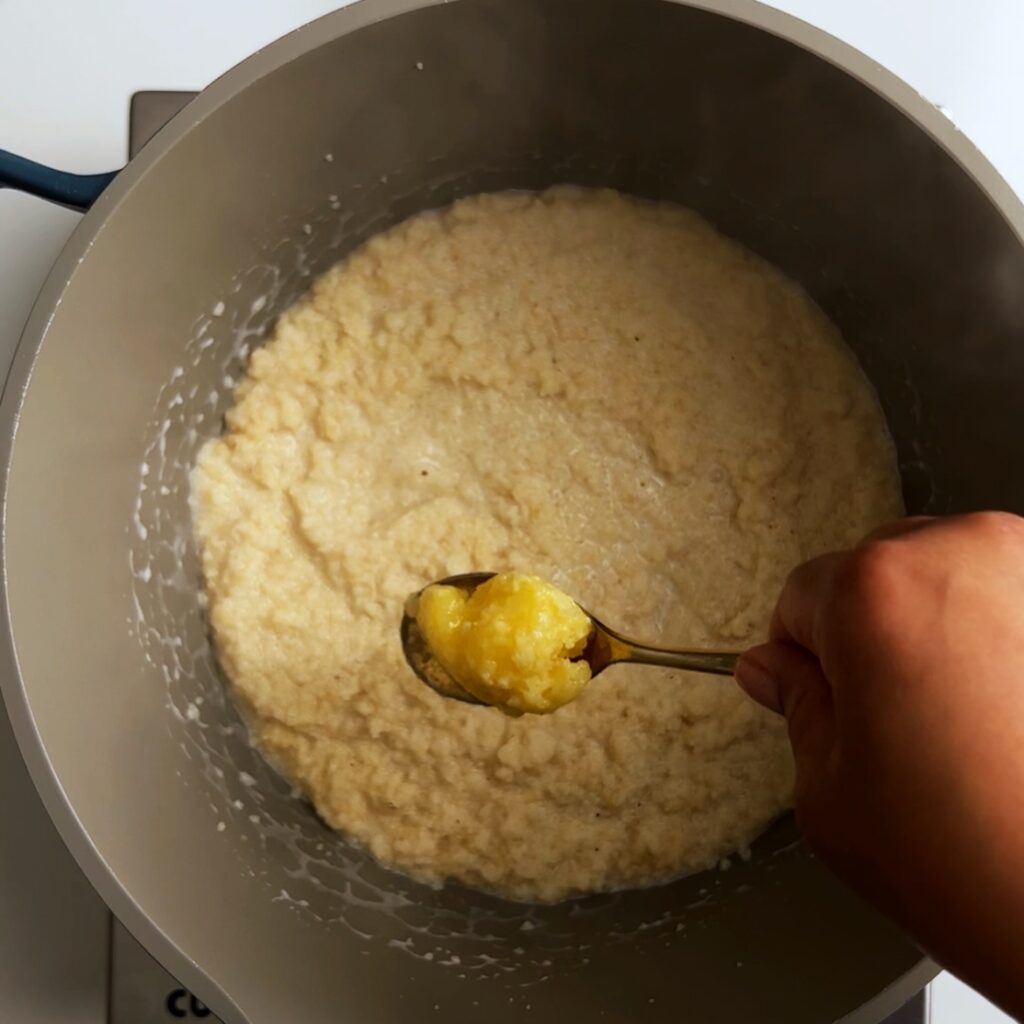 Storage
Once it's cooled down, store the leftovers in an airtight container and store it in the fridge for up to 3 days. Reheat it over low-medium heat on the stovetop or in the microwave. You may need to add a splash of liquid (coconut milk or water) to loosen the grits because they thicken as they cool.
Tips for the Best Farine Grits
Do not cook off all of the liquids. Leave it a bit soppy as it will thicken as it cools down.
Do not overcook or it will become mushy. Farine grits thicken as it cools, if it becomes too thick before you are ready to serve add ½ cup of hot coconut milk to the grits and mix together well, then serve immediately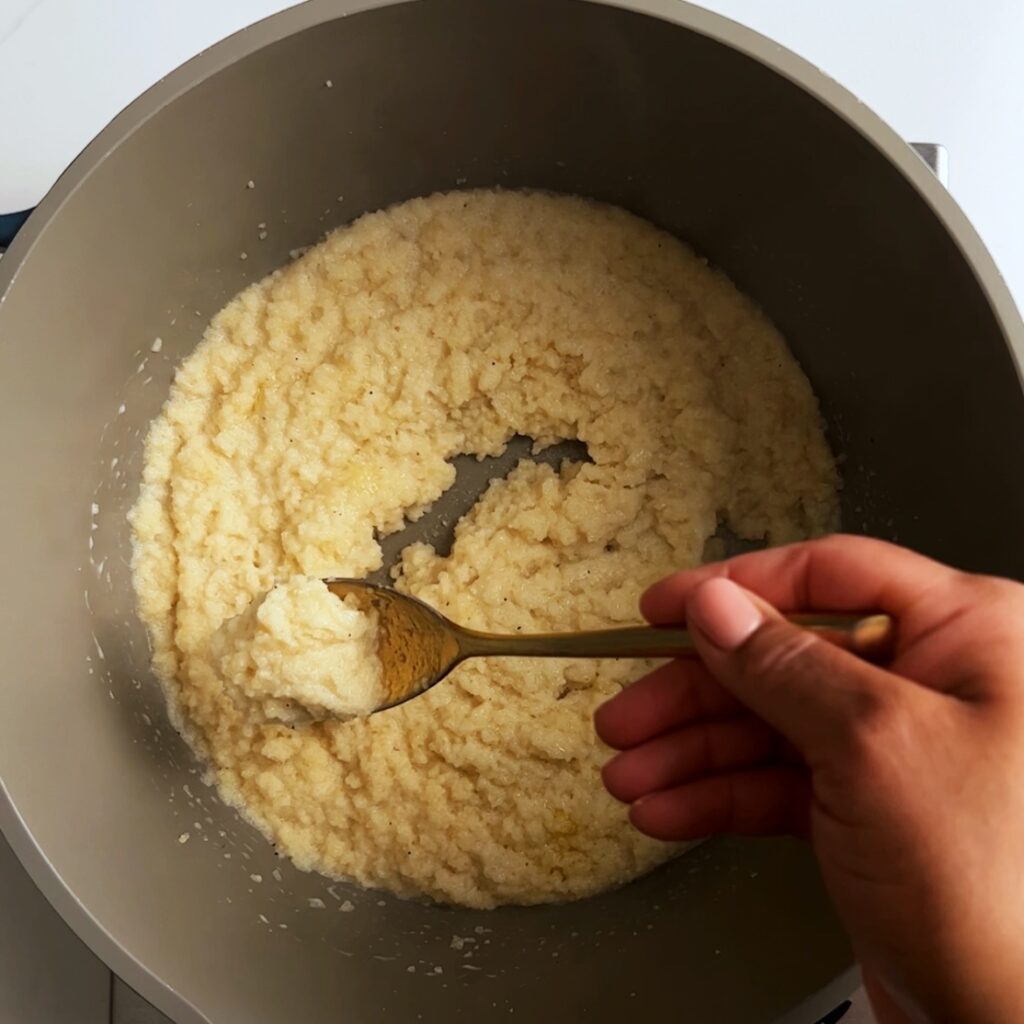 Recipe Variations
This recipe is nearly dairy free to make it Paleo and Whole30 compatible which reflects my current dietary needs. If you are simply looking for a grain free alternative to grits but can have dairy feel free to use the following substitutions:
Coconut Milk: Instead of coconut milk you may use regular dairy milk
Coconut cream: Heavy cream is a great substitution here
Nutritional Yeast: Feel free to skip this and substitute with about 1 cup of shredded sharp cheddar cheese
Frequently Asked Questions
How do you make farine from cassava?
Farine is made by grating cassava, extracting all of the juices, drying the pulp, and then toasting it.
Is farine an African food?
Farine (which is essentially cassava), was introduced to Africa by way of Portuguese traders from Brazil during the 1500s. Although it is not native to Africa, it has become a staple in West African cuisine.
Are grits the same as garri?
No. Grits are made from corn and garri is made from the root vegetable, cassave. However, the textures are similar and they can be prepared the same way.

Creamy Farine (Cassava) Grits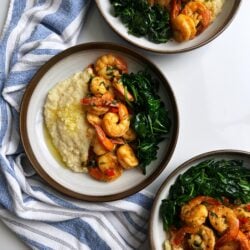 ---
These creamy farine grits are grain free and made from a cassava meal that is popular among the Indigenous people of Guyana. It is also well known throughout the Caribbean, Brazil, and the African continent. It is perfect if you are looking for a grain-free alternative to grits.
---
Ingredients
1

cup

Farine

(cassava meal, also called garri and African couscous)

2

cups

water

may also use bone broth

1

cup

full fat coconut milk

¼

cup

coconut cream

1

tablespoon

ghee

1

teaspoon

salt

or salt to taste

Pinch

coarse black pepper

1

tablespoon

nutritional yeast
Instructions
Bring water to a boil in a saucepan on medium heat

Add farine, followed by salt, pepper and nutritional yeast and mix together well (about 1 minute)

Then add the coconut milk and stir until the mixture thickens but is not dry (about 2 minutes)

Remove from the heat, then add coconut cream and stir to combine

Add the ghee just before serving and mix well or you can add a bit of ghee to individual portions
Nutrition
Calories:
283
kcal
Carbohydrates:
23
g
Protein:
3
g
Fat:
21
g
Saturated Fat:
18
g
Polyunsaturated Fat:
0.4
g
Monounsaturated Fat:
2
g
Cholesterol:
10
mg
Sodium:
603
mg
Potassium:
350
mg
Fiber:
2
g
Sugar:
1
g
Vitamin A:
7
IU
Vitamin C:
12
mg
Calcium:
24
mg
Iron:
2
mg
---
---
The information listed in the recipe card is an estimate provided by an online nutrition tool. The tool evaluates ingredient names and amounts then makes calculations based on the number of servings listed for the recipe. It is provided as a general guideline and not as a precise calculation. For precise nutrition information please feel free to add the ingredients to your preferred nutrition calculator or consult a doctor or licensed nutritionist.