Guyanese aloo paratha or potato roti is a deliciously layered flatbread stuffed with spiced, seasoned mashed potatoes. Enjoy it plain, with pepper sauce, or as a yummy side dish to your favorite curry or stews.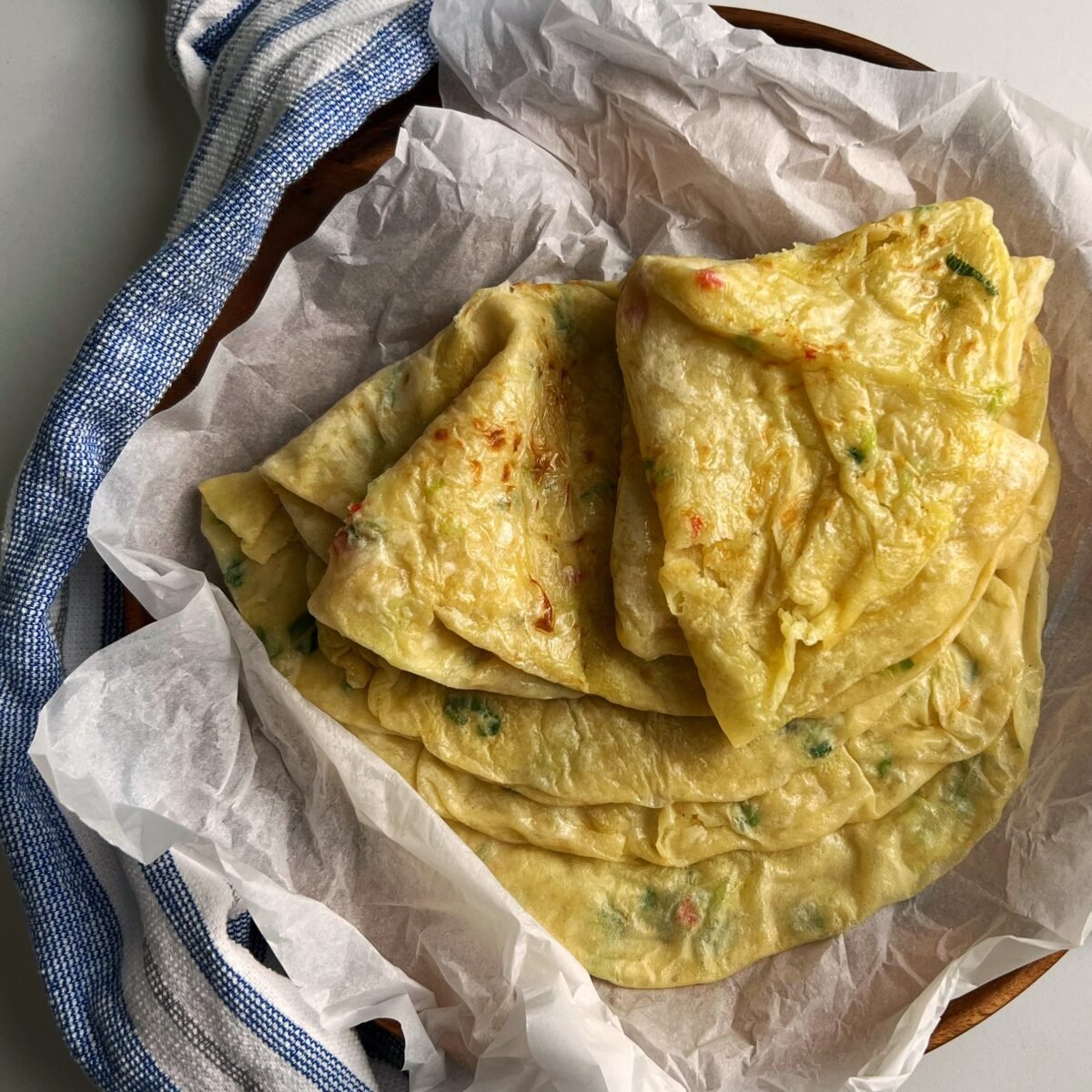 Aloo Paratha
My mom made potato rotis or aloo parathas only on weekends during my childhood. These thin, stuffed roti always glistened when fresh off the tawa. She kept the scallions whole but ground up the rest of her seasoning into paste with a mortar and pestle.
These days I just use garlic and onion powder and the flavor is just as mouthwatering. Rip this flat bread made to get a glimpse of the potato filling and enjoy the melt in your mouth layers.
Why You'll Love This Potato Roti Recipe
Easy to Step by Step Instructions: This recipe is simple and tastes great even if you don't get the form down right away. The roti doesn't have to be perfectly round and it's not the end of the world if some potato filling pokes through in the dough. There are plenty of easy fixes!
Absolutely Delicious: This looks like a simple flatbread but one bite in and your taste buds are in for a treat. They are savory, slightly spicy, and packed with flavor.
Made With Simple Ingredients: I love making recipes that help me clean out my fridge. Luckily, Guyanese aloo paratha works best with older potatoes. Use up any leftovers in your fridge before they go bad.
What is Aloo Paratha?
Aloo paratha is an Indian flat bread made of tradditional roti, stuffed with a seasoned, creamy mashed potatoes. In Hindi, aloo means potatoes and paratha translates to flat bread. It is usually eaten for breakfast or as a snack.
The traditional Indian version of this recipe uses, boiled potatoes are cooked, mashed, and seasoned with spices and herbs like red chili powder, garam masala, green chilies, and cilantro then encased in roti dough. It is flattened then cooked on a hot, flat surface with ghee (clarified butter) until golden brown with brown spots, flaky, and crisp.
Ingredients for Aloo Paratha
The main components of this recipe are the roti dough and the potato filling.
All-Purpose Flour: This is the base of the dough.
Baking Powder: This helps the dough rise.
Instant or Rapid Rising Yeast: This stabilizes the dough.
Oil: Use an oil with a high smoke point like avocado oil or sunflower oil.
Potatoes: Use Yukon gold potatoes, russet potatoes, or red potatoes and cook them just until they are fork tender. Then let them cool to room temperature before proceeding.
Scallions (green onions): Chop them finely.
Wiri wiri peppers (or similar chilis): Remove the seeds if you want the flavor without the heat.
Seasoning: Season the mashed potatoes with salt, garlic powder, onion powder, and geera (roasted ground cumin).
See recipe card for quantities.
How to Make Aloo Paratha
The dough is very critical to a soft pliable, easy to manage aloo paratha. In this recipe I add a little bit of rapid rising yeast to stabilize the dough. However, if you are pretty confident with your traditional roti dough, then you can skip the yeast.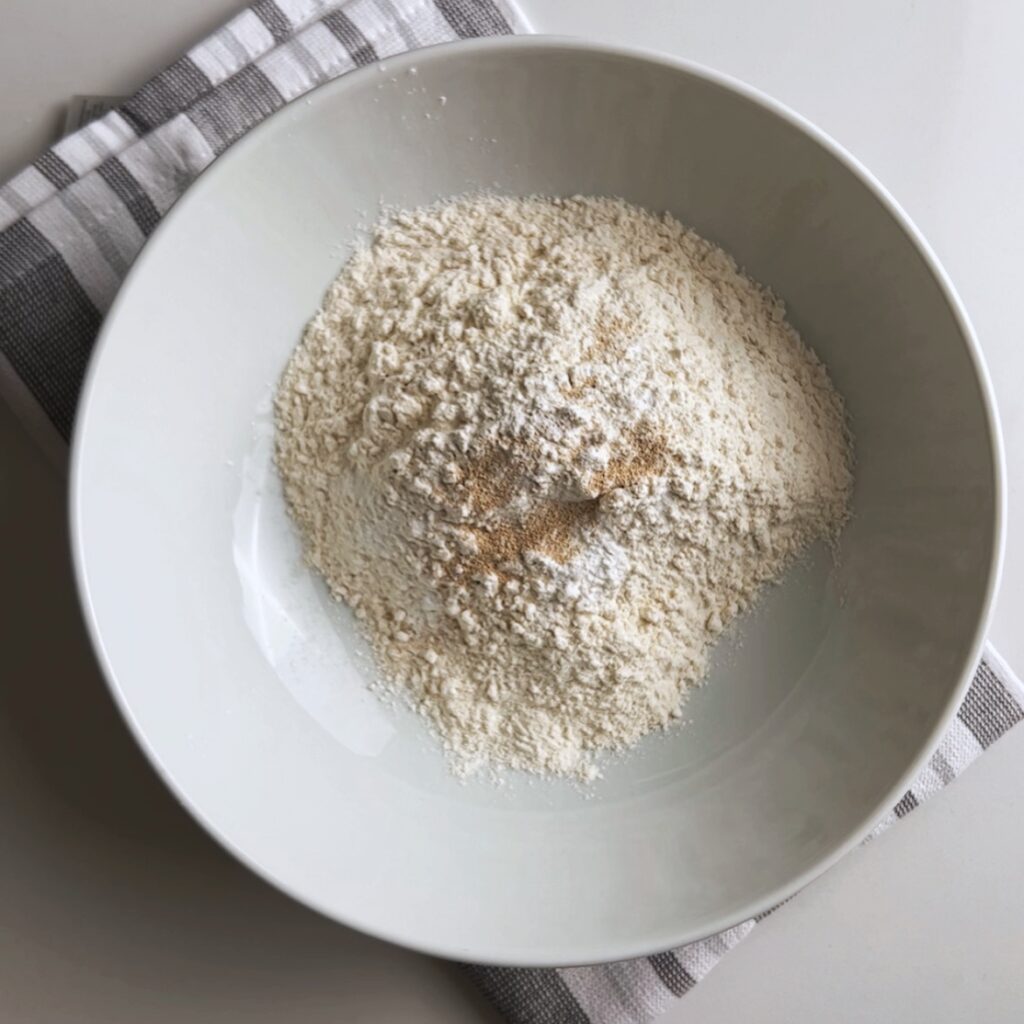 Use warm water to make your dough (about 110°F). You can add the water all at once, or a little at a time.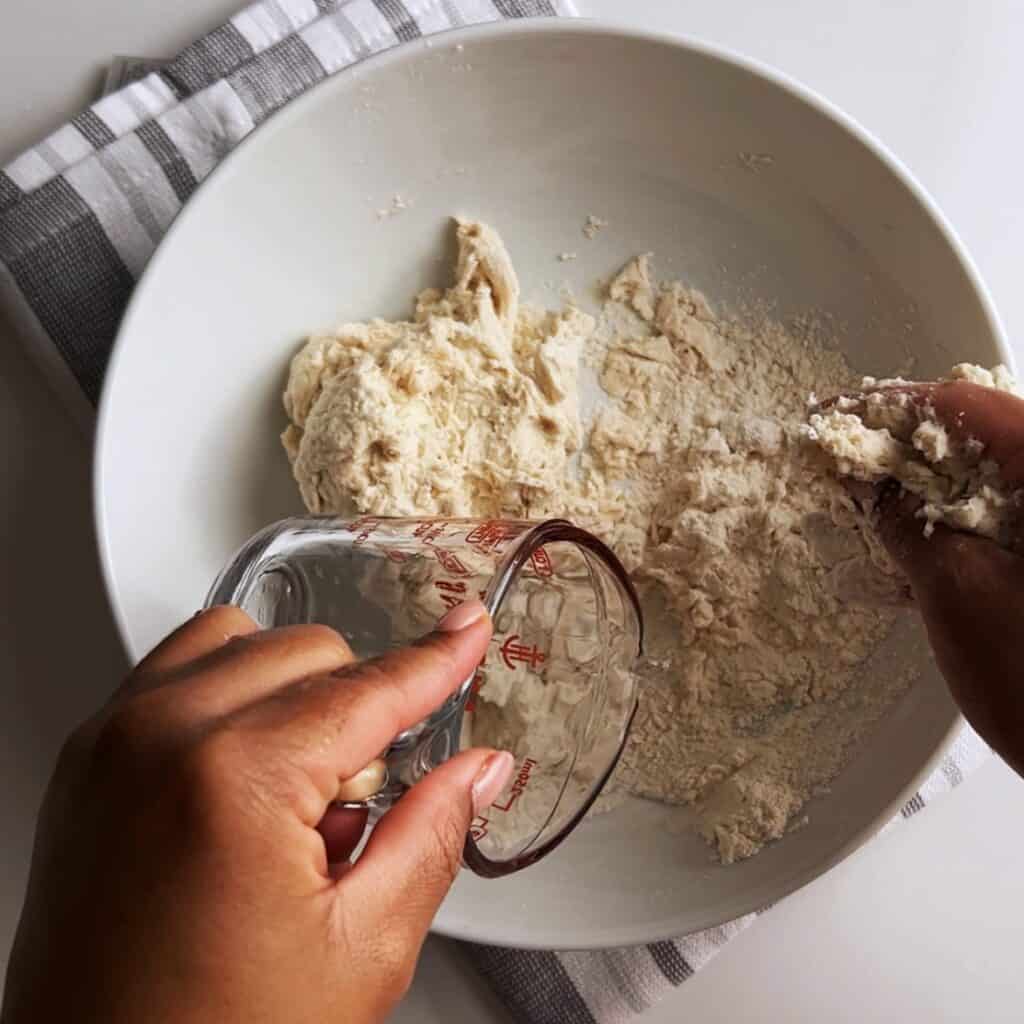 Then gently knead together to form a soft dough. Once my dough comes together I damp my palm and gently rub water over the top to keep it from crusting while it rests.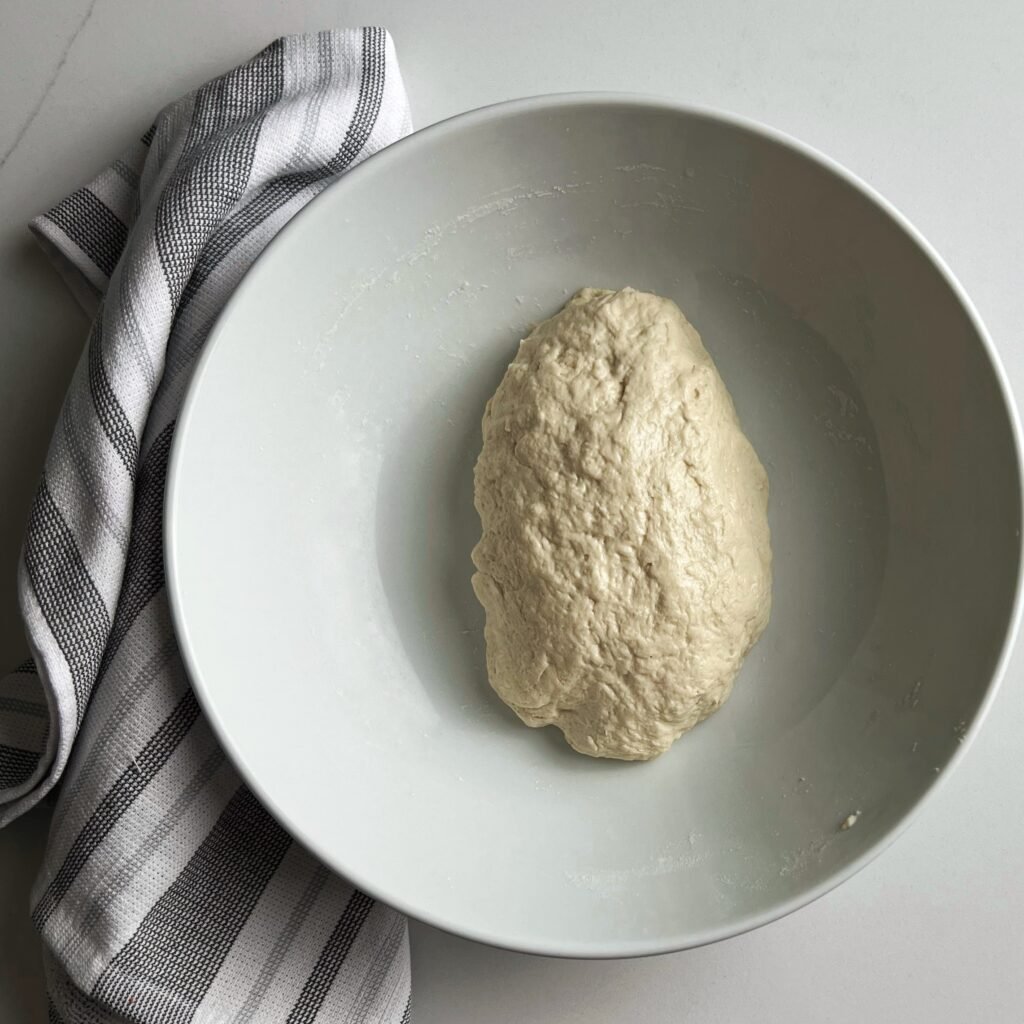 Cover the dough with plastic wrap or a kitchen towel and let it rest for 30 minutes. Then divide the dough into 8 (this recipe makes 8 10 inch rotis), and roll each piece into a smooth ball.
Making the Potato Filling
Peel and dice your potatoes.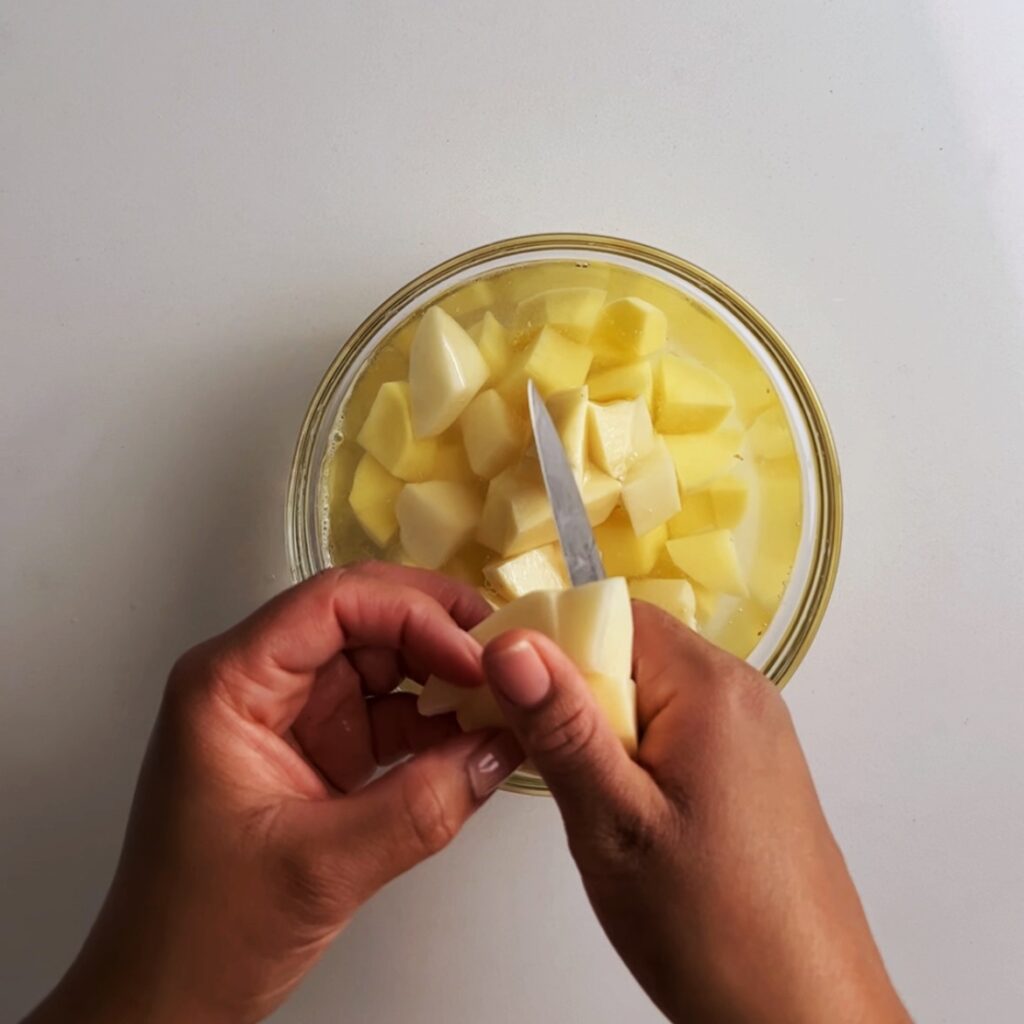 Then boil on high heat until fork tender.
Crush your cooked potatoes until there are no lumps. I used a wire mesh strainer to push the cooked potatoes through and create easy lump free potatoes. You can also use a potato ricer or potato masher.
Add your seasoning and aromatics to the crushed potatoes.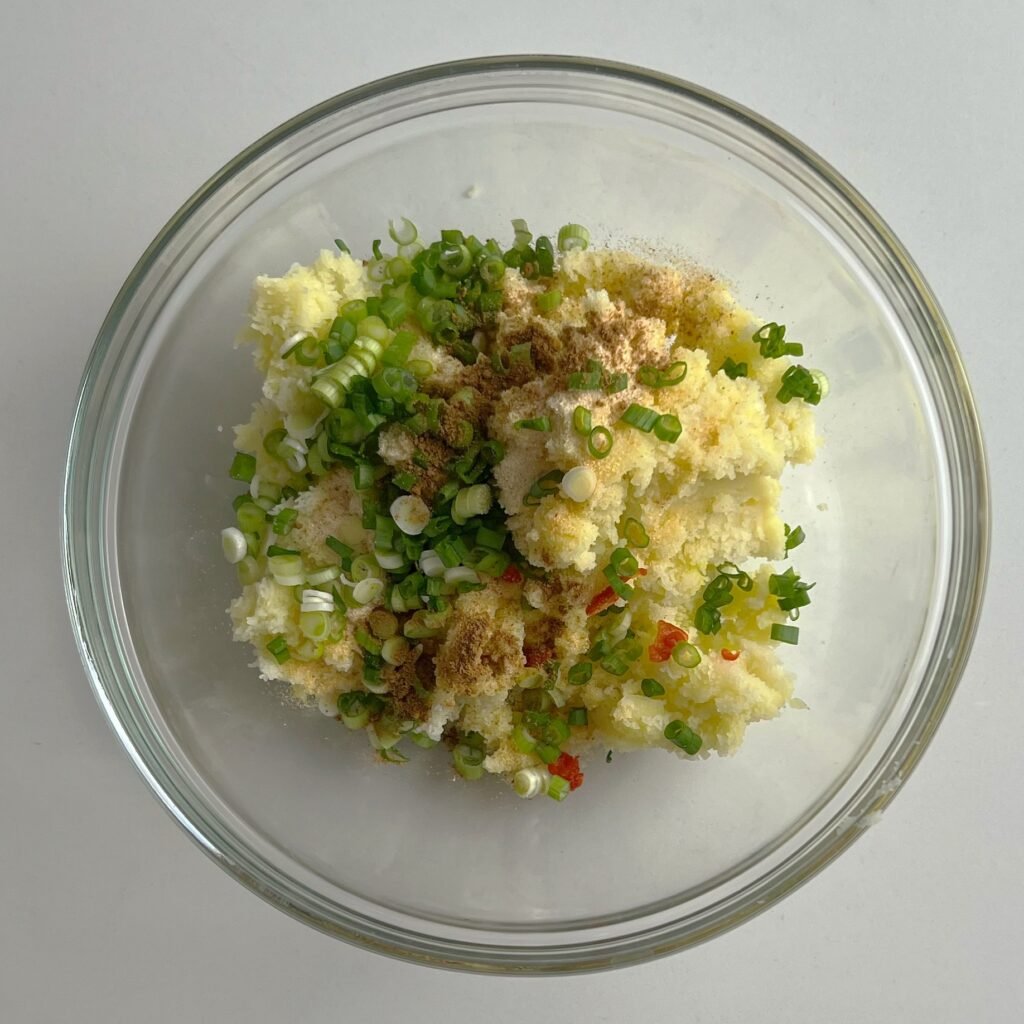 Then mix together well until the seasoning in well distributed with the potatoes.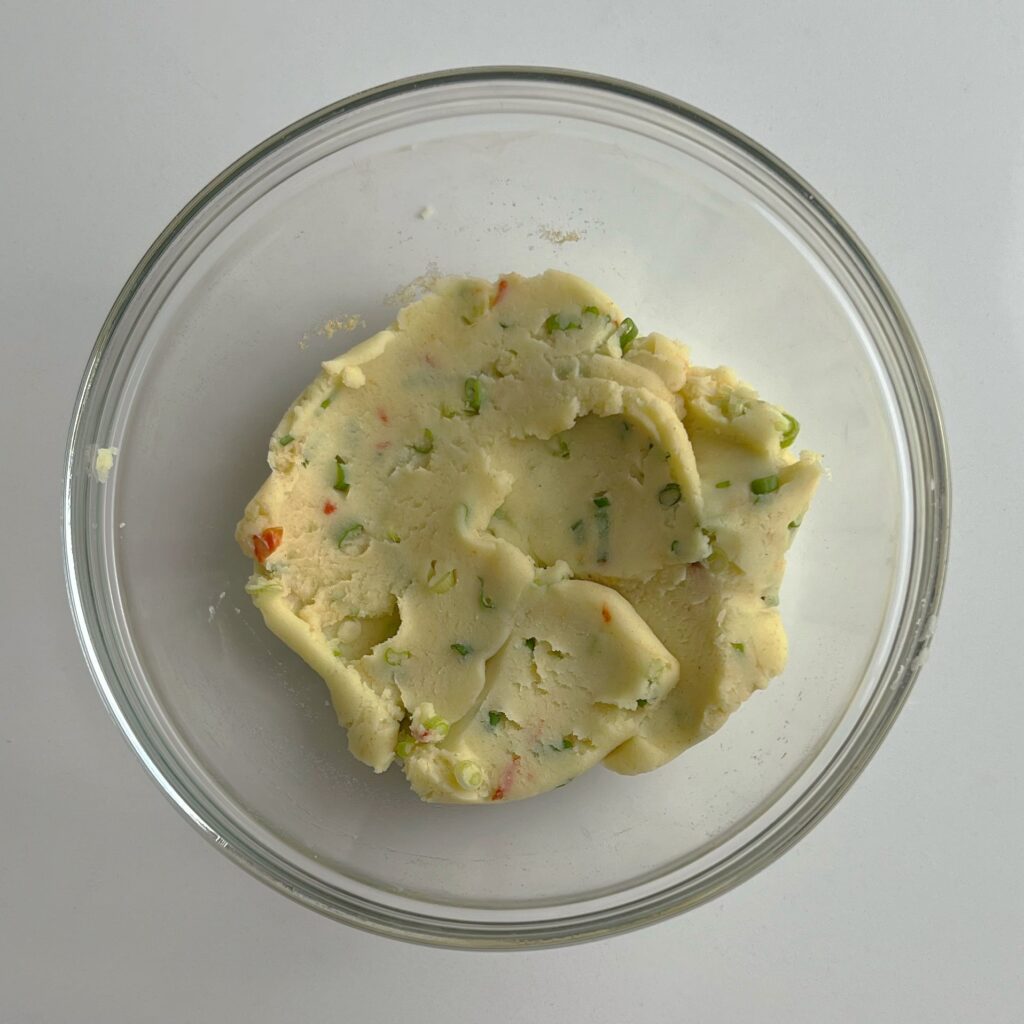 Stuffing and sealing the aloo paratha dough
Flatten each of the 8 rolled dough balls into a round disk then brush with oil.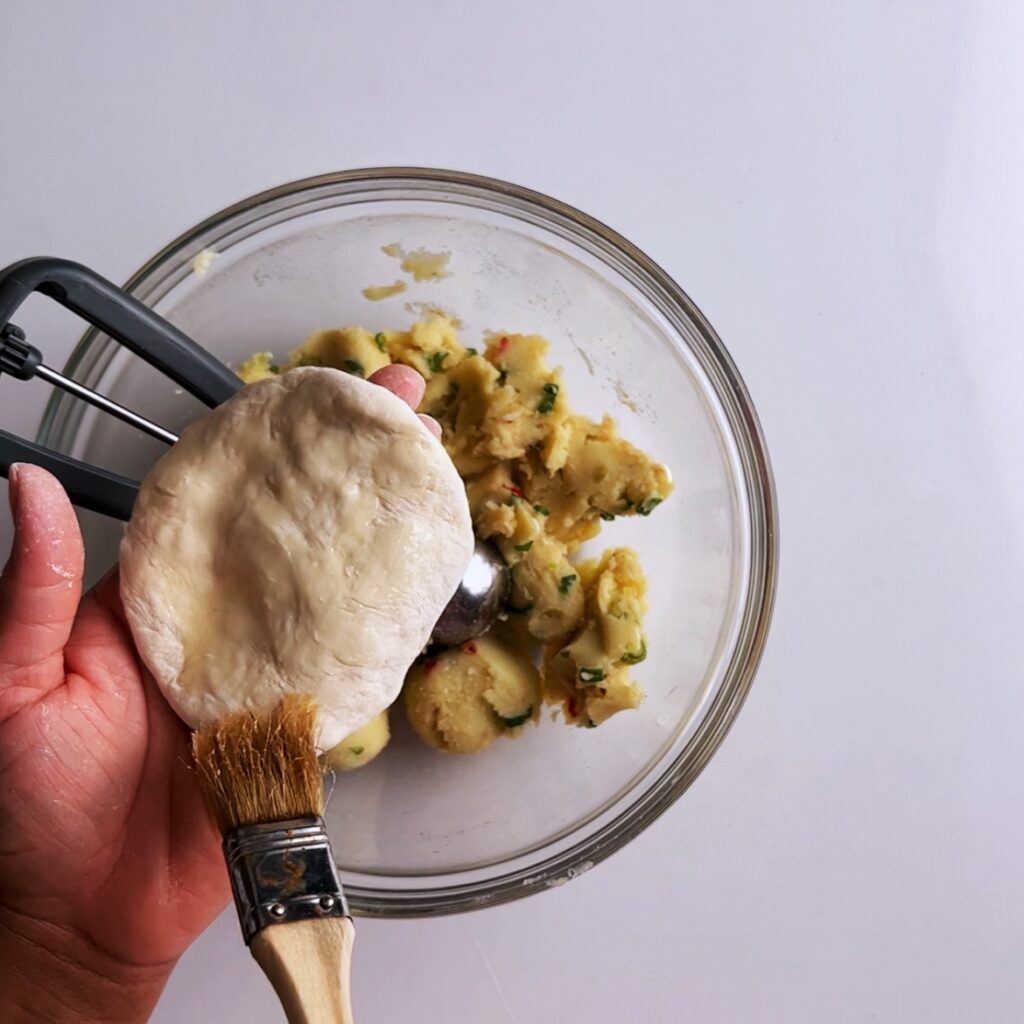 Then scoop about 1/4 cup of filling into the oil brushed piece of dough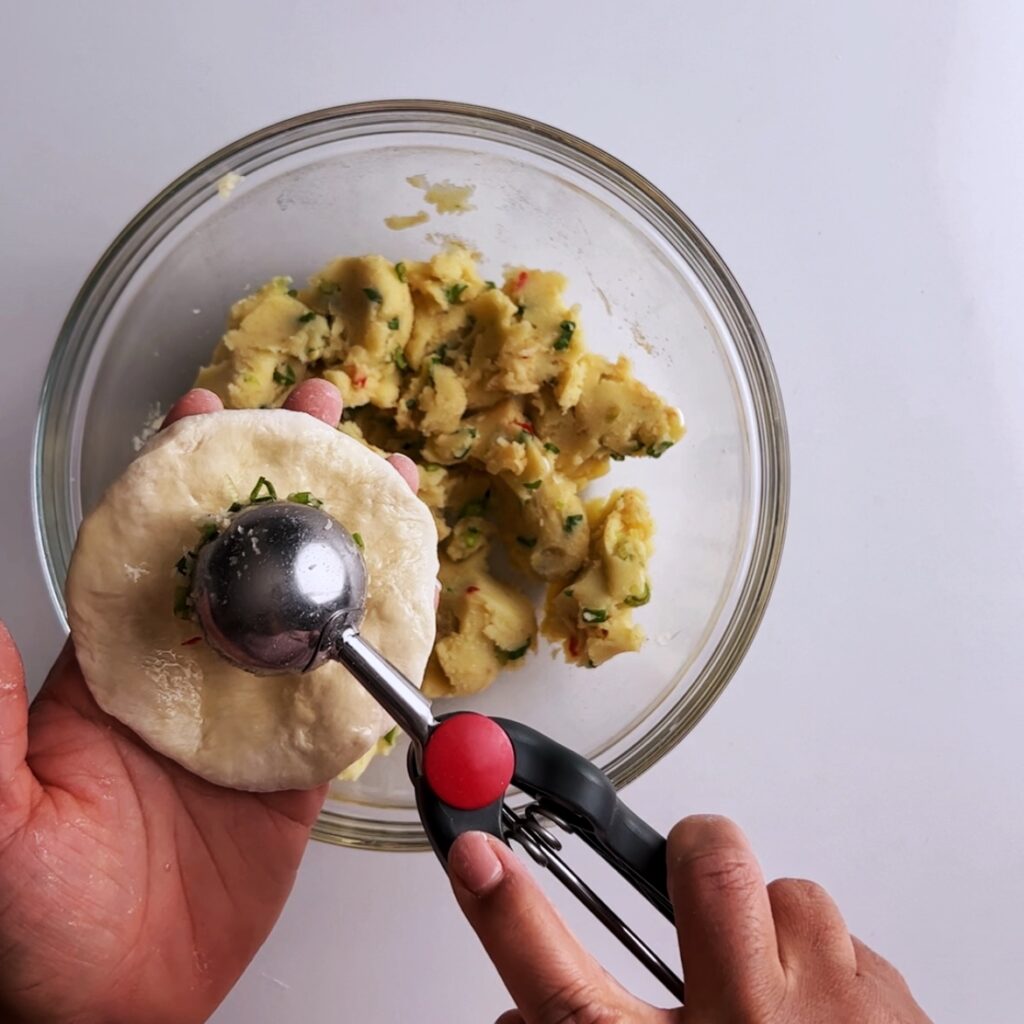 Then press the stuffing into the dough with your thumb, while pulling the dough over the stuffing.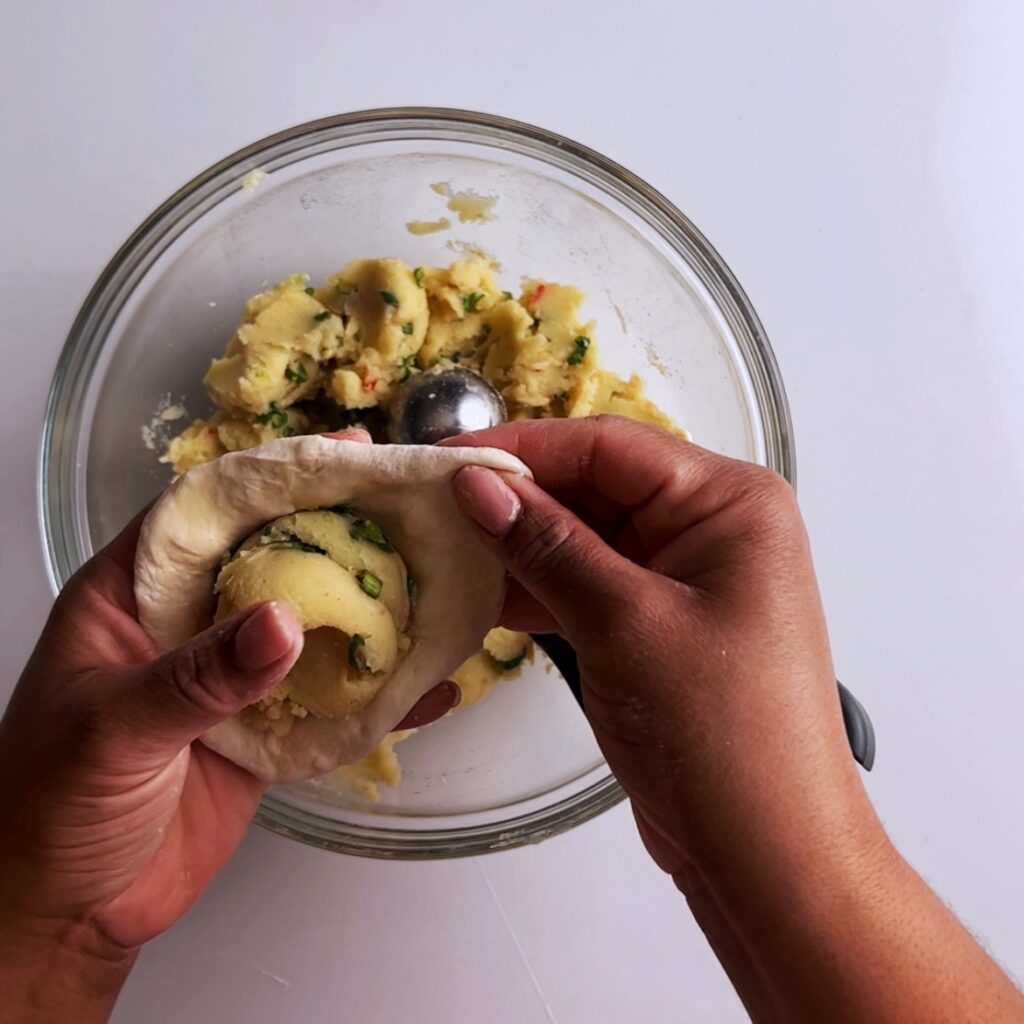 Continue to use your thumb from the hand holding the dough to secure the top of the dough ball.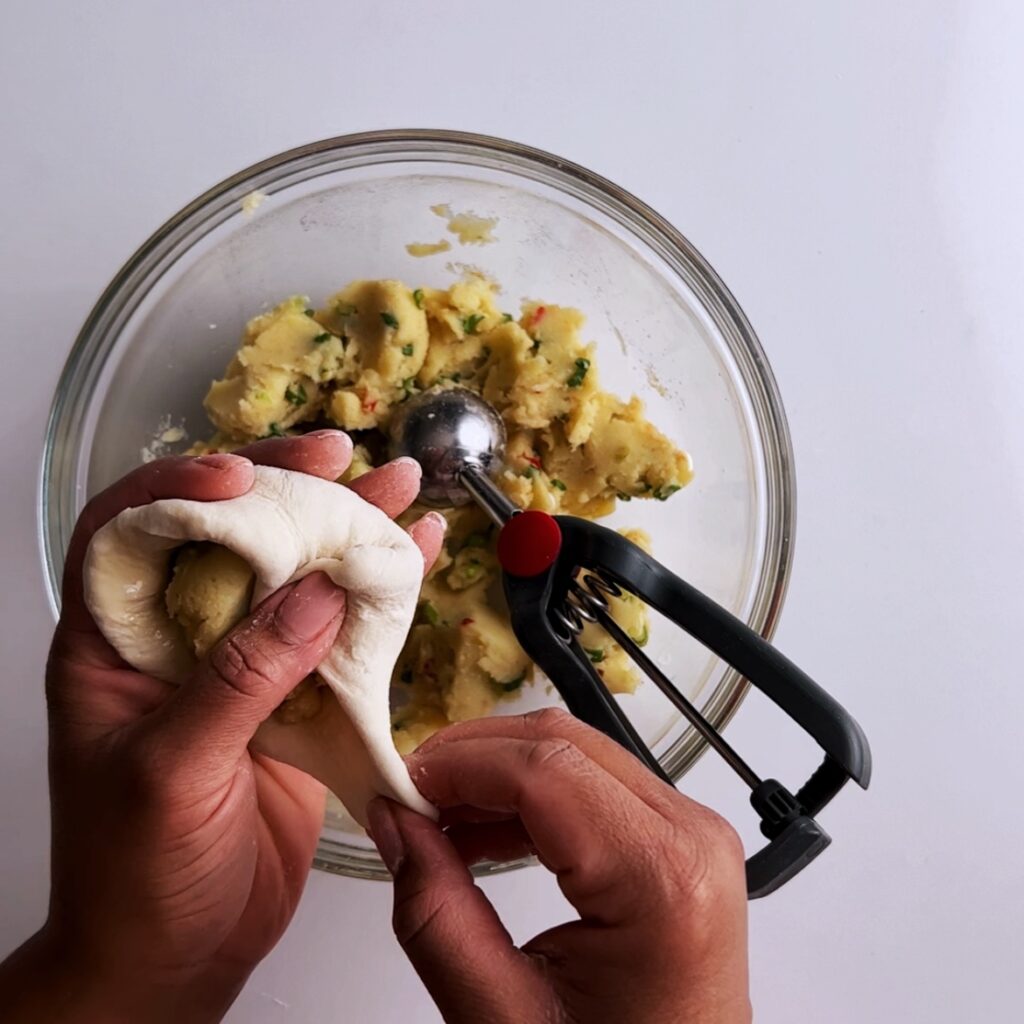 Then using your free hand to pull the dough around the stuffing and secure.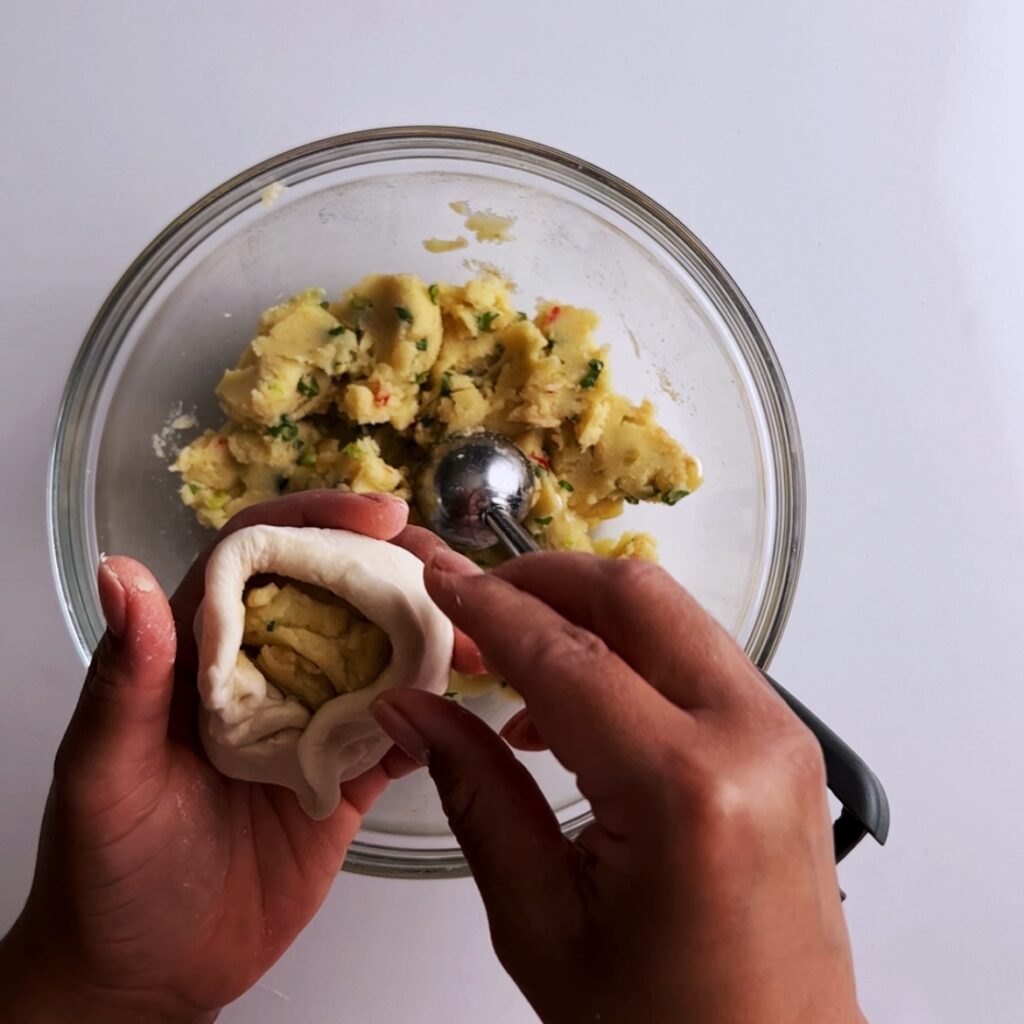 Repeat until the stuffing in no longer visible and sealed in the dough.
Then pinch together the end of the dough to completely seal in the stuffing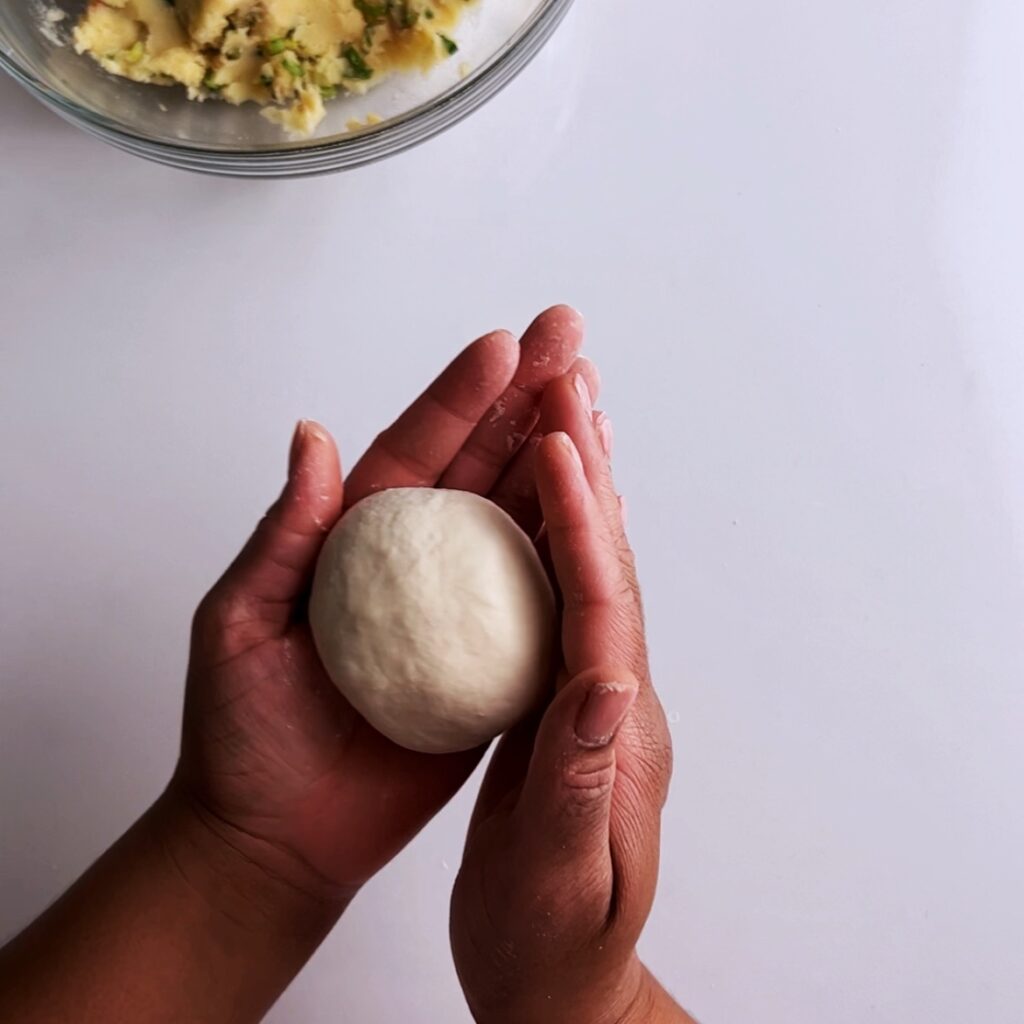 Then gently rub the stuffed dough ball between your fingers to shape it back into a ball. You can also gently rub the dough on a flat surface to achieve the same.
Rolling out and cooking the aloo paratha /potato roti
First, dust your stuffed roti ball (loi) with some flour.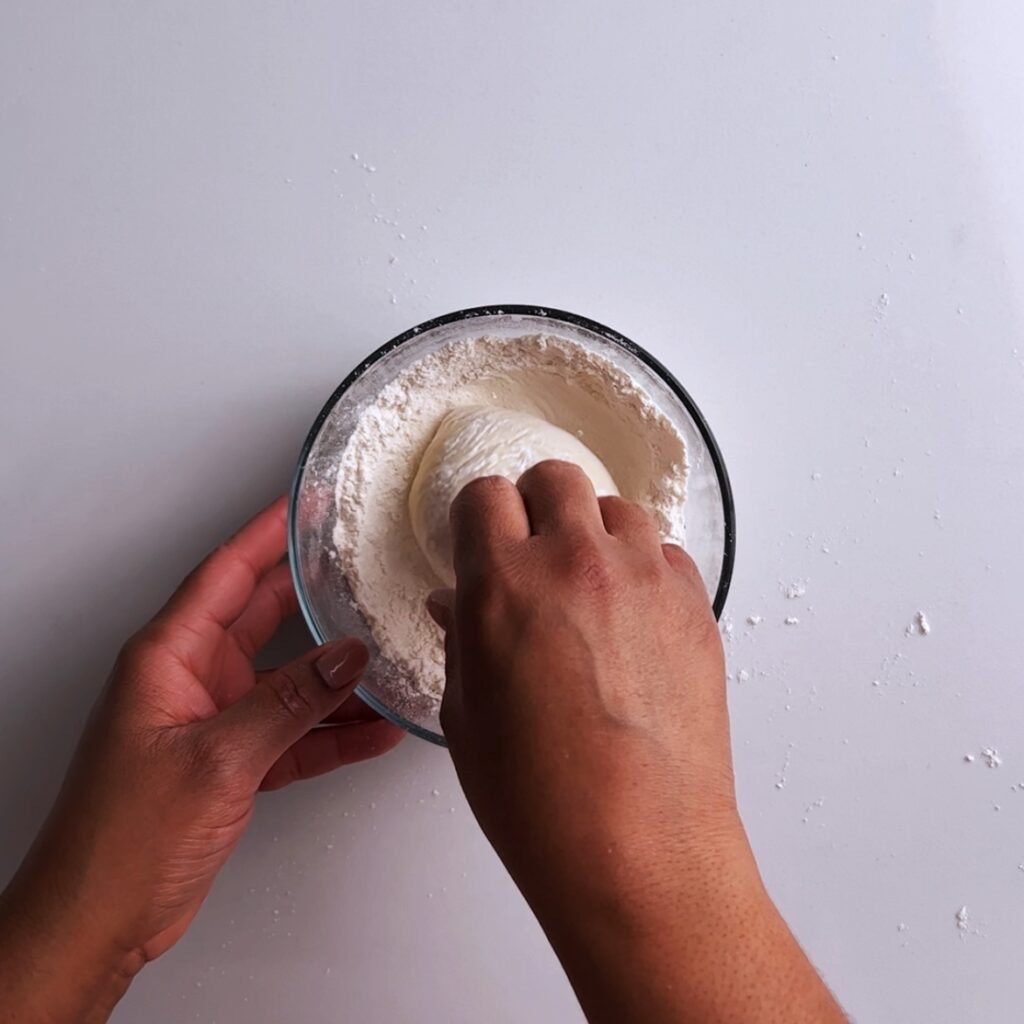 Then place on a flat floured surface and gently press to flatten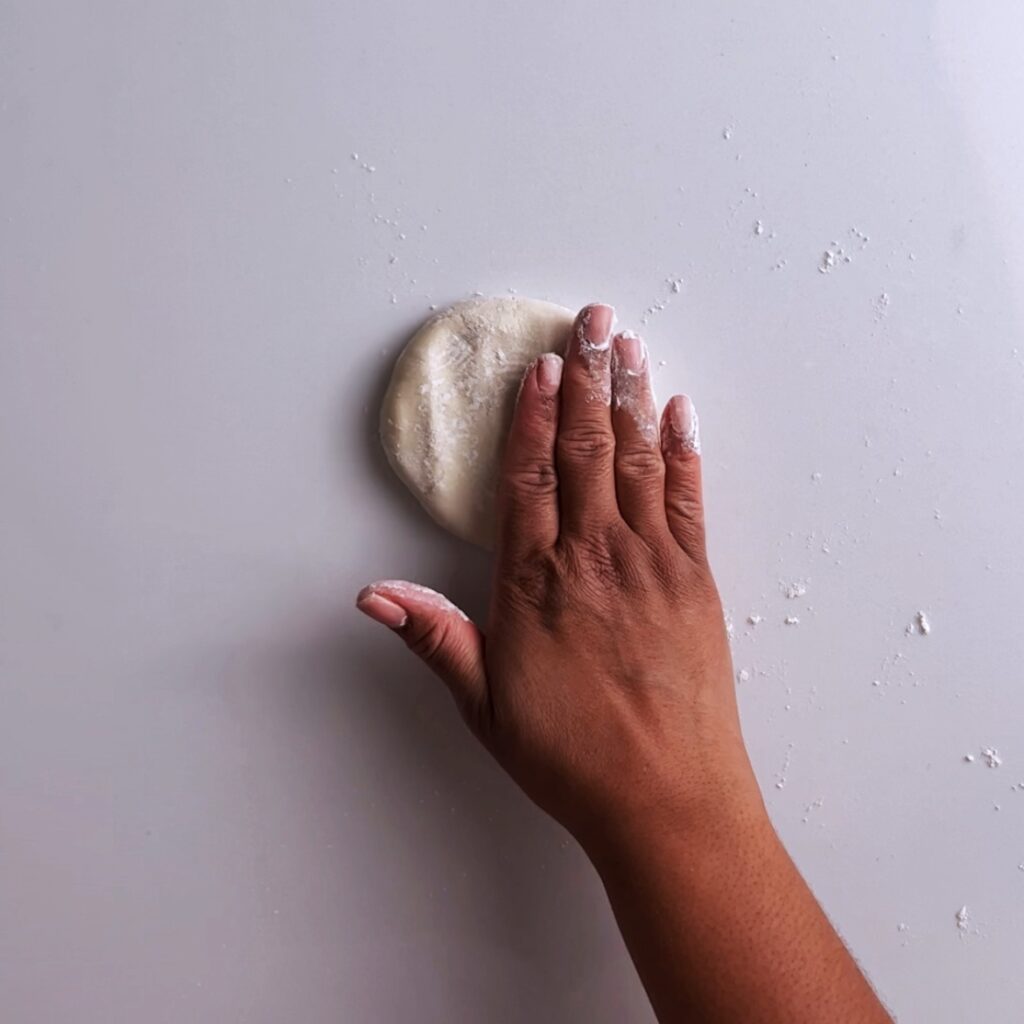 Next, add a dusting of flour to your rolling pin and gently roll the dough until it is a thin flat disk.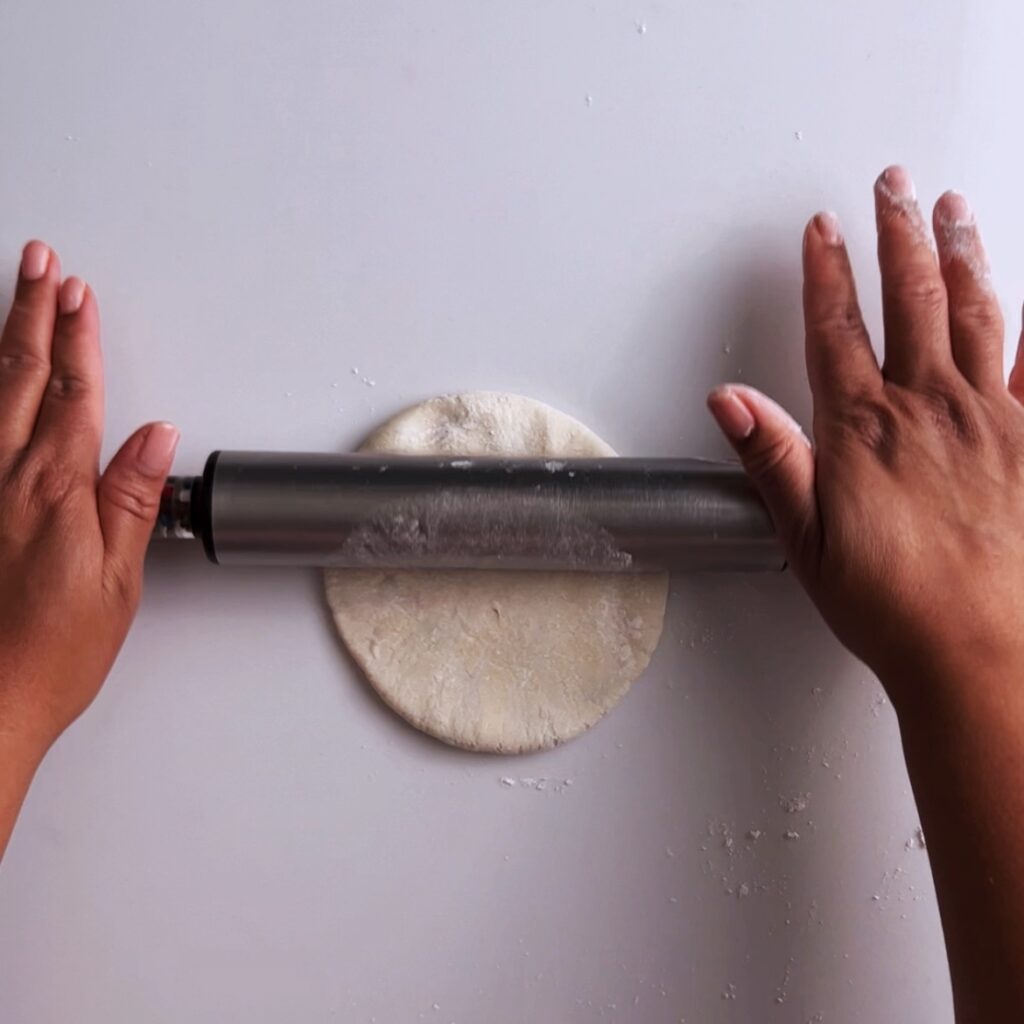 Roti should be about 10 inches in diameter and 1/8 of an inch thick.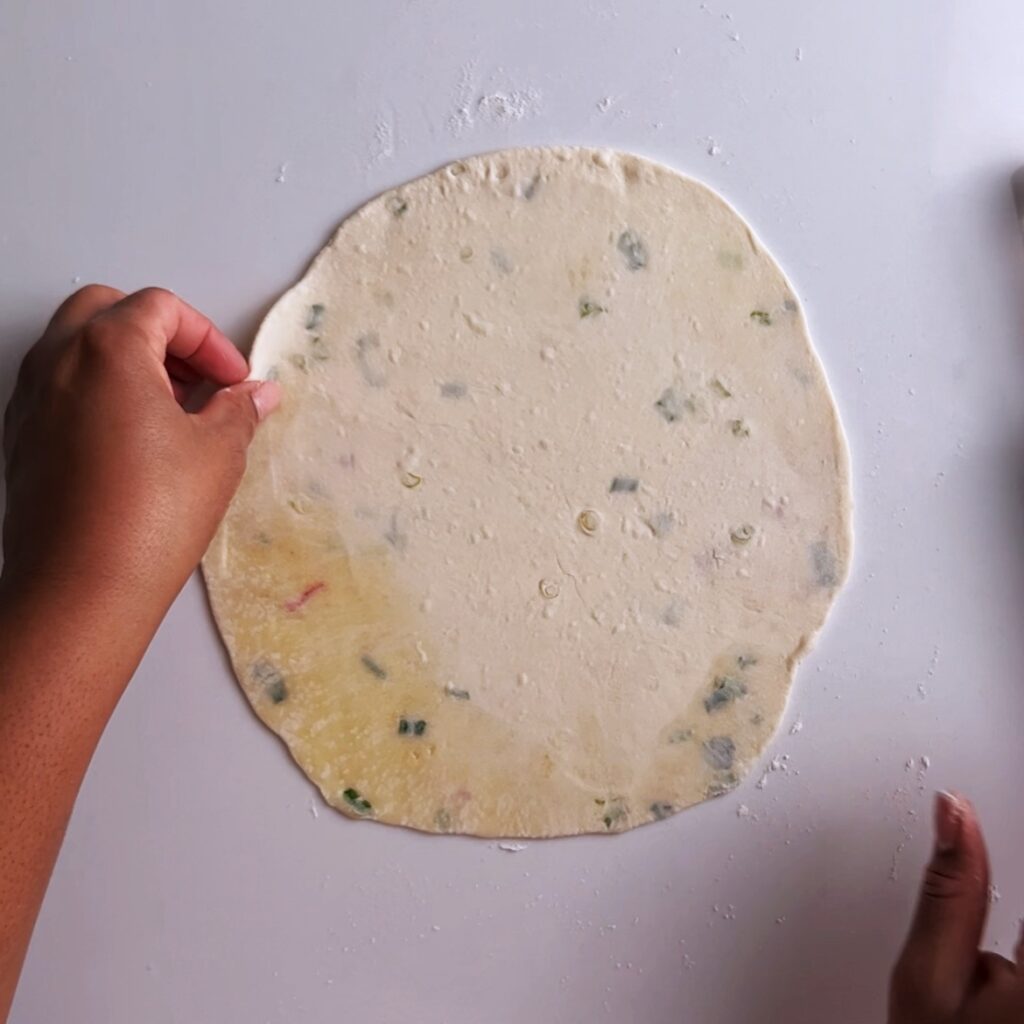 Then cook your roti on a tawa or a flat cast iron skillet. Here I am using a flat cast iron skillet. You can find a similar one at my amazon affiliate link here. It is 10 inches in diameter and makes the perfect sized roti for my family.
Brush your potato flatbread roti with oil on both sides and cook until it inflates into a ball.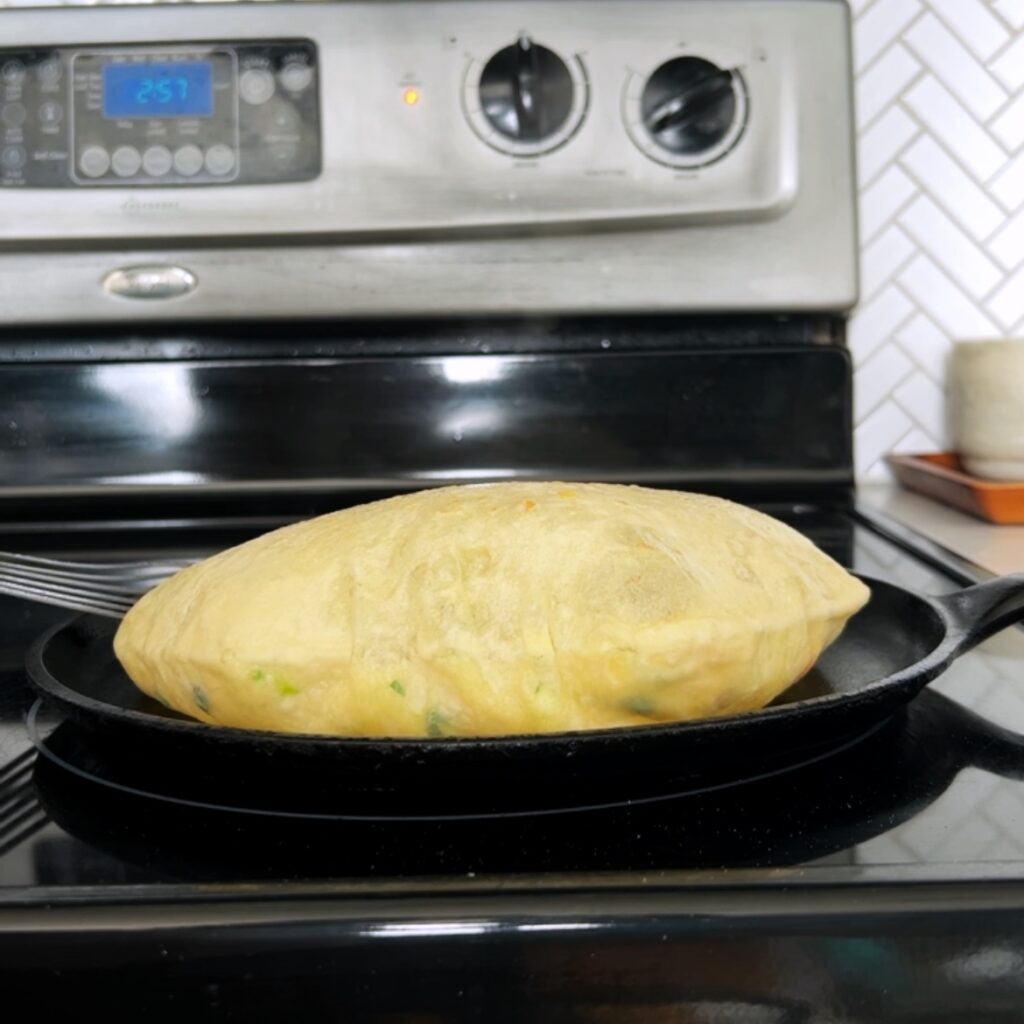 Step by Step Aloo Paratha / Potato Roti Video Tutorial
Substitutions & Variations
Peppers. If you don't have access to wiri wiri peppers, substitute it with habanero peppers or cayenne powder or just omit it.
Sweet Potato Roti: Instead of regular potatoes, use sweet potatoes for even more flavor and nutrients.
More Veggies: Grated carrots and finely chopped spinach are great additions to the potato filling.
Equipment
Stand Mixer: Use this to form a soft dough.
Rolling Pin: For rolled paratha.
Flat Iron Skillet or Tawa: To cook the roti.
Wire mesh sieve: Want a lump free potato filling, then try pushing it through a wire mesh sieve or a potato ricer if you have one.
Storage
Guyanese potato roti is best enjoyed fresh off the hot tawa or pan. You can make the dough and aloo stuffing in advance then store it in an airtight container in the fridge to cook when you are ready.
Store leftovers in an airtight container in the refrigerator for up to one week. And for longer storage, freeze them for up to 3 months. Wrap each roti in plastic wrap, then store them in a zip top bag.
To reheat, thaw frozen roti by leaving it at room temperature for about 15 minutes. Then wrap the roti in a few sheets of damp paper towel. Microwave in 30 second increments until the roti is warm.
Tips for the Best Aloo Paratha
Save some time by cooking the potatoes in a pressure cooker or instant pot.
Do not overcook the potatoes. Boil them until they are fork-tender. If they are overcooked, the potatoes will become soggy.
Completely mash the potatoes so they are creamy. If there are chunks, it will tear the dough. However, do not over mash the potatoes because they will become sticky, cling to the dough, and not integrate well.
Taste test the potato filling and adjust if necessary based on your personal preference.
Before rolling the stuffed dough out with a rolling pin, gently flatten it with your hands in order to prevent the dough from bursting. Prevent tears by working on a lightly floured surface so the roti dough doesn't stick.
Cook the roti on medium heat. If it's too low, it won't properly inflate.
Frequently Asked Questions
Why do you add yeast to the roti dough?
A little bit of yeast helps to stabilize the dough and make it a bit more stretchy than if you skipped it. However, if you already make a really soft and stretchy traditional roti dough you can skip the yeast.
Why is my dough so sticky?
For this recipe, you need a really soft dough. If the dough is too sticky for you to work with, add a dusting of flour, but be careful not to add too much flour as this will make the dough too stiff.
My dough came out stiff. What am I doing wrong?
Sometimes the way we measure flour impacts the recipe. Here is a great article on How to measure flour accurately.
What size of roti does this recipe make?
This recipe makes 8, 10 inch (diameter) rotis, that are very thin. The initial dough ball will look tiny but trust me it will stretch to size when you add the potato filling.
My potato stuffing is bursting out of the dough as I roll, how can I fix this?
This is a common problem. It happens for two reasons, your dough was too stiff and did not stretch enough during rolling or you've over-stuffed the roti. Resist the urge to overstuff these rotis or they will pop open during rolling. Also if it does pop open that's ok, you will still have really tasty potato rotis.

Aloo Paratha (Potato Roti)
---
Guyanese aloo paratha or potato roti is a deliciously flaky flatbread stuffed with spiced, seasoned mashed potatoes. Enjoy it plain, with pepper sauce, or as a yummy side dish to your favorite curry or choka.
---
Ingredients
2 1/4

cups

all Purpose flour

plus 1/4 cup for dusting

3/4

cup

warmwater

plus 2 tablespoon

1/4

teaspoon

rapid rising yeast

1/2

tsp

baking powder

1 1/2

lb

white potatoes

peeled and diced

4

cups

water

or enough water to cover the potatoes for cooking

3

scallions (green onions)

thinly sliced

2

wiri wiri pepper

seeds removed and finely chopped (sub scotch bonnet or other chili pepper)

1

tsp

garlic powder

or granulated garlic

1

tsp

onion powder

1/2

tsp

geera

or roasted ground cumin

1

tsp

salt

1/2

cup

oil for cooking

such avocado or sunflower oil (high smoke point, light oils)
Instructions
Make the roti dough
Add flour, baking powder, instant yeast and a pinch of salt to a large mixing bowl (or to the bowl of your stand mixer) and mix together well.

If using a mixing bowl make a well in the center of the flour mixture and add water, then mix together to form a soft dough. Then turn the dough onto a floured surface and knead by squeezing the dough (not folding and pushing like bread dough) for about 5 minutes until the dough is soft. Dough may feel sticky but this is ok.

If using your stand mixer add water to the flour mixture and mix with your dough hook or paddle attachment to form a smooth dough ball.

Then place dough in a clean bowl, cover with a damn paper towel or plastic wrap and let it rest for 30 minutes.
Make the Potato Filling
While the dough is resting, prepare the potato filling by adding the peeled and diced potatoes to a medium sized sauce pan. Cover the potatoes with water (about 4-5 cups) and add 1/2 teaspoon of salt.

Bring to a boil on high heat and continue to cook uncovered until potato is soft and can be easily crushed with a fork. Remove the potatoes from the heat and drain into a colander then rinse with cold water and set aside.

Next, crush the potatoes until really smooth. You can use a potato masher, ricer or a fork. I also love pushing the cooked potatoes through a wire mesh sieve.

Add the wiri wiri pepper, onion powder, garlic powder, geera and about 1/4 tsp of salt to the crushed potatoes, mix together well and set aside.
Stuff the roti dough
Next start assembling the aloo parathas by turning the resting dough ball onto a floured surface and cutting it into 8 equal pieces, then shaping each dough piece into a smooth ball and set aside.

Take a dough ball, and dust it with flour then using your rolling pin, roll it into a flat disk about 3 inches in diameter. Brush one side of the dough disk with oil then add 3 tablespoons of potato filling to the center, then pinch the sides and seal in the potato filling (see above for step by step visuals). Repeat these steps for the other 7 dough balls.
Cook the aloo parathas / potato roti
To cook the aloo parathas / potato rotis bring a tawah or flat skillet up to temperature on medium heat. While the tawah is warming up, roll out your stuffed dough ball on a floured surface until it is a thin round disk about 10 inches in diameter. Be sure to add flour to the dough ball and your rolling pin to prevent sticking.

Then place the rolled out roti on the hot skillet and cook for 30 seconds, then flip and brush with oil, cook for another 30 seconds, then flip and brush with more oil.

Wait for roti to inflate (about another 30 seconds) then remove from heat and placed in a clean kitchen towel to keep warm while you make the other parathas. Repeat the cooking steps for the remaining 7 rotis.

Serve warm with your favorite curries or stews.
Notes
To crush the potatoes with zero lumps you can use a potato ricer or a wire mesh strainer. I love results I get when I push the potatoes through a wire mesh strainer. It requires a little effort but the results are worth it!

When rolling out the rotis be careful and gentle, trying not to flip it too many times to prevent tearing
When cooking the roti sometimes holes may appear where the scallions are press these spots with your spatula to create a seal and allow the roti to inflate
Nutrition
Calories:
319
kcal
Carbohydrates:
43
g
Protein:
6
g
Fat:
14
g
Saturated Fat:
2
g
Polyunsaturated Fat:
2
g
Monounsaturated Fat:
10
g
Sodium:
41
mg
Potassium:
421
mg
Fiber:
3
g
Sugar:
1
g
Vitamin A:
49
IU
Vitamin C:
18
mg
Calcium:
40
mg
Iron:
3
mg
---
---
The information listed in the recipe card is an estimate provided by an online nutrition tool. The tool evaluates ingredient names and amounts then makes calculations based on the number of servings listed for the recipe. It is provided as a general guideline and not as a precise calculation. For precise nutrition information please feel free to add the ingredients to your preferred nutrition calculator or consult a doctor or licensed nutritionist.