Whole30 Bacon Egg bites, inspired by the popular Starbucks Bacon and Gruyere Egg Bites, are perfect for meal prep. Learn how to make bacon egg bites with just a handful of ingredients and 15 minutes of prep time.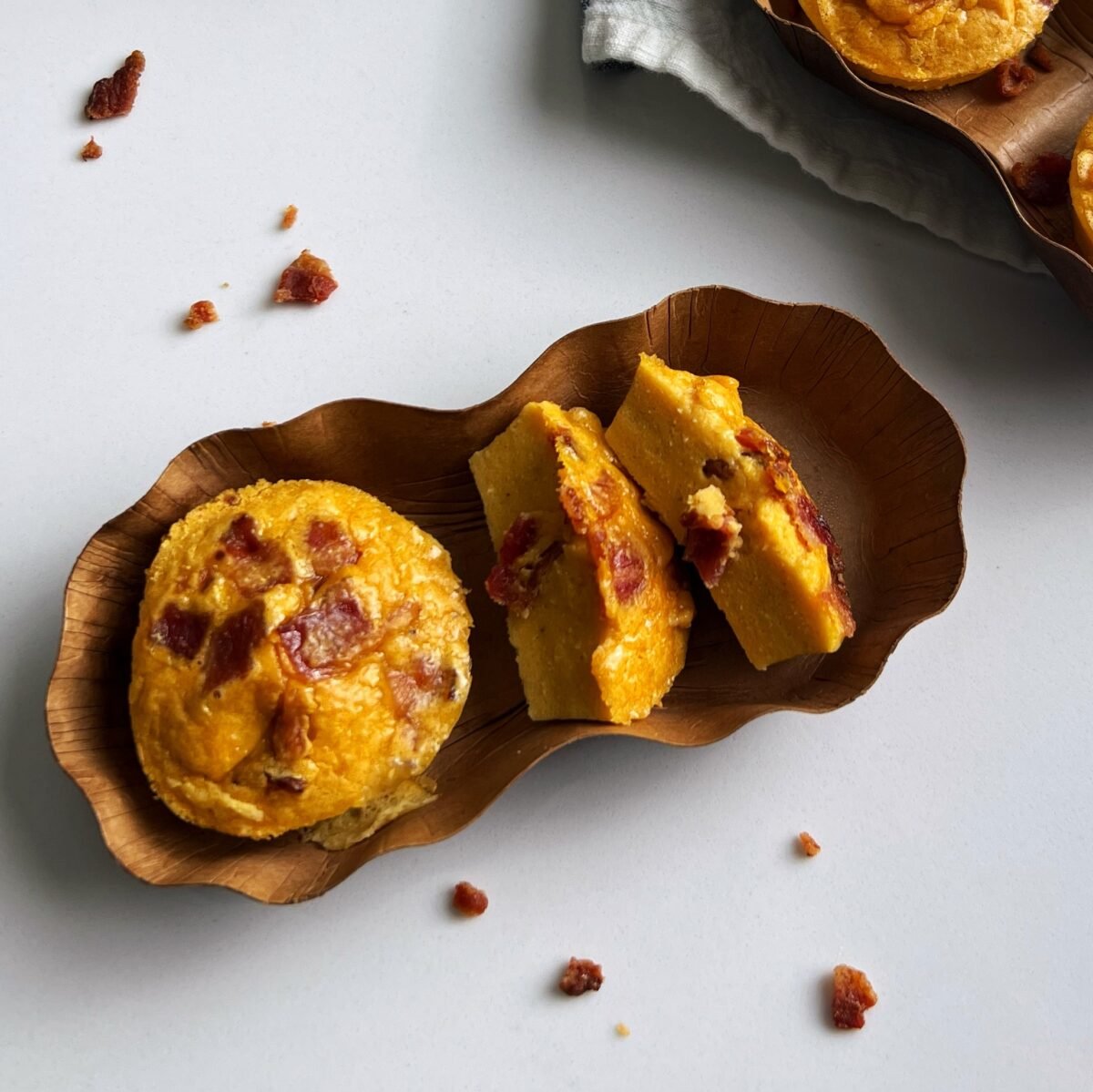 Whole30 Bacon Egg Bites
Tired of milk and cereal on weekday mornings? Here at Metemgee, we don't do boring for breakfast. These bacon egg bites taste like Starbucks egg bites but they're even better for you (and your budget)! The key ingredient is my homemade cashew cream.
You get the velvety, custardy texture of baked eggs and cheese, without dairy or processed ingredients. Throw in salty, savory bacon bits and you have a delicious on-the-go breakfast!
Why You'll Love This Egg Bites Recipe
Great for Meal Prep: Skip the long line at the Starbucks drive-thru and eat these delicious bite-size egg cups whenever you want. These make-ahead bacon egg cups store well in the fridge and freezer and reheat well too!
Wholesome Meal: This recipe is high-protein, dairy-free, Whole30 compliant, and gluten-free.
Customizable: This dish pairs well with plenty of ingredients so season it however you'd like. And I have some tasty suggestions!
Easy to Make: Although the Starbucks egg bites recipe requires a fancy sous vide machine, I use a simple hot water bath to steam them and replicate the silky texture. All you need is a muffin tin and a baking pan.
Ingredients for Bacon Egg Bites
The main ingredients are eggs and cashew cream. The cashew cream creates the illusion that the bites contain cottage cheese (a key ingredient in the Starbucks recipe) and gives these bites a really creamy texture.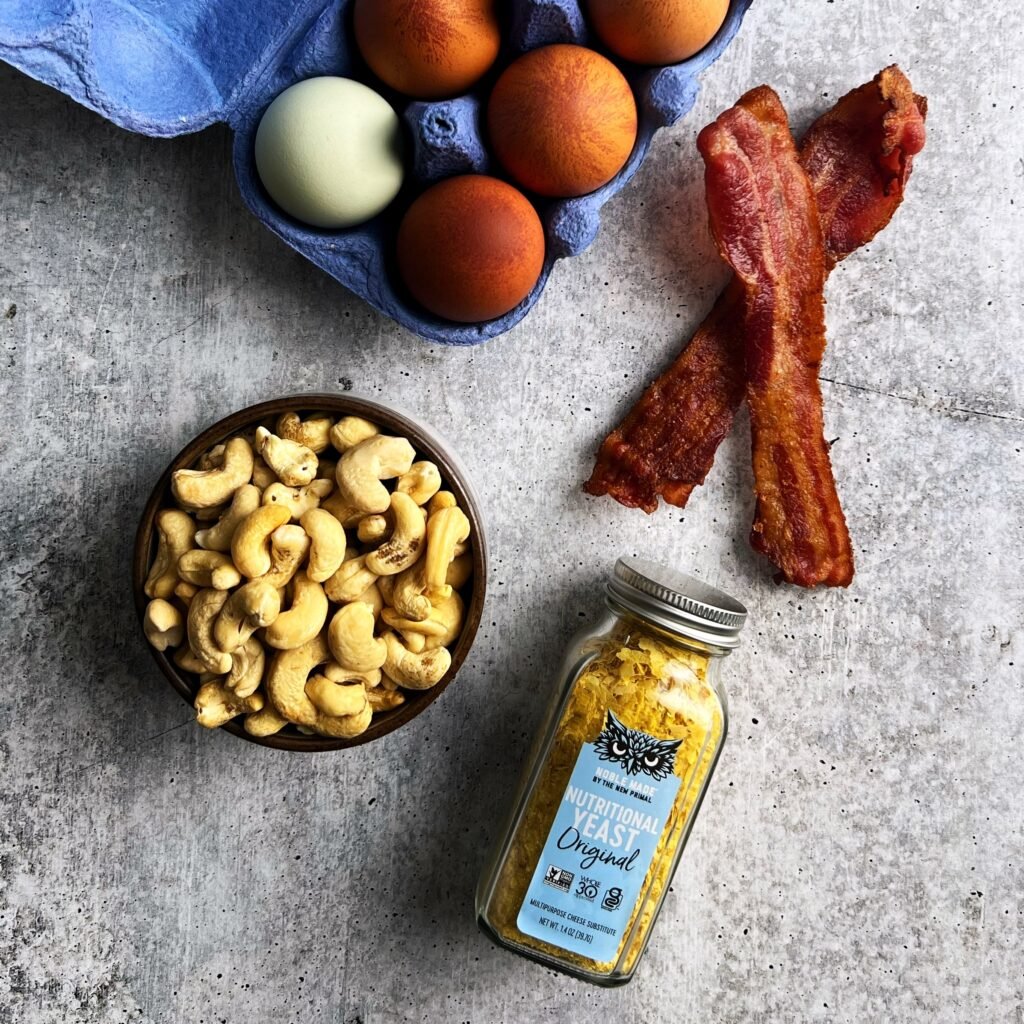 Large Eggs: Use quality eggs since this is the main ingredient.
Crispy bacon: Ensure it'smWhole30 Compatible. Precook it and chop it into small pieces.
Cashew Cream
Raw cashews: This is the main ingredient for your plant-based cheese alternative.
Coconut milk: Use full fat coconut milk for the best results.
Seasoning: Season with onion powder, garlic powder, smoked paprika, salt, and a pinch of coarse black pepper.
Nutritional yeast: This thickens the sauce and adds a cheesy flavor.
Cooking spray: Spray the muffin pan with this in order to easily remove the egg bites once they're baked.
Hot water: Use this for a hot water bath.
See recipe card for quantities.
How to Make Egg Bites
Cashew cream is a key ingredient in this recipe and it is the first step. I do not soak my cashews and never had a problem blending them to a smooth paste. However, feel free to soak your cashews with warm water for about 30 minutes, if needed.
I simply add all of the cashew cream ingredients to a smoothie blender cup and blend.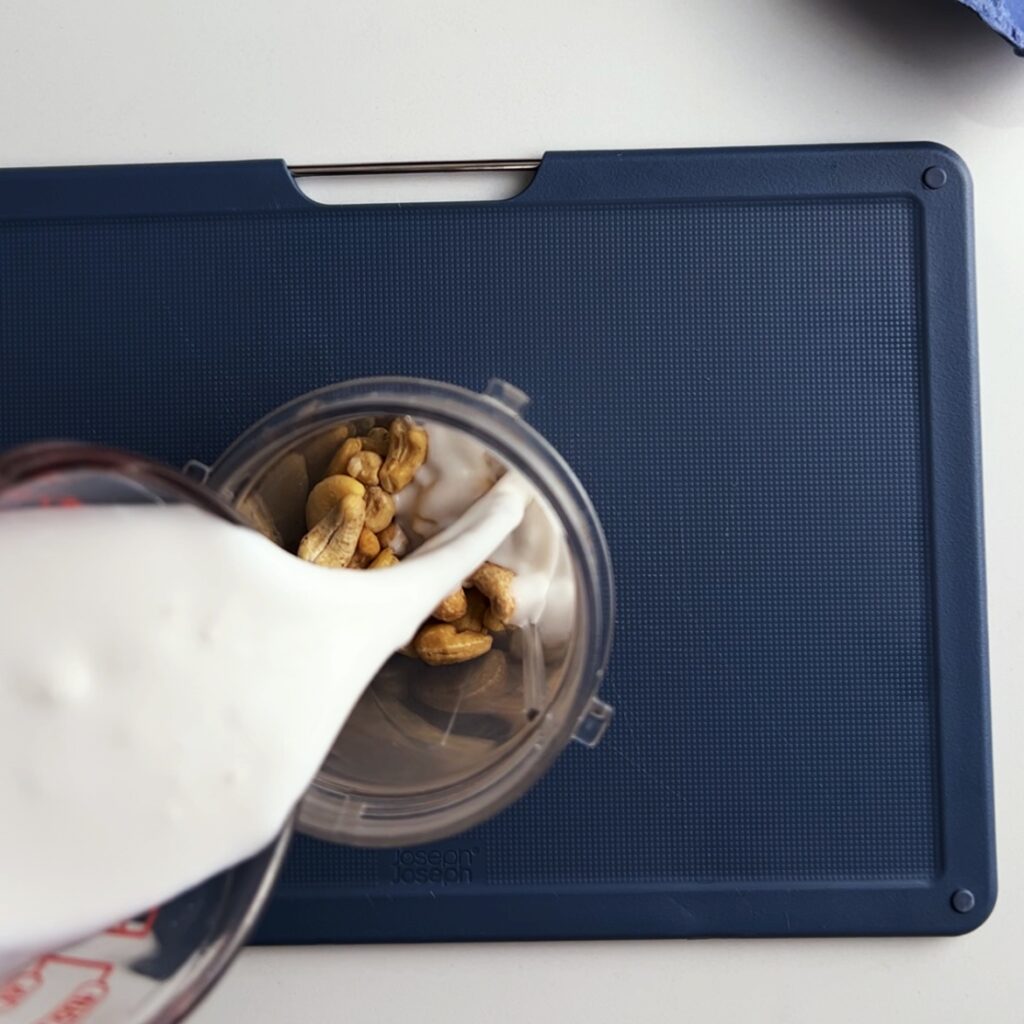 Nutritional yeast gives the cashew cream a bit of a "cheesy" taste and is loaded with minerals and vitamins. Win win. I love the nutritional yeast from The New Primal, click my affiliate link here to shop and use code metemgee15 to get 15% off your purchase.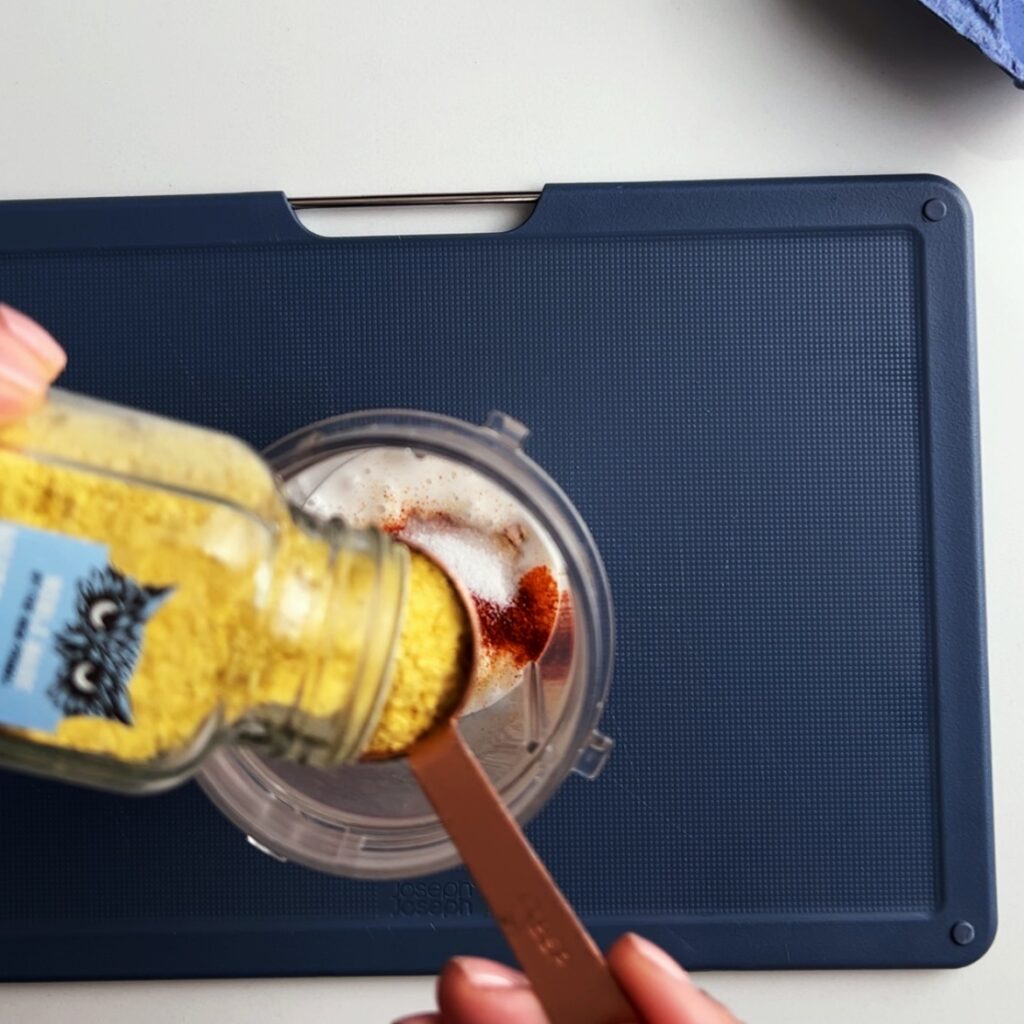 Whisk eggs together really well first, then add the cashew cream to the egg mixture and whisk some more.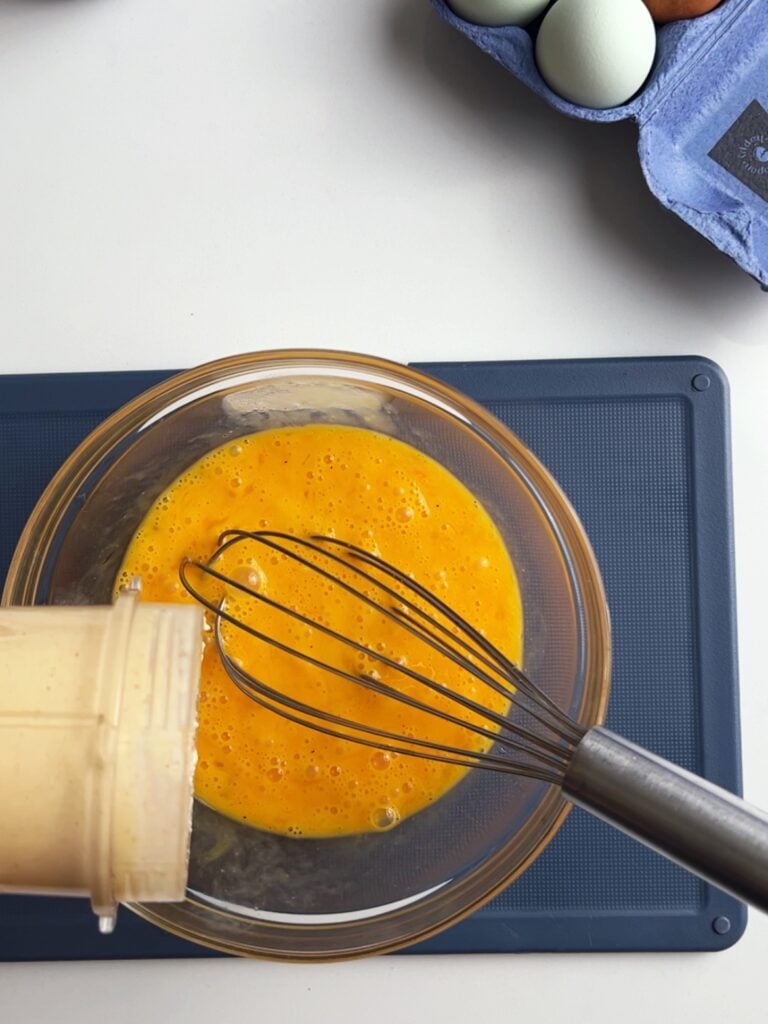 This creates an even mixture and will prevent you from seeing visible whites in the egg bites, after baking.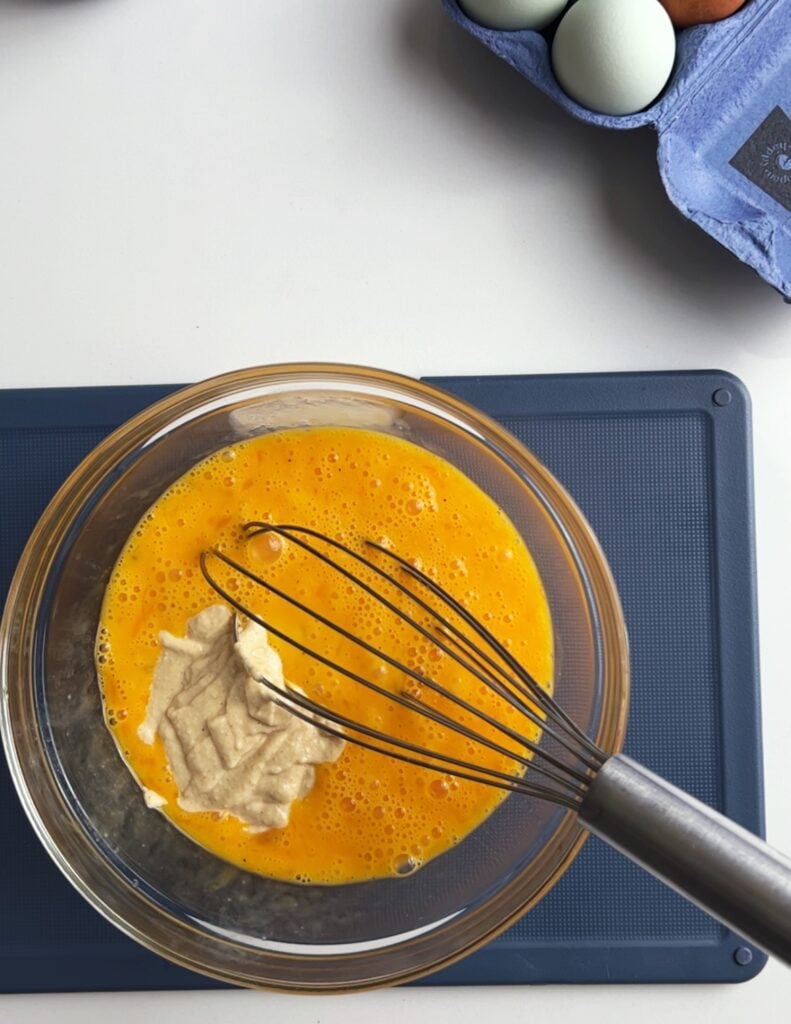 After combining the cashew cream and the eggs, I poured them into a large liquid measuring cup so that it would be easy to pour into the greased muffin pan. Then I poured until it came about half up each individual muffin slot. Next, I added cooked bacon.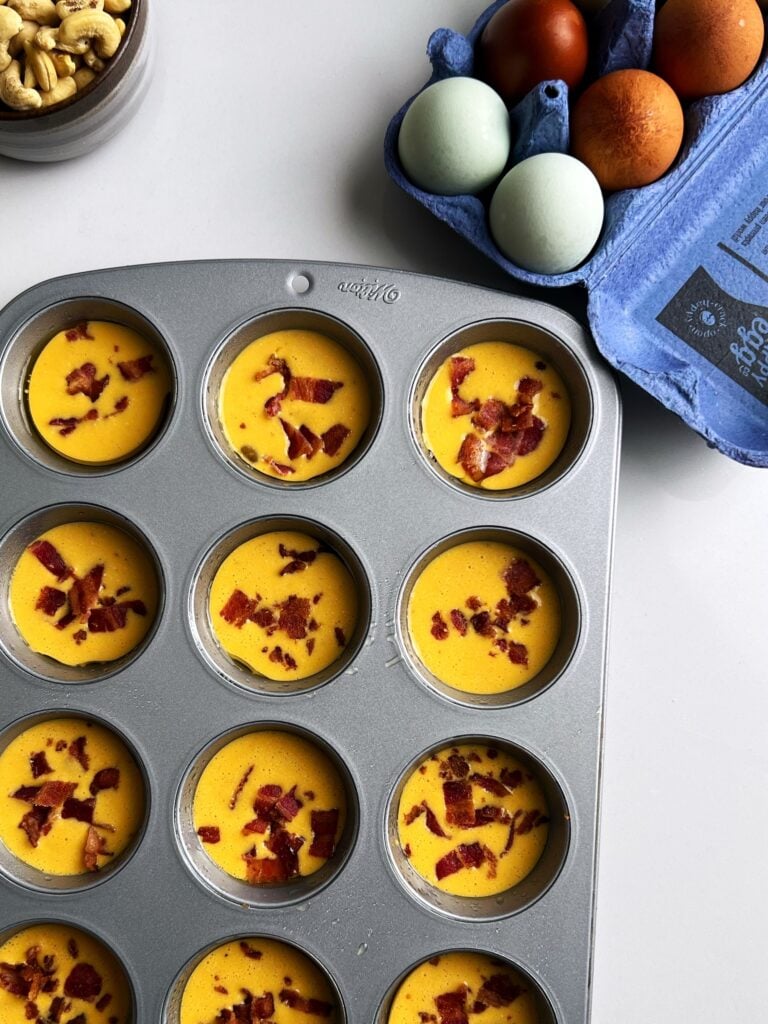 Then I placed my muffin tin in a high-rimmed sheet pan and filled it with hot water until the hot water was halfway up the sides of the muffin tin. It is very important that you use hot water for this step.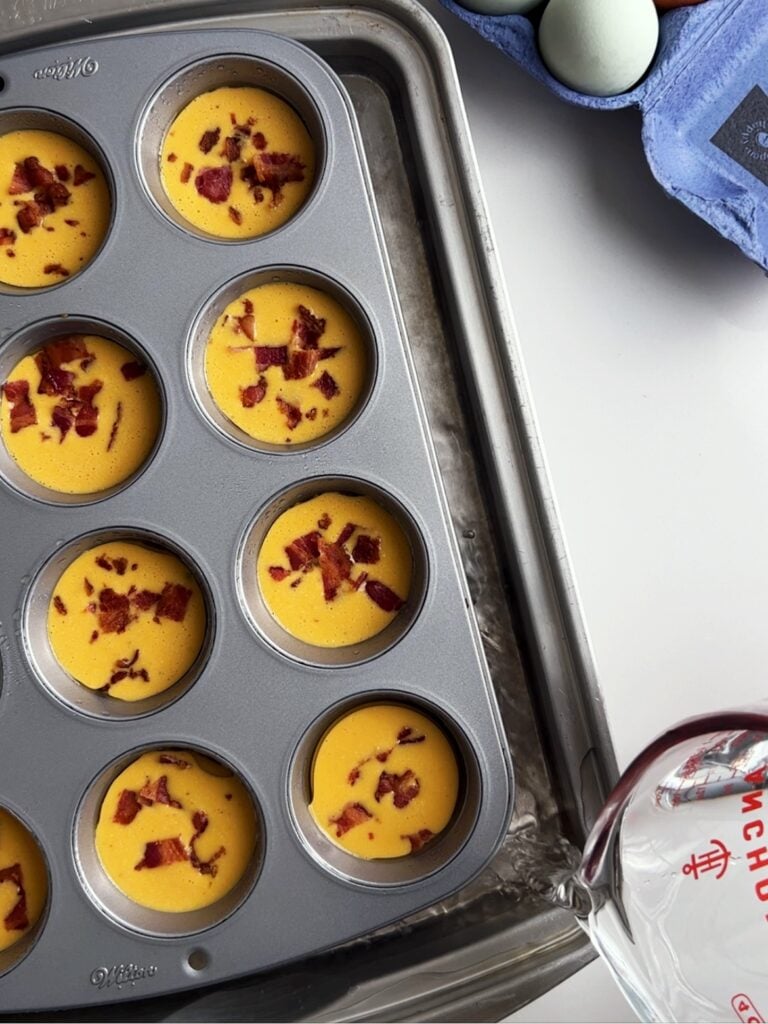 After baking, allow the egg bites to cool completely before removing from the pan.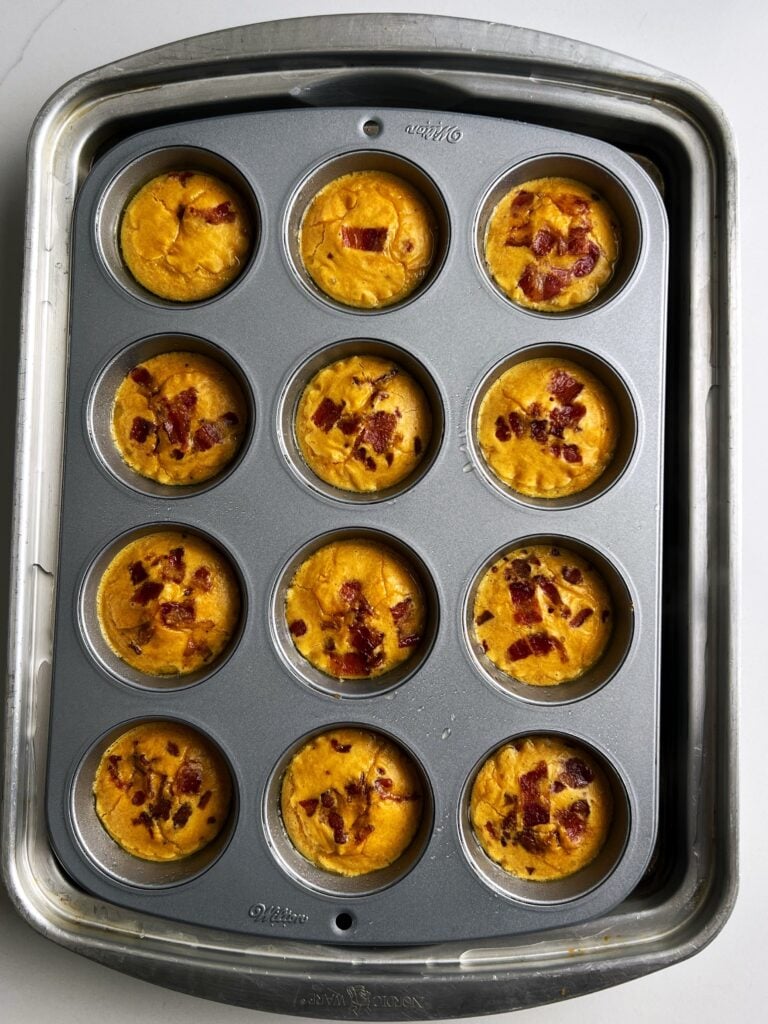 Tips for the Best Egg Bites
The original Starbucks version of these egg bites are cooked sous vide. This recipe does not require a sous vide but it does require a hot water bath. So use a muffin/cupcake pan that can fit into another pan, to form a water bath when baking.
Don't overdo the add-on ingredients. This dish pairs well with many different ingredients but try to stick to 2-3 additional toppings, max. You want to be able to taste the egg as the main component.
Don't worry if they look a little misshapen when you initially take them out of the oven. As they cool they will deflate.
I used a small rubber spatula to scoop my egg bites free. A tiny amount of eggs remained in the pan, but because the texture is creamy, it was much easier to scoop these than regular egg muffins. If you have silicone muffin inserts those may work really well here.
Substitutions for the Bacon Egg Bites
I've only tested this recipe with cashew cream and coconut milk, however I think any nut milk could be used in place of the coconut milk.
Recipe Variations
The base of this recipe is the cashew cream and eggs. Bacon is the topping. Any topping you usually add to an omelet can work:
Veggies: For added nutrients, add a vegetable like sautéed onions, bell pepper, spinach, mushrooms, green onions, or baby spinach.
Protein: Adding ground pork sausage and Italian seasoning is a great combination. Turkey bacon or Canadian bacon are good options too.
Egg Whites: Save some calories by using egg whites instead of the entire egg.
Cheese: If you don't need this recipe to be Whole30, use shredded cheese and heavy cream instead of the cashew cream. I suggest cheddar cheese, gruyere cheese, Monterey jack, or feta cheese.
Instant Pot Egg Bites: Prepare the ingredients according to the recipe instructions. Then add water into the inner pot of the pressure cooker. Place the egg bite mold on a rack in the instant pot and cook for 10 minutes on high pressure. Allow the pressure to release naturally for another 10 minutes. Finally, release any remaining pressure.
Storage
Store leftovers for up to a week in the refrigerator. They can also be vacuum sealed and frozen. Just thaw in the refrigerator overnight before reheating. I also just placed them in a ziplock back and froze and they reheated really well after thawing in the refrigerator.
Frequently Asked Questions
Are Starbucks bacon egg bites gluten free?
Currently, all variations of Starbucks egg bites are gluten free. However, this doesn't account for possible instances of cross-contamination. The best way to avoid this is to make your own egg bites.
What are Starbucks bacon egg bites made of?
The recipe includes cottage cheese, cage-free eggs, a cheese blend of Monterey jack cheese, and gruyere cheese, unsalted butter, uncured bacon, white vinegar, and hot sauce.
Do you store egg bites in the fridge?
Store egg bites for up to 1 week in the refrigerator. For longer storage, freeze them.

Bacon Egg Bites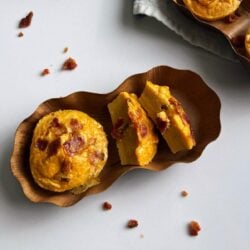 ---
Whole30 Bacon Egg bites, inspired by the popular Starbucks Bacon and Gruyere Egg Bites, are perfect for meal prep. Learn how to make bacon egg bites with just a handful of ingredients and 15 minutes of prep time.
---
Equipment
Muffin Tin

Baking Pan

with a high rim
Ingredients
6

Eggs

large

4

slices

Bacon

(Whole30 Compatible) chopped into small pieces
Cashew Cream
1

cup

raw cashews

2/3

cup

coconut milk

full fat

1/2

teaspoon

onion powder

1/4

teaspoon

garlic powder

Pinch

smoked paprika

1/2

teaspoon

salt

or salt to taste

Pinch

coarse black pepper

1

tablespoon

nutritional yeast

Cooking spray
Instructions
Add all of the cashew cream ingredients to a blender or blender cup and blend until it forms a smooth paste

Then add eggs to a mixing bowl, followed by all of the cashew cream and whisk to combine

Once eggs and cashew cream are mixed together well, scoop mixture into a muffin tin greased with cooking spray.

Then top with pieces of bacon

Next place the muffin tin, into another baking pan, then place on the middle rack in the oven, then and pour about 3 cups of hot water into the baking pan until it come about half way up the muffin tin.

Bake at 300°F for 25 minutes, or until the eggs are completely cooked

Allow to cool completely before removing from the muffin tin
Nutrition
Calories:
128
kcal
Carbohydrates:
5
g
Protein:
6
g
Fat:
10
g
Saturated Fat:
4
g
Polyunsaturated Fat:
2
g
Monounsaturated Fat:
4
g
Trans Fat:
0.01
g
Cholesterol:
82
mg
Sodium:
170
mg
Potassium:
146
mg
Fiber:
1
g
Sugar:
1
g
Vitamin A:
119
IU
Vitamin C:
0.2
mg
Calcium:
20
mg
Iron:
2
mg
---
---
The information listed in the recipe card is an estimate provided by an online nutrition tool. The tool evaluates ingredient names and amounts then makes calculations based on the number of servings listed for the recipe. It is provided as a general guideline and not as a precise calculation. For precise nutrition information please feel free to add the ingredients to your preferred nutrition calculator or consult a doctor or licensed nutritionist.