Caribbean burnt sugar, also known as browning sauce, is a thick, sweet, savory paste that's used in a variety of Guyanese recipes. This caramelized sugar is most commonly used in stews and black cake, for a rich, dark hue.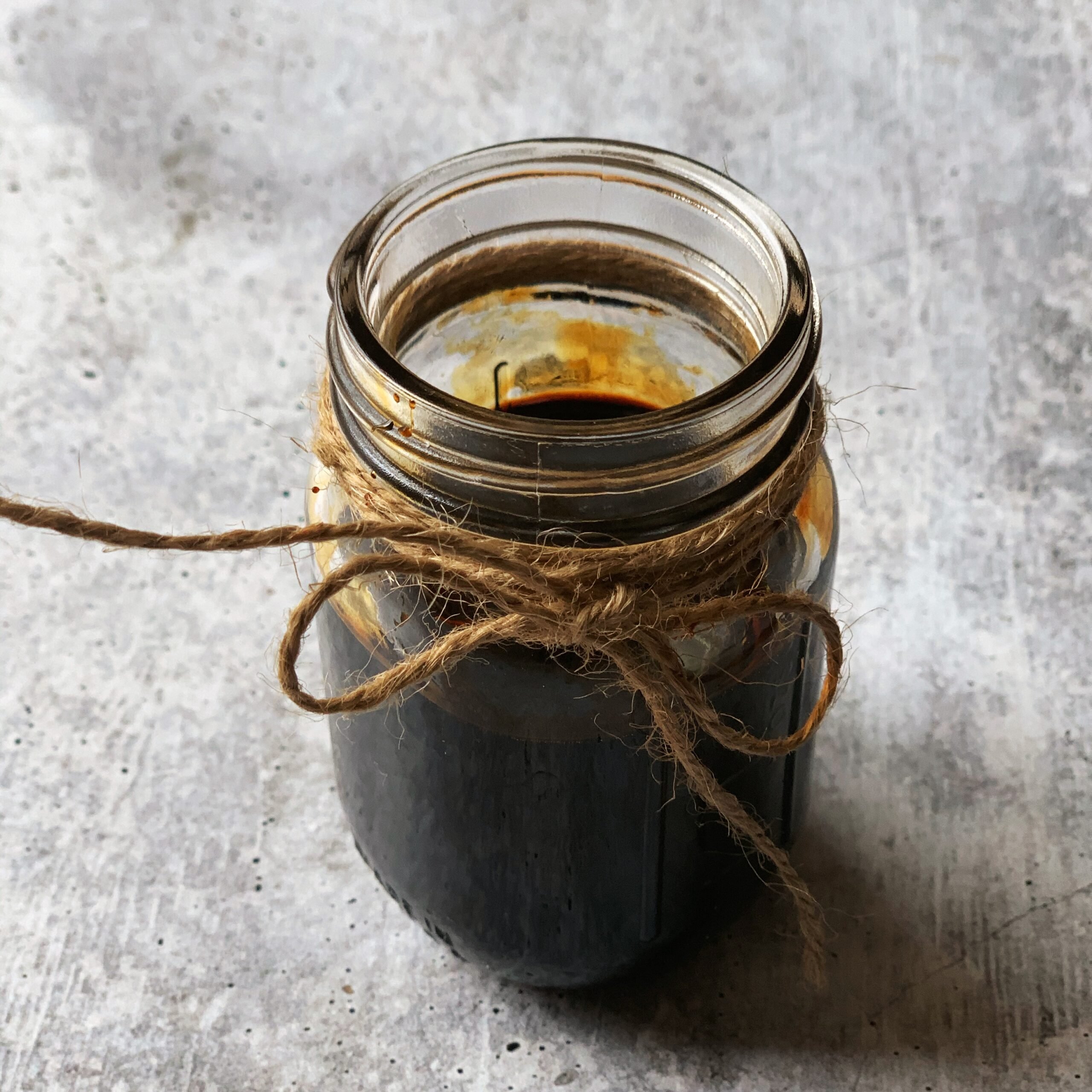 Carribean Burnt Sugar
Burnt sugar is the first step in many stew recipes in Caribbean and Guyanese cooking. After you add oil to the pan, the next step is to add some sugar to let it caramelize. This is a quick and easy way to add some color and flavor to stews.
However, making burnt sugar for cakes takes it a bit further by allowing the sugar to fully transform into a dark and rich caramel that can be spiced or left plain. If you are making Guyanese black cake this is the burnt sugar recipe you need!
Why You'll Love This Browning Sauce Recipe
Simple: This 2-ingredient recipe is incredibly easy to make.
Fuss-Free: With minimal stirring, burnt sugar is ready in just 5 minutes.
Versatile: Add this sauce to stews, meats, desserts, and more!
Ingredients for Caribbean Burnt Sugar
With just 2 ingredients, it doesn't get easier than this!
Demerara Sugar: This is a partially refined cane sugar that has a molasses flavor.
Wine: You can also use water instead of wine.
Spices: This is an optional inclusion if you want spice-infused water. Add cinnamon and cloves for depth of flavor.
See recipe card for quantities.
How to Make Caribbean Burnt Sugar
Start by adding brown sugar to a deep pot then bring the sugar and the pot up to temperature on high heat.
Let the sugar come up to temperature until it starts to melt. Let it continue to melt without stirring it.
It will continue to slowly melt until all the sugar crystals dissolve.
When it starts to bubble and smoke a little, give it a stirring to prevent the sugar from burning.
Add red wine or water and mix together really well.
Step By Step Video Tutorial
Storage
Store any leftover Caribbean burnt sugar in an airtight container, in a cool, dry place for up to one month. I prefer to keep my burnt sugar in a glass mason jar, labeled and dated.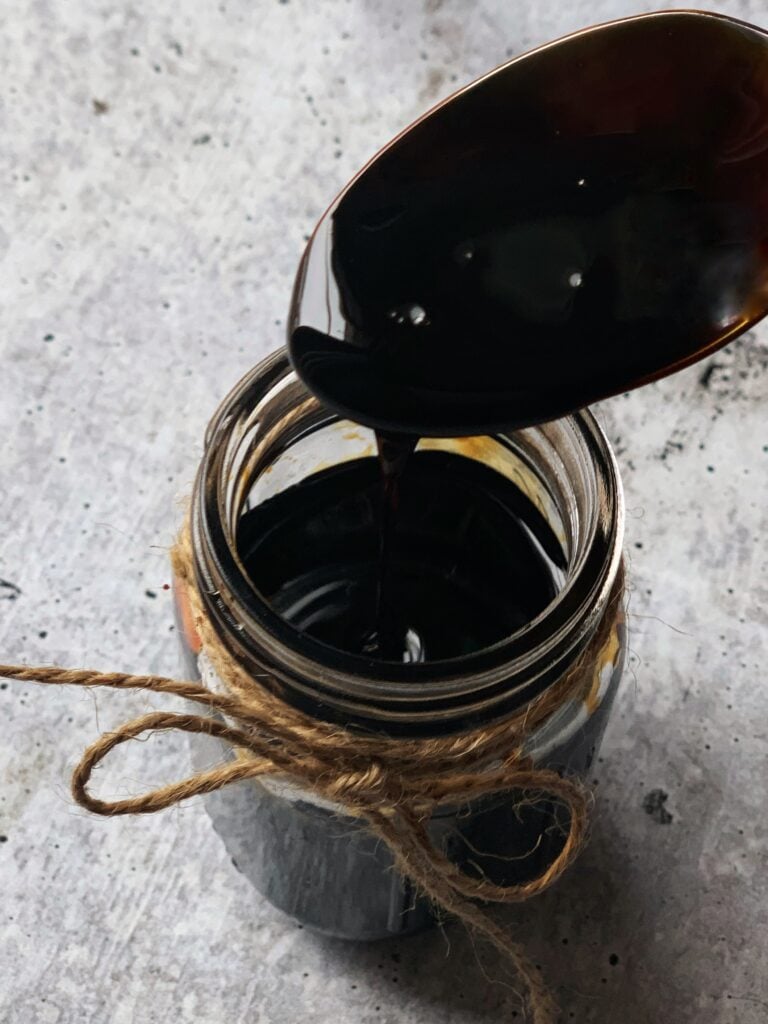 Tips for the Best Browning Sauce
For the best results please do not use American brown, dark brown or light brown sugar. Did you know that there are different types of brown sugar? Did you also know that American brown sugar is simply refined sugar with molasses added to it? Check out this post to learn more about different types of sugar.
Use a deep pot when making burnt sugar. It will splatter when you add water or wine to the caramelized sugar.
You do not need to continuously stir. In the past, I constantly stirred it, but recently just let it melt without stirring and it was easy and fuss-free.
The longer you cook the sugar, the darker the burnt sugar will be, but it will also become more bitter. Try not to cook it beyond the recommended time or you risk a very bitter-tasting burnt sugar.
Recipe Variations and Substitutions
Sugar: If you can't find Demerara sugar feel free to use sugar in the raw or turbinado sugar, or pure cane sugar since this is the closest thing to Demerara sugar.
Water: If making Caribbean burnt sugar for black cake you can use red wine instead of water in this recipe
Spice: Most people make burnt sugar with just sugar and water but you can take it up a notch by using water infused with spices instead of plain water or some white wine. Note that this is great if you only intend to use the burnt sugar for cakes. If you also want to use it for stews and marinades, leave it plain to allow for more flexibility when cooking.
Frequently Asked Questions
Can I heat up the pot first and then add the sugar?
When you add the sugar to a hot pot, it immediately starts to burn. If you are a pro in the kitchen and have all your ingredients prepped this method takes two minutes. It is demonstrated at the end of the video above.
My Caribbean burnt sugar is runny, what did I do wrong?
You added too much liquid to the burnt sugar. You can cook it down until it thickens a bit but be warned that it might get bitter.
Why is my burnt sugar bitter?
This happens when you let it get too dark before adding the wine or water. Ideally, as soon as it starts to get frothy, be ready to add the liquid and then remove it from the heat so that it doesn't continue to cook.
Why is my browning sauce so thick and sticky?
You overcooked the burnt sugar and the sugar moved into a candy stage. As soon as you add the liquid to the caramelized sugar remove it from the heat and then mix in the wine. This prevents it from continuing to cook while you are mixing in the wine.

Caribbean Burnt Sugar (Browning Sauce)
---
Caribbean burnt sugar, also known as browning sauce, is a thick, sweet, savory paste that's used in a variety of Guyanese recipes. This caramelized sugar is most commonly used in stews and black cake, for a rich, dark hue.
---
Ingredients
1/2

cup

Demerara Sugar

1/2

cup

wine

may also use water
Instructions
Add sugar to a pot, shake to evenly distribute the sugar in the pot, then bring up to temperature on high heat

Let the sugar come up to temperature until it caramelizes and becomes bubbly. Do not stir.

Once the sugar starts to smoke a bit, give it a stir to prevent it from burning then add the red wine turn off the heat and mix the red wine into the burnt sugar as quickly as possible, taking care to mix in and dissolve any bits that hardened when you added the wine

Then pour into a jar and let it cool completely. Store in an air tight container at room temperature for up to 1 month.
Notes
If you would like to use spiced water instead of plain water, in a small pot on high heat add 1 cinnamon stick and 3 cloves to a cup of water and bring to a boil. Continue to cook until the water is brown in color and reduces to about 1/2 cup. Pour this spiced water into the burnt sugar instead of plain water. 
The measurements in this recipe can be easily doubled or tripled to make a larger batch of burnt sugar.
Nutrition
Calories:
83
kcal
Carbohydrates:
17
g
Protein:
0.01
g
Sodium:
2
mg
Potassium:
25
mg
Sugar:
17
g
Calcium:
4
mg
Iron:
0.1
mg
---
---
The information listed in the recipe card is an estimate provided by an online nutrition tool. The tool evaluates ingredient names and amounts then makes calculations based on the number of servings listed for the recipe. It is provided as a general guideline and not as a precise calculation. For precise nutrition information please feel free to add the ingredients to your preferred nutrition calculator or consult a doctor or licensed nutritionist.