This simple cornmeal porridge recipe comes together easily with pantry staples, for a rich, creamy Caribbean breakfast. Prepare this easy morning meal in less than 30 minutes.
Cornmeal Porridge with Coconut Milk
My family loves cornmeal porridge! Growing up in Guyana this was a staple in our home. On cooler mornings and evenings you were sure to have a cup of cornmeal porridge to warm you up. For this easy recipe I use the really fine cornmeal, often called corn flour here in the US. It makes the best cornmeal porridge. So smooth and creamy. It's comfort in a bowl!
Why You'll Love This Cornmeal Porridge Recipe
Quick & Easy: Whip this delicious Caribbean porridge up in just 30 minutes with pantry staples.
Supremely Creamy: This post includes two methods; the traditional way and my way! I switched up the technique and made perfectly smooth, creamy porridge without stirring or boiling.
Breakfast Comfort Meal: Served hot, creamy, and enhanced with warm spices, this porridge is a great way to start the day; especially on a cold morning.
Cornmeal Porridge Ingredients
What I love most about this recipe is that requires just a few simple ingredients but the payoff is great; simple ingredients but big flavor.
Fine cornmeal: Use finely ground cornmeal so you don't have to do much work to get it smooth.
Water: The liquid base of the porridge.
Spices: I use cinnamon sticks, whole cloves, and freshly grated nutmeg. Don't skip the nutmeg! It provides a great aroma and taste. Freshly grated nutmeg is one of my favorite smells. Of course, you can add other spices like cardamom and maybe some vanilla essence/extract if you like but I prefer to keep it simple.
Coconut condensed milk: This sweetens the porridge. Alternatively, use regular condensed milk. Add to taste.
Coconut milk: This enriches the porridge, making it thicker and creamier. You may use evaporated milk or another milk instead. Add to taste.
See recipe card for quantities.
How to Make Cornmeal Porridge
Traditionally, you make cornmeal porridge by adding the cornmeal to a pot of boiling water then stirring quickly and constantly while it cooks. The main issue with this method is that the cornmeal is the temperature of molten lava! It starts to bubble up furiously. There are so many close calls with 3rd-degree burns.
So I tried making this porridge on a low simmer and it works perfectly well. With my easy cornmeal porridge there is no standing over the pot constantly stirring. After I add the cornmeal to the pot of boiling water, I give it a quick stir with a whisk to incorporate the ingredients, then I reduce the heat to low, cover, and let it simmer for about 5 minutes. After 5 minutes it is perfectly cooked, smooth, and creamy! Easy Peasy!
Storage
Store leftovers in an airtight container in the fridge for up to 3 days. Reheat it on the stovetop over medium-low heat. You may need to add a splash of milk or water if its too thick.
Tips for the Best Cornmeal Porridge
When preparing boiled cornmeal porridge, continuously stir so it doesn't stick to the bottom of the pan and burn.
Maintain the right ratio of liquid to cornmeal. This can vary based on personal preference, but a common starting point is 5 cups liquid to 1/2 cup cornmeal. (This yields 4 servings.)
Allow the porridge to cool slightly before serving, as it thickens as it cools.
Frequently Asked Questions
Is cornmeal porridge healthy?
This porridge is rich in carbohydrates, which provides energy to the body. It also contains fiber, proteins, and is naturally gluten free.
How long does cornmeal porridge take to cook?
It takes about 15-20 minutes to cook.
What to serve with sago porridge?
My family loves having cornmeal with a side of plait bread tawa toast. It also goes really well with pot bread!
Why does my cornmeal porridge taste grainy?
Use high quality, fine cornmeal for a smoother texture and ensure you're using enough liquid. Continuously stir the mixture if boiling or lower the heat. If it is still grainy, it may need to cook for longer.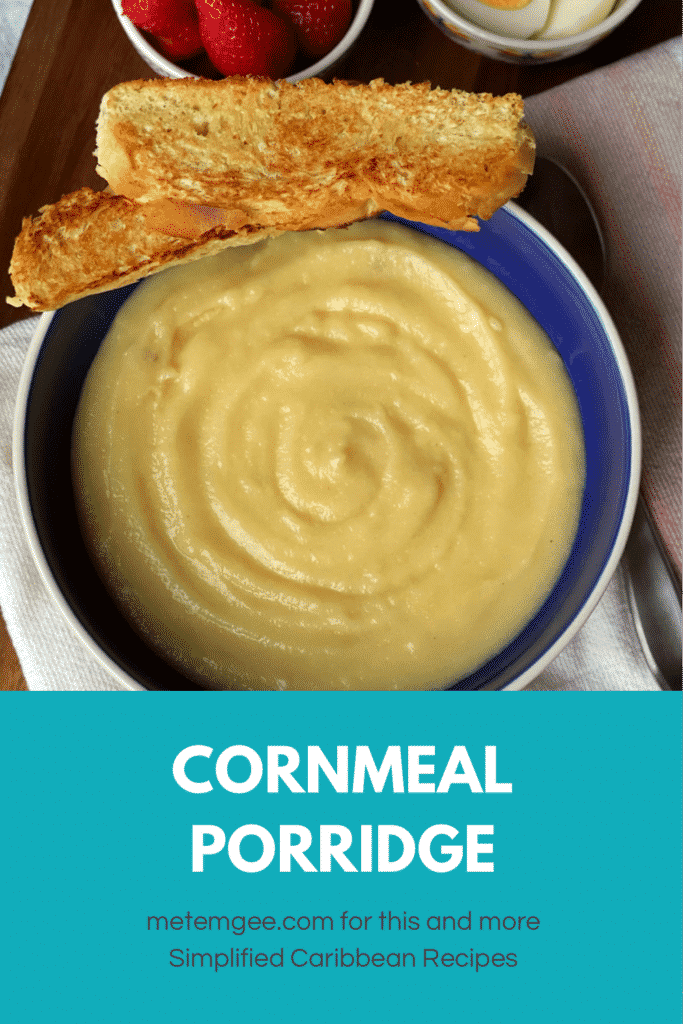 Easy Cornmeal Porridge
---
This simple cornmeal porridge recipe comes together easily with pantry staples, for a rich, creamy Caribbean breakfast. Prepare this easy morning meal in less than 30 minutes.
---
Ingredients
1/2

cup

of fine cornmeal

5

cups

of water

1

cinnamon stick

1

teaspoon

of whole cloves

About 1 teaspoon of freshly grated nutmeg

1

can of coconut condensed milk

or regular condensed milk to taste

1/2

cup

of coconut milk

may use evaporated milk or other milk to taste
Instructions
To a saucepan add 4 cups of water and all the spices and bring to a boil on medium heat

Continue to boil for 10-15 minutes or until the water changes to a brown color

Then combine the remaining water and the cornmeal and mix together well, ensuring there are no lumps

Using a sieve, you may scoop the spices out of the boiling water or you can leave them in

Then add the mixture of water and cornmeal to the boiling spiced water and with a whisk stir vigorously to incorporate ensuring there are no lumps

Then reduce the heat to low, cover and let simmer for about 3-5 minutes

Next add the coconut condensed milk and coconut milk and mix together well.

Serve hot!
---
---
The information listed in the recipe card is an estimate provided by an online nutrition tool. The tool evaluates ingredient names and amounts then makes calculations based on the number of servings listed for the recipe. It is provided as a general guideline and not as a precise calculation. For precise nutrition information please feel free to add the ingredients to your preferred nutrition calculator or consult a doctor or licensed nutritionist.