This gluten free plait bread has been a real labor of love. It has taken about two years for me to get here. I've tried many combination of gluten free flours and while the results have been a good bread nothing would hold the braid/plait I wanted to achieve to mimic guyanese plait bread, until now! If you don't have an issue eating gluten and want to make traditional plait bread, here is a great wheat based plait bread recipe.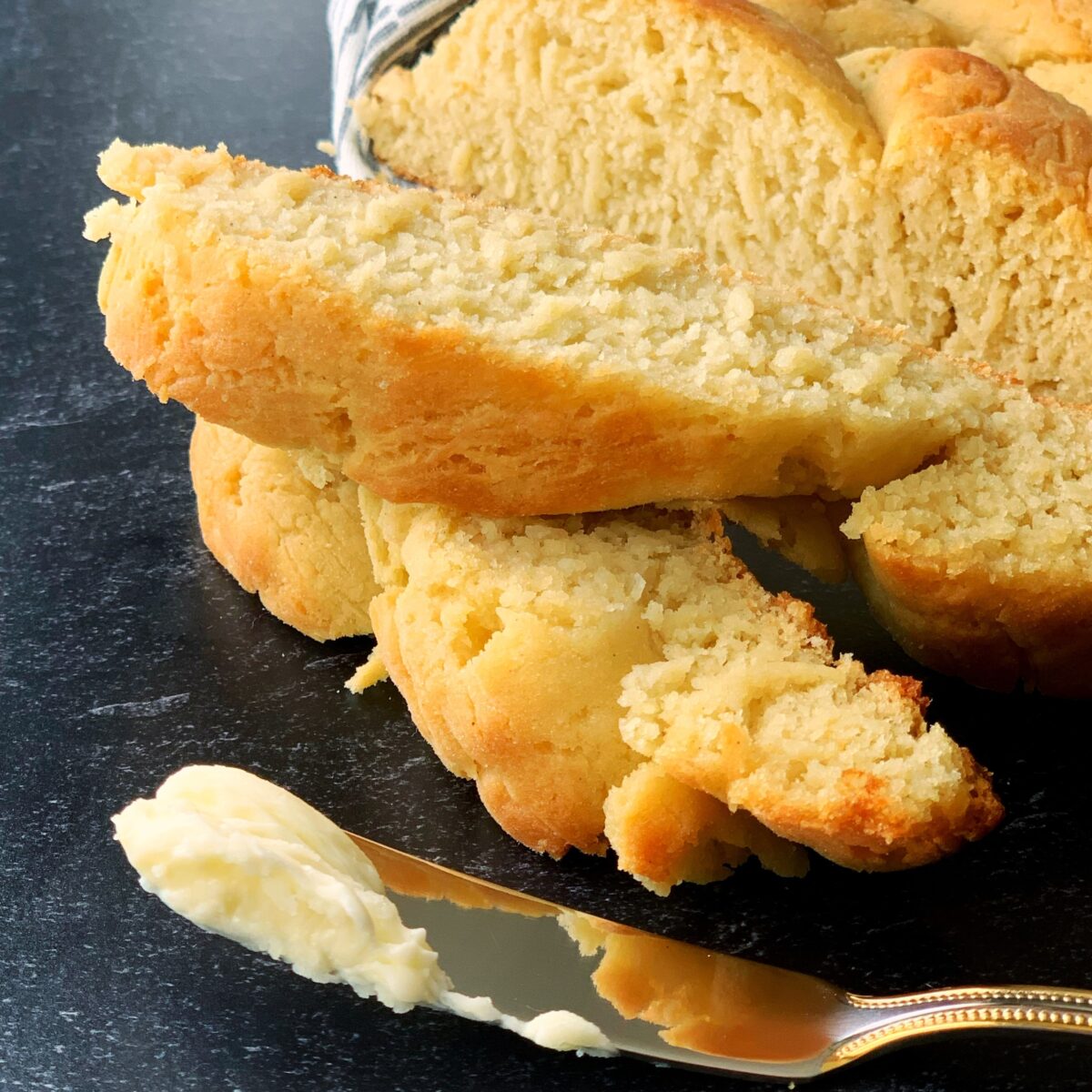 The right mix of flour for the gluten free plait bread
For this recipe I used King Arthur's measure for measure gluten free flour. Although the label says this flour is better suited for cakes and cookies, I found that the gluten free bread flours produced a doughy and heavier bread than what I wanted. I added some potato flour to this measure for measure flour to get the dense texture of Guyanese home made bread perfect for sopping up pepperpot gravy. This combination seems to be the key to many flour blends that mimic wheat products. It does not have the grainy consistency of most gluten free breads and cakes.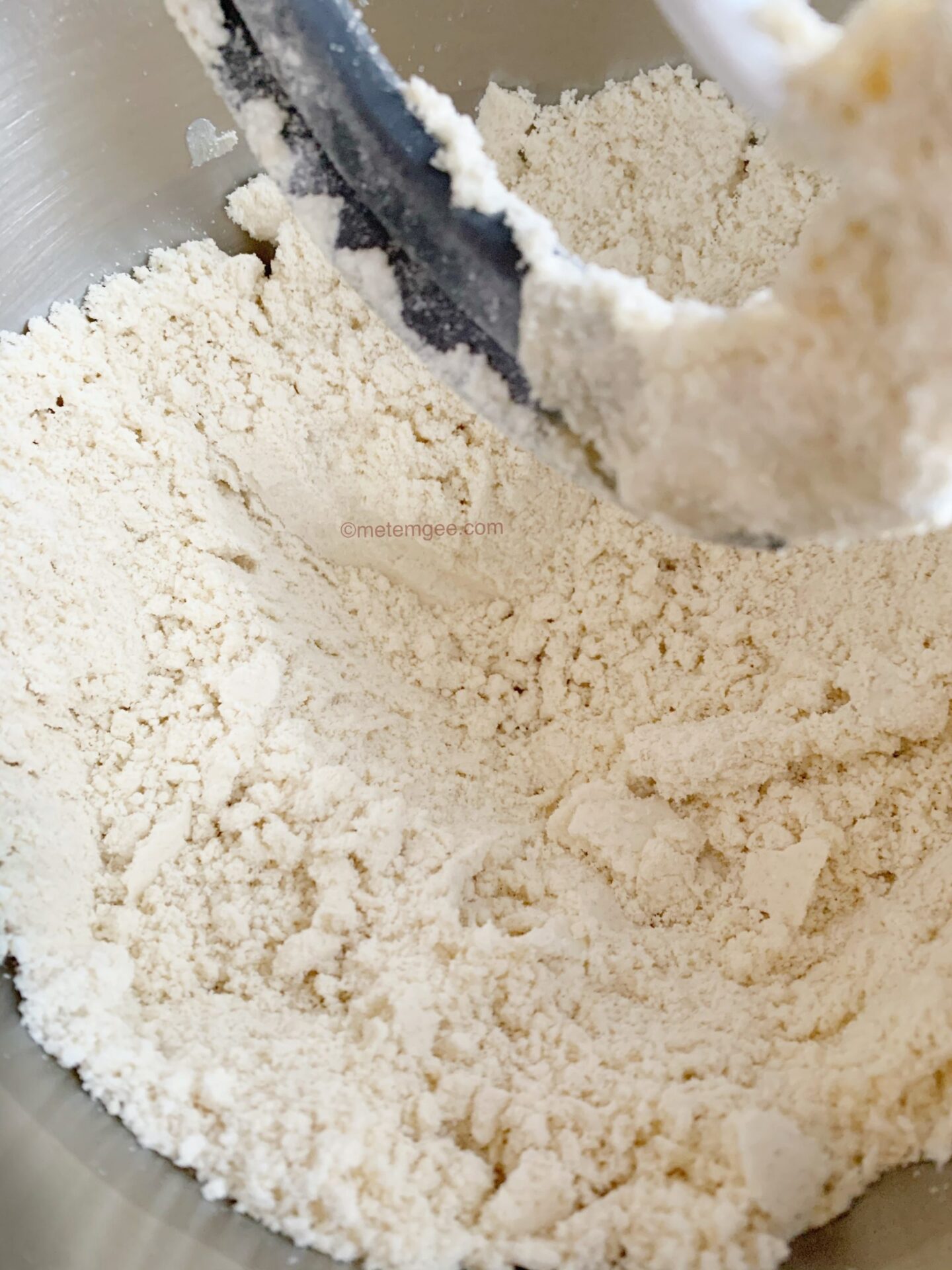 Blending the flours together with the butter came together quickly using my paddle attachment, but I've also done it in a bowl using a fork or my finger tips. Use the method that you are most comfortable with all produce similar results.
The right consistency in the gluten free dough
Most sandwich type gluten free bread recipes I've seen on the internet has a dough that is more like a batter. That makes it tremendously difficult to form the bread into a braid or plait. For this gluten free plait bread recipe the dough is soft and spongy. It is slightly sticky but not to the point where you couldn't work it. Add some oil to your finger tips if it is too sticky to work and of course you can always dust it with some of the measure for measure gluten free flour.
After letting the dough rise for 45 minutes, it expands and sometimes it cracks a little. This is normal. I've made this gluten free plait bread quite a few times and every time it cracks. But don't worry we will pull it back together when we are forming it into the braided loaf.
Braiding the gluten free dough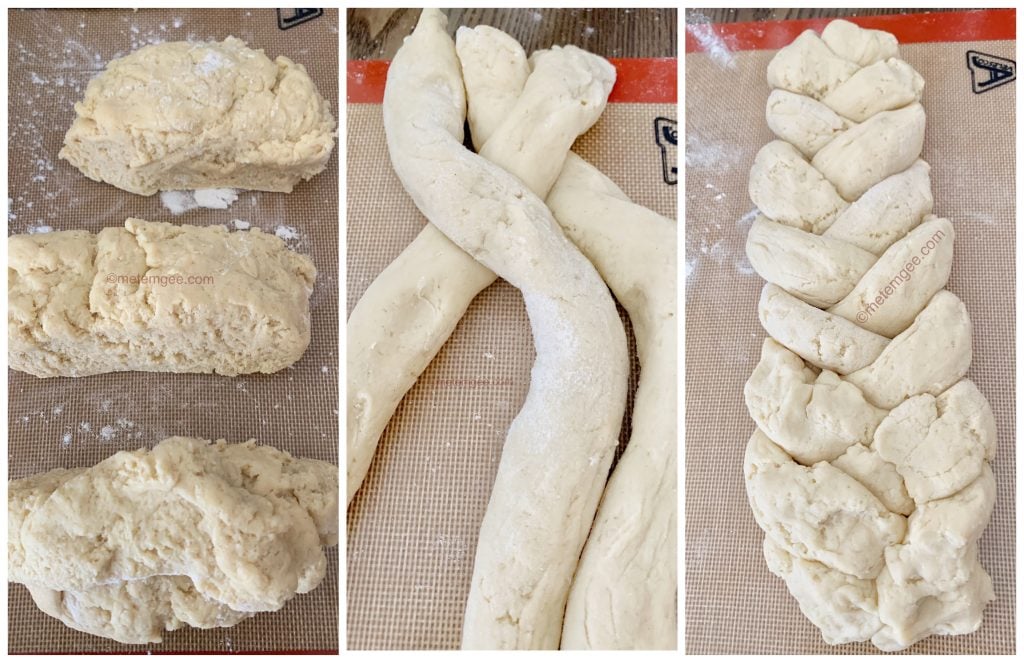 This gluten free plait bread dough is very soft and must be handled with care. Instead of using my regular pastry board, I am using a silicone baking mat and a light dusting of gluten free flour. When braiding I simply crisscrossed the three strands of dough until it was braided from end to end. Then I gently lifted the dough unto a greased baking sheet. It is important to let the dough rest and rise for another 45 minutes before baking for the best results. This is not a quick bread and really takes time to come together.
This gluten free plait bread is best served warm
When the gluten free plait bread is done baking, I remove it from the oven and immediately brushed it with butter. Then I covered it and let it cool down a bit. The first time I made this gluten free bread I let it cool all the way before slicing and trying it and I noticed it became a bit stiff. So my recommendation is to serve it warm and if you have a large ziplock bag or bread bag put it in the bag before it cools completely to keep it moist. If you have left over bread, reheat it in the microwave or toast it before serving.
The bread has a slightly rough exterior because the gluten free dough was not a smooth dough. I've tried many different methods to try to smooth the dough and always end up with the same results. It's not the most perfect or prettiest dough but it is yummy. If you are looking for a gluten free alternative to the plait bread we know and love, this is it.
Look at that beautiful texture
The texture of the dough is soft, but dense. It has a nice crumble and the folds of the plait are perfect for pulling apart to sop up pepperpot. I had a piece fresh out of the oven with butter and it was heaven. Being able to enjoy a good piece of bread that doesn't have many additives or preservatives that tastes really great and is gluten free has been a quest of mine for so long and I am happy to be here.
The Gluten Free Plait Bread Recipe:

Gluten Free Plait Bread
---
Gluten Free Plait Bread is a gluten free alternative to the well loved Guyanese plait bread. it is soft but dense and is better enjoyed warm.
---
Ingredients
3

cups

of King Arthur measure for measure gluten free flour

1

cup

of potato flour

1/4

teaspoon

salt

1/4

cup

butter

plus 1 tablespoon

1

tablespoon

of gluten free dry active yeast

1

cup

of warm water

110 °F

1/4

cup

brown sugar

3/4

cup

warm milk

3

eggs

2

teaspoon

baking powder
Instructions
Dissolve sugar in warm water, then add yeast and allow to activate

Add measure for measure gluten free flour and potato flour to the bowl of your stand mixer then add salt.

Mix in 1/4 cup of butter using your paddle attachment until a crumbly texture forms

Next, add eggs and milk to fermented yeast and mix together well

Turn mixer on lowest speed, then pour in yeast, milk and eggs mixture

Continue to mix until all of the dry and wet ingredients combine to form a soft dough

Remove from mixing bowl and place in a greased bowl.

Cover and let rise for 45 minutes to an hour

After dough has risen, divide into 3 equal pieces and form into 1 foot to 1.5 feet logs

Braid logs together to form a plaited loaf

Place loaf on a greased baking sheet, cover and let rise for another 45 minutes to 1 hour

Preheat oven to 350 °F

Bake plaited loaf for 25-30 minutes

Remove from the oven and brush with 1 tablespoon of butter

Serve warm
Notes
This bread takes time. If you are in a rush, you will not get the right results. Allow the dough to rise twice before baking
Use a rubber spatula to scrape the dough from your mixing bowl if it is too sticky
I recommend using a silicone mat to work the dough when braiding. If you don't have one, liberally dust your surface with gluten free flour
---
---
The information listed in the recipe card is an estimate provided by an online nutrition tool. The tool evaluates ingredient names and amounts then makes calculations based on the number of servings listed for the recipe. It is provided as a general guideline and not as a precise calculation. For precise nutrition information please feel free to add the ingredients to your preferred nutrition calculator or consult a doctor or licensed nutritionist.