This Guyanese black cake recipe makes a moist, rich, boozy dessert with soaked fruit, rum, and wine. Serve this decadent treat for Christmas, weddings, birthdays, and any other special occasions.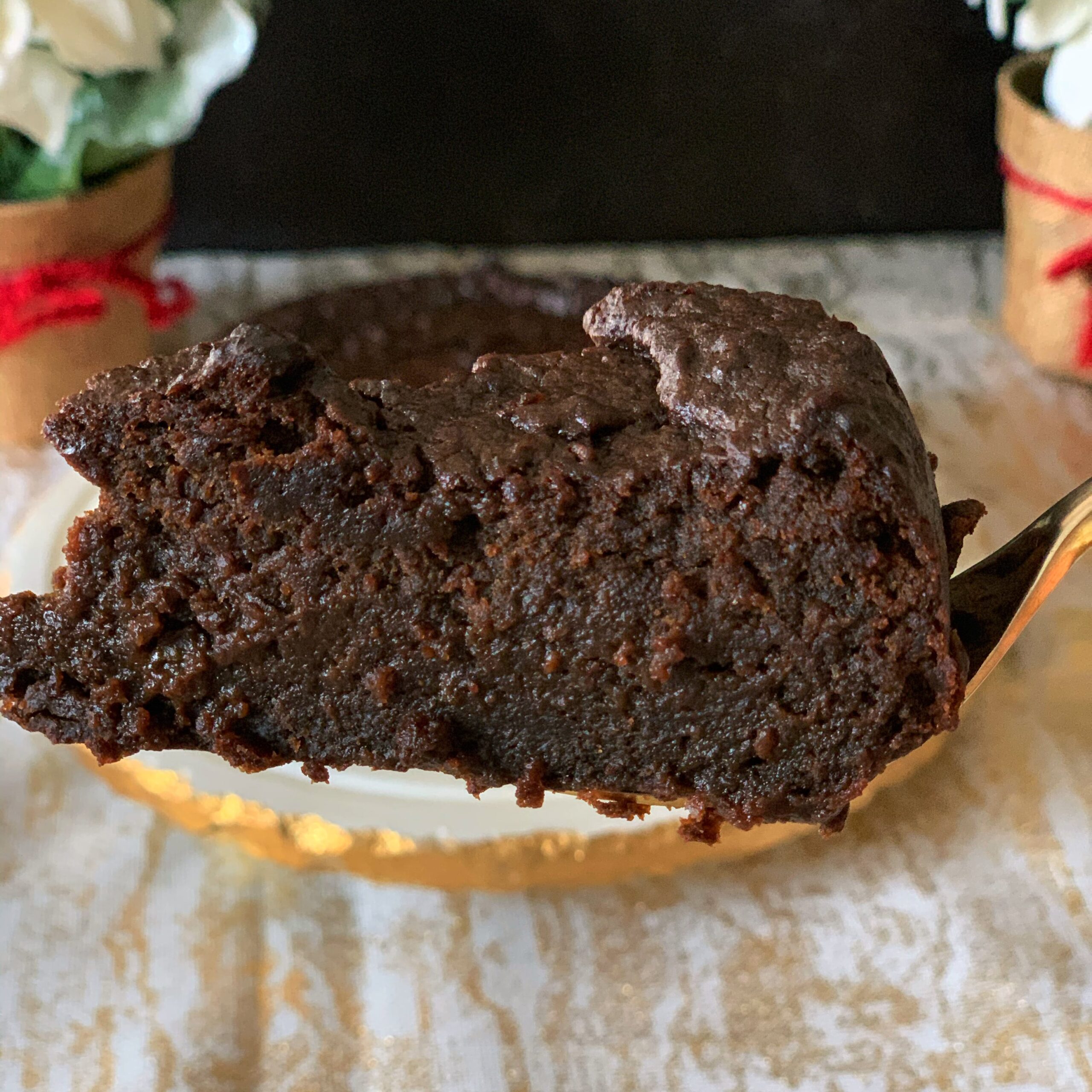 Guyanese Black Cake
This is the year that you will make your own delicious, moist Guyanese Black Cake. You can and will do it with my help and this recipe. Before you attempt this recipe, read it all the way through. Read all the tips and notes, then get ready to rock out in the kitchen. I am so excited for you! Let's do this.
It took years for me to get this black cake recipe from my aunt and several tries for me to get the cake to come out just right. The way my aunt gave me this black cake recipe is the way Guyanese ppl give you most recipes, just ingredients. Luckily she did give me the measurements but no tips on how to pull the cake together.
And since I couldn't go to her house and say whip me up a cake (she lived in Guyana at the time and I'm in Denver, Colorado), it was trial and error until I got it just right. I've made this black cake quite a few times now and it is perfect every time. Every single time. No joke.
Why You'll Love This Guyanese Black Cake Recipe
Indulgent: Anything made with butter, sugar, rum, wine, and rum is bound to be absolutely delicious and this dense, sweet cake is no exception.
Versatile: Make it with or without eggs, vegan, gluten free, and even alcohol-free. This black cake recipe is easily adaptable to suit your taste buds and dietary needs.
Perfect for Celebrations: This cake is a labor of love so it's only right to bring it out for special occasions.
Ingredients for Guyanese Black Cake
The key flavor elements of this black cake recipe are pre-soaked fruits, burnt sugar, port wine, and rum.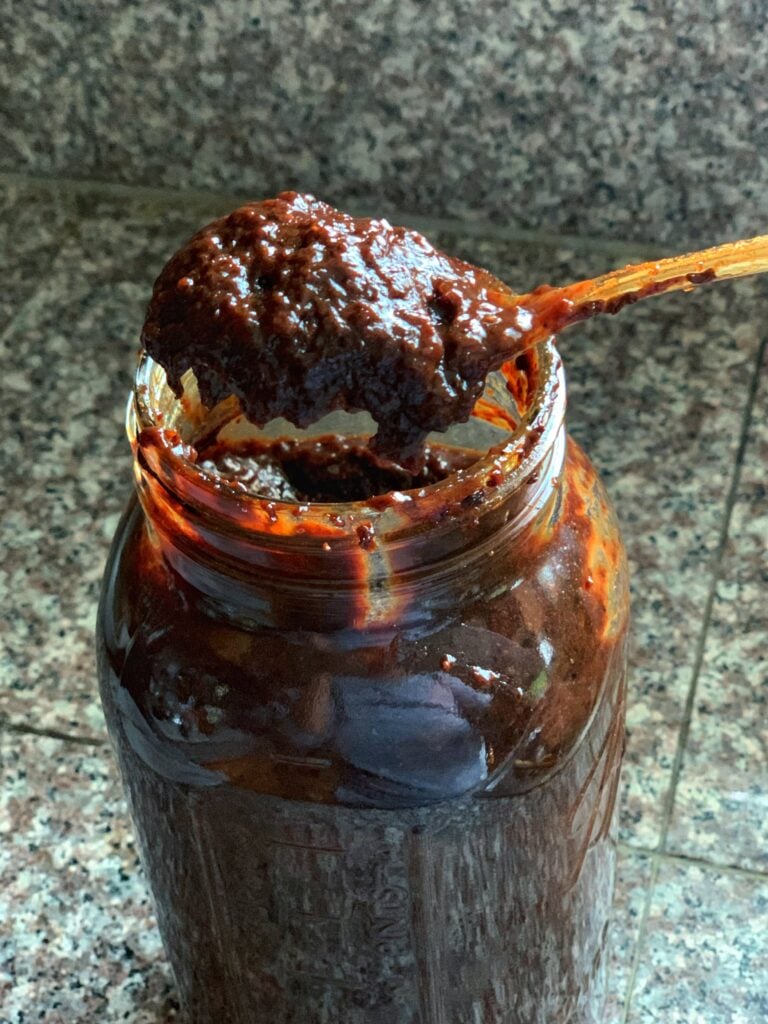 Butter: Use room temperature butter because it creams up quicker and fluffier than cold butter.
Granulated sugar: This is added to the creamed butter, as the base of the cake.
Flour: All purpose is great for this recipe.
Soaked and blended fruits: You cannot make black cake without amazing Soaked Fruits––Macerated Fruits in Wine and Rum. Luckily my recipe for soaked fruits is pretty straight forward and with my quick tip, you could have fruits soaked and bake your Guyanese black cake in about a week. Just don't tell anyone you only soaked your fruits for a couple of days, because Caribbean people are serious about this fruits soaking business!
Eggs: Use room temperature eggs. To warm up cold eggs, I put the eggs in a bowl of warm water (not boiling) until I am ready to use them.
Baking powder: Confession when my aunt gave me this recipe she said black cake doesn't have baking powder. I can't bring myself to make this cake without baking powder so I add 1 teaspoon for good faith. You can leave it out if you like. So this is optional.
Spices: ground cinnamon, ground clove, ground nutmeg
Orange zest: For fresh citrus flavor.
Burnt sugar: Here's my video tutorial for how to make burnt sugar.
Red wine: I love a good port wine. It has a bold taste and color that adds to the richness of the cake, but honestly, you can also use a cheap pinot noir or cabernet sauvignon.
Dark rum: Guyanese El Dorado 5 year old rum is my go to for this recipe. But if you can't get this rum, Captain Morgan Spiced Rum or Bacardi Spiced Rum works really well.
Cooking spray: Use this to prevent the cake from sticking to the pan.
See recipe card for quantities.
How to Make Guyanese Black Cake
Combine the Butter and Sugar
Start with room temperature ingredients. I soften up the butter with the mixer before adding the sugar. You don't need a stand mixer to make this cake, you can use a hand mixer or cream the butter by hand.
Somewhere in Guyana, there is a grandma baking black cake and a kid creaming the butter and sugar in a big basin, by hand, taking little tastes as he goes. I know, kids in Guyana are not creaming butter by hand anymore, but I couldn't help the slight diversion down memory lane.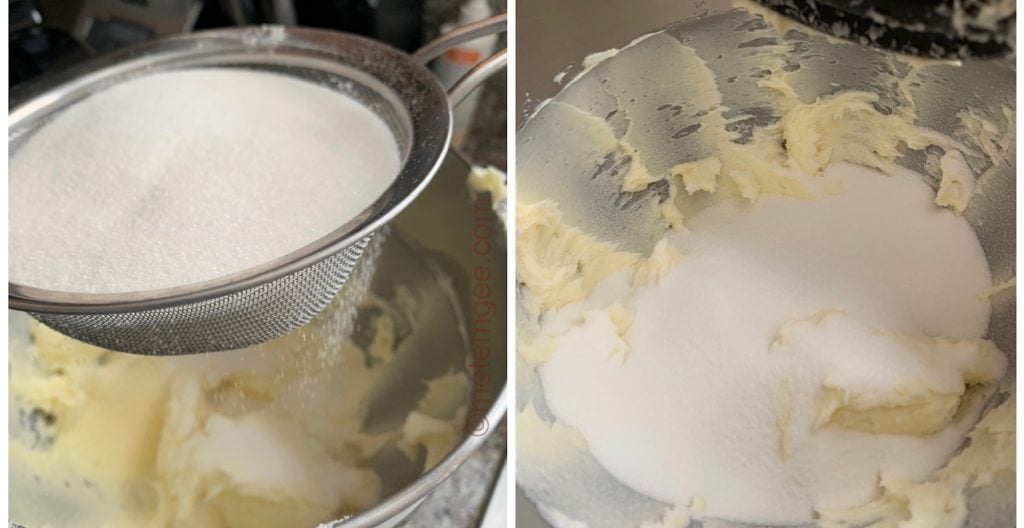 Cream your butter and sugar until most of the sugar crystals melt away and it is light and fluffy. I cream my butter and sugar on a low setting and just let it keep creaming while I do other things around the house or kitchen. It takes a good 10 to 15 minutes to get it just right.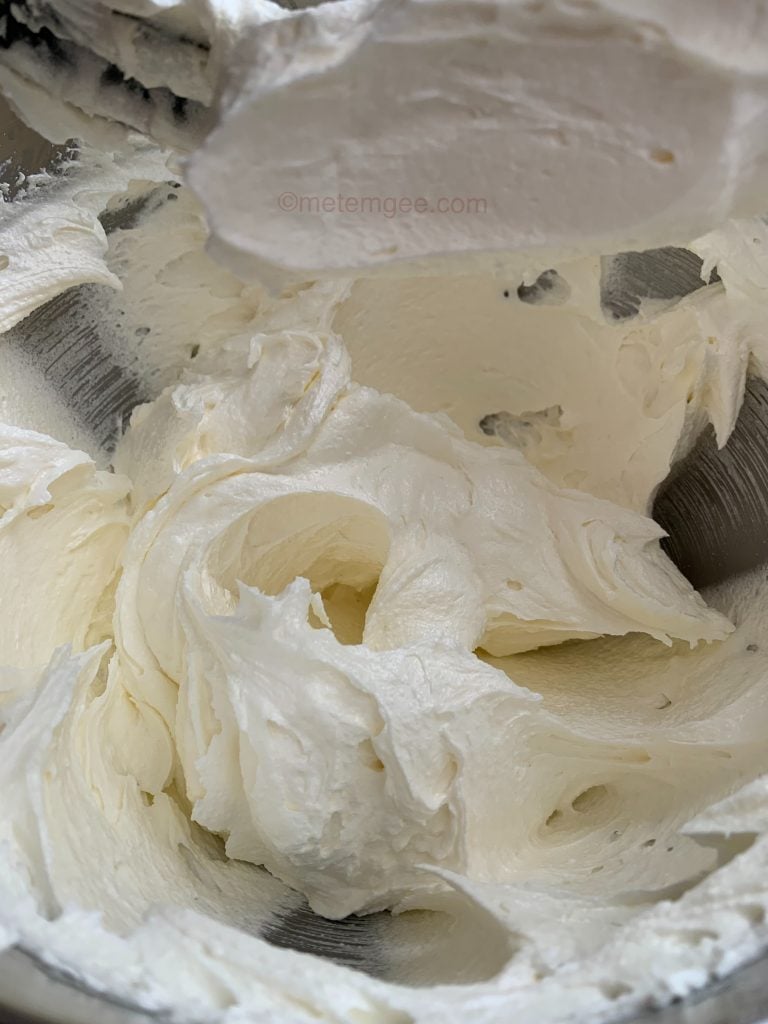 Gradually Add Eggs
Adding the eggs one at a time is no easy task. Waiting to add those 9 eggs one at a time while waiting for it to mix in before adding another seems like an eternity but it is so worth it! I like to crack my eggs in a bowl or my measuring cup before adding them to the cake.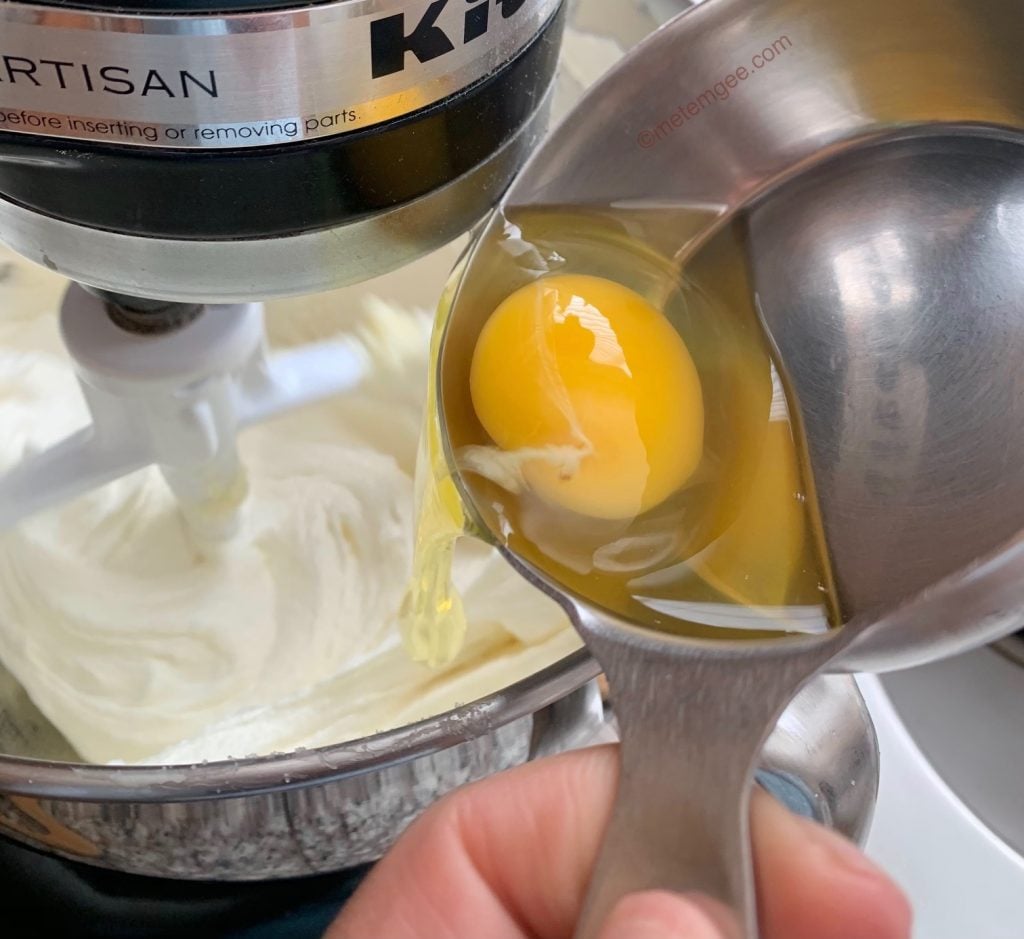 You know how some of the food videos show bakers dumping all the ingredients into a bowl and then mixing? This ain't that kinda cake! I keep the mixer on low and add the eggs faithfully one at a time.
Adding the Soaked Fruits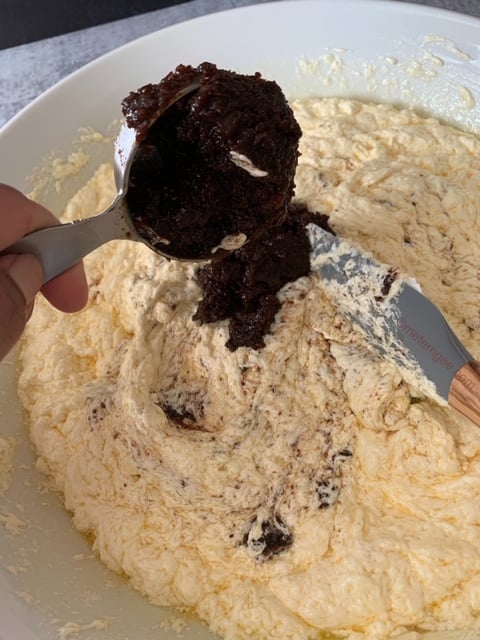 Next, I add my fruits one cup at a time and I do this by hand because I don't want to overmix my black cake and I don't want to encounter any chunks of fruit when I am eating.
I love it when my black cake has a smooth pudding-like texture and I do everything I can to keep the batter moist and dense. I often wonder about the origins of our food and can't help but notice the similarities between black cake and English Christmas pudding
Add Burnt Sugar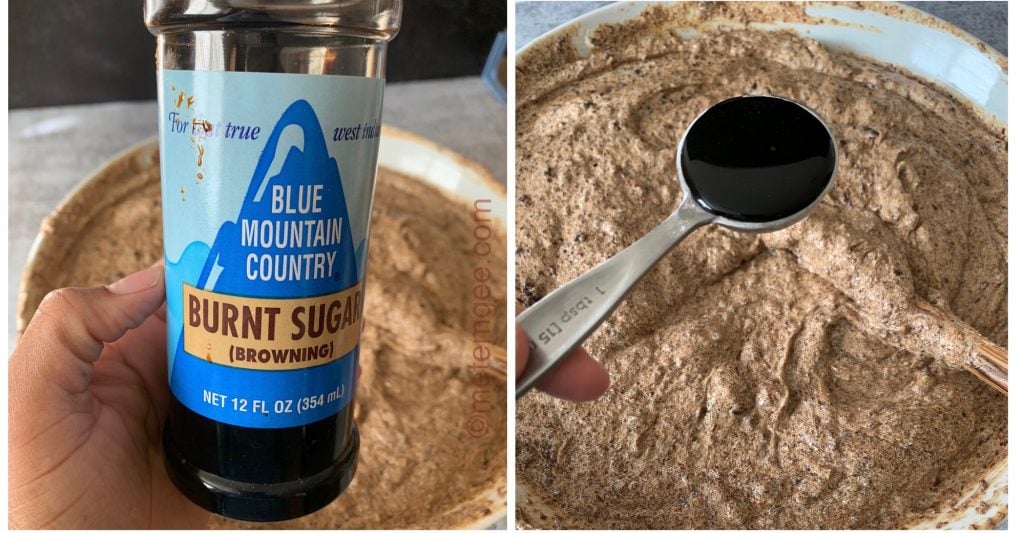 About the burnt sugar, you can make your own using my burnt sugar recipe or use store-bought burnt sugar (browning) like I did in this batch of black cake. Sometimes I get the Grace version from the Caribbean market in my neighborhood, but I honestly like the taste of this one better.
Add Wine and Orange Zest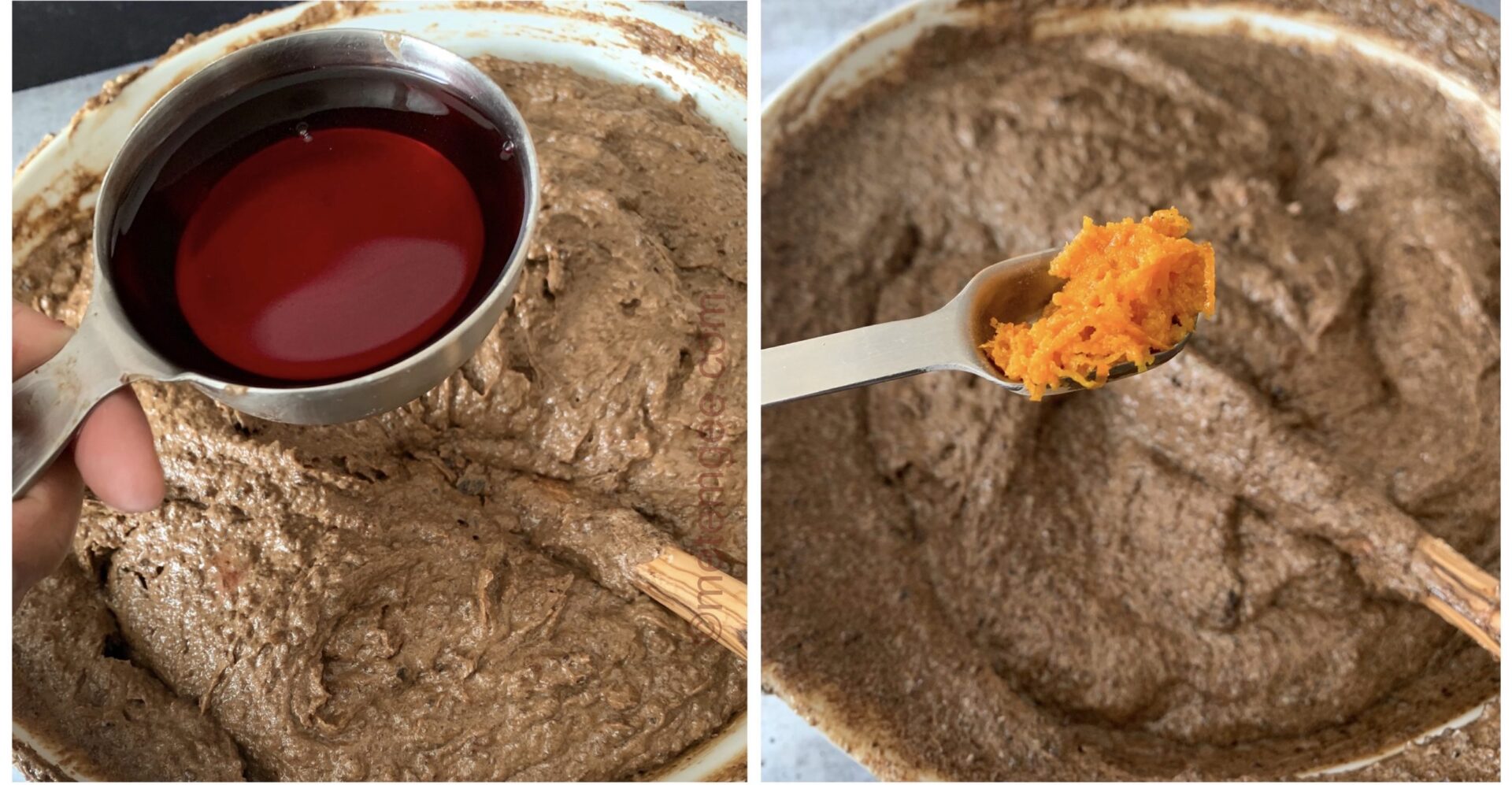 Once I've added enough of the burnt sugar, I add orange zest and some red wine and mix that all in. I set that aside and start to prep my dry ingredients.
Prep Dry Ingredients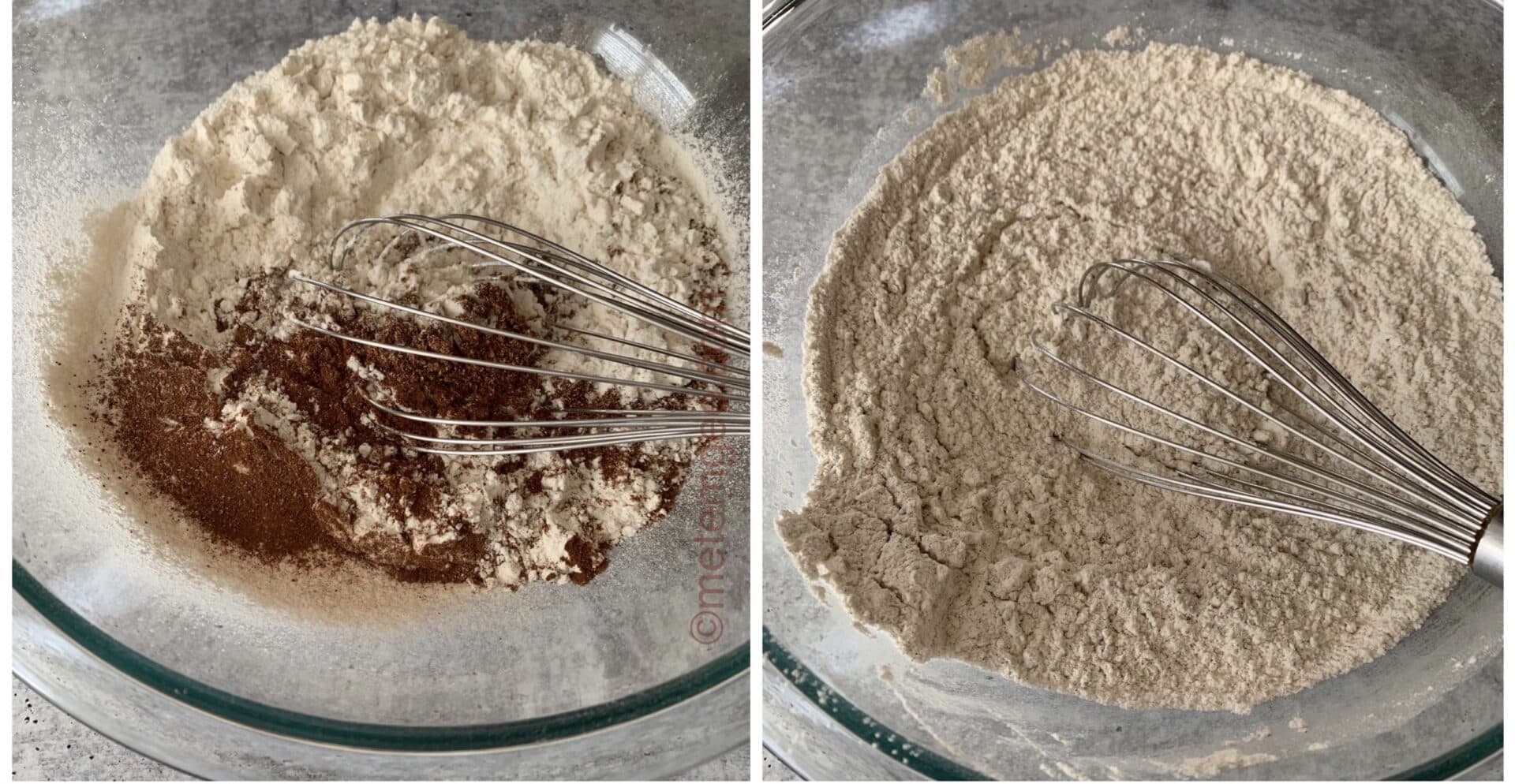 I sift all of my dry ingredients together and then use a whisk to combine.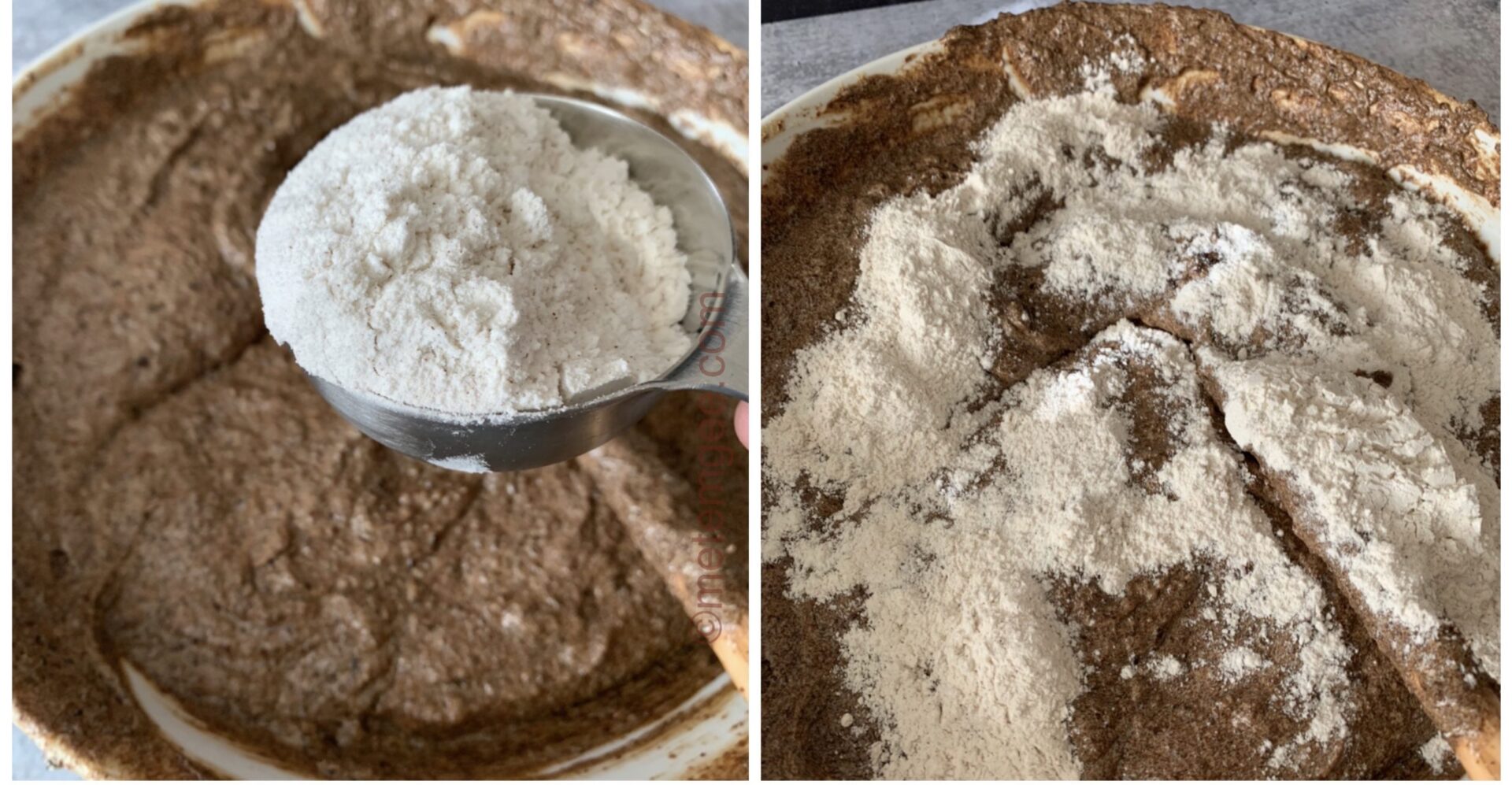 We are almost to the finish line. The final step is to add the flour. I do this a cup at a time to ensure a really smooth clump free batter. I mix the flour into the wet ingredients using 8 figure motions until all of the flour is completely mixed into the batter.
Prep the Baking Pans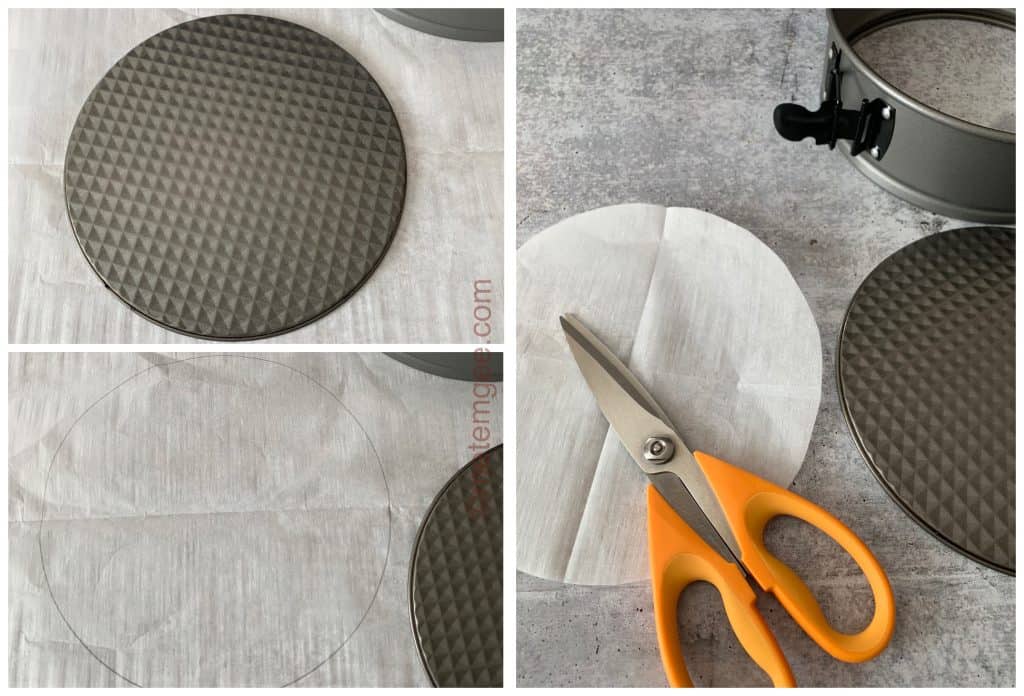 Prepping the pan for baking is equally important because the black cake is so moist and dense that it can stick to the bottom and sides of the pan. Without the proper prep, it can break apart when you are trying to remove it from the pan.
In order to prevent this, I bake my black cake in a spring form pan. It makes it easier to get the cake out of the pan. I line the bottom of the pan with parchment paper.
There are two methods for doing this. One is to trace the bottom of the pan onto the parchment paper and the other is to fold the paper into quarters or even eighths and then mark it and cut it.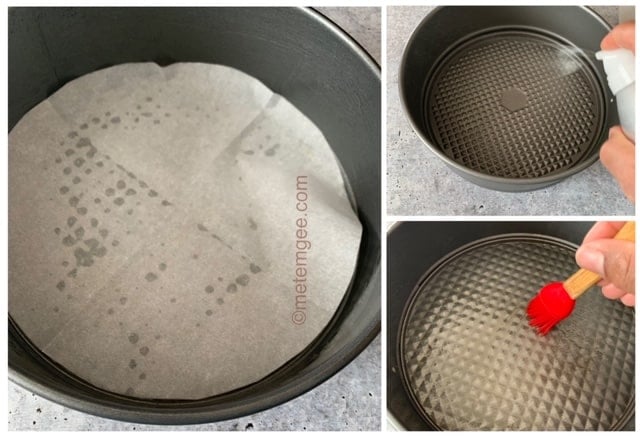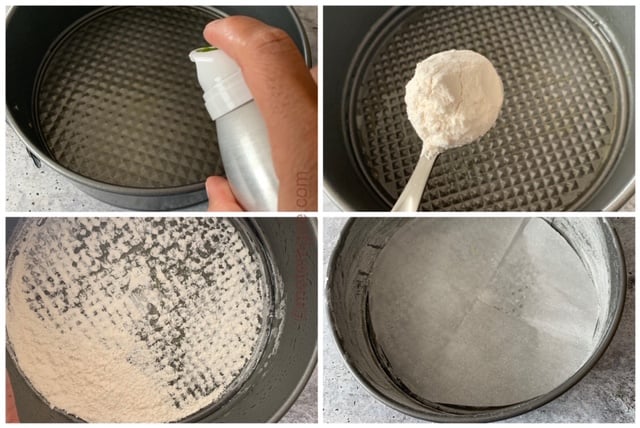 Once you cut your parchment paper liner, grease the pan or grease and flour the pan. I prefer to just use cooking spray and parchment paper because I don't like the taste of the flour and grease on the black cake.
Some people just use butter and then parchment paper and some people like to line the sides of the tin with parchment paper as well. There is no hard rule here so do what works for you.
Bake Guyanese Black Cake
This black cake recipe makes three 8-inch round pans or two 9-inch pans. So I usually add the black cake batter to the greased and lined baking pans, one cup at a time, to ensure that it is evenly distributed among the baking pan. It is also very easy to half this recipe if you just wanted to bake 1 cake. If you were trying to bake just one cake, I would go with 5 eggs, versus 4.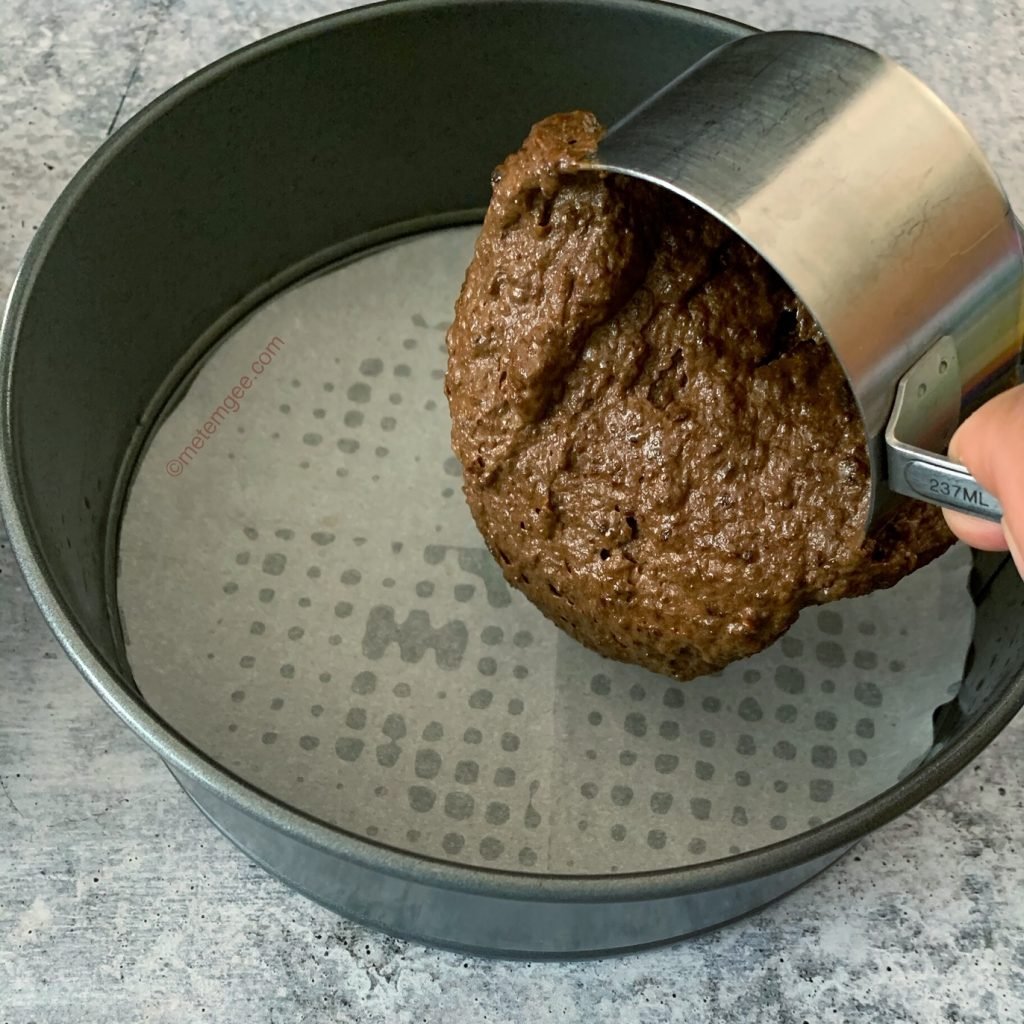 Once you've divided your black cake batter evenly among your baking pans, go ahead and smooth the top. Because this cake is dense, it will not rise much or settle enough to even out the top so make sure you have a nice smooth and even top before you put it in the oven.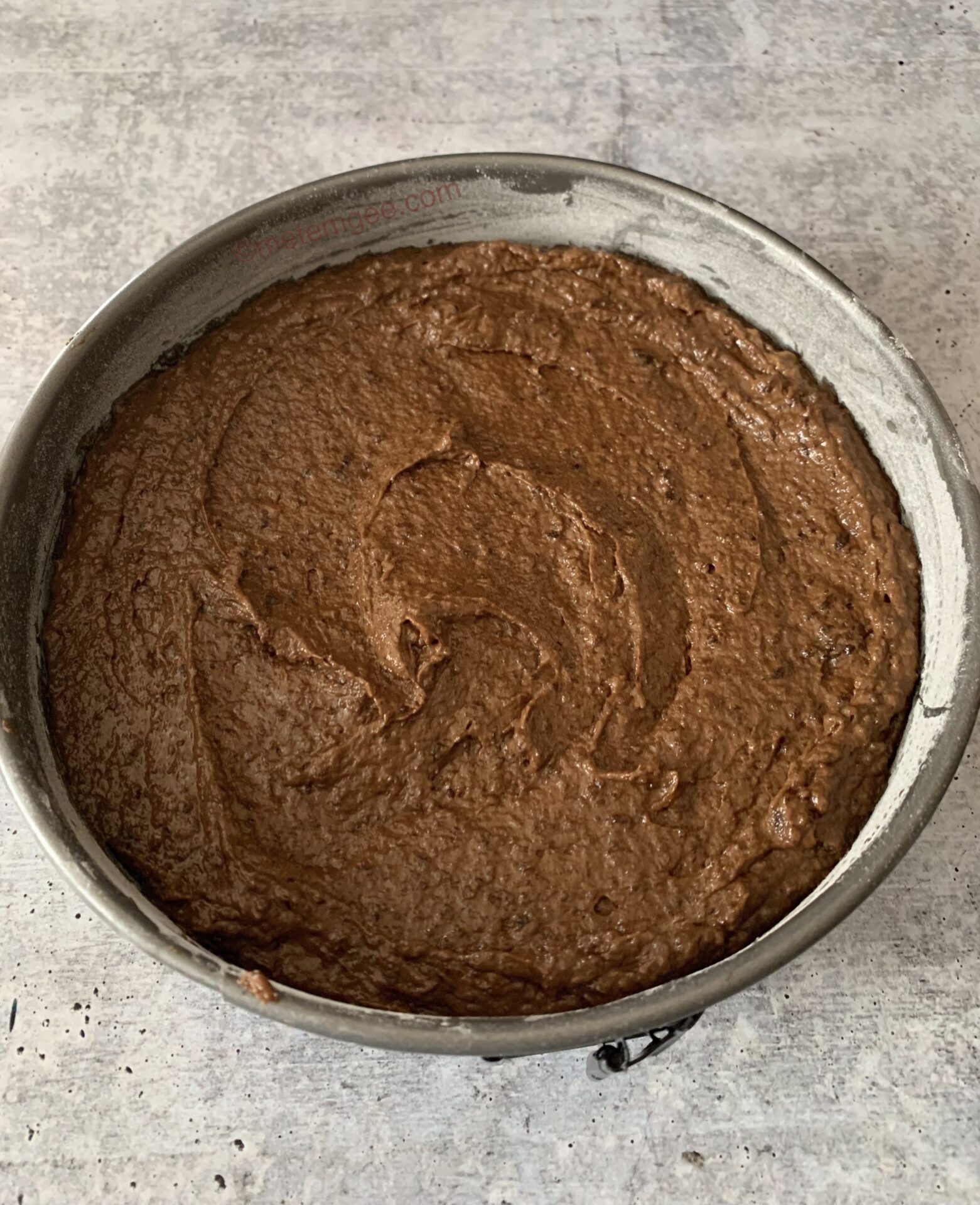 The next step is my trick to help the cake bake evenly, I do this with my cheesecakes too. My final step before baking the black cake is to wrap the baking pans with aluminum foil. Black cake bakes low and slow. I bake my black cake at 300°F for 75 to 90 minutes or until a toothpick inserted into the cake comes out clean.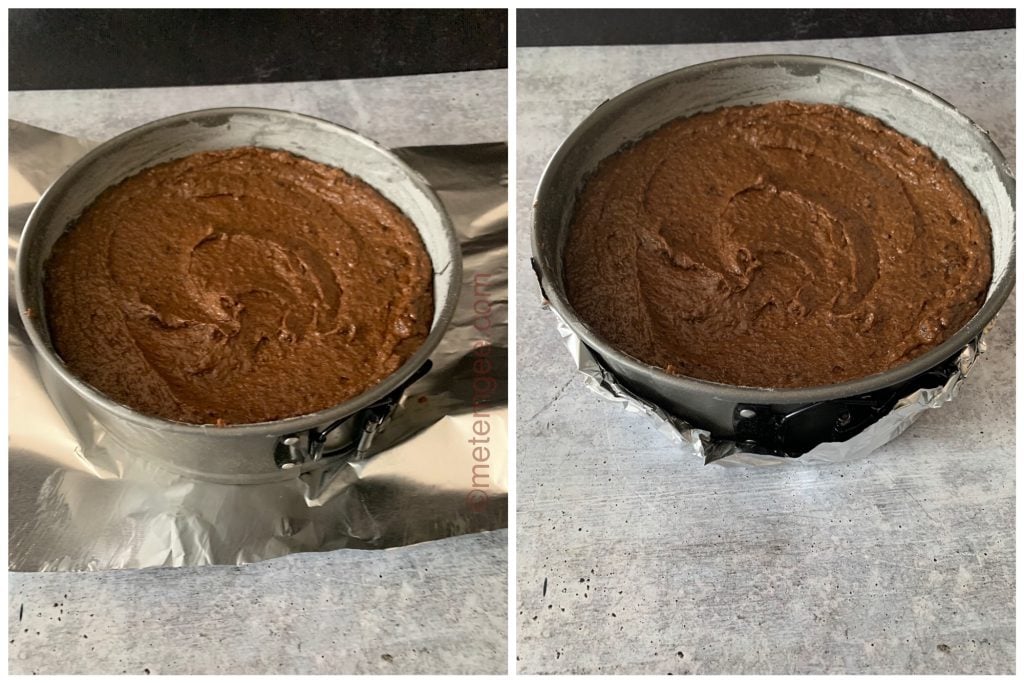 Add Rum to the Black Cake After Baking
Immediately after removing the black cake from the oven, I brush the cake with rum. Some people will continue to add a tablespoon or two of rum to the cake, once a week until it is ready to be eaten.
After brushing the cake with rum, I cover it with a kitchen towel and let it cool. As the cake cools, it will shrink and pull away from the sides of the pan. Let the cake cool completely before removing it from the pan.
Then store in a covered container. The black cake will darken as it cools and get that rich black color that we know and love.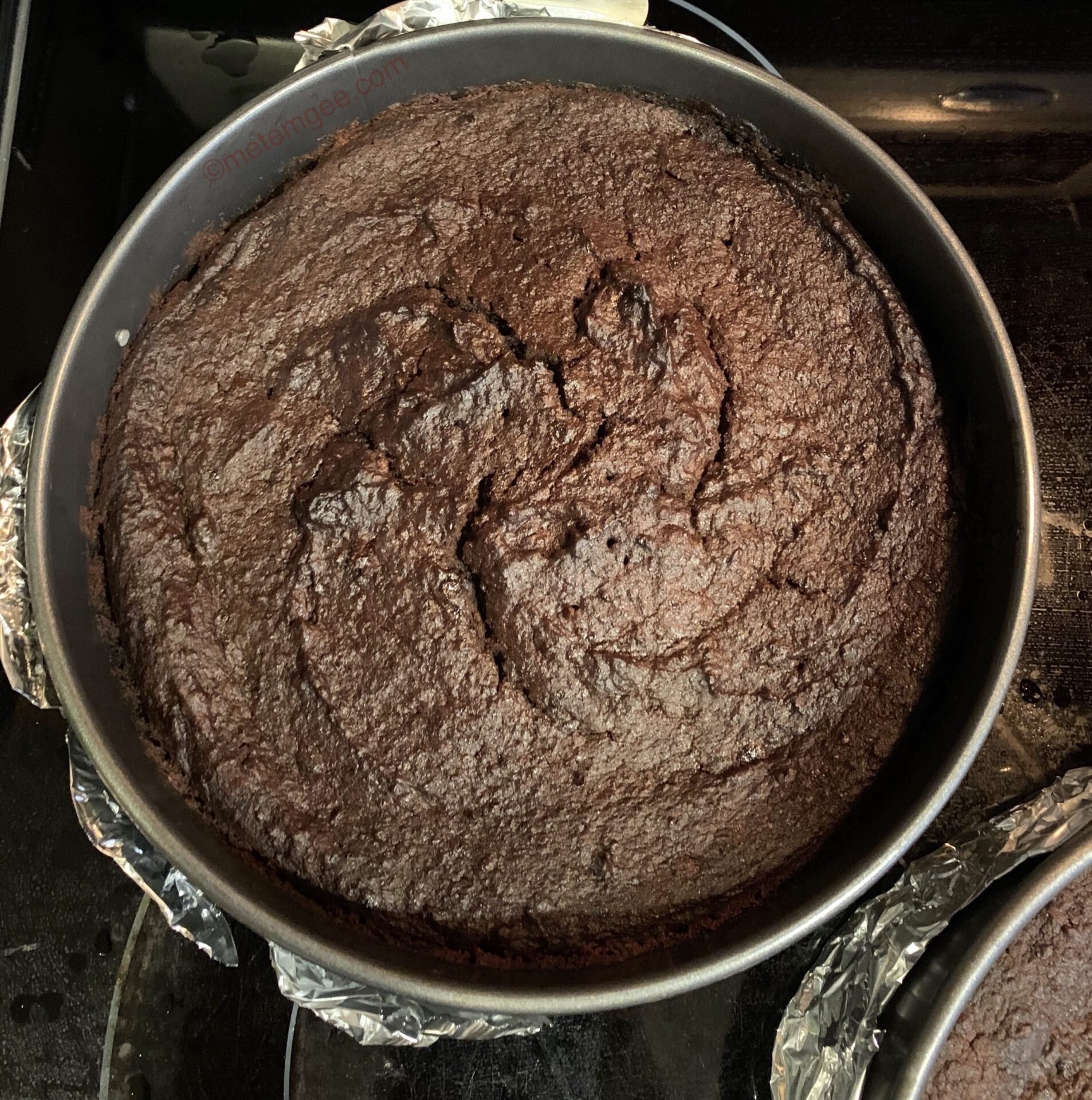 This black cake is so beautiful. It brings back a rush of memories about Christmas time while growing up in Guyana. I was definitely one of those children helping to cream butter until my arms fell off!
Step-by-Step Video Tutorial
Substitutions & Variations
Eggless Black Cake. To make black cake without eggs, simply skip the eggs in this recipe. That is it! You do not need an egg replacer. The fruits add as a binding agent and you will have a delicious, moist cake without the eggs.
Vegan. To make this a vegan black cake recipe, simply use vegan butter or butter substitutes. But be careful not to overwork the butter or it might become runny.
Gluten free. Click here for my gluten free black cake recipe!
Equipment
Parchment Paper: Add this to the bottom of the pan in order to prevent the cake from sticking.
Aluminum Foil: Wrap the cake with aluminum foil just before baking.
Spring Form Pan: I use a Wilton 8 inch x 2.6 inch spring form pan. This recipe makes two pans of cake with this size pan. You can fill the pan almost to the top, leaving 1/2 in of space. The cake will be dense and won't rise above the pan. When it cools it will shrink back down so don't be afraid of it spilling over.
Storage
Tightly wrap the leftover cake in plastic wrap. It will last up to four days at room temperature, six weeks in the fridge, and 6 months in the freezer. You can also add alcohol to the cake so it can last longer.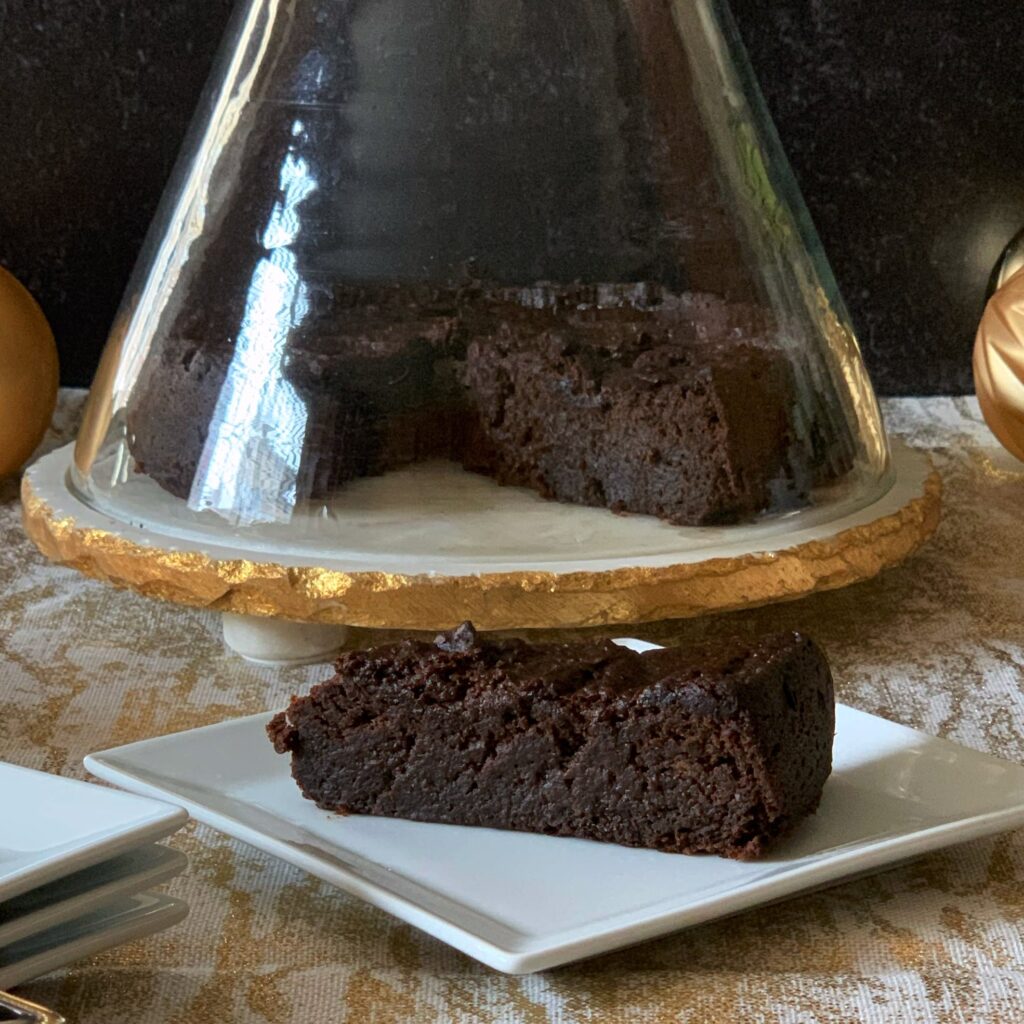 Tips for the Best Black Cake Recipe
Use room temperature ingredients. For this very delicate black cake, you will need all of your ingredients to be at room temperature. Do you remember growing up and creaming golden cream margarine with sugar in a big basin with a wooden spoon? That margarine was always soft and smooth to begin with. That's what we are going for here. I usually leave my butter out of the fridge over night, along with my eggs and I am ready to go in the morning. But if you ever forget to do this step, just pop your butter in the microwave for a few (5-10) seconds at a time, until it softens up. Not melting, but soft.
Add the eggs one at a time. This prevents the creamed butter and sugar mixture from separating.
Make your black cake at least a week before you plan to serve it. Black cake is better enjoyed stale, after all the flavors had time to settle. While the cake is resting some people will continue to add a tablespoon of rum every couple of days. This really makes a boozy cake and it is most delicious.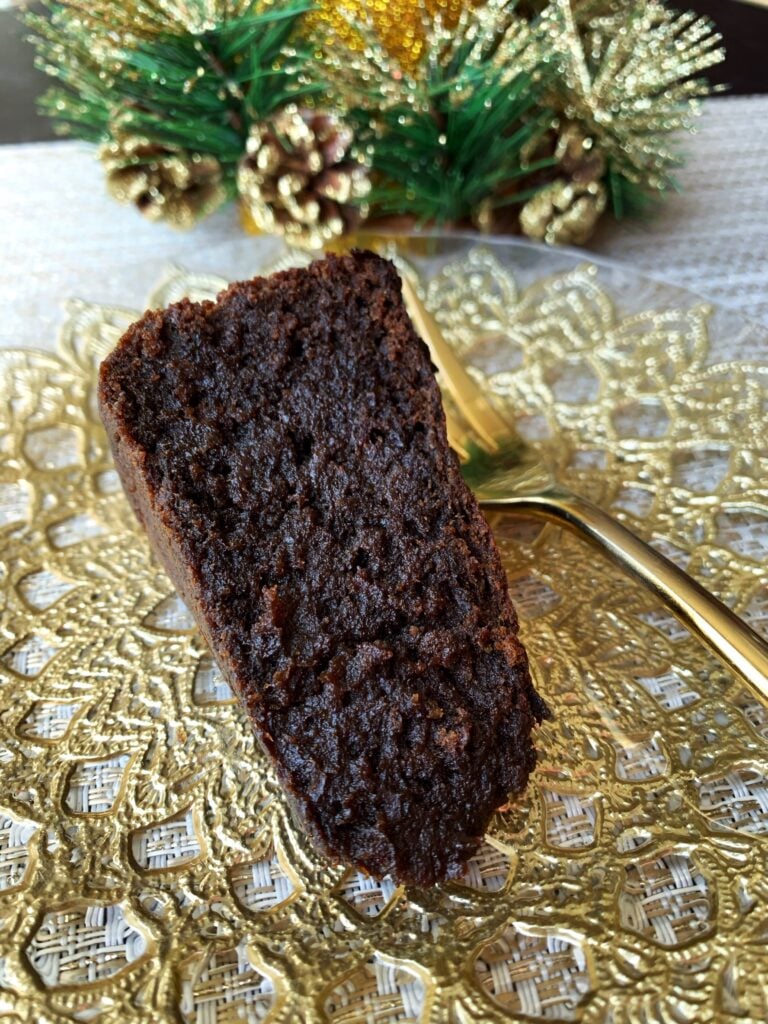 Frequently Asked Questions
What is black cake made of?
This black cake recipe contains rum and wine-soaked fruit, butter, burnt sugar, flour, eggs, and a variety of spices. It gets its color from the macerated fruits and sugar caramel that's added to the batter. Contrary to any misconceptions, authentic Guyanese black cake is not like traditional fruit cake and it does not contain chocolate.
How soon after setting my fruits can I bake black cake?
If you use my trick in this recipe for soaked fruits, as soon as three days after but ideally you want the fruits to soak for at least 1 month.
How do you get the top of the cake to be smooth?
I use a rubber spatula to smooth the batter out before baking. You can also use a clean off set spatula to smooth out any peaks before baking.

Guyanese Black Cake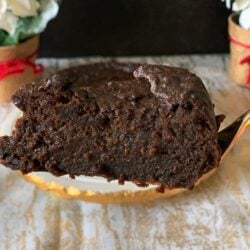 ---
Guyanese Black Cake is a rich, dense and moist cake. It is made with rum soaked fruits and a dark sugar caramel gives it its signature black color. It is traditionally made at Christmas and for weddings.
---
Equipment
Parchment Paper

Aluminum Foil

2 8×3 inch pans
Ingredients
1

lb

of butter

2 cups

1

lb

of granulated sugar

2 cups

12

ounces

of flour

about 2 1/2 cups

4

lbs

soaked and blended fruits

8 cups

9

eggs

1

teaspoon

of baking powder

optional

1

teaspoon

of ground cinnamon

1

teaspoon

of ground clove

1

teaspoon

of ground nutmeg

1

teaspoon

of orange zest

4 to 6

tablespoons

of burnt sugar

1/2

cup

of red wine

e.g. Porto

3

tablespoon

of dark rum

Cooking spray
Instructions
Cream butter and sifted sugar until most of the sugar crystals dissolve

Add eggs to creamed butter and sugar one at a time until all of the eggs are fully incorporated into the mixture

After the eggs have been added, add fruits to butter, sugar and eggs mixture (one cup at a time) and mix together until all of the fruits have been completely mixed into the batter

Next add the wine and orange zest to batter

Then add burnt sugar, one tablespoon at a time until your batter is the desired color

Sift together flour, baking powder, ground cinnamon, ground cloves, ground nutmeg

Add flour to the batter one cup at a time and incorporating the flour into the batter using a figure 8 motion

Preheat oven to 300°F

Grease baking pans with cooking spray, then line the bottom of the pan with parchment paper

Divide batter equally among the baking pans

Wrap the bottom of the baking pan with aluminum foil

Place cake on the middle rack in the oven and bake for 75 to 90 minutes or until a toothpick inserted into the black cake comes out smooth

Once cake is fully cooked, remove from the oven and brush each cake with 1 to 1 1/2 tablespoons of rum, while cake is still hot. Feel free to add more rum if you like, but not too much or the cake will be soggy

Cover with a kitchen towel and let cool

Allow cake to cool completely, then remove from baking pans

Store cake in a covered container. Depending on how long you keep the cake for, you may add more rum once or twice a week so that it doesn't dry out
Notes
Please read through the post for all the tips you need.
It is very easy to half this recipe to make 1 cake. If you do use 5 eggs instead of 4.
Check your cake at the 75 minutes mark and if it is completely cooked remove it from the oven.
Some people prefer to cook this cake at 275 °F. They prefer the better safe than sorry method. If this is you, this is perfectly fine, because this cake can become really dry if it is over cooked and we are aiming for the moist pudding like texture, versus a traditional cake texture
Nutrition
Calories:
489
kcal
Carbohydrates:
80
g
Protein:
6
g
Fat:
18
g
Saturated Fat:
10
g
Polyunsaturated Fat:
1
g
Monounsaturated Fat:
5
g
Trans Fat:
1
g
Cholesterol:
102
mg
Sodium:
172
mg
Potassium:
568
mg
Fiber:
8
g
Sugar:
57
g
Vitamin A:
570
IU
Vitamin C:
1
mg
Calcium:
152
mg
Iron:
3
mg
---
---
The information listed in the recipe card is an estimate provided by an online nutrition tool. The tool evaluates ingredient names and amounts then makes calculations based on the number of servings listed for the recipe. It is provided as a general guideline and not as a precise calculation. For precise nutrition information please feel free to add the ingredients to your preferred nutrition calculator or consult a doctor or licensed nutritionist.