Guyanese style fruit cake is far from your traditional Christmas fruit cake; it's moist, boozy, and rich with the flavor of rum soaked fruits! It's a delicious mash-up between pound cake (known as sponge cake in Guyana) and black cake. Enjoy this as an indulgent adult dessert or skip the alcohol for a family-friendly treat during the holidays.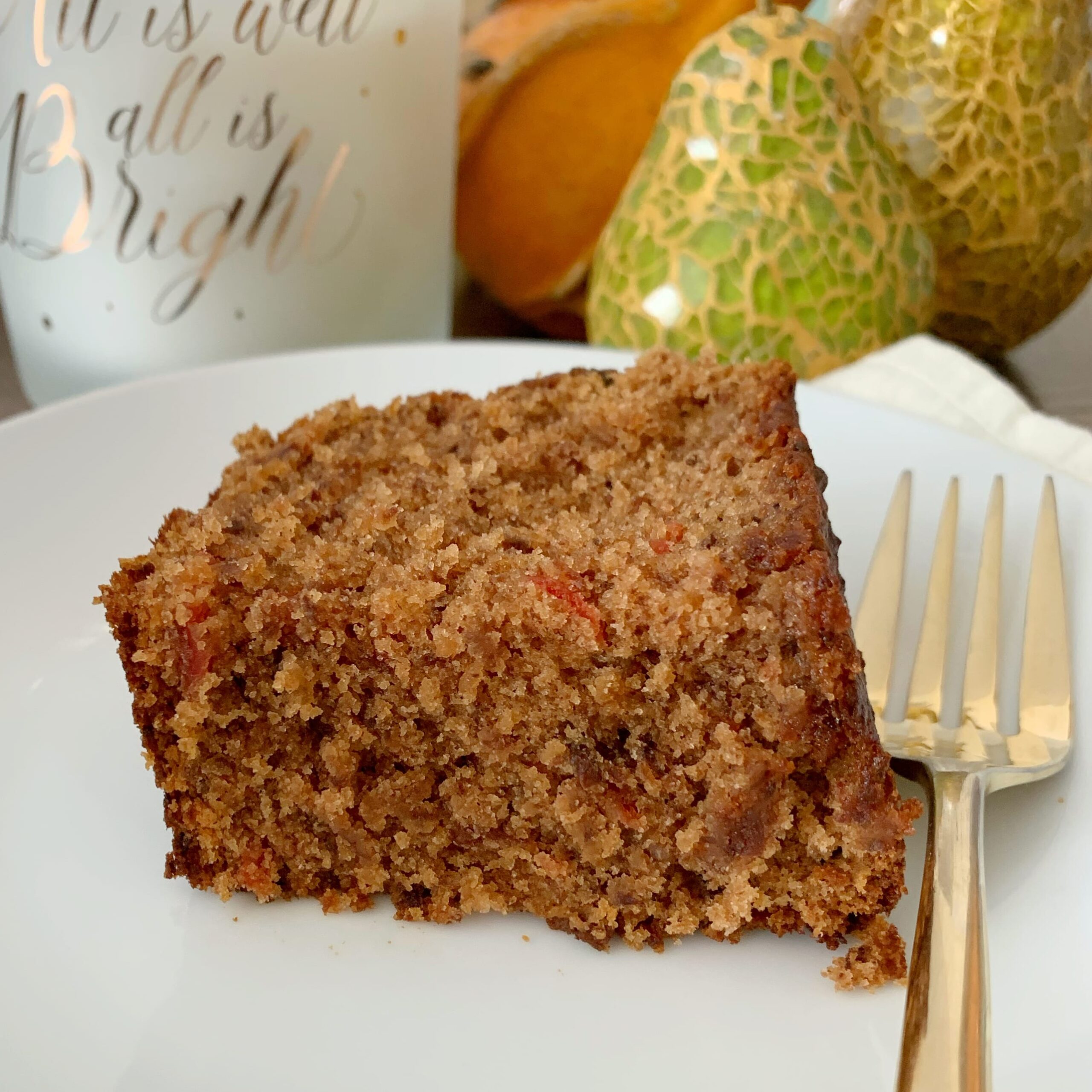 Guyanese Fruit Cake
Fruit cake has a bad reputation. When most people hear fruit cake they think of a cake with chunky pieces of dried fruit and a sticky exterior (click here to see what I mean). But this recipe is not the boxed variety you find in American supermarkets during the holiday season.
In Guyana, I grew up eating a light, fluffy cake with tasty bits of macerated fruits. This is the cake we call fruit cake in Guyana. For this variation, I poured orange liqueur over mine when it was done baking and it was even more yummy! The results were a moist, boozy fruit cake with all the flavors of the holidays and none of the chunky fruits everyone hates.
Why You'll Love This Guyanese Fruit Cake Recipe
Amazing Texture: this cake is light, airy, and moist, with a tender crumb. It's not dry or dense like typical fruit cake.
Delicious Flavor: Between the warm spices, the rum-soaked fruits, and the candied mixed peel, this mouthwatering dessert is sweet, fruity, and zesty.
Easy to Prepare: Learn how to prepare rum or wine soaked fruit and it takes less than an hour to bake the actual cake.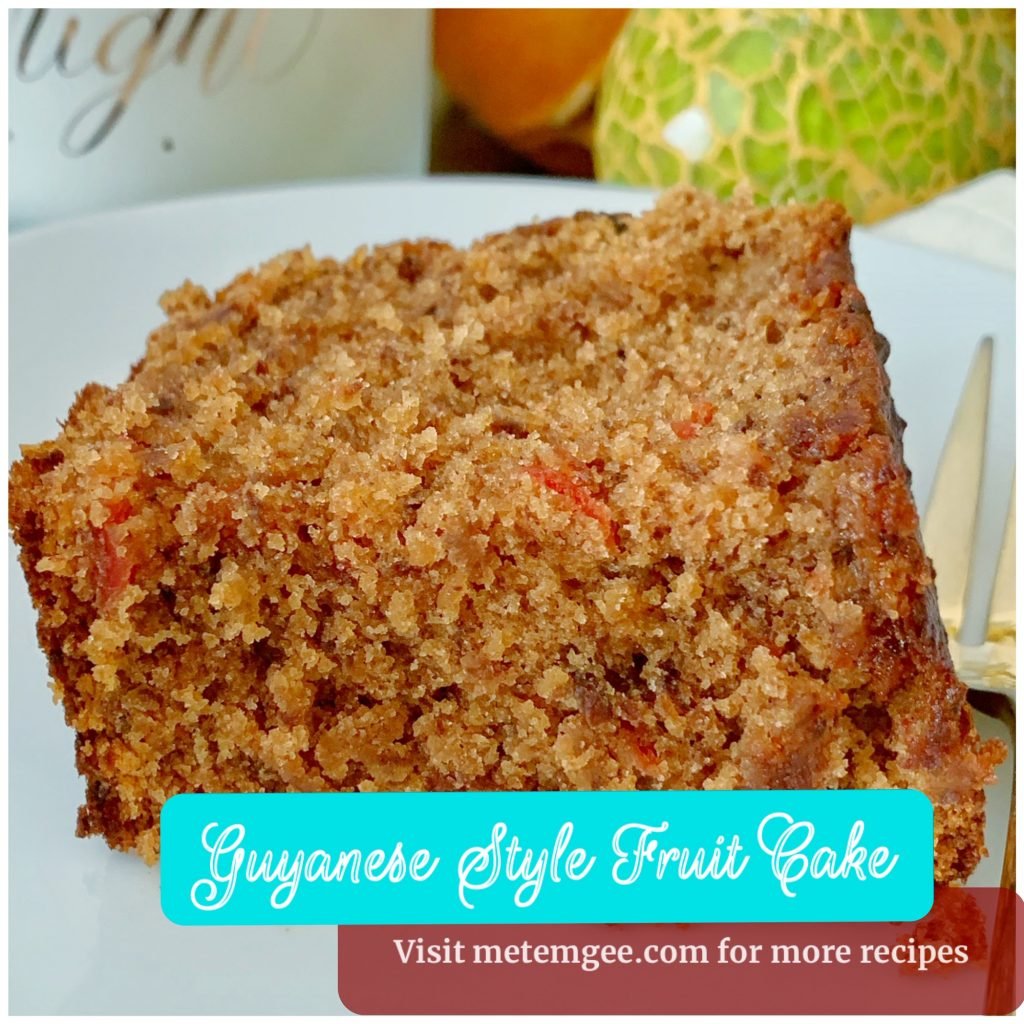 Fruit Cake Ingredients
This Guyanese dessert is made with a bunch of pantry staples. You probably won't need to make a grocery run!
Butter: Use room temperature butter so the sugar crystals will easily dissolve.
Sugar: This is mixed with the butter, for a sweet creamy base.
Eggs: This holds everything together.
Flour: This gives the cake structure.
Soaked fruits: After the fruit is soaked, blend it into a paste for concentrated flavor and moisture.
Maraschino cherries & Candied mixed peel: I blend both into a paste with the soaked fruits because I love the taste of that combination in Guyanese style fruit cake. It takes me right back to my childhood.
Baking powder: This is essential for a light, airy texture.
Spices: I use a bunch of warm spices including ground clove, ground cinnamon, ground nutmeg, and ground ginger.
Salt: Without a bit of salt, the cake would taste flat.
Vanilla essence and Almond essence: This adds a sweet, dessert-like taste.
Dark rum: This adds depth of flavor.
Orange liqueur: You can also substitute this for one tablespoon of orange zest. It adds a rich citrus flavor.
See recipe card for quantities.
How to Make Fruit Cake
Soaking Fruit
If you are making Guyanese style fruit cake and want to make fruits for this cake separately, you can try the method below for making fruits. However, if you already have fruits that you soaked for black cake you can use some fruits from that.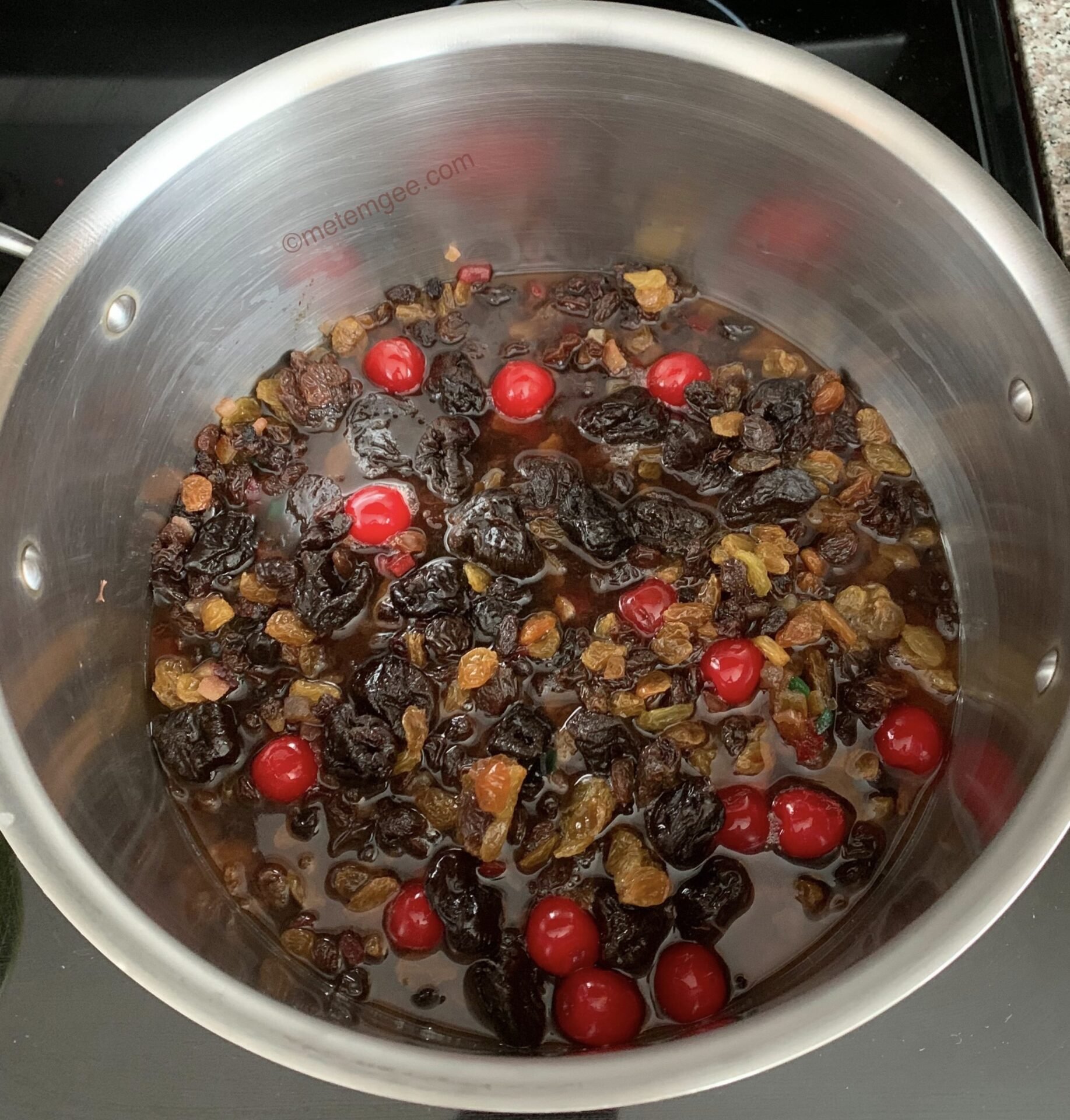 To make the fruits for my fruit cake I typically cook a combination of raisins, currants, prunes, maraschino (cocktail) cherries, and mixed peel in 4 cups of red wine for about 30 minutes on medium heat. My house smells like a wine bar for quite a few hours after I am done cooking the fruits.
Cooking the fruits in wine helps to soften the dried fruits, which makes it easy for blending. After 30 minutes I remove the fruits from the heat, cover the pot and let the fruits sit in the wine overnight.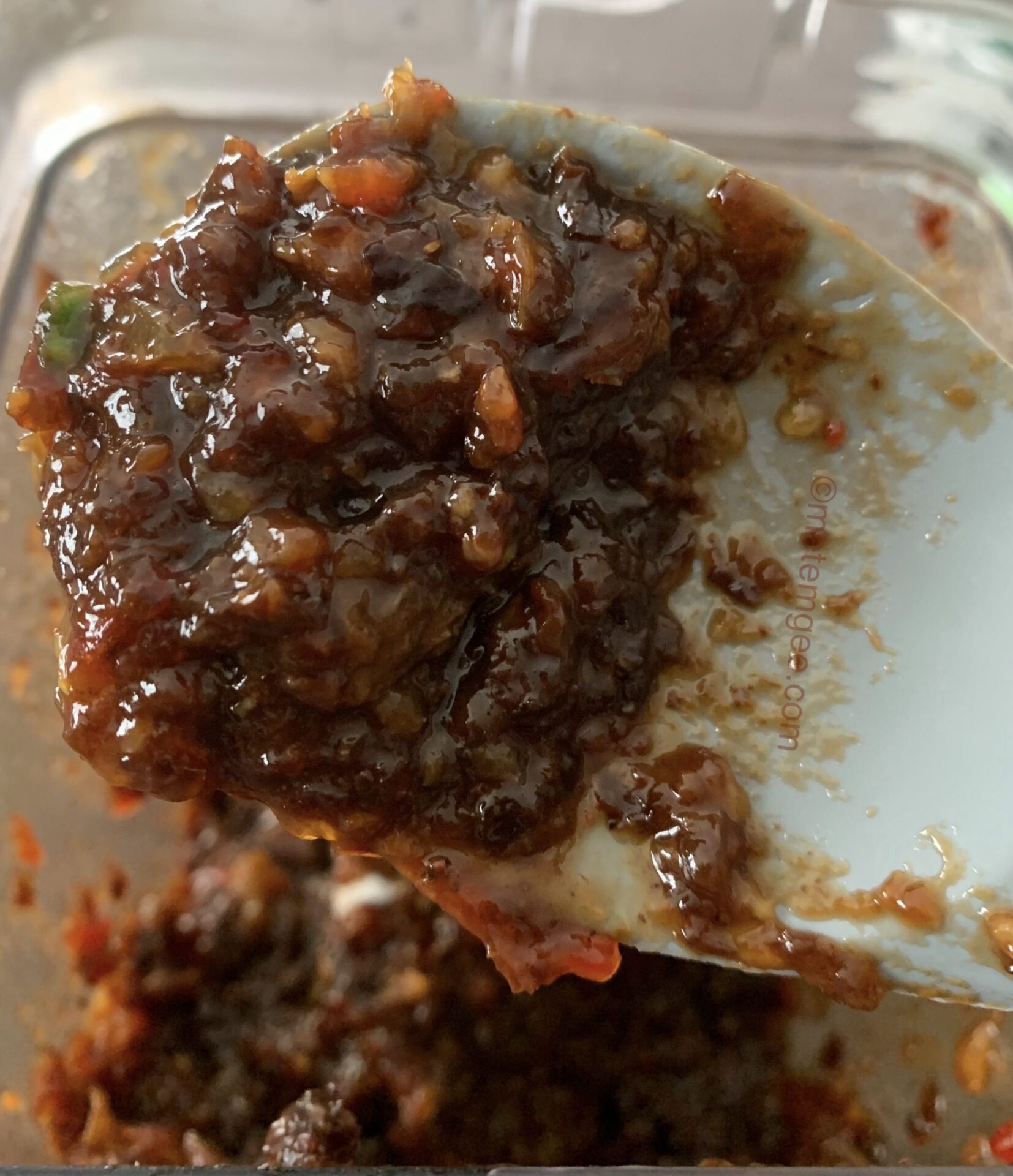 The next day, I dump all of it, the wine and the soaked fruits into the blender and blend it to a smooth but slightly chunky paste as shown above. Then I pour the fruits paste into a mason jar and let it sit for a few weeks.
I recommend at least three days of soaking. Alternatively, if you already have fruits soaking that you blended for black cake, all you need is 1 1/2 cups of that fruit and 1/2 cup of blended/processed maraschino cherries and candied peel for your Guyanese Style fruit cake (unless you added cherries and candied peel to your soaked fruits already, in that case just 2 cups of fruits will do).
Cream the Butter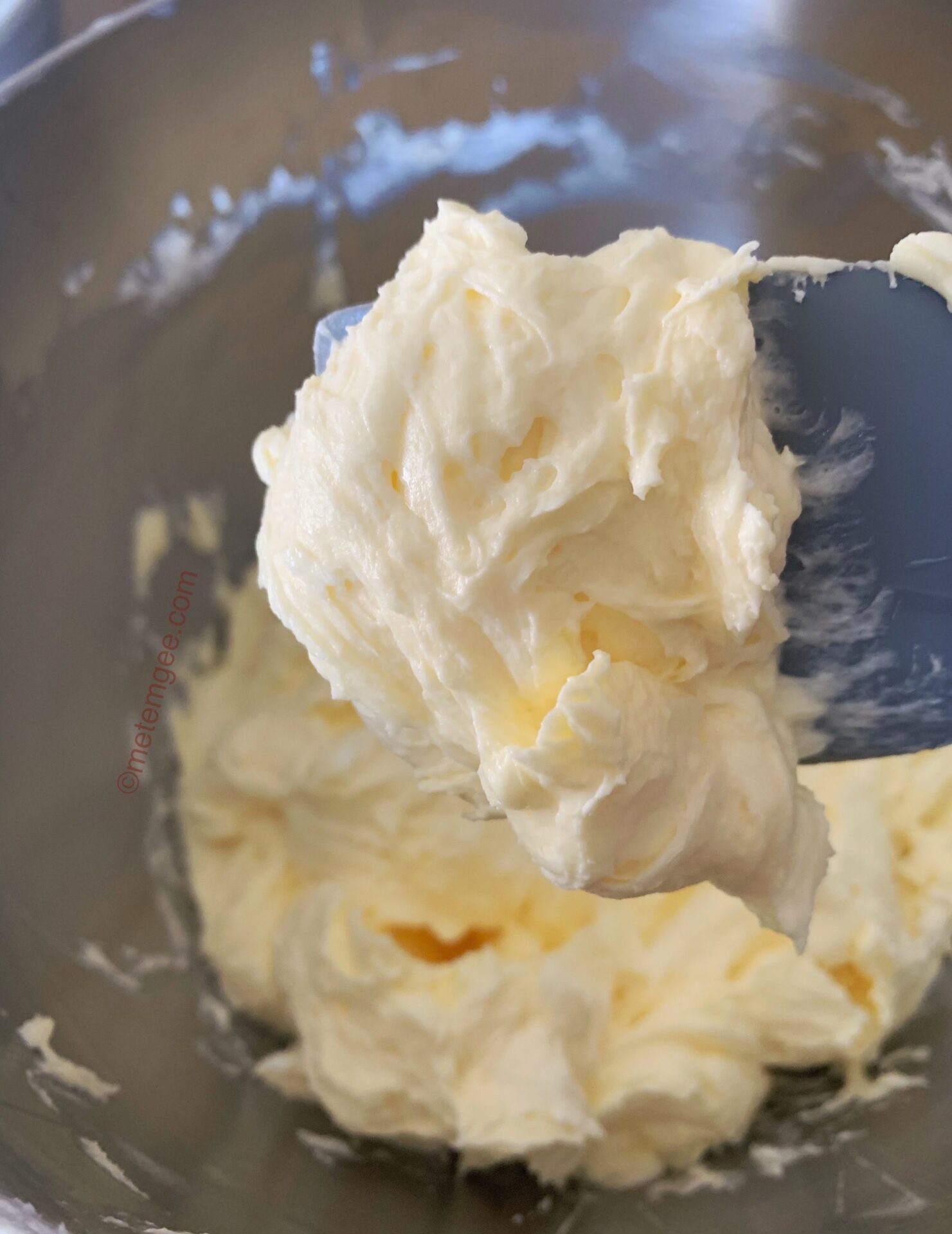 As with all of my cake recipes, I start with room temperature butter. Look at how smooth and fluffy this butter, sugar, and egg mixture is! I let the butter and sugar cream on a low speed until most of the sugar crystals dissolved and then added the eggs one at a time.
Adding the fruits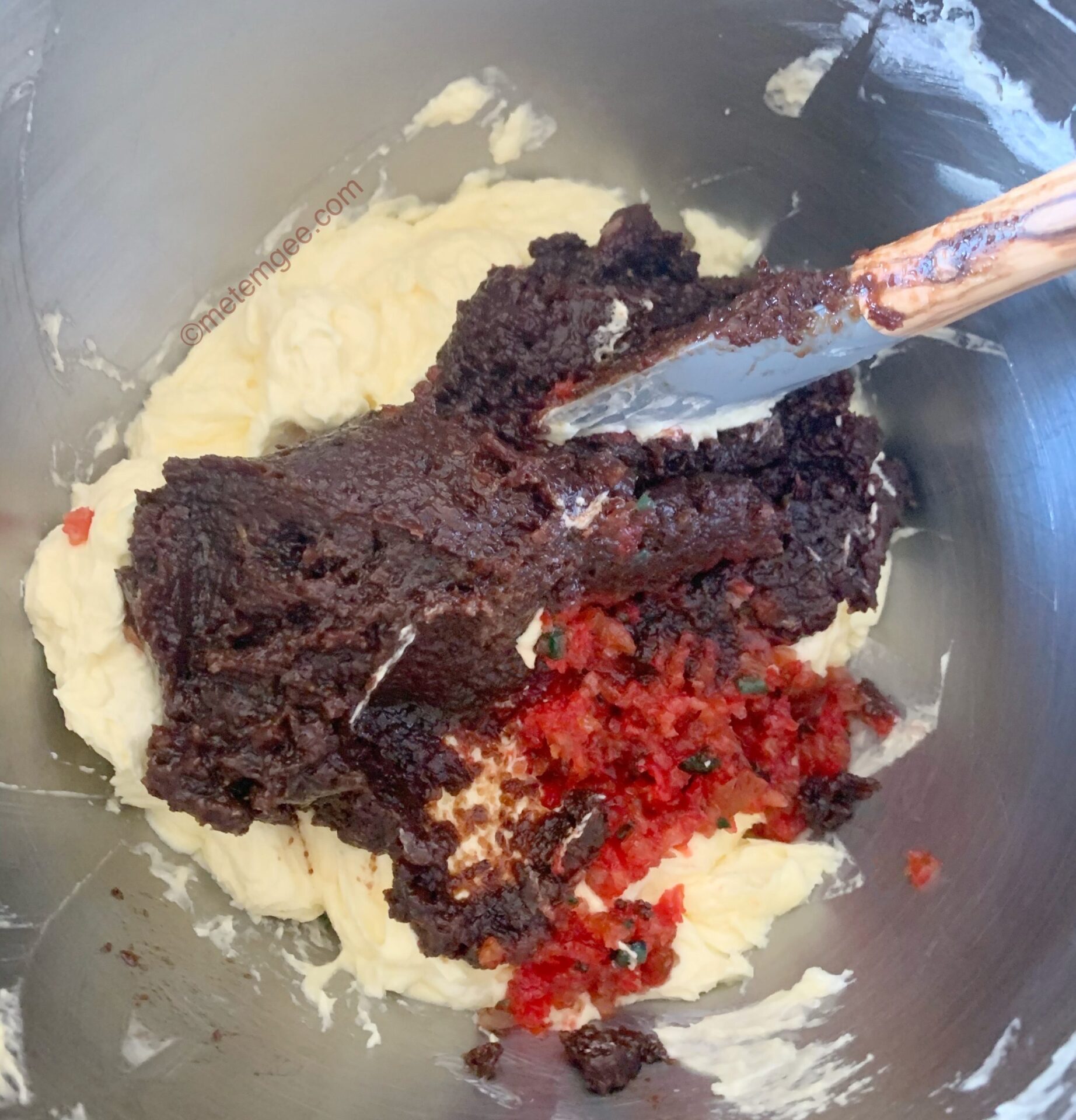 For this fruit cake, I used some of the fruits I soaked for my black cake (because I was making black cake at the same time). I added candied mix peel and maraschino cherries to the mixed fruits.
Adding Flavor to the batter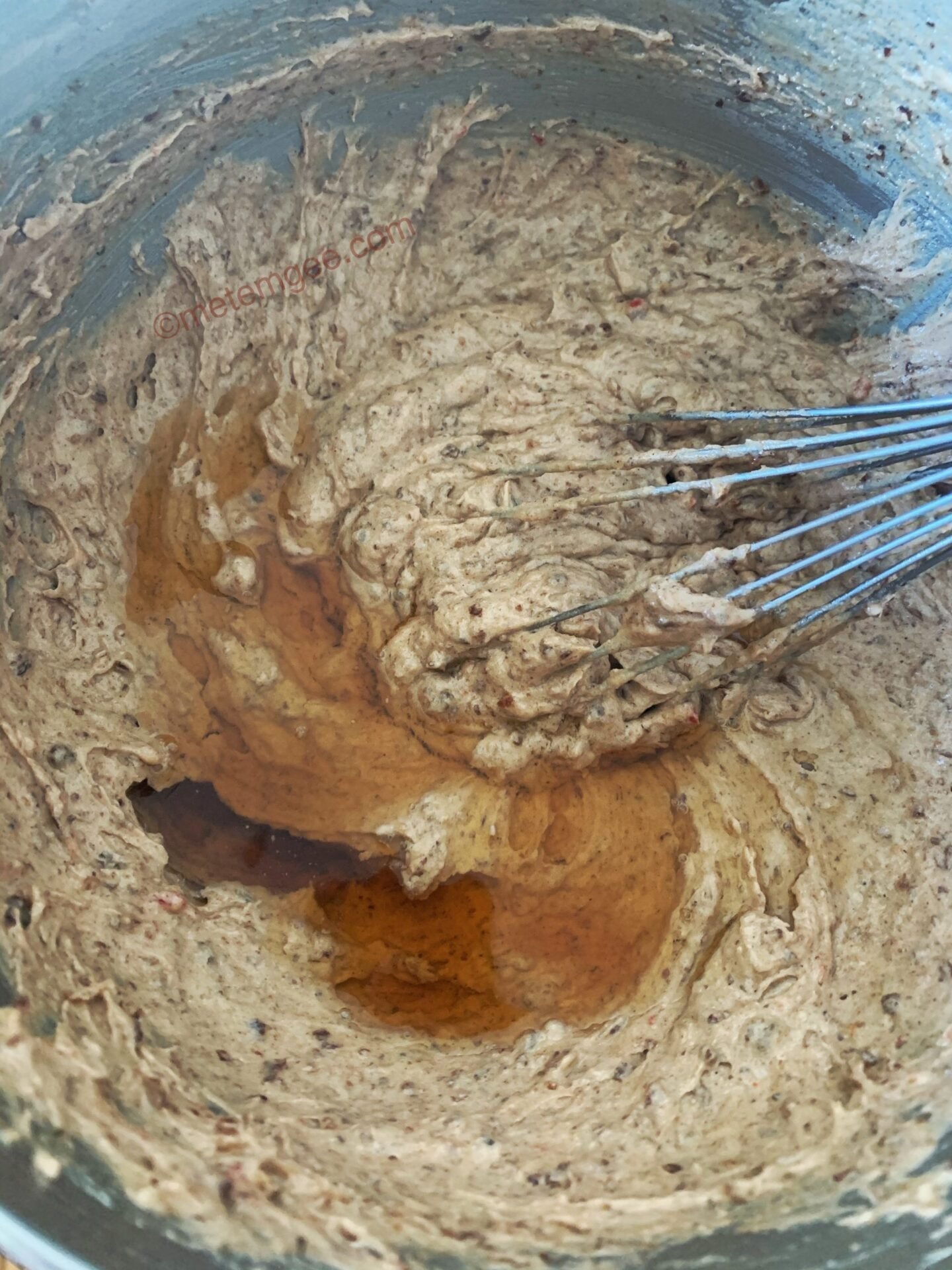 This is a spiced cake, so I added a combination of essence and ground spices and topped it off with some rum and orange liqueur. I had a bottle of orange liqueur that has been sitting in the back of my liquor cabinet for about 4 years. A few days ago I was baking a sweet bread and realized I didn't have oranges for the orange zest that the bread called for and used this orange liqueur instead. It gave the bread such a rich flavor that I decided to add it to my fruit cake and I am glad I did.
Mixing the Batter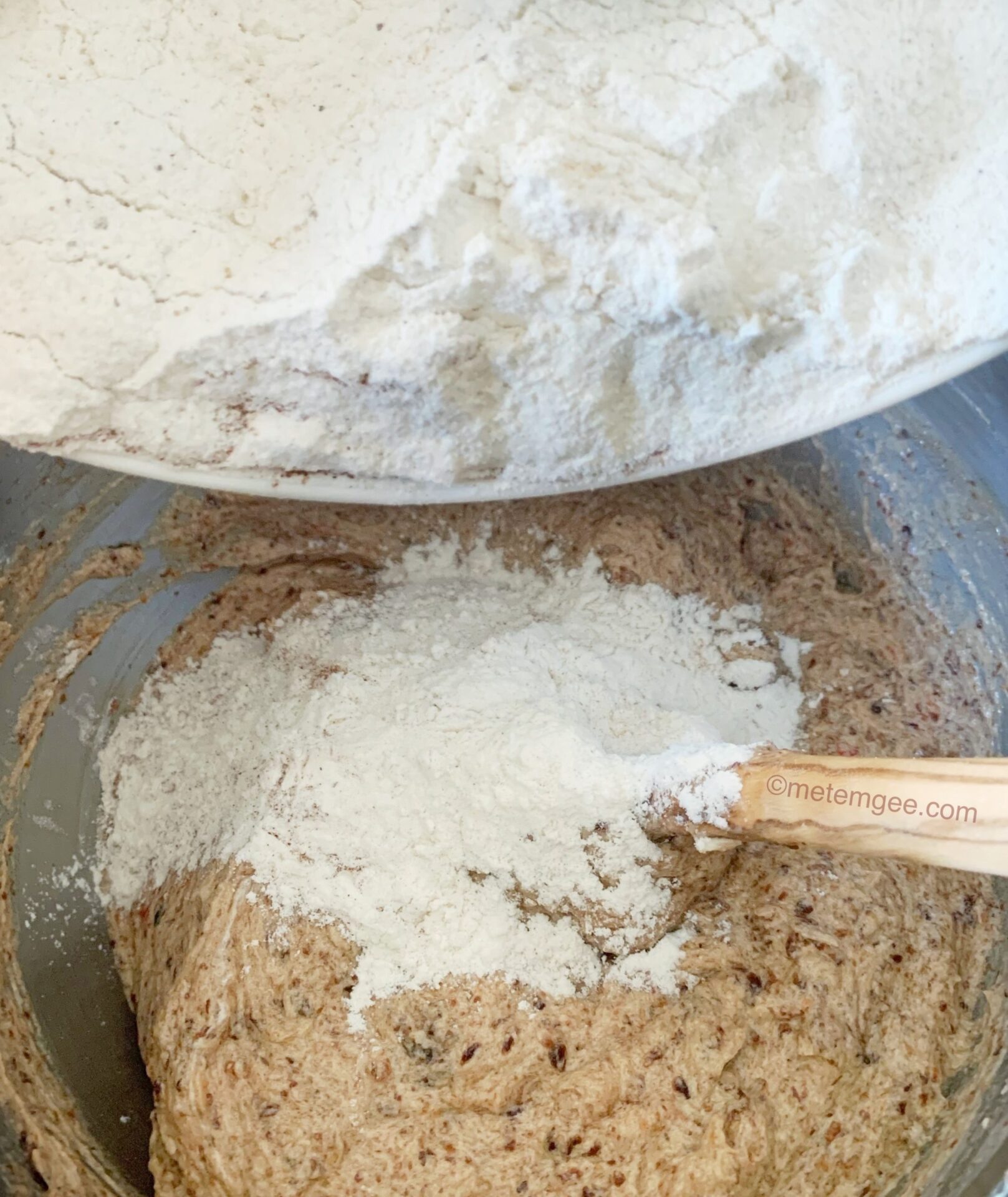 Before adding the dry ingredients I sieved everything together and mixed it with a whisk. I also used a whisk to beat the batter for a few minutes before pouring it into a greased baking tin. I could have just used my stand or hand mixer instead for this step, but I didn't think of it at the time.
Baking the fruit cake
Feel free to add your batter to an 8-inch round tin, a square, or a loaf tin. For the loaf tin, I give it a good spray with my cooking spray then I line it with a sheet of parchment paper. I really love the precut sheets, it makes life a little easier.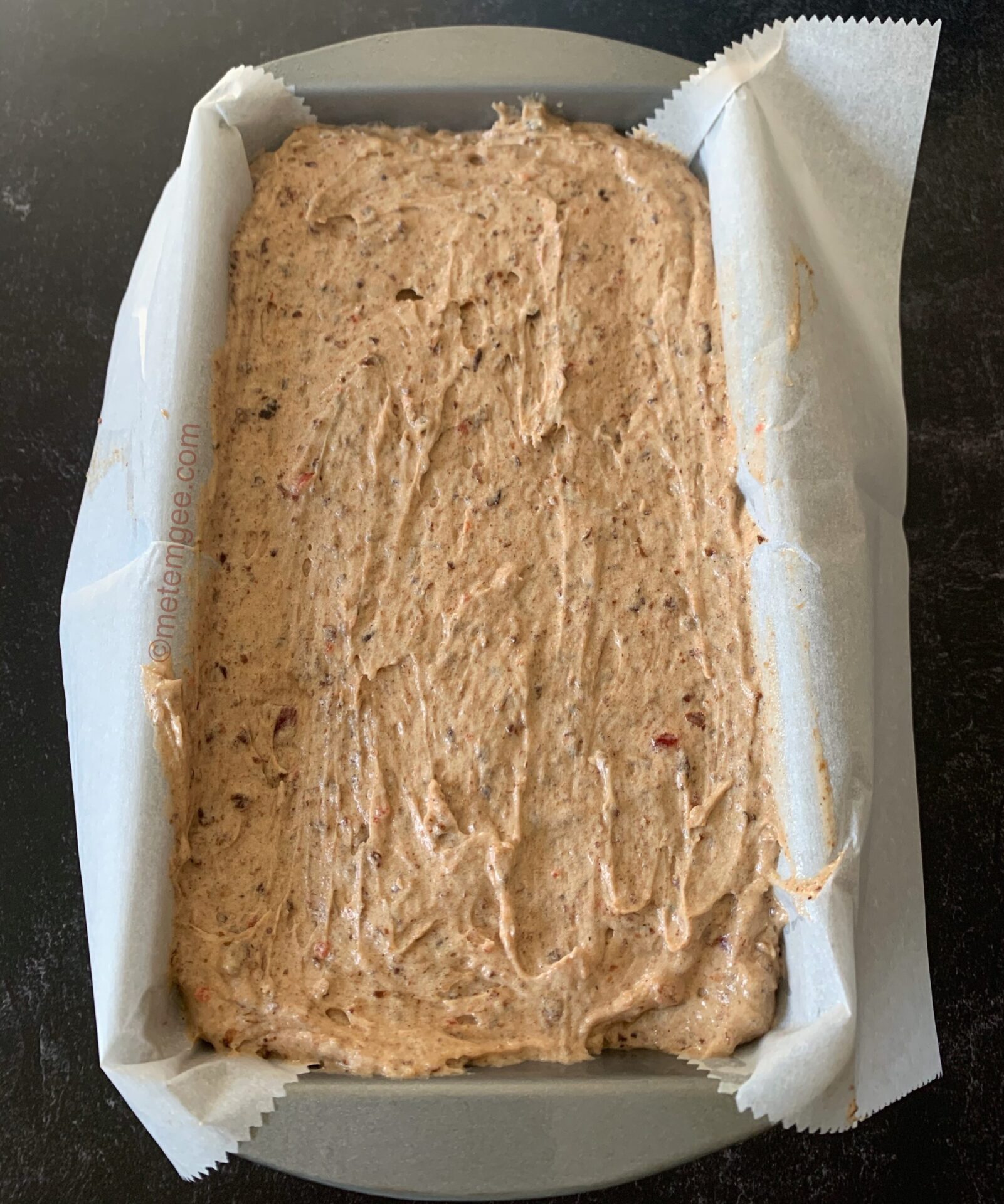 Be careful not to overcrowd the baking pan with batter. Leave enough room to allow the fruit cake to rise a little. Honestly, I could have left a little more space in this tin but it turned out okay.
Adding Orange Liqueur to the Fruit Cake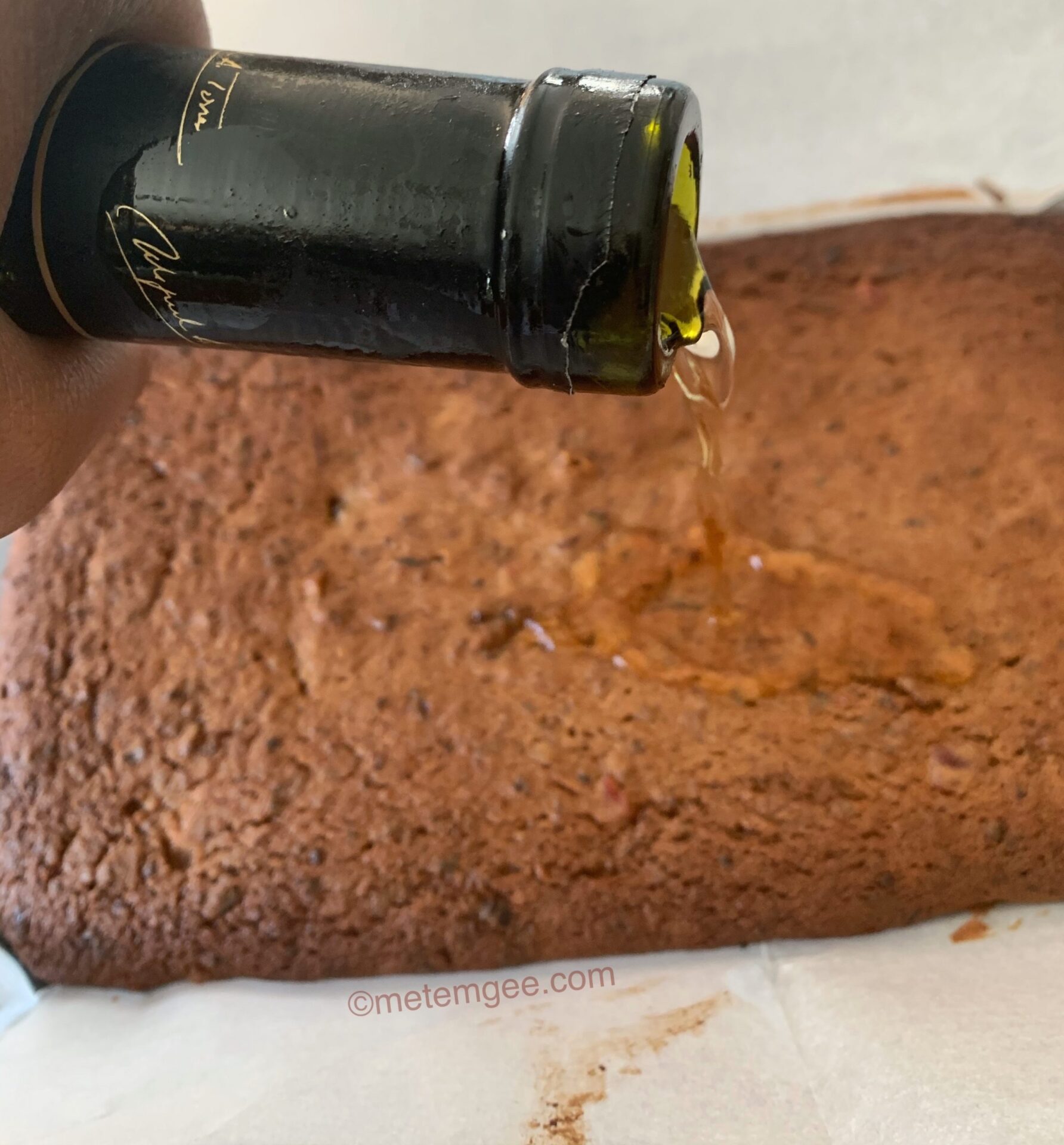 This step is totally optional and unnecessary. You don't need to go out and buy orange liqueur for this Guyanese fruit cake but if you have some on hand and want to do it, do it! It will change fruit cake for you forever, in a good way.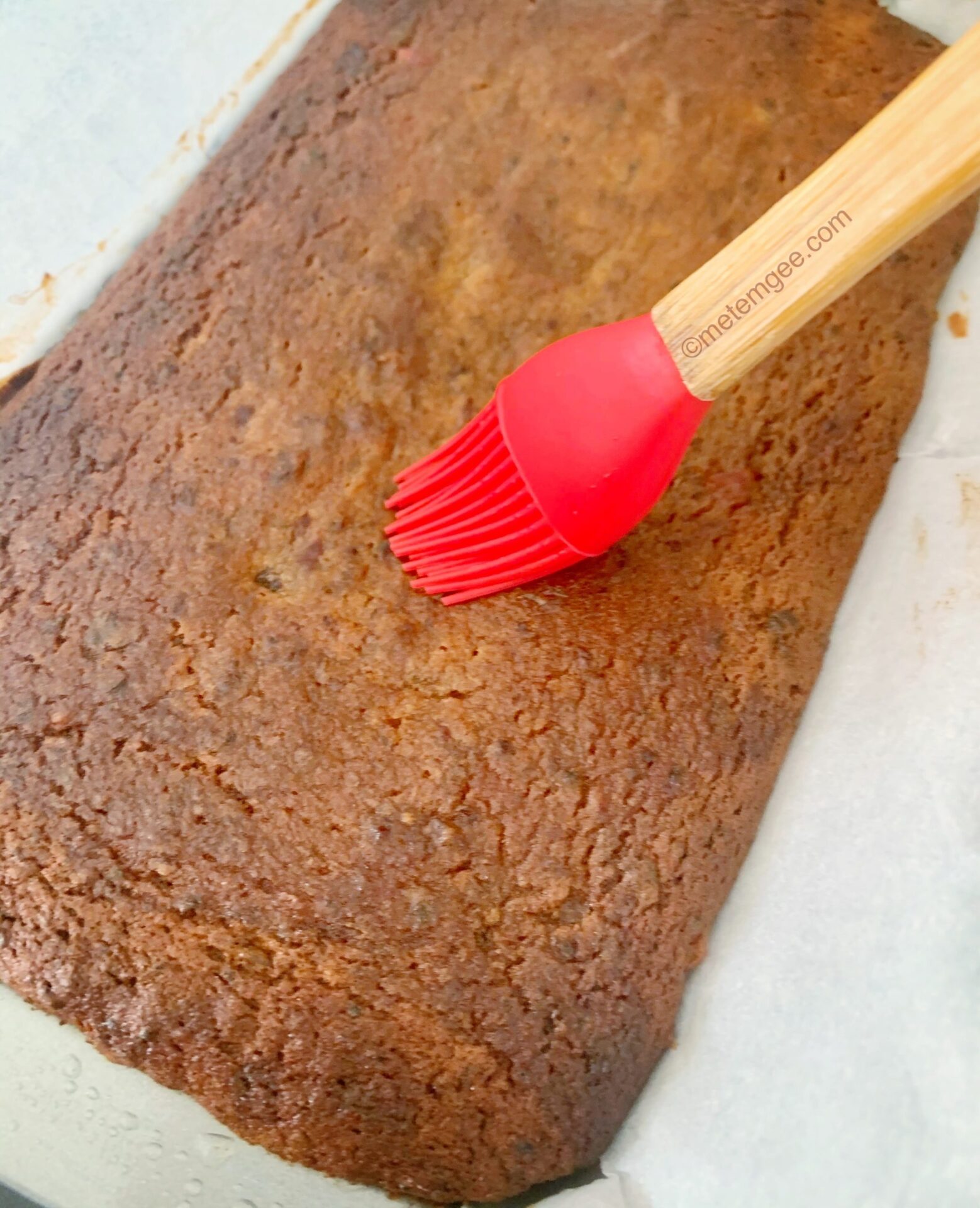 As a final step, I poured some orange liqueur on the cake when it was piping hot out of the oven (I may have overdone it, but who's complaining) and then brushed it across the top. Then I let the fruit cake cool completely before removing it from the loaf tin and slicing it up. This is definitely an adult fruit cake!
See below for the light airy texture. This is not a pudding like cake like black cake and truly is a pound cake meets black cake and had a baby kind of cake. Hope you enjoy this recipe as I had so much fun making it.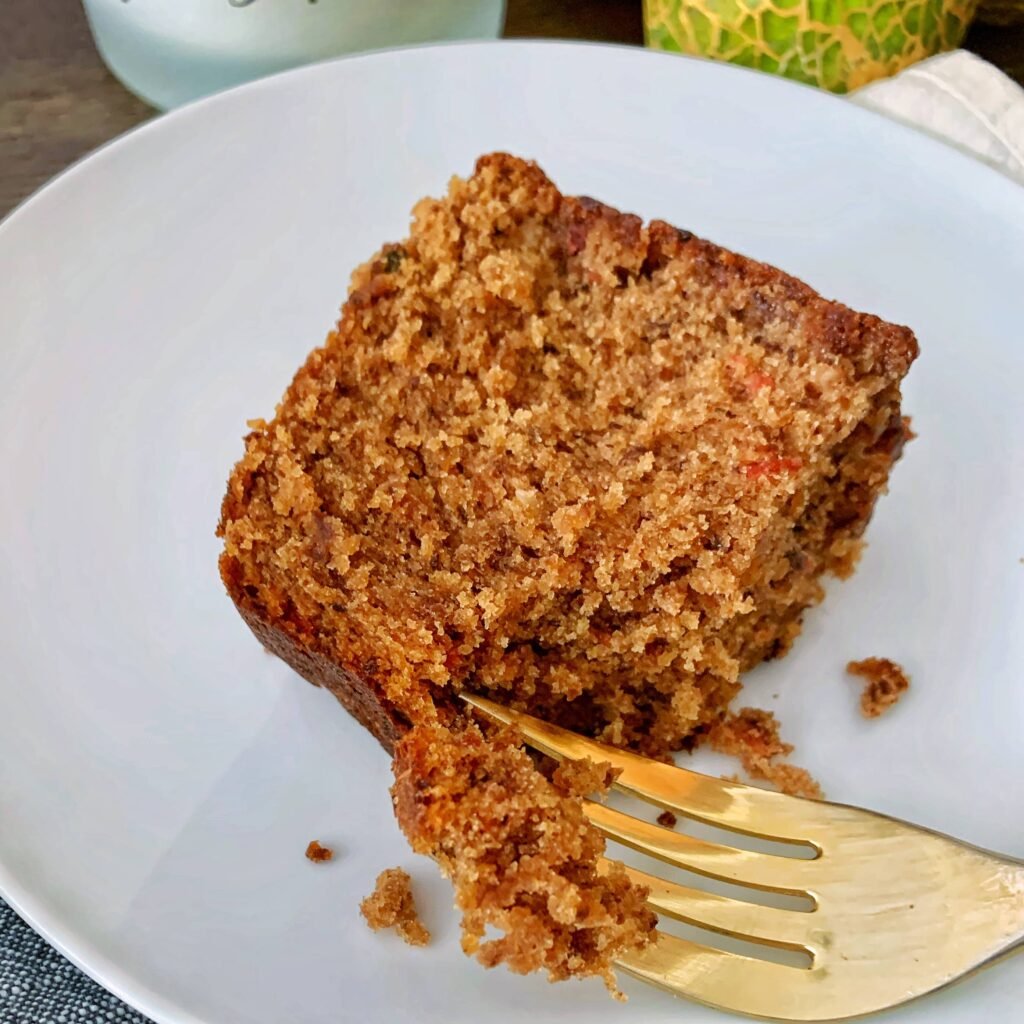 Storage
Although you can eat this cake immediately, it tastes better with time. You can layer the cake with cheesecloth and store it in a dry, cool place for up to 6 weeks, occasionally adding more alcohol to preserve it. You can also wrap it tightly with Saran wrap, then store it in an airtight container, and keep it in the fridge for up to 3 months.
Tips for the Best Fruit Cake
Plan ahead. This recipe isn't something you can prepare on a whim. You may want to make this a month or two before you plan to serve.
The longer the fruit soaks, the better! The flavor just gets stronger and better. The fruit blend needs at least three days to soak but it can sit for months to years!
When making the cake batter, add eggs one at a time. The ingredients will absorb better if you slowly add them.
Gradually add the dry ingredients to your wet ingredients. This method offers you a bit more control in mixing the fruit cake batter together and ensures that there are no clumps in the finished batter.
When adding the cake batter to the pan, leave some excess parchment paper overlapping the loaf tin. This makes it easy to lift the loaf out of the tin when you are done baking.
The alcohol is optional and not at all necessary. If you don't want to add it, simply omit.
You don't need to buy a new bottle of alcohol for this recipe. Whatever you have on hand works. You can use rum, red wine, brandy, whiskey, or whatever variety you like!
Frequently Asked Questions
What is the origin of fruit cake?
The first form of fruit cake was developed by the Romans during the 13th century. Variations eventually spread to England, America, and the Carribean.
How alcoholic is fruit cake?
That depends on how heavy hand your hand is! But seriously, if the alcoholic content of your homemade fruit cake concerns you, skip it entirely or measure it out. Mass produced fruit cakes do not contain alcohol.
What is the difference between black cake and fruit cake?
Black cake has a more pudding like consistency. Although fruit cake is moist, the texture more closely resembles traditional pound cake.

Guyanese Style Fruit Cake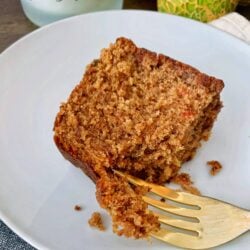 ---
Guyanese style fruit cake is far from your traditional Christmas fruit cake; it's moist, boozy, and rich with the flavor of rum soaked fruits! It's a delicious mash-up between pound cake (known as sponge cake in Guyana) and black cake. Enjoy this as an indulgent adult dessert or skip the alcohol for a family-friendly treat during the holidays.
---
Ingredients
1

cup

of room temperature butter

1

cup

of sugar

5

eggs

2

cups

of flour

1 1/2

cups

of soaked fruits

blended to a paste

1/4

cup

of maraschino cherries

blended to a paste

1/4

cup

of candied mixed peel

blended to a paste

2

teaspoons

of baking powder

1/2

teaspoon

ground clove

1/2

teaspoon

ground cinnamon

1/2

teaspoon

ground nutmeg

1/2

teaspoon

ground ginger

1/4

teaspoon

of salt

1

teaspoon

vanilla essence

3/4

teaspoon

almond essence

1/4

cup

of dark rum

1

tablespoon

of orange liqueur

sub for a tablespoon of orange zest
Instructions
Cream butter and sugar together until all of the sugar crystals have dissolved.

Add eggs to the creamed butter and sugar one at a time, mixing well after adding each egg.

Add 2 cups of fruits to the creamed butter, sugar, eggs mixture.

Add vanilla and almond essence, rum and orange liqueur (or orange zest) to the wet ingredient and mix well.

For the dry ingredients, sieve together the flour, baking powder, ground clove, ground cinnamon, ground nutmeg, ground ginger, salt.

Next add the sieved dry ingredients to the wet ingredients a little at a time. Mix together until a smooth batter forms.

Grease two loaf pans and line with parchment paper.

Divide batter into two and fill loaf pans, leaving enough room in the pans for the cake to rise.

Bake at 300°F for 45 minutes to 1 hour, checking the cake with a toothpick at the 45 minutes mark. If the toothpick comes out clean, remove from the oven, if the toothpick has batter continue to bake, rechecking in 10 minute increments.

Remove from the oven and allow to cool completed.

Alternatively you can brush the fruit cake with 1 tablespoon of orange liqueur, immediately after removing the cake from the oven and then allow the cake to cool completely before serving. This step is completely optional.
Notes
If you make soaked fruits specifically for this recipe please allow your fruits to soak for a minimum of 3 days for the best flavor
Nutrition
Calories:
351
kcal
Carbohydrates:
41
g
Protein:
5
g
Fat:
17
g
Saturated Fat:
10
g
Polyunsaturated Fat:
1
g
Monounsaturated Fat:
5
g
Trans Fat:
1
g
Cholesterol:
109
mg
Sodium:
272
mg
Potassium:
93
mg
Fiber:
1
g
Sugar:
24
g
Vitamin A:
576
IU
Vitamin C:
0.1
mg
Calcium:
70
mg
Iron:
2
mg
---
---
The information listed in the recipe card is an estimate provided by an online nutrition tool. The tool evaluates ingredient names and amounts then makes calculations based on the number of servings listed for the recipe. It is provided as a general guideline and not as a precise calculation. For precise nutrition information please feel free to add the ingredients to your preferred nutrition calculator or consult a doctor or licensed nutritionist.