Guyanese style vegetable chow mein is loaded with fresh veggies for a nutritious vegetarian one-pan meal. This quick and easy recipe takes just 30 minutes to prepare.
Guyanese Style Veggie Chow Mein
Sometimes all you need is a really good, quick, and easy one pot meal after a week of cooking. After a busy holiday weekend, the last thing I want to do is cook an elaborate meal, so I pulled together this Veggie Chowmein dish a few days after Thanksgiving. It is perfect on its own as a quick meatless dish or as a side dish for my roasted chicken.
Why You'll Love This Vegetable Chow Mein Recipe
Quick & Easy: This dish is ready in 30 minutes or less.
Versatile: Make chow mein with a variety of veggies. This recipe is not precise so you can swap and omit ingredients as you see fit.
Nutritious: This dish is rich in vegetables, providing essential vitamins, minerals, and fiber.
What is Veggie Chow Mein?
This is a vegetarian Chinese dish made with stir-fried noodles and an assortment of vegetables. It's usally served with a savory sauce that may include ingredients like soy sauce, ginger, garlic, and a vegetarian oyster sauce.
Veggie Chow Mein vs Lo Mein
Although both dishes are made with egg noodles, they are prepared differently. Chow mein translates to "fried noodles" in Cantonese.
In traditional chow mein recipes, the noodles are fried until crispy. Whereas lo mein noodles are boiled until soft.
Ingredients for Vegetable Chow Mein
Wondering what veggies go in chow mein? The answer is, whatever you want! This recipe is a great way to use up leftover produce in the fridge before it goes bad.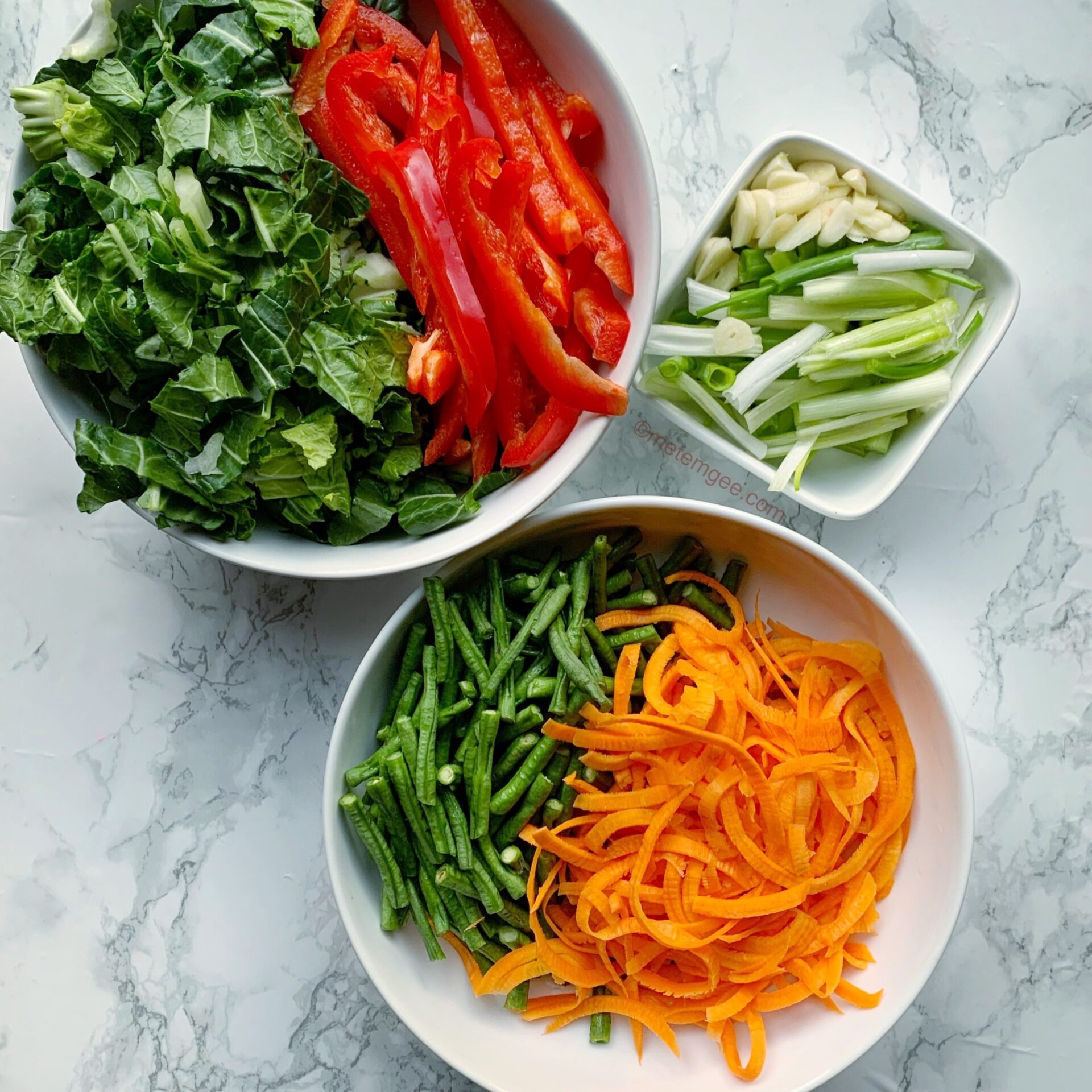 Chow mein noodles: If you can't find Guyanese chowmein noodles where you live, I've had a lot of luck finding similar noodles at Asian markets and sometimes even in the Asian section at Walmart. But if all of those options fail they are also available on Amazon!
Fresh Vegetables: You can use any combination of veggies in this dish but I like to have bok (pok) choy, red bell peppers, Chinese long beans (bora), carrots, and green onions.
Garlic cloves: Thinly sliced.
Seasoning: Season with salt, cayenne pepper, ginger powder (or freshly grated ginger), and Chinese 5 spice.
Oil: You can use vegetable oil as neutral oil or sesame oil if you prefer a nutty, toasted flavor.
See recipe card for quantities.
Best Pan for Vegetable Chow Mein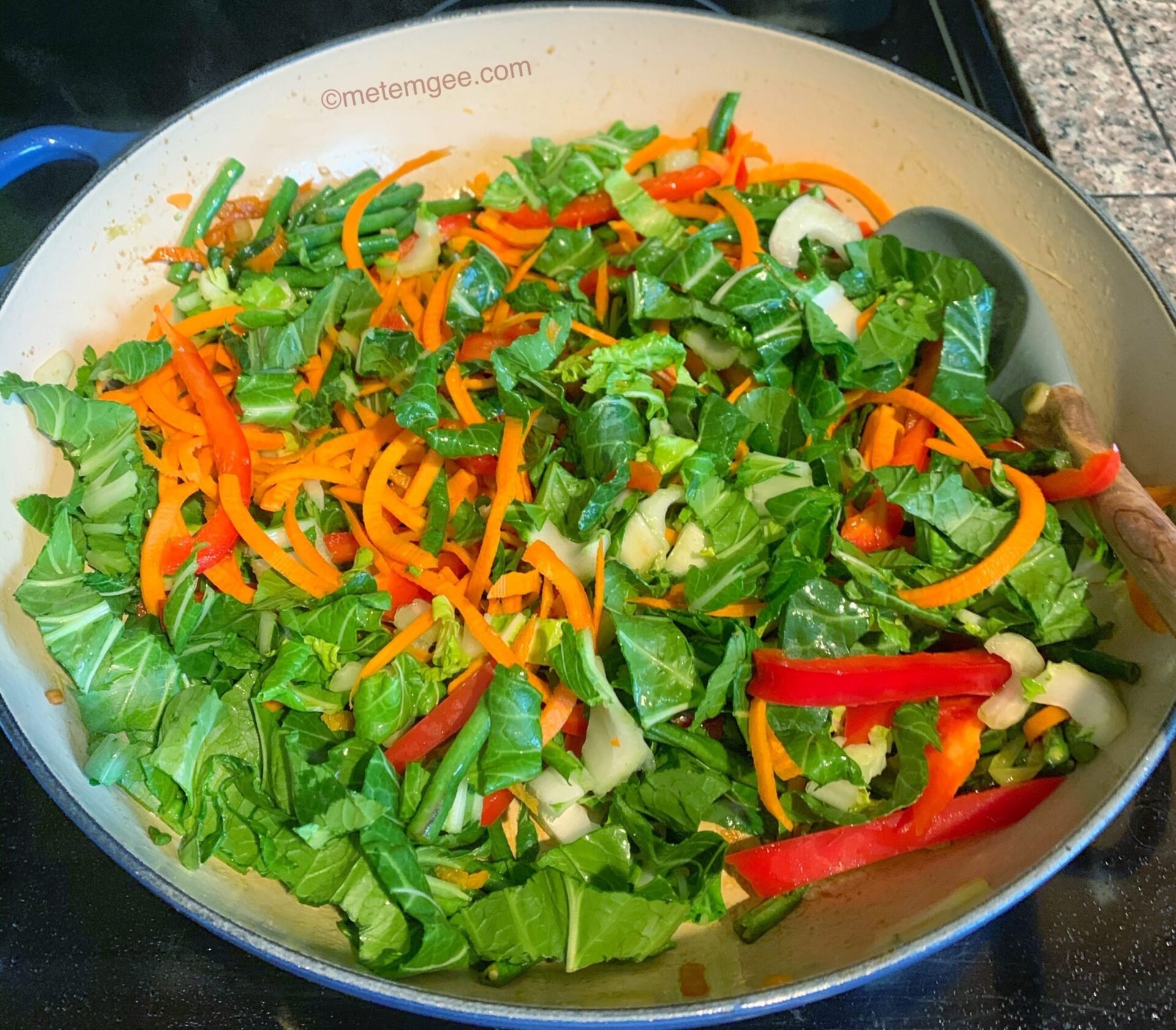 Often I think about how complicated we make cooking, when some of the sweetest foods I have ever eaten were cooked on a fireside with a basic kaharee or pot. The food was great because a kaharee offers a large surface area that is in direct contact with the heat source.
The same happens with a wok. It is why stir fry food is so yummy. For this Veggie Chowmein dish, it is best to use a large skillet, wok or kaharee.
How to Make Vegetable Chow Mein
Cooking the Veggies
When making this dish I sauté all of the veggies in hot oil until they are cooked but still crunchy. I always cook my bora or string beans first because it takes the longest to cook. Then I add the peppers. If I julienne the carrots I add those in with the peppers but this time I spiralized my carrots so I added those in at the end with the bok choy! It takes about 10 minutes to stir fry the veggies. Very quick and easy.
Putting it all together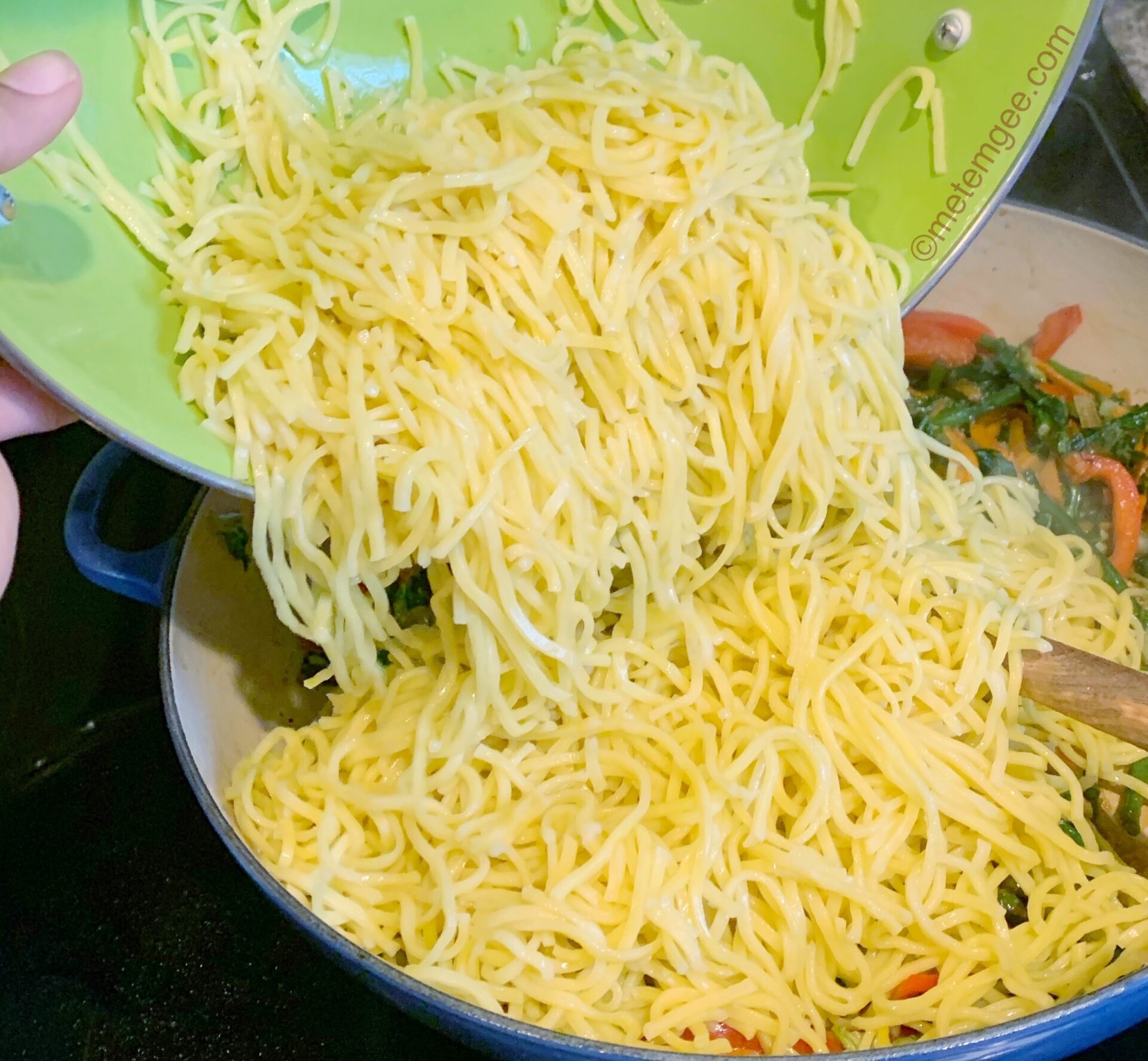 For the freshest noodles, cook your noodles while you are sautéing your veggies. Boil the water for the noodles first. Prep the veggies. Then add your noodles to the boiling water. While the noodles are cooking, sauté your veggies.
The noodles will be ready right when you need to add them to your stir fried veggies. Once the noodles are cooked, drain them then immediately add them to the veggies. Sauté the veggie and noodles together for a few minutes and the veggie chowmein is ready.
You can use this dish as a base for other types of chowmein as well or check out my Guyanese Style Chicken Chowmein Recipe!
Storage
Once the chow mein has cooled, store leftovers in an airtight container in the fridge for up to 4 days.
Tips for the Best Vegetable Chow Mein
Have all of your ingredients prepared before heating the pan. This ensures a smoother cooking process and no delays when adding ingredients to the pan.
Consider the cooking time of all of the veggies. Some ingredients may need longer to cook than others.
Wait until the pan is hot before adding veggies. Always prepare stir fry over high heat for the best flavor and texture.
If using a wok, constantly stir the contents of the pan so they don't burn.
Recipe Variations & Substitutions
Veggies: Often I add baby corn and substitute Chinese long beans (bora) for green/string beans. Sometimes I just use two cups of frozen mixed vegetables or whatever I have on hand at the time and every time it is delicious.
Noodles: Can't find chow mein noodles? Try spaghetti or yakisoba noodles as a substitute.
Frequently Asked Questions
What vegetables are good in chow mein?
A variety of vegetables work well in chow mein, including cabbage, carrots, bell peppers, mushrooms, broccoli, snow peas, bean sprouts, and green onions. These ingredients contribute to a colorful, flavorful, and nutrient-rich dish.
Is veggie chow mein healthy?
Enjoy vegetable chow mein as a wholesome meal. It's a healthy option because the main ingredients are fresh vegetables. Choosing whole grain or alternative noodles, using a modest amount of oil, and being mindful of sauce ingredients contribute to a nutritious dish.
What are the different types of chow mein?
In the U.S. the two main types of chow mein are steamed chow mein and crispy chow mein. The steamed variation is softer with rounded noodles while the crispy version uses flat noodles.

Vegetable Chow Mein
---
Guyanese style vegetable chow mein is loaded with fresh veggies for a nutritious vegetarian one-pan meal. This quick and easy recipe takes just 30 minutes to prepare.
---
Equipment
Large skillet, wok or kaharee
Ingredients
1

packet of chowmein noodles

12 oz or more

1

cup

of Chinese long beans cut into 1 inch pieces

1

cup

of julienne carrots

2

bundles of bok choy cut into thin strips

1

large red bell pepper julienned

3

heads of green onions cut into 1 inch pieces

3

garlic cloves thinly sliced

2

teaspoons

of salt

a pinch of cayenne pepper

1/4

teaspoon

ginger powder or freshly grated ginger

1

teaspoon

of Chinese 5 spice

2

tablespoon

of oil for cooking
Instructions
Cook chowmein noodles according to instructions on packet, add 1 teaspoon of salt to the water used for cooking the chowmein

When the noodles soft but still a little firm, drain and set aside

Warm the oil on medium to high heat in a large sauté pan

Sauté the garlic and green onions until the garlic is cooked (about 2 minutes)

Add the Chinese long beans and continue to stir-fry for 3 to five minutes or until the long beans are cooked but still crunchy

Then, add the carrots and peppers and stir fry for another 2 minutes

Followed by the bok choy and stir fry for a minute stirring constantly to ensure even cooking

Next, add 1 teaspoon of salt, the cayenne pepper, ginger powder or freshly grated ginger and Chinese 5 spice to the veggies

Sauté for another minute or two then add the chowmein noodles to the veggies

Mix the cooked chowmein noodles together with the sautéed veggies and stir fry for an additional 2 to 3 minutes

Remove from heat and serve warm
Notes
You can sub Chinese long beans for string beans.
Chowmein noodles is also commonly called Lo Mein noodles in most mainstream supermarkets.
You can add other veggies that you like to this dish, mushrooms and baby corn are my favorite additions.
Nutrition
Calories:
320
kcal
Carbohydrates:
54
g
Protein:
14
g
Fat:
7
g
Saturated Fat:
0.5
g
Polyunsaturated Fat:
2
g
Monounsaturated Fat:
3
g
Trans Fat:
0.02
g
Sodium:
1350
mg
Potassium:
886
mg
Fiber:
7
g
Sugar:
6
g
Vitamin A:
16889
IU
Vitamin C:
157
mg
Calcium:
322
mg
Iron:
5
mg
---
---
The information listed in the recipe card is an estimate provided by an online nutrition tool. The tool evaluates ingredient names and amounts then makes calculations based on the number of servings listed for the recipe. It is provided as a general guideline and not as a precise calculation. For precise nutrition information please feel free to add the ingredients to your preferred nutrition calculator or consult a doctor or licensed nutritionist.