Warmer weather calls for cold drinks in the shade and this Mango Ice Tea does not disappoint. When mango season rolls around my local supermarkets are overflowing with delicious mangoes. And the sales are unbelievable. Mango is one of my favorite fruits and it is no surprise that it is now one of my children's favorite as well. Over the past few weeks we've had a mango at least once a day, cause a mango a day keeps the doctor away. That's how that saying goes, right? Ever had to share a mango with your siblings? Thank God we didn't have to do this growing up. In Guyana we had a mango tree that towered over our ranch style (scheme) house. To get to the mangoes, we climbed on the fence and then on the roof of the house. During mango season our trees were laden with fruits that dragged along the roof of our house. I can still remember fondly, the sound of mangoes rolling on our zinc roof.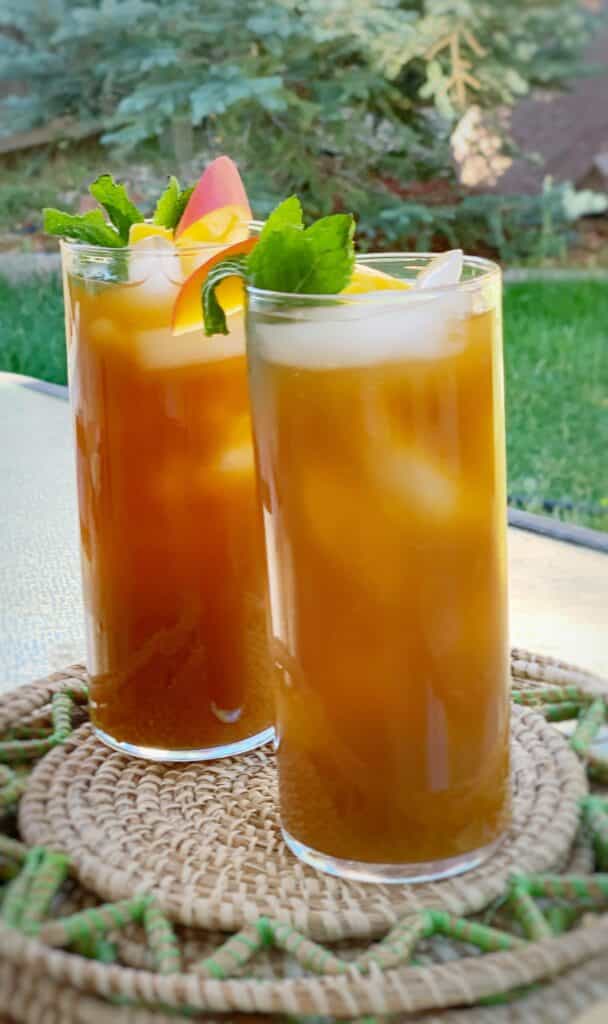 Making the Mango Iced tea in 3 Simple Steps
Step 1: Choosing the Best Mangoes
The best mangoes for iced tea are really ripe mangoes. In the supermarket choose mangoes that are firm with more red and yellow than green skin. Sniff the stem of the mangoes, if it has a strong mango smell this mango will be sweet and delicious. Buy your mangoes ahead of when you are ready to eat them and let them ripen at home. I let my mangoes sit for 3 days to a week before eating them. I know you will be tempted to eat the mangoes as soon as you buy them, but trust me it will be worth it to wait until it gets to the peak of ripeness.
Step 2: Brewing the Mango Tea
There are two ways to brew the tea for this Mango Iced Tea. You may choose a hot brew or a cold brew. To do a hot brew, add water, tea bags and mango pieces to a pot. Then bring the water to a roaring boil and continue to boil for 5 to 10 minutes depending on how strong you would like the tea. Then remove from the heat and allow to cool completely. Once it cools, remove the tea bags. Then you may strain the mango bits off or pour all of it into a blender and blend until smooth (this is my preferred method, because nothing is wasted).
For a cold brew, add water, tea bags and mango pieces into a large pitcher and place in the refrigerator overnight. Next day remove the tea bags. Then you may either strain the mango bits off or add the tea and mango pieces to a blender and blend until smooth. To learn more about different methods of brewing tea, click here.
Step 3: Sweeten (if you like) and Garnish your Mango Iced Tea
I like my iced tea unsweetened. The mangoes add the right amount of sweetness. However, I know that this is a personal preference. If you are not on a Whole30 round, you may sweeten the mango iced tea however you like. Then garnish with some fresh mint leaves for a bit of freshness and a few pieces of cut mango.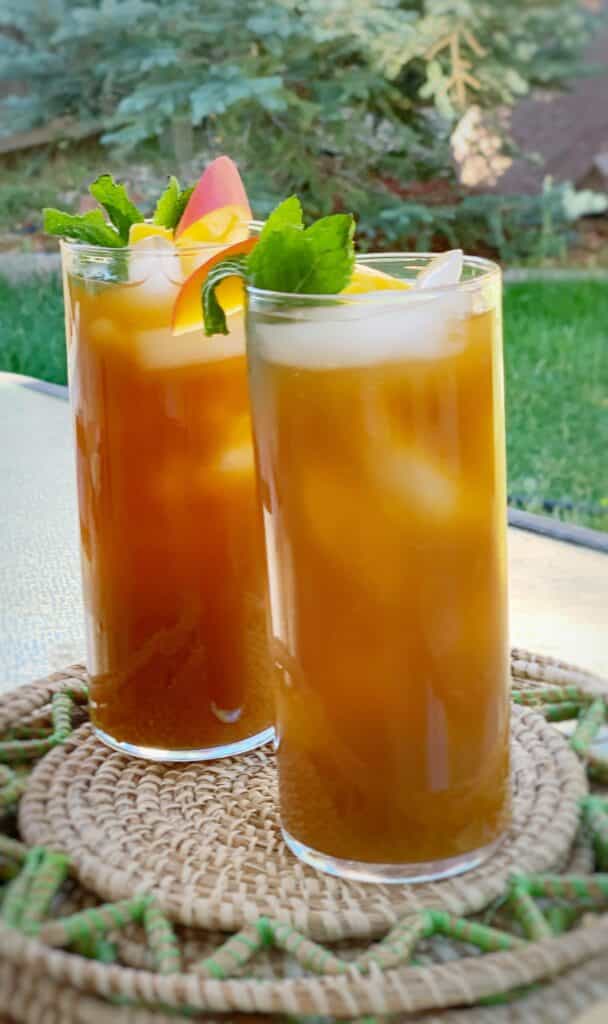 Save it for Later
The Printable Mango Iced Tea Recipe

Mango Iced Tea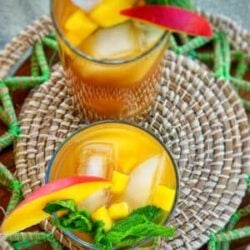 ---
Black tea brewed with ripe mangoes and served over ice.
---
Ingredients
6

cups

of water

4

tea bags

preferably black tea

2

ripe mangoes

peeled and flesh sliced from the seeds

A few fresh mint leaves to garnish
Instructions
For Hot Brew:
Add the water, tea bags and mango slices (reserving a few slices for a garnish) to a large saucepan and bring to a boil on high heat

Continue to boil for 10 to 15 minutes or until the tea brews to your liking

Then remove from the heat and let cool completely
For Cold Brew:
Add water, tea bags and mango slices to a large pitcher or jug

Place in the refrigerator overnight to brew or draw (as we say in Guyana)
Finishing up the Iced Tea
After brewing the tea using either the hot or cold method remove the tea bags and discard

Then you may pour the tea over a sieve to remove the mango slices or add everything to a blender and blend until smooth

Serve over ice and garnish with a few fresh mint leaves and a slice of mango
---
---
The information listed in the recipe card is an estimate provided by an online nutrition tool. The tool evaluates ingredient names and amounts then makes calculations based on the number of servings listed for the recipe. It is provided as a general guideline and not as a precise calculation. For precise nutrition information please feel free to add the ingredients to your preferred nutrition calculator or consult a doctor or licensed nutritionist.
Ever had Mauby. It's my other summer time favorite drink. Give it a try!