A jar of soaked fruits is the key ingredient in Guyanese Black Cake. Once soaked in wine and rum, dried fruits become plump and boozy. Then they are macerated into a smooth paste to make the foundation of the classic Guyanese Christmas dessert.
Guyanese Soaked Fruits
Soaked fruits are a treasure in Guyanese homes, especially at Christmas. Most have jars of fruits soaking for years, hidden in pantries and the back of kitchen cupboards. With this recipe you will soon be doing the same!
In this post I am sharing my process for soaked fruits––fruits macerated in wine and rum, and all the details to have the best foundation for black and fruit cakes!
Why You'll Love This Soaked Fruits Recipe
Set It & Forget It: After you combine all the ingredients, you just let time take care of the rest!
Versatile: No food processor? No problem! You can use a blender instead. I share two methods for soaking fruit too!
Delicious: Soaked fruits add a rich sweetness to some of my favorite Caribbean desserts. This tastes so good, you'll want to eat it as is, by the spoonful!
Choosing the right combination of fruits
There are many combinations of fruits that you can use for your soaked fruits. Growing up in Guyana we had three or four cashew trees (cashew pears). When cashew was in season we picked buckets of cashews, diced them up, cooked them, and then soaked them in wine.
Those were the most delicious fruits and made an equally delicious black cake. I can't be bothered with making my own fruits from scratch. With three little kiddos where would I find the time? So I use a combination of dried fruits that I soak in rum and wine to create my soaked fruits.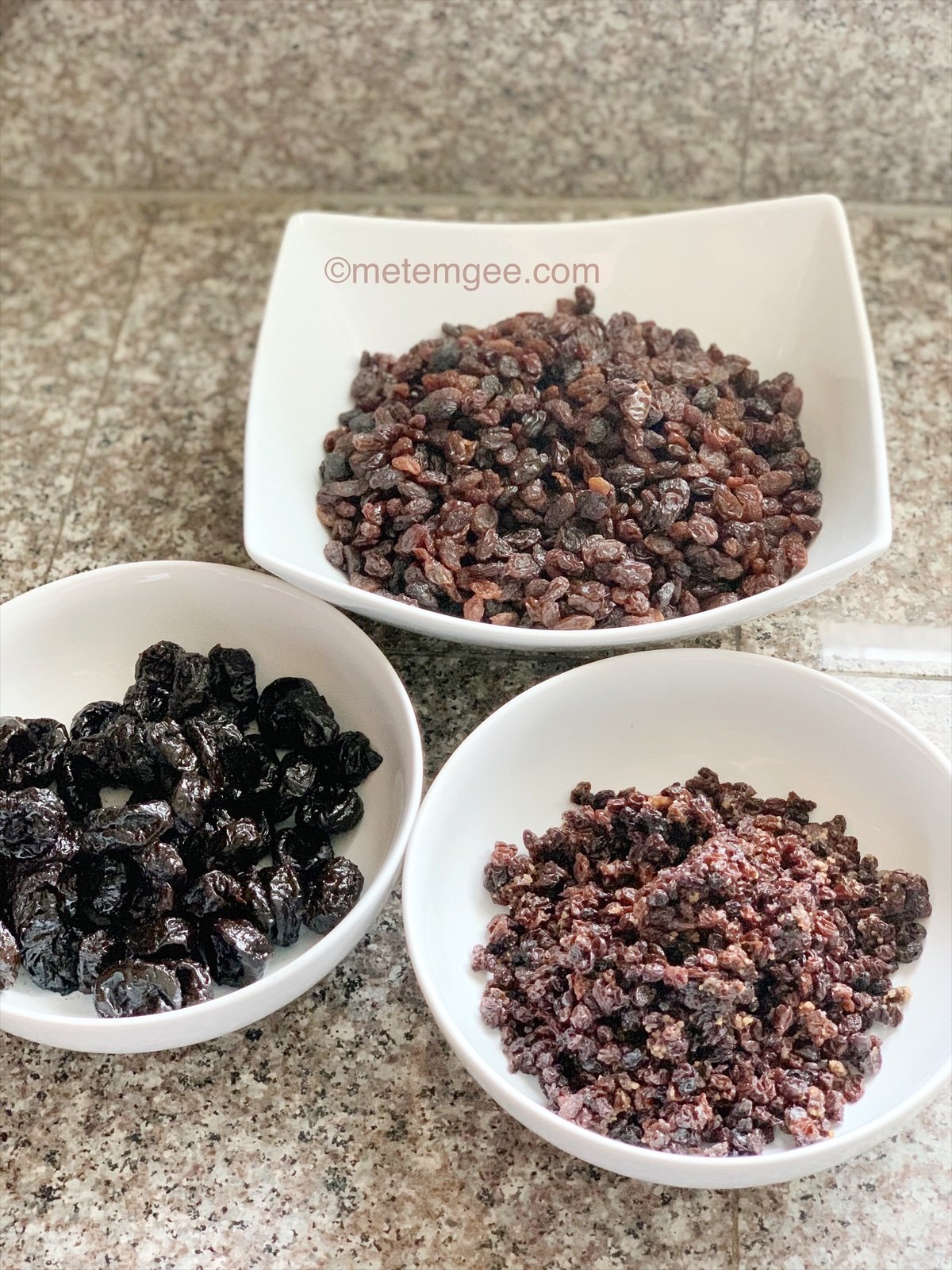 My favorite combination of fruits is prunes, currants, and raisins. These flavors are mellow and not overpowering. So what you really taste is the rum and wine in the cake and not strong fruit flavors. This combination also makes a really dark fruit which helps with the color of the black cake.
Some people also add mixed peel and maraschino cherries to their soaked fruits. I really don't like the taste of these additions in black cake but would gladly put it in my fruit cake. There is really no holy grail fruits combination. Do whatever you like.
However, I would just avoid fruits that have tiny bits like strawberries, blackberries, or even figs. Please don't use figs. I did one year and it was terrible.
Ingredients for Soaked Fruits
The dried fruits chosen for this recipe complement each other and let the flavor of the spirits shine through.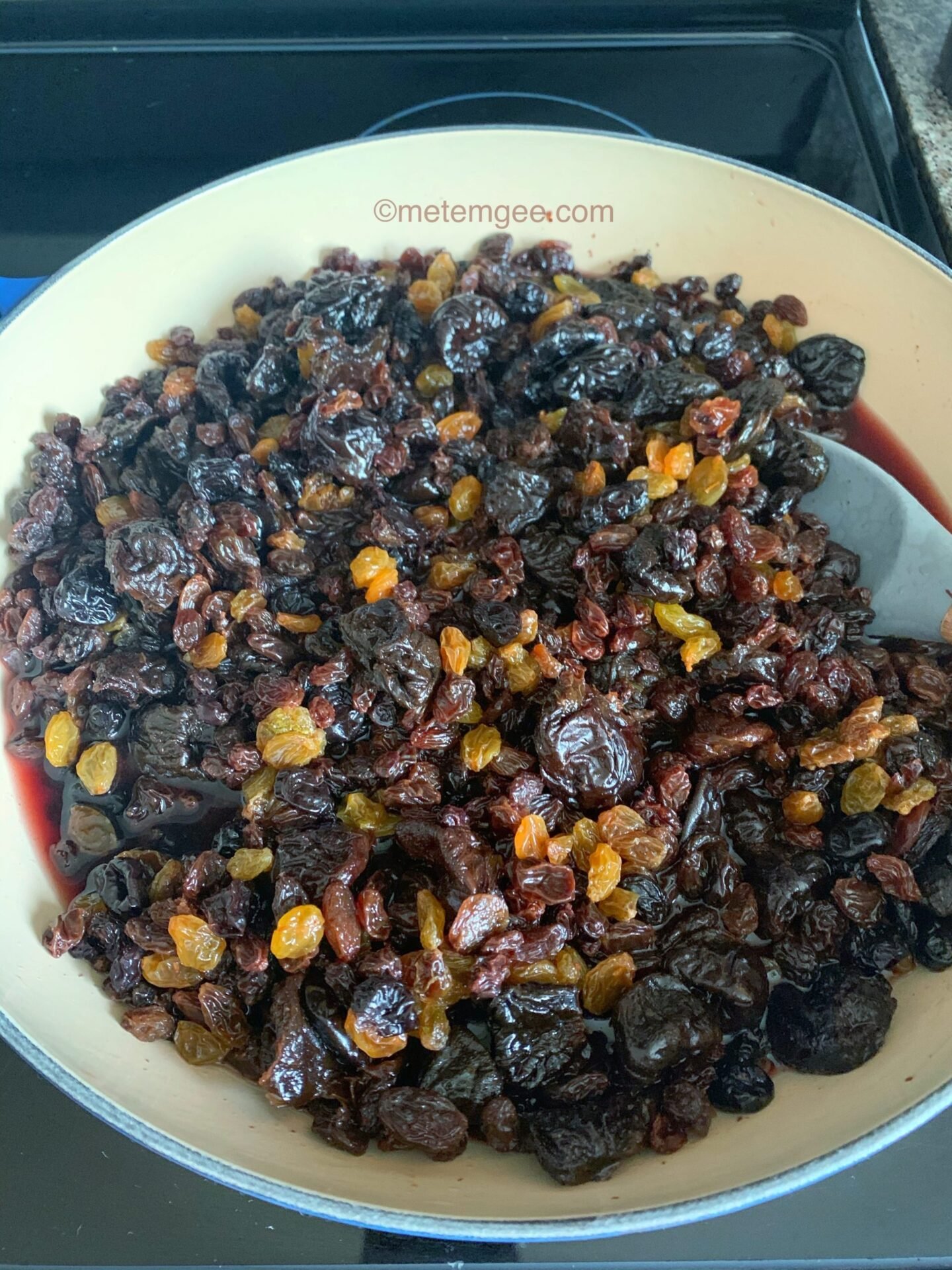 Dried Fruits: I use raisins, pitted prunes, and currants.
Wine: Use a good port wine or strong red wine for your fruits. Oh, how I wish I could get some Banko wine for a bit of nostalgia! But I find that a good porto amplifies the flavor.
Caribbean Brown Rum: Rum works best for soaking dried fruits. It's a popular choice because of its natural sweetness, depth of flavor, and ability to complement the fruity notes. Use a quality brand for the best results.
See recipe card for quantities.
How to Soak Fruit for Guyanese Black Cake
There are two different ways to soak fruits:
Grind your fruits up with wine and rum and store them in an airtight container.
Add whole dried fruits to wine and rum and soak until you are ready to bake, then grind the fruits up in a blender or food processor.
Step by step How to Prepare Soaked Fruits
Here I am using the grind first then soak process to make my soaked fruits. I add the fruits a little at a time keeping the ratio of the different fruits consistent so that I have a well blended mixture of fruits.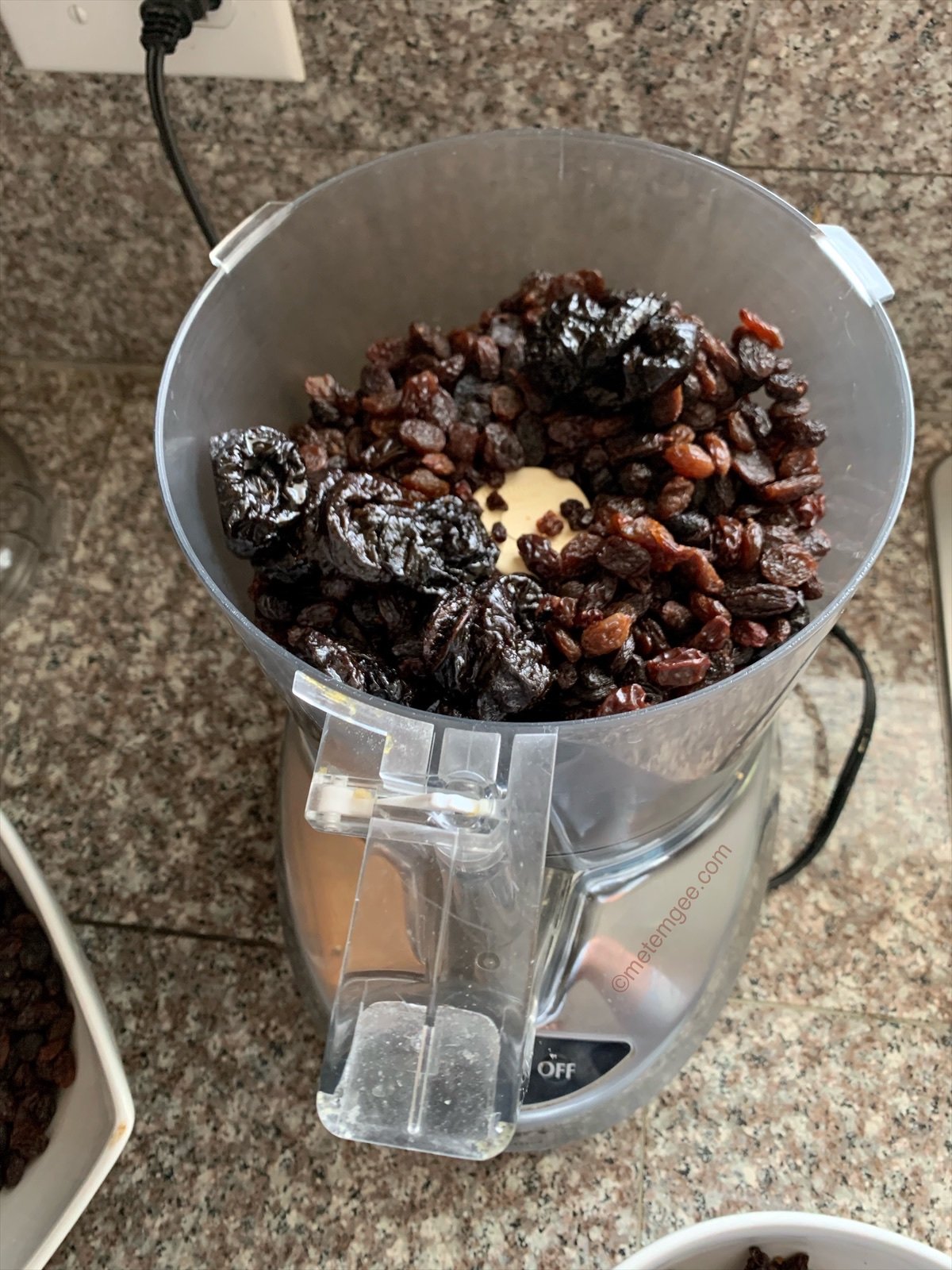 I add rum and wine to the food processor and process until it forms a really smooth paste. The smoother the better.
Be careful with how much liquid goes into the food processor or it will make a bit of a mess. If you are using a blender, ensure that you have enough liquid to blend so that your blender does not overheat.
Blending the fruits to a smooth paste really helps with the texture of the black cake. The smoother the fruits the more pudding like your black cake will be. And I love my cake with that pudding texture, dense and moist.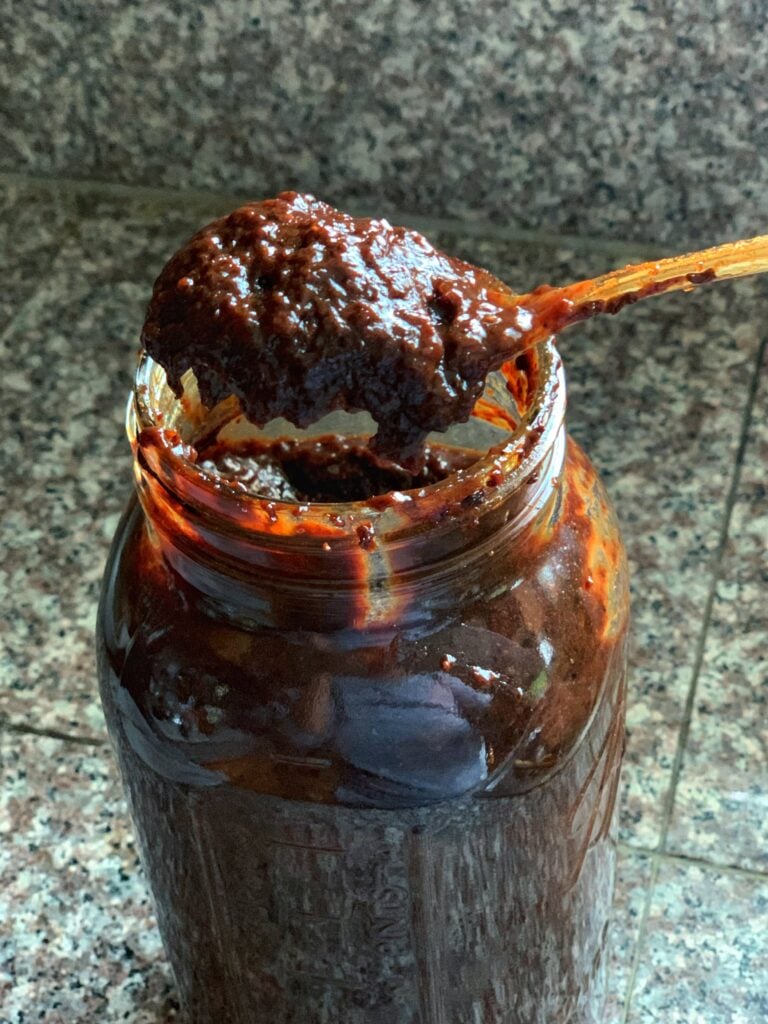 When your processed fruits come to a texture similar to the photo above you have achieved perfection and are on your way to the best black cake ever! I could spoon this and eat it like this. Who am I kidding? I definitely eat some every time I am making soaked fruits.
When I am done grinding up all of the fruits I add them to a large mason jar. Then I add some more wine and rum. I give it a good stir and seal it up tightly.
Then my soaked fruits are ready to sit and marinade and ferment until I am ready to bake.
Storage
Store the mason jar of soaked fruits in a cool, dark place for at least one week.
Tips for the Best Soaked Fruits
You can use a blender or food processor to make the paste. When we lived in Guyana we only had a blender and my mom blended her soaked fruits to a smooth paste in that blender. It was a little Hamilton Beach blender but it was powerful. I like to grind my fruits in the food processor to create a smooth paste, but a good blender does the trick as well.
Don't worry if you don't have weeks or months to soak fruit. I once made a cake with cooked fruits that I let sit for 3 days and no one knew my fruits weren't soaking for at least a month. Shhh don't tell anyone. Guyanese people will catch a fit if your fruits aren't soaking for an entire year before baking your black cake. But I got you. Life isn't always perfect and sometimes you need black cake in a pinch.
In order to ensure you always have soaked fruit on hand for any cake emergencies, replace your soaked fruits with a new batch every time you use the batch you had soaking!
Recipe Variations
Soaking Fruit in Slow Cooker: If you cook the fruits with a bottle of wine for 4-6 hours in the slow cooker, no one would ever know it wasn't soaking for months.
Without Rum: Some people don't add rum to their soaked fruits, just wine. I do both because I like the potent flavor it gets after it has been soaking for some time.
Frequently Asked Questions
How long do you soak fruit in alcohol?
Ideally, you want to make your soaked fruits at least a month before you are going to bake your black cake or sponge cake, but if you are in a pinch, cooking the fruits in wine on medium to low heat for about thirty minutes then leaving it to soak overnight before grinding it up will help to speed up the infusion process and still produce a tasty cake.
What can I soak fruit in instead of alcohol?
For a non-alcoholic version of soaked fruit, use grape juice instead of wine and rum. Check out my Non-Alcoholic Guyanese Black Cake recipe for step-by-step instructions.
What is it called when you soak fruit in alcohol?
Maceration is the process of soaking fruit in alcohol. This versatile technique allows for creative experimentation with a variety of flavors.

Soaked Fruits—Fruits Macerated in wine and rum
---
A jar of soaked fruits is the key ingredient in Guyanese Black Cake. Once soaked in wine and rum, dried fruits become plump and boozy. Then they are macerated into a smooth paste to make the foundation of the classic Guyanese Christmas dessert.
---
Equipment
Food Processor

Mason Jar/Airtight Container
Ingredients
2

lbs

Raisins

1

lb

Pitted Prunes

1

lb

Currants

4

cups

wine

1

cup

Caribbean Brown Rum
Instructions
Mix together raisins, prunes and currants in a large mixing bowl.

In a blender or food processor combine, raisins, prunes, and currants with rum and wine.

Blend or process to a smooth paste.

When all of the fruits have been blended, transfer to an airtight container.

Let sit for at least 7 days before using.
Notes
Depending on the size of your blender you may need to separate the fruits into 3-4 portions to allow for a smooth blending process.
I usually add my fruits to a large mixing bowl and then blend little bits at a time, adding rum and wine as I go.
4 lbs of fruits will make two (2) thick 9 inch cakes or three moderately packed 8 inch cakes!
Nutrition
Calories:
2147
kcal
Carbohydrates:
459
g
Protein:
16
g
Fat:
3
g
Saturated Fat:
1
g
Polyunsaturated Fat:
1
g
Monounsaturated Fat:
0.2
g
Sodium:
170
mg
Potassium:
5095
mg
Fiber:
38
g
Sugar:
154
g
Vitamin A:
1291
IU
Vitamin C:
24
mg
Calcium:
308
mg
Iron:
13
mg
---
---
The information listed in the recipe card is an estimate provided by an online nutrition tool. The tool evaluates ingredient names and amounts then makes calculations based on the number of servings listed for the recipe. It is provided as a general guideline and not as a precise calculation. For precise nutrition information please feel free to add the ingredients to your preferred nutrition calculator or consult a doctor or licensed nutritionist.