Vegetarian Three Beans Cook-Up Rice is a perfect way to enjoy Guyanese cook-up rice. It's packed with flavor and protein and is a great beginners dish. Use this as a base for other cook-up versions. Use different combinations of peas and beans or add some vegetables to take this one pot meal to new heights.
Choosing the best combination of peas and beans
For the stove top version I used canned peas and beans to make it easier but for the instant pot version I used dried peas and beans. I used some of may favorites, blackeyed peas, chick peas (channa) and kidney beans. But you can use pigeon peas, black beans, red beans even split peas. They all work with this recipe.
To soak or not to soak beans
When using dried beans I prefer to soak my beans first. Even you soak them for just a few hours! However, soaking over night is even better. Here is a great NY Times article on how to soak beans and why soaking beans is important. If using the same combination of beans that I used, kidney beans and chick peas require a bit more cooking before they are tender enough to eat so I always soak those two together and my black eyed peas separately. I also pressure cook the kidney beans and the chick peas first until they are a little tender, then I add the black eyed peas.
Making the recipe your own
This three bean cook-up rice is a perfect base for so many delicious cook-up rice combinations:
Switch up the peas and beans for a different flavor profile. Split peas works really here.
Add some pumpkin, okro/a and callaloo (spinach) for a delicious I-tal cook up
Skip the peas and beans all together and add callaloo and pumpkin for some delicious callaloo cook-up rice
If you are not vegetarian you can add any protein or combination of protein. Some great protein for cook-up rice are pig tails, salt beef (corned beef), salt fish, beef, chicken, lamb. Seriously, anything!
Instant Pot Instructions
I've been really enjoying how quick and easy the instant pot makes life! I've been making all of my cook-up rice dishes in there and it cuts out a lot of stress standing stirring a pot. For the instant pot you can even cook peas and beans that aren't soaked, although I prefer soaking my peas and beans. For this recipe I recommend cooking the kidney beans and chick peas in the instant pot first. Then adding all the other ingredients. Kidney beans and chick peas take a longer time to pressure cook than black eyed peas and this method ensures all the ingredients are evenly cooked for best results.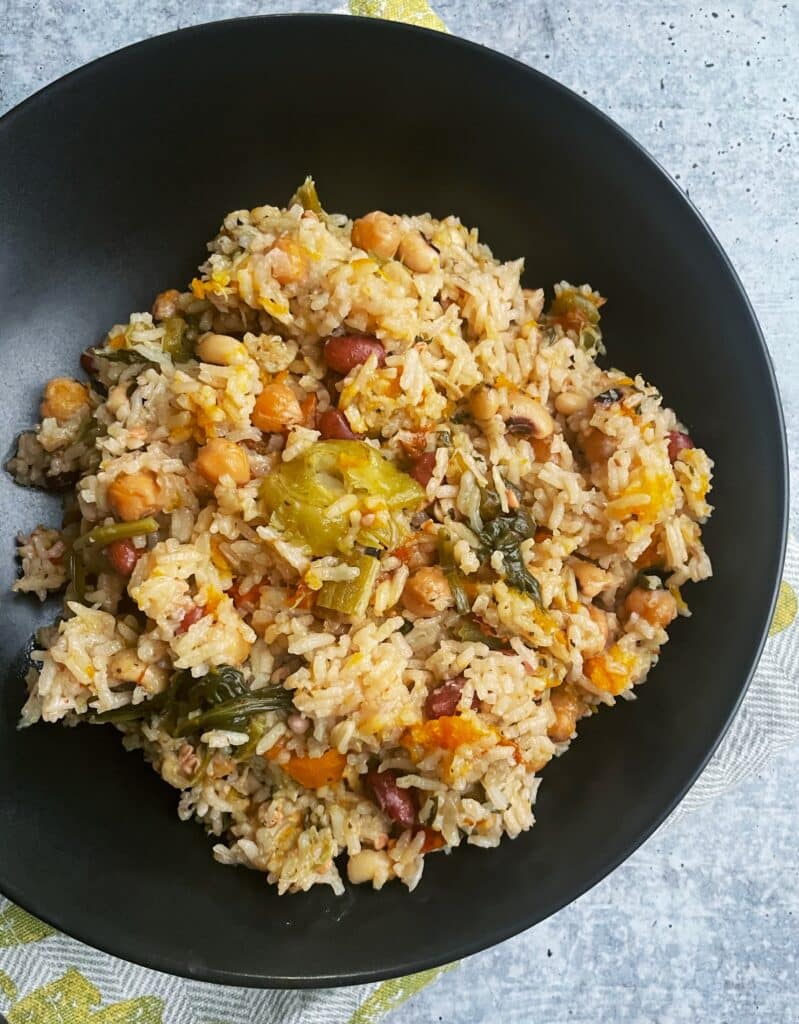 Step by Step Video Tutorial

Instant Pot Vegetarian Three Bean Cook-up Rice
---
A wonderful one pot dish that comes together easily in the instant pot!
---
Ingredients
1/4

can

canned kidney beans

or 1/4 cup dried kidney beans for instant pot

1/2

can

canned black eyed peas

or 1/2 cup dried black eyed for instant pot

1/4

can

of chick peas (channa)

or 1/4 cup of dried chick peas for instant pot

2

cups

of water

2

cups

Jasmine Rice

washed and drained

1

cup

of canned coconut milk

diluted with 1 cup water

1

small yellow onion

diced

4

cloves

garlic

finely chopped or 1/2 tablespoon of garlic powder

1/2

can of petite diced tomatoes or 2 large tomatoes

finely chopped

1/2

tbsp

dried thyme

Guyanese thyme preferably

1/2

tbsp

dried basil

2

bay leaves

1/4

cup

of coconut aminos

Pinch

of Cayenne Pepper

2

tablespoon

of oil
Special Equipment
Instructions
Stove Top
Add oil to a large (heavy bottom) stock pot, on medium heat and bring up to temperature

Then add onion and garlic and sauté until onions are soft and slightly brown

Next add the tomatoes, thyme, basil and ½ the granulated garlic and cook down until all the water from the tomatoes evaporates. Then add the black eyed peas, kidney beans and chick peas

 Add the remaining granulated garlic, sugar, salt, black pepper and cayenne pepper, followed by the rice and mix together

Next add the diluted coconut milk, the the cassareep, mix together well, then increase the heat to high and bring to a roaring/rolling boil

Boil uncovered for 5 minutes, then reduce heat to lowest possible heat, cover and continue to steam until the rice is fully cooked. This should take about 30 minutes

Then fluff the rice with a fork, mixing together well before serving
Instant Pot
Set instant pot to sauté and when it is hot add the oil and bring up to temperature

Then add the onion, garlic and tomatoes and sauté for about 1 minute

Then add the kidney beans and the chickpeas, salt and 2 cups of water

Next take the instant pot out of sauté mode by hitting the cancel button, seal the instant pot up and pressure cook on high for 30 minutes

Once the pressure cooking cycle completes vent the instant pot for a rapid release of pressure

Next add all of the remaining ingredients: black eyed peas, rice, coconut milk, basil, thyme, bay leaves, coconut aminos, cayenne pepper.

Seal up the instant pot and pressure cook on high for another 30 minutes

Once the pressure cooking cycle completes vent the instant pot for a rapid release of pressure

Then fluff the rice with a fork and mix together well so that all of the ingredients are evenly distributed and serve hot
Notes
FPreparing the dried peas:
I wash and soak my peas in boiling hot water for at least 2 hours (or overnight if time allows) before cooking. You can make this dish without soaking your peas if you like, but be sure to wash your peas first.
Adding Additional Vegetables:
If you want to add additional vegetables to this dish, add them in when you add the black eyed peas and other ingredients
---
---
The information listed in the recipe card is an estimate provided by an online nutrition tool. The tool evaluates ingredient names and amounts then makes calculations based on the number of servings listed for the recipe. It is provided as a general guideline and not as a precise calculation. For precise nutrition information please feel free to add the ingredients to your preferred nutrition calculator or consult a doctor or licensed nutritionist.
Save it for later!