Guyanese Style Stripped Chicken Fried Rice is one of my favorite things to order from Guyanese Chinese restaurants and now I make it at home. If you've got 30 minutes, then you've got dinner!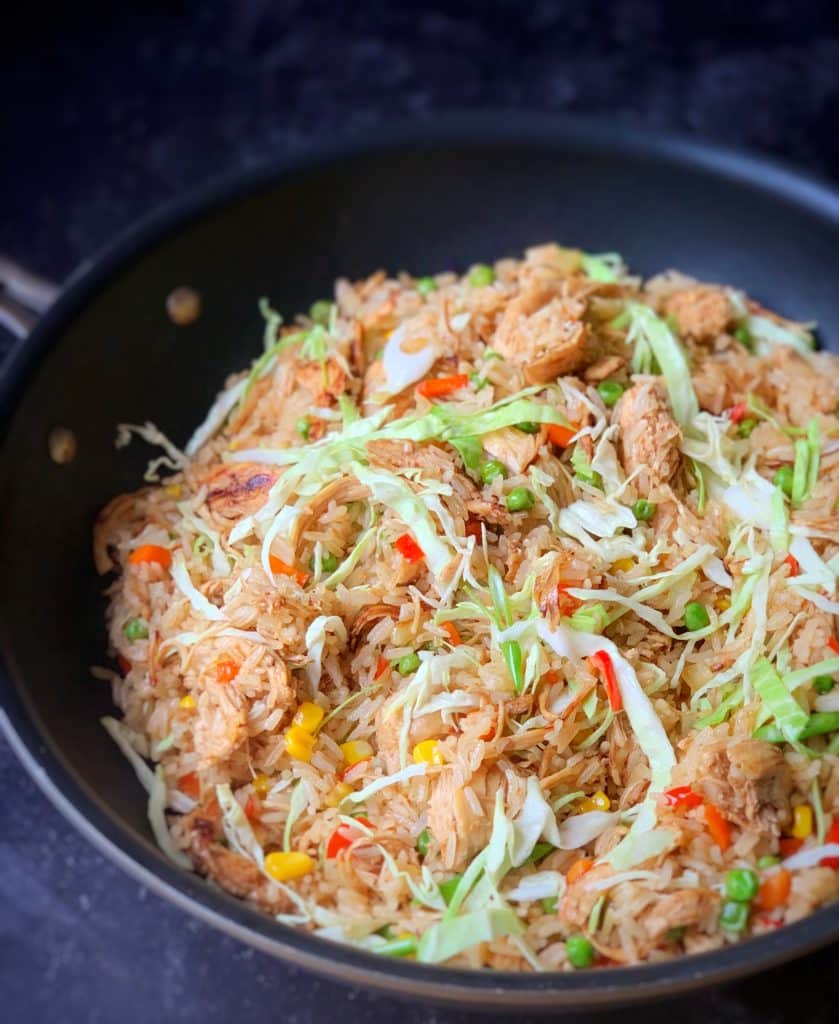 Easy Chicken Fried Rice
A few nights ago, I roasted a whole chicken for dinner. We ate most of the dark meat and were left with the chicken breasts. I used the leftover breasts to make Guyanese style stripped (strip) chicken fried rice. Simple, quick and easy deliciousness! Since the chicken breasts are already cooked, this dish comes together in no time. Rotisserie chicken breasts also work well for this recipe!
Why You'll Love This Stripped Chicken Fried Recipe
Delicious: This comfort meal is packed with aromatic flavor from spices, tender chicken, and perfectly cooked rice. It's got a mouthwatering umami flavor too!
Convenient: Make this easy fried rice recipe with leftover ingredients. This works best with day-old rice and precooked chicken. Add everything to a wok or skillet for a quick one pan meal.
Customizable: This recipe is better than takeout because you make it perfectly suited for you and your family. Simply add or omit ingredients based on your taste buds.
Ingredients for Stripped Chicken Fried Rice
Add everything to a skillet and see how easily this meal comes together for an easy weeknight dinner!
Chicken breasts: Cooked and shredded.
Frozen mixed vegetables: I love using frozen vegetables for quick meals. But I don't really like the prepackaged mixed vegetables. So I use a combination of frozen peas and carrots and corn to create my own frozen veggies blend (completely defrosted).
Jasmine rice: Precook the rice, al dente.
Avocado oil: Use this or another oil with a high smoke point like vegetable oil or toasted sesame oil.
Aromatics: I use diced red bell pepper, diced onion, and grated garlic cloves.
Coconut aminos: may use lite soy sauce
Seasoning: I use salt, Chinese 5 spice, ground ginger, cayenne pepper, and paprika.
Cabbage: Thinly sliced.
Green onions: Thinly sliced.
See recipe card for quantities.
The Best Rice for Stripped Chicken Fried Rice
I've used many different varieties of rice for fried rice; from par-boiled to basmati rice, but the variety that makes fried rice closest to restaurant quality is Jasmine rice. Cook your rice a little al dente (firm and not mushy). The rice I used for this recipe required 1.5 cup of water to 1 cup of rice.
I reduced my rice-to-water ratio to 1:1 so that I can get the rice to be loose and not clammy. I also cooked the rice, by first sautéing the washed rice in a little bit of oil, then adding water. Bring the water to a boil uncovered, on medium heat then reduce the heat to low, cover and steam until the rice is fully cooked. Do not stir the rice along the way. Once the rice is fully cooked, fluff with a fork and allow it to cool.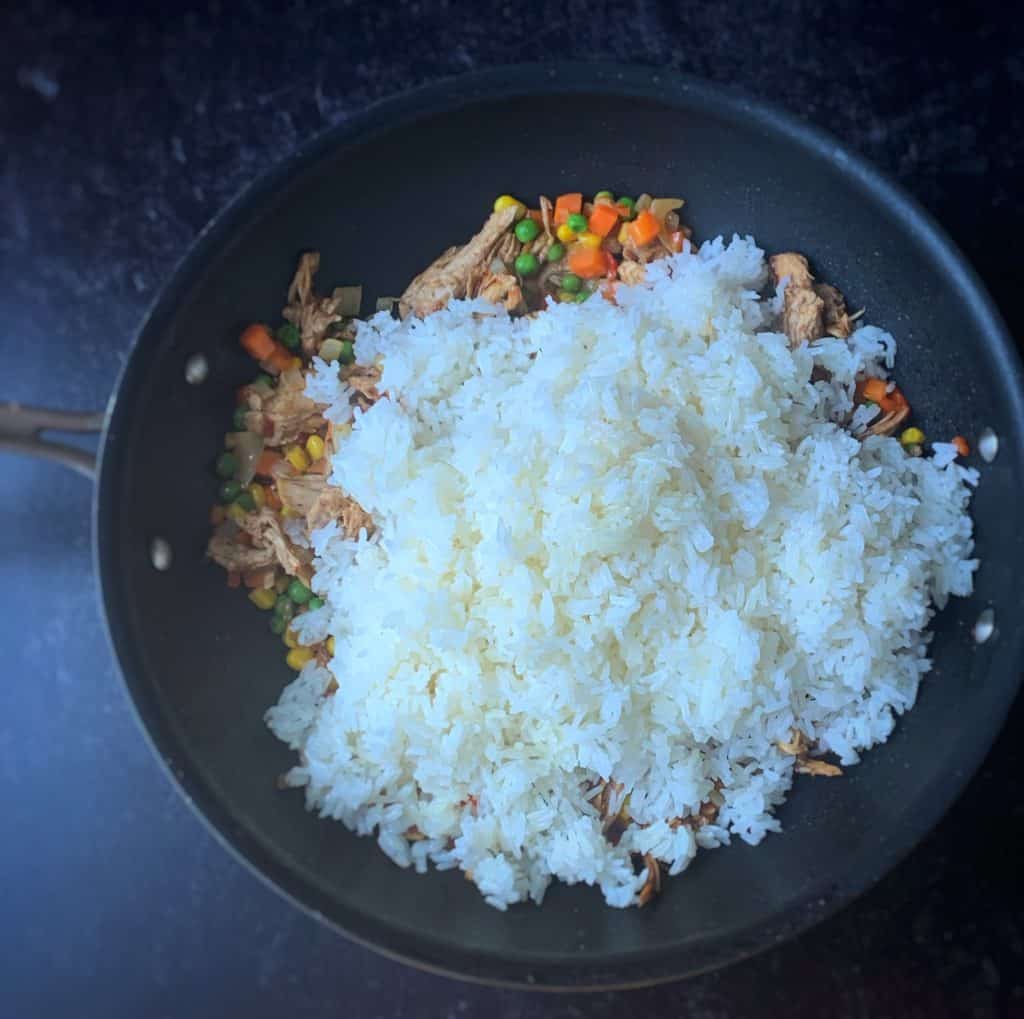 How to Make Chicken Fried Rice
Prepare Chicken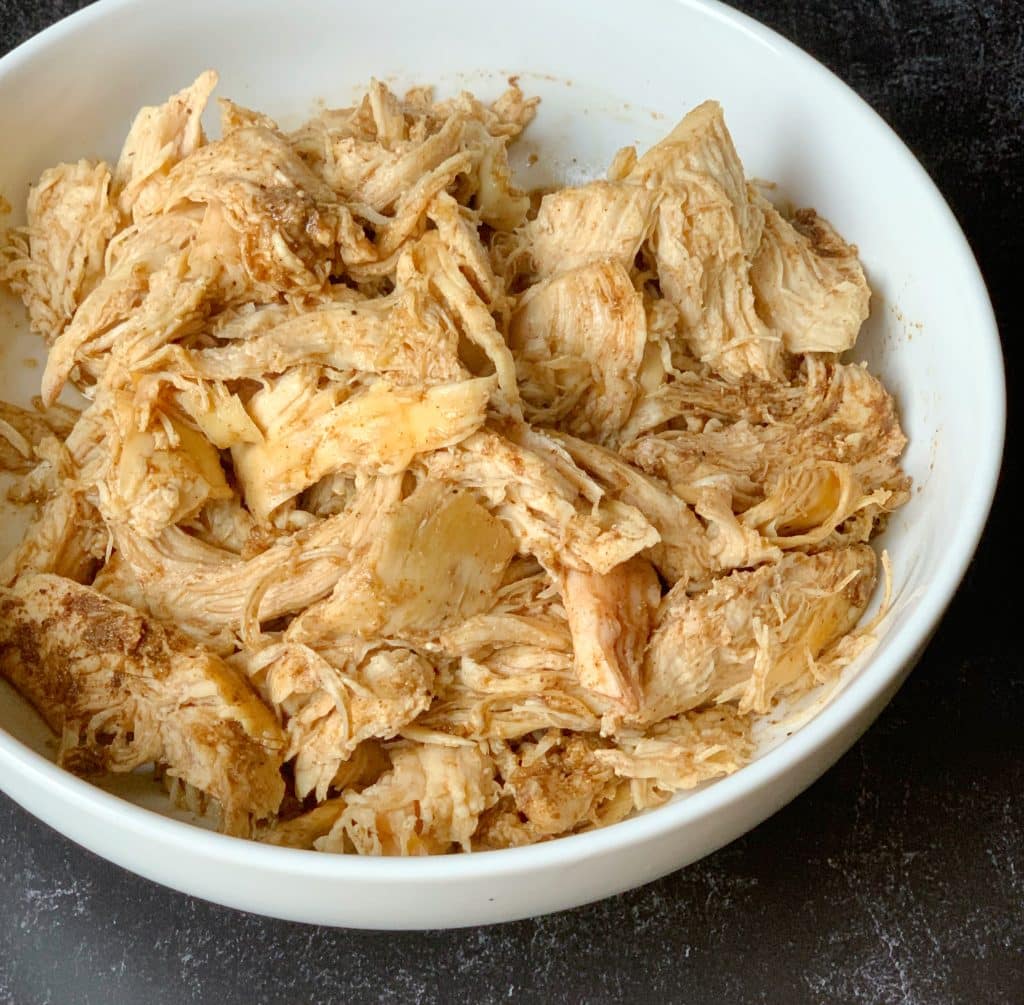 I am using leftover chicken breasts from dinner a few nights ago (shredded into chunks). I love seasoning the chicken with spices and some coconut aminos (you can use soy sauce or cassareep if you like). Then I pan fry the chicken so that all of that flavor cooks into the chicken breasts. This really amps up the flavor of the fried rice.
Add Vegetables to Stripped Chicken Fried Rice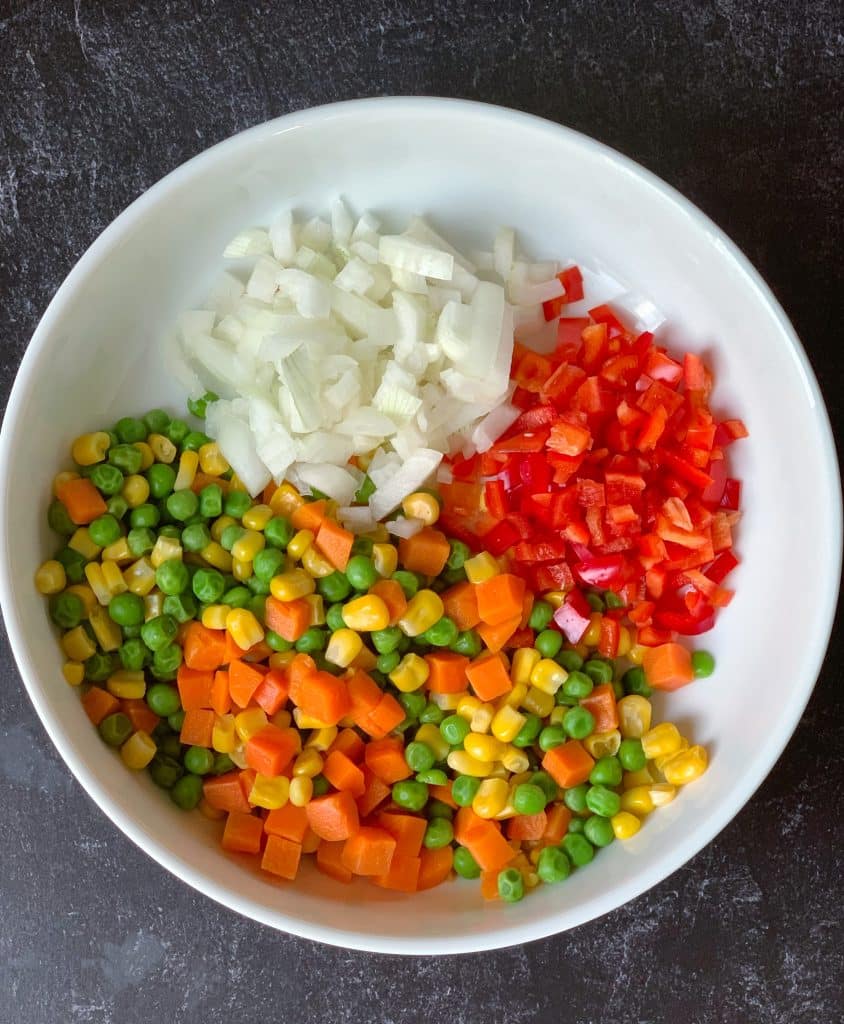 Combined a frozen veggie mix with onions and red bell pepper these vegetables add the right amount of color and flavor to the stripped chicken fried rice. I always sauté my vegetables first and set them aside, then I sauté the chicken breasts, then add the vegetables back in followed by the rice.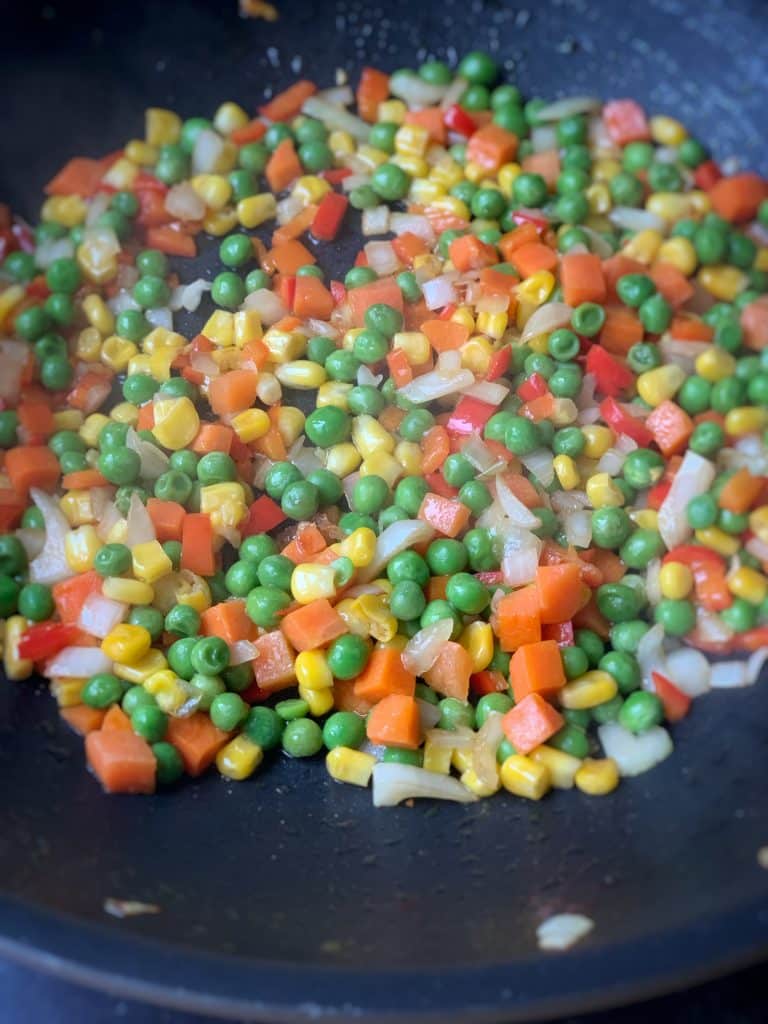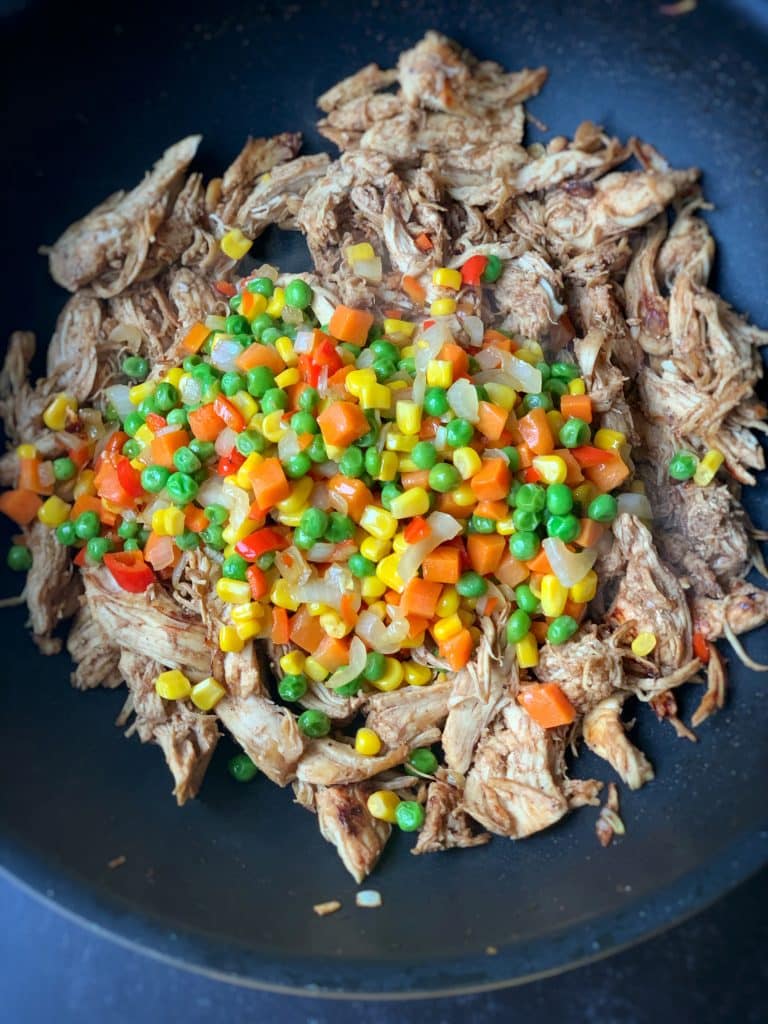 Bringing the Dish Together
I love garnishing my fried rice with thinly sliced cabbage and green onions, that I toss in right at the end.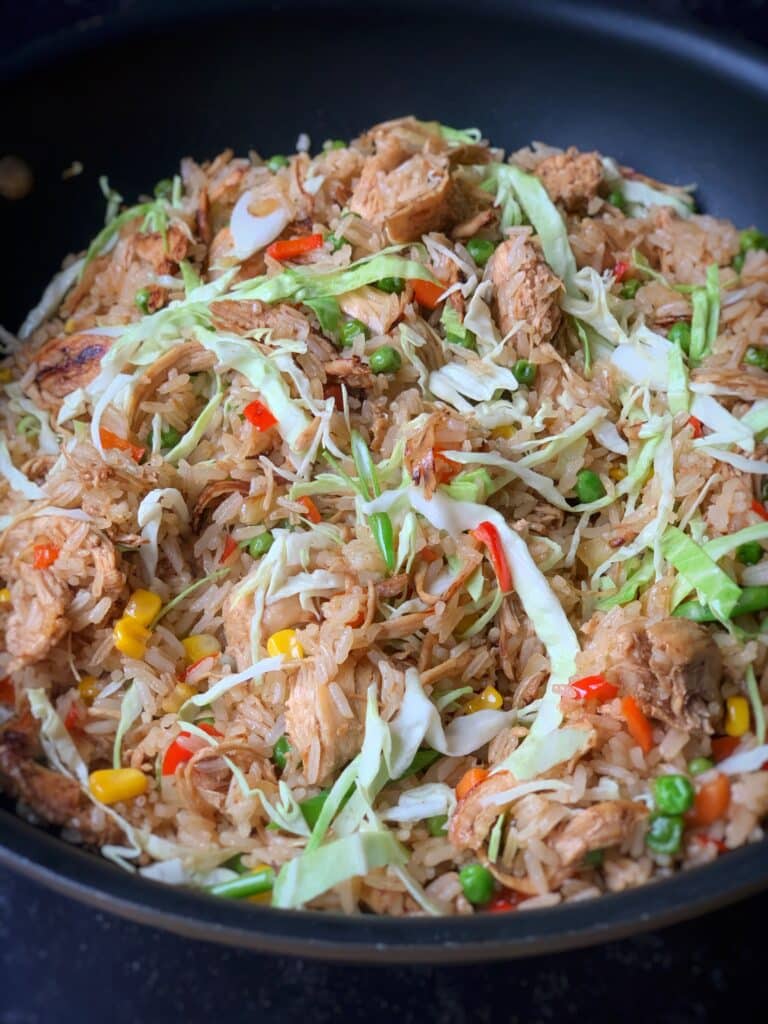 Storage
Store leftovers in an airtight container in the fridge for up to 3 days. Reheat it in the microwave or over medium heat in a skillet on the stove.
Tips for the Best Chicken Fried Rice Recipe
Do not use fresh rice. You need precooked rice (preferably day old rice) so the rice doesn't clump or get soggy as it cooks. Older rice holds less moisture and has a crisper coating. Ensure the rice is cold when it's added to the hot skillet.
Keep it simple. Just because you can add a bunch of ingredients doesn't mean you should. If you really want the flavors to stand out, stick to one protein, and no more than 3 veggies.
There is no right or wrong way to cook chicken fried rice. Consider these tips and instructions as helpful guidelines. Sometimes, I will stir-fry the rice then add the cooked chicken and vegetables and continue to stir-fry. Sometimes I just add the rice to the cooked chicken and vegetables and stir-fry everything. It just depends on my mood and how much time I have available.
Recipe Variations
Eggs: Add this for extra protein or as a meat substitute for vegetarian fried rice.
Protein: Instead of shredded chicken breasts, you can use boneless chicken thighs, diced ham, shrimp, or ground beef.
Veggies: Consider adding vegetables like broccoli, mushrooms, or bean sprouts.
Rice: Use brown rice.
Chicken pineapple fried rice: For a sweet sorry dish, add bite-sized chunks of pineapple.
Whole 30: Check out my Chicken and Veggies Fried Rice made with cauliflower rice.
Frequently Asked Questions
What gives Chinese fried rice its flavor?
The sauce is the key to the distinct flavor. Use soy sauce or coconut aminos for a delicious umami flavor.
What is the secret to fried rice?
The key to fried rice is cold rice. It crisps up nicely in the hot oil for a nice toasted texture that holds the other ingredients well.
How many calories are in chicken fried rice?
One serving of this dish is 407 calories.
Is chicken fried rice healthy?
You can enjoy chicken fried rice as part of a well-balanced diet. It has protein, vegetables, and carbs.

Guyanese Style Stripped Chicken Fried Rice
---
Guyanese Style Stripped Chicken Fried Rice is one of my favorite things to order from Guyanese Chinese restaurants and now I make it at home. If you've got 30 minutes, then you've got dinner!
---
Equipment
Large skillet, wok or sauté pan
Ingredients
2

Chicken breasts

large; cooked and shredded

1½

cups

Frozen mixed vegetables

OR 1 cup of frozen peas and carrots and 1/2 cup of frozen corn (completely defrosted)

2

cups

Jasmine rice

2

tbsp

Avocado oil

or similar oil

½

Large red bell pepper

diced

5

Cloves of garlic

grated

½

Onion

diced

¼

cup

Coconut aminos

may use lite soy sauce

1

tsp

Salt

1½

Chinese 5 spice

½

tsp

Ground ginger

pinch

Cayenne pepper

pinch

Paprika

1

cup

Cabbage

thinly sliced

2

Green onions

thinly sliced
Instructions
Cook rice according to packaging, then fluff and allow to cool.
While the rice is cooking prepare the other ingredients.
In a bowl, combine shredded chicken, grated garlic, 1 teaspoon Chinese 5 Spice, coconut aminos, ground ginger, paprika and cayenne pepper and mix together well.

Then add oil to a large skillet, wok, or sauté pan on medium heat and bring up to temperature.

When the oil is hot add the onions and sauté until the onions are soft and brown, then add the bell peppers and continue to sauté for about a minute.

Then add the defrosted mixed vegetables, 1/2 teaspoon of salt, 1/2 teaspoon of Chinese 5 spice and sauté until the carrots are fully cooked.

Next, remove the vegetables from the pot and set aside.

Then add the seasoned shredded chicken breasts to the pan and sauté until the chicken is brown and the coconut aminos or soy sauce has cooked off.

Then add the cooked mixed vegetables back to the pan followed by cooked rice.

Mix together well and continue to sauté on high heat until the rice is completely combined with the other ingredients (this should take about 5 minutes).

Finally garnish with the shredded carrots and sliced green onions, remove from the heat and serve warm.
Notes
If you don't have precooked chicken breasts you can pan fry fresh chicken breast ahead or time or while you are cooking the rice. Just season the chicken breast with salt and pepper. Add a little bit of oil to a sauté pan, then the chicken and pan fry on medium heat. It will take about 5 minutes on each side. Alternatively, you can bake the breasts in the oven at 400 degrees for 20 minutes.
Nutrition
Calories:
407
kcal
Carbohydrates:
61
g
Protein:
23
g
Fat:
7
g
Saturated Fat:
1
g
Polyunsaturated Fat:
1
g
Monounsaturated Fat:
4
g
Trans Fat:
0.01
g
Cholesterol:
48
mg
Sodium:
729
mg
Potassium:
527
mg
Fiber:
3
g
Sugar:
1
g
Vitamin A:
2696
IU
Vitamin C:
25
mg
Calcium:
49
mg
Iron:
2
mg
---
---
The information listed in the recipe card is an estimate provided by an online nutrition tool. The tool evaluates ingredient names and amounts then makes calculations based on the number of servings listed for the recipe. It is provided as a general guideline and not as a precise calculation. For precise nutrition information please feel free to add the ingredients to your preferred nutrition calculator or consult a doctor or licensed nutritionist.