These Easy Buffalo Wings are simply that, easy to make and easy to enjoy! There is just three pantry staples for the seasoning and two ingredients for the sauce. Once you try these wings you will likely ask yourself, "Why haven't I made these sooner?"
Seasoning the wings
This recipe couldn't get any easier. Simply sprinkle your wings with some salt, onion powder, garlic powder and paprika (I wash my wings in a water and vinegar solution, then remove any stray feathers or "hairs" before seasoning). Toss them together and transfer them to a sheet pan for baking. If you have time you can let them marinade for a few hours, but honestly it is not necessary. I've made these quite a few times without marinading and they are just as good.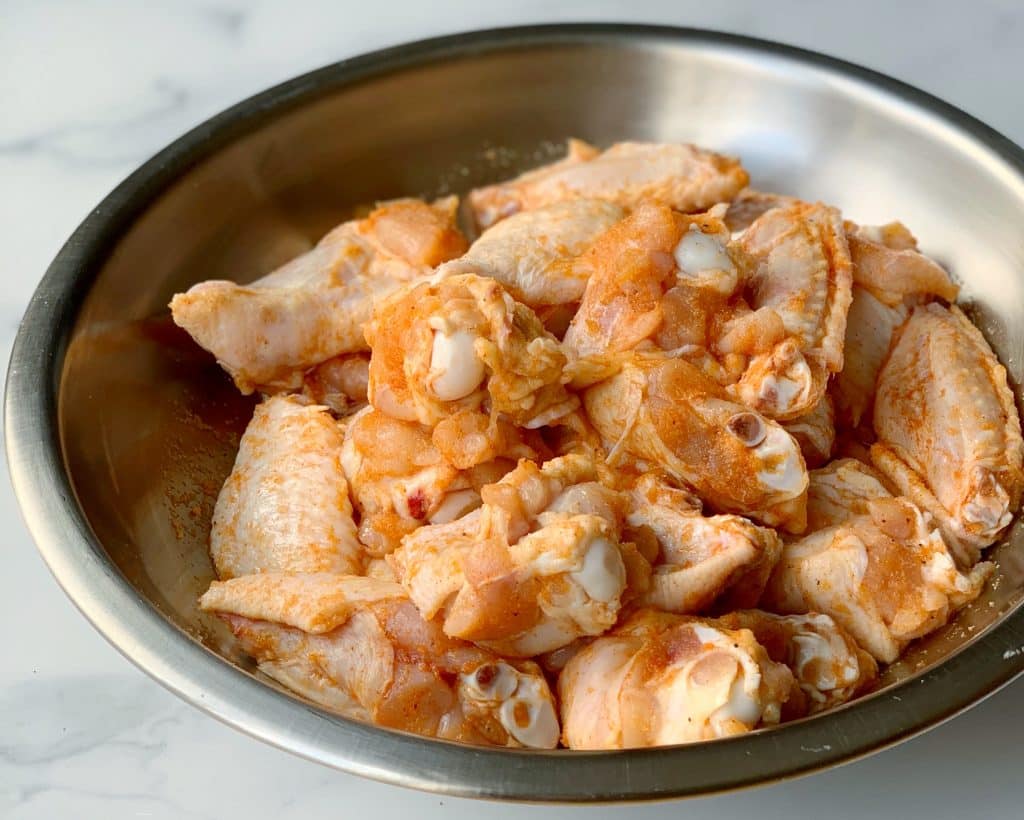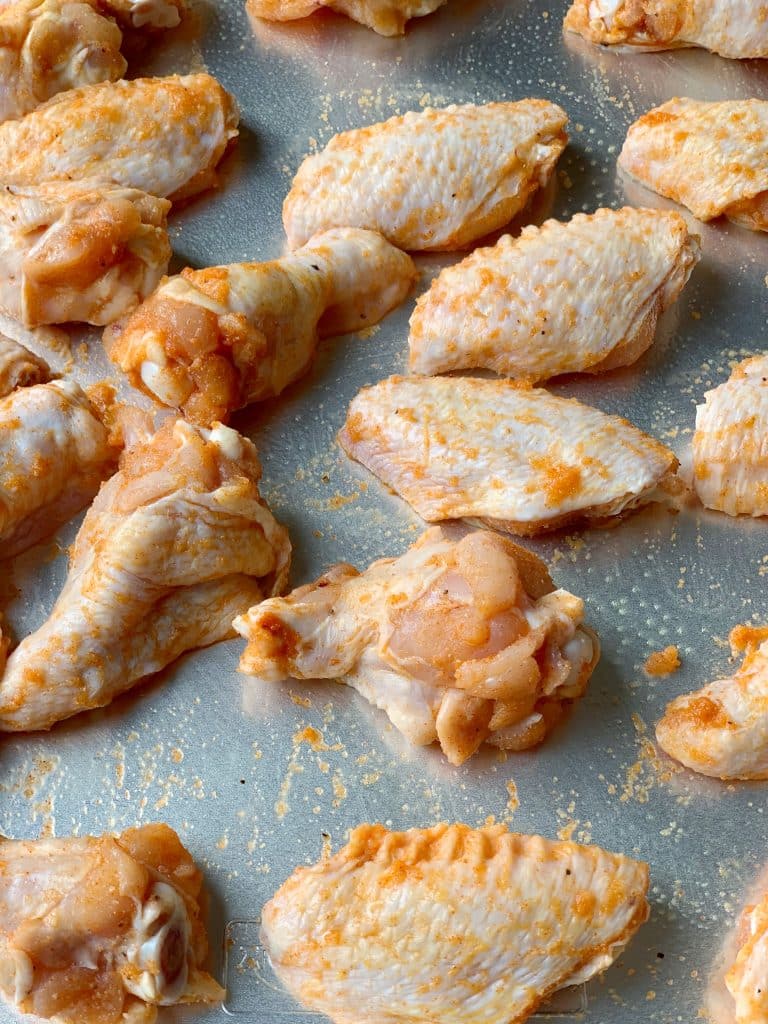 Season, Broil & Toss for Easy Buffalo Wings
Step 1: Season your wings
Add wings and all of the ingredients to a bowl and toss well to coat. Then transfer to a sheet pan sprayed with cooking spray
Step 2: Broil your wings
Add your wings to the top rack in your oven and set the oven to broil or 500 °F. Broil for 20 minutes, then flip and broil for another 10 minutes
Step 3: Make your sauce
Combine sauce ingredients in a bowl large enough to accommodate all of the wings and mix together well
Step 4: Toss in the sauce
Add the wings to the sauce, then toss together ensuring all the wings are fully coated
Step 5: Broil again
Return your wings to the sheet pan and broil for an additional 5 minutes. Then serve with any leftover sauce or another condiments you like.
Turn the heat up on your easy buffalo wings
This recipe makes medium hot wings, to turn up the heat on the wings add a pinch of cayenne pepper to the sauce or to make it really interesting, try adding some of Saucy Lips Ghost Pepper Tamarind Sauce. The heat and hint of tamarind flavor changes your basic buffalo sauce into a special house sauce. It's so good!
Save it for later!

The Printable Easy Buffalo Wings Recipe:

Easy Buffalo Wings
---
Oven broiled wings drenched in a simple, buffalo hot sauce
---
Ingredients
2

lb

of chicken wings

3/4

teaspoon

of salt

1

teaspoon

of garlic powder

2

teaspoons

of onion powder

Pinch

of Paprika

optional

Cooking Spray
Instructions
If you bought whole wings, cut wings into 3 pieces by cutting at the joints, then discard the wing tips

Add wings to a large bowl, then sprinkle with salt, garlic powder, onion powder and paprika (if using)

Next toss together well to ensure the wings are fully coated with the seasoning

Then transfer to a sheet pan sprayed with cooking spray

Set your oven to broil or 500 °F

When it comes up to temperature, place the wings on the top rack in the oven and broil for 20 minutes

Then flip wings over using

tongs

and broil for another 10 to 15 minutes or until the wings are golden brown

While your wings are broiling make the buffalo sauce by combining the sauce ingredients in a bowl large enough for the wings

Mix the sauce together well and set aside

When the wings are done broiling transfer the wings to the bowl with the sauce

Then toss the wings in the sauce ensuring all the wings are fully coated

It is okay to do this in two batches if it is more manageable

Then return the wings to the sheet pan (reserving any remaining sauce) and broil for 5 minutes

After 5 minutes, remove the wings from the oven and plate your wings, drizzling the remaining sauce over the wings

Serve hot with your favorite condiment
---
---
The information listed in the recipe card is an estimate provided by an online nutrition tool. The tool evaluates ingredient names and amounts then makes calculations based on the number of servings listed for the recipe. It is provided as a general guideline and not as a precise calculation. For precise nutrition information please feel free to add the ingredients to your preferred nutrition calculator or consult a doctor or licensed nutritionist.
Love wings? Check out my Jerk Chicken Wings Recipe loaded with classic Caribbean Flavor!