Egg Salad Stuffed avocados is a marriage between two of my favorite things, avocados and egg salad! It's a quick and easy dish. Most of the prep time is spent boiling the eggs. The rest of time, just mixing the ingredients together. This dish is perfect for anyone being a little carb conscious, but also working on eating more healthy fats. It is a great Spring / Summer dish, loaded with the brightness and a side of creamy yummy eggs.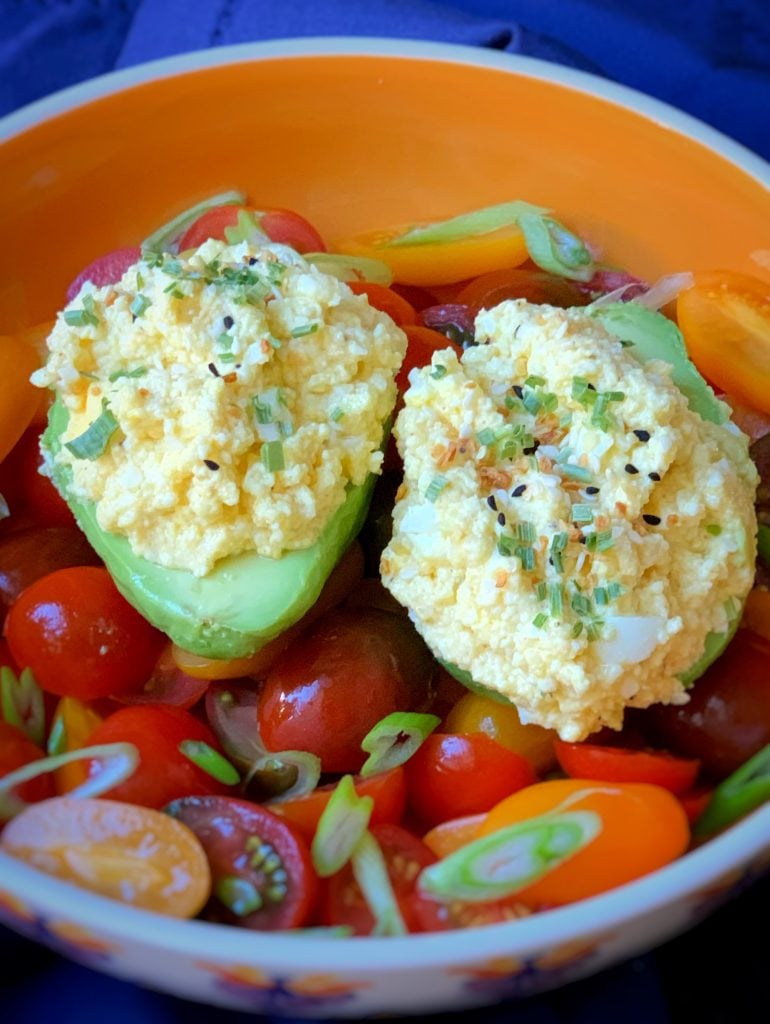 Boiling Eggs 101
I hated boiling eggs until I bought a little gadget that makes life so much easier. Introducing the DASH Egg Cooker. This little thing is such a life saver and makes perfectly boiled eggs in 10 minutes or less (depending on how you like the yolks cooked). You don't need to bring your water up to temperature then set your timer. Just add the eggs, add the water and let it steam to perfectly cooked creamy goodness. I even stopped poking the little holes in the top of the eggs (as recommended with the Dash Egg Cooker) and my eggs are still cooked perfectly. Plus it shuts off when done and alarms. So set it and forget it. The best part about using the DASH is that the eggs peel easily and perfectly! If you make boiled eggs often and need a little help, get the DASH, you won't regret it.
Making the Egg Salad
There are many ways to crush eggs for egg salad. You can use the large shred side of a cheese grater to make your hard boiled eggs into evenly shredded pieces. Make sure your eggs are completely cooled and even chilled a little for this option or you will end up with mush.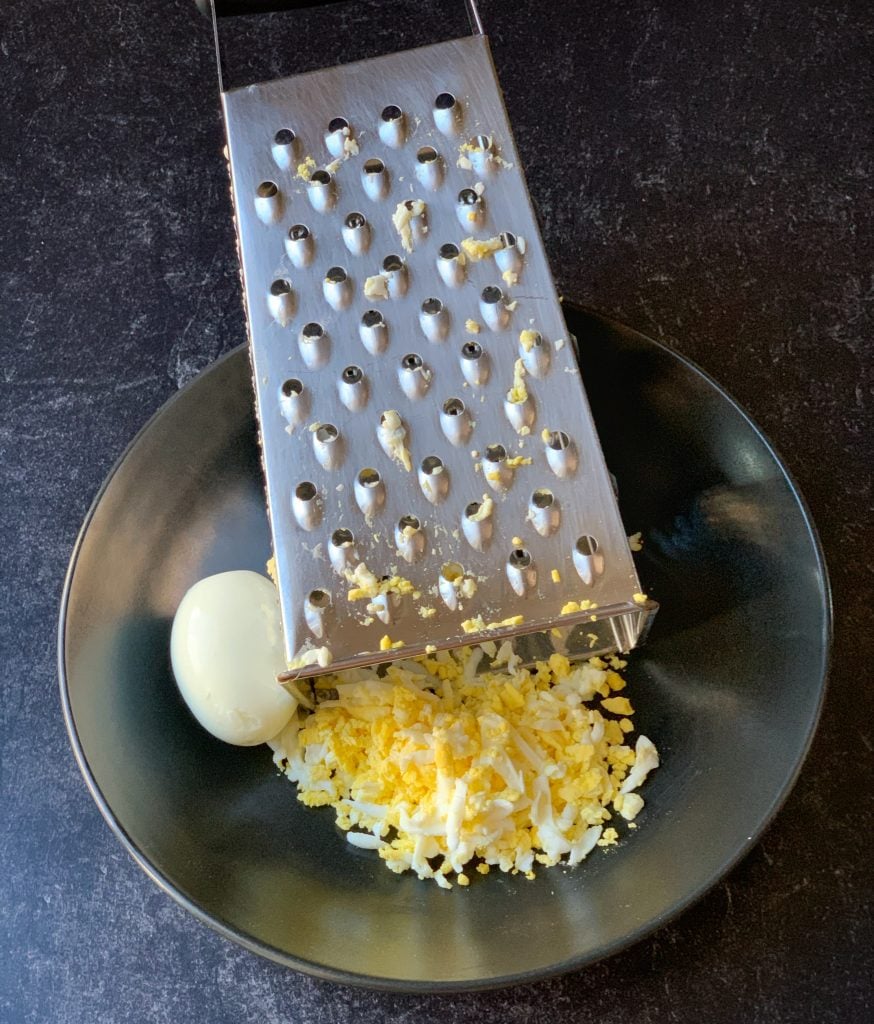 You can also just use a fork to crush the eggs into chunks. It's fast and convenient and doesn't require a lot of clean up. But it does give more of a chunky rustic kind of egg salad, which let's be honest is perfectly fine in my book.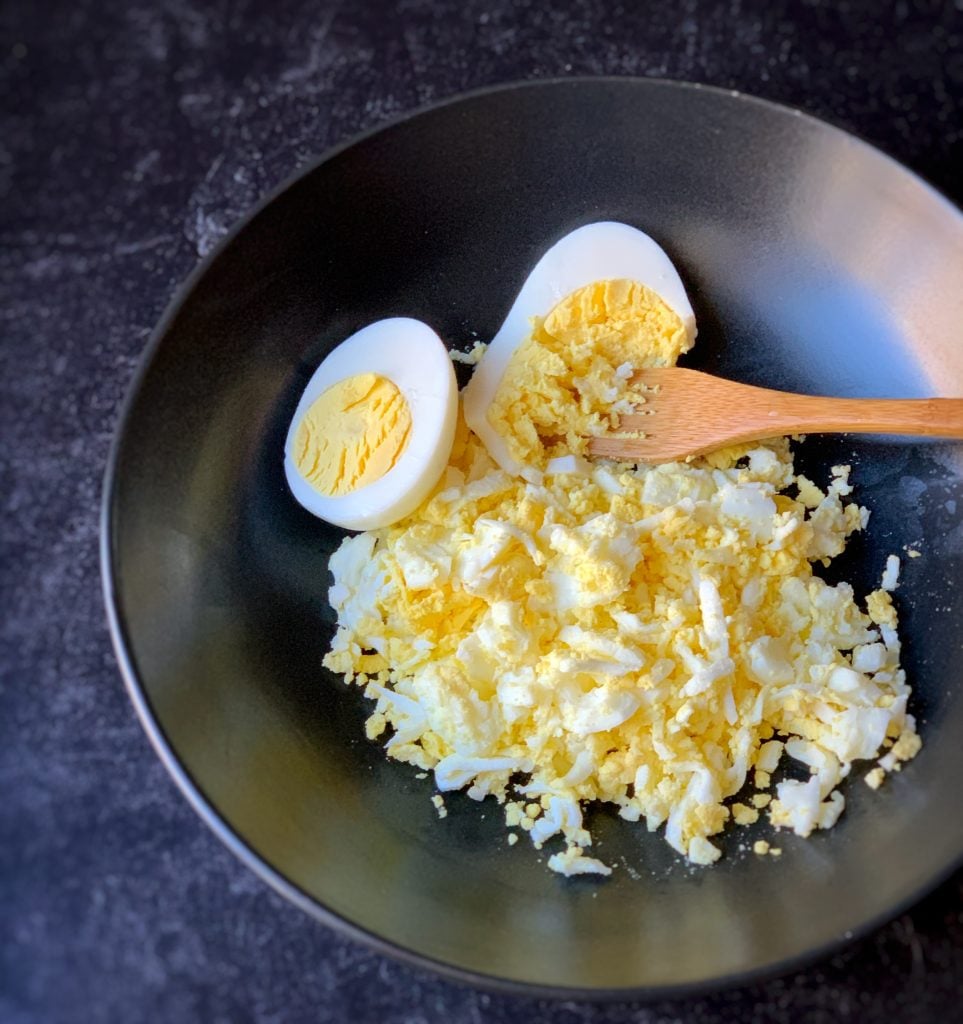 My favorite way to do it when I am making a large batch of egg salad is actually to drop all of the hard boiled eggs into a food processor and give it a few pulses. Perfect little crumbles in seconds!
Bring out the flavor in the dressing

I love making the dressing for my egg salad first then adding it to the crushed eggs. Of course you can just add all the ingredients to a bowl and mix everything together and be done, but you might encounter a clump of mayo in one of your bites, and nobody wants that. Making the dressing separately helps to evenly distribute all of the spices and flavor through out the egg salad.
Perfectly Scooped Avocados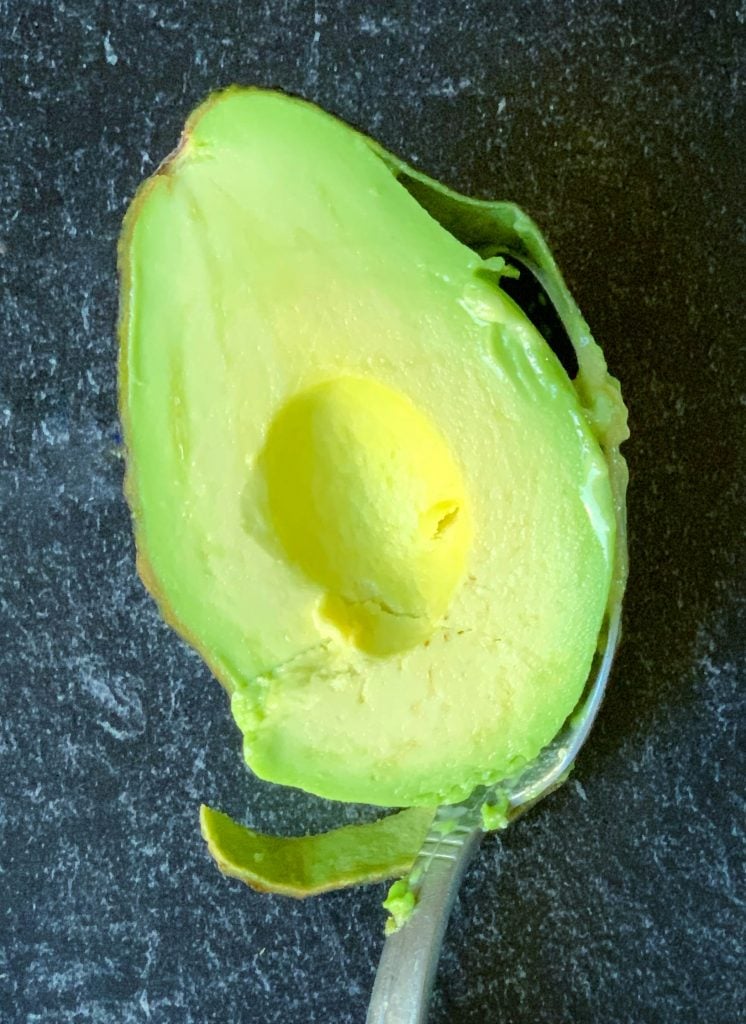 Spoon is all you need for perfectly scooped avocados. When the avocado is just the right ripeness the spoon will slide effortlessly between the skin and the flesh for a clean and easy scoop of avocado yumminess. If your Avocado has a tiny seed, you can also scoop out some of the flesh for a larger vessel for the egg salad. You can save that extra avocado for later or do like me and shove it in your mouth in one big bite.
How to serve your Egg Salad Stuffed Avocados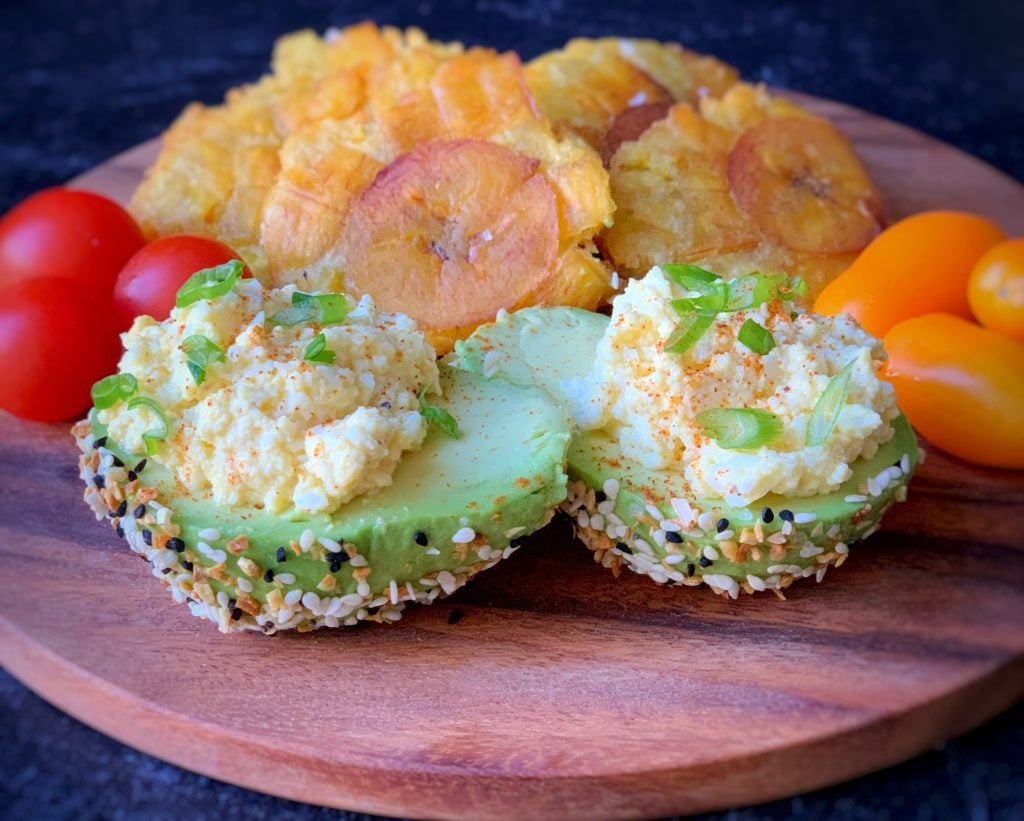 When stuffed into mini avocados these egg salad stuffed avocados are perfect party appetizers. I love dipping the bottoms in everything bagel seasoning and placing them on a charcuterie board or a board like the one pictured above, with some tostones and veggies. They are always a crowd pleaser, especially at summer barbecues. These babies are like deviled eggs but better! Add some hot sauce or a sprinkle of cayenne pepper for some additional heat and they are sure to be a winner.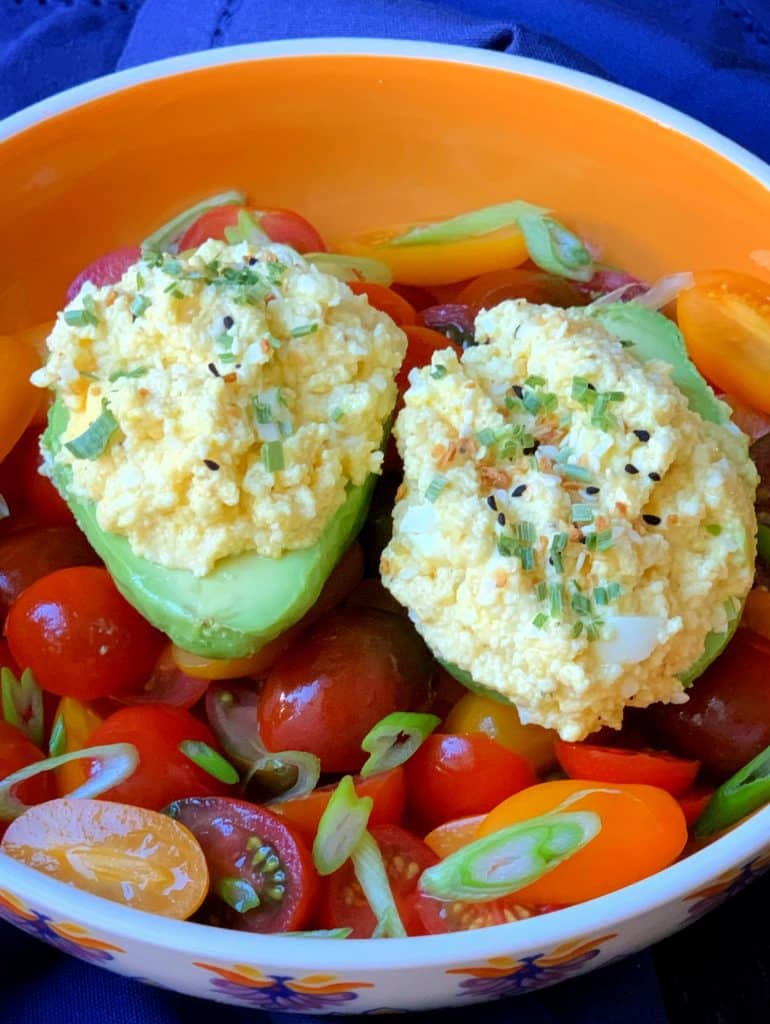 Another great way to enjoy your egg salad stuffed avocados, is nestled in a bowl of tomatoes. You can use any kind of tomatoes, add some green onions, a pinch of salt and pepper and a light vinaigrette if you like. Then toss them together and add your egg salad stuffed avocados right on top for a healthy, low carb meal that is bursting with flavor and healthy fat. It is truly satisfying.
Add your favorite toppings
These egg salad stuffed avocados can be topped with a variety of garnishes:
Keep it simple and add a dusting of cayenne pepper and some chopped chives or thinly sliced green onions
Dress it up with some bacon pieces
Sprinkle some everything bagel seasoning
Add some toasted cashews for a crunch
Drizzle with a spicy buffalo ranch like Tessemae's Habanero Ranch Dressing
The possibilities are endless, mix it up however you like.
Save it for later!
The Printable Egg Salad Stuffed Avocado Recipe

Egg Salad Stuffed Avocados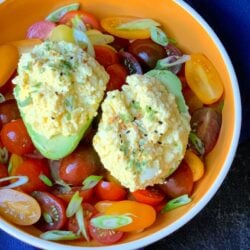 ---
Avocados topped with creamy egg salad
---
Ingredients
6

hard boiled eggs

1/4

cup

of mayo

use compliant mayo if on Whole30

1

teaspoon

spicy brown mustard

use compliant mustard if on Whole30

Pinch

of black pepper

1/4

teaspoon

of garlic powder

1/4

teaspoon

of onion powder

Salt to taste

2

avocados

sliced in halves, skin and pit removed

Thinly sliced chives or green onions for garnish

optional

Pinch

of everything bagel seasoning

optional, use compliant seasoning if on Whole30
Instructions
Combine mayo, mustard, salt, pepper, garlic powder and onion powder in a small bowl and mix together well

Next crush the eggs to your preferred texture, using your method of choice

Then combine crushed eggs and mayo mixture to form a creamy salad

Add salad to the avocado halves and garnish with your favorite toppings
---
---
The information listed in the recipe card is an estimate provided by an online nutrition tool. The tool evaluates ingredient names and amounts then makes calculations based on the number of servings listed for the recipe. It is provided as a general guideline and not as a precise calculation. For precise nutrition information please feel free to add the ingredients to your preferred nutrition calculator or consult a doctor or licensed nutritionist.

Try this other classic Guyanese Egg Dish:

Learn how to make Tostones!
Affiliate Disclosure: This post contains Affiliate Links. This means that if you click on a link and complete a purchase I earn a commission at no extra cost to you. This does not affect my opinion about the products shared in anyway. These are truly my favorite products to use, with or without the commission. Thank you for checking out my post.