Sautéed salt fish is a staple throughout the Caribbean. Salted fish is soaked to remove some of the salt, then sautéed with a variety of fresh vegetables, peppers, and aromatics for a full-flavored dish.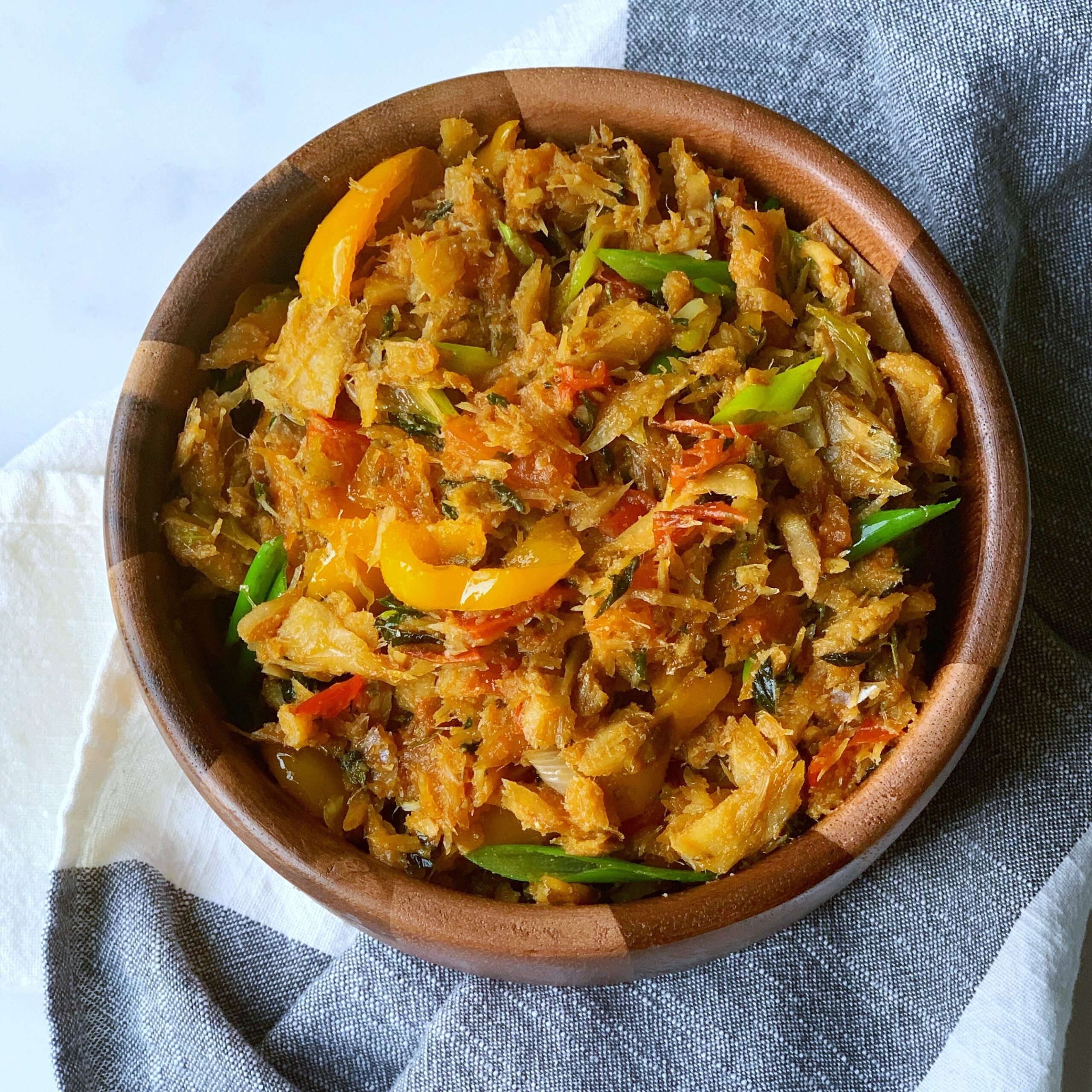 Sauteéd Saltfish
When I was a little girl, cooking salt fish was a time consuming task. The whole dried fish was filled with bones that need to be removed after boiling. I loved eating salt fish but HATED having to pick bones from the fish before my mom could cook it. Today, life is so easy because I can buy boneless, skinless salt fish filets!
Why You'll Love This Sautéed Salt Fish Recipe
Easy: Although soaking the fish takes time, the process of cooking salt fish is incredibly simple.
Great Anytime Meal: This dish is appropriate for breakfast, lunch, or dinner so it's never a bad time to serve it.
Amazing Flavor: Once the excess salt is removed, the saltfish is tender, flaky, and tastes fresh with great flavor. Throw it in the pan with the sautéed vegetables for even more flavor!
What is a saltfish?
Saltfish is dried white fish highly concentrated in salt in order to preserve it. It is usually cod, but haddock, tilapia, bass, snapper, or any other meaty white fish can be salt-cured. In order to cook the fish, it needs to be desalted and then rehydrated. Hence this sautéed saltfish recipe.
Ingredients for Sautéed Salt Fish
Keep this saltfish recipe really simple with some kitchen staples.
Salted cod: You can use other salted fish but ensure the filets are boneless and skinless for easy prep.
Water: For boiling.
Aromatics: I use diced large tomatoes, thinly sliced baby bell peppers, finely chopped green onions, and grated garlic cloves.
Herbs: I use dried thyme and freshly chopped parsley.
Cayenne pepper: This adds a kick of spice.
Oil: To cook the veggies and saltfish.
See recipe card for quantities.
How to Make Sautéed Salt Fish
Soaking Salt Fish
As the name suggests salt [salted] fish is very salty. Therefore you must remove as much salt as possible before frying and eating the salt fish. Here are a few steps to do this:
Rinse the salt fish filets: Giving the salt fish filets a quick rinse helps to remove residual salt
Soaking overnight: If time allows soaking the salt fish overnight helps to remove excess salt and also softens the salted dry fish
Boiling the salt fish filets: Most people boil the salt fish filets to reconstitute the fish (add some moisture back into the dried fish) and remove excess salt. Before boiling salt fish has the texture of jerky.
Changing the water 2 to 3 times: While boiling the salt fish I highly recommend changing the water after 10 to 15 minutes of boiling and repeating this 2 to 3 times.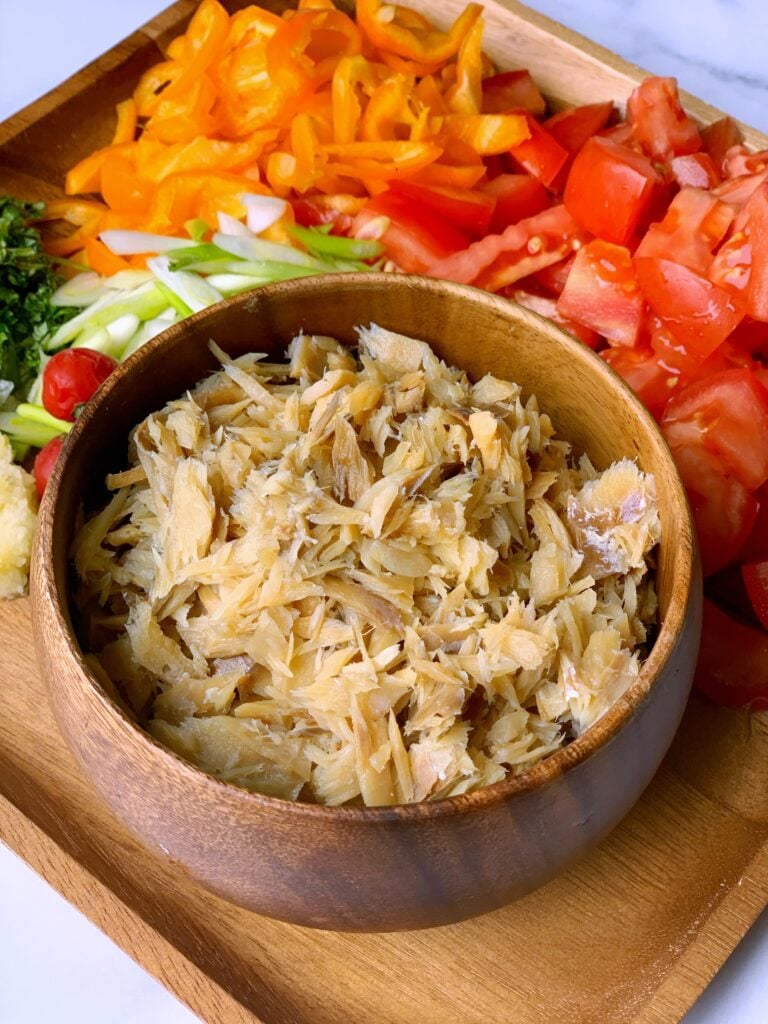 Preparing the veggies for the Sautéed Saltfish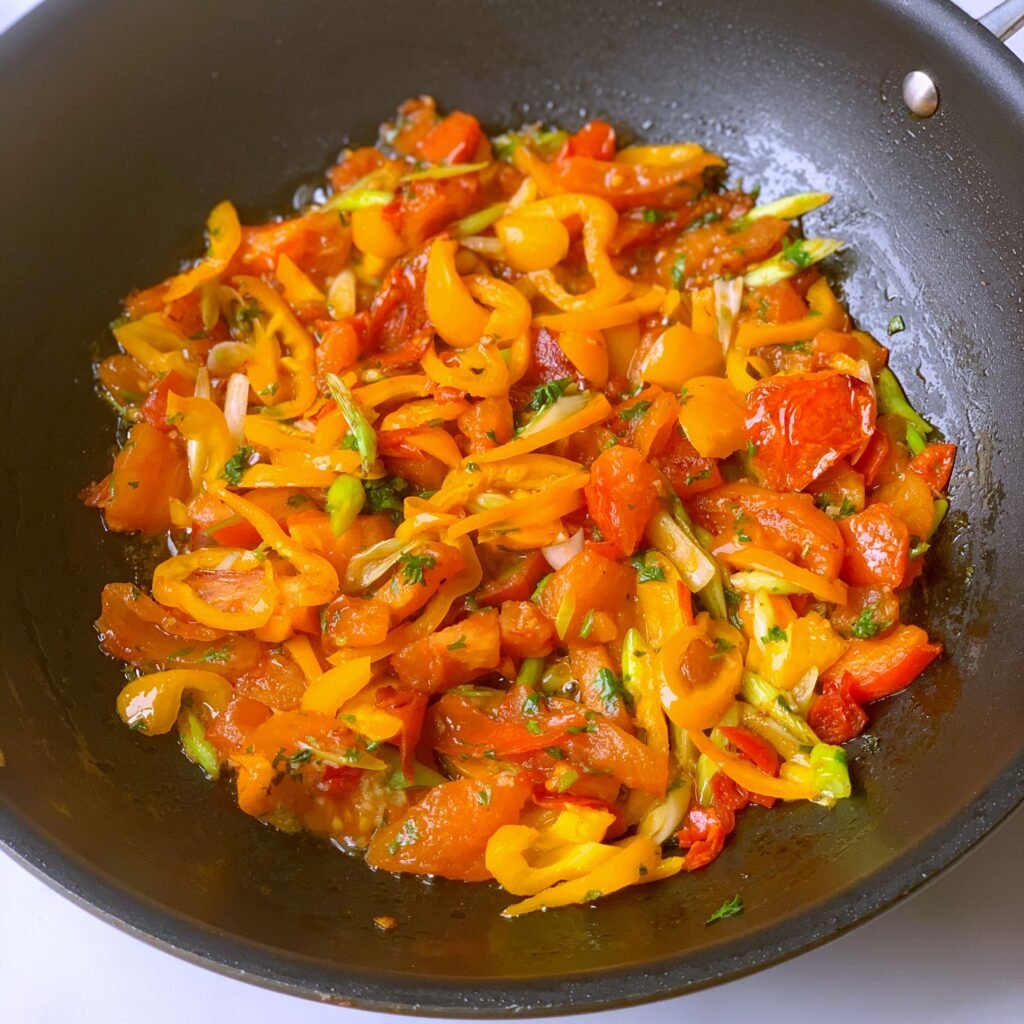 This sautéed salt fish dish is very flexible. You can use any combination of vegetables you like. For this recipe, I used green onions, mini bell pepper, lots of tomatoes, garlic, thyme, and some fresh parsley along with salt and pepper. You can use onions and even cilantro.
Bringing the Sautéed Salt Fish together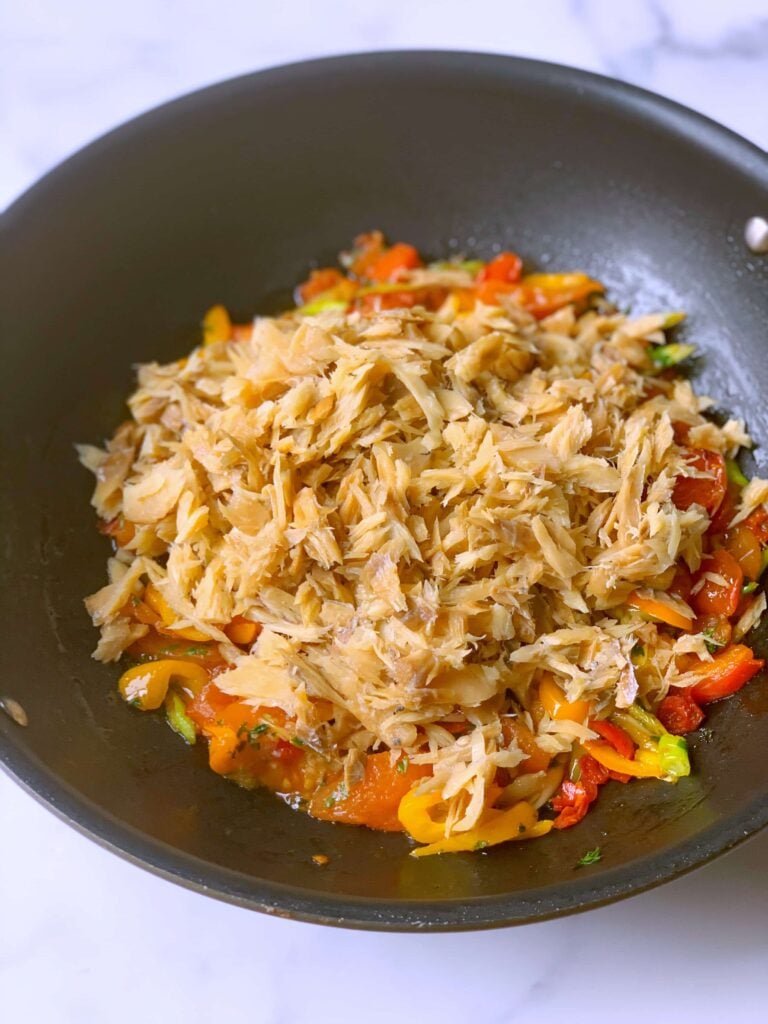 After I've sautéed the veggies I toss in the prepared salt fish, then continue to sauté to bring the flavors together and the sautéed salt fish is ready for your favorite side dish.
The Sautéed Saltfish Video Tutorial
Storage
Store sautéed salt fish in an airtight container in the fridge and consume within 3 days. To reheat, microwave or place in a skillet over low medium heat until warmed through.
Tips for the Best Sautéed Salt Fish
The best way to desalt saltfish is with boiling hot water. Fill the pot just enough to cover the filets.
Once enough salt has been removed, remember to flake the fish so that it's easy to coat with seasoning.
The goal is to remove excess salt, not all of it. The boiling method should make the fish ready in 2-3 rounds.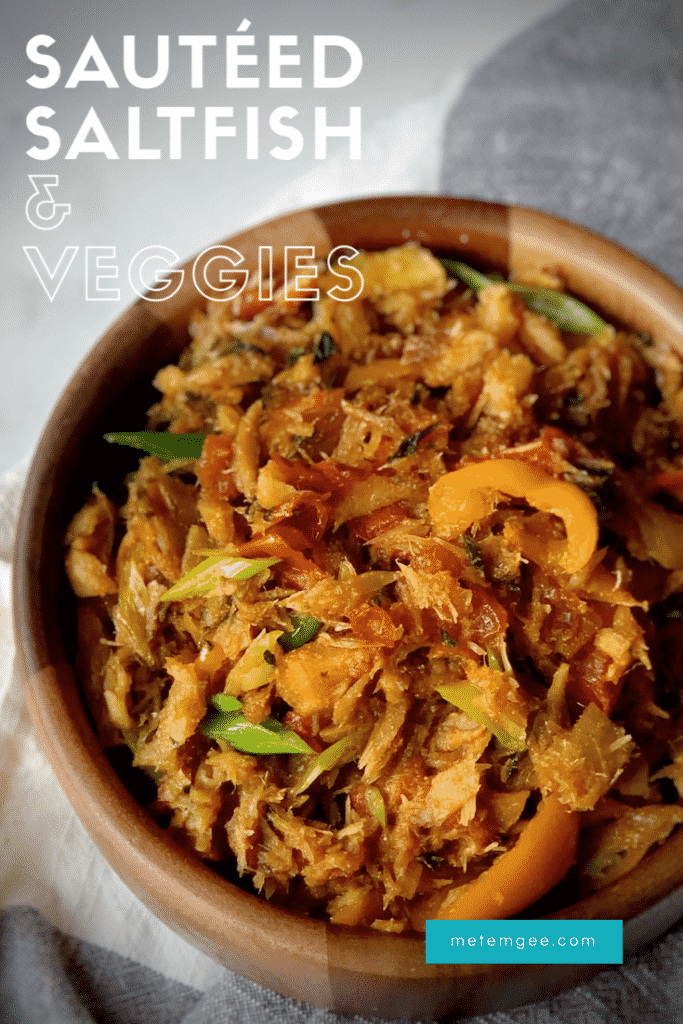 Frequently Asked Questions
What is the origin of saltfish?
Saltfish first arrived in the Carribean during the 16th century, via European and Canadian traders. Drying fish was a method used to preserve fish during their long voyages.
Can you fry salt fish?
Yes. However, when most Caribbean folks reference "frying" salt fish, they are actually sautéeing the fish. If you are looking for a fried salt fish recipe, try my Salt Fish Cakes recipe.
What can I serve with sautéed salt fish?
Salt fish is traditionally paired with bakes, but it is also great for adding to vegetables or eating along with dhal and rice. I like to pair my salt fish with Gluten Free Bakes! It also pairs really well with Boil and Fry Cassava.

Sautéed Salt Fish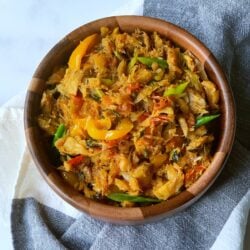 ---
Sautéed salt fish is a staple throughout the Caribbean. Salted fish is soaked to remove some of the salt, then sautéed with a variety of fresh vegetables, peppers, and aromatics for a full-flavored dish.
---
Equipment
Large Saucepan

Large Sauté Pan
Ingredients
1

lb

salted cod or other salted fish

About 8 cups water for boiling

2

large tomatoes

diced

1

cup

of baby bell peppers

thinly sliced

5

heads of green onions

finely chopped

4

cloves

of garlic

grated

1

tablespoons

dried thyme

Pinch

of cayenne pepper

1

tablespoon

of freshly chopped parsley

2-4

tablespoons

of oil
Instructions
Boiling the Fish to remove the salt
Add salt fish filets to a bowl, then rinse with cool running water to remove as much residual salt as possible. If time allows, you may soak fish for 24 hours or overnight if possible, In 4-6 cups of cool water after rinsing

Next, add salt fish and 4 cups of water to a large saucepan and bring to a boil on medium heat. Boil uncovered for 10 to 15 minutes. Keep an eye on the pot, as salt fish tends to boil over if left unattended. Reduce the heat to medium low, if bubbles rise to the top of the pot.

After about 15 minutes, drain water, then add an additional 4 cups of water, bring to a boil and boil for another 15 minutes. This helps to remove as much of the salt as possible.

Next drain fish from water, then rinse with cool water and set aside for a few minutes to allow fish to cool

When thee fish cools, flake with a fork or your fingers until all the flesh is completely flaky
Sautéing the cooked salt fish
Bring 3 tablespoons of oil up to temperature in a large sauté pan on medium heat

Then add tomatoes, ⅔ green onions, bell peppers and garlic. Cook until tomatoes are soft, then add the flaked salt fish, thyme and cayenne pepper

Cook for 10 to 15 minutes, stirring occasionally to ensure even cooking. Once the fish has cooked for 15 minutes, remove from the heat and add the remaining green onions.
Notes
I don't add any additional salt to the dish because even after boiling the fish to remove the salt, it can still be salty
If you don't have time to soak your salt fish over night or even for a few hours don't worry, you can simply repeat the boiling steps 3-4 times to remove some of the excess salt. 
Be sure to taste a piece of the salt fish after you've boiled and drained it twice to confirm that most of the salt has been removed. If it is still too salty, drain the boiling water, add fresh water and boil again for another 10 minutes. 
Nutrition
Calories:
286
kcal
Carbohydrates:
6
g
Protein:
49
g
Fat:
7
g
Saturated Fat:
1
g
Polyunsaturated Fat:
2
g
Monounsaturated Fat:
3
g
Trans Fat:
0.02
g
Cholesterol:
115
mg
Sodium:
5321
mg
Potassium:
1329
mg
Fiber:
2
g
Sugar:
3
g
Vitamin A:
1863
IU
Vitamin C:
62
mg
Calcium:
152
mg
Iron:
3
mg
---
---
The information listed in the recipe card is an estimate provided by an online nutrition tool. The tool evaluates ingredient names and amounts then makes calculations based on the number of servings listed for the recipe. It is provided as a general guideline and not as a precise calculation. For precise nutrition information please feel free to add the ingredients to your preferred nutrition calculator or consult a doctor or licensed nutritionist.