Seasoned Plantain Fries were a huge part of my childhood. Today I am happy to share these with my own children. They love these and prefer, especially when they are loaded with bacon or chicken and drizzled with ranch dressing!
They pair really well with Salmon Nuggets for a great Fish and Chips Combo. Since plantains are nutrient dense and so rich in flavor, I don't mind making these a few times a week for my family. Did you know that plantains are have protein and a host of other vitamins? See below for a nutrition chart from Heatline.com
Plantain Nutrition Facts:
How to Peel Green Plantains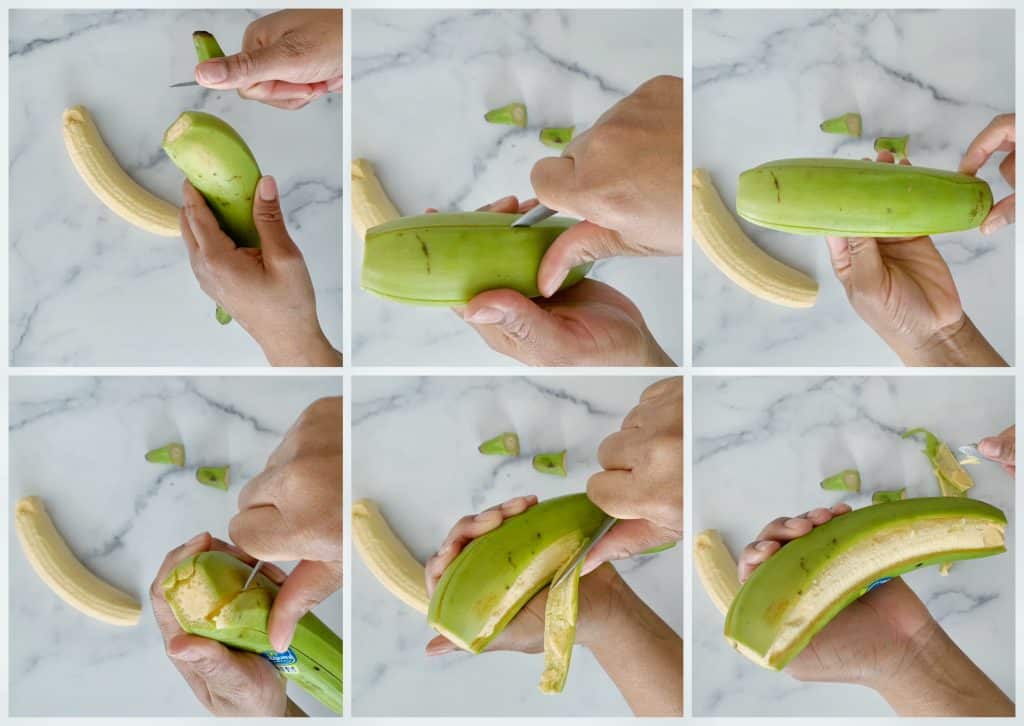 Peeling green plantains can be a tedious task, since they are not as easy to peel as ripe/yellow plantains that peel pretty much like a ripe bananas. To peel green plantains start by rubbing some oil on your hands. This prevents that sticky and staining residue plantain the peel leaves behind. Then cut the tips off the plantain and with a paring knife, make lengthwise slits along the plantain. Next slide the tip of the knife under the skin at the top of one of the slits and peel away that portion of skin. Repeat until you remove all of the skin.
Cutting the Plantain into Fries
To make perfect Plantain Fries first cut the plantain in half. Then cut each half into a lengthwise half. Next cut each lengthwise half into 3 equal strips. Repeat until you cut all the plantain into fries. You will get about 12 fries per plantain. In my family one plantain equals a serving, unless you are my husband, then double your serving amount!
Seasoning the Plantain Fries
I always add dried spices to my plantain fries before frying. This allows the flavor of the spices to cook into the plantain. Coat your plantain fries generously with seasoning but not so much that the seasoning burns during frying. My favorite combination of seasoning for fries (any kind of seasoned fries) is garlic powder, onion powder, paprika, parsley, salt and pepper. With these basic pantry staples you can take your fries from boring to wow in a few simple steps!
Shallow Fry versus Deep Fry
I've gotten into the habit of shallow frying most things that I can get away with shallow frying. Even with less oil, the results are exactly the same as if I deep fried these seasoned plantain fries. I recently switched to using avocado oil for frying and cooking. Not deep frying everything saves me from using too much oil, therefore saving me some money spent on avocado oil which is pretty expensive. While frying the plantain fries, just use your spatula to rotate them for even frying on all sides.
Finishing Touches for the Plantain Fries
Once the fries are golden brown on all sides, remove the fries from the heat and place in a bowl lined with parchment paper then sprinkle with fresh parsley or parsley flakes. I don't add the parsley flakes to the plantain fries before frying because they will burn. The little bit of hot oil on the fries, right after frying helps the parsley to stick to the plantain fries.
Making Loaded Plantain Fries
Who doesn't love a good loaded fries. You can top these plantain fries off with some crispy bacon, scallions, salsa, jalapeños or even some cooked ground meat or grilled chicken pieces. Then drizzle with some fry sauce.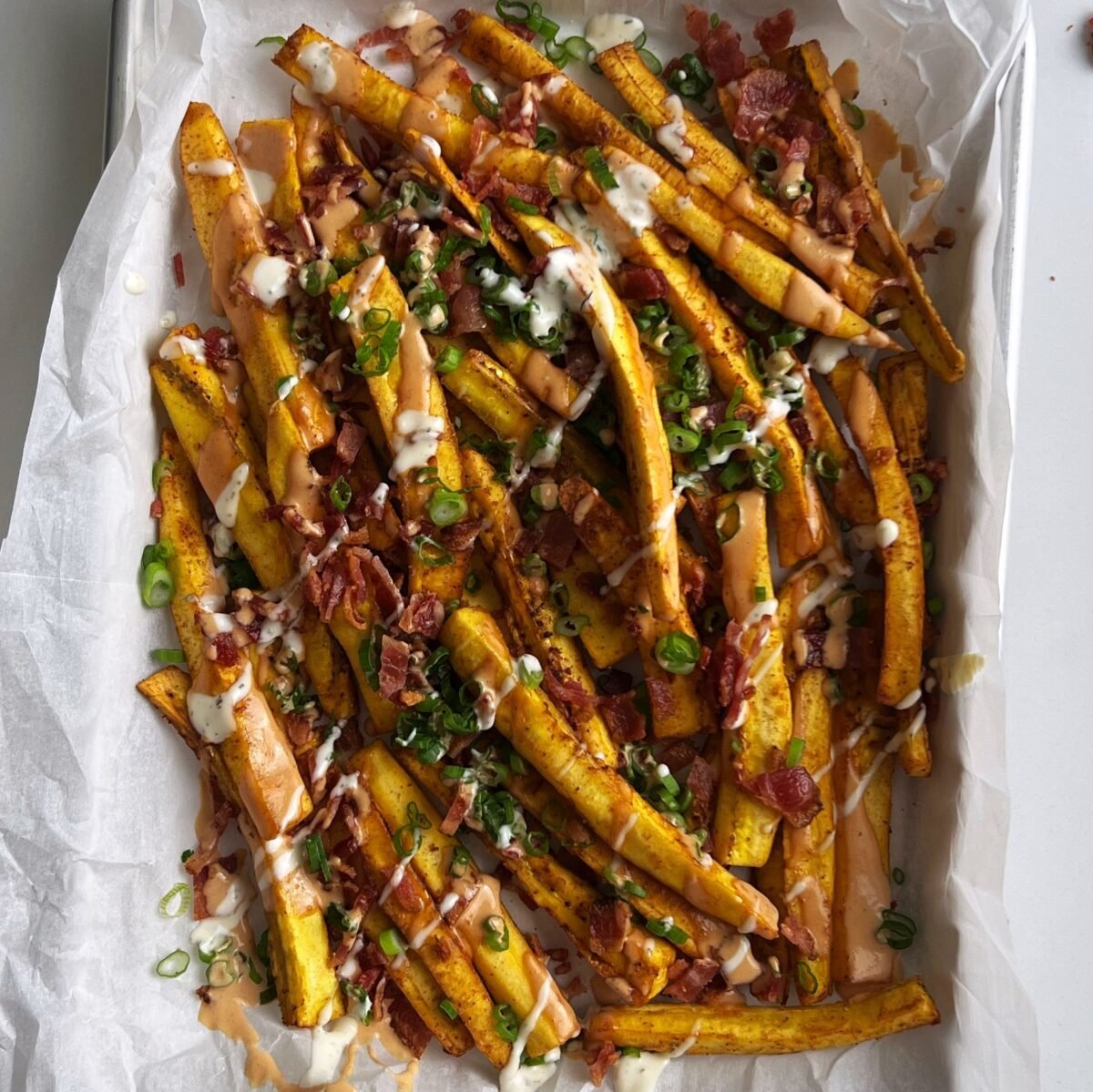 Making the Fry Sauce
There are two ways to make really great fry sauce. The first from scratch version is made with mayo (be sure it is compliant if you are on Whole30 or make your own), ketchup (again, make sure it is compliant), apple cider vinegar, coconut aminos, salt and pepper. It's easy to mix these together for a really quick fry sauce. You can even add some relish or finely chopped pickles to your sauce if you like. The other version of fry sauce for me, is my lazy version. I take any ranch dressing (I particularly like the Tessemae's Habanero Ranch Dressing) and add Ketchup. Mix those together and instant fry sauce. In Guyanese households we make spicy ketchup for fries, by adding pepper sauce to ketchup. Easy, Peasy. Anything goes.
Making Spicy Tamarind Ketchup
I enjoy these plantain fries the Guyanese way by making spicy ketchup and lately I've been adding a bit of flavor to my fries by adding Saucy Lips Foods' Ghost Pepper Habanero Sauce to my ketchup. It's that easy and it is so delicious.
Save it for Later

Seasoned Plantain Fries with Easy Fry Sauce
---
Green plantains cut into french fries, seasoned and fried to golden perfection paired with a delicious fry sauce!
---
Ingredients
4

green plantains

peeled and cut into 4 inch french fry pieces

1

cup

of avocado oil or similar oil for frying
To Season the Plantains:
1

teaspoon

of onion powder

1

teaspoon

of granulated garlic

1/2

teaspoon

of salt

1/2

teaspoon

of smoked paprika

Pinch

of black pepper

About 1 teaspoon of parsley flakes or 1 tablespoon of fresh parsley
For the Sauce:
1

cup

of mayo

1/4

cup

of ketchup

1

teaspoon

of apple cider vinegar

1

tablespoon

of coconut aminos

Salt to taste

Pinch

of Cayenne Pepper
Quick and easy Whole30 Fry Sauce:
Instructions
Combine all of the seasoning for the plantain fries, except the parsley flakes or fresh parsley in a bowl and mix together well

Then add the plantains and toss until fully coated with the seasoning

Add oil to a large skillet or frying pan on medium heat and bring up to temperature

When the oil is hot, add a batch of seasoned plantains to the oil so that they are in a single layer. I typically fry my plantain fries in 3 batches.

Cook on medium heat until all the sides are golden brown. Use a spatula to flip the plantains for even cooking throughout frying

Remove the plantains fries from the oil and place in a bowl lined with parchment paper then sprinkle with a pinch of parsley flakes or fresh parsley and mix together

Continue steps 4 to 6 until all the seasoned plantain have been fried
Making the fry sauce
Combine all the ingredients in a small mixing bowl and mix together well

Serve the plantain fries with the fry sauce and enjoy
Making Spicy Tamarind Ketchup
Combine all the ingredients in a small mixing bowl and mix together well

Serve the plantain fries with the spicy ketchup and enjoy
---
---
The information listed in the recipe card is an estimate provided by an online nutrition tool. The tool evaluates ingredient names and amounts then makes calculations based on the number of servings listed for the recipe. It is provided as a general guideline and not as a precise calculation. For precise nutrition information please feel free to add the ingredients to your preferred nutrition calculator or consult a doctor or licensed nutritionist.
Try these other delicious plantain recipes