Grilling season is here and this Easy Grilled Salmon is perfect for any day of the week. Make it a part of your meal prep for easy week night dinners. Or make it on the weekend when you'd rather spend your time exploring than cooking. I make this dish at least once a week. Leftovers are great over salads for lunch, with eggs for breakfast or with veggies for dinner. You can't go wrong with a perfectly cooked piece of fish!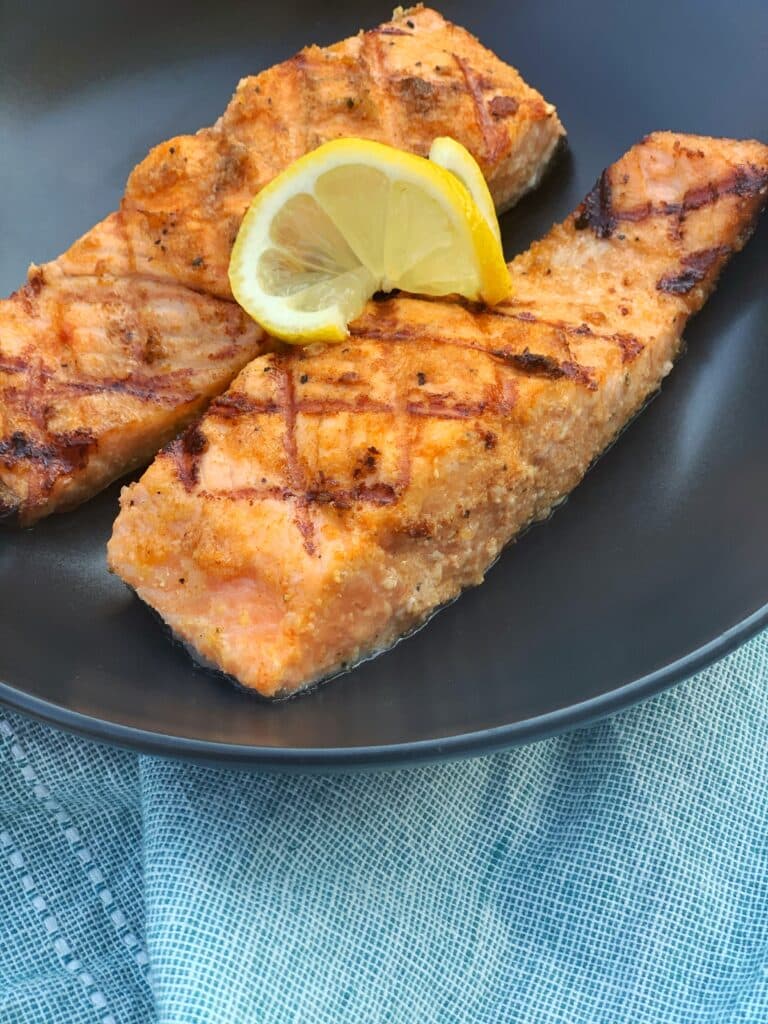 Preparing the Salmon for grilling
I buy a large salmon filet (about 2 lbs). After removing the scales, I cut it into even individual filet pieces. Pictured above is 1 lb of Salmon cut into 4 filets. After rinsing with water, I add a liberal amount of lemon or lime juice (depending on what citrus I have available). Then I add some basic pantry staples like garlic powder, onion power, black pepper, olive oil, paprika and coarse salt. Simple and clean. That's all you need for great tasting salmon.
I let this sit while I prep and clean my grill. Then once the grill comes up to temperature we are in business. 4 minutes on each side is all you need and dinner is ready. Between, the prepping, cleaning the grill and cooking this can all be done in about 30 minutes. Sometimes, my husband cleans and preps the grill while I clean and prep the fish. How does that saying go? Team work makes the dream work. Yes it does. Sharing the work cuts prepping time in half and before we know it we are eating.
Save it For Later
The Printable Easy Salmon Recipe:

Easy Grilled Salmon
---
Grilled Salmon seasoned with simple ingredients for an easy to follow and easy make protein dish
---
Ingredients
4

Salmon filets

about 1lb, scales removed and washed

Juice of one lemon

plus lemon slices to garnish

1

teaspoon

of granulated garlic

1

teaspoon

of onion powder or granulated onion

1/4

teaspoon

of paprika

1/2

teaspoon

of coarse salt or salt to taste

pinch

of fresh cracked black pepper

1

tablespoon

of olive oil
Instructions
Mix together granulated garlic, onion powder, paprika, coarse salt and black pepper and set aside

Then squeeze the lemon juice liberally over the salmon, then drizzle with olive oil and mix together well ensuring that all the pieces of fish are coated with lemon juice and olive oil

Next liberally cover the salmon filets with the seasoning mixture from step 1, then let rest for about 5 minutes while you preheat your grill

Heat the grill to 425-450 degrees

Brush grill grate with some olive oil then place salmon flesh side down on the grill. Cook for 4 minutes, then flip and cook for another 4 minutes

Remove from the grill and rest for 5 minutes before serving

Garnish with slices of lemon and serve warm
---
---
The information listed in the recipe card is an estimate provided by an online nutrition tool. The tool evaluates ingredient names and amounts then makes calculations based on the number of servings listed for the recipe. It is provided as a general guideline and not as a precise calculation. For precise nutrition information please feel free to add the ingredients to your preferred nutrition calculator or consult a doctor or licensed nutritionist.
When I want to get a little fancy, I top my salmon with some pineapple teriyaki sauce. It's so easy to make. Just 1/4 cup of coconut aminos teriyaki sauce, 1 tablespoon of olive oil and 1/4 cup of Saucy Lips Foods Pineapple Thai Sauce. Cook that down until it is a thick sauce, add some pineapple chunks (optional) and brush over your grilled salmon. Yum.
Here are some other dishes you may enjoy: