Broiled Salmon with Cranberry Chutney is bursting with all the flavors of the holiday season. Tender, spicy, savory salmon is topped with sweet, tart cranberry chutney for a delicious entree.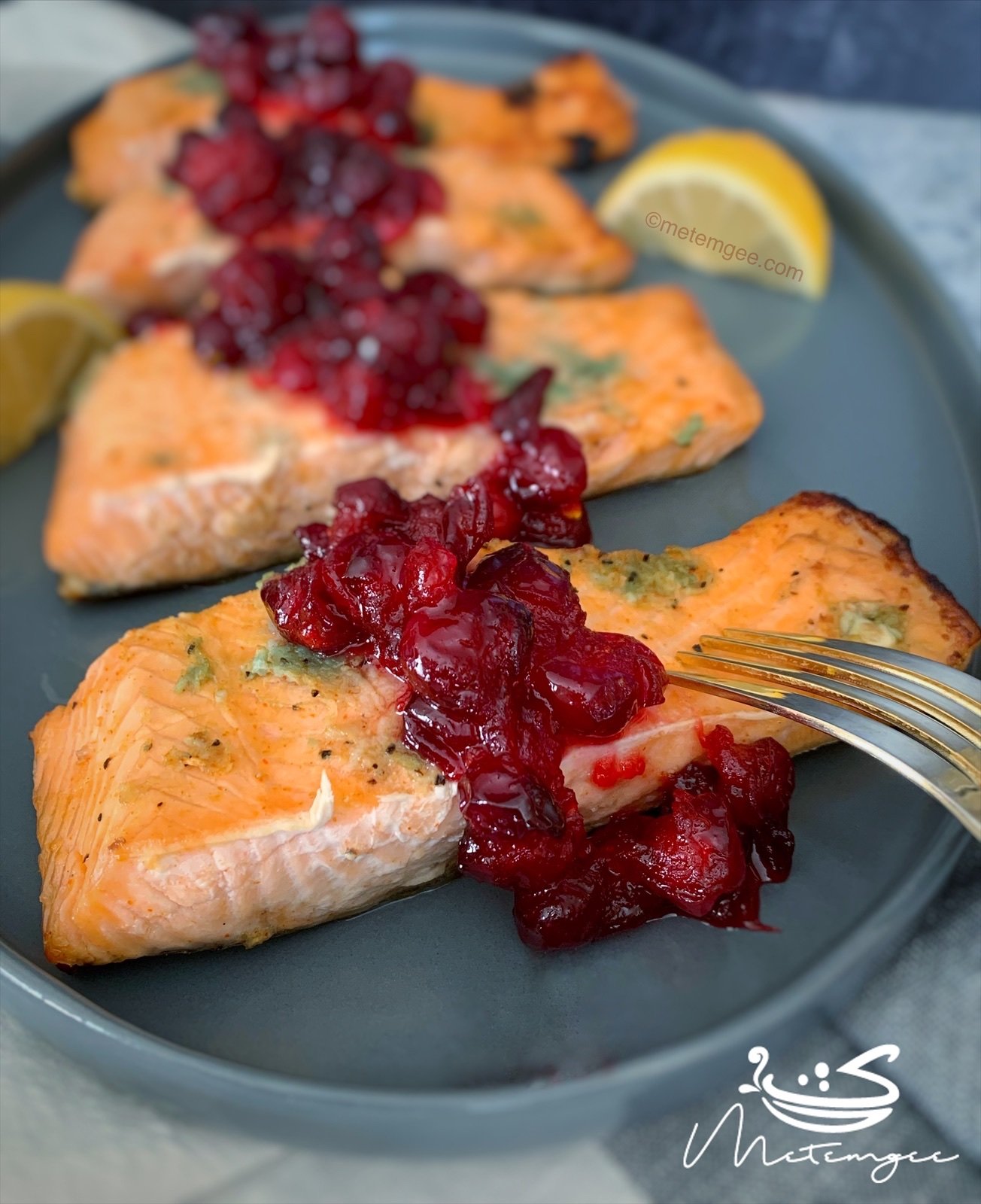 Broiled Salmon with Cranberry Chutney
Turkey is usually the main attraction on my Thanksgiving table and I've been making my Jerk Turkey recipe for quite a few years now. If you are not a turkey fan or you are looking for a different protein option this Thanksgiving, this broiled salmon with cranberry chutney would be a worthy addition to any Thanksgiving menu.
The salmon on its own is delicious. It is garlicky and has a little heat from the cayenne pepper but the cranberry chutney adds an unexpected burst of flavor. The sweetness and tartness of the chutney combined with the spiciness of the cayenne pepper is beyond yummy.
Why You'll Love This Broiled Salmon Recipe
Easy to Make: I love broiling salmon because it comes together quickly. With three kids, I rarely have time to pour into prepping and cooking my meals. I need to cook quickly and efficiently. And this dish is just that. Cooking this salmon is easy and requires zero culinary skills.
Great Holiday Dish: Broiled salmon with cranberry chutney is a delicious alternative to Thanksgiving turkey and cranberry sauce.
Great for Leftovers: This dish reheats well and I provide detailed instructions below. Beyond the holidays, this entree is also good for meal prep because it stores and reheats well.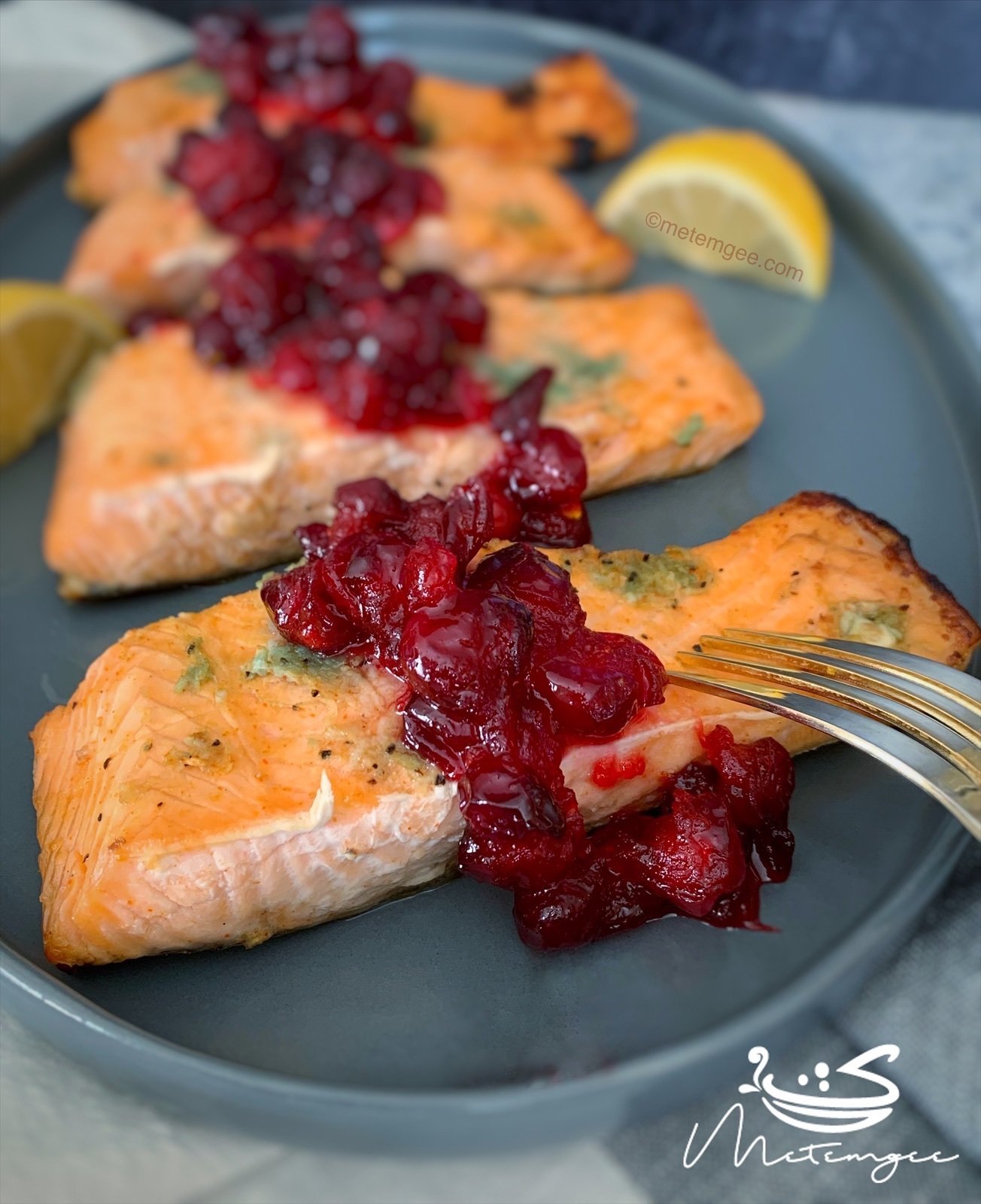 Ingredients for Broiled Salmon and Cranberry Chutney
The cranberry chutney served with this broiled salmon is a simplified version of my original recipe. But it's just as tasty.
Salmon filet: If using frozen salmon, be sure to completely defrost it and pat dry before seasoning and cooking.
Lemon juice: Citrus flavor always pairs well with seafood.
Garlic cloves: Finely grated.
Seasoning: Season with coarse salt (like sea salt or Himalayan salt), ginger powder (you can use fresh ginger instead if you prefer), cayenne pepper, and freshly ground black pepper.
Cooking spray: Use this for crispy salmon skin.
Cranberry Chutney
Fresh cranberries: Rinse them thoroughly beforehand.
Granulated sugar: To sweeten.
Red wine vinegar: A pop of acidity balances the other flavors.
Freshly grated ginger: This adds a warm spiced quality.
Orange: We're using the whole orange for this recipe; zest, juice, and fruit
See recipe card for quantities.
How to Make Broiled Salmon with Cranberry Chutney
Prepping the Salmon for Broiling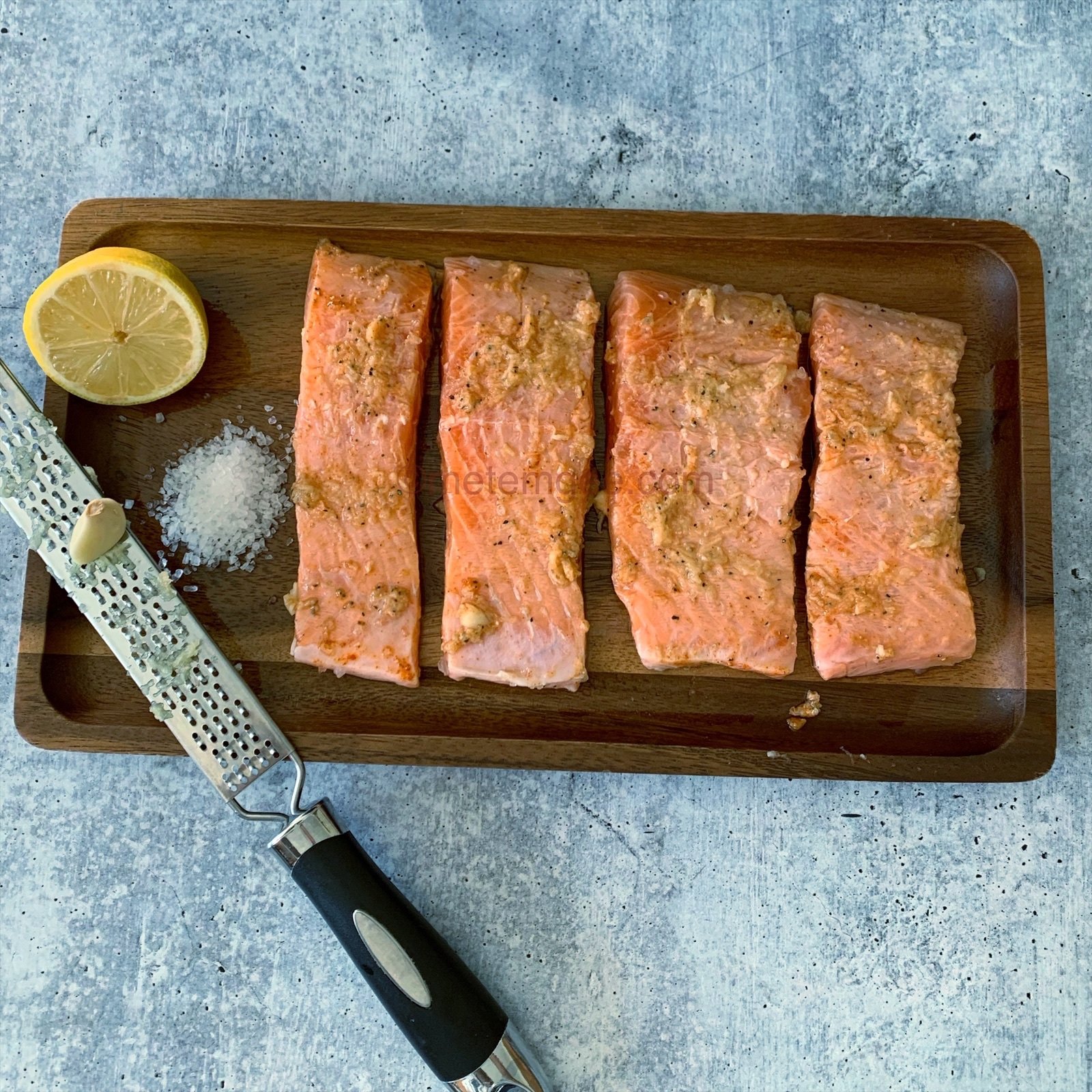 To prep the salmon for cooking, I wash and remove the scales from the salmon. After cleaning the fish I add lemon juice (I don't wash the lemon juice off), and then seasoning.
How to Get Crispy Salmon Skin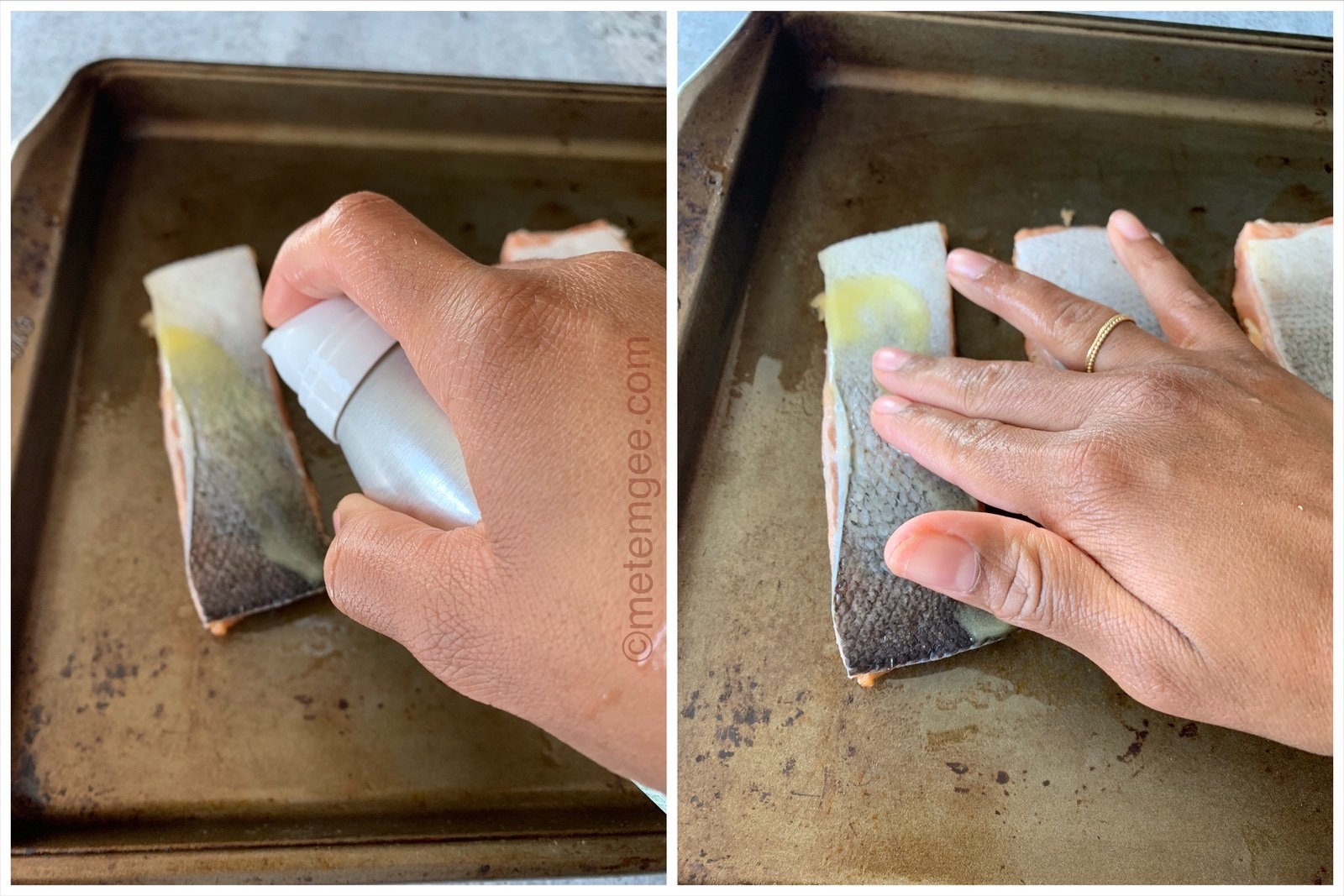 When ready to broil, I place the salmon skin side up on a greased baking sheet and spray it with cooking spray. This is an important step if you like really crispy fish skin. You can even serve the salmon with cranberry chutney with the salmon skin side up to maintain that crispiness. I love a good crispy fish skin even on baked or broiled salmon.
How to Broil Salmon
I broil the fish on the top rack in the oven. While broiling the skin starts to "fry" with that little bit of oil from the cooking spray. It becomes crispy and oh so delicious. Broiling is quick cooking at high heat, so if you haven't used your broiler before, you will need to watch the fish to ensure it does not burn. Cook the fish for 4-6 minutes on this side. Once the skin gets brown or puffs up flip the fish over so that it is now flesh side up.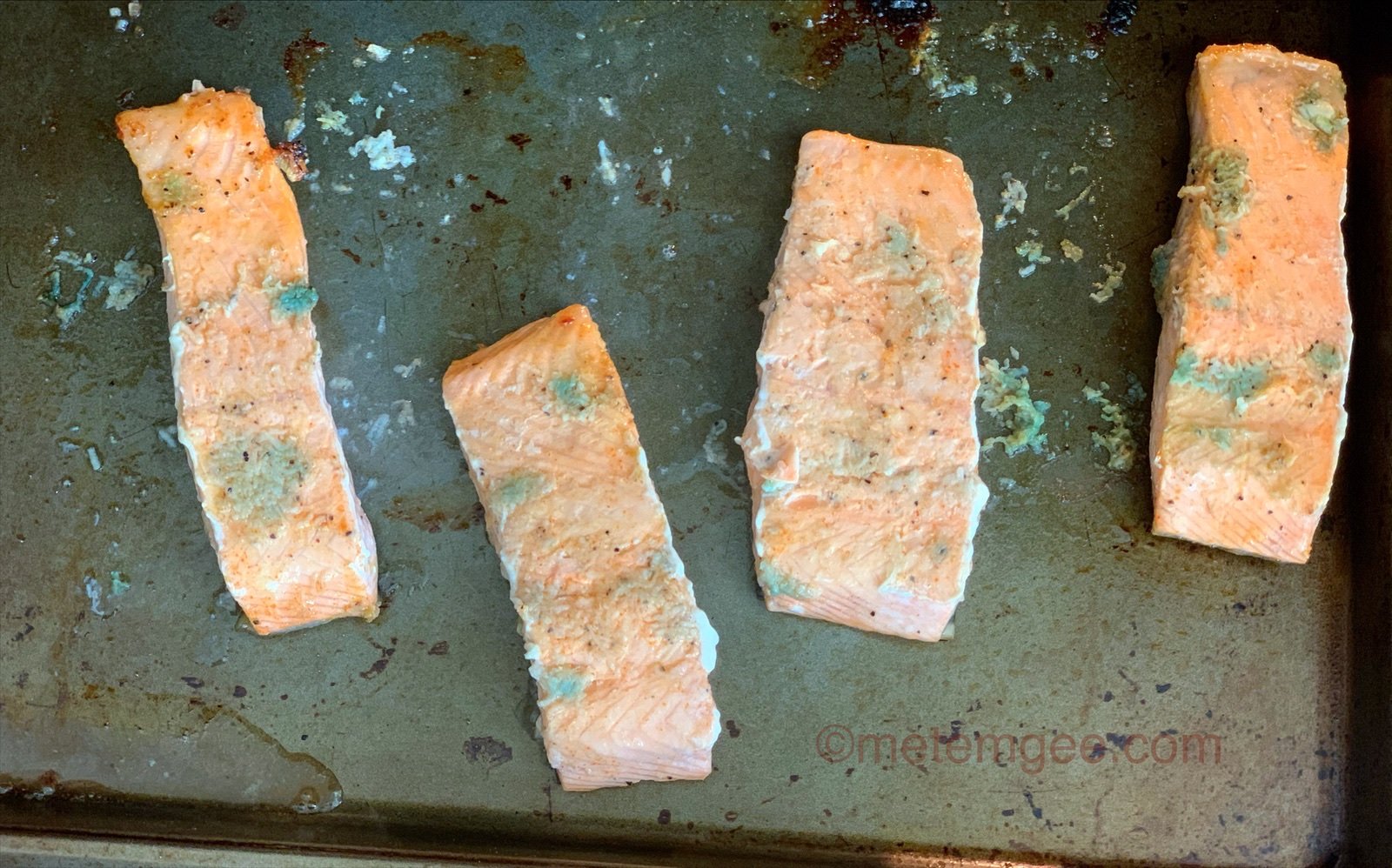 Why do we need to flip it over you ask? So that the flesh side gets a nice color. Continue to broil for another 4 minutes and then remove from the oven. If you cook the fish for more than 10 minutes it will overcook and be dry. So please keep an eye on the fish and on the timer. When you have finished broiling the fish, let it rest for 5 minutes before serving.
Making the Cranberry Chutney
Chutney is easy to make and is the key to this broiled salmon with cranberry chutney dish. Don't be afraid, after making this once, you will never use that canned jelly ever again. I made this in a small frying pan but you can use a small saucepan if you prefer.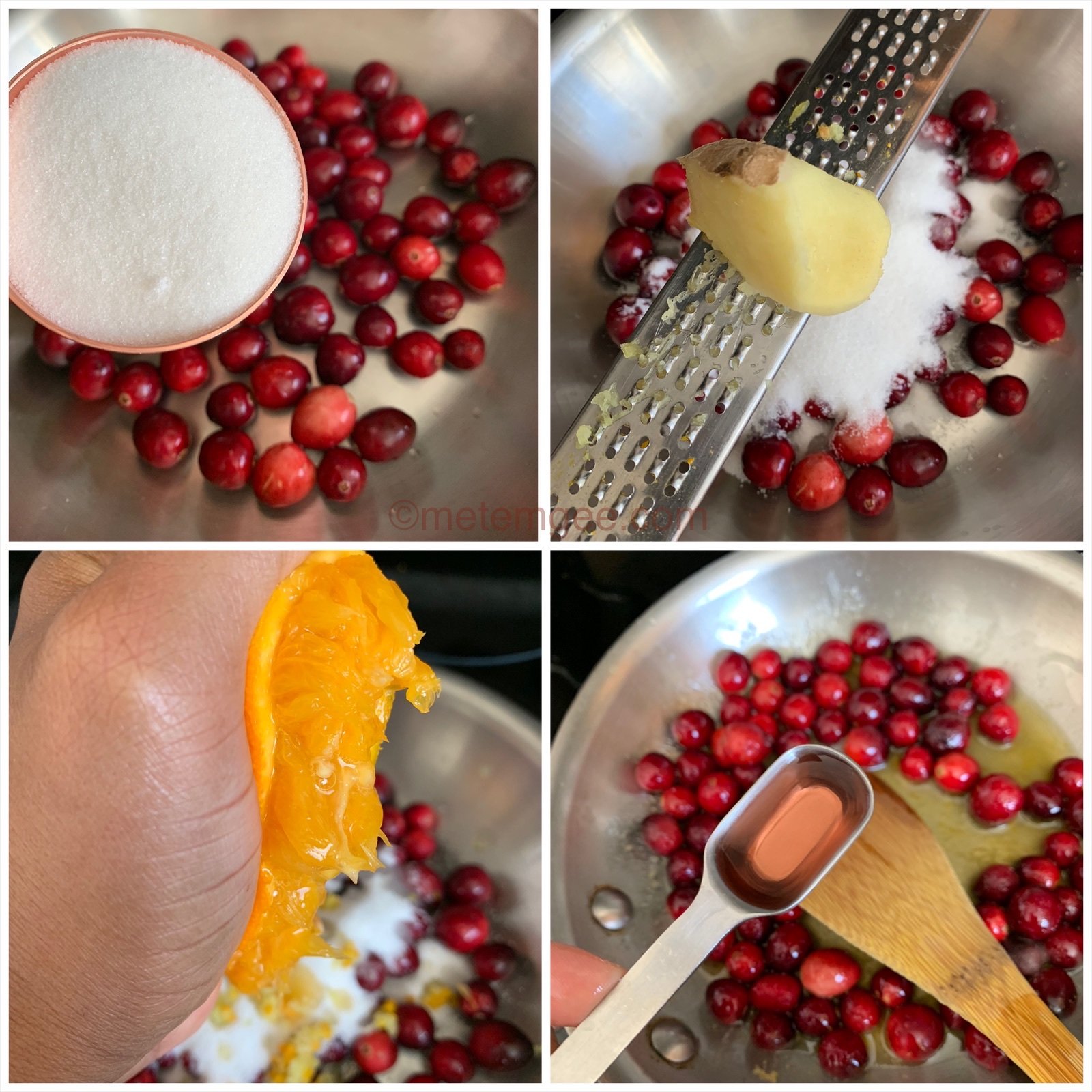 All of the ingredients for the chutney are added to a small pot or frying pan (in my case) on high heat. Within 10 minutes the cranberries become soft and a sauce forms. Once the cranberries soften your chutney is ready. Remove it from the heat. You can make the chutney ahead and store it in the refrigerator, but remember to serve it warm.
Bringing the dish together
The salmon is really good to eat on its own. So If you were making this for a regular weeknight meal, after you're done broiling the salmon, you would be ready to eat. But for special occasions and if you want to add it to your thanksgiving menu, plate the salmon and then add a tablespoon of the chutney on top of the salmon. Oh so delicious! You can't go wrong with this dish. Just typing this up and looking at the photos is making me really hungry.
Storage
Store salmon and chutney in separate airtight containers in the fridge. The salmon lasts up to 3 days and the chutney up to 10. Reheat the salmon in an oven preheated to 275°F oven for about 15 minutes. Reheat the chutney in the microwave for 30 seconds. You may need to add a splash of water if the sauce is too thick.
Tips for the Best Broiled Salmon
After rinsing the salmon, remove any excess moisture with paper towels. This helps the salmon brown properly so it gets nice and crispy.
Seasoning the fish for at least 20 minutes before cooking will enhance the flavor of the finished dish, but it is not necessary. I've brought salmon home, cleaned, seasoned, and cooked within 20 minutes and it still tasted great.
Preheat the broiler for at least 10 minutes before placing the salmon inside. This ensures that the salmon cooks evenly and develops a nice crust on the outside.
Closely monitor the salmon as it broils. Salmon cooks quickly under the broiler, typically within 8-10 minutes depending on the thickness of the fillets. Keep a close eye on it to avoid overcooking because salmon can dry out easily.
Let the filets rest for about 5 minutes once they're done. This allows the juices to redistribute, keeping the fish moist.
Frequently Asked Questions
Is it better to broil or pan sear salmon?
Both cooking methods have their benefits so it comes down to personal preference. Broiling salmon provides a crispy crust and a moist center. It's convenient and requires less hands-on work. While pan-searing may take a bit longer and require more attention, this creates a caramelized crust and allows more control over the cooking temperature.
How to make salmon without drying it out?
The key to not drying out salmon is to avoid overcooking it. Once the internal temperature reaches 145°F, the salmon is cooked. Keep the skin on while cooking to retain moisture (it protects the flesh). Allowing it to rest for a few minutes after it's cooked is vital too.
Is broiled salmon healthy?
Salmon is packed with nutrients so no matter how you make it, it's going to be beneficial. It's rich in omega-3 fatty acids, high in protein, and low in saturated fat. Be mindful of the amount of oil you use to broil the salmon and what you pair it with, for a healthy, balanced meal.

Broiled Salmon with Cranberry Chutney
---
Broiled Salmon with Cranberry Chutney is bursting with all the flavors of the holiday season. Tender, spicy, savory salmon is topped with sweet, tart cranberry chutney for a delicious entree.
---
Equipment
Baking Sheet

Small Pot or Saucepan
Ingredients
1

lb

Salmon filet

1

teaspoon

coarse salt

like sea salt or Himalayan salt

Juice of 12 lemons

4

cloves

garlic

finely grated

1/2

teaspoon

ginger powder

can use fresh ginger as well

1/4

teaspoon

cayenne pepper

Cooking spray

pinch

of freshly ground black pepper

Cranberry Chutney
1

cup

fresh cranberries

washed

1/4

cup

granulated sugar

2

teaspoons

red wine vinegar

1/2

teaspoon

freshly grated ginger

1/2

teaspoon

of orange zest

Juice from 1/2 and orange
Instructions
Wash and scale salmon filet. Then cut into 4 equal pieces

Season salmon pieces by first squeezing the lemon juice over all of the pieces, then adding the coarse salt, grated garlic, powdered ginger, cayenne pepper and black pepper

Let marinate for 20 to 30 minutes, while you make the cranberry chutney

When ready to cook, set your oven temperature to broil.

Place the fish skin side up on a greased baking sheet (I used cooking spray for this step)

Spray fish skin with cooking spray and use fingers to rub the cooking spray evenly over the fish skin

Broil for 4 to 6 minutes or until fish skin is brown and crispy

Flip the fish over so that it is flesh side up and broil for another 4 minutes to allow the flesh to become brown

Remove from the oven and let rest for 5 minutes.

Top with cranberry chutney and enjoy

Cranberry Chutney
Add cranberries, granulated sugar, red wine vinegar, freshly grated ginger, orange zest and orange juice to a small pot on medium heat.

Mix together well

Bring to a boil, stirring continuously as cranberries become soft

As soon as the cranberries soften remove from the heat

It will continue to cook and thicken

Set aside

Top salmon with cranberry chutney before serving the salmon
Notes
My broiler is preset to 500°F. The temperature of your broiler may vary. If this is your first time using your broiler option, please pay close attention to your fish so that it doesn't burn.
Broiling the salmon for longer than 10 minutes will cause the fish to be dry.
You can make the chutney ahead and store it in the fridge, but be sure to reheat it before serving. I usually just pop mine in the microwave but you could also reheat it on the stove, just add a tablespoon or two of fresh orange juice and reheat it on low
Nutrition
Calories:
337
kcal
Carbohydrates:
51
g
Protein:
27
g
Fat:
8
g
Saturated Fat:
1
g
Polyunsaturated Fat:
3
g
Monounsaturated Fat:
2
g
Cholesterol:
62
mg
Sodium:
639
mg
Potassium:
1103
mg
Fiber:
11
g
Sugar:
25
g
Vitamin A:
259
IU
Vitamin C:
194
mg
Calcium:
120
mg
Iron:
3
mg
---
---
The information listed in the recipe card is an estimate provided by an online nutrition tool. The tool evaluates ingredient names and amounts then makes calculations based on the number of servings listed for the recipe. It is provided as a general guideline and not as a precise calculation. For precise nutrition information please feel free to add the ingredients to your preferred nutrition calculator or consult a doctor or licensed nutritionist.