Spatchcock Jerk Turkey is now my favorite way to make Thanksgiving Turkey. I cook a whole turkey once a year. And this is my go to flavor and method. A whole roasted turkey in half the time? Sign me up!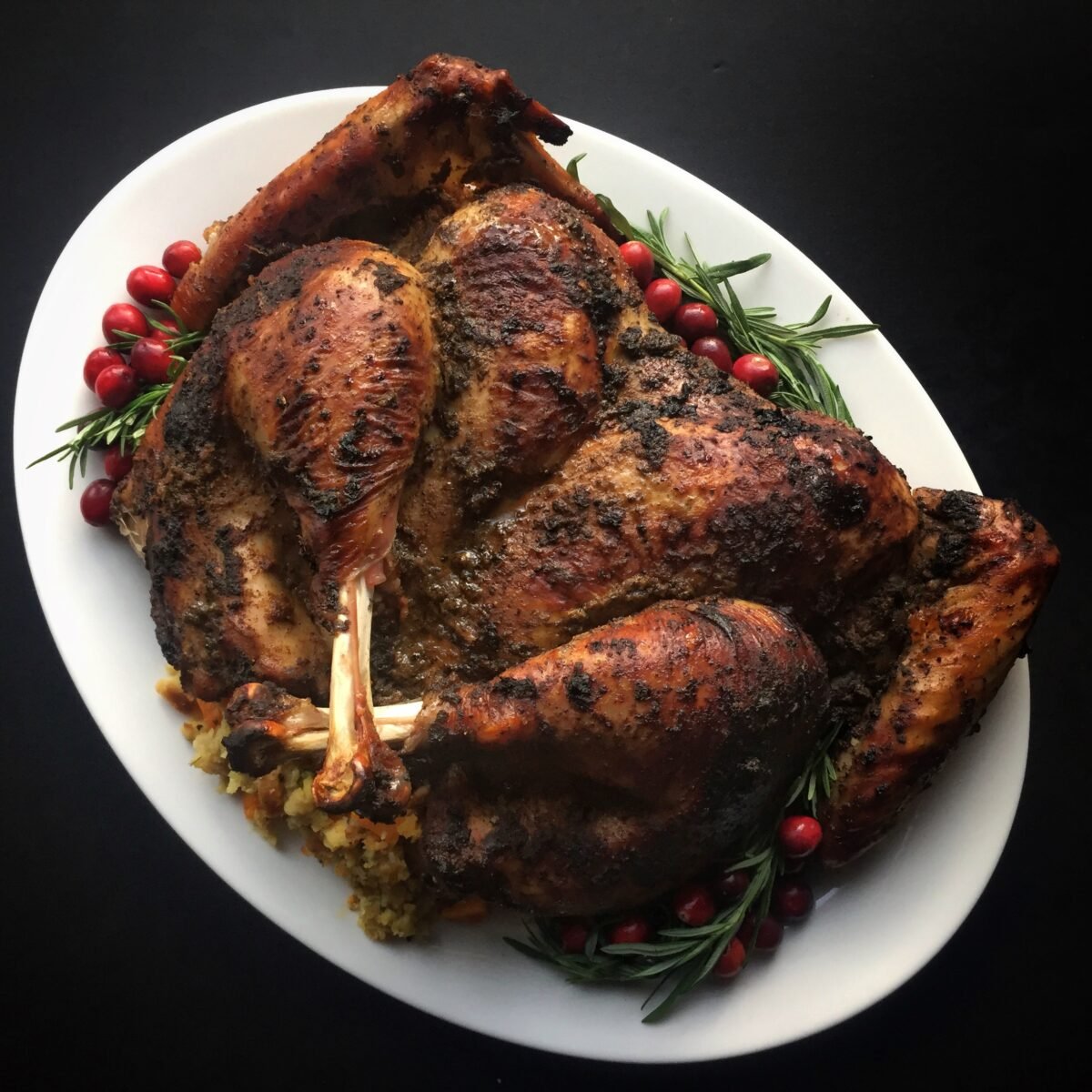 A few years ago I decided I would have a Caribbean themed Thanksgiving. I use all traditional thanksgiving ingredients and dishes but put my Caribbean spin on them. That was the first time I made Jerk turkey. It was so flavorful that it's now part of my Thanksgiving menu must have! Spatchcocking (also called butterflying) the turkey was also a huge time saver. Have you guys ever baked a turkey this way? It took half the time and was much juicer than roasting the turkey whole.
Spatchcocking the Turkey
I spatchcock my turkey, by cutting out the backbone with a pair of kitchen shears. I then put a slit in the breast bone using the same kitchen shears. Then I turned the turkey over (breast side up) and pressed firmly on the breast to flatten the turkey. Here is a quick video that shows how to spatchcock a turkey (click here).
Washing the turkey with flour to get rid of the gamey taste
After I spatchcock the turkey, I did something I've never done before, I coated the turkey with 1/2 cup of all purpose flour. My thinking here was that I wanted to get rid of some of that game taste that turkey usually has (number one reason Caribbean people don't like Turkey, in my opinion). The flour method is what I use when cooking goat and lamb, so I wanted to give it a try.
I let the flour sit for 15 minutes and then I washed it completely off the turkey. I then bathed the turkey in the juice of two lemons and let it sit for another 15 minutes before washing it again. I'm not going to lie this was a lot of washing but you know what, my turkey didn't have any of that gamey turkey taste so it was worth it. Try it next time you cook turkey and tell me what you think.
Making a Dry Rub for the Jerk Turkey
Next I made a dry rub with brown sugar, paprika, cayenne pepper, black pepper, garlic powder, onion powder and salt. I added all of the ingredients to a ziplock bag and mixed them together.

I then used some paper towels and pat dry the turkey to get rid of all the excess water from washing. Once the turkey was dry I rubbed about half of the dry rub all over the inside of the turkey. I was really generous.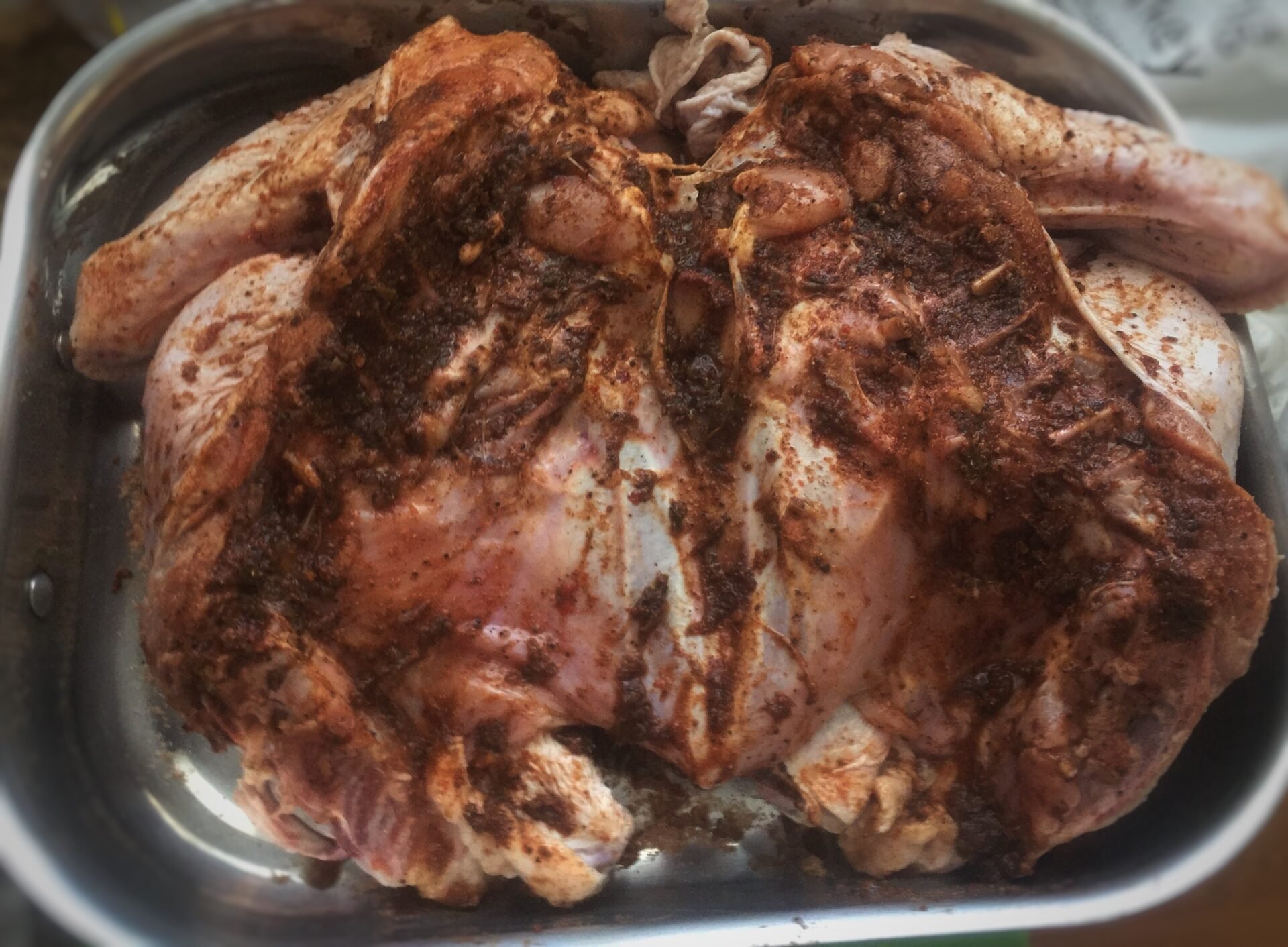 Making your own jerk seasoning at home
If you don't have access to good jarred jerk seasoning it is quite easy to make your own. Here's my jerk seasoning recipe. It is Whole30, sugar free and loaded with bold flavors.It's better than any jar seasoning I've tried, in my humble opinion. If you do have access to jarred seasoning, Walkerswood and Grace are my two favorite choices.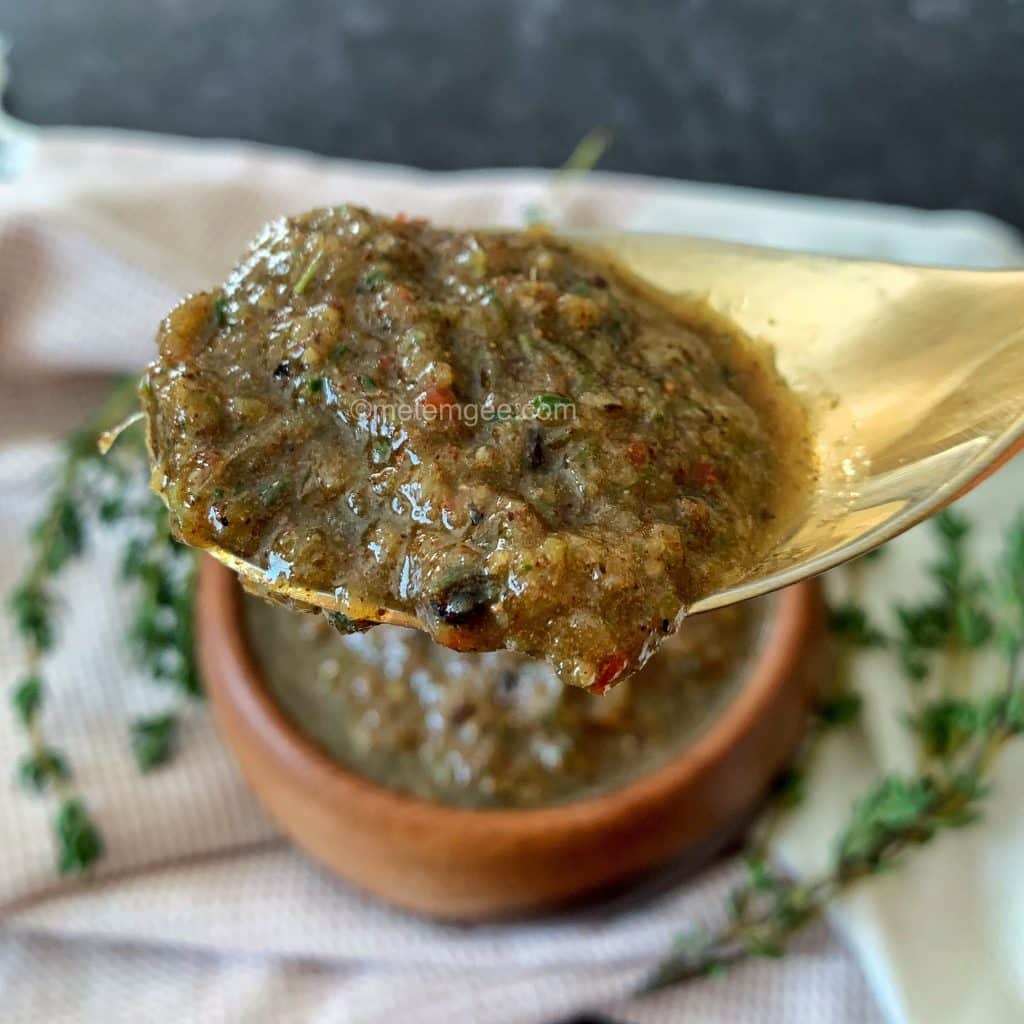 Adding the Jerk Seasoning
I added an entire batch of my homemade marinade or about 1/2 cup of jarred jerk marinade. I rubbed the jerk seasoning in every nook and cranny and made sure every inch of turkey was covered, including under the skin (wherever I could).
Then I flipped the turkey over and repeated the seasoning process. First starting with the dry rub and finishing off with the jerk marinade. I always use gloves when working with jerk seasoning, this helps to keep your hands pepper and spice free.
Tips for the best results
Let the turkey marinate in the refrigerator over night for best results. In the past I let my turkey marinade in the refrigerator for 2 days before baking.
Remove the turkey from the refrigerator at least 2 hours before baking and let it come to room temperature. This will help the turkey to bake evenly and the skin will be extra crispy.
Just before I put the turkey in the oven, I added 2 tablespoon of butter (you can use ghee if doing a Whole30) to the breasts. My butter was pretty cold, so I just sliced off about two tablespoons and placed it on the breasts, then I put the turkey in the oven.
Baking the Jerk Turkey

It took 1.5 hours to cook this turkey. For the first hour, I roasted the turkey uncovered at 400°F. I checked it at 30 minutes in and rotated the pan so that it can brown evenly. For some reason the right side of my oven has a hot spot and food browns on that side faster than the left. Most ovens have hot spots so adjust accordingly.
At the 1 hour mark, I basted the turkey (using a turkey baster), then covered with foil (remove the turkey from the oven for this step, and use oven mittens to put the foil wrap on the pan. It's easier and safer). I then reduced the heat to 375°F and cooked the turkey for another 30 minutes or until a meat thermometer inserted into the breast read at least 165°F. I had anticipated roasting this turkey for 2 hours but at 1 hour and 30 minutes it was done. You may need to keep baking for another 30 minutes so keep that in mind.
Getting the Jerk Turkey from the Pan to the Table
My husband helped me to move the turkey from pan to serving dish because it was so tender, it almost fell apart when I tried on my own. You might need some extra hands if you decide you don't want to serve it in the roasting pan, which is what I would have done, if I were just making it for my fam and not for the blog.
I hope you try this spatchcock jerk turkey for Thanksgiving, we devoured it in one sitting.
Making this Jerk Turkey Whole30 Compatible
To make this turkey Whole30 compatible:
Simply leave out the brown sugar in the dry rub and make sure all your other spices are whole30 compatible.
Use my homemade Jerk Seasoning if you can't find a compatible store brought brand
Replace the butter used to baste the turkey with ghee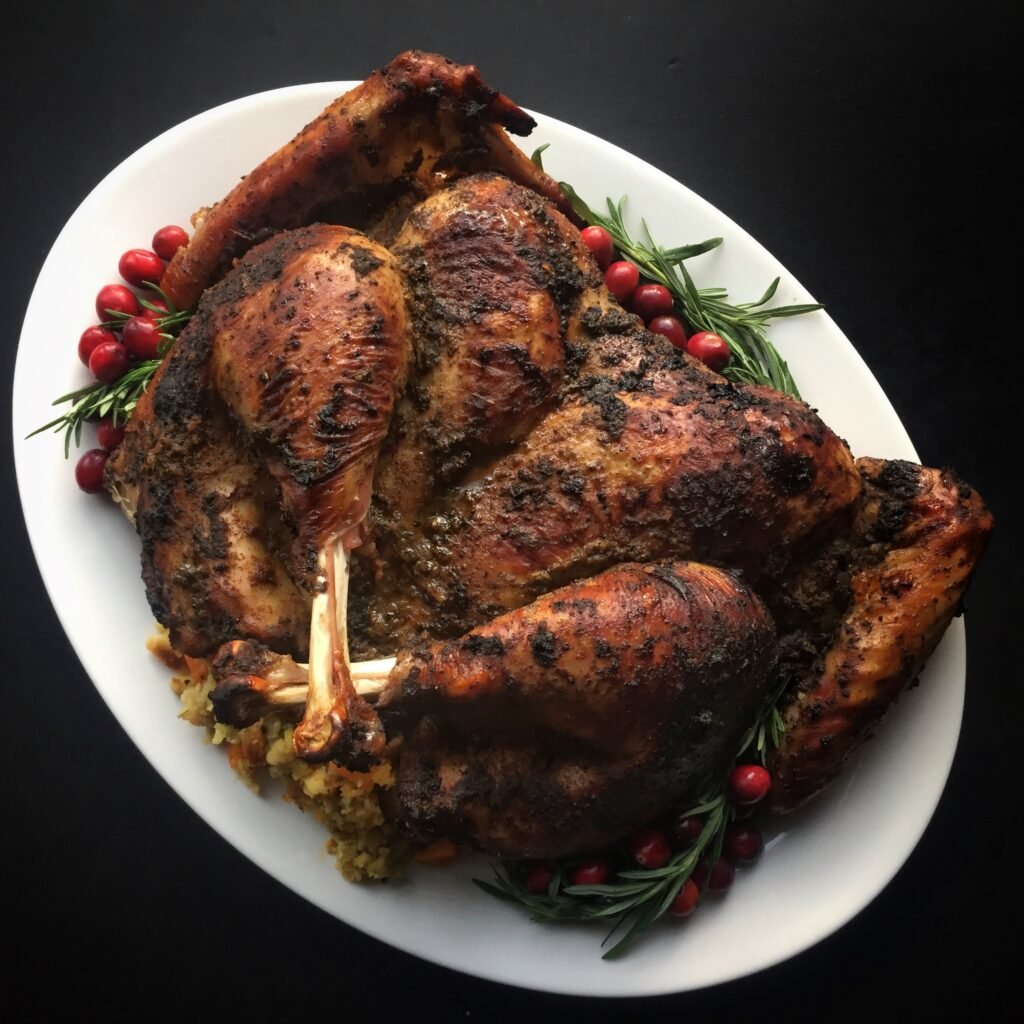 Spatchcock Jerk Turkey
---
A spicy roasted turkey that takes half the time to bake
---
Ingredients
1

young turkey

10 to 12 lbs

1

cup

of all purpose flour

use cassava flour, if on Whole30

2

tablespoons

butter

use ghee if on Whole30
For Dry Rub:
2

tablespoons

brown sugar

skip if on Whole30

2

tablespoons

garlic powder

1

tablespoons

paprika

2

tablespoons

onion powder

1/2

teaspoon

cayenne pepper

1/2

teaspoon

black pepper

2

teaspoons

salt

I use iodized sea salt, you can also use coarse salt
Special Equipment
A large roasting pan

no rack needed

Aluminum Foil Wrap
Instructions
Spatchcock the turkey by removing the backbone and pressing flat

Then sprinkle the turkey with flour, let rest fro 15 minutes then rinse thoroughly. This helps to remove some of the gamey turkey taste

After rinsing pat turkey dry with paper towels and set aside
Make a dry rub:
At brown sugar (skip if on Whole30), garlic powder, onion powder, paprika, cayenne pepper, black pepper and salt to a quart size ziplock bag and mix together to make a dry rub.
Season the turkey:
Add about 1/2 the dry rub to the underside of the turkey, followed by about 3 tablespoons of the jerk seasoning or 1/2 the batch of

my homemade jerk seasoning

Then turn turkey breast side up and add remaining dry rub, followed by the remaining jerk seasoning or

homemade marinade

. Be sure to season the neck cavity with dry rub and a generous amount of jerk seasoning

For best results let marinate in the fridge overnight (can marinate for up to 3 days if you like)
Roast/Bake the Turkey:
Remove from the refrigerator 2 hours before baking to allow turkey to come to room temperature

Then preheat oven to 400°F

Next place turkey in a large enough roasting pan that allows it to lay flat, breast side up

Then rub two tablespoons of butter or ghee on turkey breasts

Then bake turkey uncover for 1 hour, basting with the pan juices at the half hour mark

Next, after roasting the turkey for an hour, reduce the oven temperature to 375°F, baste turkey with the pan juices and cover the turkey with foil wrap

Bake turkey for an additional 30 to 45 minutes at 375°F or until the internal temperature of the turkey is 165°F

Remove turkey from the oven and let rest for about 10 minutes before carving and serving
Notes
1. The longer you marinade the turkey the better it will taste.
2. I prefer Walkerswood jerk seasoning because of it's flavor and thickness. Be careful not to buy the Walkerswood jerk marinade, as it is not the same product and will give a very different flavor.
3. Feel free to wash your turkey before marinating, you can even soak it in lemon juice or try the flour method I mention above in this post.
---
---
The information listed in the recipe card is an estimate provided by an online nutrition tool. The tool evaluates ingredient names and amounts then makes calculations based on the number of servings listed for the recipe. It is provided as a general guideline and not as a precise calculation. For precise nutrition information please feel free to add the ingredients to your preferred nutrition calculator or consult a doctor or licensed nutritionist.