This cranberry, mango and cherry chutney is a favorite in my home. I have a confession to make, I used to hate cranberry sauce, especially if it was cranberry jelly out of a can. I just couldn't swallow it, but being a transplant and wanting to assimilate as much as I can, for the sake of my American children, I wanted to have the full American Thanksgiving experience. Then, one Thanksgiving on a cooking show (can't remember which one) one of the hosts was making a cranberry chutney.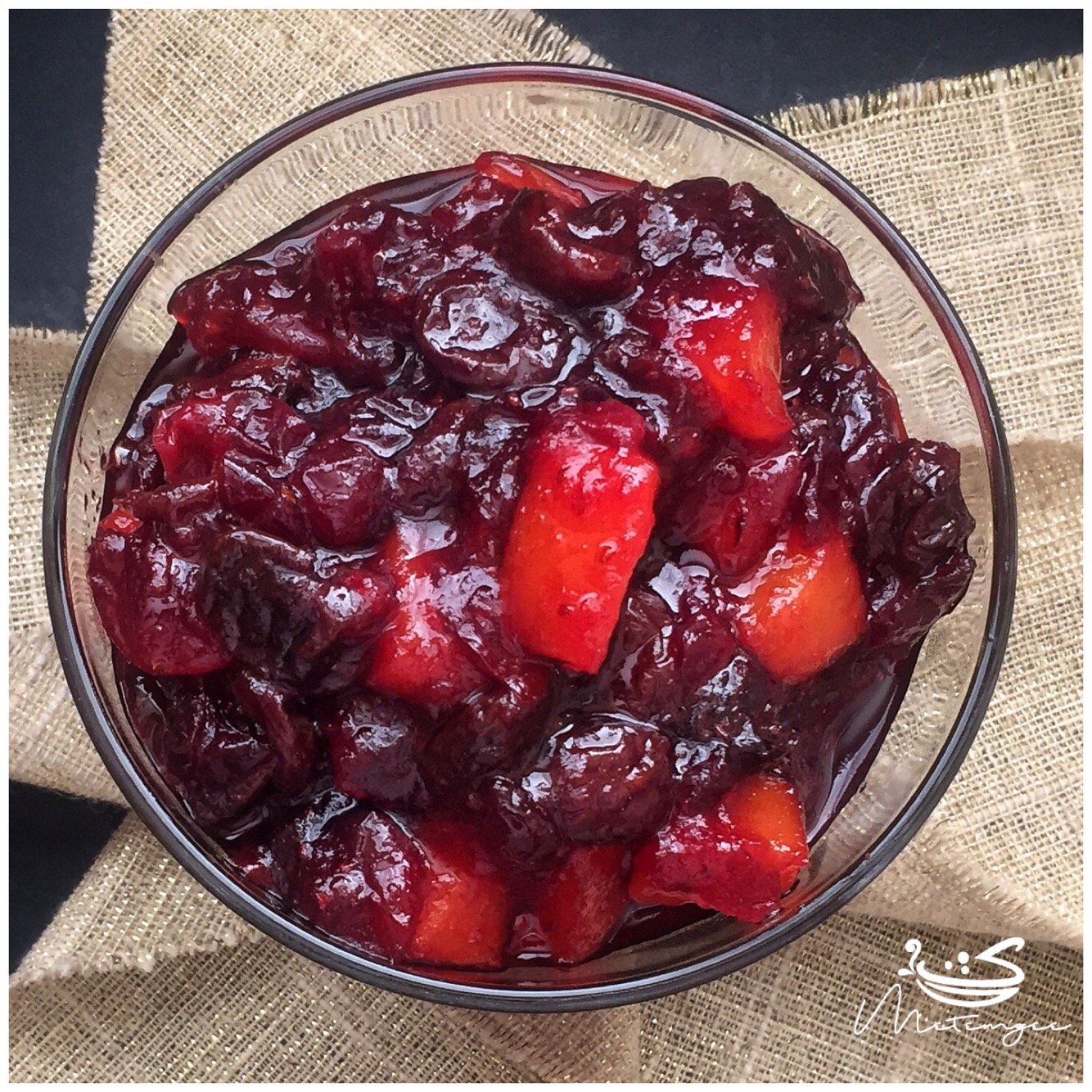 Chutneys are right up my alley so I thought I would give it a go. I've now evolved that recipe to include flavors and fruits that I love. My cranberry, cherry and mango chutney is always a hit at Thanksgiving, even with my husband who usually wants nothing to do with cranberries in any form. I make it fresh and serve it warm, but you can make it a head and serve it at room temperature or even cold.
Making the Cranberry Chutney

It is so easy to make this cranberry, mango and cherry chutney and once you've had it, you won't want to have any other kind of cranberry sauce. I promise.
First you will need a medium sized sauce pan. I add all of the fruits, plus sugar (you can use coconut sugar to make it refined sugar free) and a cinnamon stick to a medium sized saucepan.

Then add 2 tablespoons of apple cider vinegar, a cup of dry white wine (you can use white grape juice here), the juice of half an orange plus the other half of the orange (the skin on and everything, don't forget to wash the orange before cutting it in half). I mix everything together, then place the saucepan on high heat.
Bring Everything to a boil, then let it simmer

Once it starts to boil, I reduce the heat to medium-low and let it simmer for about fifteen to twenty minutes or until half of the liquid cooks off and it begins to thicken. I also check to see if the mango pieces are soft. If the mango pieces are beginning to get a bit mushy, I remove for the heat and let cool. As it cools it will also thicken. I love to serve my cranberry, mango and cherry chutney warm and it goes well with my Festive Basmati Rice and Jerk Turkey!
Make Ahead and Store in the Refrigerator!!
The Printable Cranberry, Mango and Cherry Chutney

Cranberry, Mango and Cherry Chutney
---
A tart and savory relish made with fresh cranberries, fresh mangos and dried tart cherries.
---
Ingredients
1

cup

diced fresh mangoes

firm half ripe mangoes work best

1

cup

dried tart cherries

2

cups

fresh cranberries

1

cup

granulated sugar

or coconut sugar

1

cup

dry white wine

or White grape juice

2

tablespoons

apple cider vinegar

1

stick cinnamon

1

navel orange

1/2 juices and 1/2 added to the chutney
Instructions
Add all of the ingredients to a medium sized saucepan on high heat

Then bring to a boil

When boiling reduce heat to medium and let simmer for 15 to 20 minutes, occasionally stirring When half of the liquid boils down and the mangoes are soft, remove from heat

Let cool and then refrigerate until ready to serve

Serve warm or cold
Notes
1. A firm yellow mango that is half ripe (not too mushy and sweet) works best for this recipe. I sliced the flesh from the mango and cut them into 1/2 inch cubes. I don't use the seed for this recipe
---
---
The information listed in the recipe card is an estimate provided by an online nutrition tool. The tool evaluates ingredient names and amounts then makes calculations based on the number of servings listed for the recipe. It is provided as a general guideline and not as a precise calculation. For precise nutrition information please feel free to add the ingredients to your preferred nutrition calculator or consult a doctor or licensed nutritionist.