This Whole30 jerk seasoning recipe is a spicy marinade of fresh herbs and spices similar to traditional Jamaican jerk but without added sugar. Add this versatile sauce to everything from meat to veggies.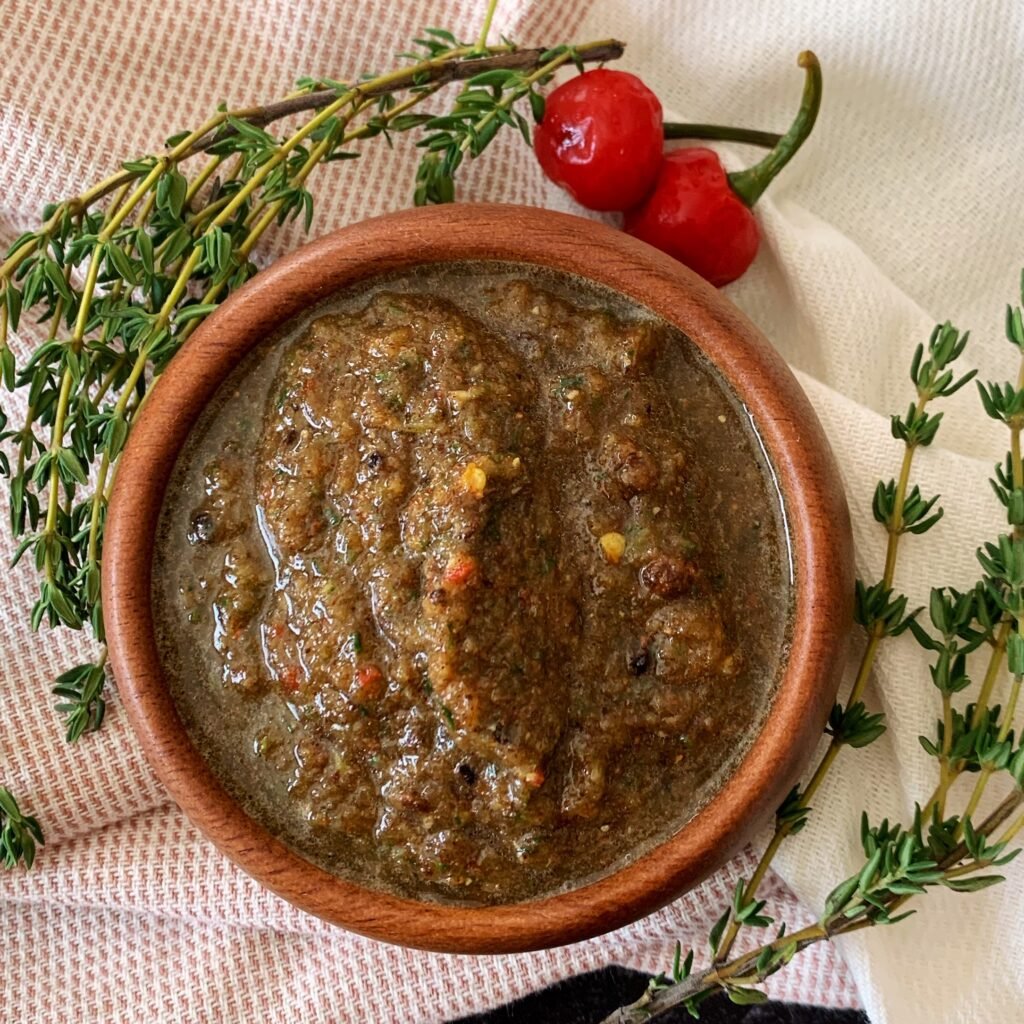 Jamaican Jerk Marinade
When most people think about Caribbean cuisine, they think about Jamaican food. And one of the most popular dishes from Jamaica is jerk chicken! I can't blame them; jerk chicken is delicious and one of my favorite ways to prepare chicken.
When I started Whole30 there were some things I just knew I wouldn't be able to have. All the store-bought Jerk seasoning and spices I had access to had added sugar in some form. Recipes I found online had browning (caramelized burnt sugar), sugar, msg, soy sauce, honey, and a host of other non-compatible ingredients.
So I knew I would have to make my own. And now in my Food Freedom (life post Whole30), where I am mostly paleo, I enjoy making a batch of this jerk seasoning and using it on all my protein.
Why You'll Love This Jerk Seasoning Recipe
Easy to Make: Simply gather your ingredients and blend until you reach your desired consistency.
Versatile: Mix and match ingredients to suit your taste buds. Once it's done, I absolutely love this for jerk chicken but you can use it for sautéed veggies, seafood, and more!
Healthy: Get all the island flavor you love without the sugar or added preservatives when you make this Whole30 jerk marinade.
Better than Storebought: With homemade jerk seasoning, you know exactly what you are feeding your family.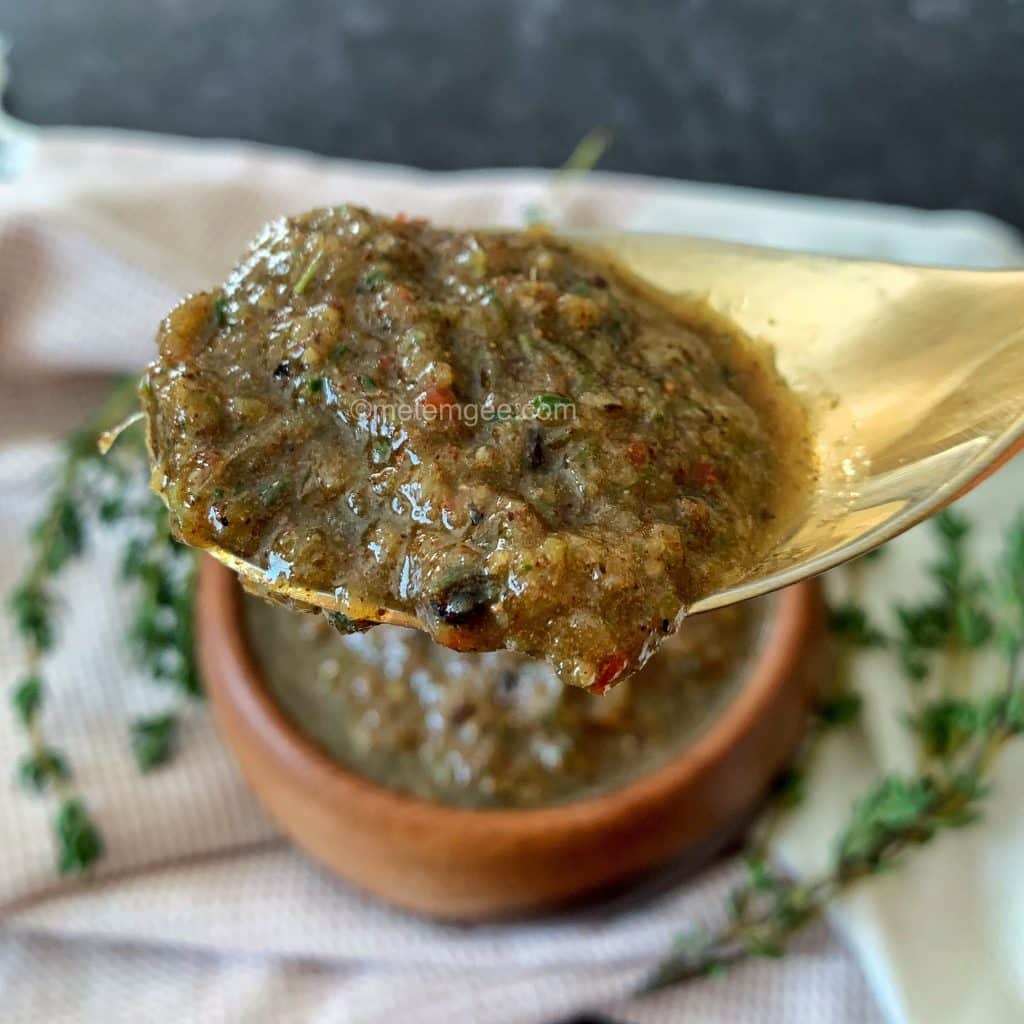 What is jerk seasoning made of?
Traditional jerk seasoning is made with scotch bonnet pepper, thyme, and allspice. There are usually a range of other ingredients added but those are the main ingredients associated with the iconic seasoning.
Jerk Seasoning vs Jerk Marinade
Throughout the Carribean, jerk marinade is often referenced as jerk seasoning, hence the title of this recipe. This jerk seasoning recipe is for the wet sauce, used to marinate everything from pork and chicken to vegetables and seafood.
What makes this Jerk Seasoning Whole30 and Paleo?
Sugar and sometimes browning (dark caramelized cane sugar) are typically added to traditional jerk seasoning. In this recipe, I am using coconut aminos as a substitute for the sugar and the browning. Since it is refined sugar-free, it is Whole30 compatible.
When blended with the fresh herbs and spices this Whole30 jerk seasoning looks almost identical to versions the store bought versions, but honestly tastes so much better.
Ingredients for
This is a fresh, spicy, savory medley of herbs, vegetables, and seasonings.
Onions: Use yellow onion, scallions, or green onions
Fresh Thyme: This has a minty, citrusy taste.
Peppers: Use wiri wiri pepper, scotch bonnet pepper, or habanero pepper.
Ginger: This warm spice is essential to most Jamaican recipes.
Garlic: Use fresh garlic cloves for a pack of garlicky flavor.
Coconut Aminos: This is a Whole30 substitute for sugar and browning sauce. It has a sweet taste but has no refined sugar. When buying coconut aminos, please check your labels to ensure there is no added sugar in the ingredients list. Check out my for my amazon affiliate link here for the coconut amino that I use in this recipe and many others.
Pimento Berries or All Spice: This tastes like a delicious blend of spices.
Ground Spices: I use ground cinnamon and ground nutmeg.
Mustard: This adds a zesty, saucy quality.
Seasoning: Season simply with salt and black pepper.
Vinegar: This adds an acidic quality. The acidity is also great for the marinade, as it will help the sauce penetrate meats.
Avocado Oil: This adds moisture to the jerk seasoning.
See recipe card for quantities.
How to Make Jerk Seasoning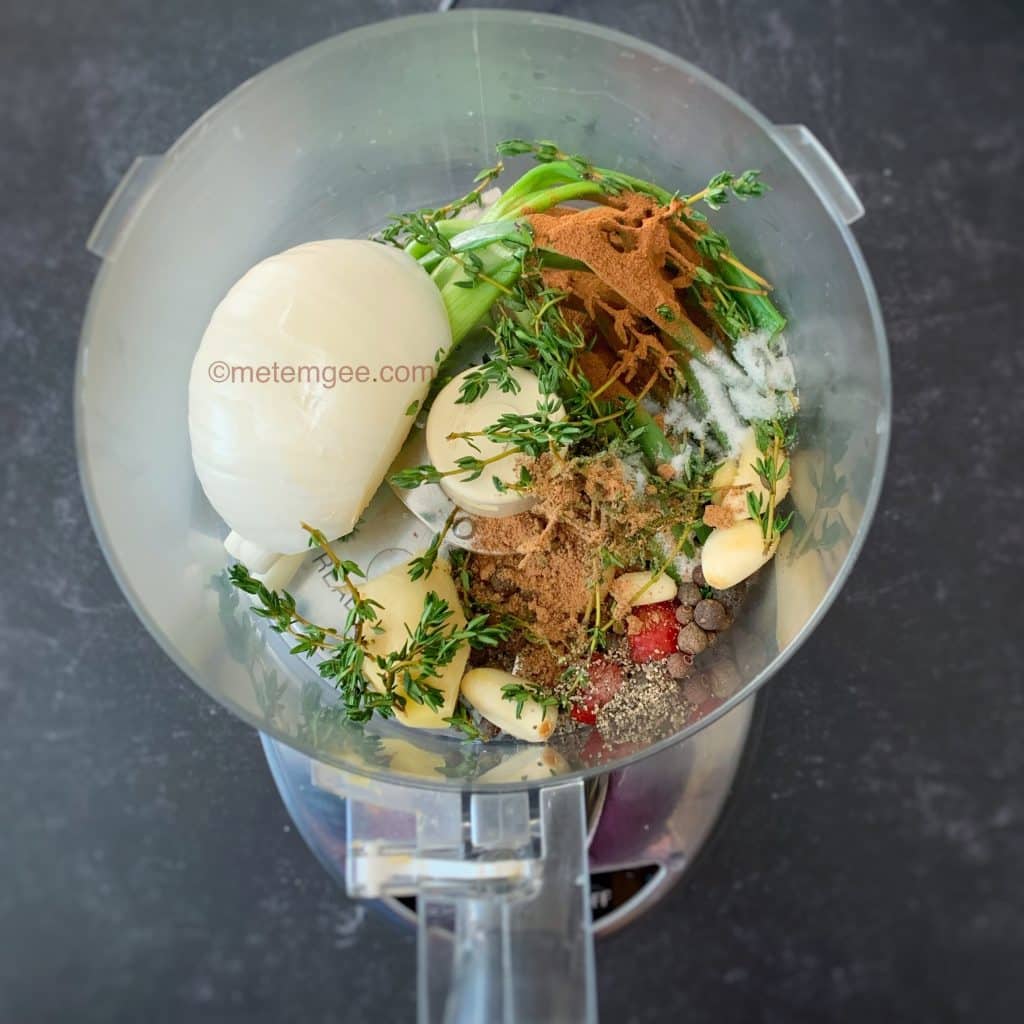 This jerk seasoning is very easy to make. Add all of your ingredients, except for the liquid ingredients (vinegar, coconut aminos, and oil) to a food processor and blend until it comes together smooth.
Then add the coconut aminos, vinegar, and oil and pulse until combined. Pour into a mason jar and store in the refrigerator.
I love whipping up a fresh batch and pouring it over chicken. Then I let the chicken marinate overnight for the best jerk flavor imaginable.
For this recipe, I am using my Cuisinart Food Processor that I've had for 9 years (It was a wedding gift). Click here for an affiliate link to a similar one on Amazon.
Is jerk seasoning spicy?
The spice is really the pimento berries or all spice, scallions, nutmeg and chili peppers. Jamaicans use scotch bonnet peppers but for this recipe, I am using wiri wiri pepper, a chili pepper that is widely used in Guyana. You may substitute for habanero peppers and of course, the more peppers you use, the spicier your seasoning will be. For a mild jerk flavor, remove some of the seeds and ribs from your pepper and for a spicier jerk flavor add more pepper.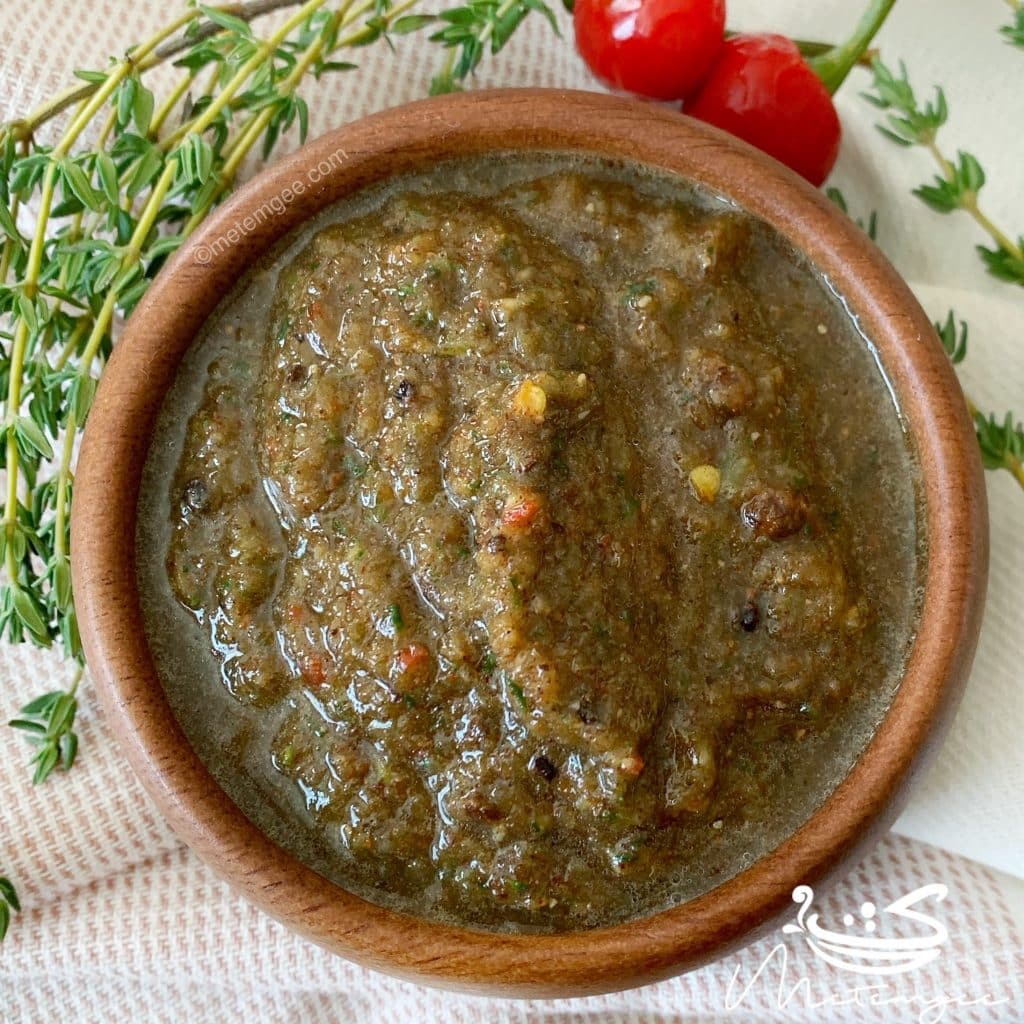 How to use Whole30 Jerk Seasoning
Use it to enhance flavor and add moisture to your favorite dishes. It also acts as a tenderizer for tougher cuts of meat. This seasoning is perfect on any protein. Try these popular recipes with: Skillet Jerk Chicken Thighs, Jerk Wings and Pan Cooked Jerk Chicken Breasts
Storage
Whole30 Jerk seasoning stores very well when refrigerated. After making a batch, store it in an airtight container or jar and place it in the fridge. Use it within 7 days for the best results.
Tips for the Best Jerk Seasoning
Never prepare a meal with used jerk marinade. If you used the seasoning blend to marinate raw meat, discard any leftover marinade. However, if you know you want to use the sauce for other things, reserve some before using it as a marinade.
When using jerk seasoning, completely coat whatever food you are seasoning so the flavor properly penetrates.
If using this seasoning as a marinade, note that different foods will need different marinating times. While fish, shrimp, and vegetables will benefit from an hour or less of marinating, meat usually needs at least 3-4 hours.
Frequently Asked Questions
Why is it called jerk seasoning?
It is believed that Arawak Indians from South America settled in Jamaica. The Peruvian term "charqui" which references dried meat is closely related to the word "jerky." They used cooking techniques that involved smoking and drying meats over an open fire. The process for cooking traditional Jamaican jerk required poking holes into the meat and smoking it over pimento wood. Today, jerk refers to the flavor, as a spice blend, dry rub, and marinade.
What is the difference between jerk seasoning and jerk marinade?
Traditionally, jerk seasoning is the dry spice blend whereas jerk marinade is the spice in liquid form. The flavors are the same but the two are used differently.
What are the three ingredients of jerk?
The three main flavors of jerk seasoning are scotch bonnet pepper, allspice, and thyme.

Jerk Seasoning (Whole30, Paleo)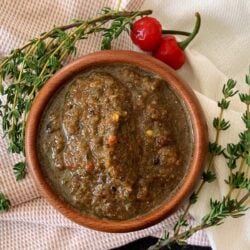 ---
This jerk seasoning recipe is a spicy marinade of fresh herbs and spices similar to traditional Jamaican jerk seasoning but without added sugar. Add this versatile sauce to everything from meat to veggies. It's Whole30 compliant and paleo friendly.
---
Ingredients
1/2

onion

peeled and chopped

3

scallions (green onions)

5

sprigs of fresh thyme

leaves removed from the stems

2

wiri wiri peppers

or 1 scotch bonnet or 1 habanero pepper

2

inch

piece of ginger

peeled and chopped

8

cloves

of garlic

1/4

cup

of coconut aminos

1

tablespoon

of all spice (pimento berries)

whole or ground

1/2

tablespoon

of ground cinnamon

1

teaspoon

of nutmeg

1/2

teaspoon

of yellow mustard

1/2

teaspoon

of salt

1/4

teaspoon

of black pepper

1

tablespoon

of vinegar

white, apple cider or red wine

1

tablespoon

of avocado oil
Instructions
Combine all of the ingredients except for the coconut aminos, oil and vinegar into a food processor

Then process until the all spice berries are finely chopped if using whole berries (if you have a spice grinder you can also grind the berries before adding to the food processor)

Next pour in the coconut aminos, oil and vinegar and pulse for a few seconds to mix together. Alternatively you may also use a spoon to mix together

Finally, pour into an air tight container and store in the refrigerator for up to 2 weeks
Notes
For maximum freshness store the left over seasoning in an air tight jar, such as a mason jar and always use a clean spoon when removing seasoning from the jar.
Nutrition
Calories:
83
kcal
Carbohydrates:
11
g
Protein:
1
g
Fat:
4
g
Saturated Fat:
1
g
Polyunsaturated Fat:
1
g
Monounsaturated Fat:
3
g
Sodium:
643
mg
Potassium:
136
mg
Fiber:
2
g
Sugar:
2
g
Vitamin A:
210
IU
Vitamin C:
15
mg
Calcium:
50
mg
Iron:
1
mg
---
---
The information listed in the recipe card is an estimate provided by an online nutrition tool. The tool evaluates ingredient names and amounts then makes calculations based on the number of servings listed for the recipe. It is provided as a general guideline and not as a precise calculation. For precise nutrition information please feel free to add the ingredients to your preferred nutrition calculator or consult a doctor or licensed nutritionist.