Updated 4/25/2020
This simple dairy free pancakes recipe is light, fluffy and absolutely delicious. I originally posted this recipe on 1/20/2013. It is my go to recipe for making pancakes at home. Recently, we discovered that our children may have a mild dairy allergy,  causing some gut and digestive issues. So I've been cutting dairy out of all of my recipes and replacing it with non dairy options. I wanted to update this recipe, since it is a favorite in our home, add some new pictures and show the versatility of this simple (dairy free) pancake batter.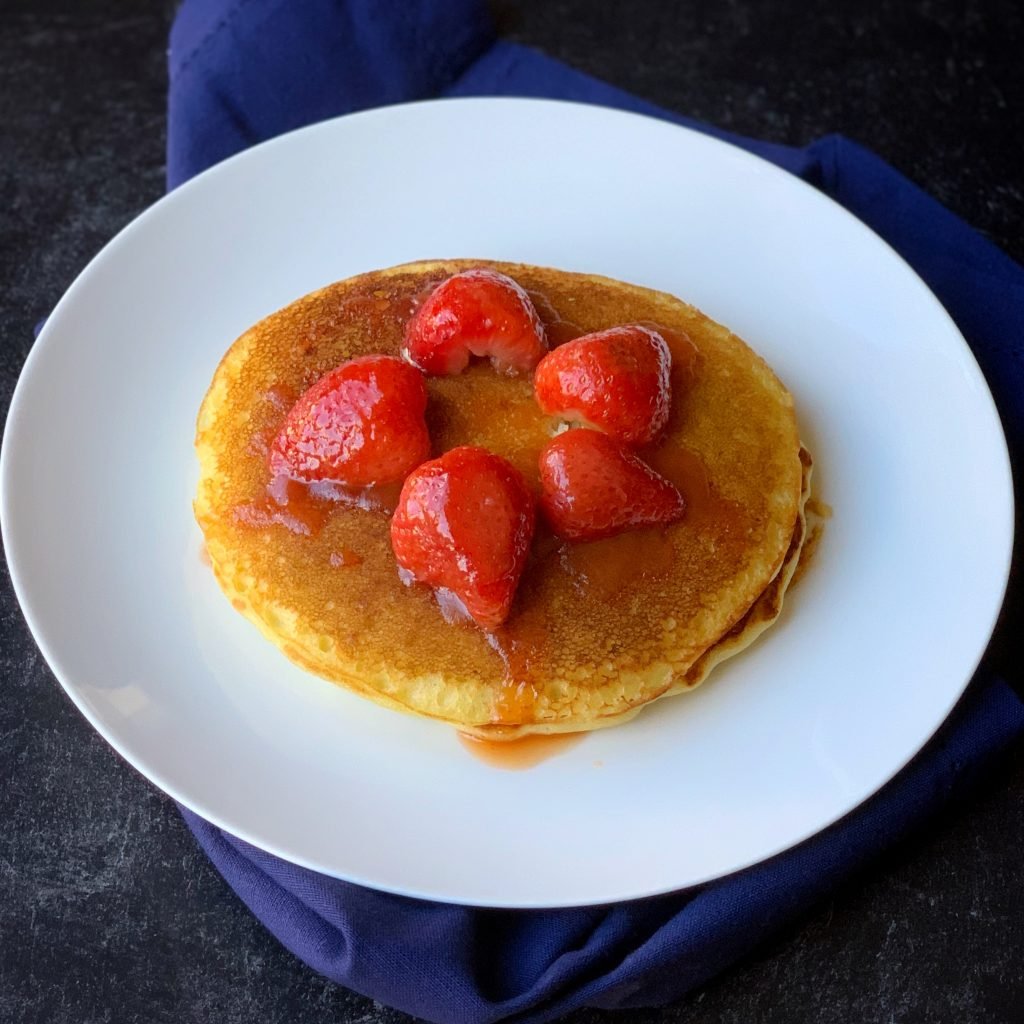 Making the perfect pancake batter
For the batter, I pull together the wet ingredients (melted coconut oil, coconut milk, eggs, vanilla essence and some orange zest) then add them to the dry ingredients. It is pretty basic. And the little ones can help with the measuring, pouring and mixing. These simple pancakes are so delicious you won't even miss the dairy.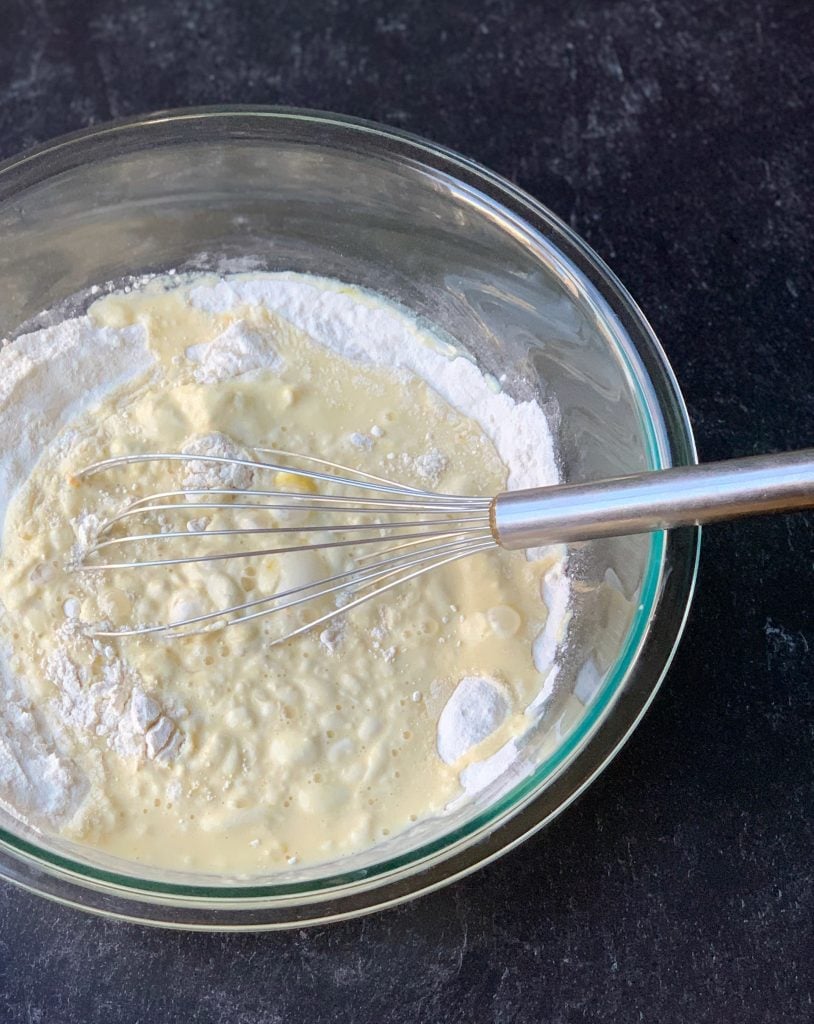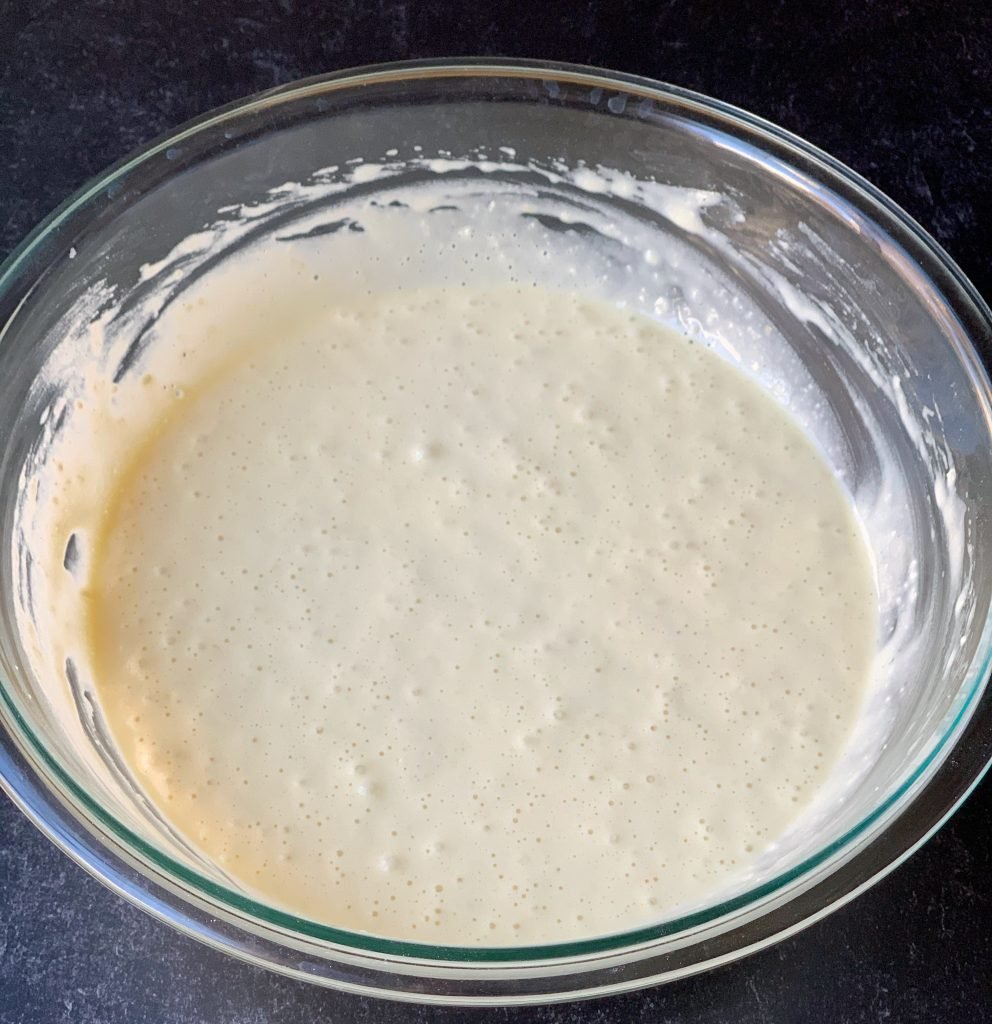 Mixing the batter with a whisk is the best way to go. Most pancake recipes say leave some lumps in the batter. I mix my batter until it is silkly smooth, like the premade Bisquick pancake batter. This is way better than that by the way! After I am done mixing up this simple pancake batter, I let it rest for at least 10 minutes before making the pancakes. This step has been a real game changer in my pancake making skills. During the resting period the batter becomes very aerated and fluffy, making a much softer and fluffier pancake than if you didn't let it rest.
Save this Simple (Dairy Free) Pancake Recipe for later!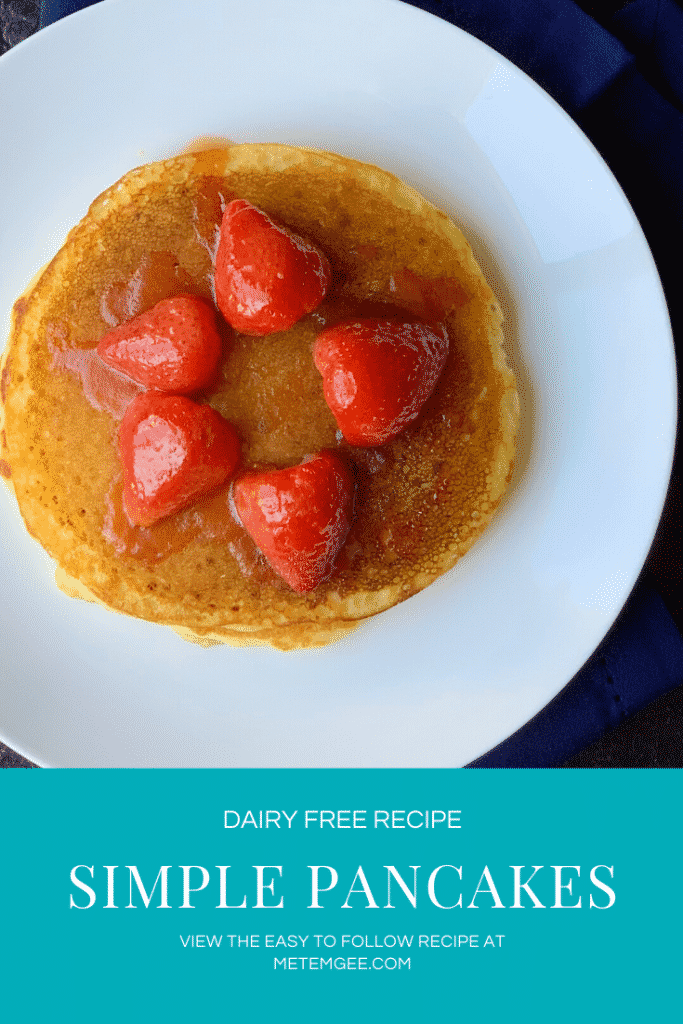 Originally I cooked my pancakes on a flat cast iron skillet with some melted butter. Now I just use cooking spray on the warm skillet and to my surprise nothing is lost in the flavor! Also, in my original post, I topped my pancakes with a strawberry & whiskey sauce. Life is much simpler for us these days and I now make a simple fruity strawberry sauce to top pancakes (see below for how I make it) or I just use fresh fruit!
A versatile and family friendly recipe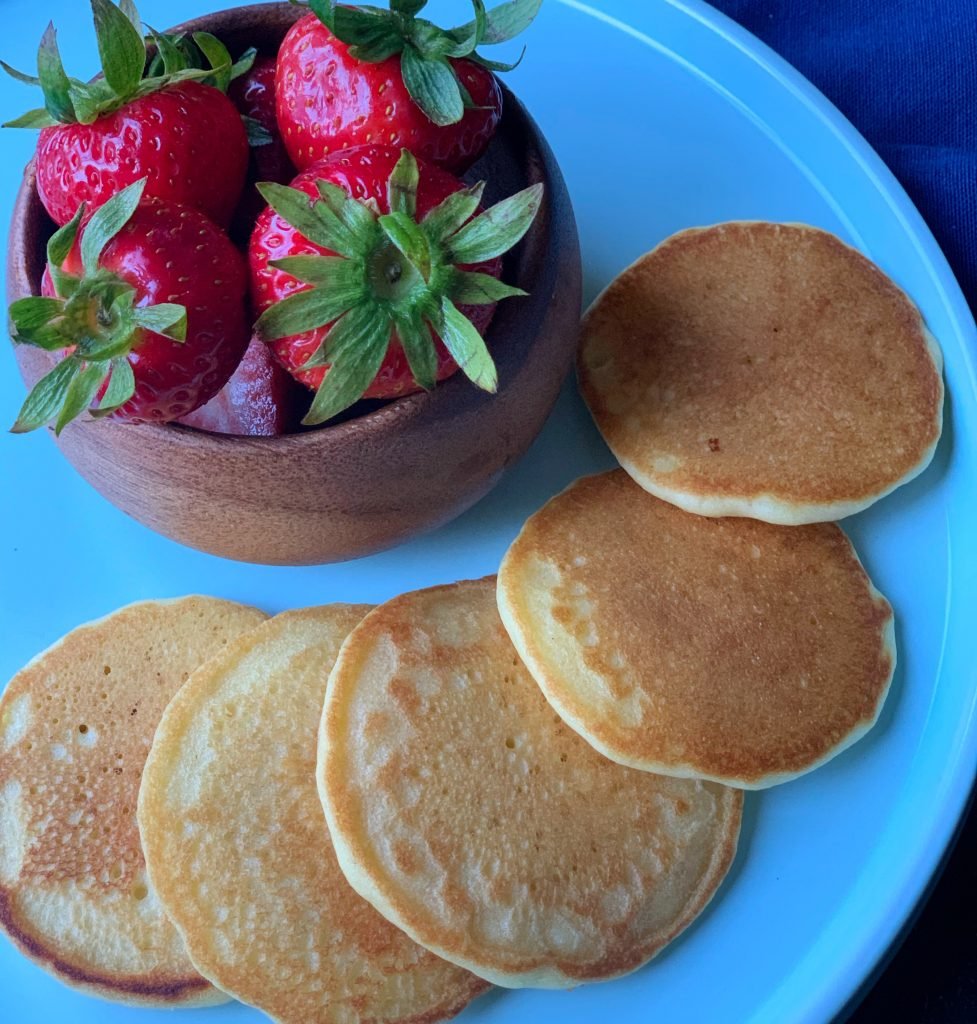 Want to get the whole family involved with making breakfast? Here's a great tip for making mini pancakes: I add the batter to a sauce/condiment bottle, cut off the tip for a wider, smoother pour and I let my kids (carefully supervised) pour the batter onto the skillet. I do all of the flipping but they love making their own pancakes. This recipe makes about 30 mini pancakes depending on the size. Don't have a sauce or condiment bottle, use an empty plastic ketchup or mustard bottle. Two to three squirts of batter is all you need for mini pancakes.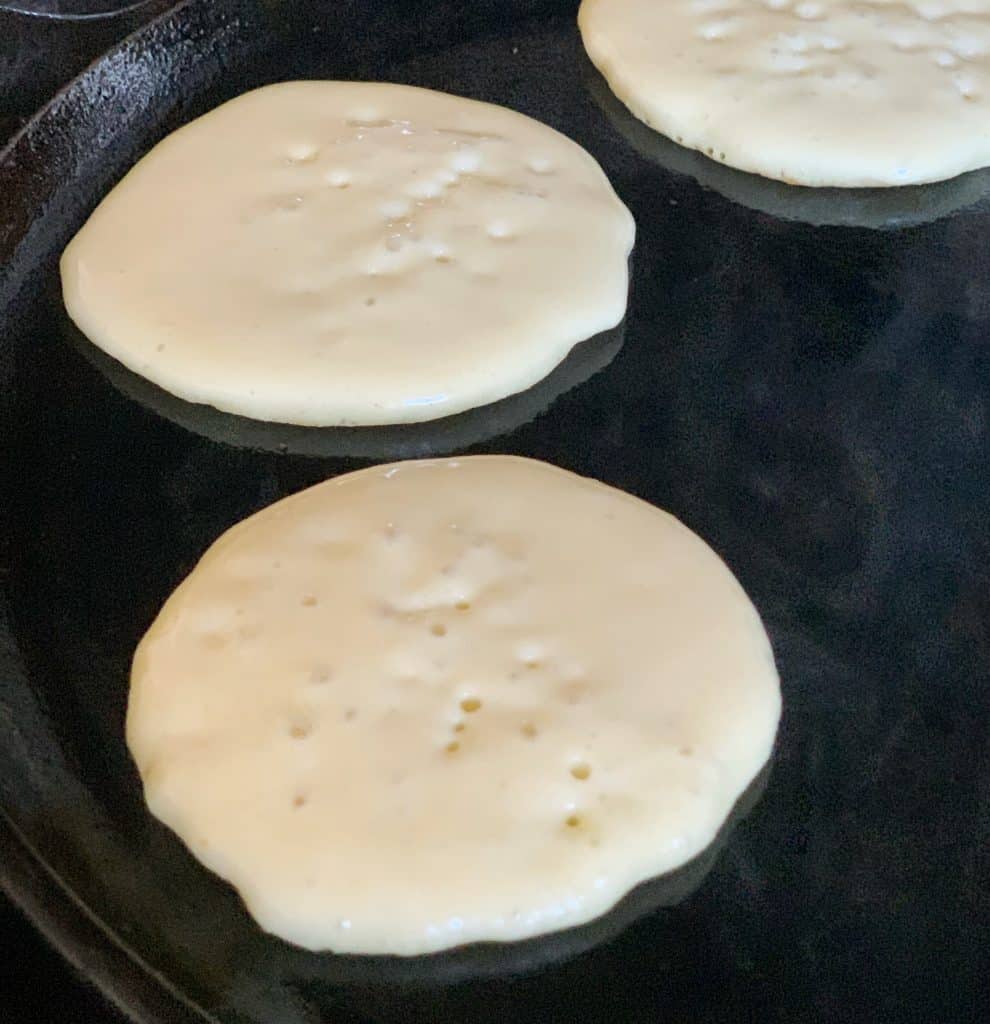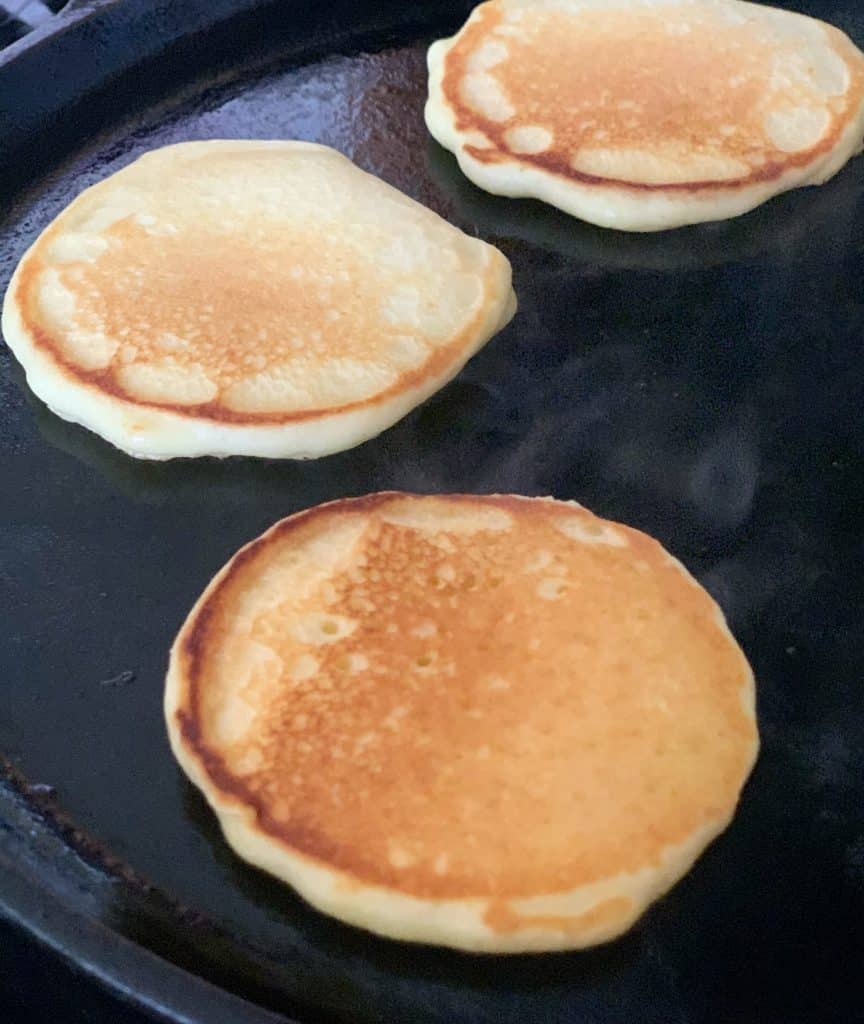 Make ahead and freeze for later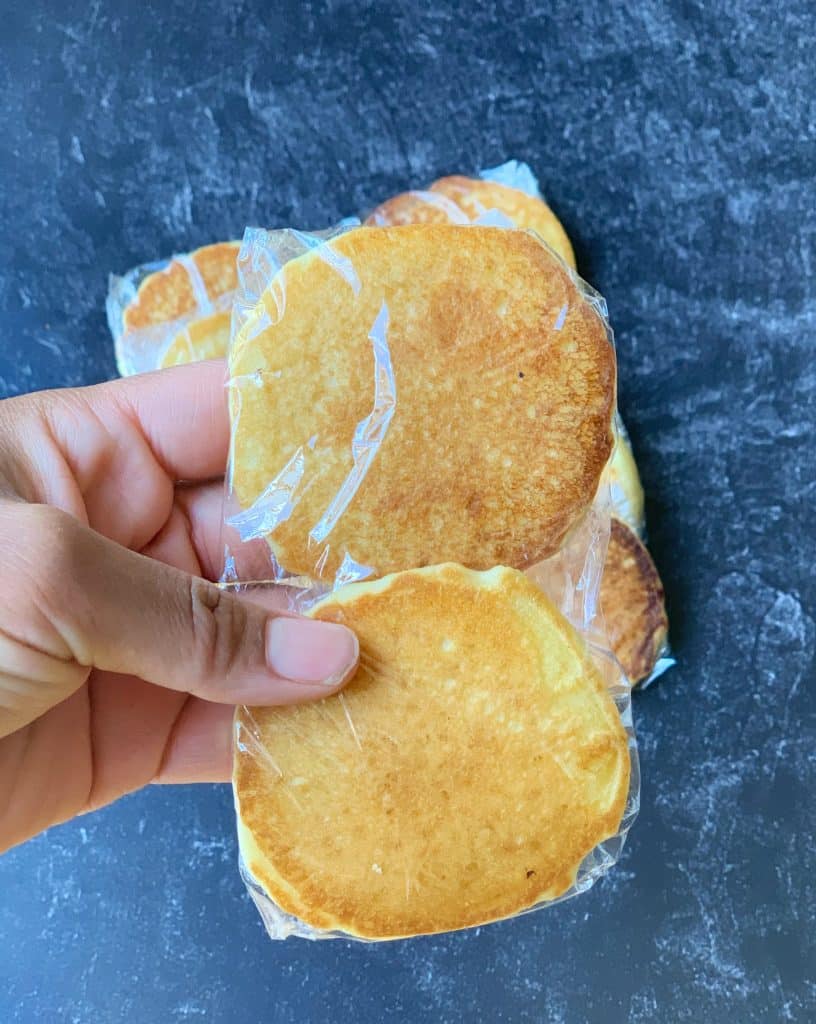 Whenever I am making pancakes on Saturday or Sunday morning, I make two batches of the batter and I use one batch to make mini pancakes. After the pancakes cool completely, wrap them in plastic cling wrap, either individually or in the portions your family will enjoy, then freeze. When anyone is in the mood for pancakes we grab a portion and "nuke em" in the microwave in 30 second increments until they are perfectly hot. This is really great for weekday breakfast when I am trying to get my son on the school bus.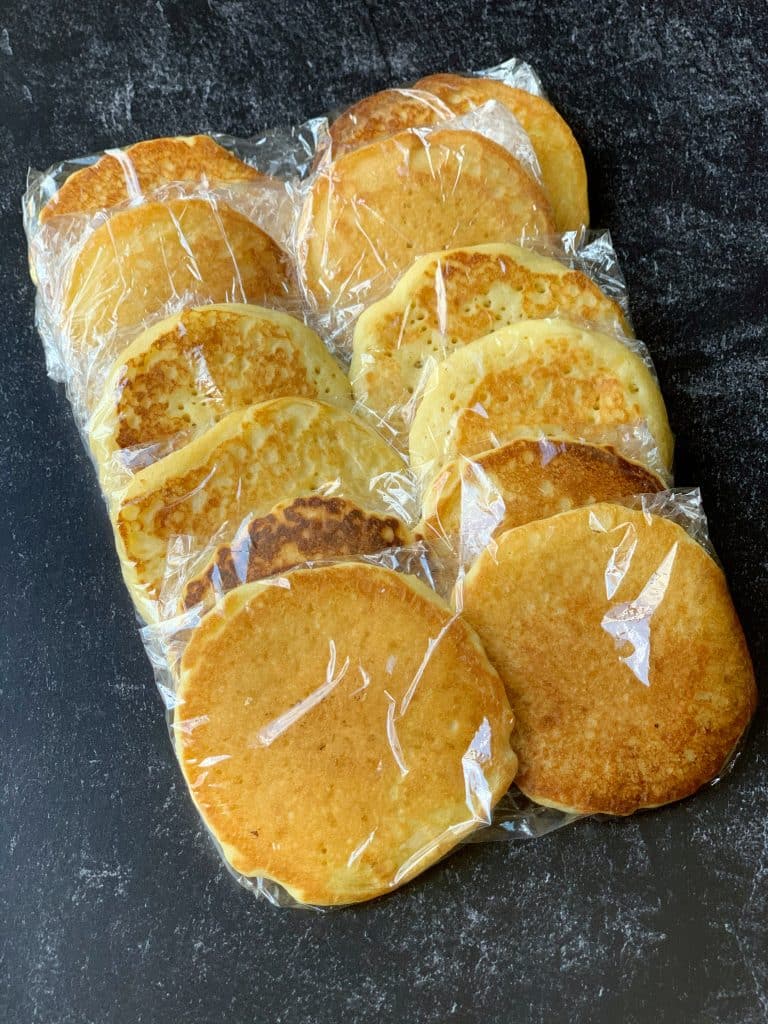 Choose your toppings for your Simple (Dairy Free) Pancakes:
The sky's the limit with how you top your pancakes, but these are my favorite ways:
Simple Fruity Strawberry Sauce (recipe below)
Boozy Berry Sauce (recipe below)
Fresh berries
Fresh bananas
Warm maple syrup
Nut butter for a protein packed breakfast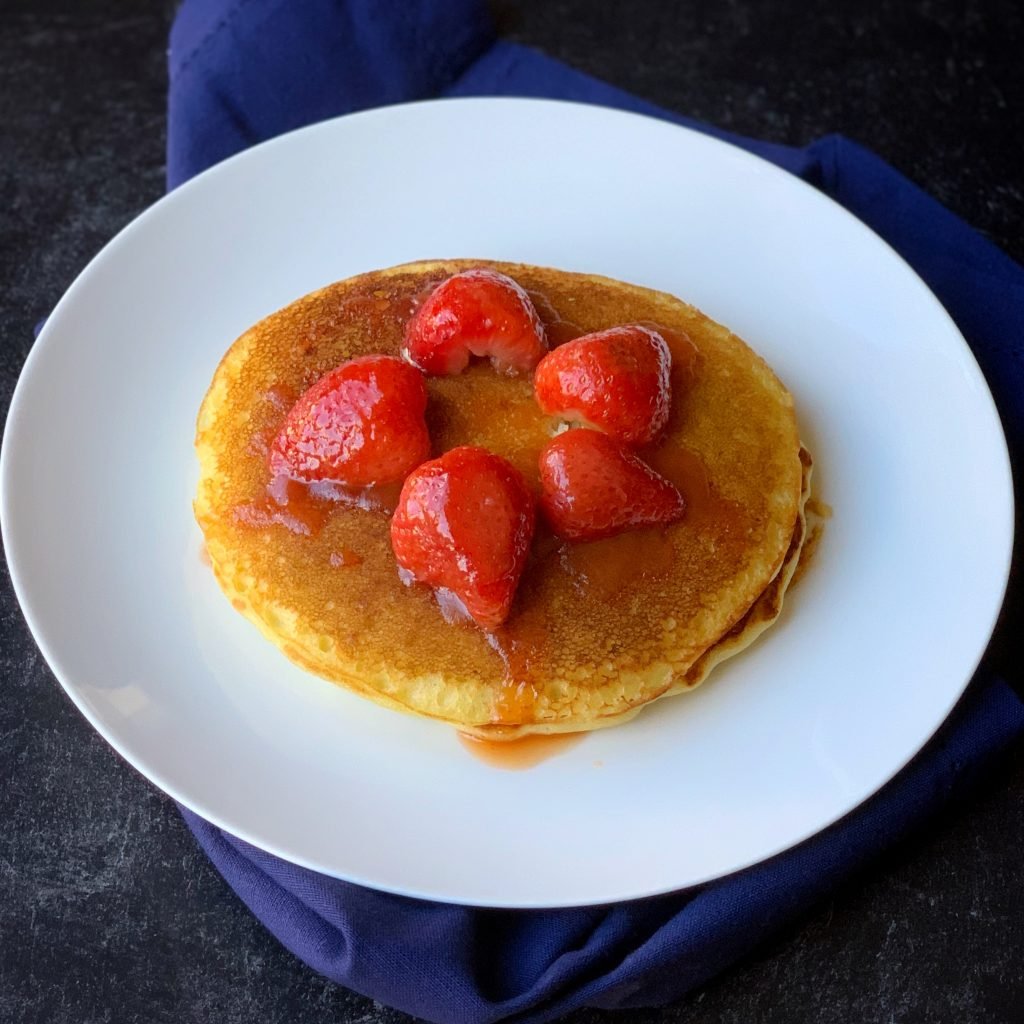 The Printable Simple (Dairy Free) Pancakes Recipe:
[b]Simple (Dairy Free) Pancakes[/b]
Author:
Prep time:
Cook time:
Total time:
Serves:
8 to 10 regular sized pancakes or 30 mini pancakes
Soft, fluffy pancakes made diary free by using non-dairy butter and milk.
Ingredients
Pancakes
4 tablespoons melted coconut oil (can use butter)
1 1/2 cups of coconut milk (can use milk)
4 eggs
2 cups All Purpose Flour (for gluten free use a Measure for Measure GF Flour)
1/2 teaspoon salt
2 tablespoons granulated sugar
2 tablespoons baking powder
1 teaspoon vanilla extract
1 teaspoon orange zest
Cooking spray for the skillet or griddle or butter if you are using dairy
Simple Fruity Strawberry Sauce
2 cups Strawberry, stems removed and cut into halves
2 tablespoons granulated sugar (or 1/4 cup maple syrup)
1/2 cup of apple juice
1/2 cup of pineapple juice
Boozy Strawberries syrup
2 cups strawberries
1 cup water
1/2 cup granulated sugar
1/4 cup rum or bourbon
Instructions
Pancakes:
First, prepare the wet ingredients by adding, melted coconut oil, coconut milk, vanilla extract and eggs to a small mixing bowl and whisking together until fully combined
Then add the orange zest and mix together then set aside
Next prepare your dry ingredients by adding flour, granulated sugar, baking powder and salt to a large mixing bowl
Mix together well then add the wet ingredients to the dry ingredients and combine to form a smooth batter
Let the batter rest for at least 10 minutes
Then place a [url href="https://amzn.to/3cIE468″]flat skillet[/url] or [url href="https://amzn.to/3bEE72P"]griddle[/url] or frying pan on medium heat and bring up to temperature
When hot spray with cooking spray or rub with butter
Next ladle about 1/2 cup of batter onto the pan (you may use a measuring cup for this)
Cook on each side for about 2 minutes or until air bubbles form on top of the pancake
Flip and cook for an additional 2 to 3 minutes
Then remove from heat and serve with your favorite toppings
Fruity Strawberry Sauce:
Add sugar or maple syrup, pineapple and apple juice to a small saucepan
Bring to a boil stirring until the sugar dissolves (if using)
Then continue to cook until the liquids reduce to half the volume
Next add your strawberries and continue to cook for about 2 minutes, then remove from the heat and let cool before serving. The sauce will thicken when cooled. I like my strawberries crunchy so I don't let it cook for too long in the sauce. If you like a more tender strawberry continue to cook until the strawberries are tender
Boozy Berry Sauce:
Add granulated sugar and water to a small saucepan on medium heat, stirring constantly until the sugar dissolves
Then bring to a boil and continue to cook until it reduces to half its volume
Add the berries and rum then cook for 3 to 5 minutes until the berries are soft and a thick sauce forms, keeping in mind that as it cools it will become thicker
Remove from the heat and allow to cool
Other Breakfast/Brunch Recipes that are a must try: