Bora (Chinese Long Bean) and Sweet Potatoes are the simple vegetable side dish that you need to make today! It is made in the Instant Pot, which makes dinner prep a breeze.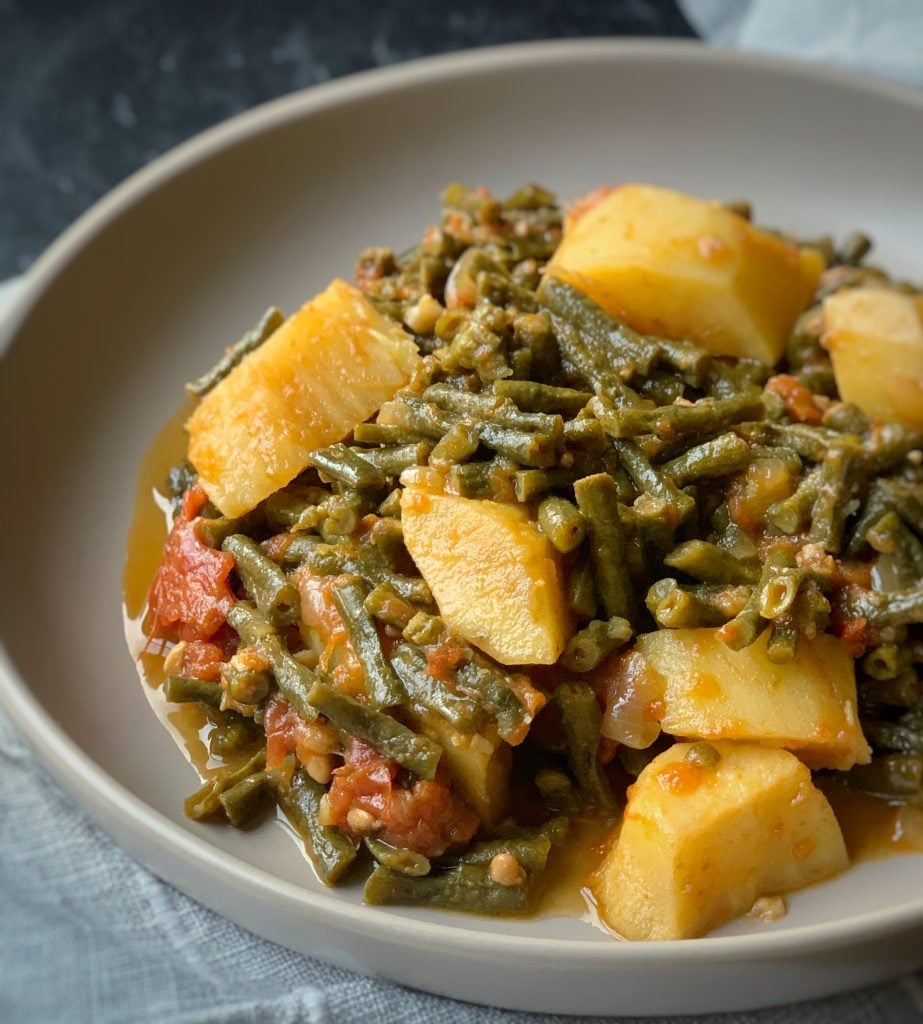 Bora and Sweet Potatoes
I grew up eating bora straight from our garden in Guyana. My mother served bora with hot Oil Roti but when I'm making it, I love to pair bora and sweet potatoes. It's delicious and so filling!
Why You'll Love This Bora and Sweet Potatoes Recipe
Convenient: Using the Instant Pot cuts down cooking time without sacrificing any of the flavor. One of the benefits of using an Instant Pot, besides the time, is that it allows you to set it and forget it, allowing time to focus on other things while your food cooks.
Nutritious: Bora is an excellent source of vitamins and minerals such as Vitamin C, Vitamin B6, magnesium, and potassium.
Versatile: This side dish goes well with so many other foods. Throw in rice for an even heartier stir fry. Or sauce it up with a curry. Add protein like beef, chicken, or shrimp to make it a full meal!
What is Bora in Guyana?
Bora, also known as Chinese Long Bean, is a Guyanese vegetable. Although they resemble green beans, they aren't as crisp. The legumes are actually in the same plant family as black-eyed peas, and taste more like them too.
Bora thrives in tropical climates across Africa, Asia, and the Caribbean. They are usually harvested before they have fully matured, once they reach about one foot long. Then they are cooked as a vegetable. But if they are allowed to mature, the seeds can be dried and eaten like beans.
Ingredients for Bora and Sweet Potatoes
Make this easy stir fry with just a few simple ingredients.
Bora / Bodi / Chinese Long Bean: Prepped and cut into 1-inch pieces.
Small sweet potatoes: Peeled and cut into large chunks.
Coconut oil: Use this or another oil suitable for cooking, like peanut oil.
Aromatics: I use diced yellow onion and chopped garlic cloves.
Tomatoes: I chopped two large vine-ripened tomatoes.
Coconut aminos: You can also substitute this with 1 tablespoon of cassareep or 2 tablespoons of soy sauce.
Spicy brown mustard: This adds a zesty quality.
Seasoning: I use salt and cayenne pepper (this is an optional ingredient but adds a kick of heat).
See recipe card for quantities.
How to Make Bora and Sweet Potatoes
Easy Prep, Easy Cooking
Prepping the Chinese long bean (bora/bodi) is quite easy. Simply remove the tops and the tips, then cut into 1 inch or smaller pieces. I like to remove the tops and tips from a bunch of bora, then put them all together on a cutting board and cut them to my desired length.
Peel and cut the sweet potatoes into chunks and soak in some water until you are ready to cook them. This prevents the sweet potatoes from drying out or turning black.
Put Everything into the Instant Pot
When I said that this recipe was quick and easy, I wasn't kidding. All of the ingredients go into the instant pot, sealed up and pressure cooks for 20 minutes.
I don't like my sweet potatoes to be too mushy so I add those in later and pressure cook for another 5 minutes. If you've ever cooked bora/bodi on the stovetop you know that it can take quite some time to cook to a tender texture. Using the instant pot cuts down the cooking time without sacrificing the taste or integrity of this dish.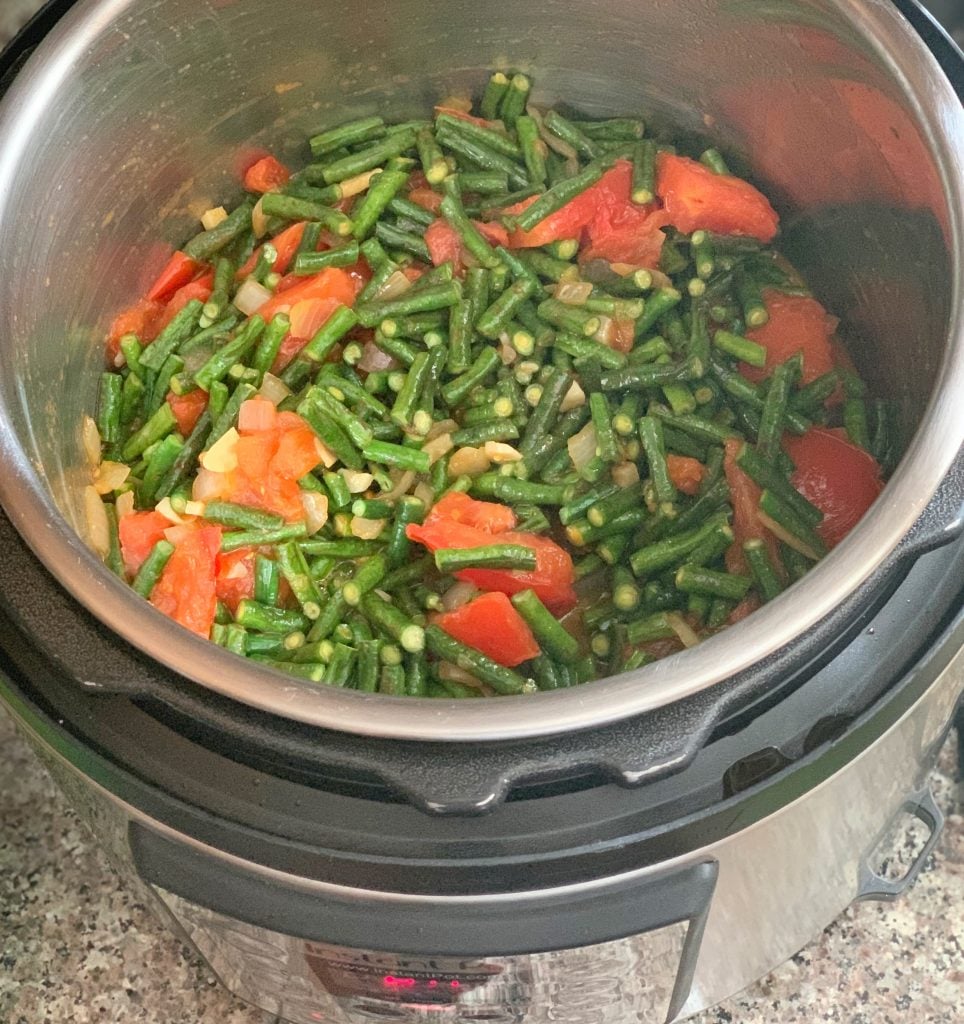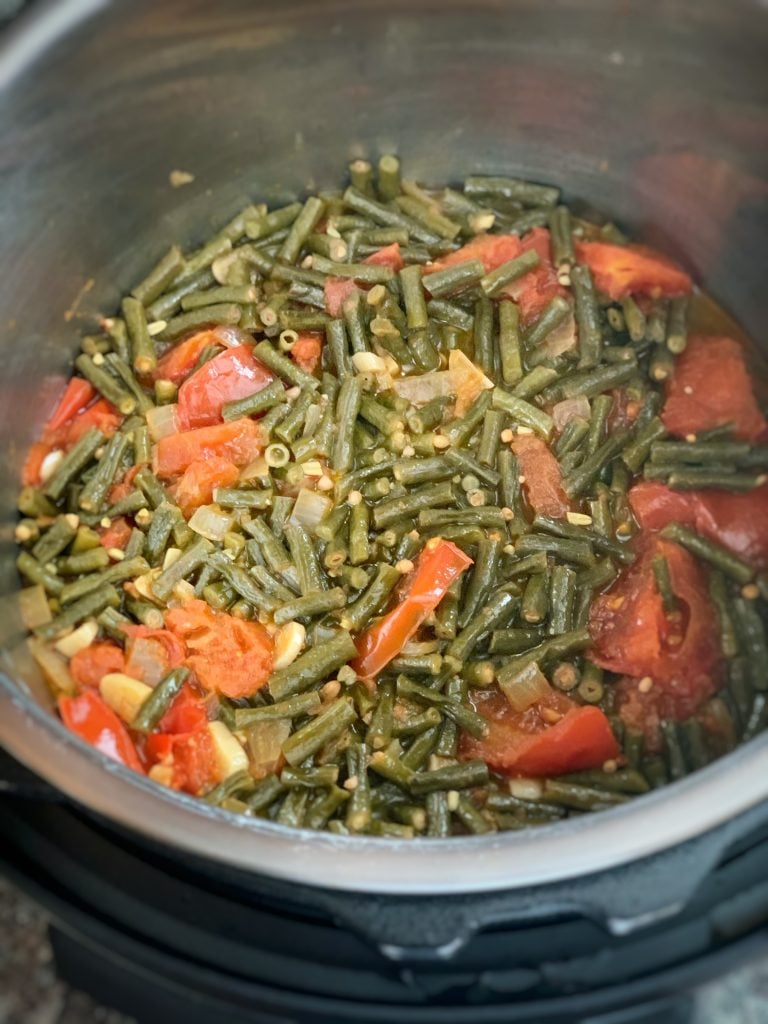 Storage
Once the leftovers have cooled, store bora and sweet potatoes in an airtight container in the fridge for up to 4 days. Reheat them in the microwave or over medium heat on the stovetop.
Tips for the Best Bora and Sweet Potatoes
Cook the bora until they reach your desired level of doneness. Some people like them fork tender while others prefer them crisp.
Although they aren't as firm as green beans, avoid super floppy or slimy bora. That's an indication that they are past their prime and should be tossed. When selecting them at the market, ensure they don't have dark spots either.
Do not boil or steam bora. They'll become waterlogged and bland when fully submerged in water. Lightly frying them in oil yields the best results.
Recipe Variations
Don't have white sweet potatoes? Use regular white potatoes instead. Russet potatoes or red potatoes work really well. I've even made this using petite roasting potatoes.
Want to add a protein? Try these:

I love adding shrimp to this dish. Shrimp seasoned with a few pantry staples then pan-fried and added in at the end is magnificent in this dish
Serve it with a side of fried fish, like my Crispy Salmon Nuggets
Sauté some chicken breasts or boneless skinless chicken thighs just before adding the bora for a chicken and bora stew
Or add some stew beef or lamb chunks
Frequently Asked Questions
How do you eat long beans?
You can eat them raw, if you don't mind the crispy, nutty taste. In Guyana, they are usually sautéed and added to a stir fry or curry.
Where can I buy bora?
Most Asian grocery stores and markets carry bora, although they may be called Chinese long beans.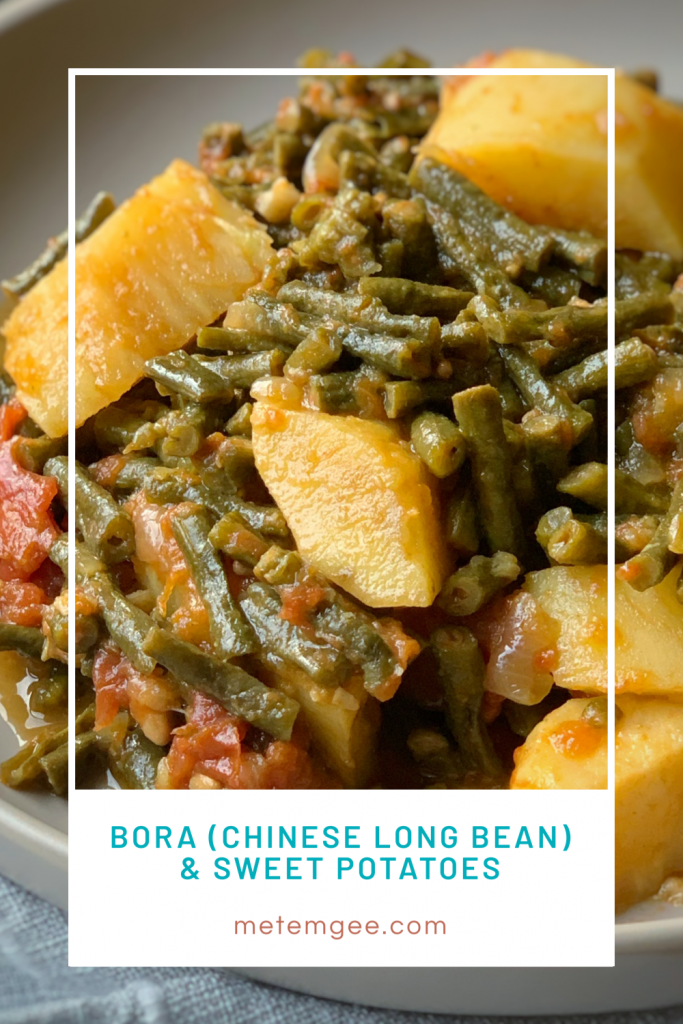 Bora & Sweet Potatoes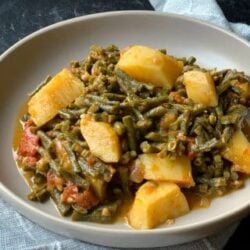 ---
Bora (Chinese Long Bean) and Sweet Potatoes are the simple vegetable side dish that you need to make today! It is made in the Instant Pot, which makes dinner prep a breeze.
---
Ingredients
2

bundles or about 4 cups of Bora / Bodi / Chinese Long Bean

prepped and cut into 1 inch pieces

2

small sweet potatoes

peeled and cut into large chunks

3

tablespoons

of coconut oil

or other oil suitable for cooking

1

small yellow onion diced

4

cloves

of garlic chopped

2 to

matoes chopped

I used two large vine ripened tomatoes

1/4

cup

of coconut aminos

can substitute with 1 tablespoon of cassareep or 2 tablespoons of soy sauce

1/2

teaspoon

of spicy brown mustard

1

teaspoon

of salt or salt to taste

A pinch of cayenne pepper or more for heat

optional
Instructions
Turn I

nstant Pot

on using the Sauté button, when the display indicates that the Instant Pot is hot add the coconut oil and bring up to temperature

Then add the onions, tomatoes and garlic and sauté for a few minutes until the tomatoes are soft

Next add the salt, pinch of pepper, mustard and coconut aminos, followed by the bora and sweet potatoes

Mix together well then press cancel to take the Instant Pot out of sauté mode

Then seal up the instant pot and pressure cook on high for 20 minutes

After 20 minutes release the steam, then mix together well, being careful not to smush the sweet potatoes

Allow to rest for a few minutes so that the juices can come together before serving

Alternatively you may do a natural release which takes about 15 minutes and your bora and sweet potatoes will be perfect when ready to serve.
Notes
If you don't want your potatoes to be too soft, at Step 3 above only don't add the sweet potatoes. Pressure cook for 20 mintues, then after pressure cooking, release the steam and add the sweet potatoes. Seal and pressure cook on high for an additional 5 minutes.
Please note that my tomatoes were really juicy and I didn't need to add any additional water to my recipe, however if your tomatoes are not as juicy you may need to add 1/4 cup of water before pressure cooking
If after pressure cooking there is just too much liquids to your liking, put your Instant pot back on Sauté and allow the liquids to cook down to the desired consistency.
Nutrition
Calories:
209
kcal
Carbohydrates:
28
g
Protein:
3
g
Fat:
11
g
Saturated Fat:
9
g
Polyunsaturated Fat:
0.3
g
Monounsaturated Fat:
1
g
Sodium:
1258
mg
Potassium:
660
mg
Fiber:
5
g
Sugar:
9
g
Vitamin A:
9468
IU
Vitamin C:
24
mg
Calcium:
96
mg
Iron:
3
mg
---
---
The information listed in the recipe card is an estimate provided by an online nutrition tool. The tool evaluates ingredient names and amounts then makes calculations based on the number of servings listed for the recipe. It is provided as a general guideline and not as a precise calculation. For precise nutrition information please feel free to add the ingredients to your preferred nutrition calculator or consult a doctor or licensed nutritionist.