Guyanese cassava pone is a sweet baked dessert made with grated coconut, grated cassava, and warm spices. This recipe is more true to the pone made by street vendors in Guyana, with a dense rich texture that allows you to fully enjoy the star ingredients– cassava and coconut.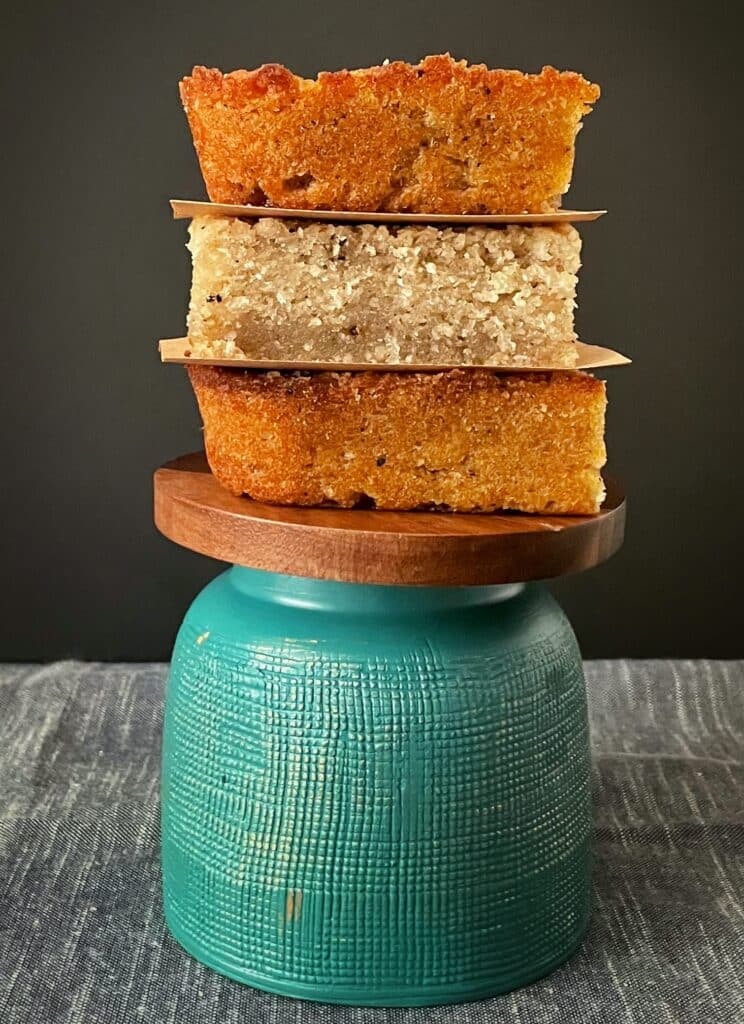 Guyanese Cassava Pone
There is nothing like a mouthwatering slice of cassava pone. It's indulgent, dense, and moist, with plenty of flavor and texture. It's a staple across Carribean cuisine and different cultures have their own special twist.
The main ingredient is the cassava root, an earthy, nutty, sweet vegetable that pairs well with tropical fruits like coconut. All of the other ingredients just work to enhance the flavors of the cassava and coconut. You and your family will love this Carribean treat!
Why You'll Love This Cassava Pone Recipe
Easy: This snack is great for beginner bakers. Simply combine your ingredients and set it to bake!
Unique Dessert: I love this tasty cake alternative because it's sweet but also has an unexpected, yet pleasant twist thanks to the inclusion of spices and black pepper (don't knock it 'til you try it!).
Everyone Can Enjoy: This is naturally grain free, gluten free, and easy to make vegan so even those with dietary restrictions can enjoy this decadent treat.
Versatile: It's easy to switch up the flavor and texture based on personal preference. You can make this recipe with sweet potato or pumpkin instead of cassava. You can also add milk or make it dairy-free. Have fun customizing this!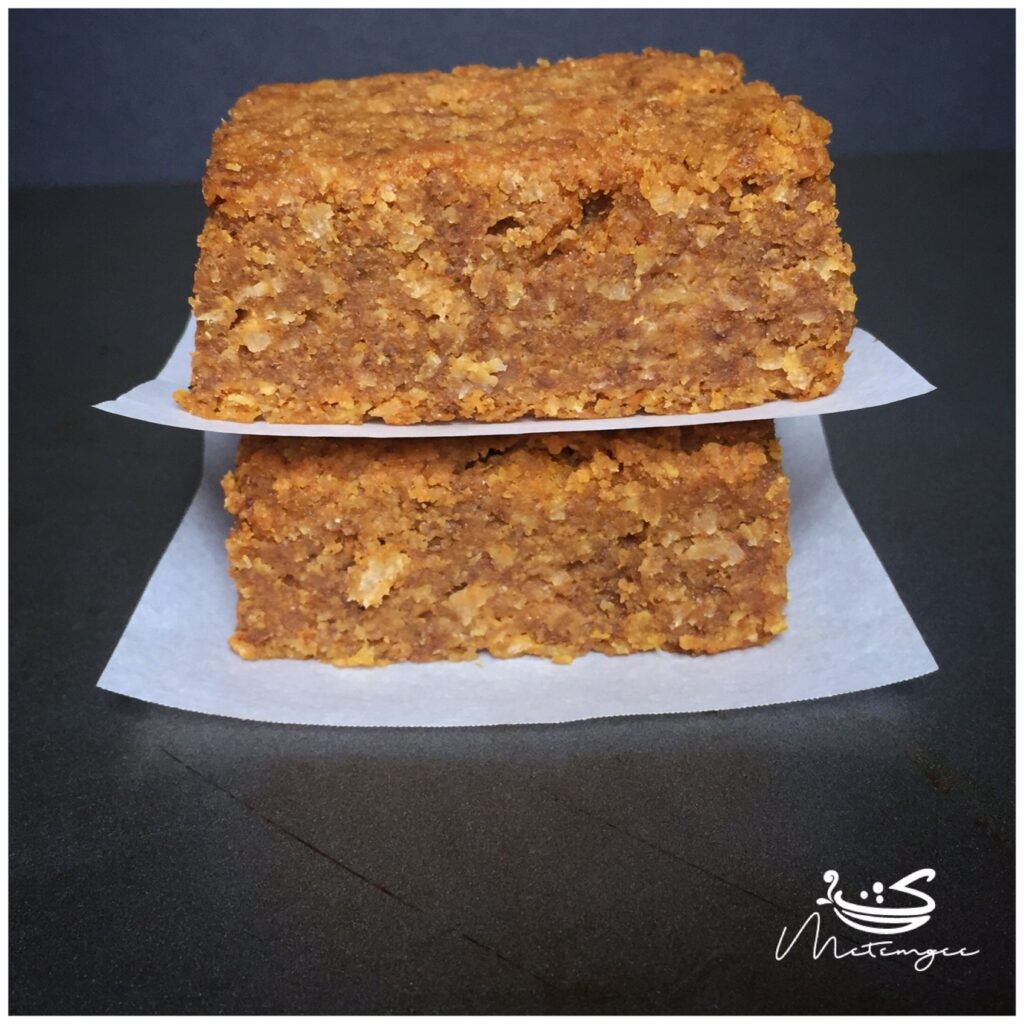 The Origin of Cassava Pone
It is believed that cassava pone was brought to the Caribbean by enslaved Africans. However, while researching articles for this post, I had a tough time finding any African (particularly West African) dishes similar to our cassava pone.
The closest I found was a dish from Ghana known as agbeli kaklo. It is made with grated cassava and coconut but they are formed into balls and deep fried instead of baked. They are also made with savory ingredients like onion and salt.
Although, one article referenced pone as a Native American dish of flat cornmeal cakes baked in ashes. This sparked some curiosity because I remember hearing stories of pone being baked in a dutch oven, on a coal pot with hot coals placed on the lid of the pot to aid in the baking process. The visual of this old-time way of baking pone and the Native American pone buried in ashes seemed eerily similar.
Cassava Pone Ingredients
The best cassava pone needs just a few ingredients: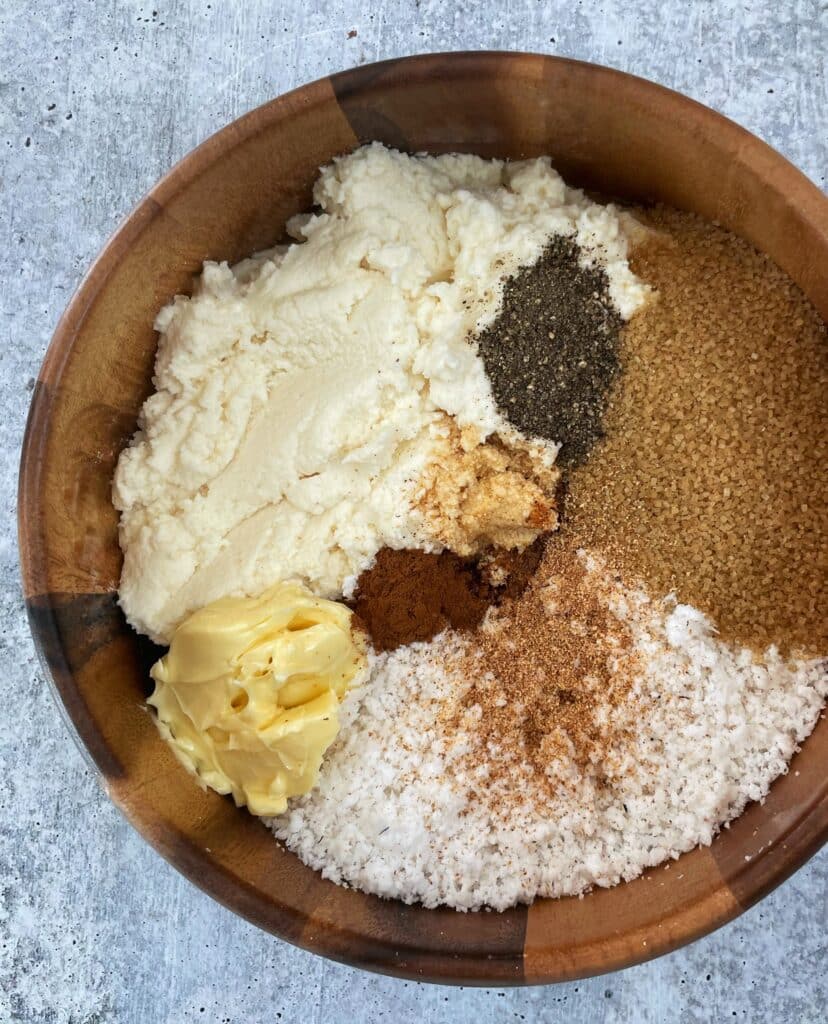 Grated Cassava: you may use fresh or frozen, hand grated or pulsed in the food processor
Grated coconut: I've used fresh, frozen, and coconut flakes and they all work
Butter: Regular or vegan. In this recipe, I used Earth Balance Soy Free Vegan butter
Sugar: I prefer demerara sugar, to American brown sugar.
Warm Spices: I used nutmeg, cinnamon, and vanilla essence. Some people add mixed essence or almond essence
Black Pepper: This is not optional. Good pone has a little kick of heat that comes from black pepper. For this recipe coarse black pepper is best or you can crush whole peppercorns in a mortar and pestle.
See recipe card for quantities.
Choosing the Coconut and Cassava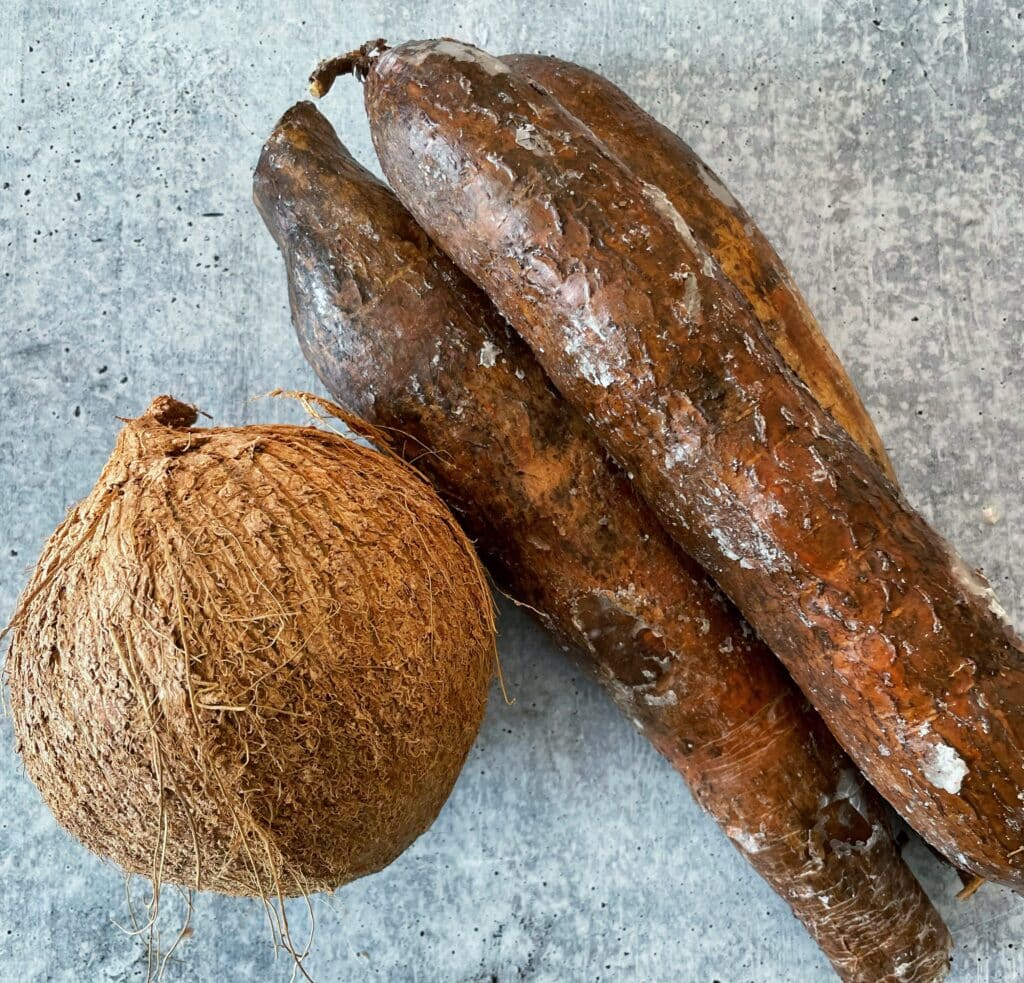 If you are fortunate to live in a place where you get fresh cassava and coconut, then here are a few tips to ensure you choose the best ones for your cassava pone:
Choosing Coconuts
Choose a coconut that is dark in color. This indicates that it has dried longer and the flesh will be more creamy.
Feel the weight of the coconut in your hands. If the coconut feels heavy choose this one
Then shake the coconut and listen for the water shaking inside. If there is water that is a good sign that there are no cracks or leaks in your coconut
Check the eyes (three dots on the coconut) to confirm that they are dry and mold or fungus free.
Choosing Cassava
If you can break a piece of the cassava off before buying, look for a cassava that is completely white with no dark lines or cream spots. Dark lines and cream spots are signs of fungus and decay.
Unfortunately, the only way to tell if you have a good cassava is to break off a piece. In the markets in Guyana, you can do this while choosing your cassava. I sometimes sneak and do it here in the US, to the first one or two cassavas to see if the batch is good.
Always buy more cassava than you need, in case some of it is bad.
If you can, buy cassava from Caribbean markets/supermarkets because they have a customer base that will buy cassava often. If you find cassava neatly wrapped in plastic and labeled, it is likely that the cassavas have been sitting a while so they may be spoiled/rotten. You can also find cassava in Latin or Asian markets, like HMart. These stores have high immigrant traffic, with people like me buying cassava daily, therefore their cassava will be fresher than other stores.
How to Peel Cassava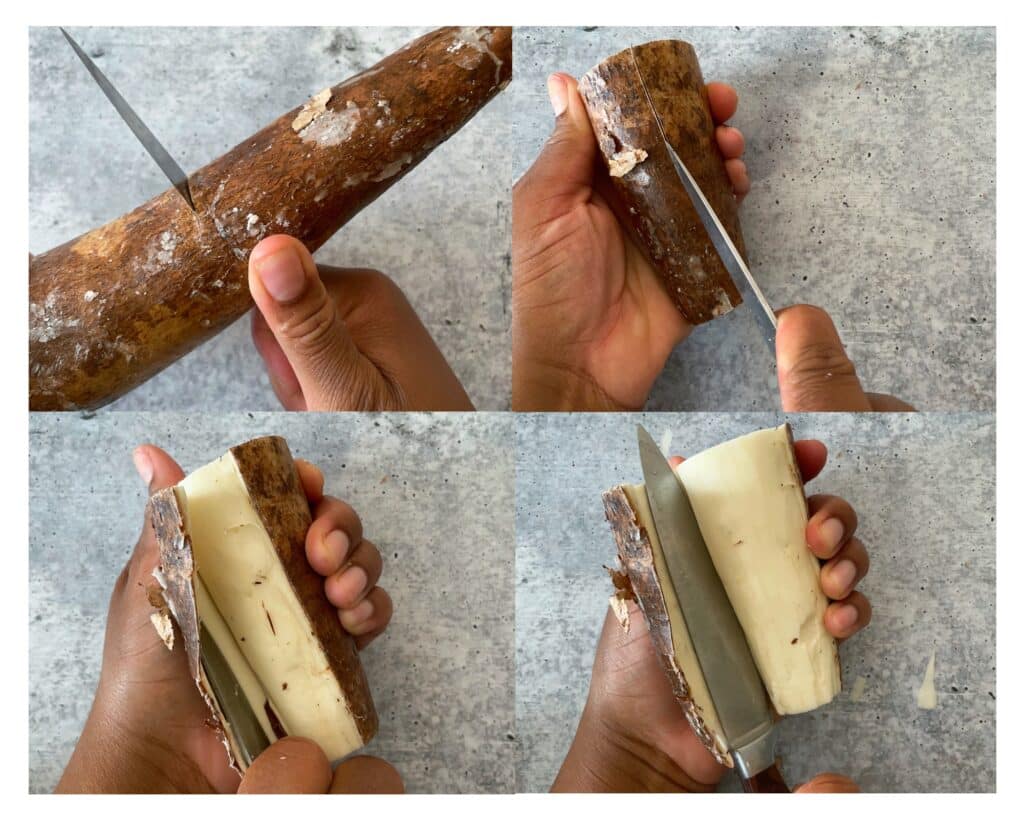 Start but cutting your cassava into manageable pieces. I typically do three to four inch rounds, because they fit perfectly in the palm of my hands. Then using a paring knife, make a vertical slit in the skin of the cassava. Next slide the tip of the knife in between the slit and under the skin. Finally, peel the skin away from the cassava flesh.
How to Make Cassava Pone Guyana Style
Before Baking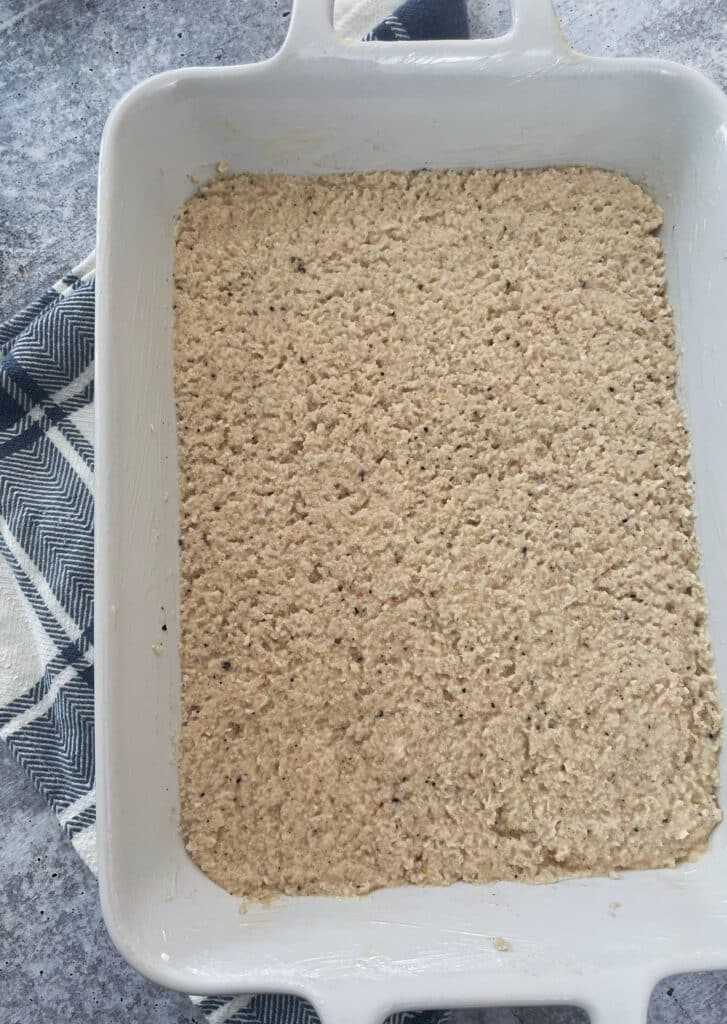 Once you've mixed all of your ingredients together well. I add my ingredients to my stand mixer and beat it with the paddle attachment for 3-5 minutes and perfection! Pictured above is the texture you are looking for before baking. A really wet pone mixture will cause the cassava to become gummy. I do not add milk, or any liquids to my pone, except when I am using dried coconut flakes. When I am using coconut flakes I add about 1/4 cup of coconut milk to this recipe.
After Baking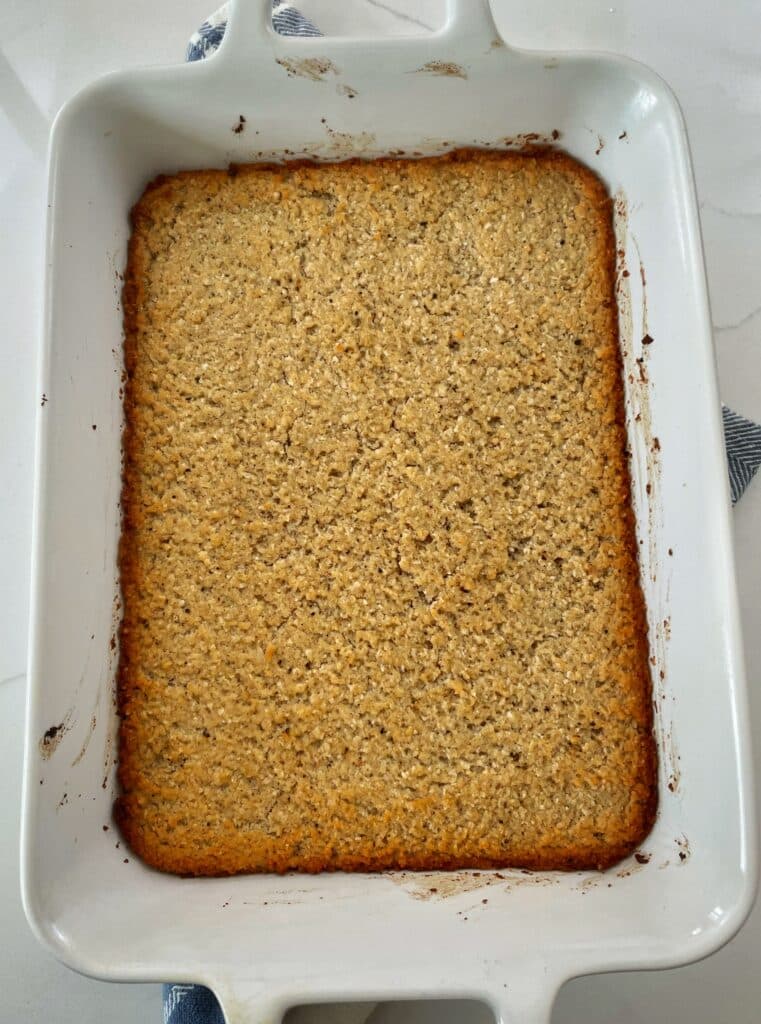 I bake my cassava pone with the rack slightly above middle, to allow the top of the pone to be more evenly browned. Since cassava tends to be a bit sticky when baking, the toothpick test isn't really reliable for confirming if the pone is ready.
Bake your cassava pone for at least one hour and until it is golden brown in color. Be warned that the pone may not be evenly brown at the top. Another good indication that the pone is ready, is if after baking for an hour, it starts to pull away from the sides of the pan.
Allow the pone to cool completely before slicing it into squares. I'm an edge lover, as are most people and I once made pone in this mini loaf sheet pan and it was heaven. Every piece was an edge piece!
Storage
Store leftover cassava pone in an airtight container in the fridge for up to 5 days.
Recipe Variations
Pone is popular across the Caribbean and different islands have their own list of ingredients. Here are some delicious ideas.
Ingredients: Some recipes add pumpkin or sweet potatoes to cassava pone. Although this is not typically done in Guyana, my grandmother would add a small amount of sweet potato to her pone. It softens the top of the pudding-like cake, for a nice, smooth texture. I like the contrast of the crunchy top to the soft interior of the pone so I don't add sweet potatoes to my cassava pone. But if you want a sweeter version of this recipe, check out my Pumpkin Spice Pone recipe.
Texture: The texture of this dish varies significantly depending on how you make it. I prefer a dense cake like pone versus the chewy, gummy softer versions, simply because it is the version of pone I grew up eating. Recipes for pone with condensed milk, coconut milk, and evaporated milk result in softer, chewy, gummy textures.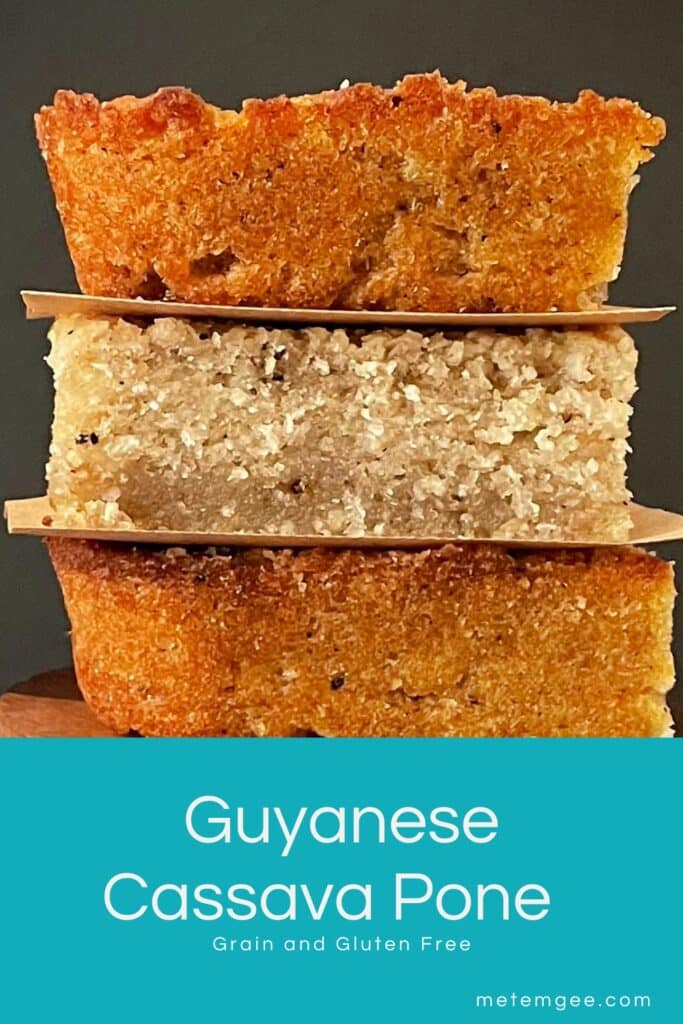 Frequently Asked Questions
What is cassava pone made of?
Cassava pone is a grain free, gluten free baked 'pudding' made with cassava (yuca root), coconut, and warm spices.
What to do with cassava?
There are so many ways to use this starchy root vegetable. Ground it into a meal and use it to make Creamy Farine Grits. Keep it whole and make it fork tender like this Boil and Fry Cassava recipe. Add it to stews or use it in desserts like this cassava pone.
Can you freeze cassava pone?
Yes. Store cassava pone in a freezer-safe airtight container and freeze for up to 3 months. To defrost, place it in the fridge overnight or leave it on the counter until it comes to room temperature.

Cassava Pone
---
Guyanese cassava pone is a sweet baked dessert made with grated coconut, grated cassava, and warm spices. This recipe is more true to the pone made by street vendors in Guyana, with a dense rich texture that allows you to fully enjoy the star ingredients–cassava and coconut.
---
Equipment
Mixing Bowl

Box Grater

Baking Dish
Ingredients
2

lbs

cassava

grated

1

large coconut

grated (about 2 cups)

1

cup

demerara sugar

1/4

cup

softened butter

2

teaspoons

grated nutmeg

1/2

teaspoon

of ground cinnamon

1

teaspoon

of vanilla essence

1

tablespoon

of black pepper
Instructions
Preheat oven to 350 degrees Fahrenheit

In a medium mixing bowl, combine cassava, coconut, brown sugar, butter, nutmeg, cinnamon, black pepper and vanilla essence

Mix together well until everything is fully incorporated

Place mixture into a greased baking dish and bake on the middle rack for 1 hour to 1 hour 20 minutes, or until pone is golden brown in color and pulls away from the sides of the pan

Remove from oven and let cool. Once pone cools, cut into squares
Notes
Coconut options:
For this recipe feel free to use fresh, frozen or dried coconut flakes. If using dried coconut flakes, add 1/4 cup of coconut milk to the recipe. Also if using dried coconut flakes, pulse the flakes in the food processor to mimic grated coconut. Grating Cassava:
You may use the grate (not small shred) side of a box grater for a smoothly grated cassava. Or you may cut your peeled cassava into cubes and blend it in a food processor until it is a smooth paste.
Nutrition
Calories:
358
kcal
Carbohydrates:
70
g
Protein:
2
g
Fat:
8
g
Saturated Fat:
6
g
Polyunsaturated Fat:
0.3
g
Monounsaturated Fat:
2
g
Trans Fat:
0.2
g
Cholesterol:
15
mg
Sodium:
64
mg
Potassium:
349
mg
Fiber:
3
g
Sugar:
27
g
Vitamin A:
197
IU
Vitamin C:
24
mg
Calcium:
29
mg
Iron:
1
mg
---
---
The information listed in the recipe card is an estimate provided by an online nutrition tool. The tool evaluates ingredient names and amounts then makes calculations based on the number of servings listed for the recipe. It is provided as a general guideline and not as a precise calculation. For precise nutrition information please feel free to add the ingredients to your preferred nutrition calculator or consult a doctor or licensed nutritionist.