Guyanese Sponge cake is a rich dessert very similar to pound cake. This deliciously decadent cake is often made with multi-colored swirls and is mostly enjoyed at celebrations like birthdays and Christmas.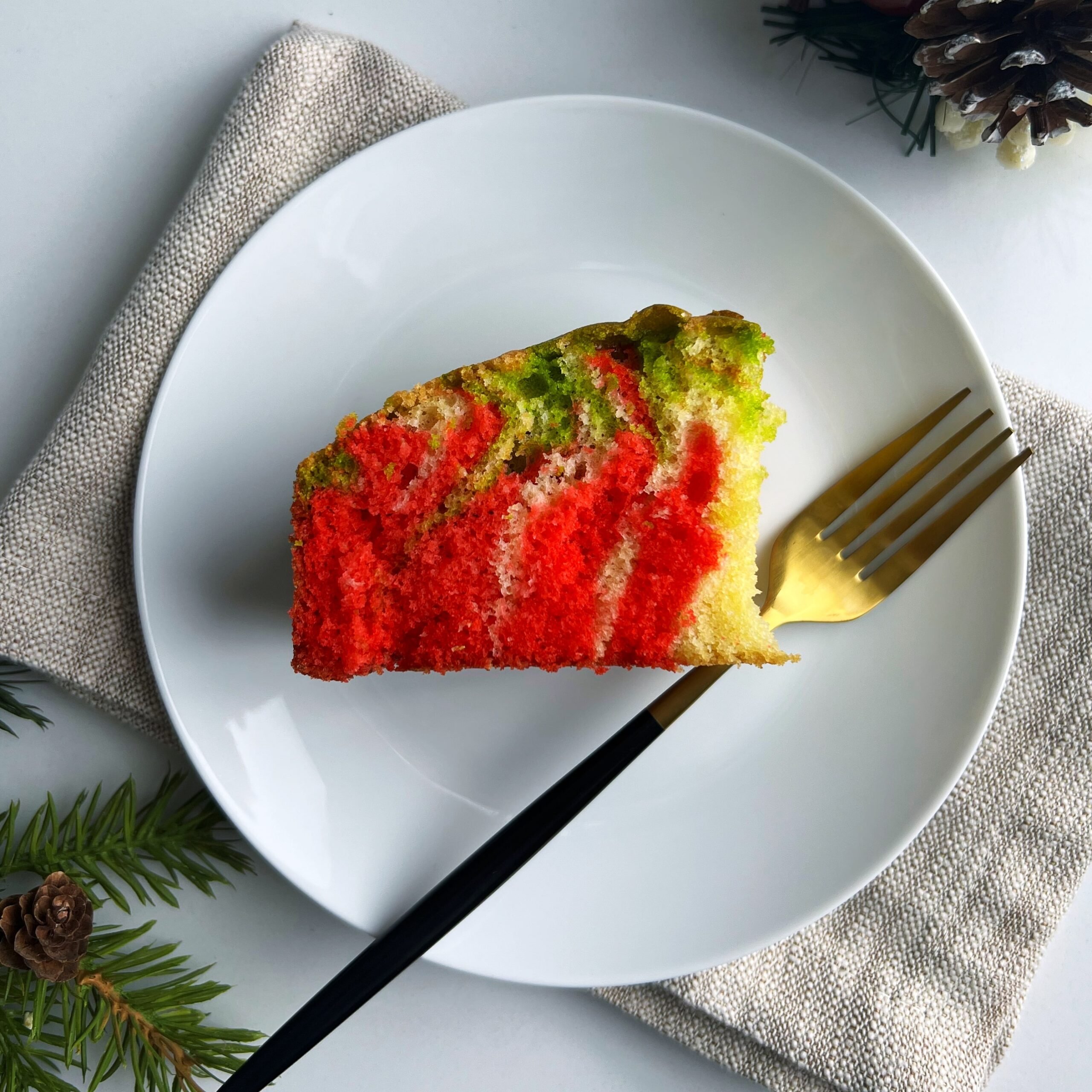 Guyanese Style Sponge Cake
I have such fond memories of my mother making this sponge cake in Guyana. She made it for all of our birthdays and sometimes for our school Christmas parties. My mom also made sponge cake at Christmas time when baking seem to span over weekends and all of her sisters came by to bake bread, black cake, fruit cake, and sponge cake.
This Guyanese sponge cake recipe is from my Aunty Cheryl who is one of the best bakers, chefs, and creators, in my family. It is so important to me that my children have similar memories of Guyanese traditions around food. So I make this Guyanese style sponge cake whenever my children ask to bake a cake.
About this Sponge Cake Recipe:
And let me say that non Guyanese people reading these ingredients, might say this sounds like a pound cake and it really is. Not sure why we call it sponge cake, except that it looks like "old school" sponges.
Why You'll Love This Guyanese Sponge Cake Recipe
Better Than Storebought: Instead of a box cake, whip this beauty up! It's fresher and tastes much better!
Easy to Make: Aside from technique, this recipe is all about combining ingredients. Combine, bake, cool, serve, and devour.
Beautiful Presentation: On occasion, we'll add food coloring, each child owning a particular color. It is amazing to watch their reaction when the cake is cut open and they see the colors they worked on.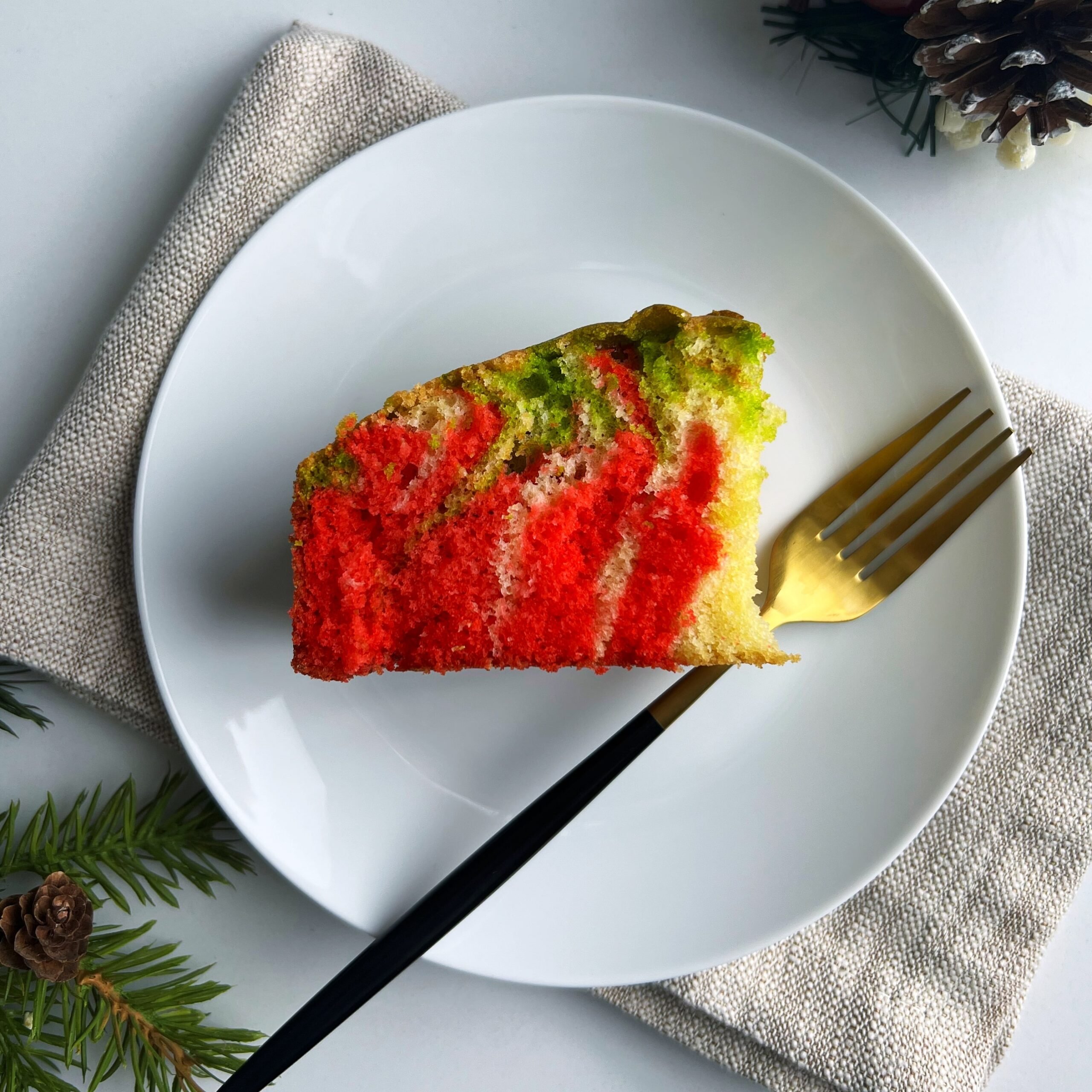 Ingredients for Guyanese Sponge Cake
The bulk of this recipe is eggs, butter, sugar, baking powder, and flour. The other ingredients are for flavor, so pick and choose which to use.
Butter: Start with room temperature butter for this recipe. It makes a difference in how the sugar and butter creams together.
Granulated sugar: It will integrate much smoother with room temperature butter and eggs.
Eggs: I also use room temperature eggs in this recipe. I just take my eggs out an hour or so before I need to bake and let them sit on the counter. You can also just put your eggs in some warm water while you measure out your ingredients and it will be just as good.
Flour: Sift all purpose flour.
Baking powder: This makes the cake rise.
Vanilla essence: You can use vanilla extract in its place but essence has a much stronger flavor.
Almond essence: This is an optional ingredient for almond flavor.
Navel orange: Use orange zest for a touch of bright, citrus flavor.
Rum: This is totally optional but highly suggested. It helps the cake stay fresh longer and does not impact the taste. The alcohol content will burn off.
See recipe card for quantities.
How to Make Guyanese Sponge Cake
This step-by-step video tutorial features my son Andrew as he is helping me with the ingredients. Generally, this recipe makes two 8-inch round sponge cakes. But I explained in the video that my son picked the pan out and there was no convincing him to change his mind.
It worked out perfectly and the cake was a huge success. The measurements are actually really easy to half and make one cake if you don't want this much cake. That's typically what I do when I make it with the kids.
Substitutions & Variations
Butter: To make this dairy free I use dairy free butter. Earth balance and country crock vegan butter are two of my favorite butter substitutes.
Sugar: I've also tried this recipe with coconut sugar and it works as a cup to cup substitute, however the cake is really dark in color because of the coconut sugar.
Frosting: Although not traditional, you can add frosting to your Guyanese pound cake.
Eggless Guyanese Sponge Cake: You can substitute the eggs in this recipe for 1/2 cup of unsweetened apple sauce and 1 cup of milk. Or 1/2 cup of apple sauce, 1/2 cup of yogurt, and 1/2 cup of milk.
Guyanese Sponge Cake with Cherries: I don't like maraschino cherries in the cake so I didn't add any to this one but you certainly can.
Adding the color swirls (marble) to the batter Step by Step
Separate the cake batter into 3 equal parts. Then add 3 drops of gel food coloring with the color of your choice and mix together well. Add more color for darker, more intense color but remember it will darken even more as it bakes.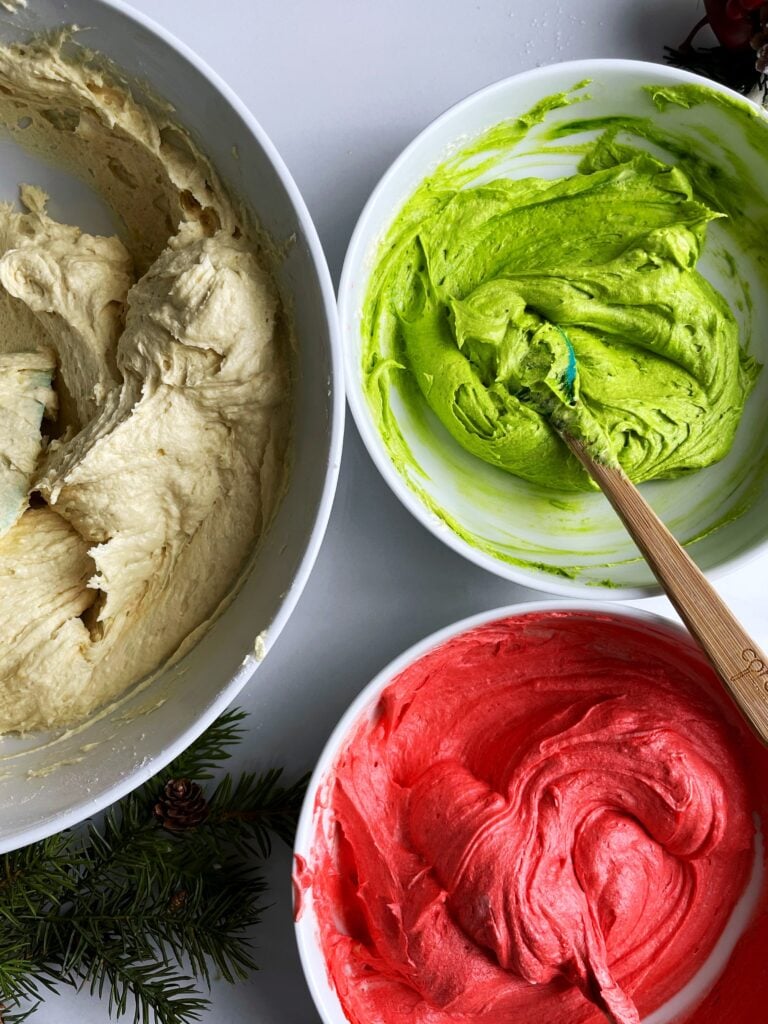 2. Add dollops of the uncolored batter, followed by pats of the colored batter to a 9×13 baking pan. Then using the handle of a wooden spoon swirl to make a marble effect in the batter. If you wanted to have an element of surprise you could divide the batter into 4. Color two and leave two portions uncolored. Then add the two colored batter and one uncolored batter to the pan. Swirl, then top with the remaining uncolored batter, smoothing the batter to cover the top completely. Once it bakes you would only see the marble once you cut into the cake.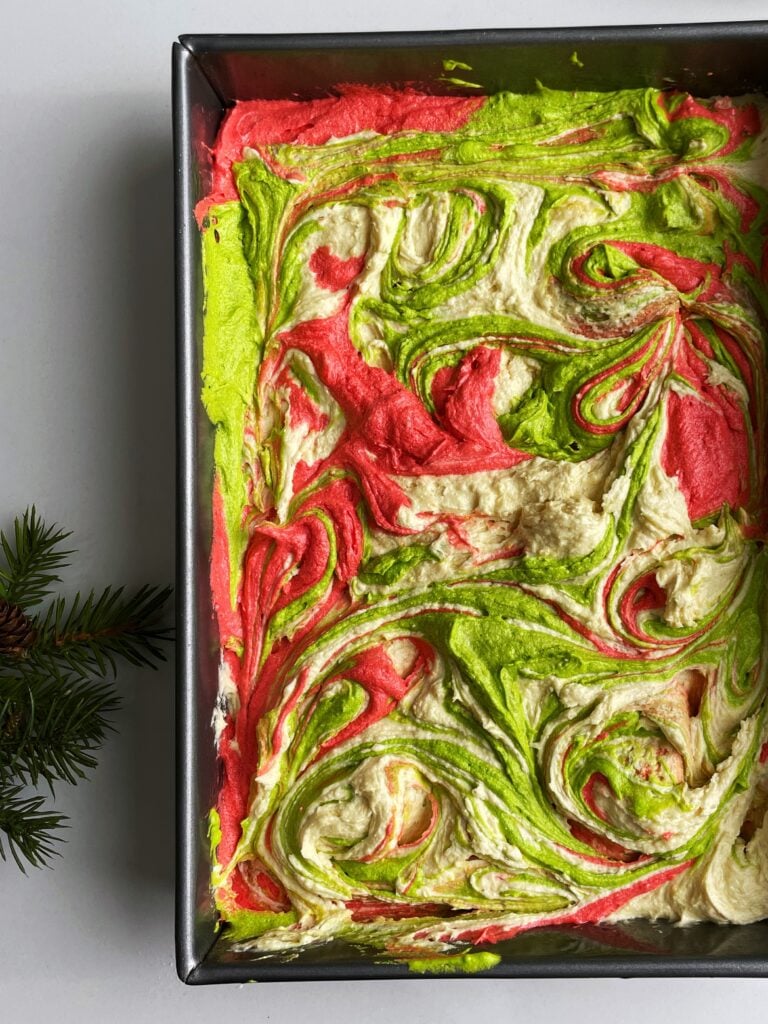 3. Bake at 350°F for 40 to 45 minutes or until a toothpick inserted into the cake comes out clean. You could also bake this cake at 325°F for an hour and a really soft cake.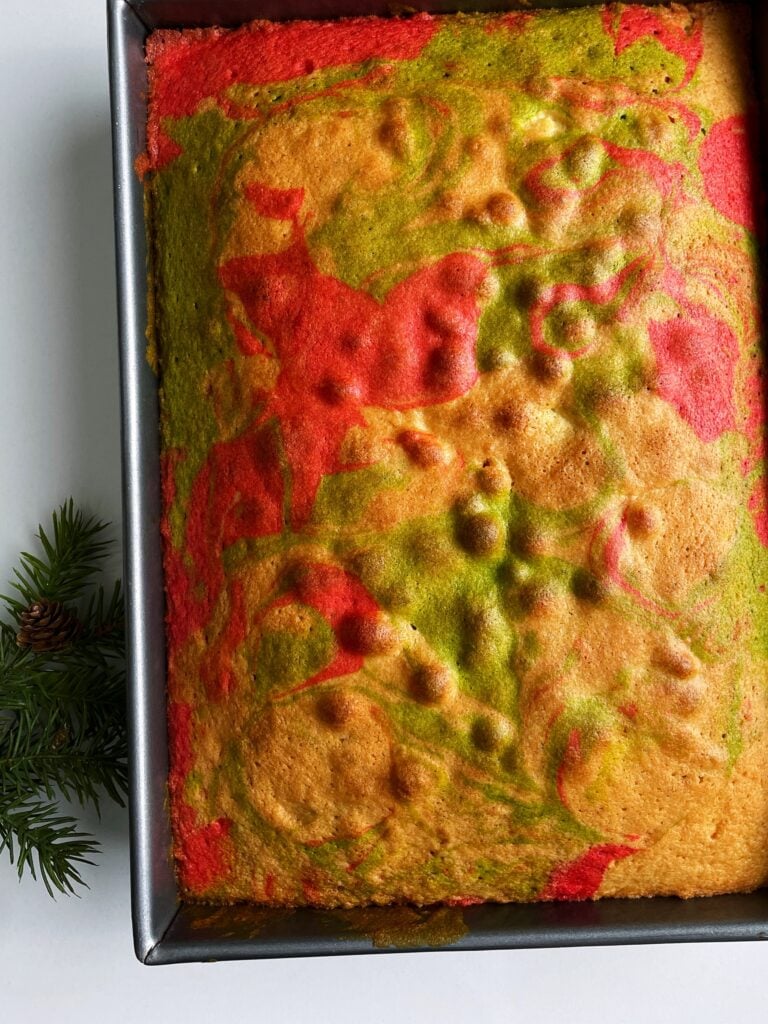 4. Cut into it for that beautiful colored marble effect! Depending on how you added the batter you will see either even bits of color or big chunks.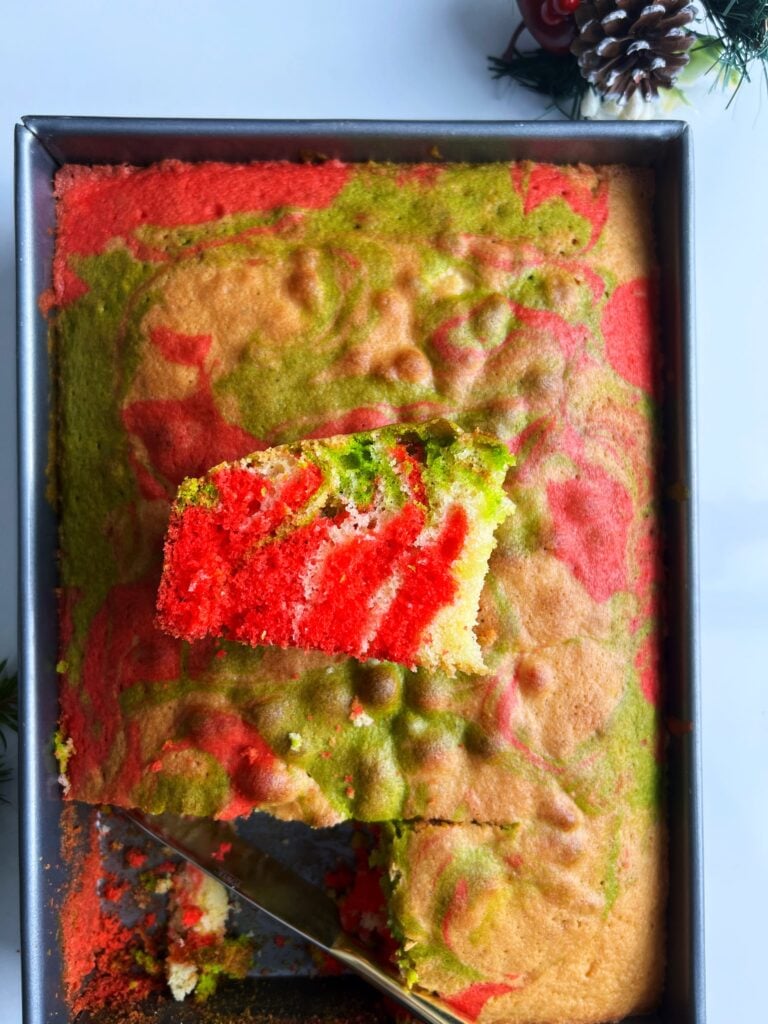 Equipment
Bundt cake pan or two 8 inch round pans: To contain the cake batter and bake the cake. This recipe makes two 8 inch x 3 inch pans or 1 9 inch by 13 inch sheet cake pan.
Stand Mixer/Hand Mixer: Use either of these for easy creaming.
Storage
Store leftover Guyanese pound cake in an airtight container at room temperature for five days. It will last in the fridge for about 1 week.
Tips for the Best Guyanese Sponge Cake
Do not mix ingredients at high speed. As you incorporate the ingredients to make the batter, keep the stand mixer on a low setting.
Incorporate one egg at a time into the cake batter for easier mixing.
I prefer to grease the pan but you can also line the baking pan with parchment paper in order to prevent the cake from sticking.
For the best results, do not open the oven door to check on the cake. Otherwise, it may sink.
Allow the cake to cool completely before removing it from the pan.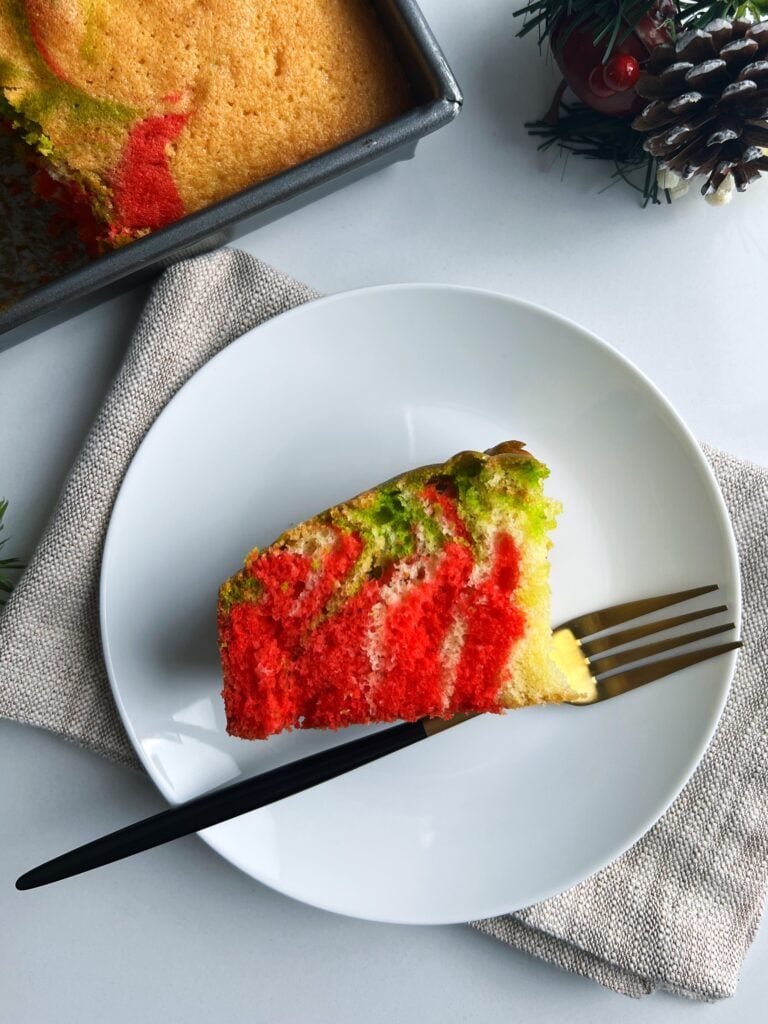 Frequently Asked Questions
What's the difference between sponge cake and pound cake?
Although both cakes contain flour, eggs, and sugar, traditional sponge cakes are made with separated egg whites and egg yolks. Pound cakes also contain butter.
What are the four main types of sponge cakes?
The four main types of sponge cake are biscuit sponge, genoise, angel food cake, and chiffon cake.

Guyanese Sponge Cake
---
Guyanese Sponge cake is a rich dessert very similar to pound cake. This deliciously decadent cake is often made with multi-colored swirls and is mostly enjoyed at celebrations like birthdays and Christmas.
---
Equipment
Bundt cake pan or two 8 inch round pans

Stand Mixer/Hand Mixer
Ingredients
1

lb

butter

room temperature

1

lb

granulated sugar

10

eggs

room temperature

1

lb

flour

sifted

2

teaspoons

baking powder

1

teaspoon

vanilla essence

1

teaspoon

almond essence

optional

zest of one navel orange

1

teaspoon

rum

optional
Instructions
Preheat oven to 350 °F

Cream together the sugar and butter until fluffy and most of the sugar crystals have dissolved

Add eggs one as a time and mix into the creamed sugar and butter

Then add baking powder to the flour and sift together

Next add sifted flour, 1/2 cup at a time to the creamed butter, sugar and egg mixture and slowly mix together forming a smooth batter.

Add vanilla essence, orange zest and rum (if using)

Pour mixture into a greased bundt cake pan or two 8 inch round pans

Place on the middle rack in the oven and bake for 45 minutes to an hour or until a wooden skewer or tooth pick comes out clean (free of batter) when inserted into the cake

Remove from the oven and let cool completely before removing from the baking pan
Notes
For best results use room temperature butter. It makes the creaming process easier and helps the batter to be fluffier. Room temperature eggs are also great in the recipe. If I plan to make this I leave the eggs and the butter out over night. If I am doing it spur of the moment, I microwave the butter a little (not the best, but it works) and drop the eggs (shell on) in some warm water.
To add color to this cake, divide the batter into 3 then add 3-5 drops of food coloring of your choice to two of the three portions of batter. Then add the batter into a greased baking pan. Using the handle of a wooden spoon, swirl to make a marble pattern. Then bake. 
Adding the rum to the batter might be new to most but I promise you it makes the cake fresher longer. Give it a try and tell me what you think!
Nutrition
Calories:
478
kcal
Carbohydrates:
98
g
Protein:
10
g
Fat:
5
g
Saturated Fat:
2
g
Polyunsaturated Fat:
1
g
Monounsaturated Fat:
2
g
Trans Fat:
0.1
g
Cholesterol:
136
mg
Sodium:
399
mg
Potassium:
111
mg
Fiber:
1
g
Sugar:
54
g
Vitamin A:
198
IU
Calcium:
146
mg
Iron:
3
mg
---
---
The information listed in the recipe card is an estimate provided by an online nutrition tool. The tool evaluates ingredient names and amounts then makes calculations based on the number of servings listed for the recipe. It is provided as a general guideline and not as a precise calculation. For precise nutrition information please feel free to add the ingredients to your preferred nutrition calculator or consult a doctor or licensed nutritionist.