Hot Cross Buns are such a big part of our Easter Tradition. These spiced buns are made annually for Easter and enjoyed on Good Friday. An Easter without Hot Cross Buns doesn't feel like Easter at all.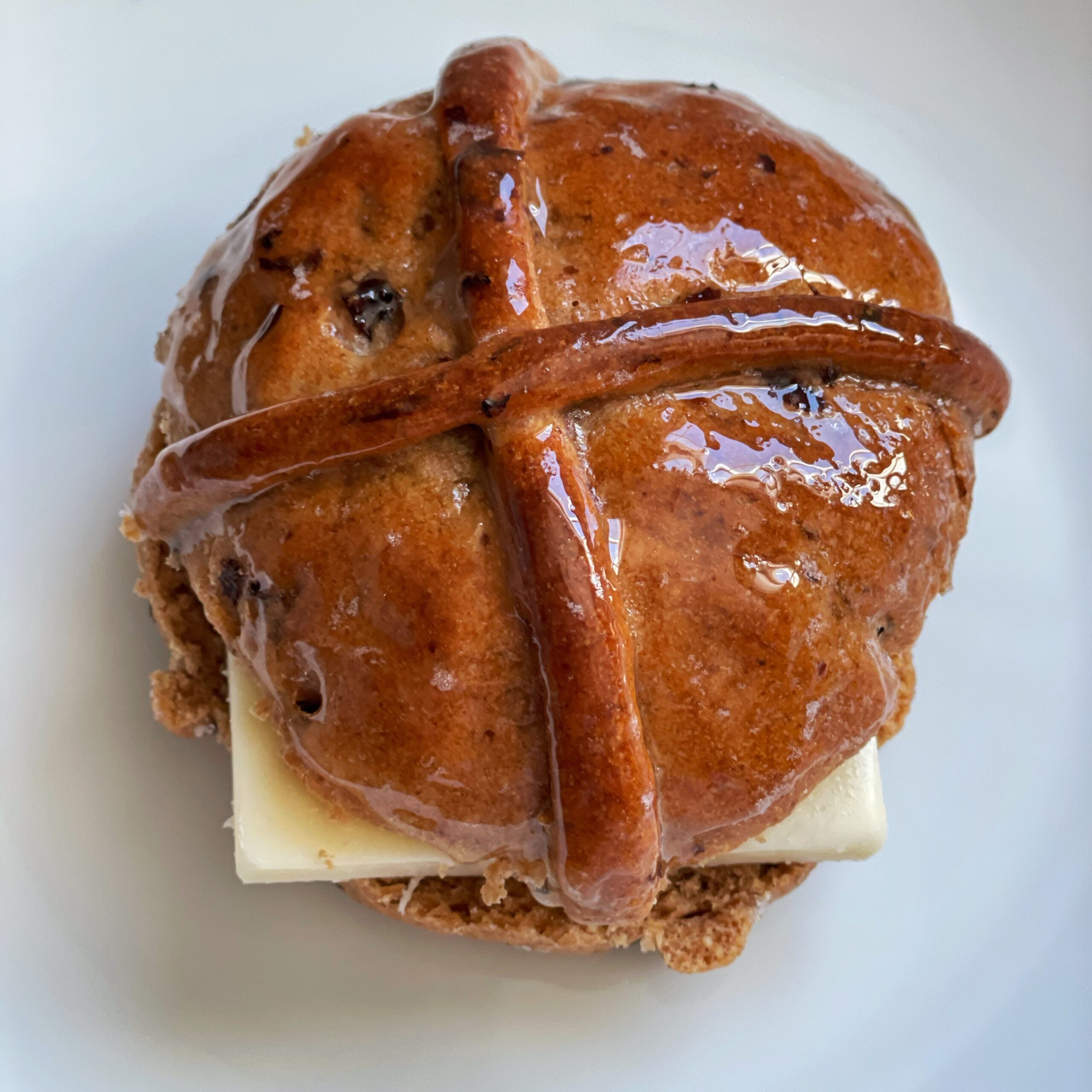 Traditionally this recipe is made with currants or raisins. Over the years I started making it with rum soaked fruits and I am never going back to currants. The use of the fruits is the only non-traditional element in this recipe. Everything else is how my family made cross buns when I was growing up.
Ingredients for your Hot Cross Buns
All Purpose flour
Yeast
Eggs
Butter
Brown Sugar
Mixed Fruits
Ground Spices: Cinnamon, nutmeg
Granulated Sugar
Vanilla Extract
Full ingredients list and measurement in recipe card below.
Step by Step Instructions for Hot Cross Buns:
I mix my cross buns dough in my stand mixer. It is quick and easy and I love it. I start by blooming the yeast, then I combine the yeast, butter, milk and eggs in the stand mixer. Next I add all the dry ingredients and let the mixer do all the work.
Once the dough comes together into a smooth ball, I let it proof for 45 minutes to an hour for a beautiful light and fluffy cross buns.
Then punch down and knead the dough again into a smooth ball. Separate the dough into 9-12 pieces and knead each piece into a small ball.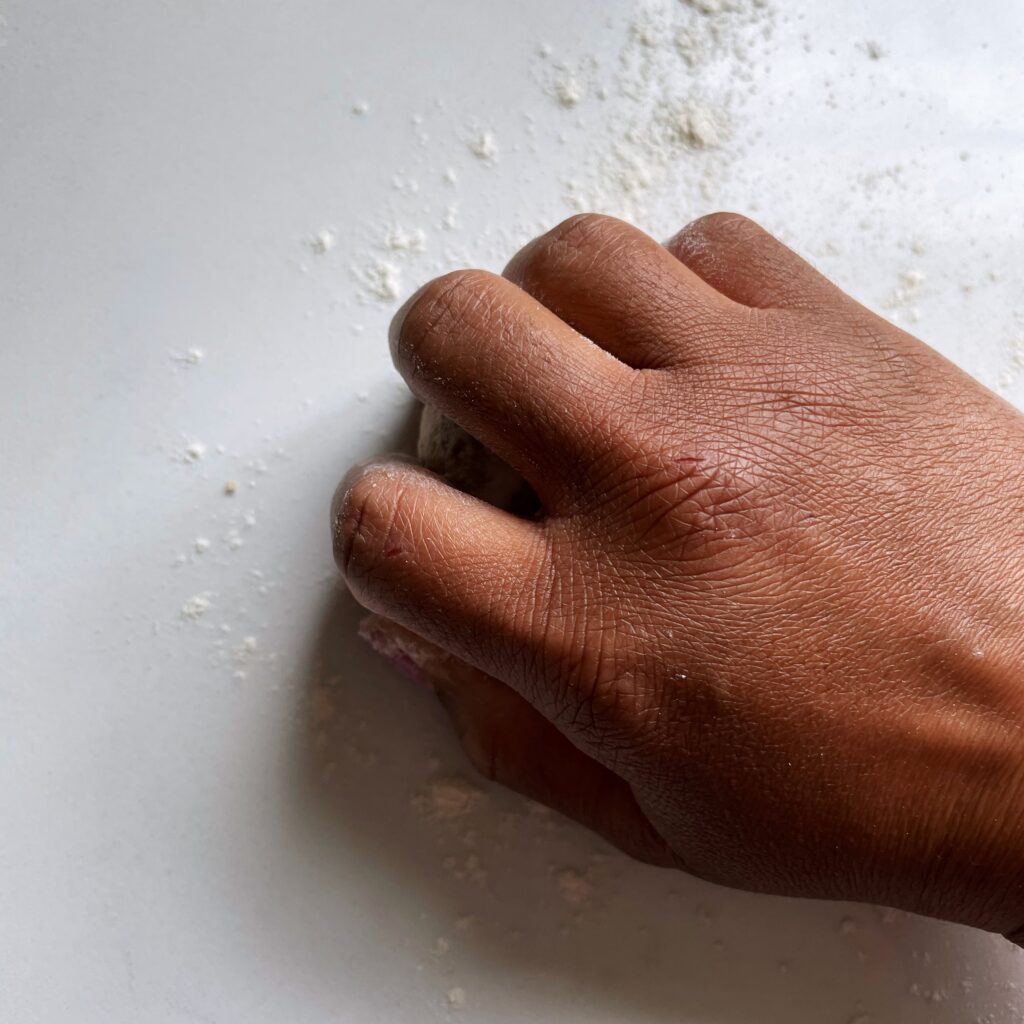 You can roll the small dough ball cupped in your hand to help form a smooth round shape.
How to make a dough cross for your cross buns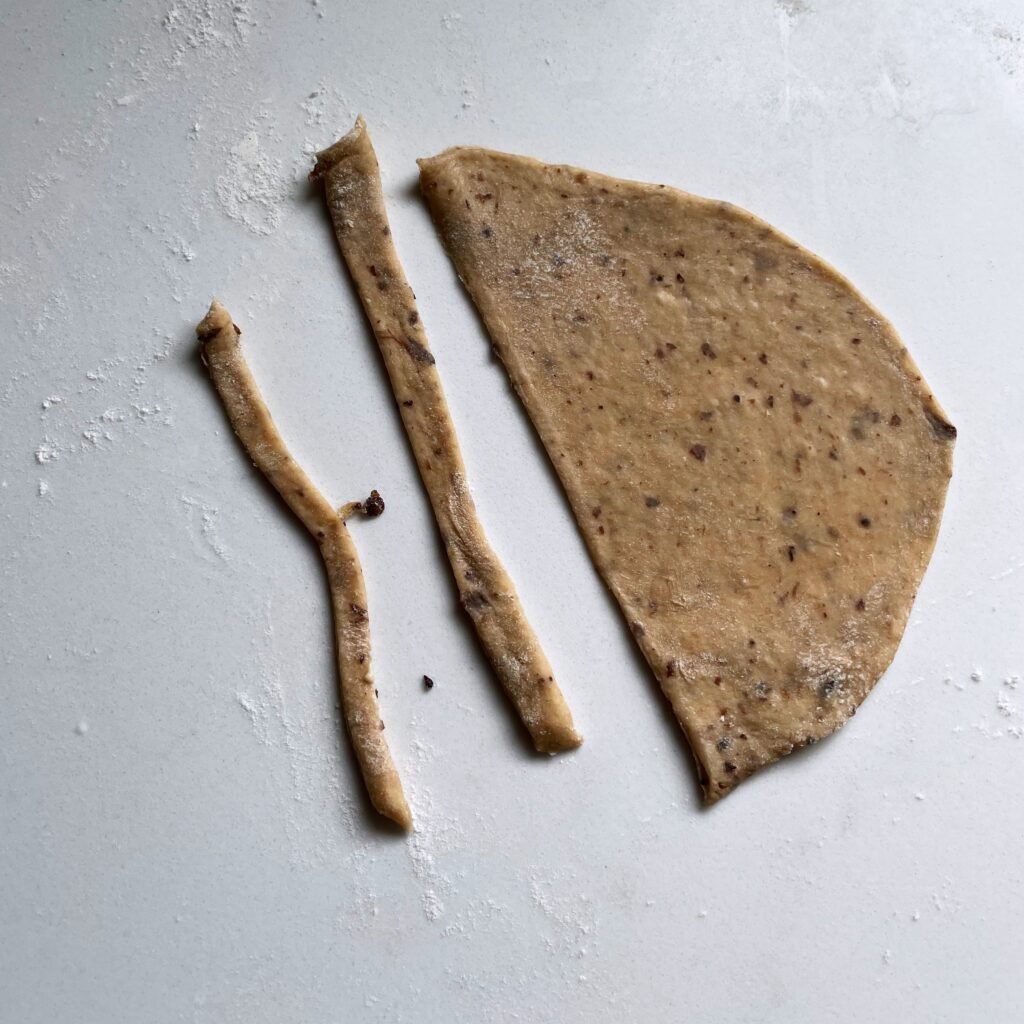 Roll one of your dough balls into a flat disk and cut into strips to make the dough cross toppers.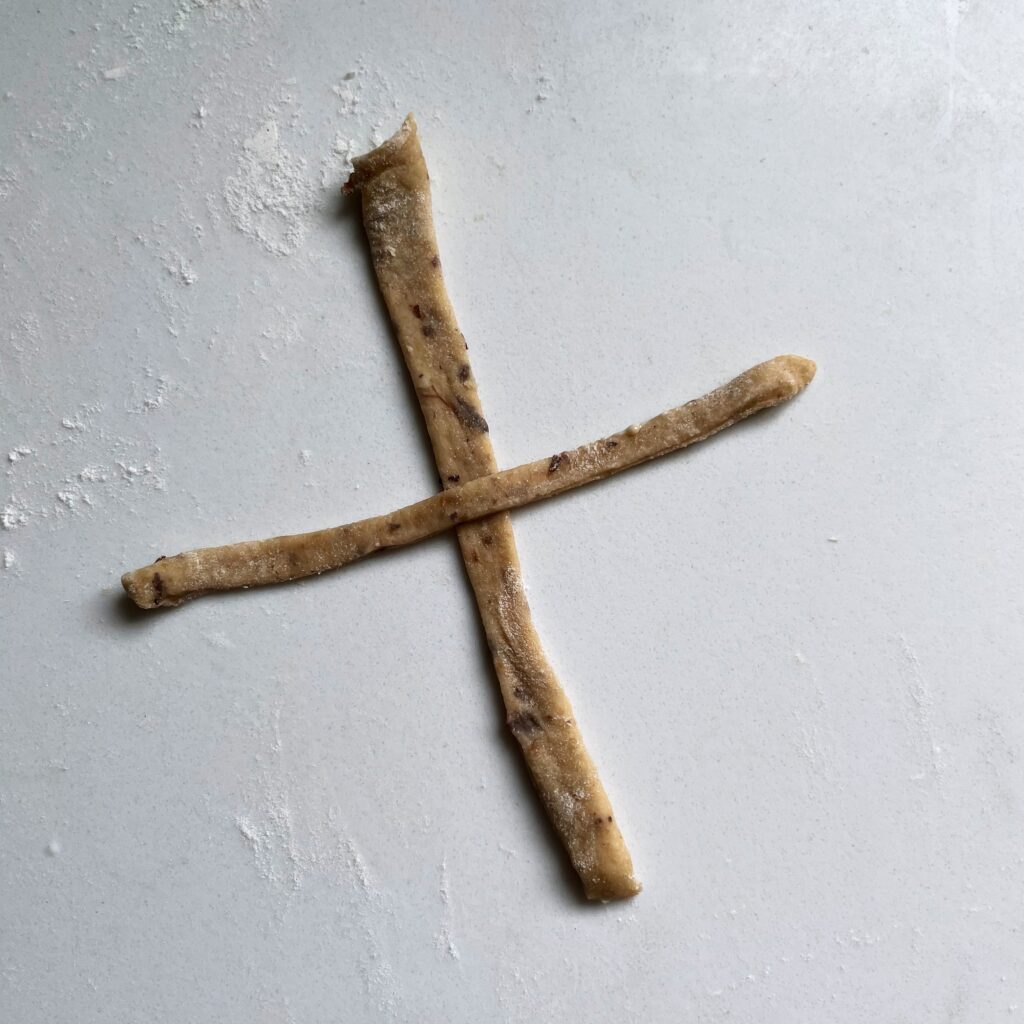 Form a cross with two strips of dough.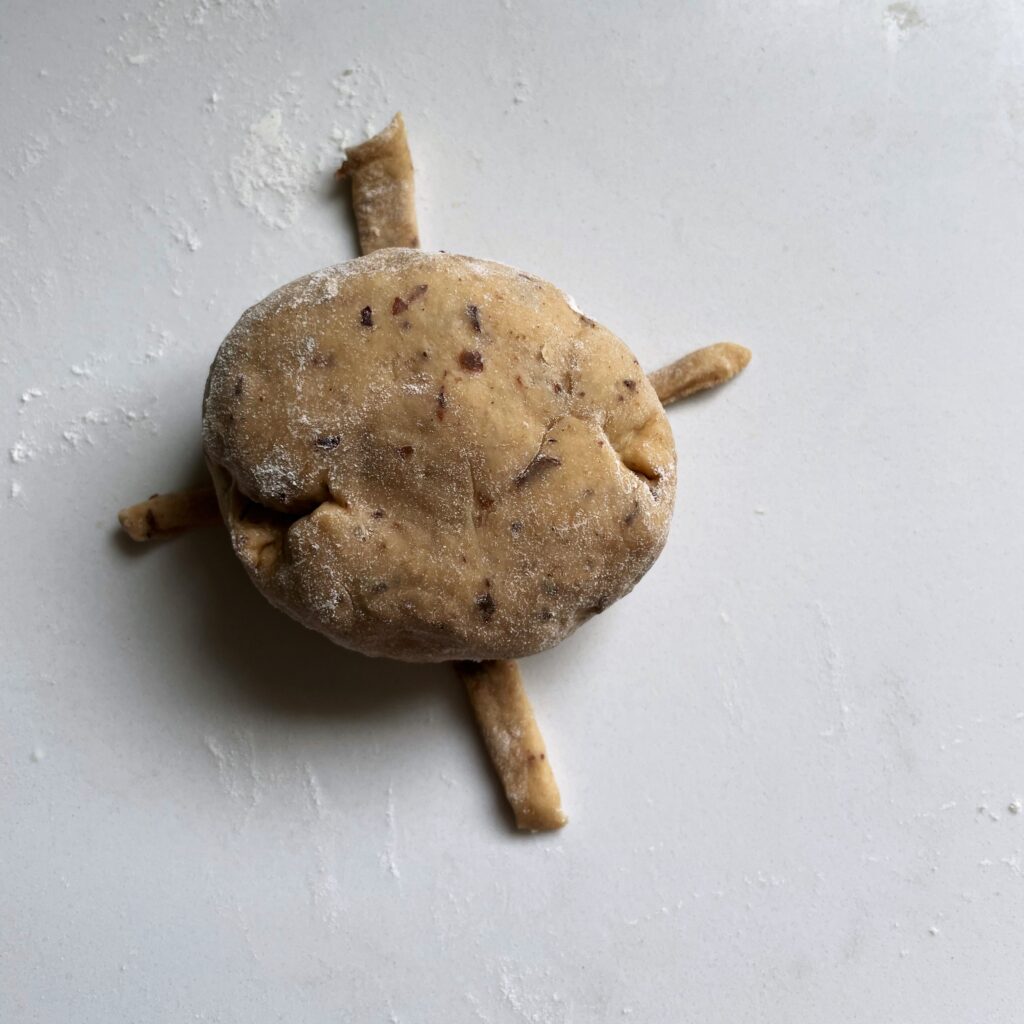 Then place the kneaded small ball on top of the dough cross.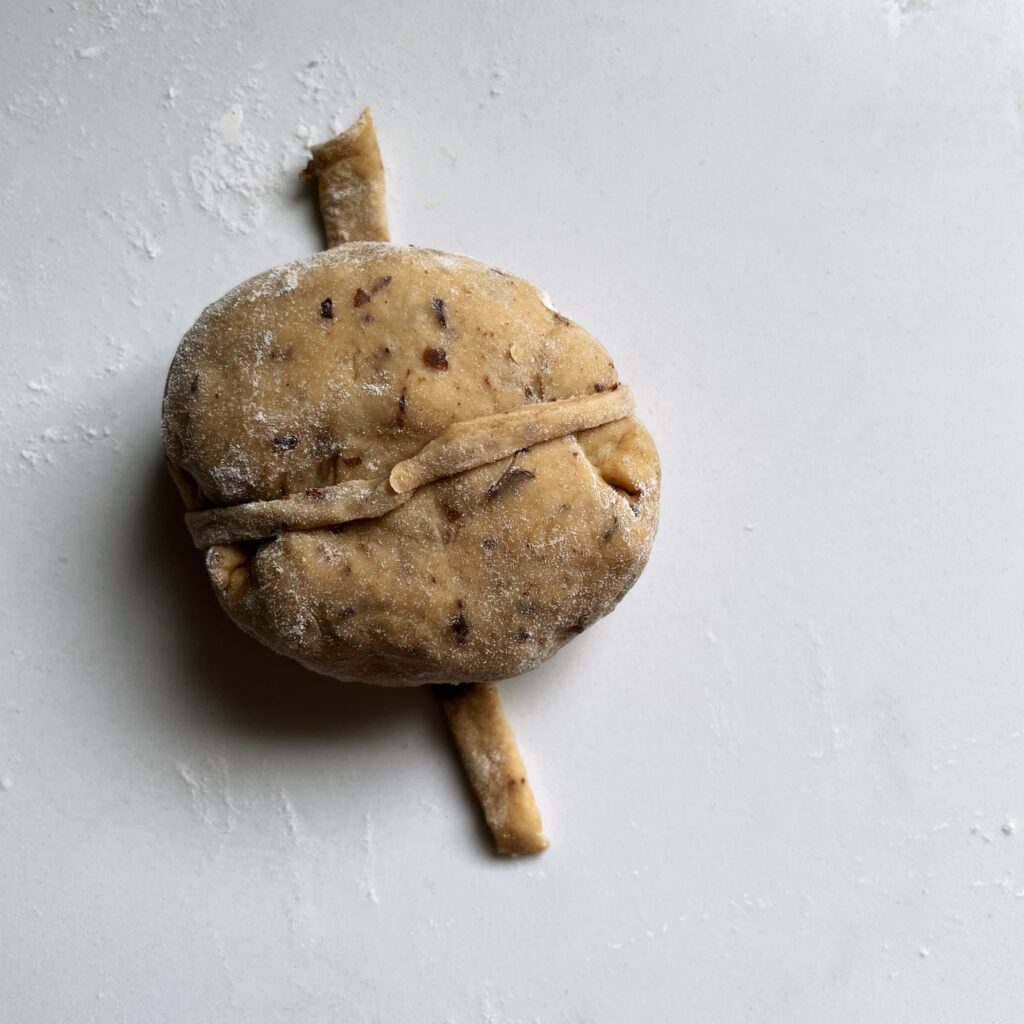 Then secure all four ends from the dough strip under the dough ball.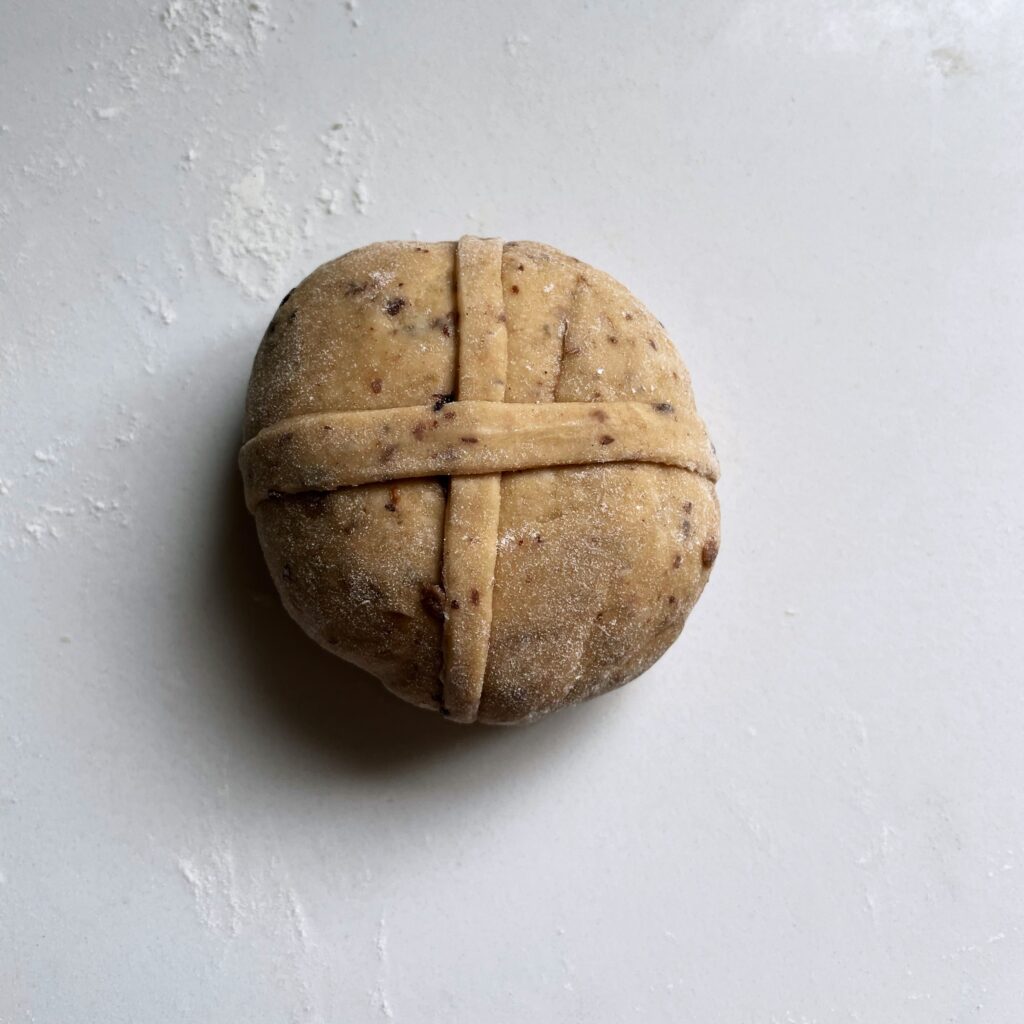 Sometimes after proofing (before baking) the tips of the cross dough will pull away from the bottom. To prevent this make sure your dough strips are long enough not to be too tight around the dough ball.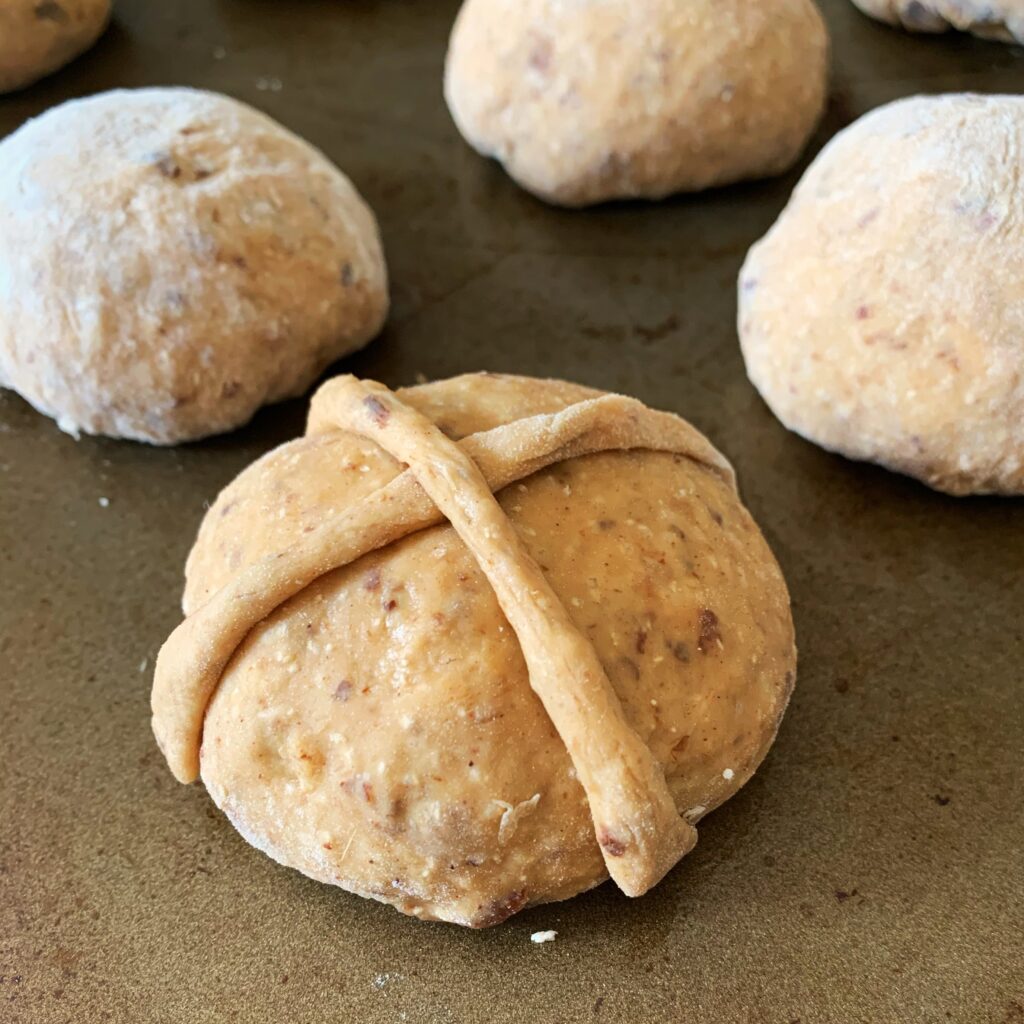 Bake up your cross buns and enjoy! And if the cross strips pull away during baking, don't panic it actually bakes up to look more like a cross and less like an "x"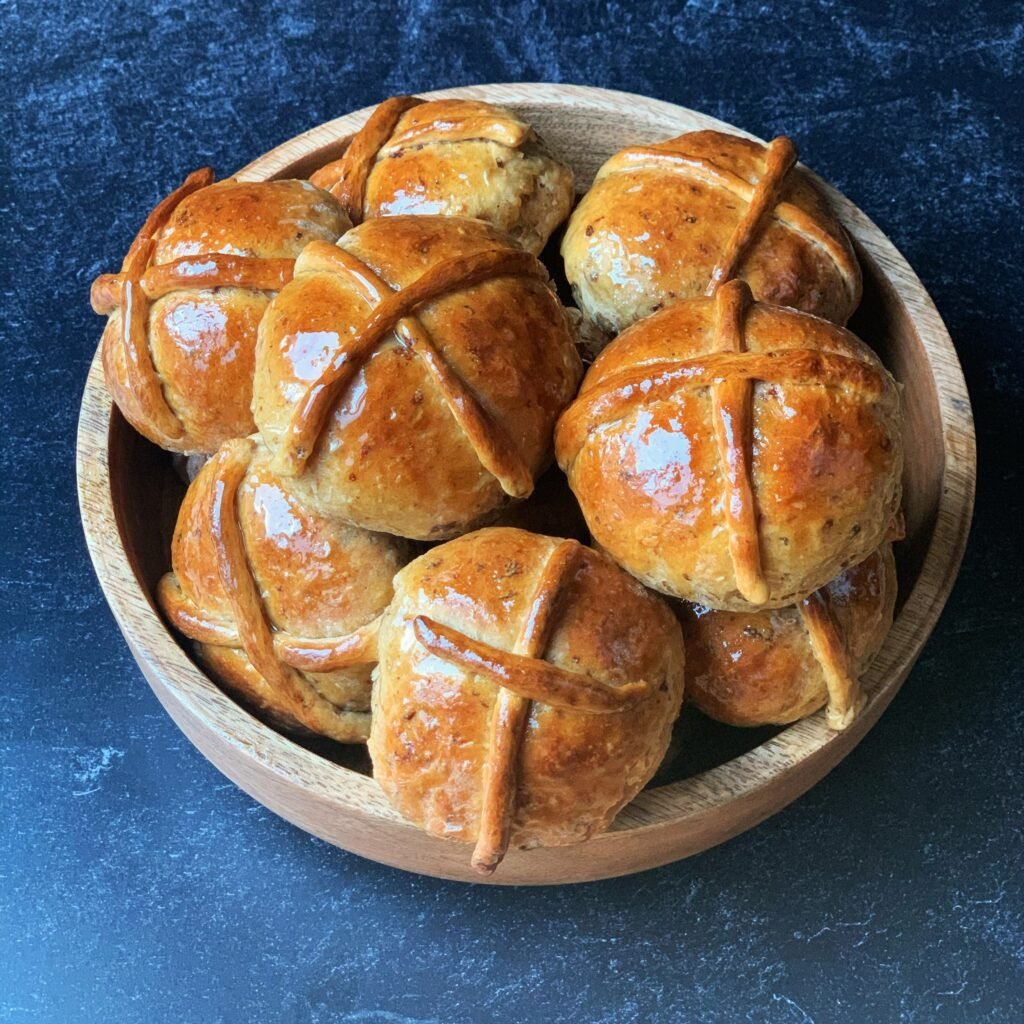 Brush your cross buns with the syrup as soon as you take it from the oven and enjoy!
Different ways to add the cross to your Hot Cross Buns
Beside the dough cross, there are a few other ways that people add the crosses to their cross buns. Although the dough cross resonates more with me, because that is how they made cross buns when I was growing up in Guyana, here are some other versions!
1. Snipped with a scissor or cut with a knife
Most people put a snip in the top of their cross buns to signify the cross. This is done either with a pair of scissors or knife.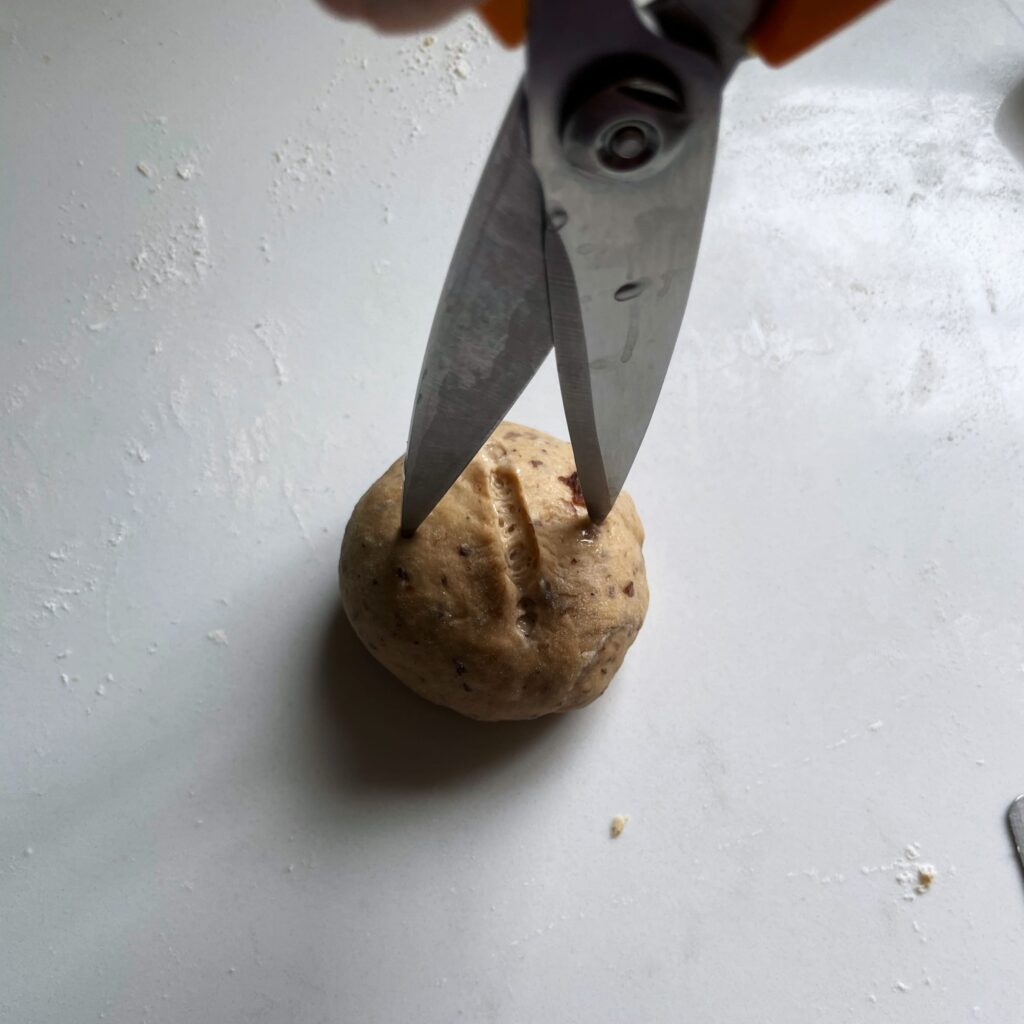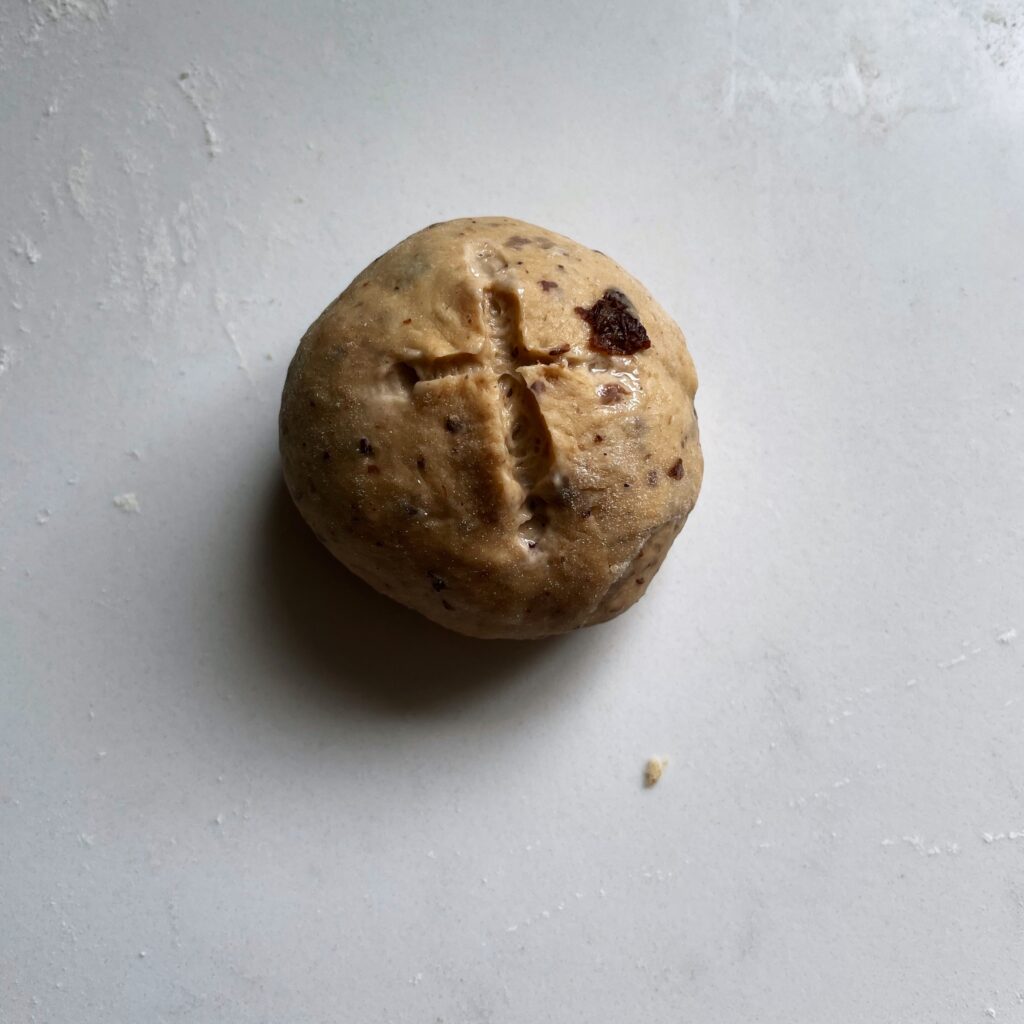 Most bakeries use this method because it uses less dough and time.
2. Making a simple batter for the cross
Make a simple batter by mixing flour and water until it is the consistency of a pancake batter. Then add it to the top of the buns to form a cross. Add it just before baking (after the second proof). The contrast with the batter and the buns creates a visible cross after baking.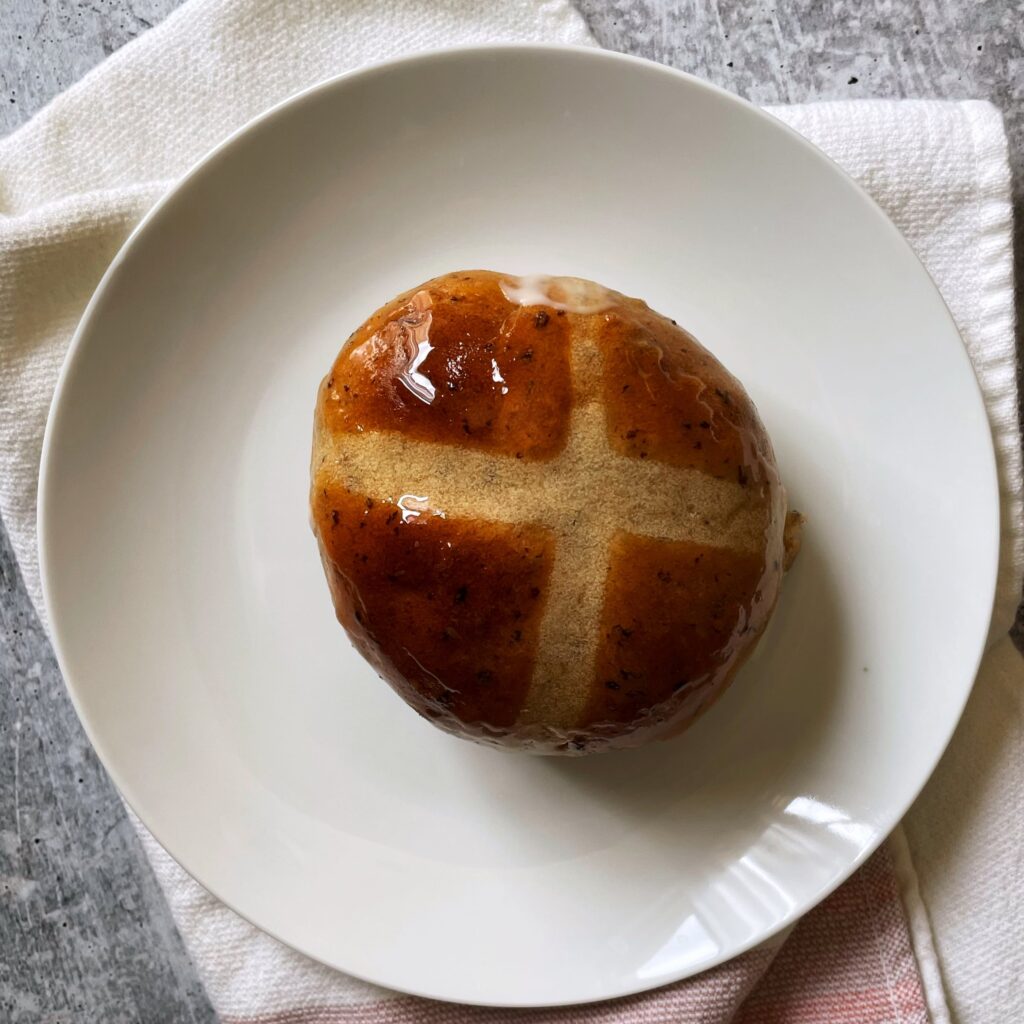 It is really easy to make the batter with a 1:1 ratio of flour and water. Then pour into a ziplock bag for a quick and easy piping bag.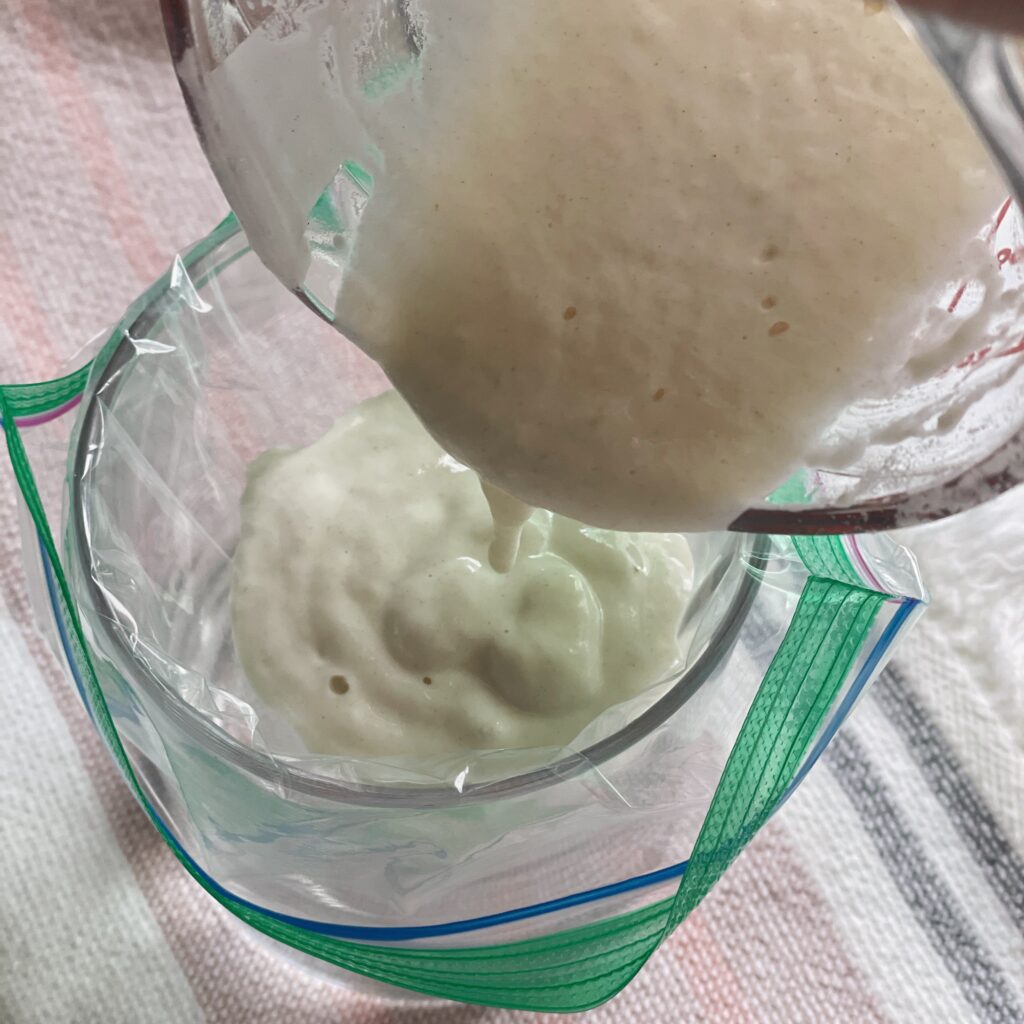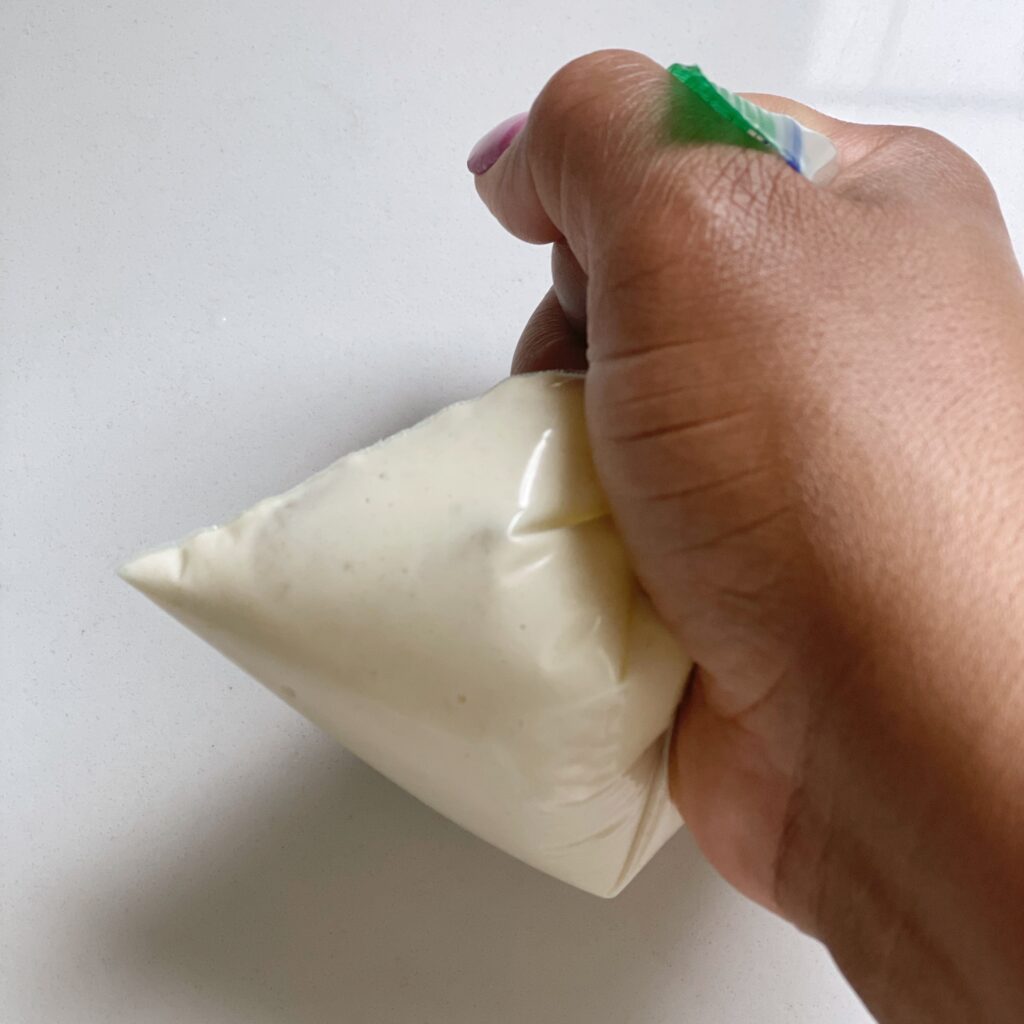 Squeeze the piping bag tightly and snip the ends, now you can pipe neat batter crosses onto your hot cross buns.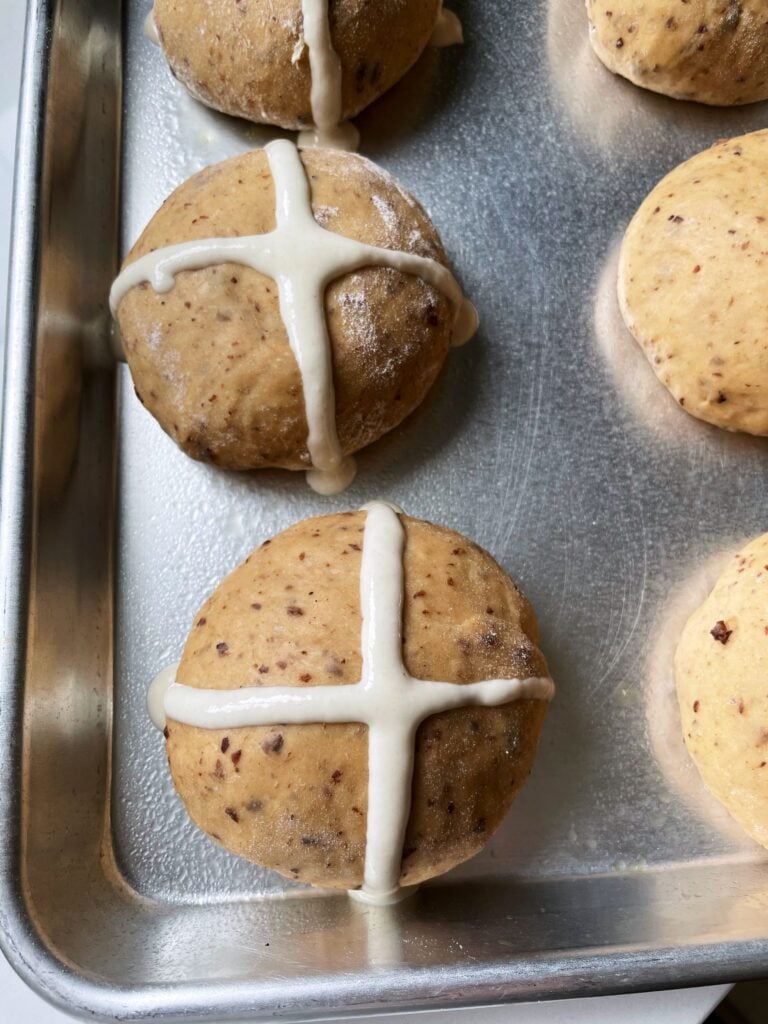 Be sure to do this after the buns proof and just before baking.
3. Frosting/Icing Crosses
Frosting or icing on cross buns is my least favorite because cross buns are already so sweet and this just feels like too much for me. However it is very popular, so do it however you like!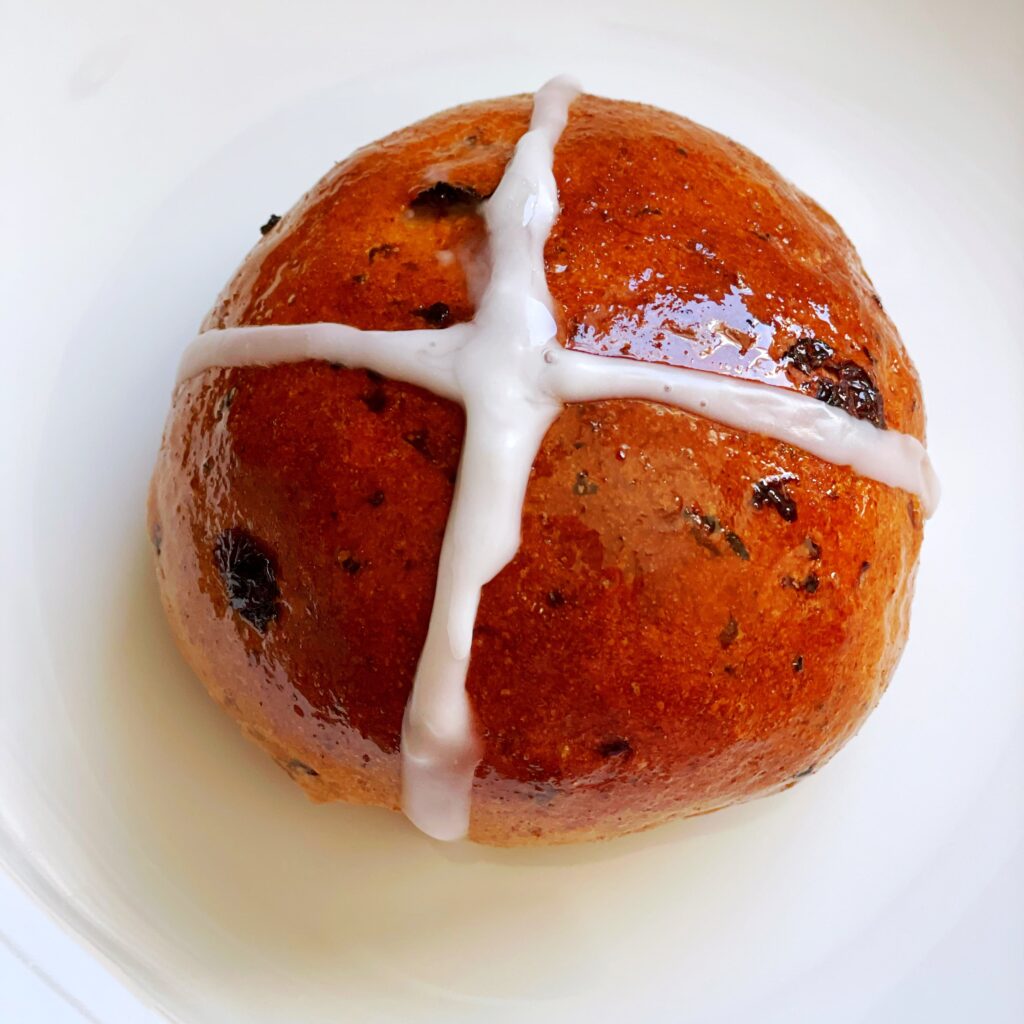 You can make this simple icing with powdered sugar, warm water and some vanilla essence. Some recipes also call for eggs or corn syrup. Check out this recipe here for the measurements.
No matter how you add the cross to your cross buns, just make it delicious and serve it with extra sharp cheddar cheese!
Updated Hot Cross Buns Video

Hot Cross Buns
---
A delicious spiced bun enjoyed by Guyanese on Good Friday. It is typically served with a slice of cheese.
---
Ingredients
1

Packet Active Dry Yeast

1 tablespoon

¼

cup

plus 1 tablespoon brown sugar

¼

cup

warm water

about 110 °F

¼

cup

mixed fruits or currants or raisins

1

cup

warm milk

2

eggs

¼

cup

melted butter

4

cups

flour

1/2

teaspoon

salt

½

teaspoon

cinnamon

½

teaspoon

nutmeg

1

egg white
Simple Syrup
½

cup

water

¼

cup

granulated sugar

1

teaspoon

vanilla extract
Instructions
In a small mixing bowl, dissolve 1 tablespoon of brown sugar, in the warm water then add the yeast and mix in. Then set aside until the yeast blooms and has a 2 inch thick frothy top (about 5 minutes)

Add ¼ cup of brown sugar to the warm milk and mix together until it dissolves. Then add to the bowl the stand mixer

Next add the melted butter, eggs, fruits and yeast to the milk and sugar. Mix for a few seconds to combine. You can do this with the whisk attachment or a spoon

Next sieve the flour, nutmeg, salt, and cinnamon together in a large mixing bowl

Then increase the mixer speed to medium (number 2 speed) and add the flour mixture to the liquids about ½ cup at a time until all the flour is combined to form a soft dough

Remove dough from the mixer and knead, on a floured surface, into a tight ball. Then place the dough ball into a greased bowl and let rise until the dough doubles in size (this should take about 1 hour)

When the dough has doubled in size, punch down, then knead into a smooth ball, then divide into 13 equal pieces to make 12 buns (reserving one of the pieces for the dough crosses)

Knead each of the 12 pieces into a small ball/bun/roll. Then roll out the reserved dough into thin strips. Use strips to form crosses on top of the buns (see instructions and images above)

Next place the rolls on a greased baking pan and proof again for 30 to 45 minutes before baking

Preheat oven to 350°F

When ready to bake brush rolls with egg white and bake at 350°F for 20 to 30 minutes

While the buns are baking make the simple syrup (recipe below)

Once the buns have baked for 20-30 minutes and are golden brown, remove from the oven and brush immediately with the simple syrup. Then let cool for about 10 minutes and serve warm preferably with a slice of extra sharp cheddar cheese
Simple Syrup
Combine sugar, water and vanilla extract in a small saucepan on high heat

Bring to a boil, stirring constantly until sugar dissolves

Boil for 3 to 5 minutes then remove from heat until syrup thickens a little then remove from the heat and set aside
Nutrition
Serving:
1
Bun
Calories:
264
kcal
Carbohydrates:
44.4
g
Protein:
7.7
g
Fat:
2
g
Saturated Fat:
2.8
g
Polyunsaturated Fat:
0.5
g
Monounsaturated Fat:
1.3
g
Cholesterol:
41.2
mg
Sodium:
176.1
mg
Potassium:
122.4
mg
Fiber:
1.3
g
Sugar:
13
g
Calcium:
2.2
mg
Iron:
11.9
mg
---
---
The information listed in the recipe card is an estimate provided by an online nutrition tool. The tool evaluates ingredient names and amounts then makes calculations based on the number of servings listed for the recipe. It is provided as a general guideline and not as a precise calculation. For precise nutrition information please feel free to add the ingredients to your preferred nutrition calculator or consult a doctor or licensed nutritionist.