Guyanese Metemgee (metem/mettagee) is a hearty stew of root vegetables and dumplings simmered in a rich coconut milk broth with aromatics and fresh herbs. Serve this traditional Guyanese dish as comfort food on cold days or whenever the craving strikes.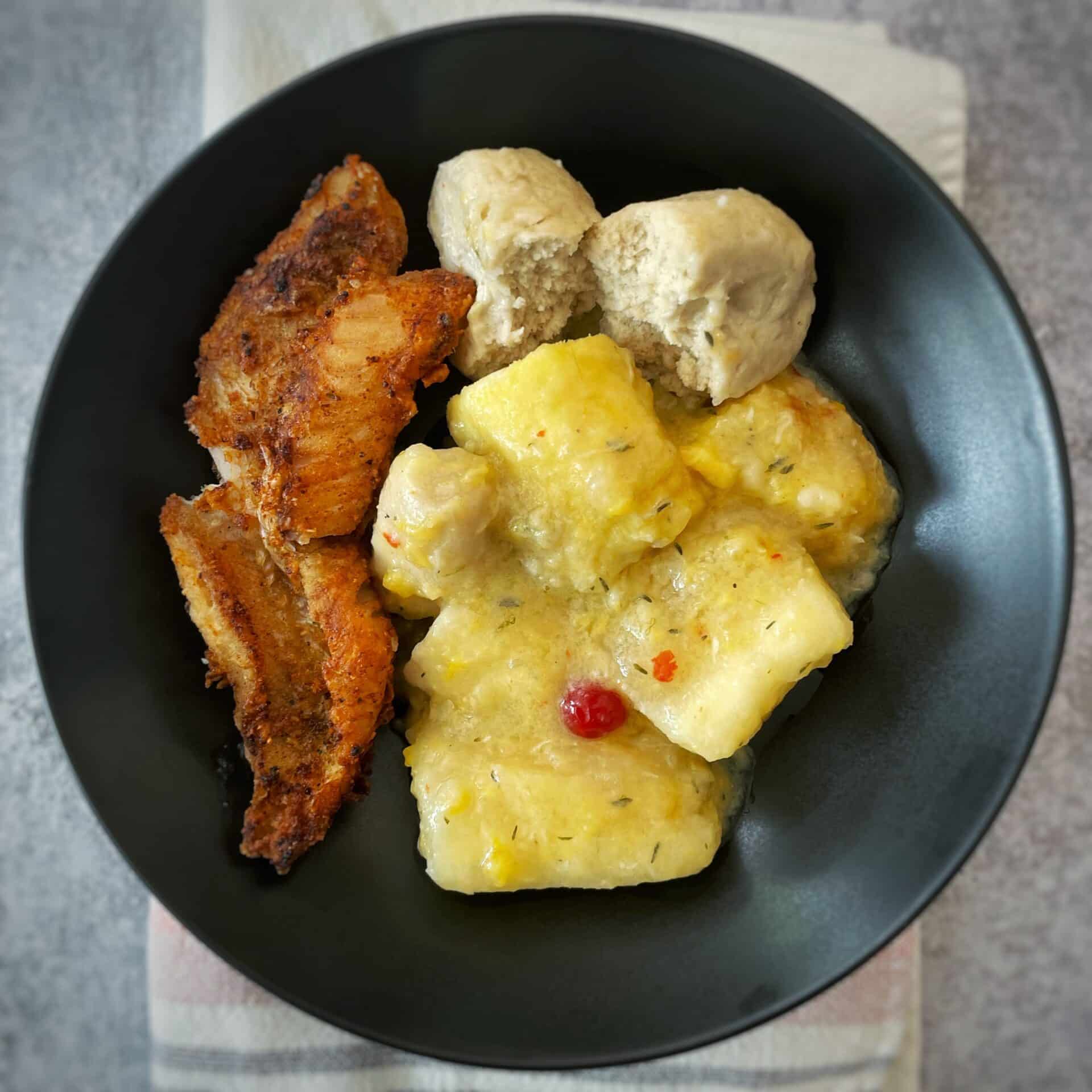 Guyanese Metemgee
Metemgee is one of my favorite dishes that my grandmother made when I was growing up and why I named my blog metemgee. Although I started my blog in 2013, I did not share my metemgee recipe until 2017 because I wanted to get it as close to perfect before sharing.
This recipe takes me right back to my childhood and days of visiting my grandmother in West Ruimveldt. She had the skill of cooking the coconut milk until the fat separated and curdled. This is a sign of great metemgee. I can finally do this with my stove top and instant pot method of making this dish.
Why You'll Love This Metemgee Recipe
Ultimate Comfort Food: Warm your body and your soul with this beloved Guyanese dish that's chock full of ground provision and duff (Guyanese steamed dumplings), swimming in a flavorful broth of garlic, onions, wiri wiri peppers, and fresh coconut milk. It's a filling vegan meal that will leave you feeling satisfied.
Perfect Family Meal: This traditional stew is ideal for sharing. This isn't a quick meal but definitely the kind you want to sit down, savor, and enjoy with loved ones.
Totally Customizable: As long as you have ground provisions and creamy coconut milk broth, it's metemgee so have fun with add-ons and flavors. I'll give you a few suggestions!
What is Guyanese Metemgee?
Guyanese metemgee (metem/mettagee) is a thick soup or stew made with root vegetables cooked in a rich coconut milk broth. According to an article in the Stabroek Newspaper Metemgee (from the Twi metem = plantains or bananas; gye = to delight) is a meal prepared by boiling together various root vegetables with pieces of salted meat in coconut milk. In many Guyanese households however, it is made meatless and then served with fried fish or stewed salted fish.
Ingredients for Metemgee
The key to this vegan metemgee recipe is quality ground provisions and coconut milk. I share my suggested ingredients and substitutions so you can make your best metemgee yet!
Ground Provisions: love sweet yellow plantains, cassava (yuca), sweet potatoes and eddoes (malanga) in my metemgee but feel free to use any starchy root vegetable that you can access.
Aromatics: yellow onion and garlic cloves
Wiri wiri peppers: This fiery chili well known in Guyanese cooking, has a hint of fruity flavor.
Sprigs of fresh thyme: This adds herby flavor. Use Guyanese or Portuguese thyme for a bolder flavor pay off.
Whole coconut: Use grated OR 1 cup of grated frozen coconut OR 1 can of coconut milk.
Water: Mixed with coconut milk for the base of your broth.
Coconut oil: This addition is perfect for a savory stew like this. It adds a creamy quality.
Seasoning: Season simply with salt and black pepper.
See recipe card for quantities.
What is the secret to good metemgee?
Fresh coconut milk is really the secret to good metemgee. The consistency of fresh coconut milk is thinner than canned coconut milk. When this milk is boiled to a reduction, the curdles separate and the coconut oil floats to the top of the broth.
This is why the best metemgee has white coconut milk curdles. These little curdles is a tell tale sign of good metemgee. Click here to see my tips for finding a good dry (brown) coconut.
How to Make Metemgee
Preparing the Ground Provisions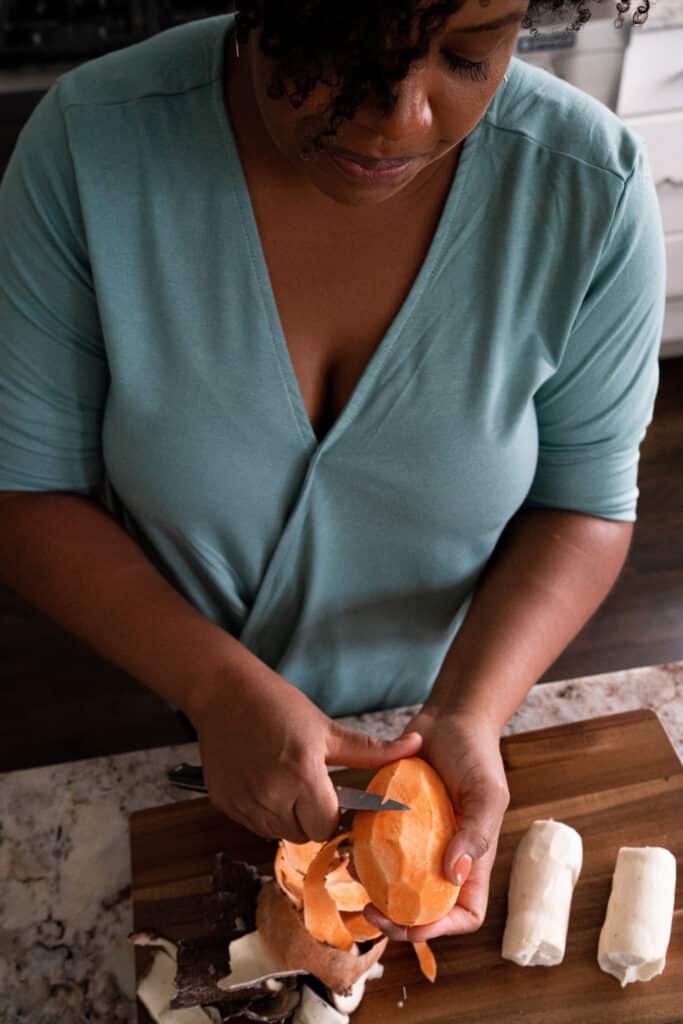 Peeling ground provisions or root vegetables can be a tedious task, even with a vegetable peeler. Therefore, I love using a paring knife instead of a vegetable peeler for this task, especially when peeling cassava (yuca).
Once I've peeled all of my root vegetables I cut them into uniform pieces to allow for even boiling. It takes longer for some root vegetables to cook so I cook those first. For instant Cassavas need to be cooked first. To prevent the other vegetables from turning brown, I soak them in a water bath until I need to add them to the dish.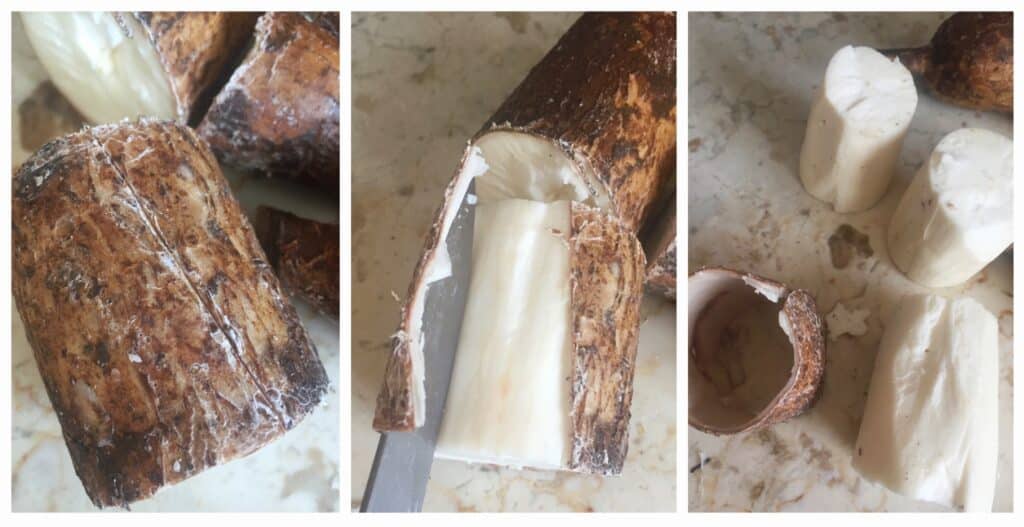 To peel the cassava, use a paring knife to crate a slit in the cassava peel. Then slip the tip of the knife under the peel and move the blade under and around the space between the peel and the flesh until the peel is completely off.
Metemgee Broth
The rich coconut milk broth is what makes metemgee a stand out dish. To make the broth, I sauté onion and garlic in coconut oil which compliments the flavor of the coconut milk. Then I add fresh coconut milk. I season the broth and let it come to a roaring boil before adding my ground provision.
How to Make Duff for Metemgee
In Guyana we call steamed dumplings duff. Duff is a key component of metemgee. These fluffy steamed dumplings are a great addition to an already delicious dish. The buttery melt in your mouth texture of the duff when dipped in the coconut milk broth really feels like home to me. You can find my fail proof duff recipe here.
Substitutions & Variations
Ground Provisions. There is no right or wrong combination of ground provisions or root vegetables for metemgee so use whatever you like. White sweet potatoes, taro, or pumpkins are just a few alternatives.
Spice. Habanero peppers are a great substitute for wiri wiri peppers.
What to do if you can't make your own coconut milk?
Don't have access to dried (brown) coconuts where you live? Can't make fresh coconut milk? Here are some alternatives that work really well with this recipe:
Frozen shredded coconut: This is my second favorite option for coconut milk used in Guyanese recipes. Defrost the frozen coconut milk completely then add it to a blender with water, blend together then strain off the coconut milk. It is the closest thing to fresh coconut milk and works really well with this recipe.
Canned Coconut milk: You may use canned coconut milk, diluted with water in a 0.5:5 ratio. Use 1/2 cup of canned coconut milk (shaken well before opening) with 5 cups of water.
How to Serve Metemgee
Metemgee garnishes vary depending on where you live/d in Guyana. For instance, most Guyanese eat metemgee with fried fish and duff. Others have it with fried fish, duff, and boiled eggs. The addition of the boiled egg was introduced to me by my husband's family. Over time I've also learned that some families serve their metemgee with stewed salt fish or add salted beef or pigtails to the broth.
Here are some items that are traditionally served with metemgee:
Duff (steamed dumplings): sometimes duff is made separately from the metemgee but it is almost always served together. Please click here for my duff recipe.
Fish: Fried fish is the most popular garnish for metemgee, but you can also serve it with steamed fish or salt fish
Boiled Eggs: A nice fluffy 8-minute boiled egg is my preference here but if you like a Jammy 6-minute boiled egg that would work well here too.
Steamed Okra/Ochro: Some people add steamed okra/ochro to their metemgee but I am not a fan of slimy okra. I love crispy fried okra.
Equipment
Blender: You will need this for homemade coconut milk.
Large Pot: To contain the stew.
Tips for the Best Metemgee
Cut the provisions to roughly the same size so they cook evenly.
Be very stingy with the amount of water you add to metemgee. It should just barely cover the provisions. It is not meant to be a thin broth but a very thick stew-like broth.
Cooking time may vary depending on how long it takes for your cassava to cook to the correct tenderness.
Plantains cook faster than the other ground provisions so add them later or take them out as soon as they are fork tender.
Once the duff is added, leave the pot undisturbed. Peeking may cause the duff to steep into the stew, making them dense and not light and fluffy.
Leftovers
Metemgee is best enjoyed fresh. It doesn't last long because of the coconut milk. Store leftovers in an airtight container in the fridge for no more than 2 days.
Frequently Asked Questions
What does Metemgee mean?
Metemgee derives from the Twi terms metem (plantains or bananas) and gye (to delight).
What is the origin of metemgee?
This beloved dish was brought to Guyana by enslaved Africans and passed down through generations. It is a favorite among locals and I love making it for my family here in the States.
Is metemgee Whole30 compatible?
Metemgee by itself is Whole30 compatible. Some of the garnishes used when serving metemgee may not be Whole30 compatible. While on round of whole30, I skip the duff and shallow fry my fish with a dusting of cassava flour instead of wheat flour. If you want to learn more about the Whole30 click here.

Guyanese Metemgee (metem/mettagee)
---
Guyanese metemgee brings together root vegetables in a creamy coconut milk broth. You will want to cozy up to a bowl of hot metemgee on days when you need some extra warmth and nutrition.
---
Ingredients
2

cassavas

yucas

1

large sweet potato

1

large yam

2

ripe/yellow plantains

1

yellow onion

diced

4

cloves

of garlic

finely chopped

2

wiri wiri peppers

5

sprigs of fresh thyme

1

Whole coconut grated

grated frozen coconut or 1 can of coconut milk

10

cups

of water

2

tbsp

of coconut oil

1

tsp

salt

A pinch of black pepper
Instructions
Warm coconut oil on medium heat, in a large pot. Then add the onions and garlic and cook until soft but not brown.

If using fresh coconut, add grated coconut and 5 cups of water to a blender and blend for about a minute. Then pour over a fine sieve to strain off the pulp

Next add the coconut milk and remaining water, followed by the thyme, wiri-wiri peppers, salt and a pinch of black-pepper.

Bring the broth to a boil and let it cook for about 10 minutes.

Then, add the cassava and boil on high heat until the cassava is cooked and tender.

Add remaining vegetables and continue to cook until vegetables are fork tender.
If not on Whole30 and adding duff
Add duff to the pot, cover and let steam on medium heat for 15 minutes.

Remove duff from the pot and set aside.

Remove metemgee from the heat, then add few fresh thyme leaves for garnish if needed.

Add your trimmings (fried fish, boiled eggs or duff) to your metemgee and enjoy!
Notes
1. Cooking time may vary depending on how long it takes for your cassava to cook to the correct tenderness.
2. Be very stingy with the amount of water you add to metemgee. It is not meant to be a thin broth but a very thick stew like broth.
Nutrition
Calories:
362
kcal
Carbohydrates:
76
g
Protein:
4
g
Fat:
6
g
Saturated Fat:
5
g
Polyunsaturated Fat:
0.2
g
Monounsaturated Fat:
0.4
g
Sodium:
344
mg
Potassium:
1076
mg
Fiber:
6
g
Sugar:
12
g
Vitamin A:
4653
IU
Vitamin C:
45
mg
Calcium:
54
mg
Iron:
1
mg
---
---
The information listed in the recipe card is an estimate provided by an online nutrition tool. The tool evaluates ingredient names and amounts then makes calculations based on the number of servings listed for the recipe. It is provided as a general guideline and not as a precise calculation. For precise nutrition information please feel free to add the ingredients to your preferred nutrition calculator or consult a doctor or licensed nutritionist.