Fermented pine drink is a refreshing brew of pineapple skins, water, spices, and sugar that tastes similar to kombucha. It takes 2-3 days for the pineapple to ferment but it's so worth it! Add it to your Guyanese holiday beverages along with some Mauby.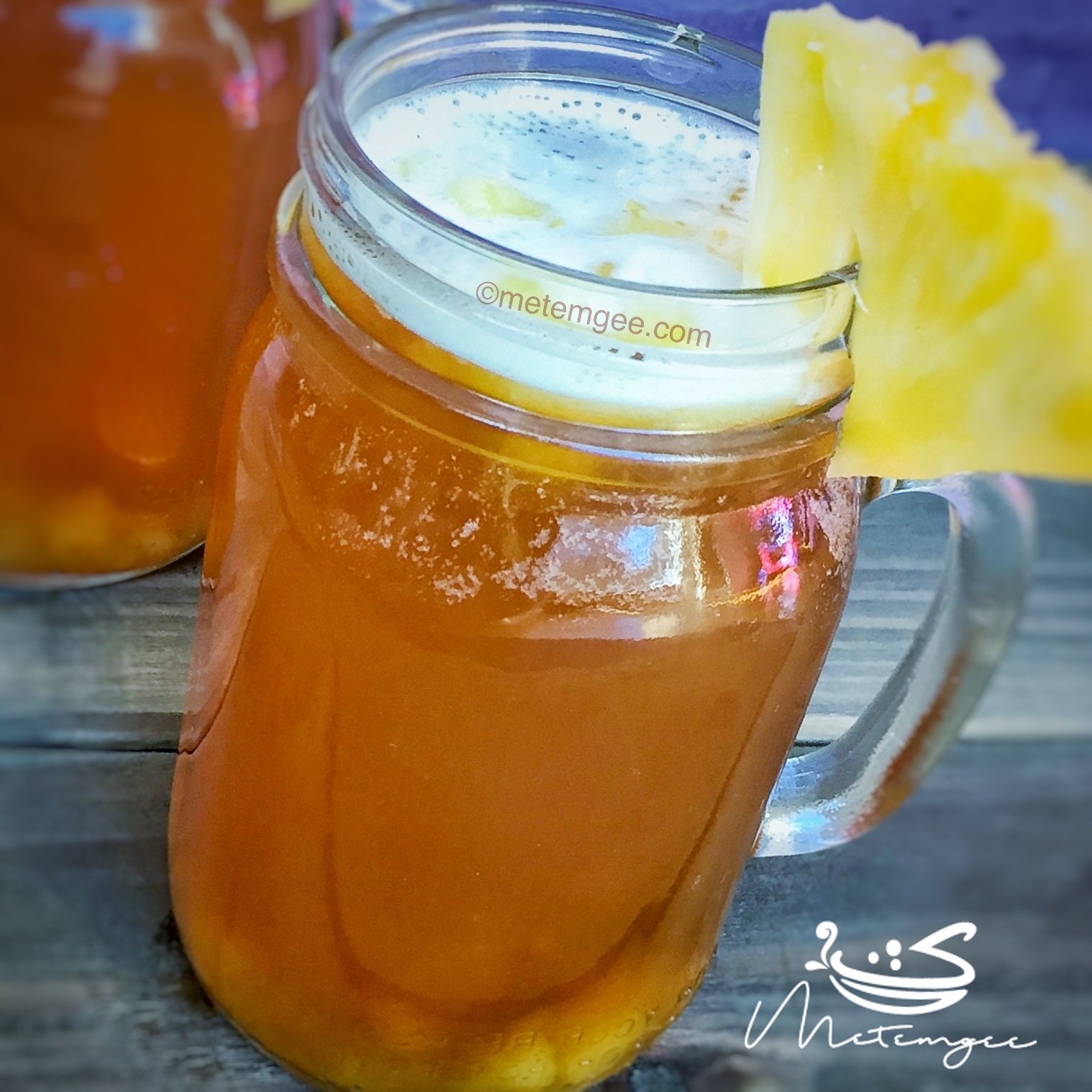 Guyanese Pine Drink
When pineapples are in season (March-July) I love to make this fermented pine drink recipe. I love pineapples (or "pine," as Guyanese people say). The base flavor of this drink is the essence of pineapples but it has the funky fizz of kombucha. It's fresh, tangy, vibrant, and invigorating!
Why You'll Love This Fermented Pine Drink Recipe
Zero Waste: We Guyanese people waste nothing! If you are using fresh pineapples for any of your holiday dishes, like spiced ham, save the skin and make this delicious but simple fermented pine[apple] drink.
Simple: This recipe is truly hands-off. You add all of your ingredients to a large jar and then store it in a cool dry space for a couple of days. It really is that easy!
Versatile: You can brew it or just let it set. Allow it to sit long enough to become a kombucha-like drink or let it sit even longer to make a boozy beverage!
What is Fermented Pine Drink?
Pine drink is a fermented Guyanese beverage made with pineapple skin, water, sugar, and warm spices. Other cultures have similar fermented pineapple drinks including omunanansi from Uganda and tepache in Mexico.
Ingredients for Fermented Pine Drink
All you need is the skin of pineapple and water, everything else is optional.
Skin of a large pineapple: The next time you have a pineapple, don't throw this portion away!
Water: Use room temperature water for the best results.
Sugar: The best sugar to use for this drink is Demerara sugar. I get Demerara sugar at my local supermarket but when I can't find it, I use turbinado sugar instead. Brown sugar in America is just white sugar with molasses added to it. This will give your fermented pineapple drink a slight molasses taste. Using white sugar works for this drink but it won't have the dark color that takes me back to my childhood.
Spices: A cinnamon stick and cloves are optional ingredients. It adds a warm, spiced quality that many people enjoy.
Angostura bitters: This spicy bitter is a concentration of herbs and spices. Add this if you'd like to make an alcoholic beverage. It adds a great depth of flavor.
See recipe card for quantities.
How to Make Fermented Pine Drink
How to Peel Pineapple
Remember to wash the pineapple before peeling it since you will be using the skin for this drink remember to wash the skin before peeling. My husband peeled the pineapple pictured above. His method is to peel it as quickly as he can!
My method is to cut the eyes out with diagonal slices all around, the way my dad taught me. See the video of how to do my method here. We recently bought a pineapple peeler that peels, cores, and cuts the pineapple into spiral slices (this one) but we both hate it. So much of the pineapple is left under the skin and wasted. How do you peel your pineapple?
Ferment the Pineapple Mixture
I always use a glass bottle for this step. I add the skin, the core, and any other unwanted pineapple bits to a large enough glass bottle and about 8 cups of room-temperature water. Then, I cover it and let it sit in a corner on my counter for 2 to 3 days.
After the Fermentation
It takes about 3 days for the pineapple skin to ferment in the water. The liquid will look a bit murky or cloudy when it's ready. I pour off the liquid using a sieve to catch any small pieces of skin or pine.
You can also line your sieve with a piece of cotton or muslin fabric to catch any tiny pieces of pineapple. When I am making this, all I add to the strained liquid is some sugar. When my dad makes this, he adds sugar and Angostura bitters. You can try both these options; they are equally delicious.
Storage
Store it in the fridge for up to one week. The flavor will continue to develop, although at a much slower rate.
Tips for the Best Fermented Pine Drink
Remember to cover the container with cheesecloth, cotton, or muslin. This allows the necessary gasses to escape while keeping dust and debris out.
The longer the mixture sits out, the higher the alcoholic content will be. Pine drink needs at least 2 days but can be set for up to 5 days.
You can reuse the pineapple peels. Just rinse them thoroughly before starting the process again.
Recipe Variation
Fermenting: When I was growing up in Guyana, we would put the bottle out in the sun to accelerate the fermentation process.
Spices: You can also add spices to the water, like clove and ginger, and even a piece of dried orange peel or mint leaves, but I like my pine drink without these added flavors.
Boil Method: Add all the ingredients to a large stock pot. Bring it to a boil and then let it simmer for about an hour. Then strain it, add sweetener, and let the mixture set for at least one day. This results in a flavorful juice that keeps a bit longer in the fridge (up to 7 days).
Wine: Allow the mixture to sit for up to 7 days for an alcoholic beverage. Although I've been guilty of drinking it watered down before it has the chance to ferment, my father prepares it this way.
Frequently Asked Questions
How does pineapple skin ferment?
The bacteria and yeast found on pineapple skin ferment the fruit. The final result is a bubbly drink.
Why did my pine drink get moldy?
It was probably not properly covered. Be sure to use a breathable fabric over the container, so gas can expel and debris can be kept out. If a fuzzy blue or black mold begins to appear immediately discard the mixture and start over.
Is fermented pineapple juice alcoholic?
If you stick to the recipe guidelines and allow it to ferment for no more than 5 days, the alcohol content is too low to be significant.

Fermented Pine (pineapple) Drink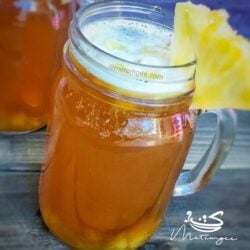 ---
Fermented pine drink is a refreshing brew of pineapple skins, water, spices, and sugar that tastes similar to kombucha. It takes 2-3 days for the pineapple to ferment but it's so worth it! Add it to your Guyanese holiday beverages along with some Mauby.
---
Equipment
Large Glass Jar

Cotton or muslin cloth
Ingredients
The skin of a large pineapple

8

cups

water

room temperature

1

cup

sugar

Demerara or Turbinado preferred

1

cinnamon stick

option

2

cloves

optional

3

drops of angostura bitters

optional
Instructions
Wash pineapple before peeling.

Add skin to a large jug or bottle.

Add water and spices if using.

Cover and let sit in a cool dry place for 3 to 5 days and allow to ferment.

Strain water off using a sieve. You may line sieve with cotton or muslin cloth.

Add sugar to fermented water and sweeten.

Add angostura bitters, if using and give it a good stir.
Nutrition
Calories:
133
kcal
Carbohydrates:
34
g
Protein:
0.04
g
Fat:
0.2
g
Saturated Fat:
0.01
g
Polyunsaturated Fat:
0.02
g
Monounsaturated Fat:
0.01
g
Trans Fat:
0.002
g
Sodium:
17
mg
Potassium:
7
mg
Fiber:
0.4
g
Sugar:
33
g
Vitamin A:
2
IU
Vitamin C:
0.02
mg
Calcium:
18
mg
Iron:
0.1
mg
---
---
The information listed in the recipe card is an estimate provided by an online nutrition tool. The tool evaluates ingredient names and amounts then makes calculations based on the number of servings listed for the recipe. It is provided as a general guideline and not as a precise calculation. For precise nutrition information please feel free to add the ingredients to your preferred nutrition calculator or consult a doctor or licensed nutritionist.