These grain free cookies made with dairy free chocolate chips are just as gooey and delicious as traditional soft baked chocolate chip cookies. Serve this gluten free good for you treat as healthy alternative to classic chocolate chip cookies.
Dairy Free Chocolate Chip Cookies
These chocolate chip cookies are not a Guyanese or even Caribbean recipe. However, it is probably safe to say that everyone (no matter where they are in the world) has eaten, or at least know about, chocolate chip cookies. In Guyana we would probably call these sweet biscuits, as that is the name given to cookies.
You may be wondering, why go through all the trouble to make little ol chocolate chip cookies like this? For my children of course! And a little bit for myself. My children all have issues with dairy consumption and I want to show them that they can still enjoy foods they like without the tummy ache. So I spend my days coming up with better alternatives to the treats (like these Guyanese Coconut Buns) they enjoy, like these cookies and if they are gluten and refined sugar free I can enjoy them too!
Why You'll Love This Dairy Free Chocolate Chip Cookie Recipe
Easy to Make: These grain free cookies are as easy as 1, 2, 3! Simply mix, scoop, and bake!
Healthy Snack: We all want our to give our kids better food choices. But healthier doesn't have to mean bland. Although these cookies are grain free, dairy free, gluten free, with limited refined sugar, they still taste amazing!
Shareable: As a mom of three I have made and bought my share of chocolate chip cookies for birthday parties, potlucks and school events. Even those with dietary restrictions can enjoy these chocolate chip cookies.
Ingredients for Grain Free/ Dairy Free Chocolate Chip Cookies
These easy dairy free chocolate chip cookies are inspired by this chocolate chip cookie recipe from Ottosnatural.com. (Check it out if you don't need a dairy or sugar free option.)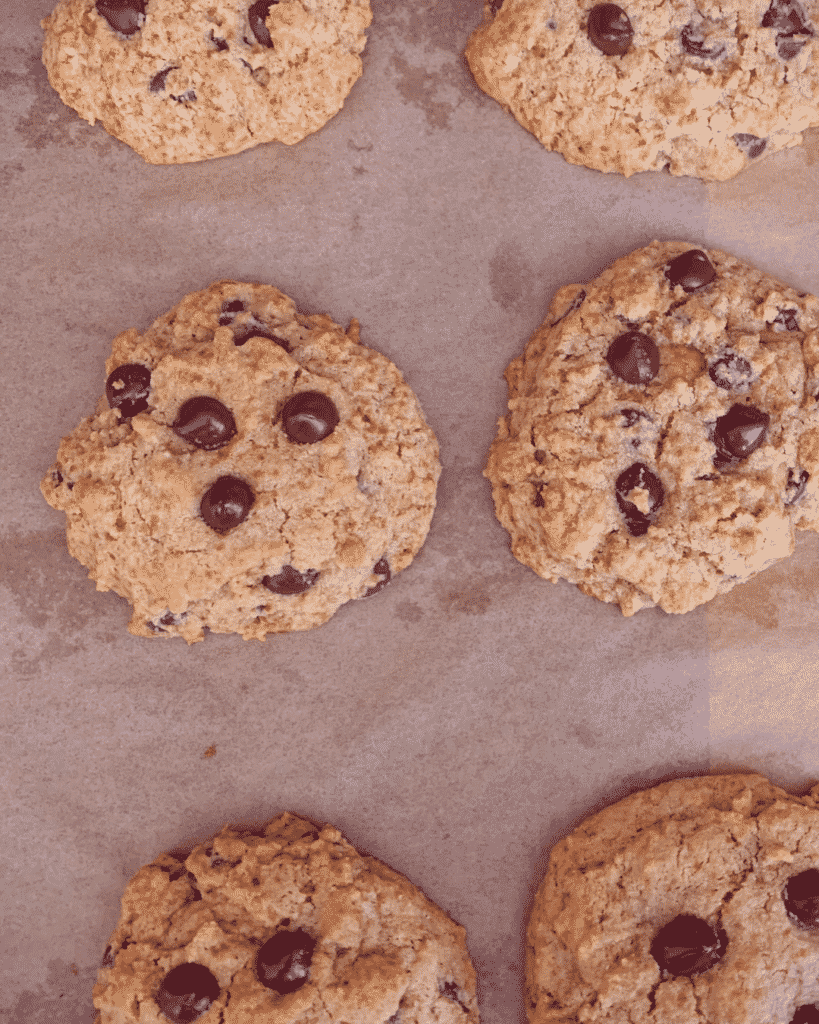 Coconut sugar: This is a great alternative to regular sugar.
Coconut oil: This is my go to substitute for butter in recipes. Both fats provide flavor and texture.
Eggs: This acts as a binding ingredient.
Coconut milk: This adds moisture to the cookies and softens them
Vanilla extract: This adds vanilla flavor to the cookies.
Cassava flour: All three of my kiddos have tree nut allergies so this keeps the recipe nut free. It's also a gluten free flour.
Salt: This balances the sweet flavors and adds a pop of flavor that keeps the cookies from tasting bland.
Baking soda: This is essential for soft, fluffy cookies.
Baking powder: This ingredient encourages the cookies to spead and rise.
Dark chocolate chips: Dark chocolate is dairy free. I really thought the kids would object but no one noticed!
See recipe card for quantities.
How to Make Dairy Free Chocolate Chip Cookies

Making chocolate chip cookie dough has never been easier! When I made traditional soft baked chocolate chip cookies, I would cream the butter and sugar and them let it sit over night in the refrigerator to firm up but these cookies are much simpler than that.
Put the sugar and all of the wet ingredients into a bowl. Mix together well. Dump in all of the dry ingredients and mix with a wooden spoon. Then add chocolate chips, scoop and bake! (more detailed step by step instructions are included in the recipe card below).
I used a cookie scoop 2 tablespoon cookie scoop to scoop out my cookies. Then added a few chocolate chips on top for that extra gooey bite and pushed them into the dough. I just love chocolatey chocolate chip cookies. Don't you?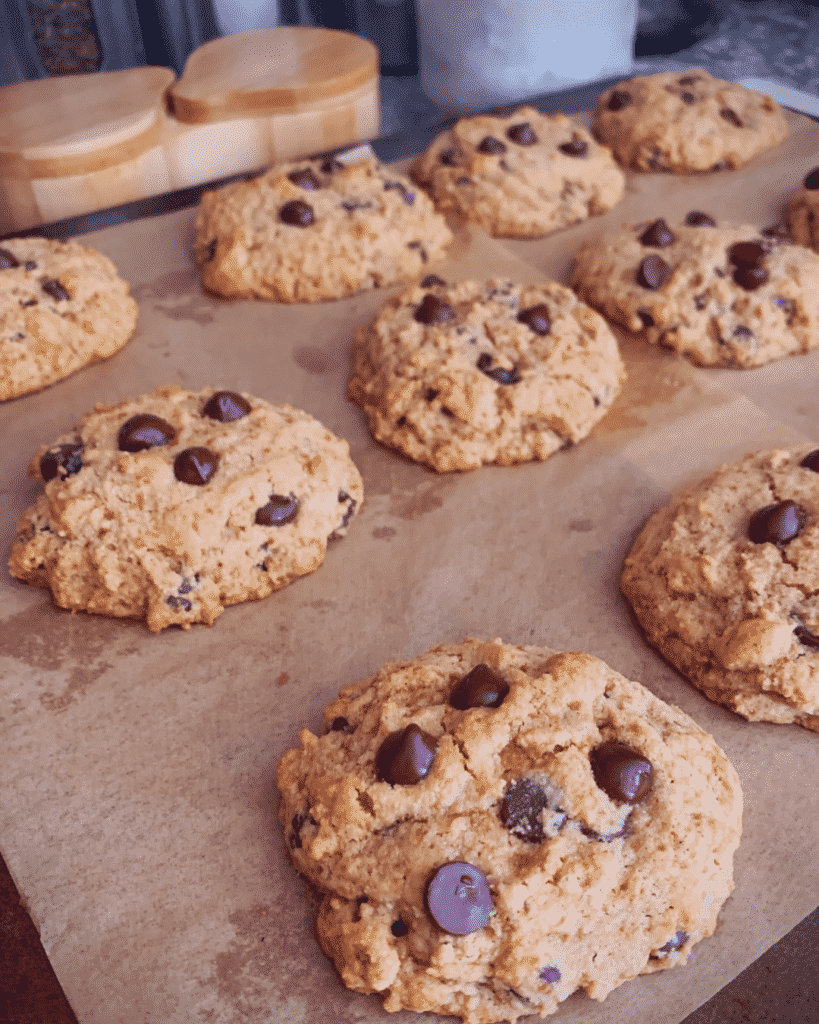 These are best enjoyed warm and fresh.
Storage
If you have leftovers, store them in a zip loc bag or airtight container at room temperature for up to 2 days. They become really dry if stored in the refrigerator. But honestly I make a batch of these for my family of 5 and they last two days tops! Pop them into the microwave for 20-30 seconds and they will be restored to their soft, melty, chocolatey glory!
Tips for the Best Grain Free Cookies
Do not over bake the cookies or they will dry out and be gooey.
These cookies are delicate be careful when serving them or they may fall apart.
Recipe Variations
Gluten Free Flour: I use this in order to make the recipe more accessible as many of my non American followers have a hard time finding gluten free all purpose flour or nut flours. If you have access to other gluten free flours, use your favorite.
Sea Salt Chocolate Chip Cookies: If you want to get fancy add a sprinkle of coarse salt to the top before baking. The sweet and salt flavor is unmatched.
Vegan Cookies: Swap the eggs for a flaxseed mixture to make vegan chocolate chip cookies. Substitute one egg for 1 tablespoon of ground flaxseed and 3 tablespoons of water.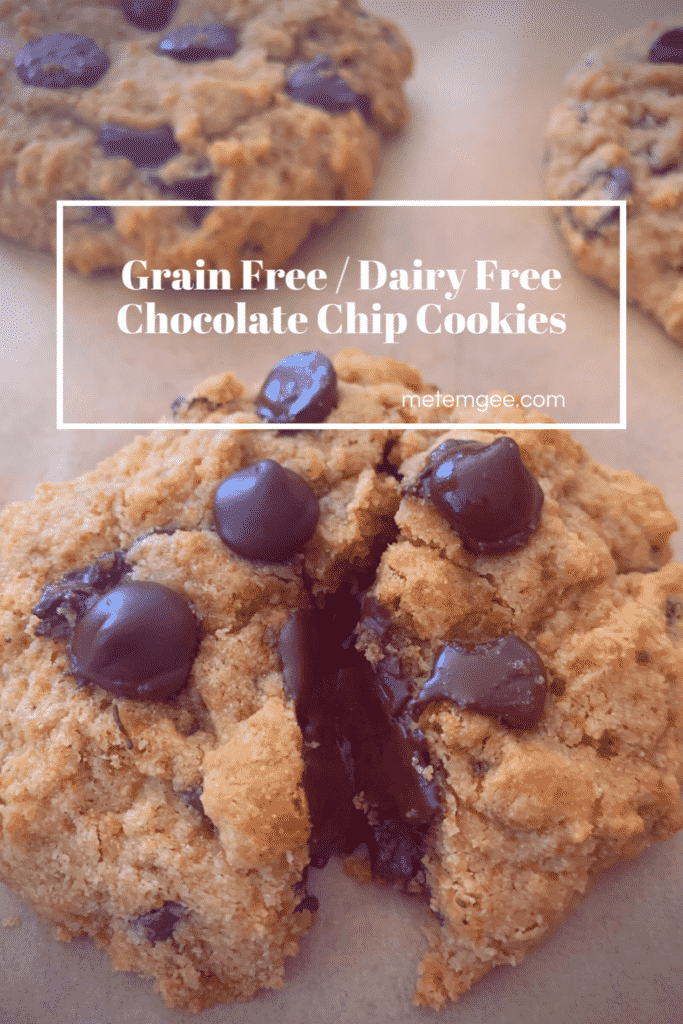 Frequently Asked Questions
Is there such a thing as dairy free chocolate chips?
Absolutely! Many brands offer chocolate chips without dairy. Most varieties of dark chocolate are naturally dairy-free but always read the ingredients list to double check, especially when making vegan recipes.
What are grain free cookies made of?
Grain free cookies are usually made with almond flour or coconut flour. I use cassava flour for this recipe.
What makes gluten free cookies flat?
In order to ensure your gluten free cookies rise properly, use precise measurements of the flour and baking powder. Also, bake the cookies at a moderate temperature that is neither too high or too low. These cookies are baked at 375°F for about 8 minutes.

Grain Free / Dairy Free Chocolate Chip Cookies
---
These grain free cookies made with dairy free chocolate chips are just as gooey and delicious as traditional soft baked chocolate chip cookies. Serve this gluten free good for you treat as healthy alternative to classic chocolate chip cookies.
---
Equipment
Cookie Sheet lined with parchment paper

Cookie scoop or two dinner spoons
Ingredients
1/2

cup

coconut sugar

1/2

cup

of coconut oil

2

eggs

2

tablespoons

of coconut milk

1

teaspoon

of vanilla extract

1

cup

of cassava flour

1/4

teaspoon

of salt

1

teaspoon

of baking soda

1/2

teaspoon

of baking powder

1

cup

of dark chocolate chips

Cookie Sheet lined with parchment paper

Cookie scoop or two dinner spoons
Instructions
Preheat oven to 375 °F

In a mixing bowl add the coconut sugar and coconut oil. Mix together until fully combined into a paste like consistency

Then add the eggs, coconut milk and vanilla essence and mix together

Next add the cassava flour, salt, baking soda and baking powder and mix together until a soft dough is formed

Then add 3/4 cup of the chocolate chips and mix together well

Next using a cookie scoop or 2 dinner spoons, scoop the dough onto the lined cookie sheet. This recipe makes 12 large cookies

Then using the back of the spoon flatten the cookies a bit, then top with the remaining chocolate chips pushing the morsels into the dough

Then bake for 8 minutes, remove from the oven and let cool for 1 to 2 minutes before enjoying
Nutrition
Calories:
230
kcal
Carbohydrates:
23
g
Protein:
2
g
Fat:
15
g
Saturated Fat:
13
g
Polyunsaturated Fat:
0.3
g
Monounsaturated Fat:
1
g
Trans Fat:
0.003
g
Cholesterol:
27
mg
Sodium:
198
mg
Potassium:
113
mg
Fiber:
1
g
Sugar:
10
g
Vitamin A:
41
IU
Vitamin C:
1
mg
Calcium:
75
mg
Iron:
1
mg
---
---
The information listed in the recipe card is an estimate provided by an online nutrition tool. The tool evaluates ingredient names and amounts then makes calculations based on the number of servings listed for the recipe. It is provided as a general guideline and not as a precise calculation. For precise nutrition information please feel free to add the ingredients to your preferred nutrition calculator or consult a doctor or licensed nutritionist.