Mango sour is the ultimate Guyanese condiment and is eaten with most savory street foods. It goes with everything savory that you want to add a little kick of heat and flavor to. It is most popularly eaten with snacks such as, chicken foot, channa and plantain chips. These are definitely school yard favorites. When I visit Guyana my trip is not complete until I go to the snack stand on the corner and get some chicken foot and sour. Yum. Today I am featuring a quick and easy way to make mango sour.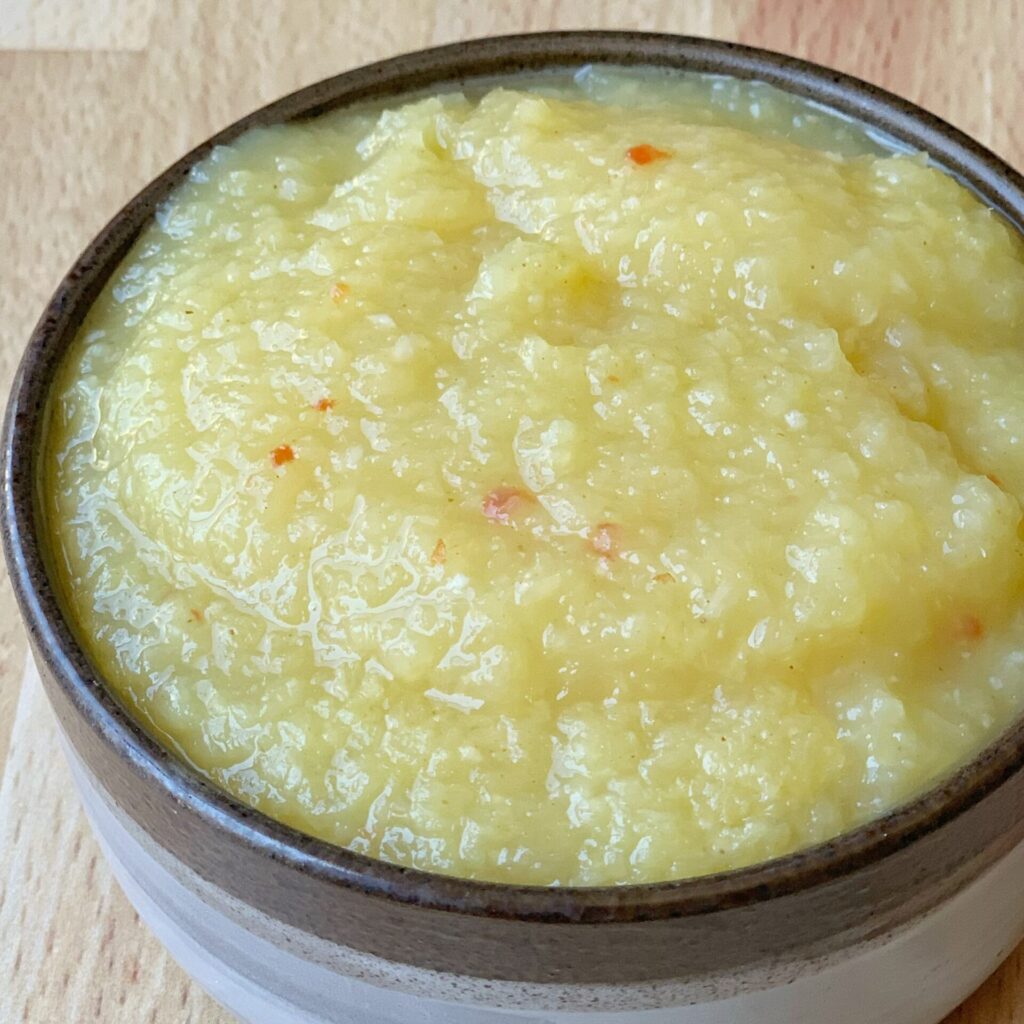 Choosing the right mangoes: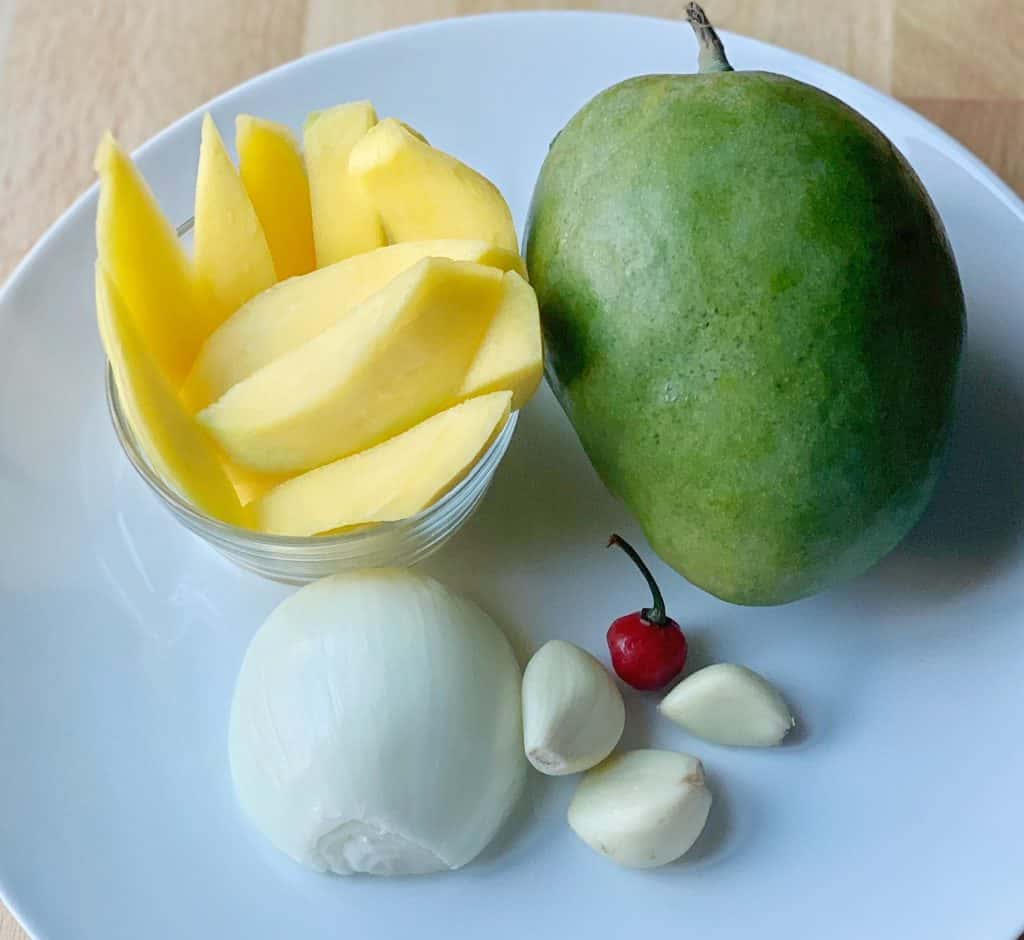 Most people make mango sour using really green mangoes. I love having a combination of really green mangoes and some half ripe or turning mangoes as they are called. Half ripe mangoes add a bit of sweetness and balances out the sour taste of the green mangoes. Some people also add sugar to sour to achieve this but I prefer the natural refined sugar free way!
Quick and Easy Mango Sour Prep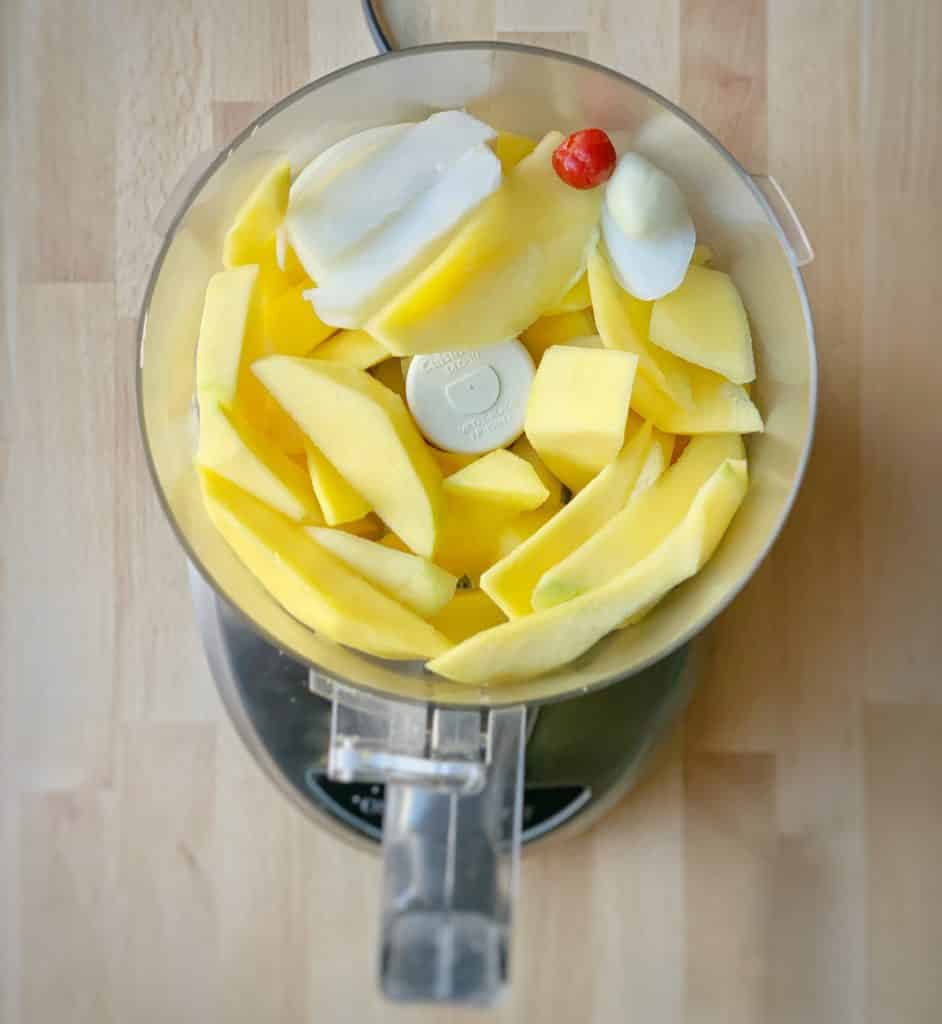 Making mango sour can be a really long process. It takes quite sometime to boil the mangoes to the right tenderness. If you have an Instant Pot, you can get those results in 10 minutes. Check out my Instant Pot Mango Sour recipe here! Don't have an instant and don't have a lot of time, then try adding all your ingredients to the food processor and blending into a sauce before cooking on the stove. This significantly decreases cooking time and still gives you a pretty delicious mango sour.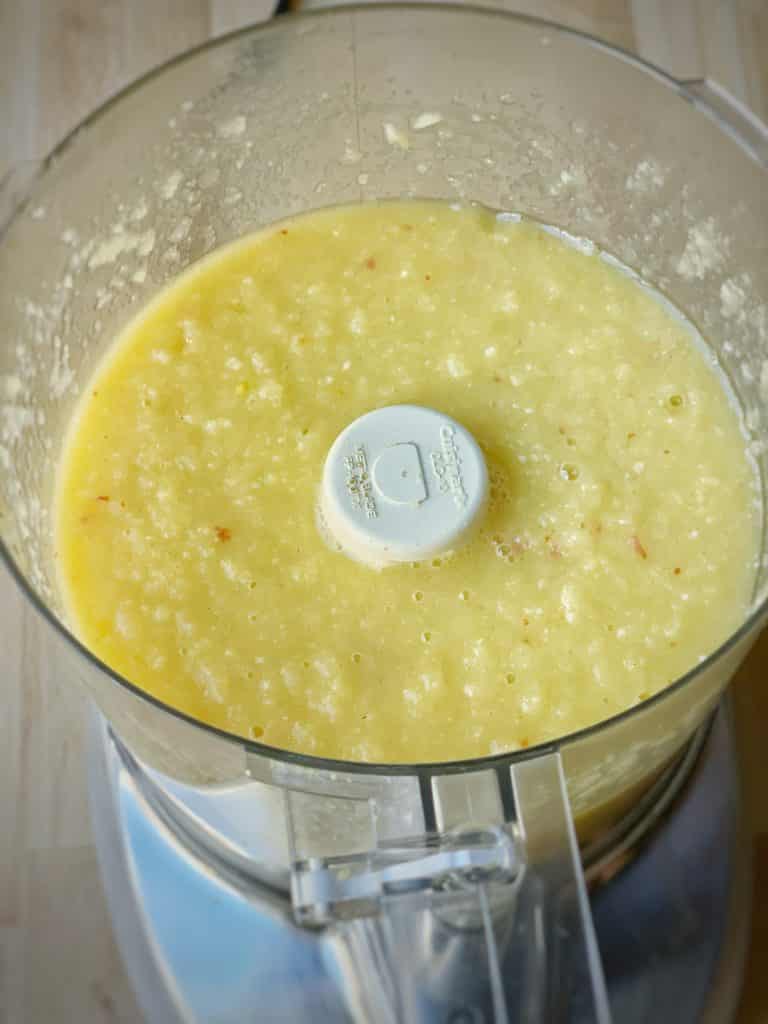 Pair your mango sour with your favorite snacks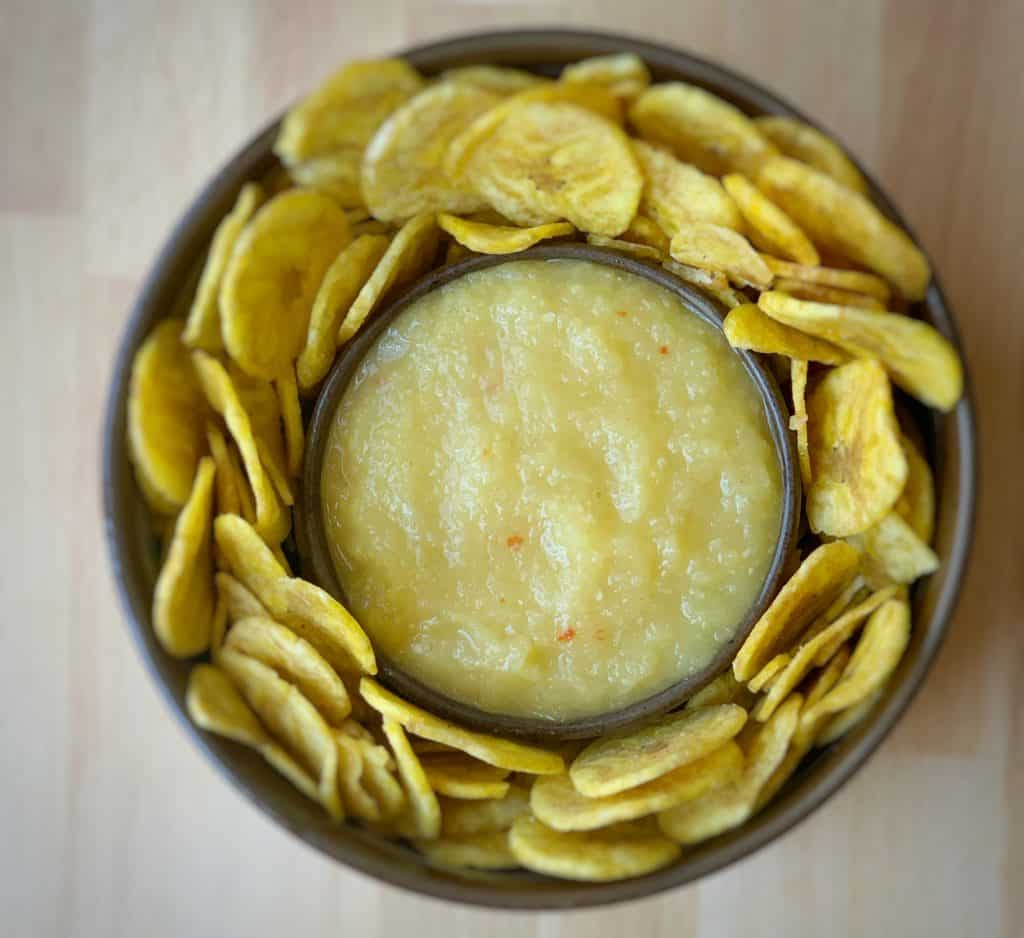 I love making a batch of mango sour and sticking it in the fridge. In Guyana we eat it with plantain chips (as pictured above), chicken foot, pholourie, egg ball and a host of other street food, school yard snacks. Now at home, here in the US I eat mine with regular potato chips or even Terra Chips. I treat it like salsa!
The Printable Mango Sour Recipe:
[b]Mango Sour[/b]
Recipe Type
:
Condiments, Whole30
Author:
Mango Sour is a spicy sauce used as a condiment for most street food type snacks in Guyana
Ingredients
2 green mangoes (peeled and diced)
1/2 yellow onion (chopped)
3 cloves garlic
2 wiri wiri pepper (or any hot chili pepper)
1 teaspoon cumin powder
2 tablespoons white vinegar (optional)
1 1/2 cups water
3/4 teaspoon salt
Instructions
Combine mangoes, onion, garlic, wiri wiri pepper and 1/2 cup water in a food processor or blender and blend until really fine. If using a blender add all of the water.
Then place blended ingredients, cumin powder, salt and 1 cup water in a small saucepan on medium heat and bring to a boil
Next, once ingredients come to a boi, boil for 5 minutes on high heat stirring constantly to avoid burning or sticking, then reduce heat to low and let simmer for 10 minutes
Then add vinegar if using, mixing together well. Continue to cook for another 5 minutes then remove from the heat and allow to cool completely before using
Notes
I made sour without blended the ingredients for years and it took hours. I boiled the mango until it was soft and almost jam like. You can try doing it that way with these same ingredients if you prefer. Increase the water to 3-4 cups. [br]2. You can add different spices to your sour to achieve the flavor you want.[br]3. Adding a bit of vinegar at the end helps the sour to last longer. I store my sour in the fridge and it lasts about a week, before it's all gone or turns bad.[br]Happy Cooking!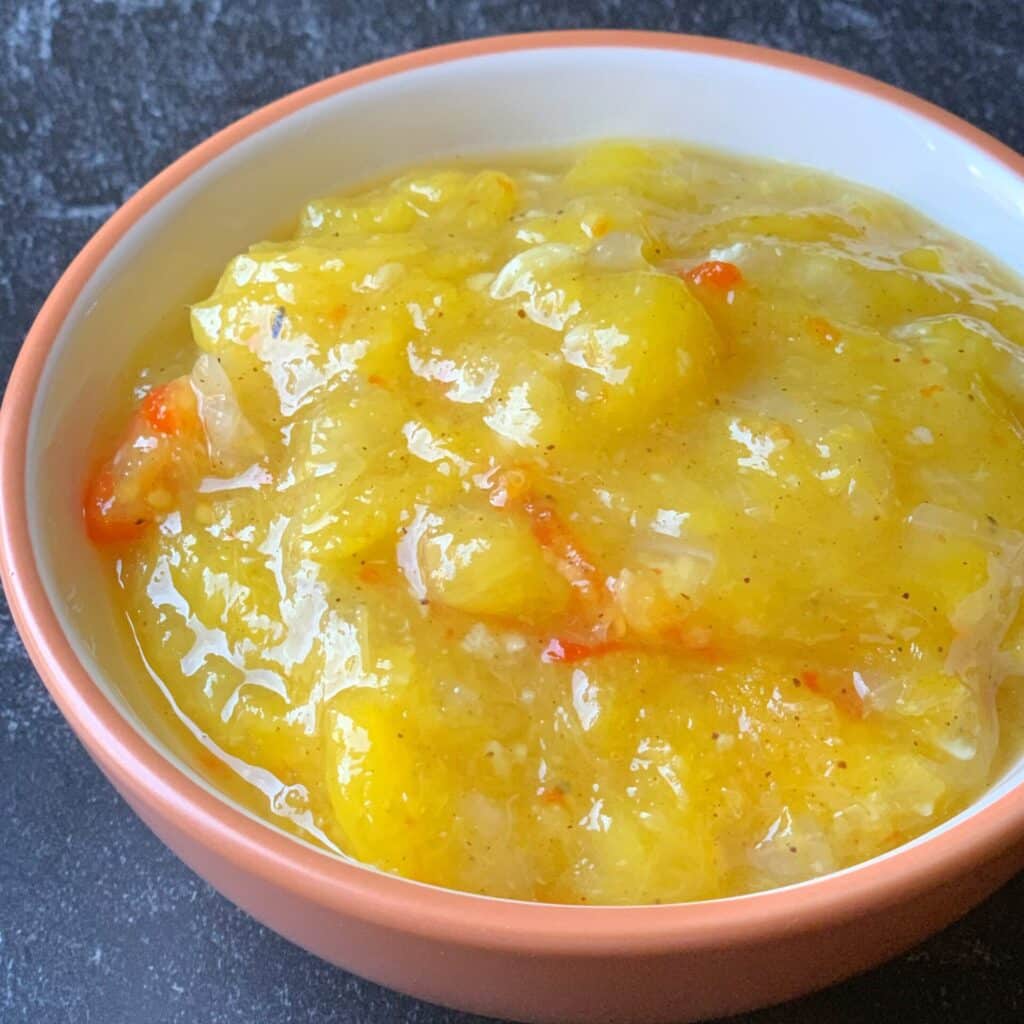 Try your mango sour with these yummy dishes
Tuna Cakes