This Burger Salad with Grilled Vegetables is one of my favorite ways to enjoy a juicy burger in a nutrient dense bowl of yumminess. Use any combination of vegetables you like and just grill them alongside your burgers and you'll have a delicious meal ready in no time.
Making the Burger Patties
For this recipe I am using local wagyu ground beef, but I've also used regular ground chuck when making burgers. The best burgers are made with ground beef that has a higher fat content. Lean meats tend to dry out on the grill. Check out this article on How to Make the Best Burgers for more information on selecting the right ground beef for your burger patty.
I always season my ground beef with a few pantry staples like onion powder, granulated garlic, parsley flakes, paprika, coarse salt and black pepper. The coarse salt is a must have and adds so much flavor to the burger patties compared to regular table salt.
Forming the Burger Patties
Confession, I am a perfectionist when cooking and I prefer all my burger patties to be even in weight and shape. I weigh my meat and separate it into 1/4 pound portions, then shape and press them into a hand pie cutter. To make perfect burger patties. I prep all of my patties then take them to the grill. Do you have a kitchen scale? I highly recommend it. They come in handy for so many things, especially baking when it's more accurate to weigh dry ingredients than use cup measures. Click here for a scale similar to the one I've had for 10 years!
Prepping the Vegetables for Grilling
For this burger salad with grilled veggies I used a mandoline to slice my veggies into even slices. Mandoline slicers can be dangerous and I recommend always using the hand guard. They are great for quickly slicing up veggies and make it easy for meal prep. For the zucchini I used the thick slice option and for the carrots I used the thin slice blade.
To prepare the vegetables for grilling, I drizzle them with some olive oil and sprinkle with coarse salt. That's all these vegetables need to bring out their natural flavor. It takes about 6-8 minutes total to grill these vegetables! Quick and easy and so delicious.
Bringing the Dish Together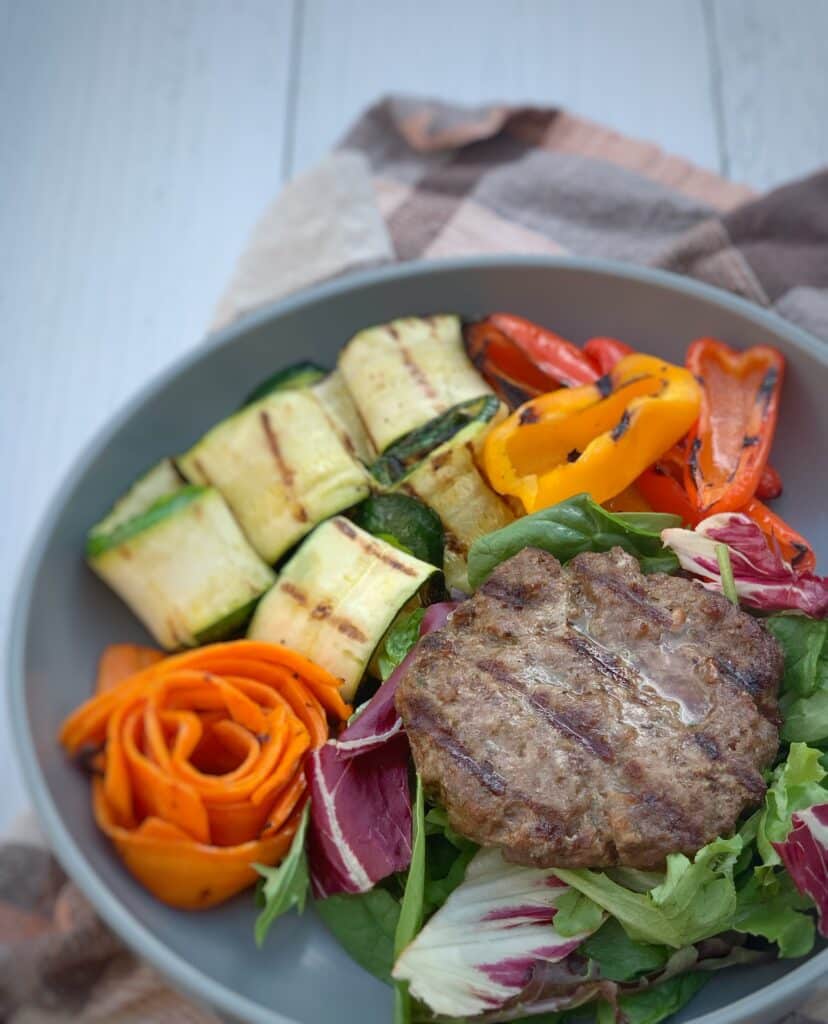 Serve your burger patty on a bed of mixed salad greens, drizzle with any dressing you like or if you are like me and enjoy the juiciness of the burger patty, skip the dressing all together. Then fill the rest of your plate with the grilled vegetables. This meal is clean, low carbs and loaded with nutrients. It's the perfect meal for a hot spring/summer day. It's also easy to double the portion and prep lunch and dinner for a few days.
Save It For Later
The Printable Burger Salad with Grilled Vegetables Recipe:

Burger Salad with Grilled Vegetables
---
A juicy burger patty on a bed of mixed salad greens served with grilled seasonal vegetables
---
Ingredients
For the burgers
1

lb

of ground beef

1

teaspoon

of coarse salt

1/4

teaspoon

of black pepper

1

tablespoon

of onion powder

1

teaspoon

of garlic powder

1/2

teaspoon

of paprika

1

teaspoon

of parsley flakes
For the vegetables
4

cups

of mixed salad greens

About 2 cups of baby bell peppers

deseeded, deveined and cut into halves

4

large zucchinis

sliced into thin lengthwise slices

4

carrots

sliced into thin long slices

2

tablespoons

of olive oil

Coarse salt to taste

about 1/2 teaspoon

Salad dressing of your choice

Cooking Spray for the grill
Instructions
For the Burgers
Combine all the burger ingredient into a large mixing bowl and mix together well

Then separate and shape into 4 burger patties. This can be done by forming the separated seasoned meat into balls then pressing flat or by pressing into a

hand pie cutter

or similar round disk

Preheat your grill to 450 °F

Coat grill lightly with cooking spray then add burger patties directly to the grill (do not press into the grill)

Cook for 4 minutes then flip and cook for another 4 minutes

Then remove from the grill and let rest for 2 minutes before serving
For the vegetables
Combine all the vegetables, olive oil and salt in a mixing bowl and mix together well until all the vegetables are coated with oil and salt

Then place the vegetables directly on a hot grill (450 °F) and grill for 4 minutes then flip and grill for 4 more minutes then remove from the grill
Making the Burger Salad and Grilled Veggies Bowl
In a plate or bowl add a cup of mixed salad greens and a portion of grilled veggies. Then add the burger on top of the salad greens. Drizzle with your favorite salad dressing and enjoy!
---
---
The information listed in the recipe card is an estimate provided by an online nutrition tool. The tool evaluates ingredient names and amounts then makes calculations based on the number of servings listed for the recipe. It is provided as a general guideline and not as a precise calculation. For precise nutrition information please feel free to add the ingredients to your preferred nutrition calculator or consult a doctor or licensed nutritionist.