Green beans and shrimp is a quick and easy week night dish that is sure to be on steady rotation! When I was a little girl in Guyana, there were weekday meals and weekend meals. On the weekend my mom made dishes like fried rice and baked chicken or cook-up rice, because that's when you were most likely to have a visiting relative or friend. It is customary in Guyana for the host to offer guests a meal when visiting a family or friend. My mom tried to always have her best meals available for such occasions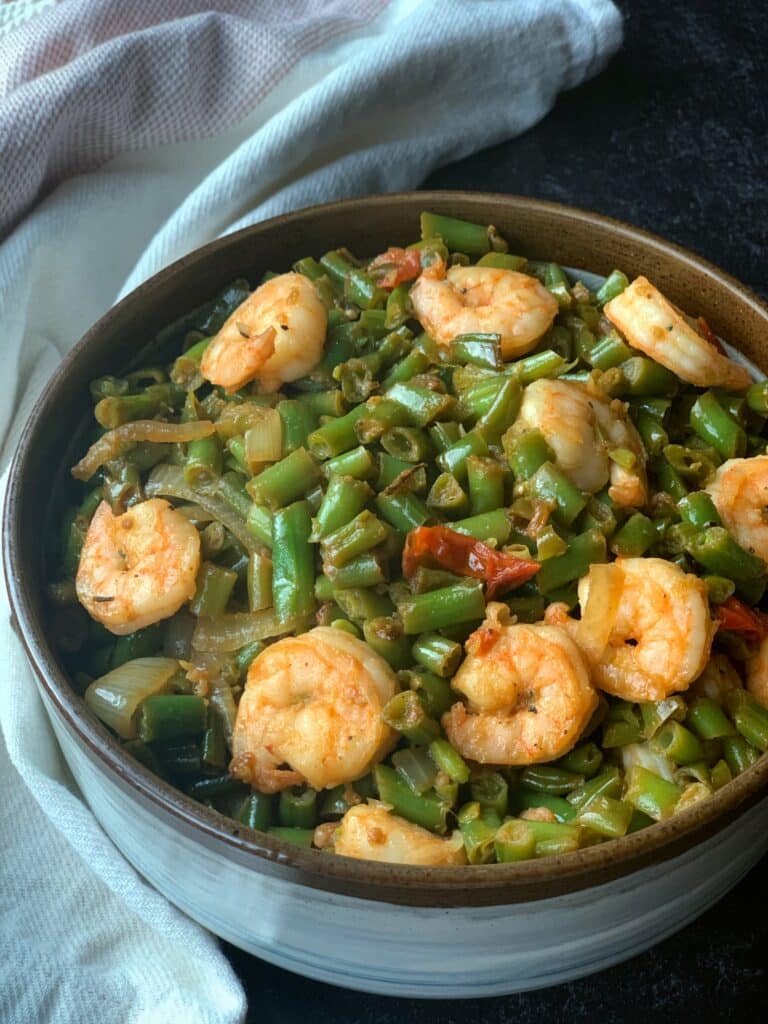 The Best Weeknight meals
During the week however, when you were less likely to have guests, my mom kept meals simple. She served most of our meals with a side of rice. The main dishes for these meals was typically a vegetable paired with a simple protein. Guyanese vegetable stews and stir-fries were often reserved for weekday lunches and dinner time meals.
Finding Caribbean Vegetables
When I first moved to Denver, I struggled to find some Caribbean/Guyanese vegetables that I love. Bora or Chinese long bean was one of those vegetables I just couldn't find. One day while craving bora and shrimp for dinner, I decided to use frozen petite green beans as a substitute for bora and that is how this recipe was created. I've since updated the recipe to make it Whole30/Paleo friendly but it still has the same delicious flavor.
Preparing the Petite Green Beans
For this Shrimp and Green Beans dish I love to cut my green beans into 1/2 inch pieces. Since I always use frozen Petite Green Beans these must be completely defrosted before chopping up.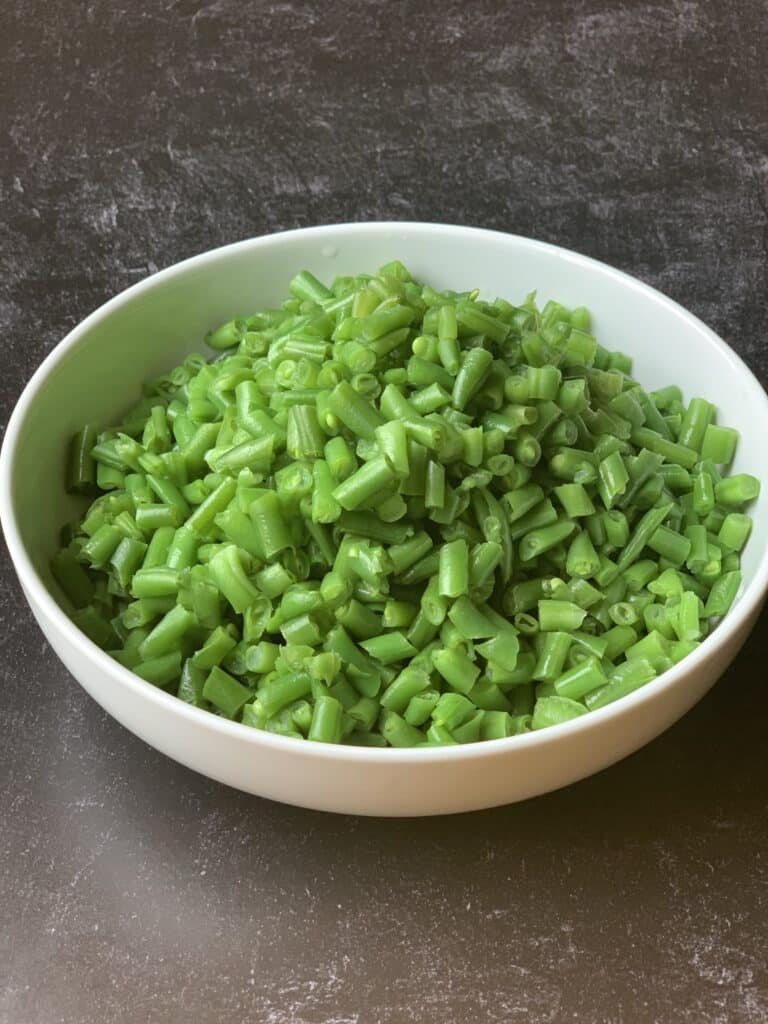 Preparing the Shrimp
I always sauté my shrimp first. I season the shrimp with some basic pantry staples, like granulated garlic, onion powder, paprika, dried thyme, salt and pepper. Then I sauté the shrimp in hot oil for a few minutes. Not enough time to cook the shrimp completely but enough to seal in some of the flavors of the seasoning. Then I remove the shrimp from the pan and cook the green beans.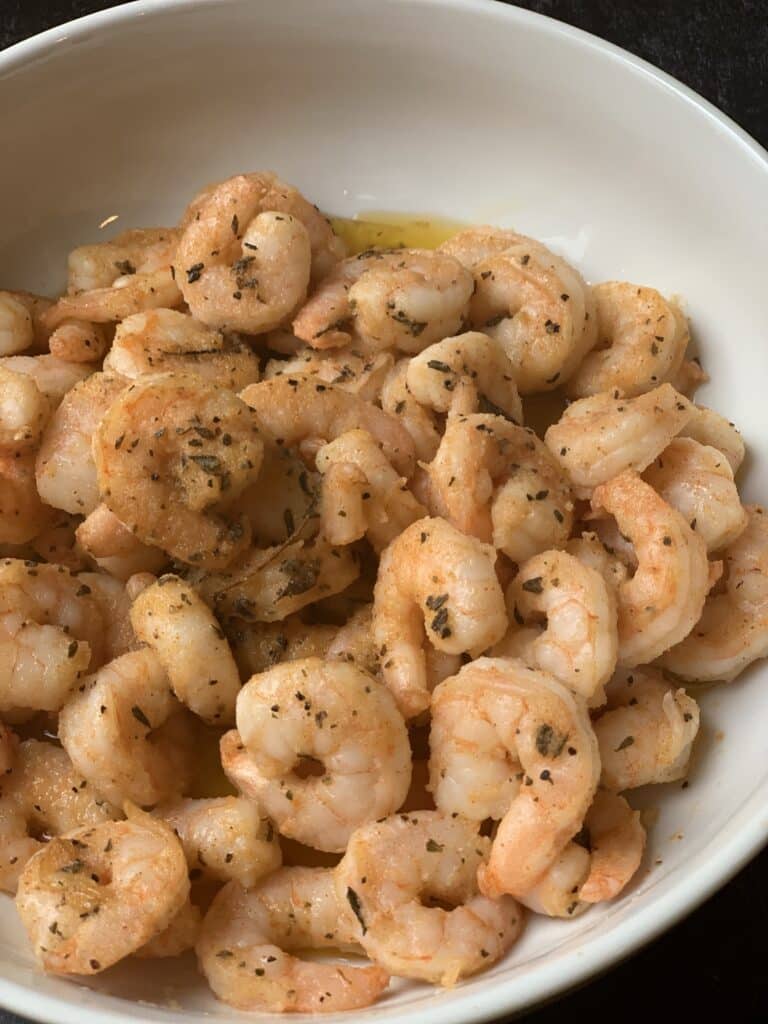 Bring the Green Beans and Shrimp dish together
After sautéing the green beans with some tomatoes, onions and garlic I add the shrimp back in and continue to sauté for a minute or two, then remove from the heat and enjoy. It is that simple. Most of the work is spent chopping up the green beans! Once you get that out of the way, the rest of the dish comes together really quickly. I like my green beans cooked with a little bit of snap still in them but you can feel free to cook yours a bit longer if you like them softer.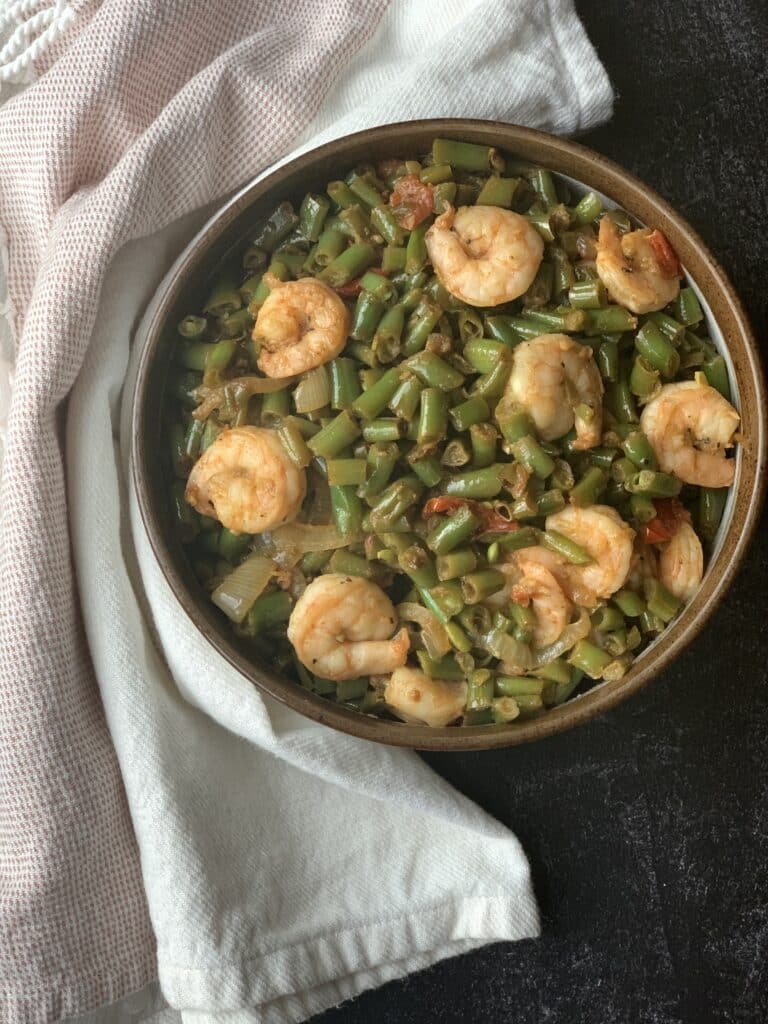 Save it for Later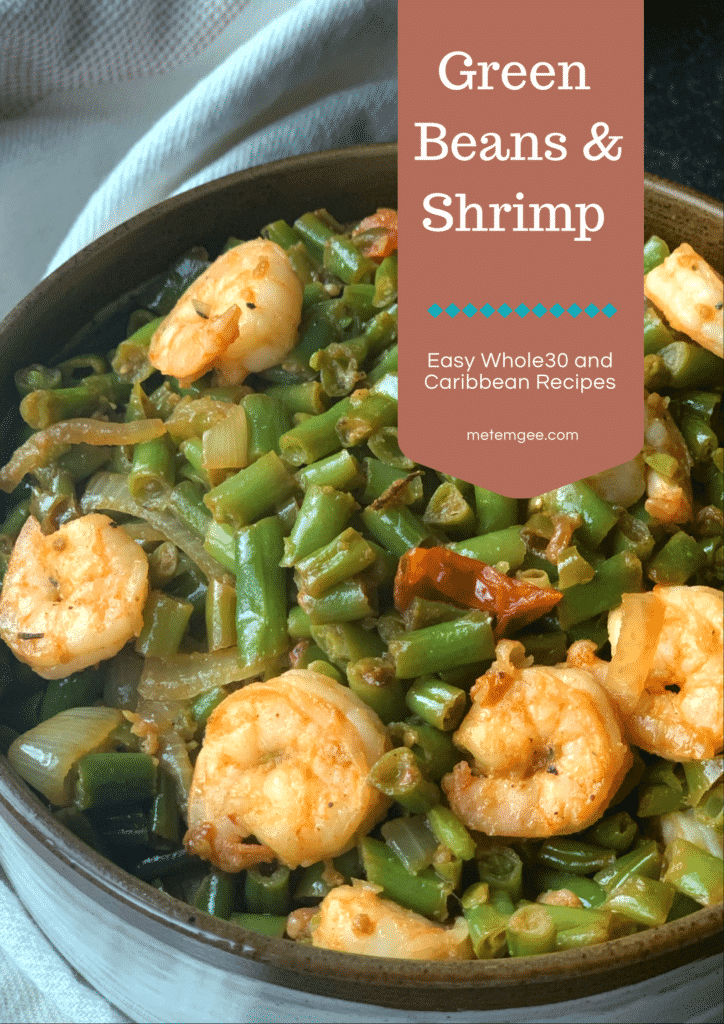 The Printable Green Beans and Shrimp Recipe
Green Beans and Shrimp
Cuisine:
Caribbean, American
Author:
Prep time:
Cook time:
Total time:
Green Beans and Shrimp brings together sautéed petite green beans and succulent shrimp in a quick and easy recipe that is sure to be a favorite.
Ingredients
Green Beans and Shrimp
1 packet of Frozen Petite Green Beans (chopped into 1/2 inch pieces)
3 tablespoons of avocado oil
1/2 yellow onion, thinly sliced
2 tomatoes, diced
4 cloves of garlic, grated
1 tablespoon of dried thyme
1/4 cup of coconut aminos (can substitute with 1 tablespoon of cassareep)
3/4 teaspoon of of salt
Pinch of black pepper
For the Shrimp
1/2 lb large shrimp, peeled and deveined
Juice of 1/2 a lemon
1 teaspoon of dried thyme
1/4 teaspoon of paprika
1 teaspoon of granulated garlic
1/4 teaspoon of salt
Pinch of cayenne pepper (optional)
Instructions
Add the shrimp to a bowl, then drizzle lime juice over the shrimp
Next, sprinkle the shrimp with salt, cayenne pepper (if using), dried thyme, paprika and garlic powder
Then mix together well until all of the shrimp is fully coated with the seasoning. Let the Shrimp marinate while you are prepping (cutting into 1/2 inch pieces) the petite green beans
When ready to cook, add 2 tablespoons of oil to a large skillet or sauté pan on medium heat and bring up to temperature
Then when the oil is hot, add the marinated shrimp and cook on each side for about a minute, searing to lock in the flavor of the seasoning
Then remove from the heat and set aside
Next add a tablespoon of oil to the skillet or sauté pan followed by the onions
Cook onions until soft and translucent then add the tomatoes and garlic and continue to cook until the tomatoes are soft
Then add the cut green beans, salt and pepper and continue to sauté, turning often until the green beans are cooked. This should take about 10 minutes. Cook for longer if you like a softer green beans
Then remove from the heat and enjoy
Try these other vegetable recipes