Make Chicken and Root Vegetable Soup in an Instant Pot in just 20 minutes. This hearty, nutritious, comforting chicken and root veggies soup is perfect for meal prep so you can have dinner set for the next 3 days!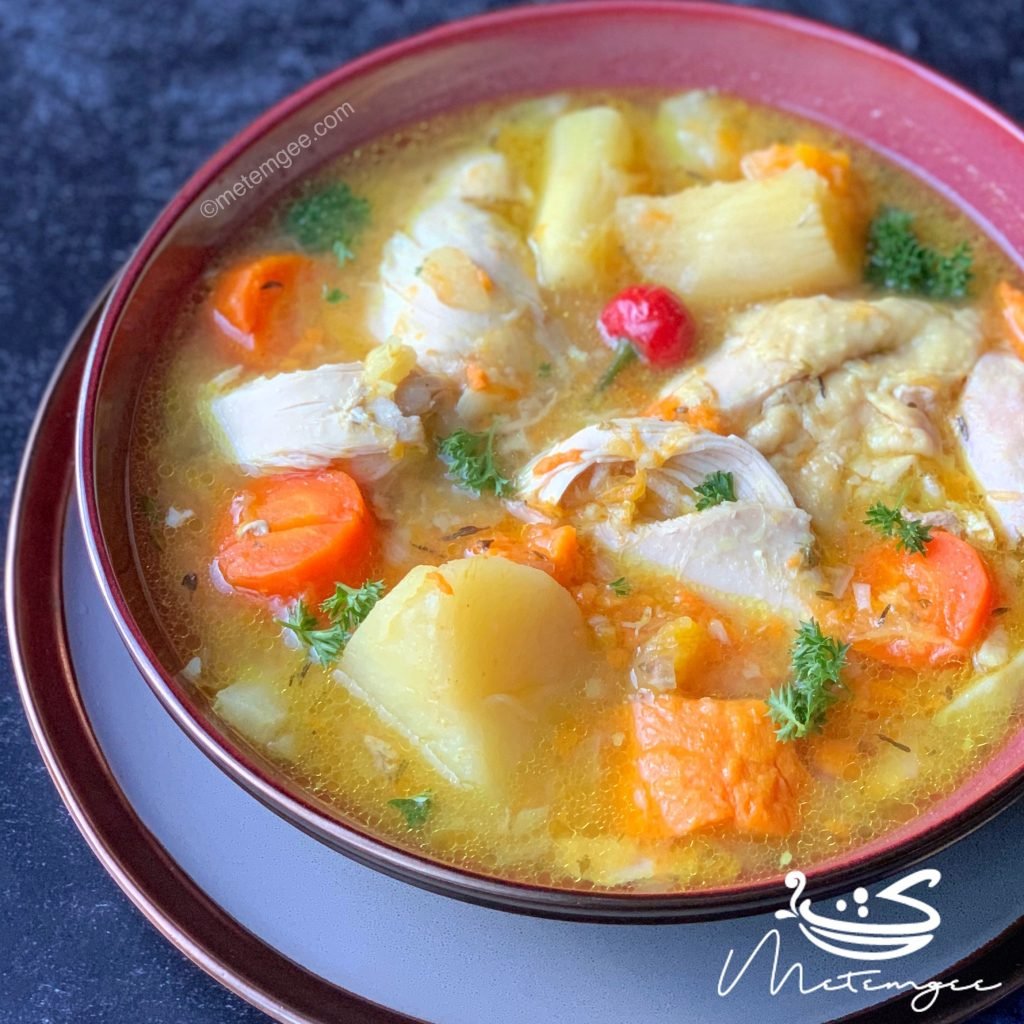 Instant Pot Chicken and Root Vegetable Soup
Before I bought my Instant Pot, I made this soup on the stovetop and it took hours to first cook the chicken and then add to the root veggies. Sometimes depending on what root veggies I was using, I would have to boil some (like cassava) before adding others. My instant pot has simplified my soup making so much!
On a cold, overcast Denver day a hot bowl of soup is just calling my name. It's just comforting to know that I can have hearty, delicious, and healthy soup in about 20 minutes.
Why You'll Love This Chicken and Root Vegetable Soup Recipe
Convenient: Skip the canned soup because it is so easy to make chicken and root veggies soup! With just 15 minutes of prep and another 15 minutes of cooking, making this soup is a breeze.
Cozy: Soup is my favorite form of comfort food and this recipe is perfect for cool, fall weather. The broth is enriched with pumpkin flavor and the savory flavor of the chicken warms you from the inside out.
Nutritious: This hearty soup is chock full of fiber, antioxidants, and protein. So of course it's perfect for cold and flu season!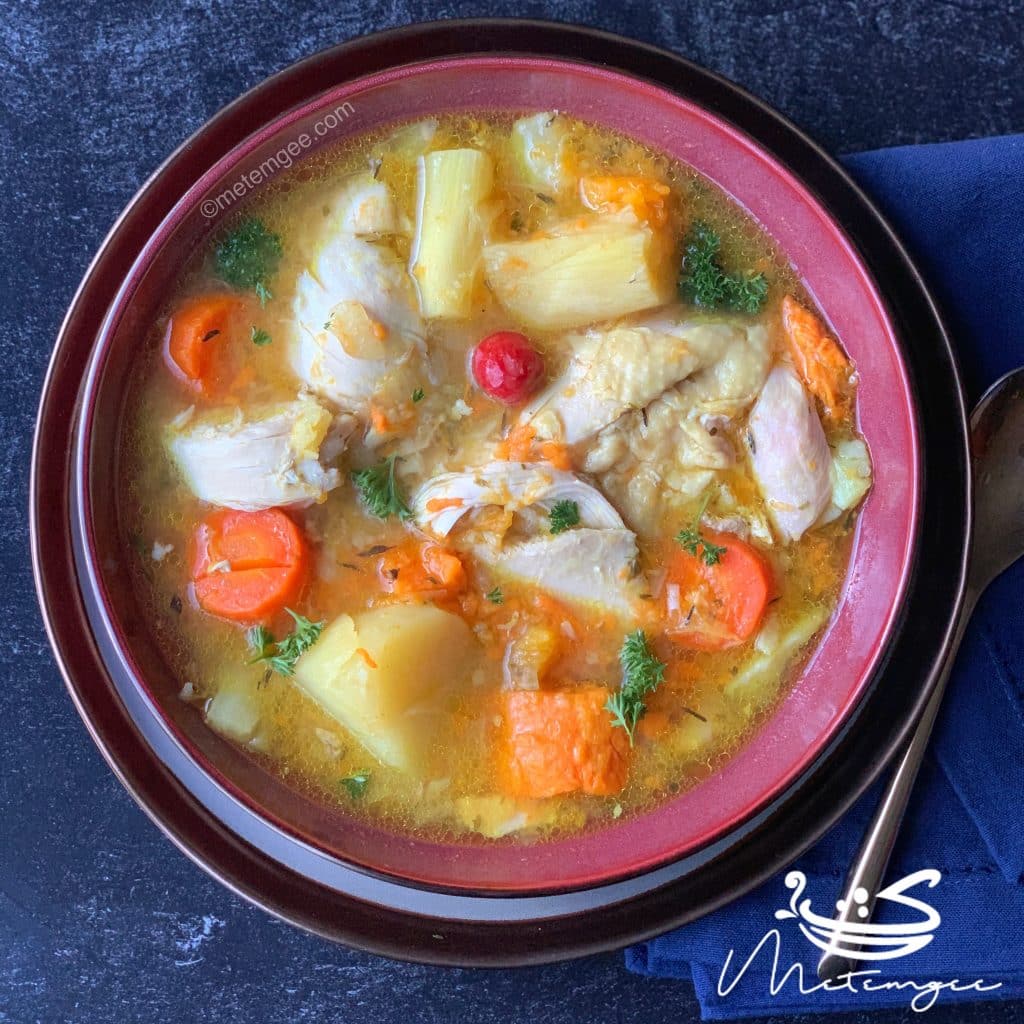 What is root vegetable soup?
Root vegetable soup is a hearty and nutritious soup made primarily from root vegetables, which are vegetables that grow underground. These veggies are packed with essential nutrients.
Root vegetable soup can be served chunky or blended into a smooth, creamy consistency, depending on personal preference. It's a versatile dish that can be adapted to include other ingredients like meat, beans, or grains for added protein and texture.
This type of soup is popular during colder months because it provides warmth and comfort. It's a great way to incorporate a variety of nutritious vegetables into a meal and can be customized with different flavors to suit individual tastes.
What makes this recipe Whole30?
A lot of Caribbean soup recipes call for the use of chicken bouillon cubes which often has sugar and mono sodium glutamate in the ingredients list which are both not allowed on whole30. By eliminating those ingredients and not adding corn or other non-compliant ingredients, this dish is transformed into a tasty whole30 one pot complete meal.
For more insight into my whole30 journey check out my recent post about The Whole30 and me. Please follow me on Instagram to see what I'm eating for my March Caribbean Whole30. Caribbean food is healthy food!
Ingredients for Chicken and Root Vegetable Soup
You'll notice that this chicken and root veggies soup is packed with a variety of root vegetables. I like the flavor and texture it adds. Feel free to swap and omit as needed.
Whole chicken: Select a bird that's bout 5-6 lbs.
Root Vegetables: For this recipe, you'll need cassava, white sweet potatoes, pumpkin (or butternut squash), carrots, yams, and russet potatoes.
Aromatics: Use yellow onions and garlic cloves as a flavorful base.
Fresh Herbs: Add fresh thyme and parsley (or parsley flakes).
Wiri wiri peppers: Alternatively, use 1 whole habanero pepper. But you can skip the peppers entirely if you don't like spice.
Seasoning: Use iodized sea salt or salt to taste, garlic powder, ground turmeric, and onion powder.
Olive oil: Use this to sauté the ingredients.
Water: There's no need for chicken broth when the soup has this much flavor. It also helps you reduce the sodium in the soup.
See recipe card for quantities.
How to Make Chicken and Root Vegetable Soup
Prep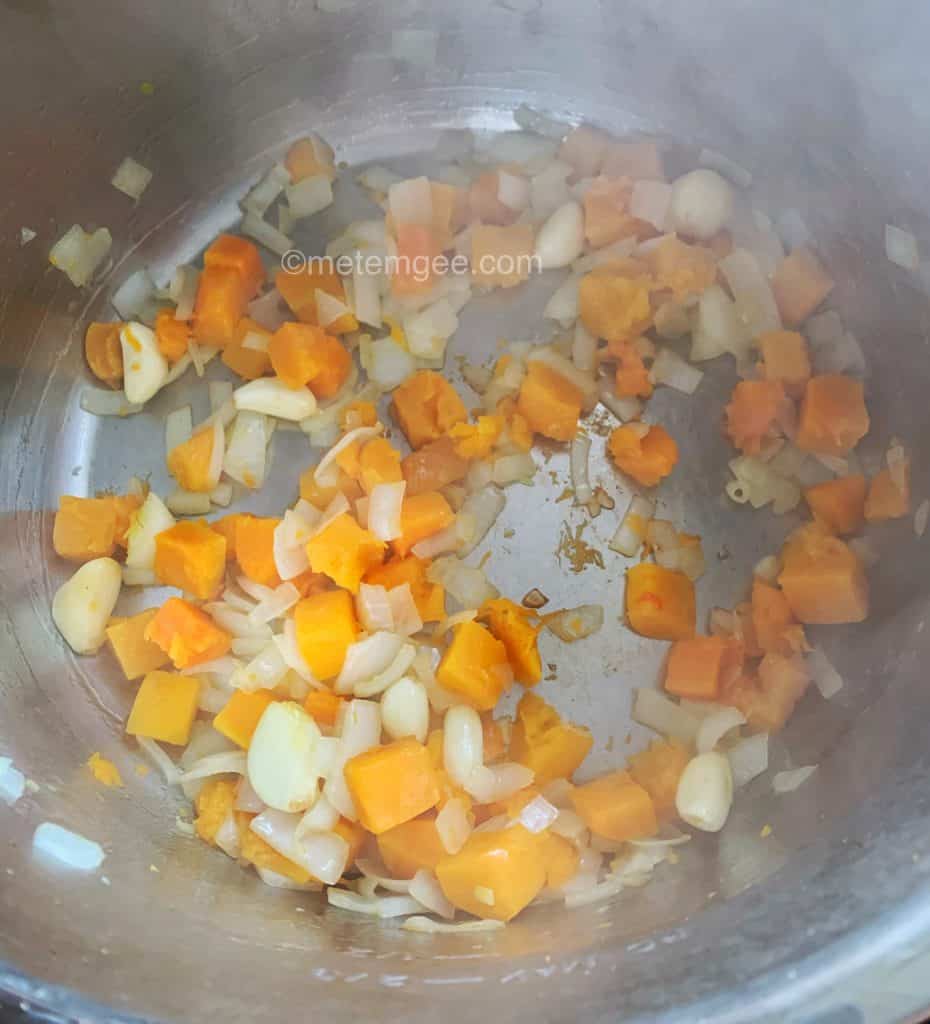 For this instant pot chicken and root vegetables soup, I like to sauté the onions, whole garlic, and diced pumpkin in a bit of olive oil first. This step gives the dish a depth of flavor that isn't there if you dump everything into the pot and add water.
Once the onions and whole cloves of garlic become soft and a bit translucent, I add in the pumpkin. I buy my pumpkin frozen from Walmart. Click here to see what the packaging looks like. I steam it in the microwave per the instructions on the packaging first and then I add it to the instant pot.
If you live in a place where you can't find pumpkin fresh or frozen you may substitute the pumpkin in this recipe with a cup of diced butternut squash.
Cooking the Instant Pot Chicken and Root Vegetable Soup
The next couple of steps are pretty easy. Once you've sautéed the onion, garlic, and pumpkin for a few minutes add a whole chicken (cut down the breast) breast side down then pile on the root veggies and additional seasoning add 6 to 8 cups of water (depends on the size of your instant pot) and pressure cook on the poultry setting. It is that simple!
Using the instant pot makes this a quick no hassle dish. It cooks in 15 minutes and the chicken is fall off the bone tender. After releasing the steam, just give it a good stir to mix up the veggies and if you like you can use a fork to shred up the chicken but the chicken is usually tender enough that using your wooden spoon to loosen it up works just as well.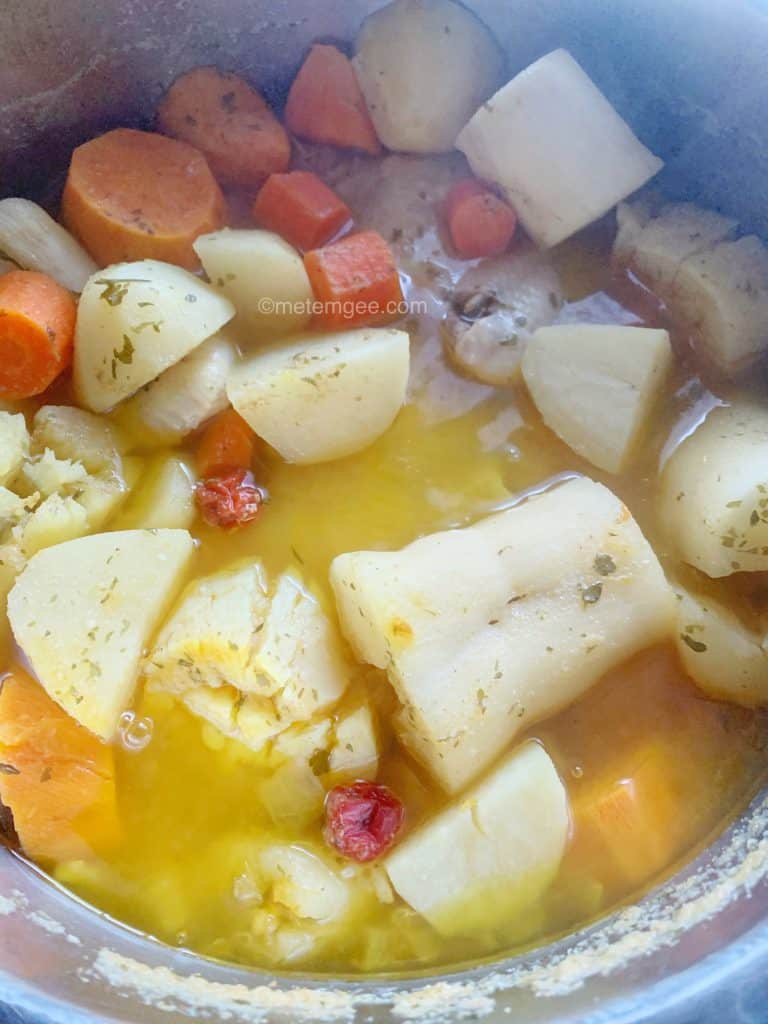 Storage
Once the soup has completely cooled, store leftovers in an airtight container in the fridge for up to 4 days. For longer storage, freeze leftovers for up to 3 months. Defrost overnight in the fridge. Reheat leftovers on the stove over medium heat until warmed through.
Recipe Variations
Creamy Root Vegetable Soup: Use an immersion blender to puree the soup. To do this, the chicken would have to be cooked separately and then added after the soup is pureed.
More Root Veggies: You can add turnips or parsnips as substitutes.
Additional Veggies: Add spinach or kale in the last few minutes of cooking for added nutrients.
Chicken and Root Vegetable Soup with Wild Rice: If you want a heartier soup, consider adding cooked grains like rice. Just be mindful of the cooking time for grains or pasta and add them to the soup accordingly.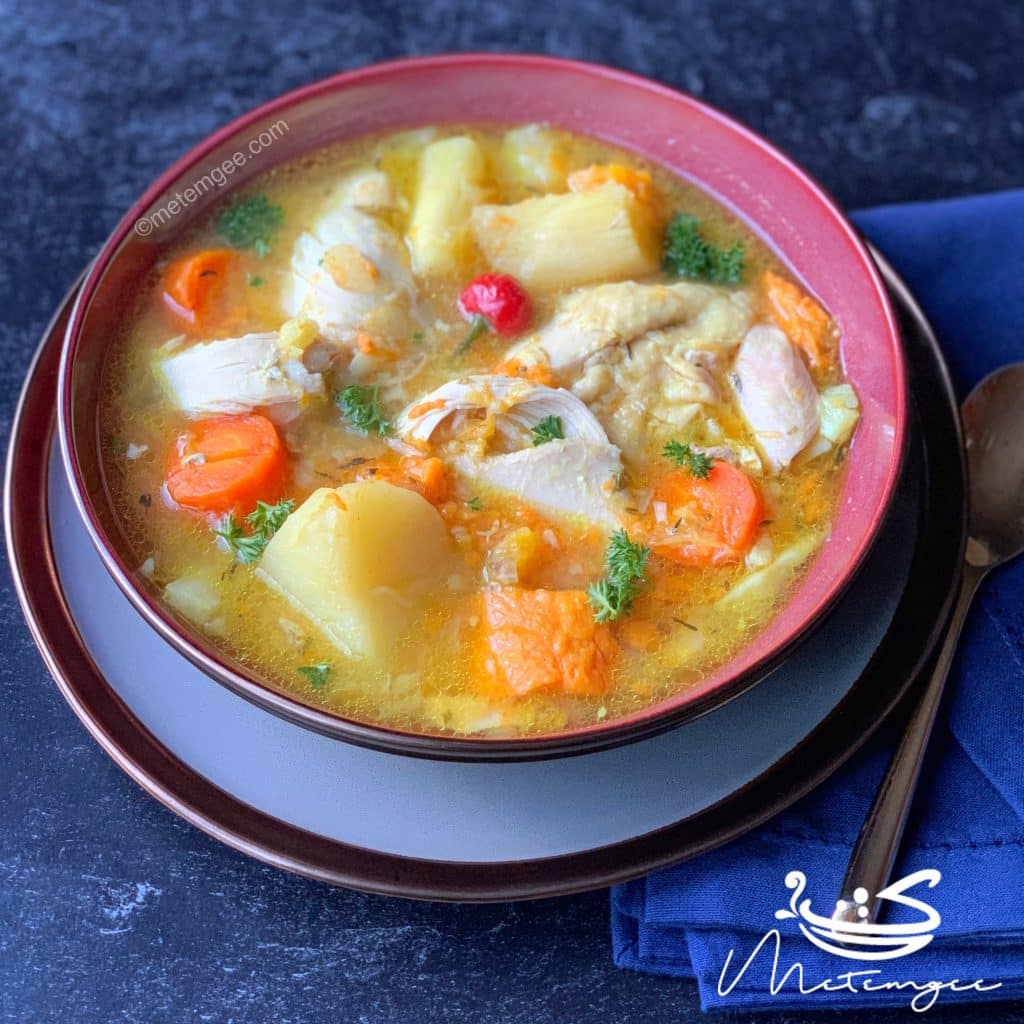 Frequently Asked Questions
Does chicken soup help fight viruses?
Chicken soup is often touted as a remedy for colds and other illnesses. While it is not a cure, it is certainly soothing to consume when you're feeling under the weather. It can relieve symptoms like congestion and sore throat. Even when you're not sick, it's beneficial to eat a bowl of chicken and root vegetable soup because it has minerals and antioxidants that can help boost immunity.
What are the benefits of root vegetable soup?
Root vegetable soup supports overall immune function, aids digestion, and has anti-inflammatory properties, making the soup a nourishing choice for overall well-being. It's also a delicious way to incorporate essential nutrients into your diet.
How to add richness to chicken soup?
Enrich chicken soup by adding hearty root vegetables. It thickens the mixture for a chunky soup but also adds essential nutrients.

Instant Pot Chicken and Root Vegetable Soup (Whole30)
---
Make Chicken and Root Vegetable Soup in an Instant Pot in just 20 minutes. This hearty, nutritious, comforting soup is perfect for meal prep so you can have dinner set for the next 3 days!
---
Ingredients
1

whole chicken

about 5 -6 lbs

1

lb

cassava

peeled and cut into large pieces

2

white sweet potatoes

peeled and cut into quarters

1

cup

diced pumpkin

may use butternut squash

2

large carrots

peeled and cut into 2 inch pieces

1

yam

peeled and cut into quarters

2

russet potatoes

large; peeled and cut into quarters

1

yellow onion

diced

8

cloves

garlic

5

sprigs of fresh thyme

2

wiri wiri peppers or 1 habanero pepper whole

skip if you don't like spice

1 1/2

teaspoons

iodized sea salt

or salt to taste

1

teaspoon

garlic powder

1/4

teaspoon

ground turmeric

1

teaspoon

onion powder

1

tablespoon

olive oil

6-8

cups

water

1

tablespoon

parsley flakes or fresh parsley
Instructions
Remove liver, gizzards and neck from chicken (if included)

Then split down the center of the breast using kitchen shears or a knife and set aside

Next set your instant pot to sauté and when hot add the oil

Followed by the onion and whole garlic and sauté until soft and slightly translucent (about 3 minutes)

Next add the pumpkin and cook for an additional 2-4 minutes

Then push the cancel button to take the instant pot out of the sauté mode

Next add the fresh thyme then place the chicken breast side down into the pot

Then add all the root vegetables followed by garlic powder, onion powder, turmeric, parsley flakes and peppers (if using)

Next add water, seal and pressure cook using the poultry setting on the instant pot

Release the steam and serve hot
Nutrition
Calories:
466
kcal
Carbohydrates:
58
g
Protein:
22
g
Fat:
17
g
Saturated Fat:
4
g
Polyunsaturated Fat:
3
g
Monounsaturated Fat:
7
g
Trans Fat:
0.1
g
Cholesterol:
71
mg
Sodium:
557
mg
Potassium:
1239
mg
Fiber:
6
g
Sugar:
5
g
Vitamin A:
8679
IU
Vitamin C:
32
mg
Calcium:
72
mg
Iron:
2
mg
---
---
The information listed in the recipe card is an estimate provided by an online nutrition tool. The tool evaluates ingredient names and amounts then makes calculations based on the number of servings listed for the recipe. It is provided as a general guideline and not as a precise calculation. For precise nutrition information please feel free to add the ingredients to your preferred nutrition calculator or consult a doctor or licensed nutritionist.