Sautéed Pumpkin and tomatoes are a simple but absolutely delicious way to enjoy pumpkin. It's a Caribbean stew of sautéed pumpkin, tomatoes, onion, garlic, and fresh herbs. Enjoy this hearty, nourishing dish during the fall and throughout the rest of the year.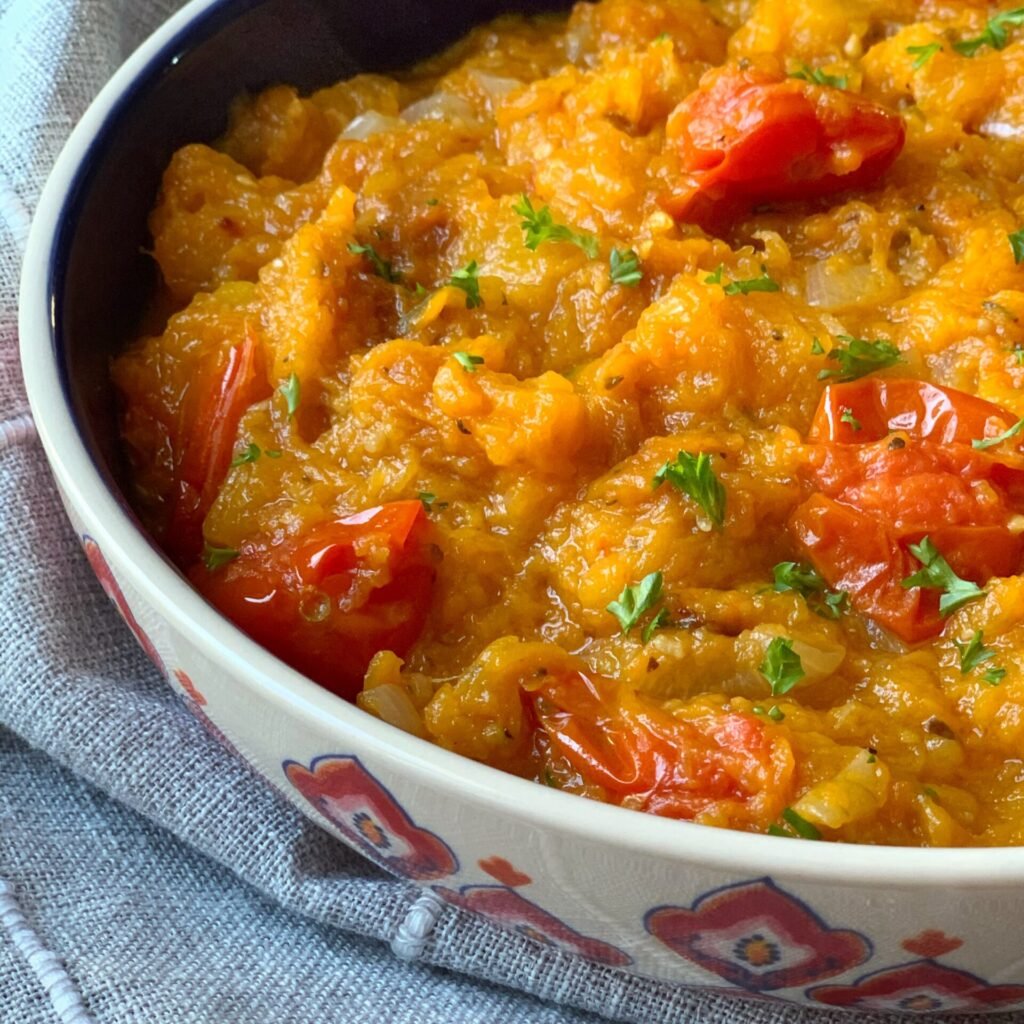 Sautéed Pumpkin and Tomatoes
In the United States, pumpkin season is typically in the fall and winter. Many gourds are enjoyed in the cooler months and typically in soups and pies. But in Guyana and the Caribbean, pumpkin is enjoyed year-round.
I LOVE pumpkin anything, including pumpkin spice. I'm not fortunate enough to find fresh pumpkin (Caribbean variety) where I live. I've lived in Colorado for almost 10 years and I've only seen pumpkin once in the Asian market. Recently, however, I discovered organic steamable pumpkin in the frozen vegetables section at Walmart and that is now my go-to for cooked pumpkin recipes.
Why You'll Love This Sautéed Pumpkin Recipe
Seasonal Side Dish: In the United States during the fall, pumpkin is popular and plentiful. While we love it in desserts like Pumpkin Pone, the natural sweetness of the winter squash adds a refreshing quality to savory dishes like this one.
Quick & Easy: Whether you make it on the stove or in an Instant Pot, this recipe takes just 30 minutes.
Nutritious: Even those with dietary restrictions can enjoy this. It's vegan and Whole 30 compliant. Pumpkins are a rich source of vitamin C, vitamin E, iron, and folate. Tomatoes also contain vitamin C and potassium.
Ingredients for Sautéed Pumpkin and Tomatoes
Like the name suggests, pumpkin and tomatoes are the stars of this dish.
Pumpkin: Peeled and diced. Alternatively, use frozen steamable pumpkin (completely defrost). I am not picky about what kind of pumpkin you use. It really just depends on what I can find in the supermarket.
Aromatics: diced onion and grated garlic cloves
Tomatoes: Plum tomatoes OR cherry tomatoes. Sometimes I use roma, sometimes vine-ripened, sometimes plum, other times cherry tomatoes. At the time that I was updating this post, I have about 4 cups of flavor bomb tomatoes sitting in my refrigerator so I used those. Use whatever you have on hand and if you don't have fresh tomatoes, canned tomatoes and well as tomato paste are good backup choices.
Seasoning: salt, freshly ground black pepper
Herbs: Dried thyme OR fresh thyme
Wiri wiri pepper: Optional.
Coconut oil: Use this or another oil suitable for cooking.
Water: Optional.
See recipe card for quantities.
How to Sauté Pumpkin and Tomatoes
Cooking the pumpkin and tomatoes on the stovetop
For years, I cooked pumpkin on the stovetop. It is simple and straight forward and doesn't require a lot of effort. Most of the time is spent just occasionally stirring the stew to ensure even cooking and to prevent the pumpkin from burning. A good sauté pan and little bit of patience is all you really need for delicious pumpkin stew.
Cooking the Sautéed Pumpkin and Tomatoes in the Instant Pot
Over time and since I am slightly obsessed with my Instant Pot, I started cooking my sautéed pumpkin and tomatoes in my Instant Pot. It doesn't cut down the cooking time by much but what I love about it, is that you don't need to babysit the pumpkin while it is cooking. Just set it and forget it and it's perfectly cooked without too much effort.
Storage
Store leftovers in an airtight container in the fridge for up to 4 days. To reheat, microwave or reheat it on the stovetop over medium heat, stirring until warmed.
Tips for the Best Sautéed Pumpkin and Tomatoes
Cut the pumpkin into small, even-sized cubes or slices. The size can vary depending on your preference, but aim for uniform pieces for even cooking.
Do not overcrowd the pan or Instant Pot. Make sure it's large enough to accommodate the pumpkin without overcrowding, as overcrowding can lead to steaming instead of sautéing.
Recipe Variations
Pumpkin Substitute: You can use butternut squash as a substitute for pumpkin if you are in the US and can't find fresh pumpkin or can't find frozen pumpkin from Walmart.
Spicy: If you want your sautéed pumpkin and tomatoes to have some heat, cut open the wiri wiri pepper at the end or chop it up in the beginning. I like the flavor of the pepper without the heat.
Add Protein: You can add protein to this dish if you like. Add some diced chicken breast or some chopped up chicken thighs (seasoned however you like) by sautéing it first then add the onions, tomatoes, and garlic. Sauté the chicken until it is fully cooked then add the pumpkin. Sautéed shrimp also works really well here. In fact, pumpkin and shrimp is a very popular combination in Guyana. I would sauté my shrimp first, then remove it from the pan and set aside. Cook pumpkin as stated in the recipe below, then add the shrimp back in at the end, so as not to overcook the shrimp.
Frequently Asked Questions
What pairs well with pumpkin?
Pumpkin is naturally sweet and pairs well with savory herbs like fresh thyme, rosemary, and sage. You can pair it with garlic, mushrooms, or spinach. Use it to make risotto, pasta, and curries.
How can pumpkins be cooked?
Pumpkin is a versatile squash that can be roasted, boiled, steamed, mashed, fried, baked, or sautéed like this Sautéed Pumpkin and Tomatoes recipe.
How long does it take to simmer pumpkin?
Sauté the pumpkin for 10-15 minutes, or until the pieces are tender and slightly caramelized. You can test the doneness by poking the pumpkin with a fork; it should be soft but not mushy.

Sautéed Pumpkin and Tomatoes Recipe
---
Sautéed Pumpkin and tomatoes are a simple but absolutely delicious way to enjoy pumpkin. It's a Caribbean stew of sautéed pumpkin, tomatoes, onion, garlic, and fresh herbs. Enjoy this hearty, nourishing dish during the fall and throughout the rest of the year.
---
Ingredients
1½

lbs

Pumpkin

peeled and diced OR Frozen Steamable Pumpkin (completely defrost

1

Onion

large, diced

6

Garlic cloves

grated

1

cup

Plum tomatoes

OR cherry tomatoes

1

tsp

Salt

more to taste

pinch

Freshly ground black pepper

1

tsp

Dried thyme

OR fresh thyme

1

Wir wiri pepper

optional

2

tbsp

Coconut oil

OR other oil suitable for cooking

1

cup

Water

optional
Instructions
Stove Top Instructions:
Bring a large sautéed pan on medium heat up to temperature. Then add the coconut oil, followed by the onions.

Cook onions until soft and slightly brown, then add grated garlic and tomatoes.

Sauté until the tomatoes are a little soft, then add the pumpkin, salt, black pepper and thyme.

Sauté for about 5 minutes, then cover and let cook for another 5 minutes occasionally stirring.

Pumpkin should "spring" / sweat and create some liquid in the pot. If this doesn't happen you may add 1 cup of water. You may also add the wiri wiri pepper here, if using. Stir well then replace cover.

Continue to cook for another 10 minute until the pumpkin is tender and all of the liquids cook down.

Then increase the heat to high heat and sauté for another 3 to 5 minutes. This will give the pumpkin a rich sautéed flavor.

Then remove from the heat and serve it up.
Instant Pot Instructions:
Turn Instant Pot on in Sauté mode.

When the display indicates that the pot is hot add the coconut oil and allow the oil to come up to temperature then add the onions and cook until soft (this should take about 5 minutes.

Then add the tomatoes, garlic, salt, black pepper, thyme and pumpkin.

Mix together well then press cancel to get the Instant Pot out of the sauté mode, seal up and pressure cook on high for 5 minutes.

When the Instant Pot has completed the pressure cycle, release the pressure.

Next, stir the pumpkin stew to mix together all of the ingredients and slightly crush up the pumpkin.

If there is too much liquids in the pot after pressure cooking return the Instant Pot to the sauté mode and sauté for an additional 5 minutes until all of the liquid cooks off.

Then serve your Sautéed Pumpkin and Tomatoes up however you like.
Nutrition
Calories:
692
kcal
Carbohydrates:
17
g
Protein:
35
g
Fat:
60
g
Saturated Fat:
14
g
Polyunsaturated Fat:
24
g
Monounsaturated Fat:
19
g
Trans Fat:
0.1
g
Sodium:
401
mg
Potassium:
1051
mg
Fiber:
8
g
Sugar:
3
g
Vitamin A:
354
IU
Vitamin C:
10
mg
Calcium:
70
mg
Iron:
10
mg
---
---
The information listed in the recipe card is an estimate provided by an online nutrition tool. The tool evaluates ingredient names and amounts then makes calculations based on the number of servings listed for the recipe. It is provided as a general guideline and not as a precise calculation. For precise nutrition information please feel free to add the ingredients to your preferred nutrition calculator or consult a doctor or licensed nutritionist.